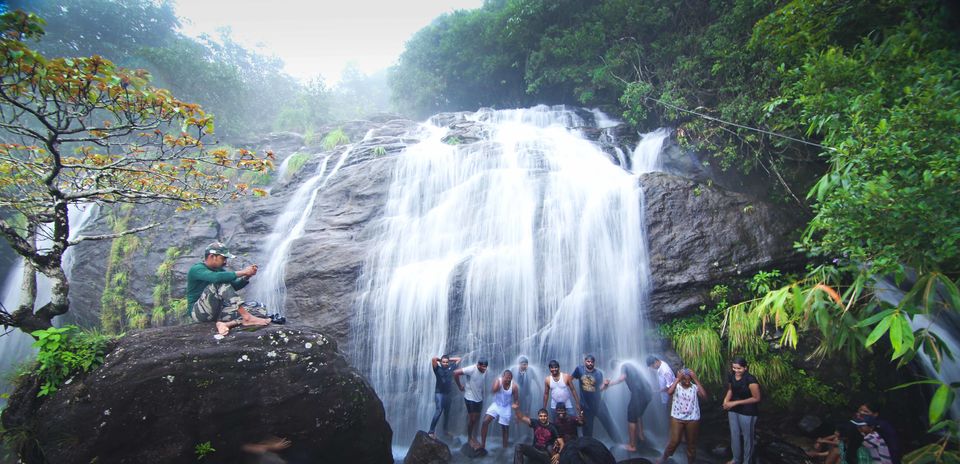 Your life surely needs some freshness and all you need is to escape into the jungle trails! Trek along the river as it flows through the lush green grasslands of Vagamon near Kottayam. This would be a perfect weekend getaway for those who are looking to find bliss amidst nature. Experience the thrill of walking deep inside the Western Ghat forests where the clouds would accompany you till the end, and if you are lucky – you'll get a chance to get drenched!
A pristine hill station with virgin glory, Vagamon lies in the Idduki District of Kerala with certain areas coming under the Kottayam District as well. In spite of having a beautiful series of hillocks, valleys, and cascading waterfalls, this place isn't visited by many, and that's what makes this place even more special. It would be the ideal destination for you if you are planning to ditch the lousy crowd!
Trek Dates - 20th - 23rd Oct 2017
Terrain- Off road trails,wet rocks,shola vegetation, Mighty grasslands
Duration- 9 hours
Cost- 3899/- (Exclusive of all Taxes)
Book Now: https://www.plantheunplanned.com/planned-treks/vagamon-waterfall-trek-camping/
Event highlights- Waterfall trekking, Grassland camping,off road jeep ride.
Day 1- 21st Oct 2017
- Reach Kottayam between 5 AM-7 AM
- Travel to base-camp by public bus
- Freshen up
- Off road jeep ride to trek point.
- Start the Waterfall trek by 11:30 am.
- River Side lunch
- Reach the Hilltop Campsite
- Pitch your own tent
- Barbeque + Dinner(Veg) + Campfire
Day 2 - 22nd Oct 2017
- Wake up early for Beautiful Sunrise
- Morning refreshment and breakfast
- Grass Land Trek & Bath
- Lunch
- Leave Campsite by 1:00 PM
- 2 hours off road Jeep Ride to Basecamp
- Leave for Kottayam (3:00 PM approx)
- Catch your buses back to Bangalore.
INCLUSIONS:
- 2 Lunches,1 Dinner,1 Breakfast
- Trekking under Forest Permits, Guide Charges
- Sharing Basis accomodation in Tents
- Barbeque
- Jeep ride
- Campfire
EXCLUSIONS:
- Any kind of personal expenses
- Any kind of insurance - health, vehicle, etc
- Anything not included above
How to Reach:
1. By Public Transport(Bus):
There is a direct bus between Bangalore and Kottayam. You can take Padikkle Travels/Kallada Travels/Sam Tourist/Evacay Bus from Bangalore to Kottayam. You can check buses on https://www.redbus.in/
2.By Flight
There is no direct connectivity of flight between Bangalore and Kottayam. You can take IndiGo from Bangalore to Ernakulam then take a taxi from Ernakulam to Kottayam.
3.By Car
Route 1 ( 595kms) Bangalore-Krishnagiri-Salem-Coimbatore-Palakkad-Thrissur-Kottayam
Route 2 ( 614kms) Bangalore-Krishnagiri-Salem-Karur-Dindigul-Theni-Kottayam
Note:
- Make sure you reach Kotayyam Before 7:00 AM
- Book your return tickets after 6:00 PM
- This is a complete non-alcoholic event; make sure you adhere to it.
-Its going to be an Adventure Camp, so don't expect luxury/fixed schedule etc.
For more info please feel free to get in touch with us on sayhello@plantheunplanned.com.
For faster communication: +91 9035182699, +91 7760710005, +91 9428909952
Join us on Meetup: https://www.meetup.com/Plan-The-Unplanned-Bangalore/
Follow us on Facebook: https://www.facebook.com/plantheunplanned/
Follow Us on Instagram: https://www.instagram.com/plantheunplanned/
Trek Lead Application: http://bit.ly/Trek-Lead
Whatsapp Group Invite link: http://bit.ly/PTU-Updates