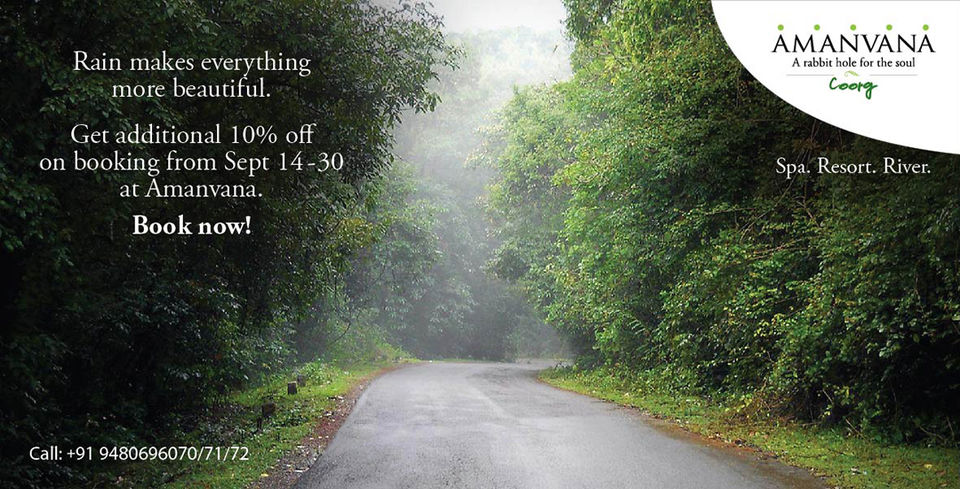 Rainy days are rarely associated with happiness and plans. When it rains, conventional logic says, "Get inside and stay put. All plans are off." But things are changing. More and more people are packing their bags during the monsoon to escape to quaint resorts in hillside places. A travel portal recently reported an unexpected 25% spike in monsoon travel bookings. Why are more people heading out when it rains?
For starters, the rain makes a lot of places even more beautiful, especially hill stations. The air is fresher, vegetation looks more lush than usual and the views of the misty hills are soothing. Secondly, traveling during the monsoon means encountering fewer people because it's the off season. So there's more silence and privacy. Thirdly, off-season rates are sometimes up to 20% lower. Put these three reasons together and one can settle on Coorg in Karnataka as a great choice for a monsoon holiday.
Situated around 250 kilometres to the east of Bangalore, the hill station of Coorg is one of the most beautiful places in Karnataka. And it is especially charming during the monsoon.
Chilly mornings under blankets in cosy rooms, cups of coffee made from locally ground grains, books, walks through forests with rain-soaked leaves, treks through freshly washed hills vibrant with greenery, and skies that turn into a dappled palette of grey. Indeed, the monsoon is the best time to visit Coorg. The heavy rainfall makes the place ever more mesmerizing. Waking up to rain pattering on leaves outside one's window, one calls to mind a line from the journals of English poet Sylvia Plath: "I woke to the sound of rain."
Going on a nature trail in a forest or trekking through a hill during a gentle drizzle, one recalls a memorable scene from Ray Bradbury's Fahrenheit 451 where two characters stumble into each other on a rainy street:
"Hello!" she said.
He said hello and then said, "What are you up to now?"
"The rain feels good. I love to walk in it."
"I don't think I'd like that," he said.
"You might if you tried."
"I never have."
She licked her lips. "Rain even tastes good."
But what tastes even better than rain in Coorg is the coffee. If you're staying in a Coorg resort, the coffee will invariably be made from coffee that's ground from the resort's own plantation. Visualise sipping coffee and reading a book before a view of misty hills, with the smell of wet earth in the air. That's the magic of Coorg! What's more, instead of car horns, one will hear a variety of birds. For the more active, the monsoon is also a great time for long walks through green and lush estates with the ever present aroma of coffee and flowers.
There are many more exciting things to do. Popular tourist attractions include Talakaveri, Bhagamandala, Nisargadhama, Abbey Falls, Dubare, Nagarahole National Park, Iruppu Falls, and the Tibetan Buddhist Golden Temple. The most prominent tourist spot in Madikere is the Raja's Seat. It is a vast, open-air garden that opens out to an unobstructed view of green hills and valleys. Sunrises and sunsets are often breath-taking. Kings enjoyed the changing colours of dusk in this spot with their consorts. And the monsoon is an even more magical time to observe nature from this vantage point. Photographers will get great results.
Don't forget to buy locally made coffee, chocolates and spices before leaving.
And last but not the least, here are some handy tips to ensure your monsoon holiday in Coorg is as safe as it is enjoyable:
Keep everything in waterproof bags.
Pack at least one pair of sports shoes to withstand slippery roads.
Don't eat everything; monsoons are a time when infections tend to break out.
Carry some poly bags to keep food and clothes dry.