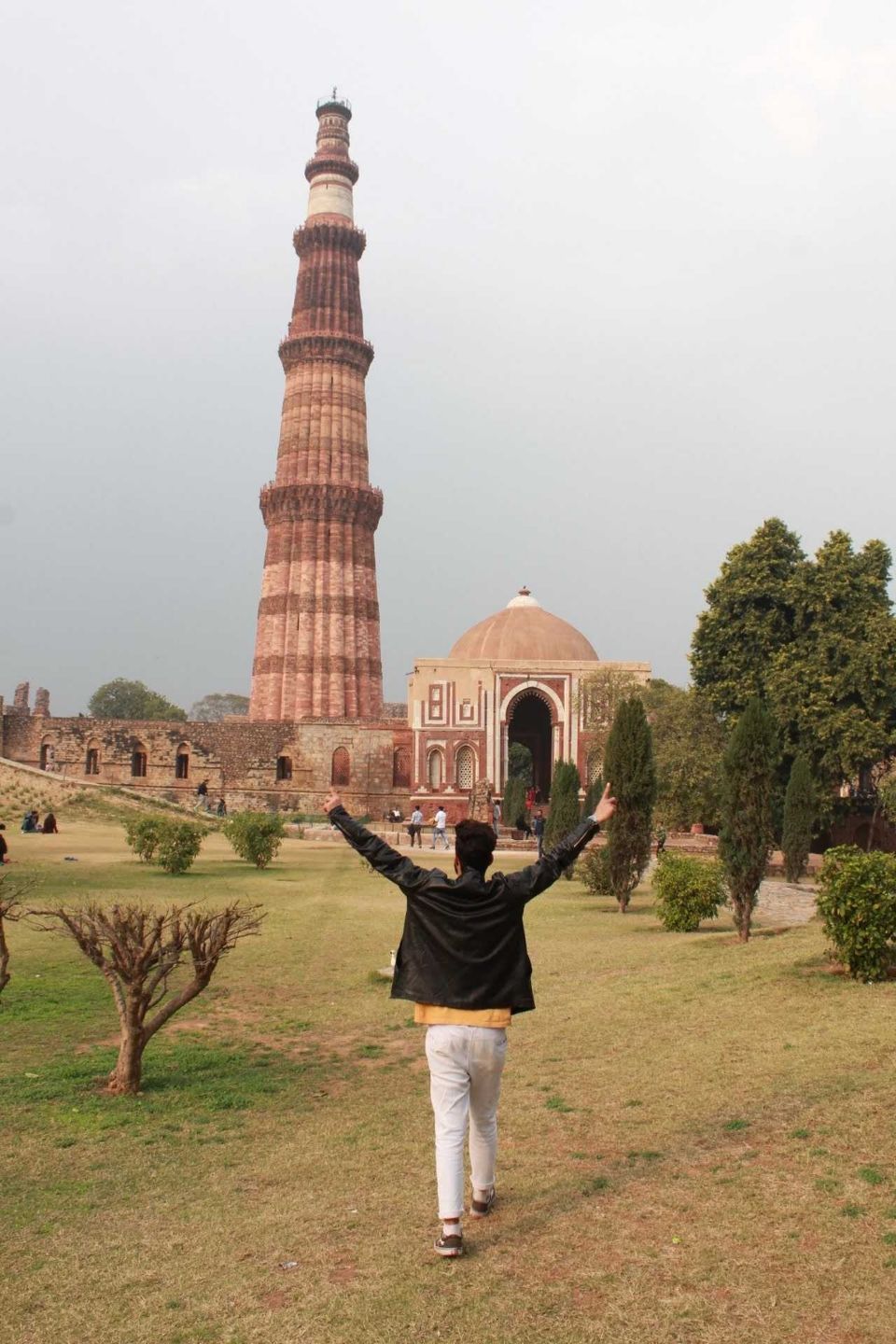 Qutub Minar is the another spot to get a view of India's rich and varied heritage culture.
It is near Meharauli, New Delhi, Delhi, India.
The Qutub Minar is a minaret that forms part of the Qutub Complex a UNESCO World Heritage site.
Qutb Minar is a 73-metre (239.5 feet) tall tapering tower of five storeys, with a 14.3 metres (47 feet) base diameter, reducing to 2.7 metres (9 feet) at the top of the peak. It contains a spiral staircase of 379 steps
The first two storey is made of red bricks and the last two are made of marble. It was built by Qutubuddin Aikbak  the founder of Delhi Sultanate started construction of the Qutb Minar's first storey around 1192. In 1220, Aibak's successor and son-in-law Shamsuddin Iltutmish completed a further three storeys. In 1369, a lightning strike destroyed the top storey. Firoz Shah Tulghaq replaced the damaged storey, and added one more. Sher Shah Suri also added an entrance to this tower while he was ruling and Humayun was in exile.
The Minar is surrounded by several historically significant monuments of the Qutb Complex including Quwat-ul-Islam mosque
was built at the same time as the Minar, and the much older Iron Pillar of Delhi. The nearby pillared Cupola known as "Smith's Folly" is a remnant of the tower's 19th century restoration, which included an ill-advised attempt to add some more stories.
The tower's style is patterned on Afganistan's Minaret of Jam and adapted to local artistic conventions by the incorporation of "looped bells and garlands and lotus borders into the carving". Numerous inscriptions in Parso-Arabic and Nagari characters in different sections of the Qutb Minar reveal the history of its construction, and the later restorations and repairs by Firoz Shah Tughluq (1351–89) and Sikandar Lodi (1489–1517).
The tower has five superposed, tapering storeys. The lowest three comprise fluted cylindrical shafts or columns of pale red sandstone, separated by flanges and by storeyed balconies,carried on Muqarnas Corbels The fourth column is of marble, and is relatively plain. The fifth is of marble and sandstone. The flanges are a darker red sandstone throughout, and are engraved with Quranic texts and decorative elements. The whole tower contains a spiral staircase of 379 steps. At the foot of the tower is the Quwat ul Islam mosque. The minar tilts just over 65 cm from the vertical, which is considered to be within safe limits, although experts have stated that monitoring is needed in case rainwater seepage further weakens the foundation.
Qutb Minar was an inspiration and prototype for many minarets and towers built after it especially when you're a civil engineering student!