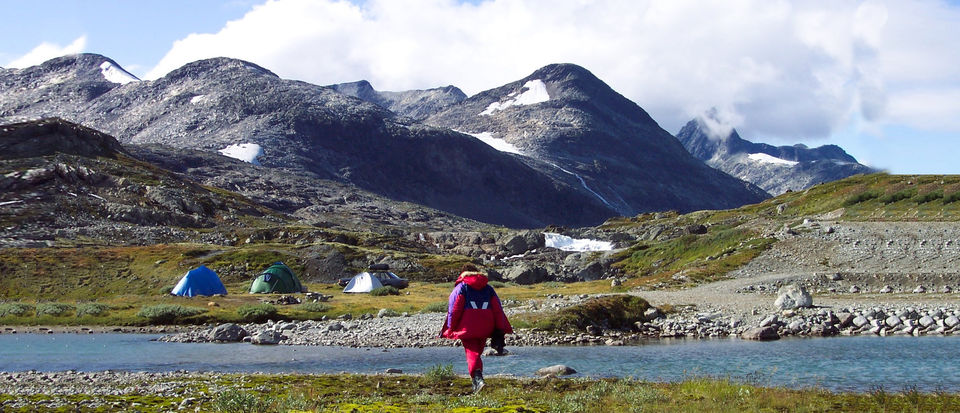 "I woke up to the chirping of birds. A gentle sunray had sneaked in through my tent, don't know from where. The golden light fell on my eye, and in the process of adjusting my position to avoid it, I sat all awake. I could hear my friends talking softly outside. I unzipped my tent and there was a sight to behold- A gentle river with a perfect turquoise tint flowing against the background of verdant meadows, some sheep grazing the dew-washed blades of the grass, and the golden dust of the sunrays making its way through the alpine woods. Yes, this was it. This was all that I deserved because I had earned it after a good toil, trekking up till this place away from mobile network and so close to the nature."
Where was I?
Let that be a mystery but I will tell you where you can be to have a similar experience.
The Himalayas are a great place to camp, especially with the bounty of the untouched rivulets that gush through the hills to become larger sources of life and livelihood in the plains. And these are some scintillating Himalayan rivers you should camp beside.
1. Tons
River Tons originates at Bandarpoonch, Garhwal in Uttarakhand and joins Yamuna as her largest tributary after flowing for about 150kms alongside the border of Himachal Pradesh and Uttarakhand .
Where to Camp at?
Hanol, Chakrata- You can reach Chakrata from Delhi (320 kms) and Dehradun (90 kms) by regular buses. Read more about Chakrata here: https://www.tripoto.com/trip/chakrata-trip-5ba3ea0c302fe
2. Rupin
Rupin river originates close to Rupin pass in Himachal Pradesh and flows south-east into Tons near Netwar in Uttarakhand.
Where to Camp at?
Dhaula- The Rupin Trek is a high altitude trek from Dhaula to Sangla to reach the Rupin Pass. You can camp beside the Rupin river anywhere on the trail, all the views are breathtaking. Read more on the Rupin Trek here: https://www.tripoto.com/trip/rupin-pass-trek-484930
3. Uhl
Uhl river originates through the Thamsar Glacier in the Dhauladhar range of himalayas in Himachal Pradesh and is a tributary of Beas. The river rich in trout fish is popular for angling.
Where to Camp at?
Barot Valley- You can reach Barot valley from Jogindernagar, close to the paragliding hub of Bir Billing. Find out more about Barot valley and how to reach there here: https://www.tripoto.com/trip/barot-unexplored-himachal
4. Lidder
Lidder river originates from Kolhoi glacier close to Sonmarg in Kashmir and eventually joins Jhelum at Anantnag after granting splending aesthetics to Pahalgam.
Where to Camp at?
Aru Valley- This is one of those places where you don't need days and hours to reach. With high connectivity from Srinagar and Jammu, Aru Valley can be reached by cab, and then you can choose to walk a little to find your perfect spot. Read more here: https://www.tripoto.com/trip/this-trek-through-the-valleys-of-kashmir-is-most-rewarding-5bd70d4b576c7
5. Budhil
Budhil is one of the tributaries of Raavi and originates near Kugti Pass in Himachal Pradesh. It also receives water from a stream flowing from Manimahesh lake.
Where to Camp at?
Bharmour- Located at the heart of Himachal Pradesh, Bharmour is 180kms from Pathankot and 190kms from Gaggal airport, Dharamshala. Read more about Bharmour here: https://www.tripoto.com/trip/bharmour-chamba-himachal-pradesh-guide-and-itinerary
6. Teesta
Teesta river originates at the Teesta kangse glacier in Sikkim and flows 300kms through Sikkim and West Bengal before it merges into Brahmaputra.
Where to Camp at?

Namprik- A quaint village in North Sikkim, Namprik provides for a great location to camp at. There are multiple monasteries nearby where you can soak into a religious bliss as well. Read more about North Sikkim here: https://www.tripoto.com/trip/amazing-trip-5be0448dd05fa
7. Brahmaputra
The river needs no introduction because it is not a tiny rivulet making its way vivaciously to the plains but is an enormous giant and the largest river that flows through India. But did you think of Brahmaputra as a river you could camp beside?
Where to Camp at?
Goalpara- The only location in the plains on this list, Goalpara is a picturesque town on the bank of Brahmaputra, and provides you with all the calmness and serenity that mountains offer you. 150 kms from Guwahati, it is easily accessible by road.
8. Siyom
Siyom originates in South Tibetan Himalayas and flows through Arunachal Pradesh to finally unite with Brahmaputra.
Where to Camp at?
Along- Untouched beautiful landscapes of Along/Aalo make for a perfect camping site. Aalo is 330 kms from Guwahati and 150kms from Jorhat. Read more about Along here: https://www.tripoto.com/travel-guide/along
Have you camped beside a majestic river? Share your experience with the Tripoto community.