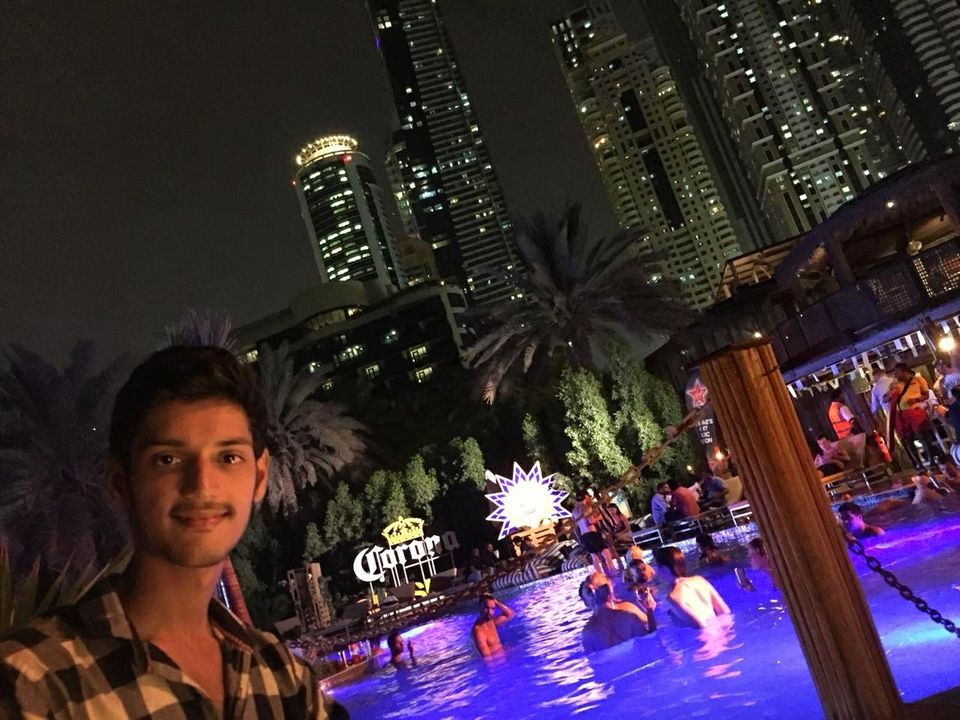 Follow my journey on youtube - Pratik Jain vlogs.
Most expensive city- Dubai...
I know you appreciated my detailed post on Malaysia, here I share some details for cheap trip to Dubai...😍
Btw Dubai is really expensive as everyone say the same...
Let's begin...
I booked my return air flight from Mumbai to Dubai in 11.5k (18 days before trip in spicejet)
Took 30 days tourist evisa from Make my trip in 6.1k (including gst and service fees)
Booked hotel in Gold souk, deira for 3 days in 6k for 2 people including all taxes (this rate includes breakfast also, hotel was Gold plaza guest house via booking.com)
After reaching Dubai airport, I knew that due to Friday, metro service starts from 10am... And the time was 5 am that time. So no way to wait for 5 hours at airport.. taxi would charge 30 dirhams I.e.  600₹...Quite expensive for 6 km drive.
So, took bus from airport to sabkha turnoff which is like 400 mtrs from our hotel...
I already mailed to the hotel for early check-in and so they accepted my request for free...
Now for bus and metro, you should have a NOL card... We purchased the card outside the airport in 25 dirhams, and it have 19 dirhams balance...
So the bus charge was 3 dirhams from airport to our hotel (nearby).
Checked in to our room, freshedup, had free breakfast, than took rest...
In afternoon, as our hotel was nearby to deira creek , we took abra(boat), for bur Dubai .. the charge is 1 dirham, and believe me, this ride is the cheapest thing to do in Dubai.. this boats connect u from deira to bur Dubai and vice versa. A lot of vegetarian restaurants in Bur Dubai, so no problem for lunch...1 person can fill his/her tummy in 15 dirhams easily...
Water bottle charges are like 1 dirham for 500ml and 2 dirhams for 1.5L. some place charges 3 dirhams for 1.5L.
After lunch, we headed nearest place which was Dubai museum. The charge was 3 dirhams per person...I recommend museum as it is cheap as well as good...
After that, took metro ride from Al Fahidi metro station to financial center the charge for that ride was 3 dirhams, and used by NOL card...Still we have 13 dirhams per person in card... Financial center is really amazing with tall buildings, wide road, amazing view of sheikh zayed road...Great infrastructure.. it was an evening time, we headed to level 43 sky bar.. it was pre planned...I really loved the place.. infact wherever I go, I definitely go to the open bar concept... Amazing views from the place ..
The 1st photo is from level 43 bar...
Few drinks, than again from metro station to burj khalifa metro station which was the very next stop...3 dirhams burnt again from the card...
Via Dubai mall, which is the biggest mall in the world, you enter to burj khalifa where the fountain dances...Amazing fountain show, it was night time, the lights show on burj khalifa building is just amazing...
Than back from burj khalifa metro to union station metro, deira... The ticket rate was 6 dirhams...Now only 4 dirhams remaining... Had dinner near to our hotel in Swagat vegetarian restaurant.. good food...
Good night...
2nd day, we roamed nearby spice markets, perfume markets. All were below our hotel location.. bought dates, chocolates, etc.
I would suggest u to bargain as much as u can...
After that, took again abra to bur Dubai, explored meena bazar.. full of indians...
After that, headed again to hotel as we had some stuff from shopping...
It's time to decide where to kill the night...
Yo the best nightlife place in Dubai, Barasti😍... See the 2nd pic...
No entry fee, but on Friday and Saturday, only couple entry they said...It was Saturday, and luckily we we allowed by the African bouncer as he recognized us sober and gentlemen...
Such a great time in Barasti...But it's an expensive place.. highly recommended if u love party place...
Late night metro closed... Took taxi for hotel.. taxi fare was 60 dirhams😥..Too costly..But what a great night...
3rd day, good morning...
After lunch, headed to abra again 😂 to bur Dubai, near to creek, river touched golden restaurant is amazing for hookah. Ab Dubai aake hookah toh banta hai...
After that headed to jumeira beach with the help of metro+taxi...Metro=3 dirhams, than taxi 12 dirhams...
It's a good beach with the view of burj al arab...The 7 star hotel...
Great sunset there...
Headed to JBR the walk...
In night, had dinner there, and back to hotel by damack metro station. Balance was only 1 dirham so recharged by 10 dirham...
Metro ride was 7.5 dirhams..
Good night...
Next day, the last day, had breakfast, check out, than kept our luggage in hotel lobby with no tension as there are no crimes in Dubai...Than headed for lunch, explored gold souk, viewed worlds largest gold ring... Bought some more stuffs...
Than took taxi to airport in 25 dirhams...
Here we end our trip to Dubai.☺️
No top of burj khalifa as level 43 was enough.
No ski Dubai as I already had experienced snow in rohtang , manali.
No miracle garden as I enjoyed 3 months b4 in ramoji film city.
No aquarium as 3 months b4 I enjoyed the same in Kuala Lumpur.
The entire trip to Dubai, if I neglect my shopping, costed me 27k including all.
Though my target was 25k, still m happy...
Plz let me know, how was the trip?
Many of you knows my youtube channel where you can enjoy my vlogs...
Youtube-  Pratik Jain vlogs
Thanks alot😊