We shifted to Ahmedabad from Goa in First week of July 2019 and after spending only a week at home I had to leave for Saudi Arabia on an SOS call, only to return after more than 2 months (65 Days exactly). Both Sheetal and Avani were fed up and were equally angry and to calm them a short outing was must. I always had a fascination for hill stations and when we were in Goa,we explored most of the South Indian hill stations; Ooty, Coorg, Munnar to name few. From Ahmedabad nearest hill station is Mount Abu (215 Km) and hence decided to drive down for a short 3 day trip.
I believe in making all arrangements like tickets and hotel booking in advance to avoid any last minute compromises which can ruin the holidays, so gathered information regarding road condition and hotels and finished with hotel booking a day before leaving. When on long drive specially hills I always prefer to start early. The plan was to start at 7.00 AM and reach Abu in 6 hours with a break of half an hour but the plans didn't worked as decided and we left the home at 8.00 AM. As it was new road we trusted google maps which preferred Ahmedabad- Mehsana- Palanpur-Abu Road- Mount Abu route (216 KM) and we followed the same.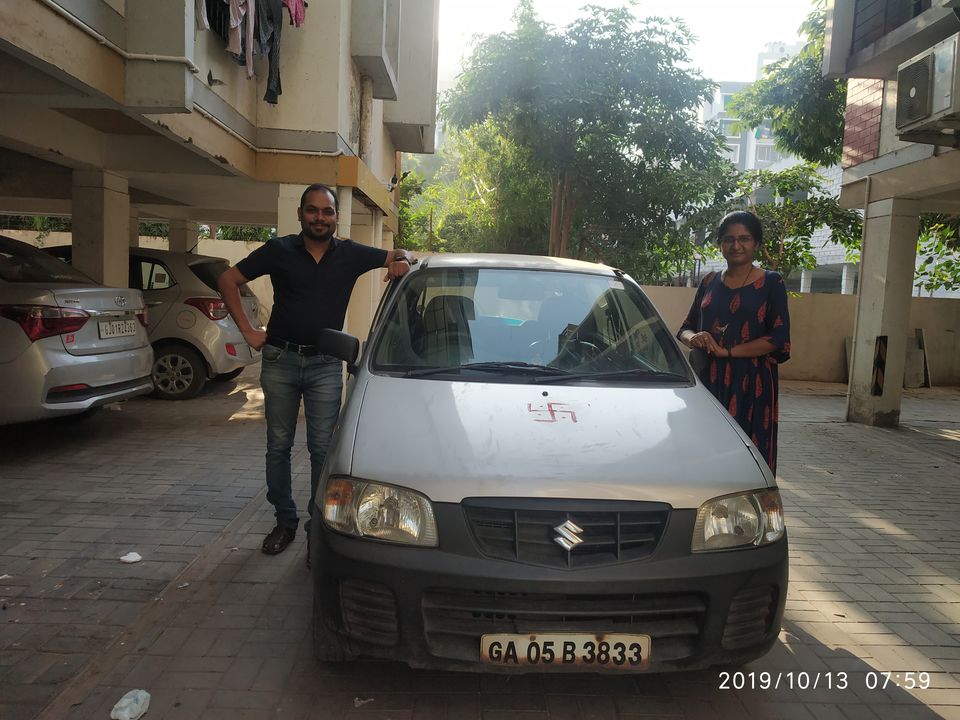 Once out of city limits (Vaishnodevi circle) google took us on a small but scenic road which meets after 30 km to Ahmedabad- Mehsana Highway. We too enjoyed the road as it was after long time we were witnessing so much greenery. Ahmedabad-Mehsana is a four lane highway but there are small rough patches which can destabilize the vehicle in speed so needs to be alert while driving. Otherwise the drive was good and we crossed Mehsana (80 KM) at 9.30 Hrs. The road from Mehsana to Palanpur is 6 lane highway. Palanpur is at a distance of 135 KM from Ahmedabad. After crossing palanpur at 11:00 AM (137 KM) we took our first break at Gayatri Temple which is situated right on the highway. The temple is very beautiful and has facilities like toilets, drinking water and also has an astrological garden with lawn where we enjoyed the delicious Idlies which we had carried with us.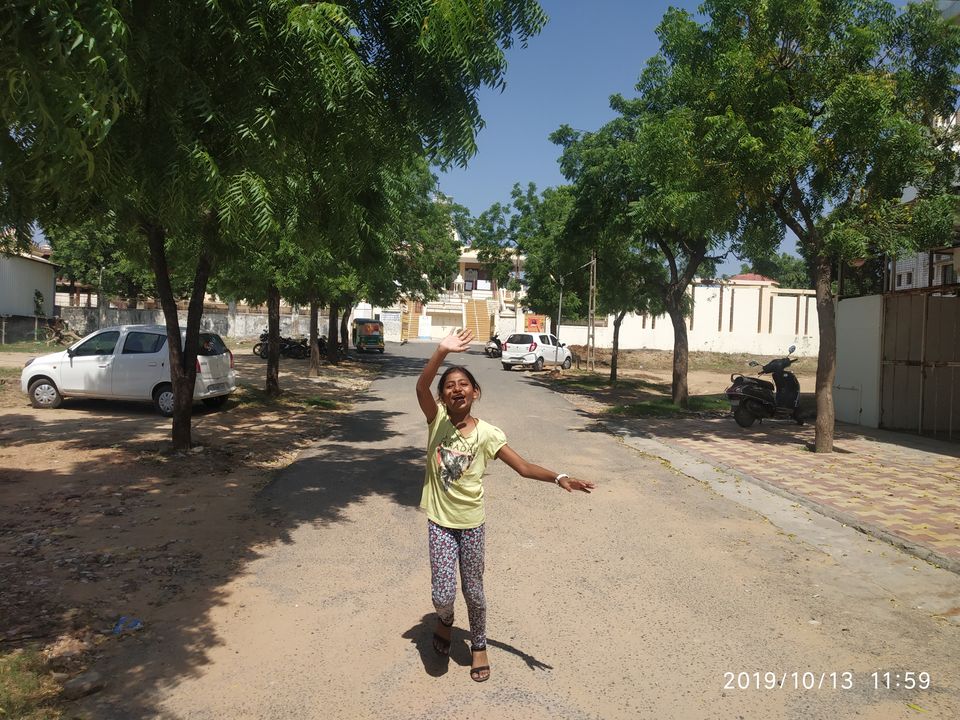 After one hour break we resumed at 12:00. Total distance left to be covered was 79 KM so I expected to reach hotel by 2:00 PM. The stretch from Palanpur to Abu road is best one but from Abu road to Mount Abu is a steep uphill drive of 30 Km.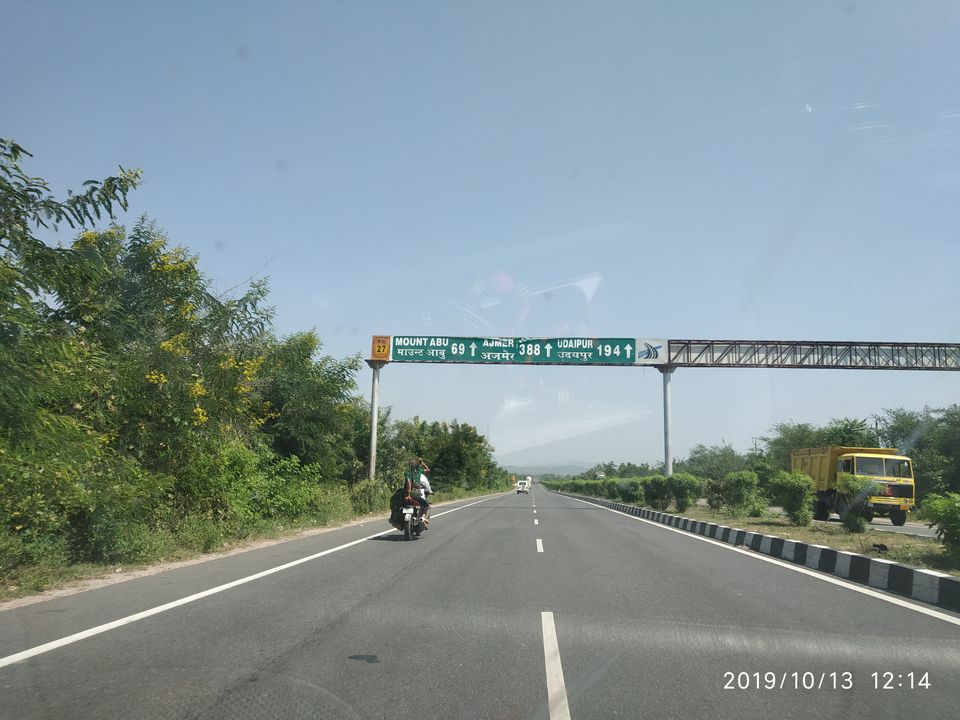 The curvy narrow road from Abu Road to Mt Abu is full of greenery and reminded us of Goan roads. Till now whenever we thought of Rajsthan pictures of desert and arid land used to come in our mind but this road changed that perception. After some climb we rolled down the windows to experience the hilly breeze and can feel the cool mountain air. As we neared Mt Abu the trademark Date trees begin to appear.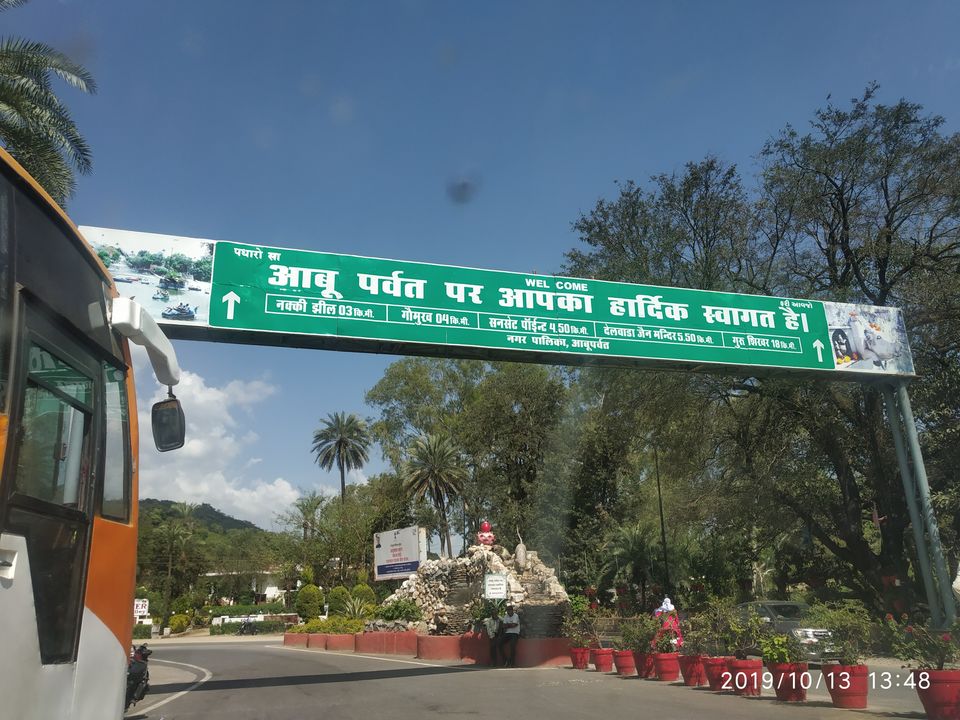 The drive from Abu Road to Mt. Abu took approximately one hour. There is an entry fees of Rs 100 for cars to enter Mt Abu. Abu is a small hill station so it didn't took us long to locate our hotel named Hotel Mushkil Asan . As planned we reached our resort exactly at 2:00 PM.
Mushkil Asan is a small yet beautiful and scenic resort located on Delwara road approximately 1 km from Nakki Lake. It is surrounded by Huge trees and has well-manicured lawn and garden. The hotel has 10 rooms along with restaurant and small play area.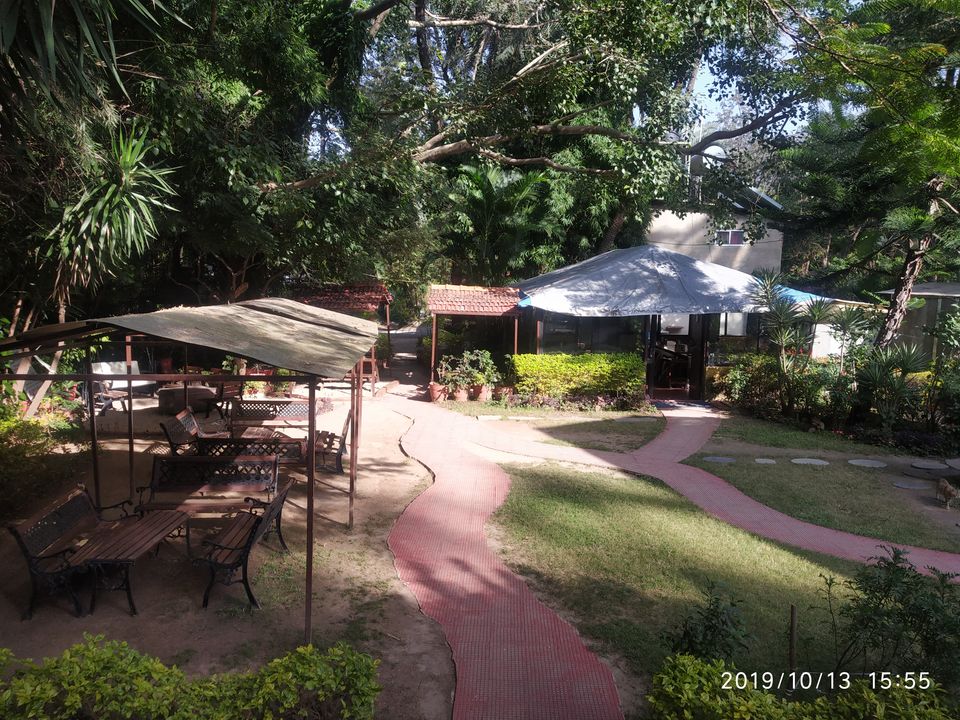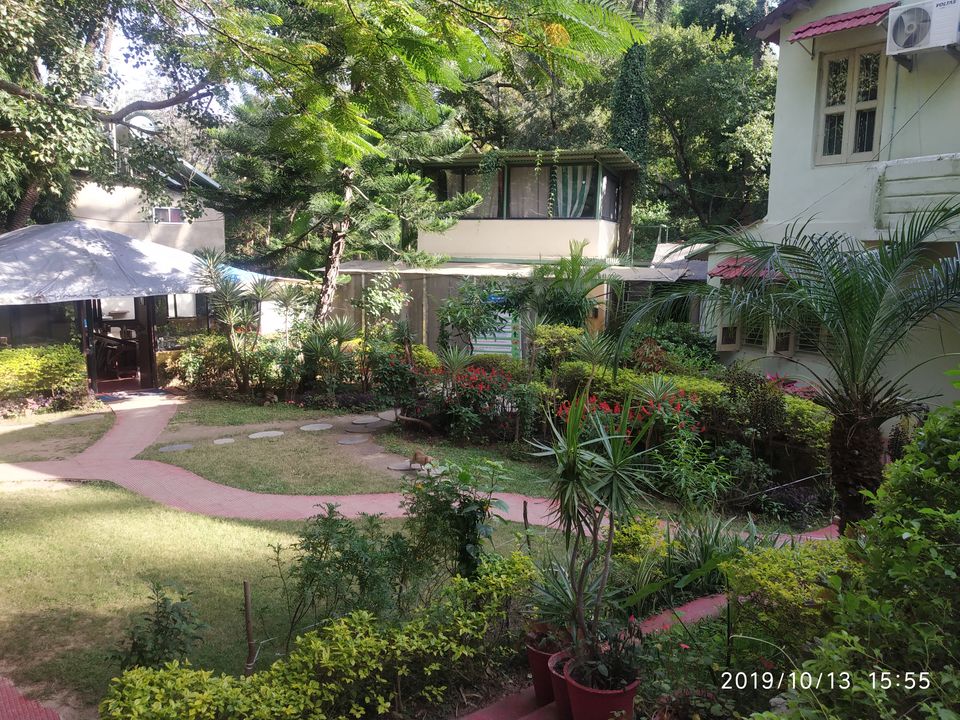 After checking inn and finishing our lunch we drove to Nakki Lake. Car parking is available apprx 200 mtr from lake. Parking space was easily available as it was off season otherwise the cars needs to be parked in polo ground located apprx half Km away which is much bigger to accommodate the season crowd. An old uncle near entrance serves excellent ginger tea and must be tried once.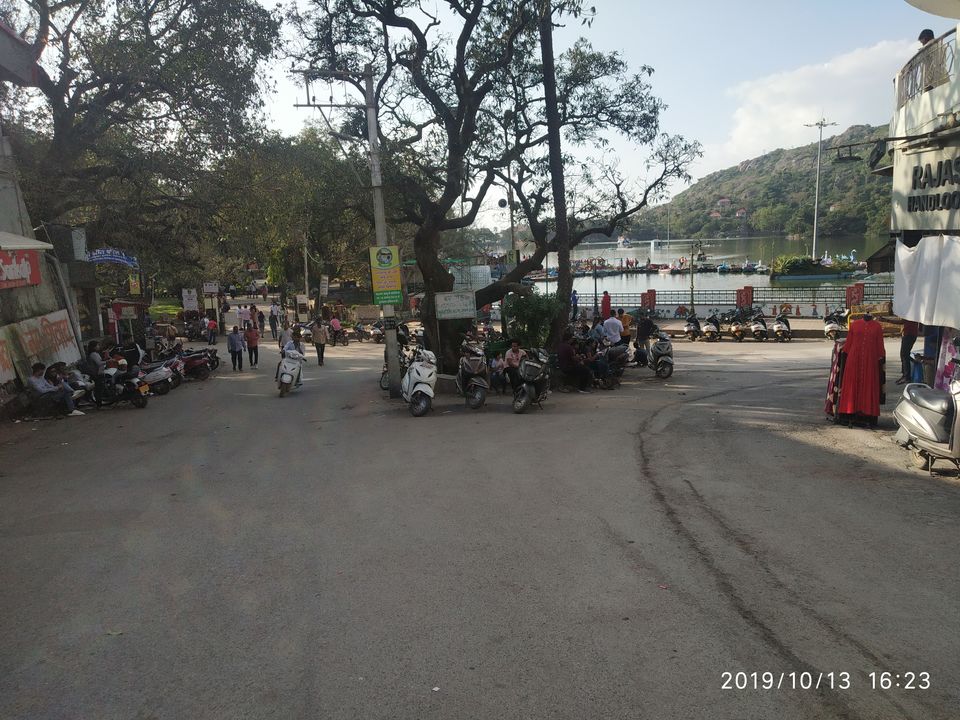 Nakki Lake is a beautiful lake with walkway around its perimeter. The lake is surrounded on all sides by green hills. As per the legends the lake is dug by gods using nails (Nakh) so it is called Nakki Lake. At the entrance there is a small park with boating facility along with a restaurant. One thing which is soothing to the eyes is cleanliness maintained around lake as well as in Mt. Abu. The usual thrash left by tourists is not visible. Mount Abu is plastic free zone. All types of plastics are banned so one should not carry plastic bags. The workers are doing their work with responsibility. The results are visible. We tourists must also take the ownership and help them to keep the place clean. I expect to witness same cleanliness in tourist season.
After spending some time in park and having photo session in traditional wear which is available near lake, we decided to walk to Toad Rock which is situated on a hill near lake.
Toad Rock-The climb to Toad rock is made up roughly of 200 Steps. On the way up there is a cave where Swami Vivekanand had meditated for some days when he was in Mount Abu. Once on top, the view is awesome and mesmerizing. The place offers bird's eye view of Mt. Abu town. On top there is one huge rock having shape like Frog (Toad) about to jump in lake so it is named Toad rock.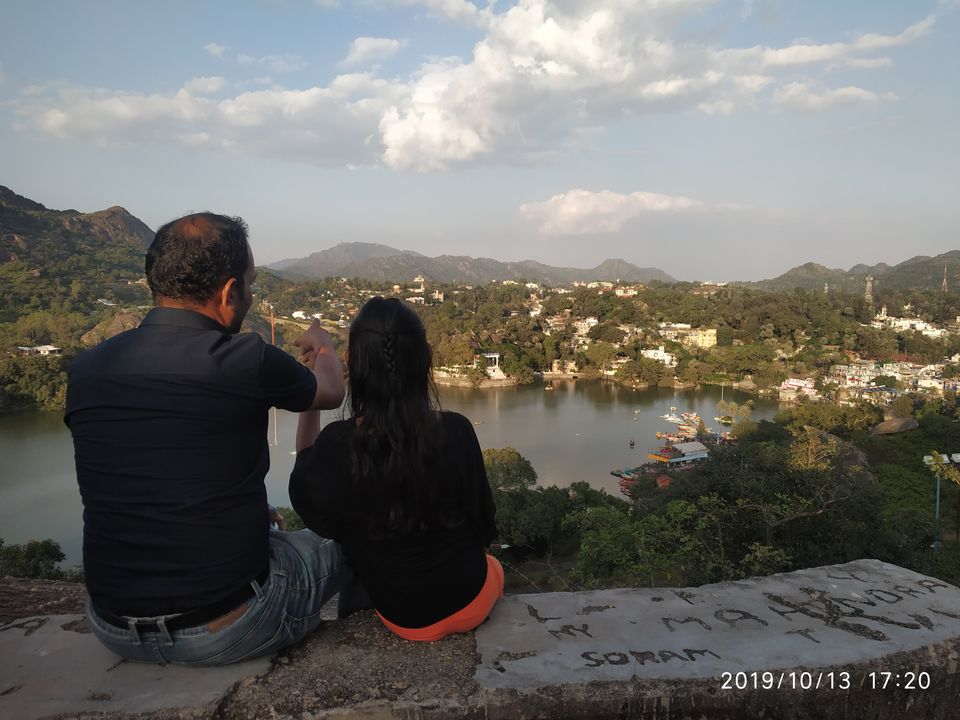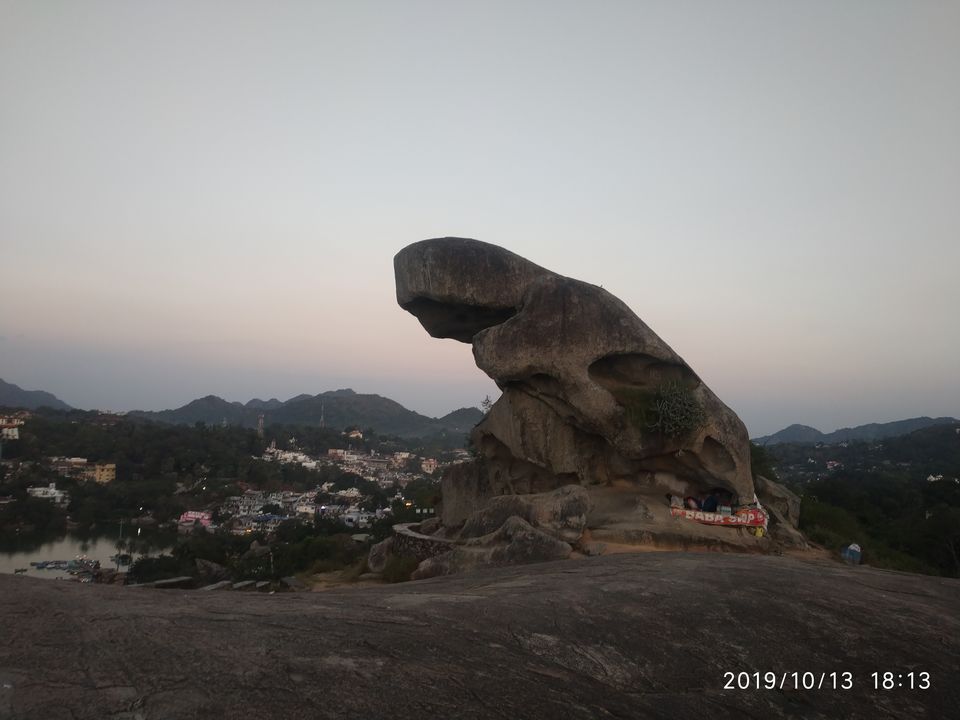 The market around Nakki Lake has lots of good restaurants for dinner. Sankalp, Mother's kitchen, Kathiawadi to name few. The market is small but good to buy soveniours.
Day 2-
The misty mornings in hills are always beautiful and wherever I am at a hill station I always try to wake up early to experience the same. I don't want to miss it and also dragged sheetal and Avani for a morning walk around lake. If the evenings are hustling & bustling with people, the place is equally calm and blissful in morning. The oldies being played on speakers installed around lake make the walk more peaceful. The path is clean and beautified with gardens. Brahmkumaris association has also contributed by creating and maintaining beautiful gardens along the path. After finishing the walk we had tasty and sumptuous breakfast at Mother's Kitchen. The restaurant is hygienic, clean and serves tasty food.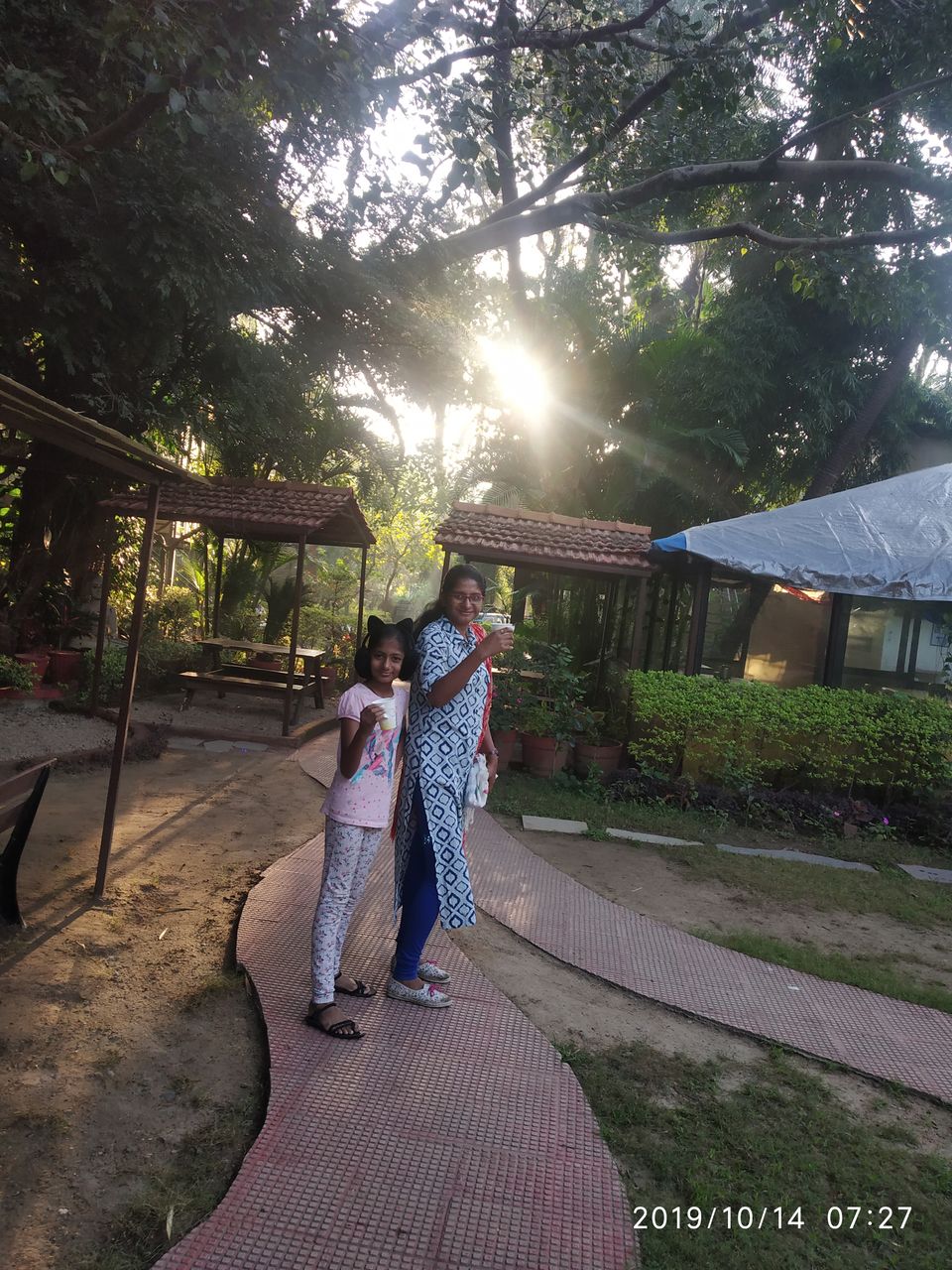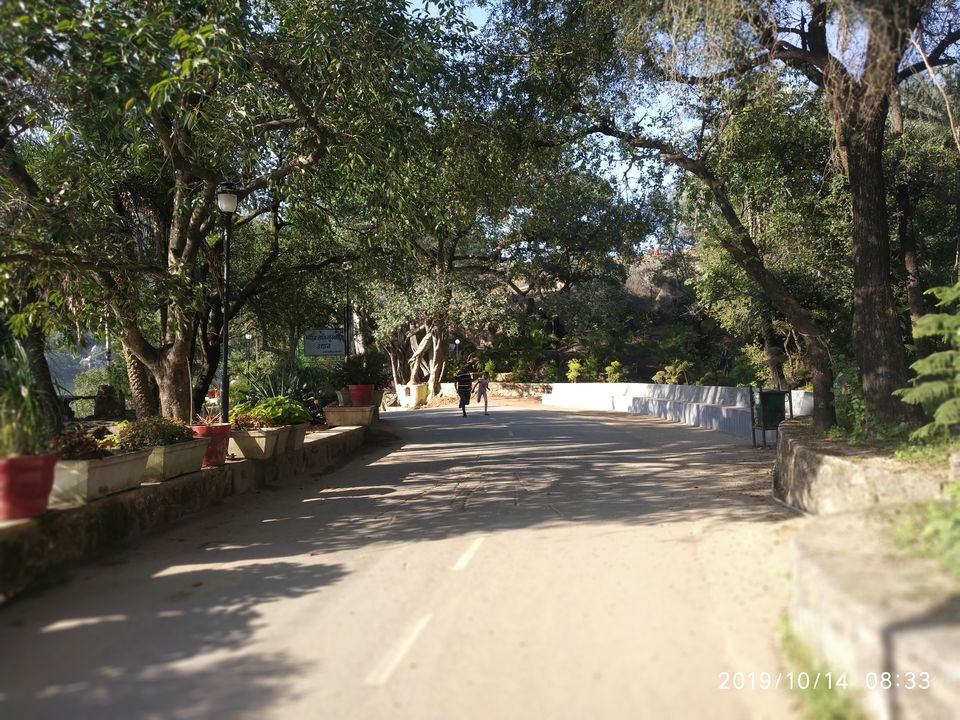 After getting freshened up at the hotel and we decided to explore more places around. We planned to visit delwara temples followed by Guru Shikhar which is 18 Km from Mt. Abu. In the evening we decided to visit sunset point.
When we reached Delwara temples at 11:00 Am we came to know that it will open at 12:00 so we decided to proceed to Guru Shikhar.
Guru Shikhar- Guru Shikhar is highest point in Aravalis located approx. 18 Km from Mt. Abu and at a height of 1700 Mtr above MSL. Winding road takes you up to parking area from where one has to take approx. 200 steps to reach Shri Guru Dutt Temple. The temple is old and partially carved out of rock. The highest point is located further 50-60 steps above. The view from top is spectacular and feel like floating above clouds.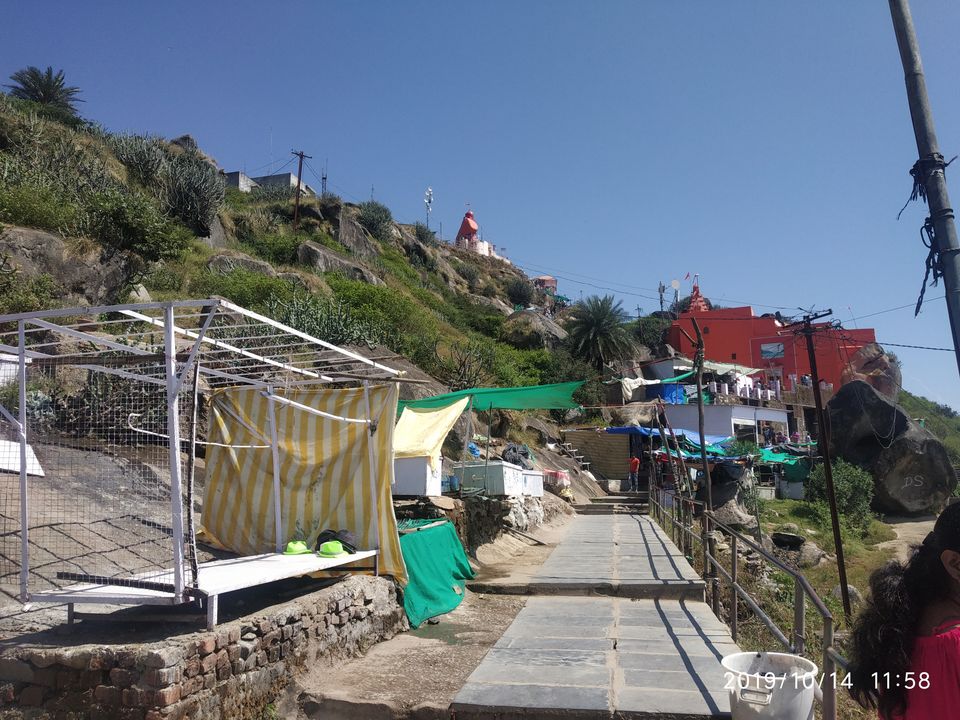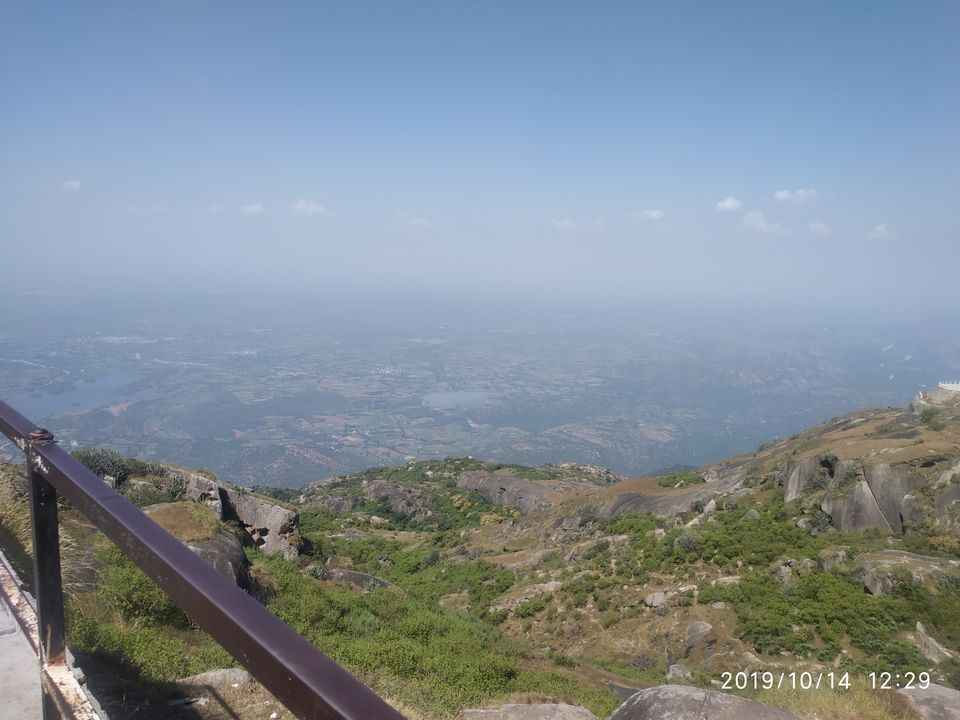 On our way back we visited Om Shanti Garden and Delwara Temples. Om Shanti Garden is beautiful botanical Garden maintained by Bramhakumaris. Inside there is one meditation room open to all and small shop to purchase goodies.
Delwara Temples- I have not seen any temple so beautiful and magnificient than the Delwara temples. The marble carvings inside temples cannot be seen anywhere or compared with anything else. It makes us proud of our rich cultural heritage. The temples are constructed 1000 Years ago and have survived the time. There are five temples inside the complex dedicated to Jain tirthankaras and all are equally beautiful. The temples are located 4 Km from Mt. Abu. The visiting time is 12.00 PM to 5 PM.
The plan to visit Sunset point had to be canceled as we reached parking of sunset point at 6:00PM when the sun already started to disappear. From Parking the point is apprx 1 km away and you have to cover the distance walking. Horses and small carriages pulled by men also available.
We spent the evening around lake.
Day 3-
I went for morning walk around lake. Avani and sheetal were not willing to come as they didn't wish to leave the cosy bed.
We have to reach Ahmedabad before evening as I had to attend office next day so we checked out at 9.00AM. Before leaving Abu we planned to visit Om Shanti Bhavan and Honeymoon point.
Om Shanti Bhavan- The place is full of spirituality and calmness. It is the headquarters of Brahmakumaris located near Nakki Lake. One swayamsevak accompanied and guided us and explained the mission and vision of Brahmakumaris.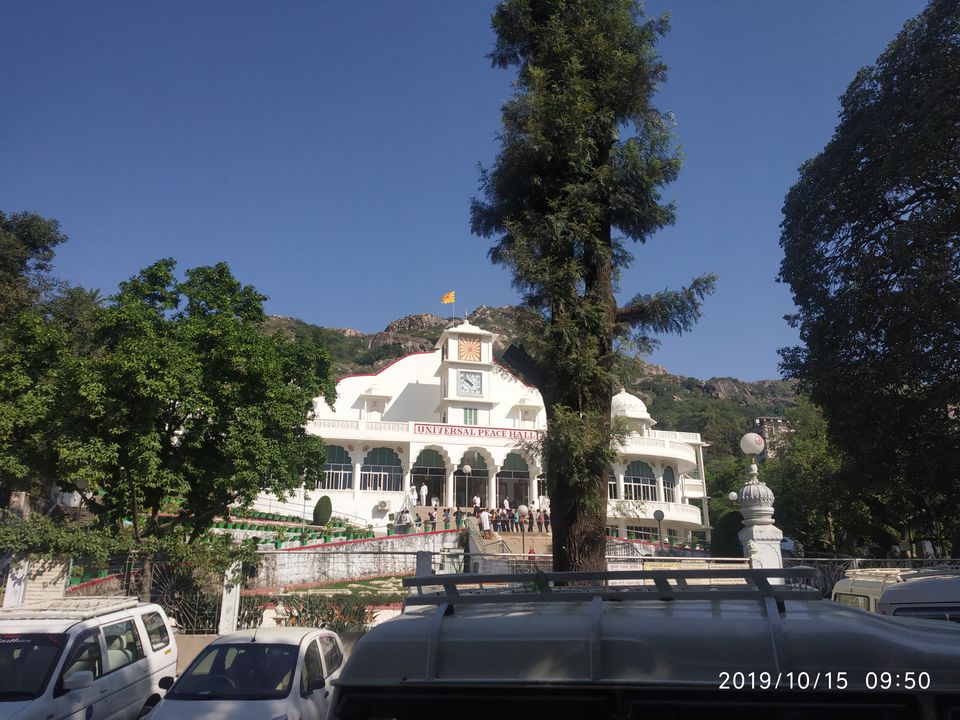 Honeymoon Point- Located apprx 1 KM from Nakki Lake. Vehicles are allowed upto last point between 10 AM and 5 PM, after that the road is closed to traffic. It's a view point and presents panoramic view of flats below. Can also be a great place to observe sunset.
I found few educated and elderly tourists feeding food to monkeys. Government has erected boards mentioning not to feed the animals. It's very dangerous as monkeys become brave and they try snatching personal belongings as well as attack children. Feeding animals is a punishable offence. It's not expected from educated persons.
We started our journey back at 11.00 AM from sunset point and touched Highway at Abu Road at 11.45 AM. At 1.00 PM we took a 45 Min lunch break near Palanpur. I had expected that the fuel in tank will last upto Ahmedabad but the needle touched Red mark just few KM before Ahmedabad so to avoid any risk I refueled the car near Adlaj (15 KM before Ahmedabad). After spending another half hour in fuel filling followed by chai biscuit at a dhaba we finally reached home at 6.00 PM.
One of the contributor to make our trip comfortable and successful was our Alto. We covered total distance of 500 Km in apprx 30 Ltr fuel. Having driven more than 80000 Km she is my trusted companion and had plans to take her more places in Gujrat and Rajasthan. I will certainly share the experience on same platform.