Mount Kilimanjaro
Mount Kilimanjaro is the highest mountain in Africa and highest free-standing mountains in the world. This snow-capped mountain is one of the most perfectly formed and certainly the most spectacular. Its fame has spread far and wide while it attracts mountain climbers and nature lovers alike with its magnetism.
History of Kilimanjaro
Mount Kilimanjaro is the highest free standing mountain in the world and the highest Mountain in Africa; it is located at the northern part of Tanzania and southern part of equator 330km.
Mountain Kilimanjaro its covered the area of 1688km2 it was established in 1973 and it was official opened in 1977 and if was nominated by UNESCO as the world heritage in 1987.
In Mount Kilimanjaro we have three peaks which are Kibo 5,895m and Shira 3,962m, Shira peak was the first one to erupted 800,000 years ago, Mawenzi was the second one to erupted 500,000 years ago and Kibo was the last one to erupted 300,000 years ago.
Kilimanjaro Climate
The climate is influenced by the prevailing trade winds, in Kilimanjaro are have two rainy season in a year. The wet season from march to many it use to rain around the mountain base and snow accumulates on its peak.
The dry season is from June to September whereby during the day time it used to be clear and sunshine and during the night is extremely cold. The best time to hike mainly from Jun to October and January to February.
Flora and fauna
The mountain is rich in flora and fauna. You get to see the various climatic conditions starting from the bush land on the bottom of the mountain to the arctic ice region on top of the mountain. You have the tropical rain forests, the evergreen forests, the moorlands and the alpine desert regions in between. It is something like walking from the equator to the arctic pole in a matter of days. You get to see some unique plants and flowers on the mountain which is specific to Mt Kilimanjaro. Though there is not much of wildlife on the mountain, you can see some wild buffaloes, elephants and leopards while traversing through the Lemosho Route. You are accompanied by armed rangers in the initial day of the trek while going via the Lemosho route
Kilimanjaro Accessibility
Moshi is the capital town of Kilimanjaro region can be accessed by road or flight Via Kilimanjaro International Airport about 56km to the west.
From Moshi the road goes eastwards for about 28km to small town called Himo, turning north for 17km one ascends the mountain slope to Marangu, the park Headquarters and entrance gate respectively.
The other five entrance gate are Rongai, Machame, Londorosi, Lemosho and Umbwe are Located around the mountain base and can be reached by road.
Kilimanjaro consist of five ecological zones
Cultivation zone (900m-1800m)
Once consisted of bush but now days occupied by farm land and local people called Chagga are living in this zone conducting cultivation of Banana, Coffee, Maize, Potatoes, and keeping cattle like goat, ship and cow.
Rain Forest (1800m-2800m)
Warm, humid, and lush year-round, this section of the mountain is home to rare species, many of which are found nowhere else on earth.
Heath and Moorland (2900m-3900m)
Sparser and drier than the forest, the heath includes bearded lichen hanging from the trees. The moorland is home to unique vegetation, such as the alien-looking giant groundsels that tower overhead.
Alpine desert (4000m-5000m)
Cold and dry, the alpine desert's windswept, rocky landscapes have often been compared to the surface of the moon.
Summit zone (5000m -5895m)
Near the summit Kilimanjaro transforms into a frozen world of glittering ice and snow. You'll feel like an Arctic explorer on your last steps to Uhuru Peak!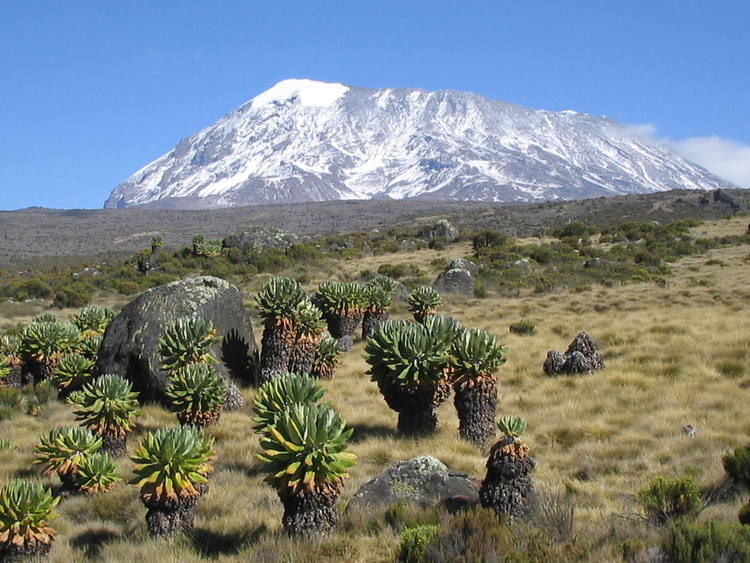 There are seven routes officially sanctioned for climbing Kilimanjaro and two routes used for descent. These are:
• Machame
• Marangu
• Rongai
• Lemosho
• Umbwe
• Shira
• Northern Circuit
• Mweka (descent only)
Below are itineraries for these routes.
Marangu Route: Commonly called the Coca-Cola Route, because it is considered the easiest route and vendors sell Coca-Cola at some of the huts. Marangu is by far the most popular route to the summit of Kilimanjaro. Typical duration is either 5 or 6 days depending upon whether you elect to spend an extra day for acclimatization to the altitude. This is the only route that offers huts versus tents. In spite of these, do be aware that 1) a faster ascent means less time for acclimatization and a lower chance of reaching the summit and 2) it is actually colder to stay in huts compared to staying in tents.
• Day 1: Marangu Gate (1980 m) - Mandara hut (2720 m). Hiking time: 5 hours
• Day 2: Mandara hut (2720) - Horombo hut (3720 m). Hiking time: 6 hours
• Day 3: Horombo hut (3720 m) - Acclimatization day (if necessary)
• Day 4: Horombo hut (3720 m) - Kibo hut (4700 m). Hiking time: 6 hours
• Day 5: Kibo hut (4700m) - Uhuru Peak (5895 m) - Horombo hut (3720 m). Hiking time: 8 hours to Uhuru - 6 hours to descend to Horombo
• Day 6: Horombo hut (3720 m) - Marangu Gate (1980 m). Hiking time: 6 hours
Machame Route: Some call this the most beautiful route up Kilimanjaro. Where accommodation on the Marangu route is in huts, the Machame route offers strictly tents only. This makes Machame (also referred to as the "Whiskey route") better suited to the slightly more adventurous hiker, however rewarding him/her with a scenic splendor such as not seen on the Marangu route.
• Day 1: Machame Gate (1490 m) - Machame camp (2980 m). Hiking time: 4-6 hours
• Day 2: Machame camp (2980 m) - Shira camp (3840 m). Hiking time: 6 hours
• Day 3: Shira (3840 m) - Lava Tower (4630 m) - Baranco camp (3950 m). Hiking time: 7 hours
• Day 4: Baranco camp (3950 m) - Karanga camp (3995 m). Hiking time: 7 hours
• Day 5: Karanga camp (3995 m) - Barafu camp (4673 m). Hiking time: 3-5hours
• Day 6: Barafu camp (46730 m)- Uhuru Peak (5895 m) - Mweka (3100 m). Hiking time: 8 hours to reach Uhuru Peak: 7/8 hours to descend to Mweka (frequently broken into 2 days with an overnight stay at Mweka camp)
• Day 7: Mweka camp (3100 m) - Mweka gate (1640m). Hiking time: 3-5hours and drive to your hotel in Moshi.
Lemosho route is the most dramatic and beautiful route up to Kilimanjaro. It is the most remote and getting popularity now days which traverse some of Kilimanjaro most striking and least traveled landscapes, including the base of Kibo Peak's and dramatic south-facing glaciers. This route has added benefits of trekking across the Shira Plateau a World Heritage Site trekking 180 degrees around Kilimanjaro and also this route allowed plenty of time to acclimatize to the high altitude and this is the key to your safety, comfort, enjoyment and success while trekking mountain Kilimanjaro.Lemosho route can be climb for 6 days, 7 days and 8 days, we strongly recommend 8 days for more time of acclimatization and get use to the altitude before summit.
• Day 1: Londorossi Gate (2100 m) - Mti Mkubwa camp (2750 m). Hiking time: 3 hours
• Day 2: Mti Mkubwa camp (2750 m) - Shira 1 camp (3610 m). Hiking time: 6/7 hours
• Day 3: Shira 1 (3840m) - Shira 2 (3850m) hiking time 6/7hours
• Day 4: Shira 2 (3850m) -Tower (4600m) - Baranco camp (3950m). Hiking time: 7 hours
• Day 5: Baranco camp (3950 m) - Karanga camp (4550 m). Hiking time: 7 hours
• Day 6: Karanga camp (4550 m) - Barafu (4673m
• Day 7: Barafu (4673m) - Uhuru summit (5895 m). Hiking time: 6-8 hours and descend to Mweka hut (3100m)
• Day 8:Descend from Mweka hut(3100m) - Mweka gate (1640 m). Hiking time: 6-8 and drive to your hotel in Moshi.
Rongai Route: This route provides ascent up Kilimanjaro from the northeastern side of the mountain, along the border between Tanzania and Kenya.
• Day 1: Rongai Gate (1950 m) - Simba camp (2600 m). Hiking time: 5 hours
• Day 2: Simba camp (2600 m) - Kikelewa Cave (3600 m). Hiking time: 6/7 hours
• Day 3: Kikelewa Cave (3600) - Mawenzi Tarn camp (4330 m). Hiking time: 3/4 hours
• Day 4: Mawenzi Tarn camp (4330m) - Kibo hut (4700 m). Hiking time: 4/5 hours
• Day 5: Kibo hut (4700 m) - Uhuru Peak (5895 m) - Horombo hut (3720 m). Hiking time: 8 hours to reach Uhuru - 6 hours to descend to Horombo
• Day 6: Horombo hut (3720 m) - Marangu Gate (1980 m) . Hiking time: 6 hours
Umbwe Route: This route is steeper and shorter than the Machame Route. Once at the Baranco Hut you continue on with the other Machame hikers. The descent is down the Mweka trail. Since it is a very short and direct route, it is not recommended for people with little altitude experience.
• Day 1: Drive to Kilimanjaro National Park Umbwe Gate, Hike to Umbwe Cave Camp (2850m). Hiking time: 5/6 hours
• Day 2: Umbwe Cave Camp (2850m) to Baranco Camp (4000m). Hiking time: 4/5 hours
• Day 3: Baranco Camp (4000m) to Karanga Camp (4050m). Hiking time: 3/4 hours
• Day 4: Karanga Camp (4050m) to Barafu Camp (4700m). Hiking time: 3/4 hours
• Day 5: Barafu Camp (4700 m) - Uhuru Peak (5895 m) - Mweka Camp (3100 m). Hiking time: 5/7 hours to reach Uhuru - 5/6 hours to descend.
• Day 6: Mweka Camp (3100m) to Mweka Gate (1640m). Hiking time: 3/4 hours
Northern Circuit Route: This route is is a new unique route and the longest trail on Mount Kilimanjaro. It goes through the untouched northern slope and begins in the West of Mount Kilimanjaro at the Londorossi Gate with excellent views from all sides of the mountain. The trail is less popular and thus good for people looking for a quieter route.
• Day 1: Drive to Londorossi Park Gate (2,385m or 7825 ft)and climbing to Mti Mkubwa Camp (2,700 meters or 8858 ft)feet). Hiking time: 5/6 hours. Distance 8 Km or 5 miles.
• Climbing from Mt. Mkubwa Camp to Shira Camp 1 (3,500 m or 11483 feet). Hiking time: 3/4 hours.
• Day 3: Climbing from Shira Camp 1 to Shira Camp 2 (3,840 meters or 12,600 feet). Hiking time: 5/6 hours.
• Day 4: Climbing from Shira Camp 2 to Lava Tower (4,600 meters) and then north to Moir Camp (4,200 meters). Hiking time: 5/7 hours.
• Day 5: Climbing from Moir Camp (4,200 meters) to Buffalo Camp (4,020 meters). Hiking time: 5/7 hours.
• Day 6: Buffalo Camp (4,020 meters) to Rongai Third Cave (3,800 meters). Hiking time: 6 hours.
• Day 7: Climbing 3rd Cave (3,800 meters) to School Hut (4,800 meters). Hiking time: 5 hours.
• Day 8: School Hut (4,800 meters) to Uhuru Peak (5,895 meters) and then onto Millennium Camp (3,950 meters). Hiking time: 7 hours.
• Day 9: Millennium Camp (3,950 meters) to Mweka Gate (1,640 meters). Hiking time: 5 hours
Machame
• Nicknamed the "Whiskey" route because the route is popularized as somewhat difficult and more expensive than Marangu route. On an overall comparison of the routes to scale Kilimanjaro, this is one of the best routes to take, both in terms of acclimatization and cost. In certain sections this route is steeper than the Marangu and Rongai routes and physically more demanding but is easier overall.
• Highly recommended for scenic value
• Great for acclimatization with lots of walk high, sleep low opportunities
• Challenging trek with stunning scenery through 5 diverse climatic zones
• Good opportunity to split per-summit day climb to leave climbers rested before summit
• Very popular trail
• Fully catered camping only
• It takes 6–7 days for climbing.
Marangu
• Nicknamed the "Coca-Cola" route because the route is popularized as easy and cheap. This, however, is a misconception as the route is more difficult due to the 'not as good acclimatization profile' as Machame/Rongai/Lemosho routes.
• Often selected by unprepared, inexperienced climbers because of its reputation for being the "easiest" route, attributing to the lower success rate
• The shortest and cheapest route, but less time to acclimatize, therefore lower success rate
• Dormitory style accommodation in huts
• Less scenic due to ascent and descent on same route
Shira / Lemosho
• High summit success rate. Good for acclimatization, especially on the longer itineraries
• Remote and spectacular, dramatic gorges and views of west Kilimanjaro
• Converges with Machame on day 4 at Baranco
• Shira offers higher start point compared to Lemosho and poorer acclimatization
• Fully catered camping only
The Lemosho route approaches Kilimanjaro from the west. Rather than simply intersecting Shira Plateau (like Machame), Lemosho crosses it from Shira Ridge to Shira 2 Camp, in a pleasant hike. Climbers encounter low traffic until the route joins the Machame route. Afterwards, Lemosho follows the same route through Lava Tower, Baranco and Barafu, known as the southern circuit. There are several options to complete the trek over 6, 7, 8, or 9 days based on your experience.
Rongai
• Only northern approach to Kilimanjaro
• Offers a true wilderness experience on the early stages of the climb
• Very tough final summit night from the north
• Fewer acclimatization opportunities
• Less scenic and flat than other routes
Also known as the Nalemuru route. Although the scenery is not as varied as the western routes, Rongai makes up for this by passing through true wilderness areas for days before joining the Marangu route at Kibo camp. Rongai is a moderately difficult route, and is highly recommended, especially for those with less backpacking experience. There are different options to complete the climb in 5, 6, or 7 days.
Umbwe
• Steep, short route with lower success rate
• Poor acclimatization because of rapid ascent
• Very remote and quiet
• Fully catered camping only
Of all the routes, Umbwe is by far the most scenic albeit steeper route up the mountain. The Rongai is the easiest camping route and the Marangu is also easy, but accommodation is in huts. As a result, this route tends to be very busy and ascent and descent routes are the same. Although the Rongai route is a flatter walk, it offers less opportunities for acclimatization. The Machame and Lemosho routes both allow better opportunities to "walk high and sleep low", which is critical to avoiding altitude sickness.
Northern Circuit
• Longest route up Kilimanjaro - good for acclimatization
• Only route to traverse all of the Northern Slopes on a circumnavigation of the mountain
• Beautiful scenery from the western approach
• Fully catered camping only
The Northern Circuit is the newest route up Kilimanjaro and also the longest. The Northern Circuit takes a minimum of 8 days to complete but most operators offer the 9 day option. Because of its length, the Northern Circuit has the highest summit success rate. The route follows the same as the Lemosho Route for the first two days and then veers off to circle around the quieter northern slopes to the east side of the mountain. There a number of route variations, but generally the Northern Circuit approaches the summit via Gilman's Point before descending on the same route as the Machame and Lemosho.
Mountain Sickness and Medications
About Altitude Sickness
If you are planning to climb Mount Kilimanjaro you will sooner or later hear about altitude sickness.
For those unfamiliar with the ins and outs of altitude illness, here are answers to the most common questions regarding mountain sickness.
The definition of altitude
High Altitude: 1500 – 3500 m (5000 – 11500 ft)
Very High Altitude: 3500 – 5500 m (11500 – 18000 ft)
Extreme Altitude: above 5500 m (18000 ft)
What is altitude sickness?
Altitude sickness is a range of symptoms that can occur when someone ascends to a high altitude too rapidly, without sufficient acclimatization.
The body can adjust to the reduced air pressure at higher altitude, but only at a rate of about 300 m (1000 ft) altitude gain per day.
If you ascend faster, and everybody climbing Kilimanjaro will, then you may develop altitude sickness.
There are three main forms of altitude sickness:
AMS (Acute Mountain Sickness) is very common when climbing Kilimanjaro.
HAPE (High Altitude Pulmonary Edema) is a fluid build up in the lungs.
HACE (High Altitude Cerebral Edema) is fluid build up in the brain.
Both HAPE and HACE are potentially fatal but are thankfully extremely rare during a well planned Kilimanjaro climb.
What exactly causes the individual symptoms of altitude sickness is still not fully understood. If you want to know more details, there is a link to an excellent tutorial at the bottom of this page.
There is also a range of other symptoms you are likely to experience during a Kilimanjaro climb due to the altitude. They are considered normal and shouldn't worry you:
You breathe faster,
you are out of breath sooner,
you may experience periodic breathing at night (where you stop breathing for up to 15 seconds, and then breathe very fast to make up for it, scary but harmless),
you may wake up frequently at night,
You need to urinate a lot more often.
None of those symptoms are altitude sickness.
What are the symptoms of altitude sickness?
The symptoms of AMS are headaches, loss of appetite, nausea, vomiting, sleeplessness, fatigue, dizziness. Everybody can expect to experience at least some of these symptoms in a mild form.
The most obvious symptoms for HAPE are extreme breathlessness, even at rest; rattling breath, coughing with pink froth and blue lips or finger nails.
HACE becomes apparent as a lack of coordination, inability to walk in a straight line, confusion and irrational behaviors (to the point of not acknowledging the symptoms).
How dangerous is altitude sickness?
The symptoms of acute mountain sickness as described above are self limiting and not dangerous. In fact, your guides may tell you during the briefing not to worry, that it is totally normal to be throwing up repeatedly during that last final push top the summit. Nice…
However, if you do experience symptoms, your guides should also keep monitoring you, because AMS can progress to one of the more severe forms of altitude sickness.
HAPE and HACE are potentially fatal!
Make sure that you always remain in contact with your guides and let them know exactly how you are feeling. Also keep an eye on your climbing partners, since people suffering from these severe conditions may not be able to correctly assess their own condition.
Anybody experiencing symptoms that could indicate HAPE or HACE needs to descend IMMEDIATELY or they will die.
But please don't panic now. As I said above, these conditions are extremely rare, provided you act sensibly when on the mountain.
Who gets altitude sickness?
Anybody can get altitude sickness. There is no way to predict how your body will react if exposed to high altitude without proper acclimatization.
Susceptibility to altitude sickness is random. Fitness is no protection. People who are extremely fit and exercise a lot get it just an easily as couch potatoes. There are many stories that indicate they may be even more susceptible!
Men appear to be more susceptible than women, especially young and fit men. (Competitiveness and the desire to show off plays a part in this. Men will often ascend faster. Too fast.)
Older people seem to be less susceptible. (Older people will ascend more slowly, and nothing protects you better from altitude sickness than ascending slowly.)
When do you get altitude sickness?
Highly susceptible people can experience symptoms from 2500 m (7000 ft) on wards, in rare cases even below that. The chance of developing AMS increases with the height but the rate of altitude gain is even more important.
Mt. Kilimanjaro is 5895 m (19340 ft) high. Pretty much everybody on a Kilimanjaro climb will experience some symptoms of altitude sickness during that last push to the summit.
There are other factors that increase the likelihood of altitude sickness, apart from the absolute height itself:
Rate at which a height is achieved (the faster you ascend the bigger the risk of developing symptoms, this factor is more important than the absolute height itself!)
Time spent at height (symptoms start appearing within 6-10 hours though they can be delayed)
Physical exertion
Dehydration
Symptoms of acute mountain sickness typically take one or two days to disappear. If you keep ascending they may not go away. For most people the symptoms come and go during the day, disappear overnight, only to come back the next day as the climb continues.
AMS can be very unpleasant, but with the right preparation and at a sensible pace, most people can climb to at least the last camp below the crater rim (around 5700m). It's that last push to the summit where AMS becomes the make it or break it issue.
You climb Kilimanjaro with knowledge that every detail of your trip has been designed by one of the professional mountain guide and high altitude experts.
Our first goal
Your safety is our paramount concern on your Kilimanjaro trek. You leave home with the comfort of knowing that during your trek all you have to worry about is putting one foot in front of the other. We take care of the rest.
Twice a day our guides perform a through health check, using their specialized High Altitude Medical Paper and conjunction with pulse-ox meters. Regular medical checks help keep your motivation and our guides can determine your condition
FAQ about Kilimanjaro
You are about to make a big decision for one of the best holiday adventures of your life. It will be amazing and you will make and endure relationships for a lifetime. There is something about Africa . . . .So,
• Who is coming to Tanzania with you – men, women, older children?
• Are you all reasonably fit?
• What do you fancy? Most people like to climb a mountain and then take a safaris.
• What type of Safaris appeals to you -driving or walking?
• Where would you like to stay – tented camp or a lodge?
• Do you have the time to finish with a few days on the beach?
• Zanzibar or somewhere more remote?
Now you have permission to dream! Chat with your friends and work out what appeals and we will suggest an itinerary and quote.
Some reality checks and FAQs
1: How Do I Choose an Operator?
There are literally hundreds of companies who service the mountain. Selecting an operator can be a daunting task. You want to be sure that your operator staffs are experienced, competent guides, who practice high safety standards and treats porters well. You want an operator that has proven expertise and track record of successfully serving a wide range of client over many years. Eastland Adventures has lead climbs on Mt Kilimanjaro nearly for many years and has helped many climbers realize their dream of reaching the summit.
2. How Much Does it Cost?
Please resist the temptation of selecting an operator solely based on price! Price should be only one component in your overall decision. Prices vary significantly between operators as well as in the length of the climb. Do not come all the way to the mountain just to encounter hidden costs lying in wait. Eastland Adventures offers quality climbs at reasonable rates. Our prices are a great value from $1550 per climber, excluding tips. At this price level, we can satisfy all park fees, pay decent wages to staff, and supply fresh and adequate food as well as equipment, while still maintaining great service to our clients.
3. When are the Best Months?
The best times to climb Kilimanjaro tend to be the warmest and driest months – End of December, January, February and beginning of March, June, July, August and September are also good months. However, temperatures and weather are quite unpredictable, and can change drastically based on the time of day and altitude. It's best to avoid the long rainy season, from the end of March to early June, and the short rainy season, from November through the beginning of December.
4. Which Route should I take?
Each route have different rates and unique characteristics which may or may not appeal to you. However, to get the most out of your trek, consider the difficulty, scenery and traffic when you select your route. Other factors that should be considered are your age, fitness level, medical conditions, backpacking and hiking experience, experience at high altitude, degree of motivation, and any other special considerations. We recommend the Lemosho, Northern Circuit, Machame, Rongai, Marangu, Umbwe and Western breach routes for Kilimanjaro. Please kindly consider your guide's advice regarding this.i
5. How Many Days do I Need?
There are minimum days recommended for each route or combination of routes. The more days you spend on the mountain, the better your chances for successfully reaching the summit. Statistics show that each additional day you spend acclimatizing increases your probability of success. Do not book the minimum number of days. Chances are, you will not enjoy your climb nor will you reach the top. Again, the guide's advice will come in handy.
6. Should I Join a Group?
A private, small-party climb is the way to go. Naturally, a small – party climb ensures individualized attention, added flexibility and increased safety. Most climb operators run large group departures. Once they add the support staff, a "small" group of climbers becomes a crowd! That's hardly the way to enjoy the mountain.
7. What Do I Need For the Climb?
Follow the gear list and resist the temptation to bring more. You won't need it and it is just extra weight that you or the porters must carry. Upon completion of the climb, you'll be surprised to realize that what you needed is not that much anyway. Try to limit all of your gear to less than 20Kg. It can be done.
8. What about Altitude Sickness?
Altitude sickness is potentially fatal. However, most climbers will get some form of mild acute mountain sickness (AMS) while on the mountain. Our guide will monitor you closely during the duration of your climb. However, you should be aware of the symptoms of mild, moderate and severe AMS, and you must inform your guide of any symptoms immediately. Never try to hide your symptoms in order to continue climbing. There is always the possibility that the impact of AMS will ultimately sabotage your summit attempt.
9. What Do I Need Before I Arrive?
Not many people have been to such high altitudes before. Therefore, climbers should have a medical check prior to attempting to climb Mt Kilimanjaro. Consult your health-care provider to determine which immunizations and medications to obtain for your travels to East Africa. A valid passport, six months prior to the expiration is required for entry into East Africa. Most travelers will need a visa to enter this region. Climbers should also obtain travel insurance that covers trip cancellation.
10. Do I need to train for this?
Yes we recommend light exercise starting few month before your climb, we recommend cycling, scouting, jogging and long walking with 5-10 back pack.
FOOD
We have various menu prepared by our professional cook and also we prepare menu based on your dietary requirements. However we recommended to carry along some high energy food like chocolates and nuts for adding extra energy and successful completion of the trek. Our sample menu which we offer while trekking
Breakfast
Toast (with honey, jam and/or butter); French toast; pancakes; sausage; bacon; eggs (scrambled, fried, omelet); cooked vegetables; fruits (oranges, mangoes, bananas), cereals; hot cereal; tea; coffee; cocoa; juice
Lunch
Cold meat sandwiches; tuna or chicken salad sandwiches; grilled cheese sandwiches; fruits (oranges, mangoes, bananas); eggs; French fries, otherwise known as chips; tea; coffee; cocoa; juice.
Dinner
Beef, chicken (roasted, stewed, curried); pasta; rice; vegetables (stewed, boiled, steamed, curried); potatoes (mashed, boiled, fried); corned beef + cabbage; Ugali (Local dish); fruits (oranges, mangoes, bananas); tea; coffee; cocoa, juice.
DRINKS
Staying hydrated on the mountain is very important. A key reason why people suffer from Acute Mountain Sickness is because they become dehydrated. You should aim to drink at least 3L of water a day. Your guides will provide you with water on Day one of the hike and from then on porters collect water from streams on the mountain. It is important that you purify this water using water purification tablets. Also recommended is adding high energy powders to improve the taste and give you an added boost. Also, a lot of oral re hydration salts (ORS) are recommended for preventing dehydration while trekking on the mountain.
TIPPING FOR GUIDES AND PORTERS
Tipping for guides and porters is standard. A single climber will have on average one guide, four porters and a cook. As a group size increases the climbing support team increase at a similar ratio. The ratio is set by the Kilimanjaro National Park (KINAPA), In general, you should budget $20-$25 a day for guides, $15-$20 a day for assistant guides, $15 a day for your cook and $10 a day for each porter. Depending on the size of the group your total tip budget should be $250-$300. It is recommended that you calculate how much you will be tipping your support team before arriving on the mountain and prepare individual envelopes for each climbing support member whom you distribute at the end of the climb.
We are more than happy to receive your questions any time and we are so flexible to assist you in organizing your safe and successful Kilimanjaro climb
Please if you any question i will be more than happy to assist you, write to me via info@eastlandadventures.com