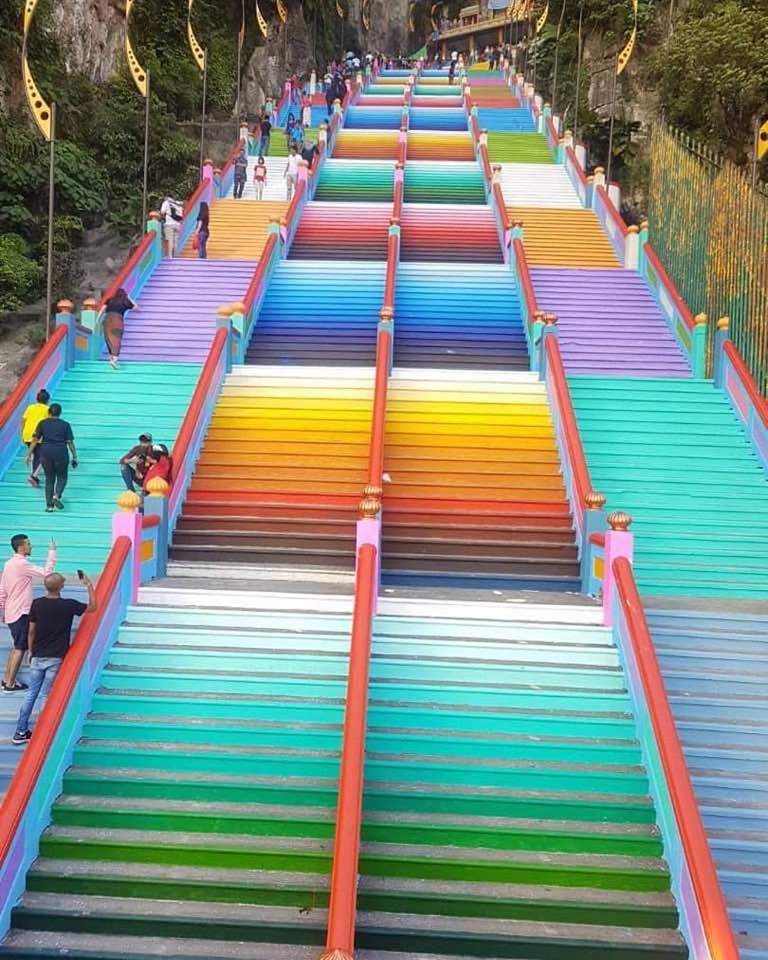 One of the most popular Hindu temples in Malaysia, Sri Subramaniar Swamy Temple came under scrutiny after it received a vibrant makeover. The 272 steps leading up to the Batu Caves complex have been painted in a dazzling array of colours while they were originally the same colour as the limestone hillside. While the colourful extravaganza of vibrant hues managed to excite visitors, the government officials were angered as no permission was taken.
A series of caverns set in a limestone hill on the outskirts of Kuala Lumpur, the Batu Caves complex is popular among Malaysia's ethnic Indian minority and tourists. Every 12 years a Hindu ritual is conducted in temples for which the steps have been painted in bright colours this time.
The National Heritage Department (JWN) is angered as the temple is a national heritage and permission has to be sought for renovation under Section 40 of the National Heritage Act 2005.
The Ministry of Tourism, Arts and Culture has also asked JWN to prepare a report for further action. Deputy Minister Muhammad Bakhtiar Wan Chik said:
"I am very disappointed with the building management (Tan Sri R. Nadarajah), especially when the department's officers informed me that they had met his son Datuk N. Sivakumar a few times, advising him that any renovation or painting job within 200m of the heritage site requires written permission from the department."
Sentosa assemblyman G. Gunaraj said:
"I was told that in accordance with the Act's Section 40 requirements, the temple management must refer to the department to identify best conservation methods when there is any development or renovation work done in close proximity to a national heritage site. This is to ensure the integrity and legacy of the heritage structure is maintained."
He even said that the paint works and renovation was actually a "disaster" for a heritage site as they were not in harmony with the surroundings.
"They are disappointed that efforts to get the temple listed as a heritage site might have been in vain, as the paint job could lead to the temple being delisted," he said.
On the other hand, Batu Caves Sri Mahamariamman Temple Devasthanam committee chairman Tan Sri R. Nadarajah said that the authorities had the necessary approvals for renovations.
The Batu Caves complex, a series of caverns set in a limestone hill of Kuala Lumpur, is popular for Malaysia's ethnic Indian minority and tourists
About The Temple
An important religious site for Tamil Hindus, Batu Caves is a popular site among devotees. The temple receives maximum footfall during the annual Thaipusam festival. Many devotees even pierce their bodies with hooks and skewers as sign of devotion to the temple deity Lord Murugan.
Share your travel experiences with Tripoto community here.
Meanwhile, watch some amazing travel videos on Tripoto's YouTube channel.