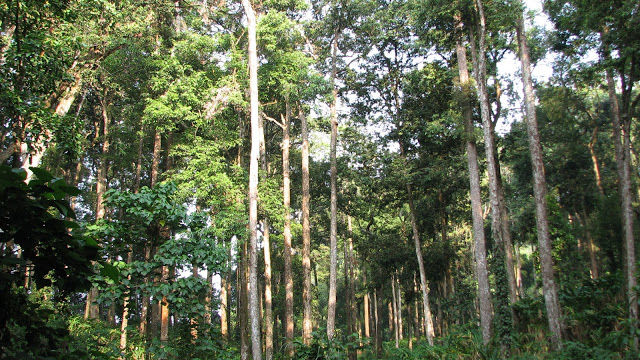 The first stretch of our journey was from Bangalore to Salem. This is a fairly good stretch with toll roads and good restaurants on the way. We stopped a few times to have tea or snacks on the way. One fine place I remember is the RFC ( an Indian version of KFC) just after Hosur. The ride was smooth in my friend's Scorpio. To top that it was a full moon night and the golden rays of the moon lit up the whole way. It was indeed a sight to watch.
On reaching Salem we were already too late for dinner. We decided to have a bite at Park Plaza. This place remains open all night and some food is always available. After spending an hour or so at the Park Plaza we headed towards the hotel that was booked. My friend had booked the "Hotel Silver Palace". This was a pretty decent hotel and the fare was not too steep.
That night we were already too tired after a long day at office and a long ride to Salem. We called it a day and went to sleep.
DAY 2
The next day we woke up early. We didn't want to get caught in the early morning traffic of Salem and Munnar was a good 300 kms away. We started off on the way towards Erode and soon we reached a Saravana Bhavan on the way where we decided to stop for breakfast. This is a nice place with shops , ATMs ,restrooms etc and a very decent breakfast. We were not sure where we are going to have our next meal and so we stuffed ourselves with Masala Dosas and Vada and coffee.
Thereafter from Erode we continued on the National Highway 47. The areas near Bhavani seemed very nice , but we decided to step up and leave that for another trip. The highway continued for several kilometres till we reached a major junction where we took a turn towards State Highway 166. This road is also mentioned as the Avinashi Mangalam Pollachi Road. This is where the fun began.
We stopped at a shop to get some provisions for ourselves. Entering a State Highway is like an eent that we must be prepared for. And we soon discovered that there is a railway crossing where a flyover construction is underway- except that there is no way to cross to the other side. After following a truck driver's formula ( go where ever others are going) we figured out there is an alternative mud road to cross over to the other side. Fortunately we were in a Scorpio and we managed to cross along with the trucks. Its difficult to cross in a sedan or hatchback at this place.
The rest of the State Highway was just an opposite experience. It was a wonderful stretch of road, although narrow but very scenic with green fields and maountains far away. And then we saw the windmills. It was simply too awesome to capture on a camera. The vastness of the fields with the windmills far and far away, light music and green fields - well we were near to heaven.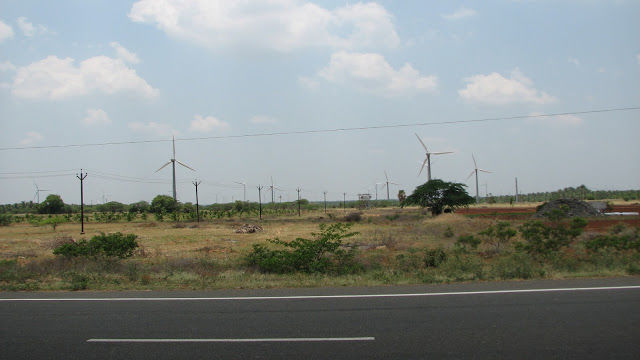 We crisscrossed a few other State Highways and finally reached Udumalapettai. No wonder State Highways throw up some of the most beautiful scenes of the countryside and I would certainly take a SH route whenever I can.
Udumalaipettai was a busy town, we could feel the heat of summer and with several diversions due to many constructions it was pretty terrible.
The route from Udumalaipettai to Marayoor is a busy road again. Although not as much as the highway it seemed that holiday season has set in and lots of people are heading for Munnar
Enter Chinnar Wildlife Sanctuary
There is an entry check point at Chinnar Wildlife Sanctuary. Someone was collecting Rs 20 from all drivers and without understanding why we also paid up and then realized later it was not a regular ticket, just a tip or you can guess what. There was really no need for that. The first thing that we noticed on entering Chinnar was the big tamarind trees with ripe tamarinds. After resisting the temptation to grap a bunch my friends finally decided to move on. I am not very fond of raw tamarind so I was not that interested.
Chinnar Wildlife sanctuary is barren and arid with thorny bushes and very little green vegetation. One can easily make out that this is the rain shadow part of the ghat section. Although there is a beauty of the vast expanse , it is really not a place to visit during summer for normal tourists.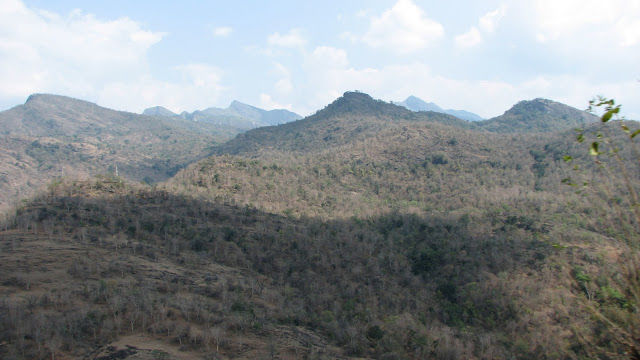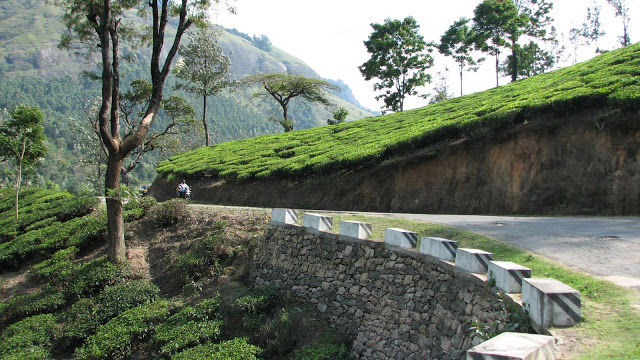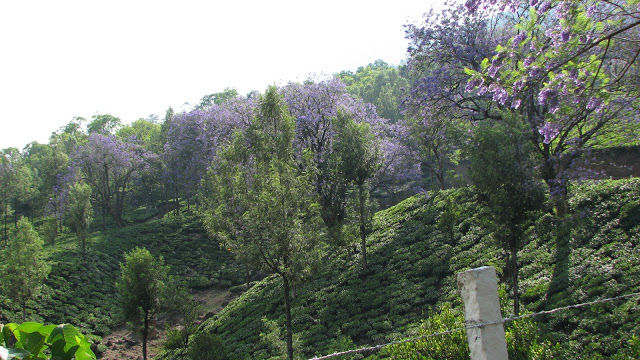 However soon afterwards further west is the Eravikulum national park and this place is green. The difference is especially visible coming from the Chinnar side. There is a sudden splurge of green and violet on the roads entering Munnar. The riot of colors set up our spirits. Then we crossed a path full of sandalwood trees.The first sight on entering Munnar is the vast expanse of the tea estates. The route from Marayoor takes one through the famous Kanan Devan tea estates. Its all a stretch of greenery as if flattened by a huge cutting tool. Its bewildering initially and then it becomes a common sight in and around Munnar.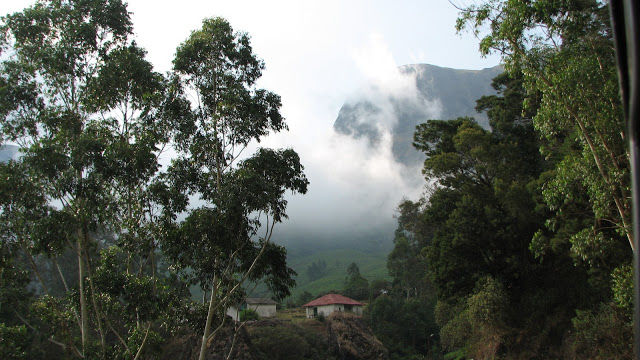 DAY 3
My friend woke me up at 5:30 am. We had planned to go on a random hike. I am beginning to enjoy these leisurely random hikes to unknown places. Quickly I got fresh and we set off with the camera. We walked aimlessley till a point we found an entry to a forest. We saw vehicle tracks and a long mud road. Deciding to follow the mud road very soon we reached a place that was simply too amazing to describe. Huge trees and dark bushes outlined the path and the early rays of the sun was just peeping through the rows of trees. And not a single soul in sight.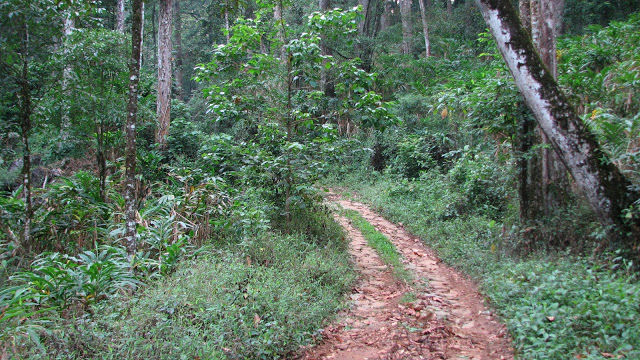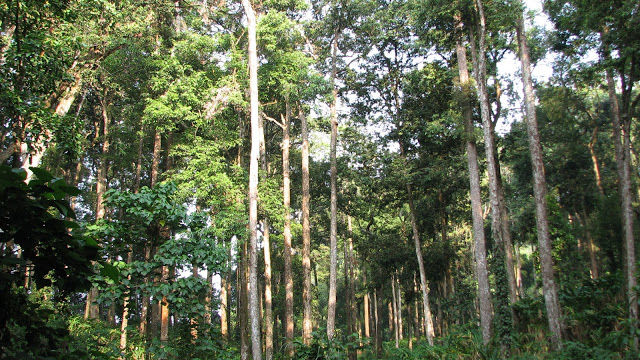 After a great breakfast we set off for a bit of sightseeing.
We started off on the Munnar Top Station Highway. We saw the Matupetty Dam on the way. Then we reached Echo Point. We stoped here for a while and enjoyed the beauty of the lake. This place makes echoes , but then its so crowded that its pretty difficult to get a serene feeling. One should probably go there only on a very rainy day with no one around.
With hundreds of shops selling everything from caps to pakodas and fried cashews and different kinds of mementos. After a long walk around the lake it was time to go.
Returning to the base point of Top Station and after a round of snacks we called it a day and started on our return to the resort. On reaching Munnar town we bought some chicken and the resort guys promised to arrange a bonfire. That they arranged pretty well and with a wonderful rainy weather it was a bumper evening.
The lunch was weak but the dinner was fantastic. The day ended and we wrapped up for our last night in Munnar.
DAY 4
We started the day late. After checkout from the resort we decided to accept the offer of the resort boys to check out the Spice Garden. That was indeed something that was wonderful. We also bought some local wild honey.
Then we all wanted to go to a elephant camp near Matupett dam. Soon we reached there and bought the required tickets. This was again a heavily crowded place. We enjoyed the sight of the elephants till it was our turn to ride them. I am awed by these majestic creatures each and every time I see them. The ride was very short compared to the price of the ticket. But I thought its okay , at least the elephant should get a good meal. That I guess it did with hundreds of pineapples vanishing just like that. While on the short ride the elephant stopped for a while while the mahout pulled out a few hairs from its tail. Seemed like a couple behind us were getting into a hairy deal for elephant tail hair.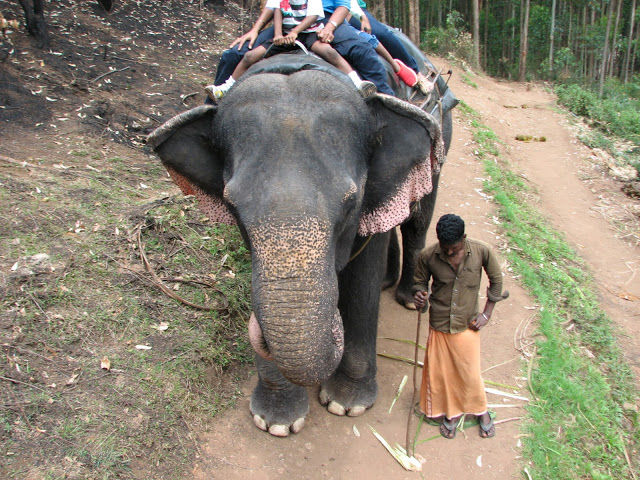 Towards late afternoon we crossed over to the Chinnar Wildlife sanctuary. This seemed much enjoyable now that the evening sun was setting. After numerous stops we saw a couple of tuskers far away on the open field. But the best part was when we were just about to exit from the park. An Indian Gaur or popularly called a bison crossed the road in a hurry. It was too quick to capture it on a camera. But that made my day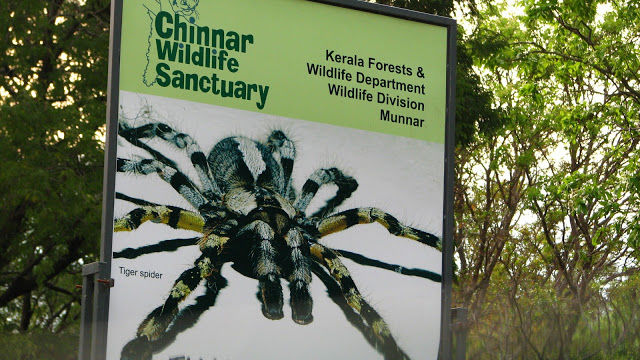 While returning we decided to skip the State Highway since it didn't have any shops and had a few road diversions. Instead we decided to go via Coimbatore. This was a verybusy National Highway and it took several hours just to cross Coimbatore.
Around 10 at night after we stopped at a local Dhaba for some dinner we decided to skip the night journey and stay at a hotel. Our decision was influenced by the strange diversions of the National Highway under construction.
Buses and trucks came from both sides and without road markings we thought it can be pretty fatal at night. Good that we took the decision.
Next day we started very early and after a series of stops reached Bangalore by afternoon.