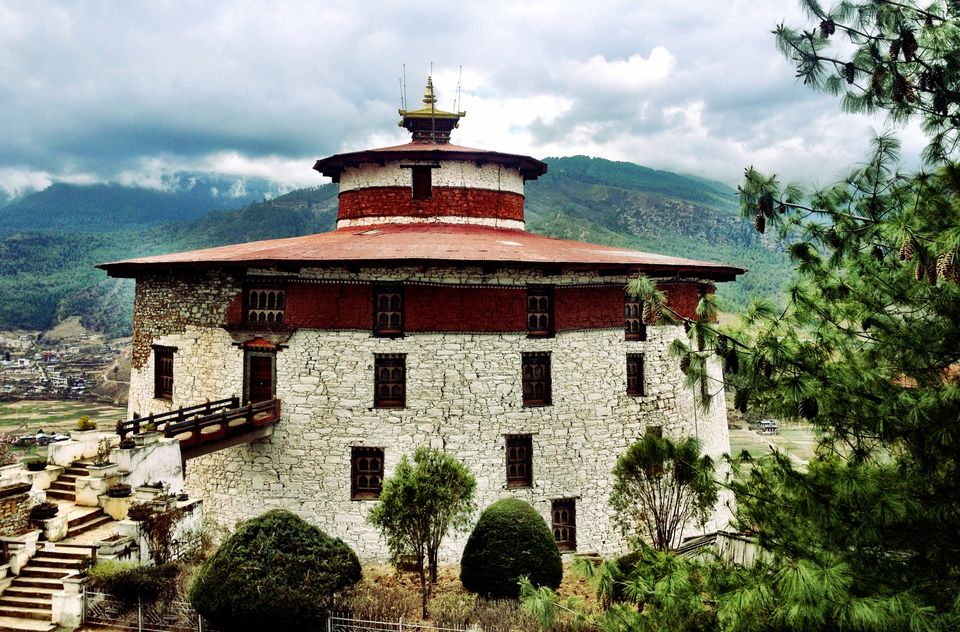 THE NATIONAL MUSEUM OF Bhutan

The first governor of Paro, originally built Ta Dzong as a watchtower in the mid-16th century. The building served as well as a storehouse which would ensure supplies in the event of warfare. The circular corridors surrounding the halls were meant for armed security guards, who kept constant vigilance against potential attack.
Originally the ground floor was used to house prisoners. At one point, Ta Dzong offered shelter to the first king of Bhutan, Gongsar Ugyen Wangchuck, during the years preceding his reign. As political stability was established and warfare declined, most watch towers gradually slipped into ruins.
Renovations began to convert the Paro Ta Dzong into the Natonal Museum of Bhutan.  Previously a shelter from invading armies, the structure now provides safe haven for numerous artistic and cultural artifacts.
The country had been the battlefield for both Bhutanese and Tibetans since the land's earliest days. But while driving through the picturesque parcel of a valley, Paro seems like an angel's gorge. Budget hotels, convenient trek tours and expedient guides would be at your disposal all day long. Field all those to your advantage and pitch your trip to the National Museum of Bhutan on your first day at Paro. After my day at the museum, it would fair enough to confess that backpacking around the country became much more convenient. Since 1968, the museum has safeguarded the vision of the founder, the Third King, responsible for the dawn of the kingdom's modernization. As such, it is the mission of the National Museum to collect, preserve, study and exhibit the cultural and artifacts of Bhutanese civilization, heritage and traditions for the education for all those who enter. 
 The gallery offers work of art that has been preserved through centuries. Along with rarest masterpieces made in Bhutan, unusual artifacts like the horse egg and horse horn, which are no strange to many Bhutanese, rather the object attracts more visitors due to their perceived sacred nature. These objects are considered by the believers to be saturated with mythological surges and in order to present the visitors with this virgin city's vibe, the museum offers types of arms and armor employed by the valley's folks with guns, bows, patangs and traditional armors.