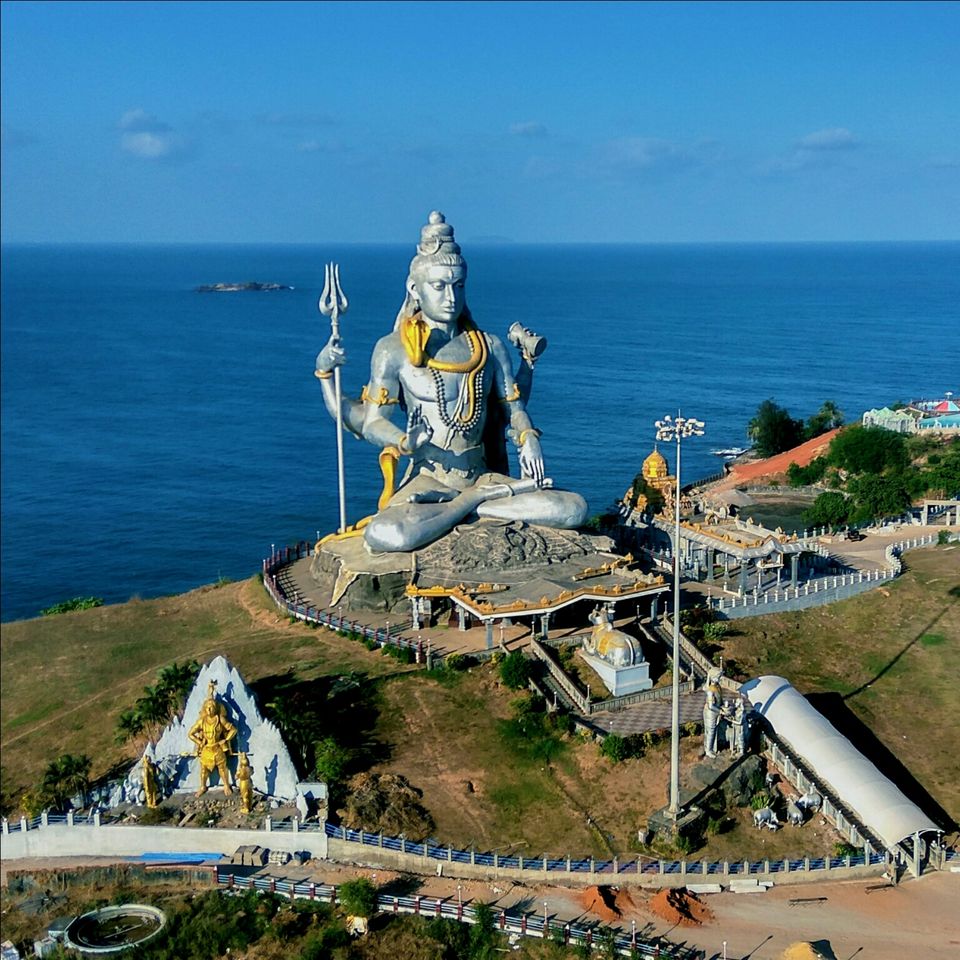 150 kms away from flamboyant Goa lies the coastline of Karnataka. The Kannadian coastline is not popular or voguish but definitely soothing and soberish.
Murdeshwar is one such soothing and soberish place to spend your next extended weekend. The speciality of this place lies in its geography. Murdeshwar is an island tied with almost a tombola to mainland. Lets go through this tied island having few jaw dropping sculptures/structures.

It all started from Mumbai from where we boarded to reach Gokarna but ended up at Murdeshwar. We reached Murdeshwar railway station early morning around 4 - 4.30am. From the railway station you can easily rent an auto rickshaw and reach the temple which is just 3kms away from the station. We rented the auto and reached Murdeshwar (Rs. 80 per rick).
While moving from the railway station to Murdeshwar, we got a quick essence of some countryside and reached Murdeshwar bus stand within 20mins. As soon as we kept our feet in Murdeshwar, 2 things made a surgical strike on our minds. One was the huge beautifully crafted structure hiding under the dark light and another was the tranquillizing sound of the waves breathing in and out from the beach. As it was 5 in the morning we thought of having a quick nap till the sunrises. We relaxed on the bus stop which is just beside the temple.
After an hour or so, we had a coffee/tea and took a bath in a rather very clean and tidy public toilet (Rs. 10/-). As soon as you head towards the temple, the tall yet beautiful crafted structure known as 'Gopuram' will welcome you as its the entrance of the temple. Trust me when I say, you just can't resist yourself from clicking temple entrance from different angles.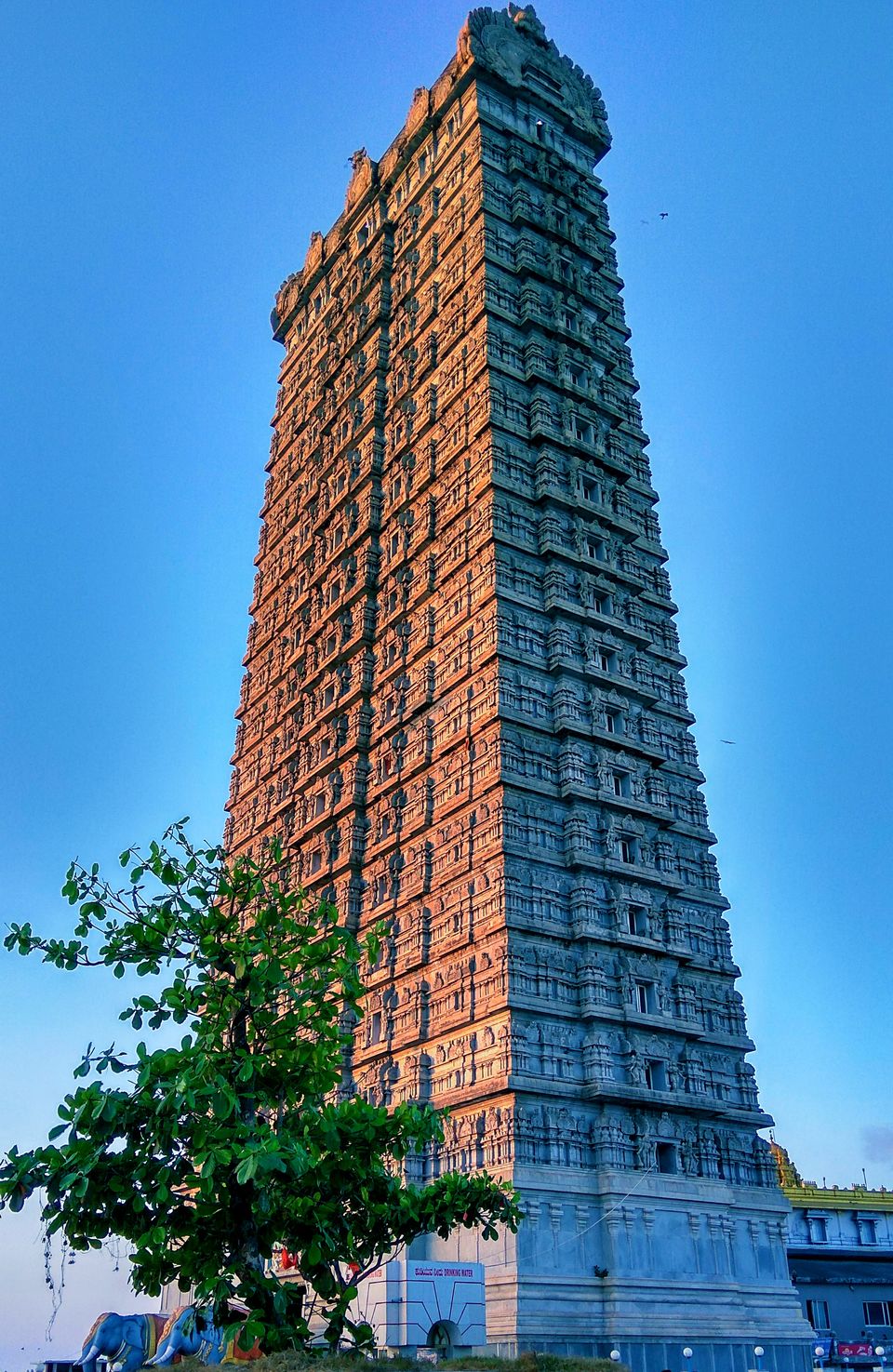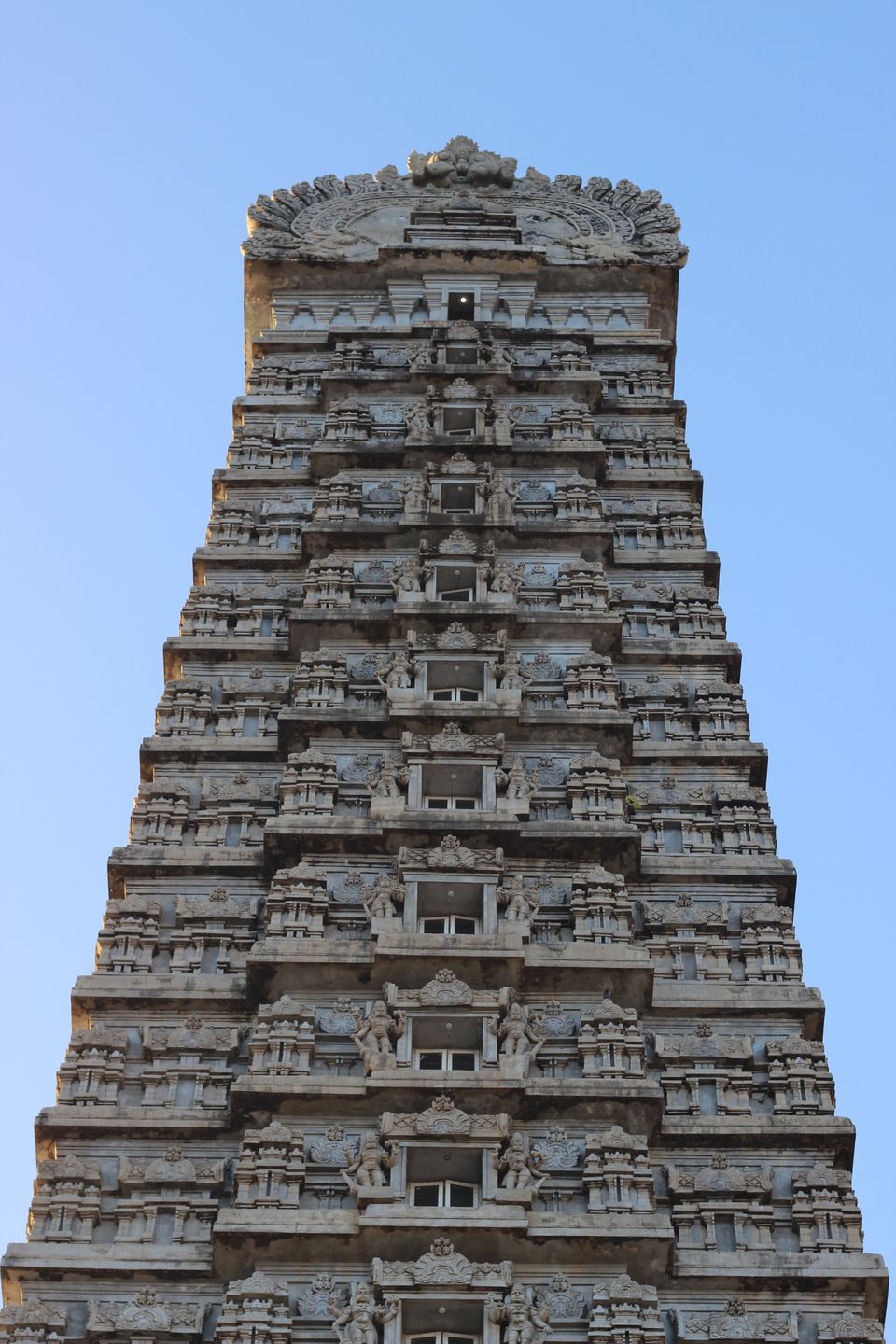 As you enter the temple you find an array of temples surrounded to the main temple which is needless to say is stunning. The lush green lawns, the tranquillizing silence and the goldish tinge across the temples gives you the much needed peace of mind. From the temple you get the glimpse of the gigantic statue of Lord Shiva and his deciples. After having an enough bite of the peace of mind, we moved towards the statue.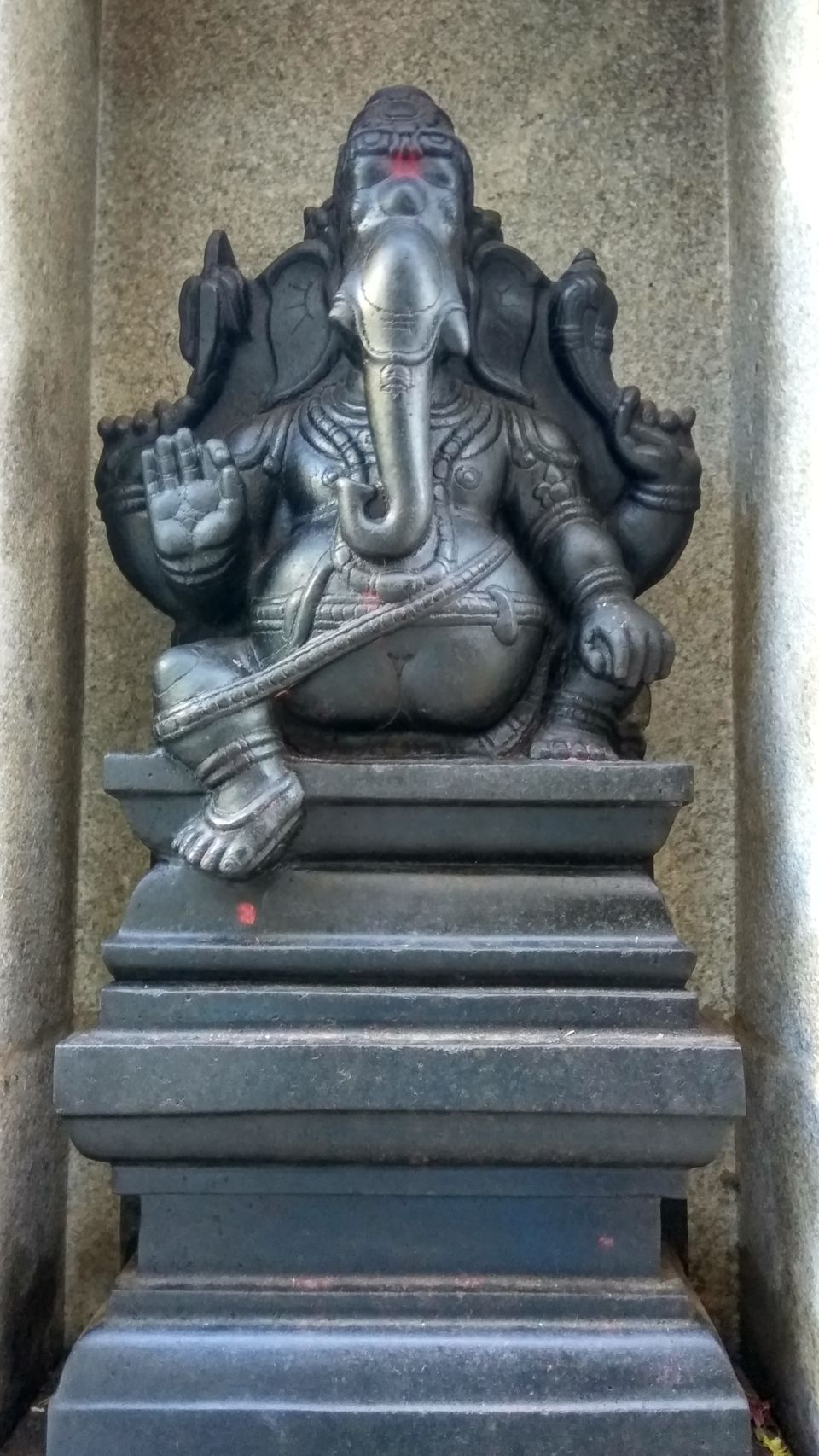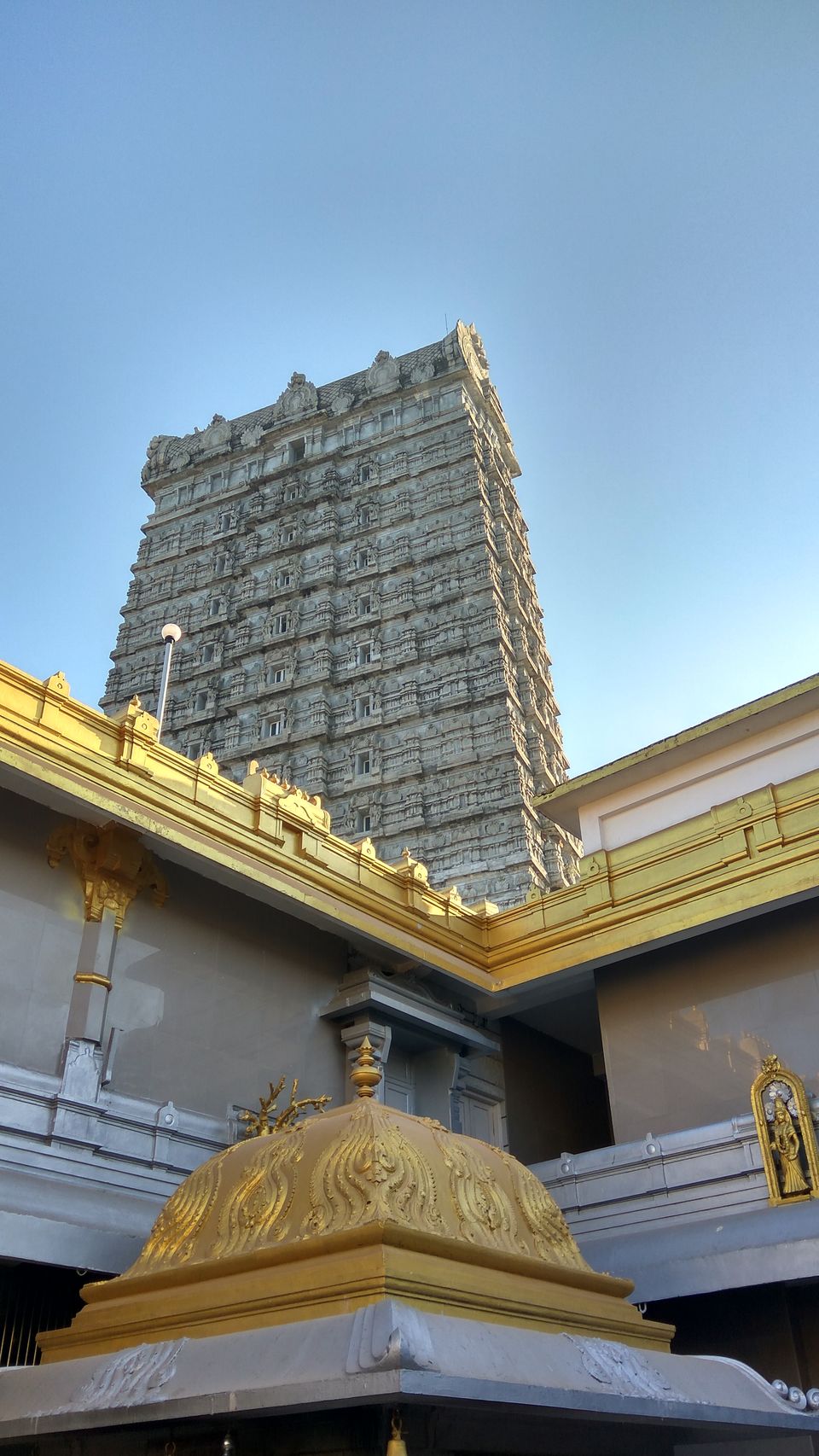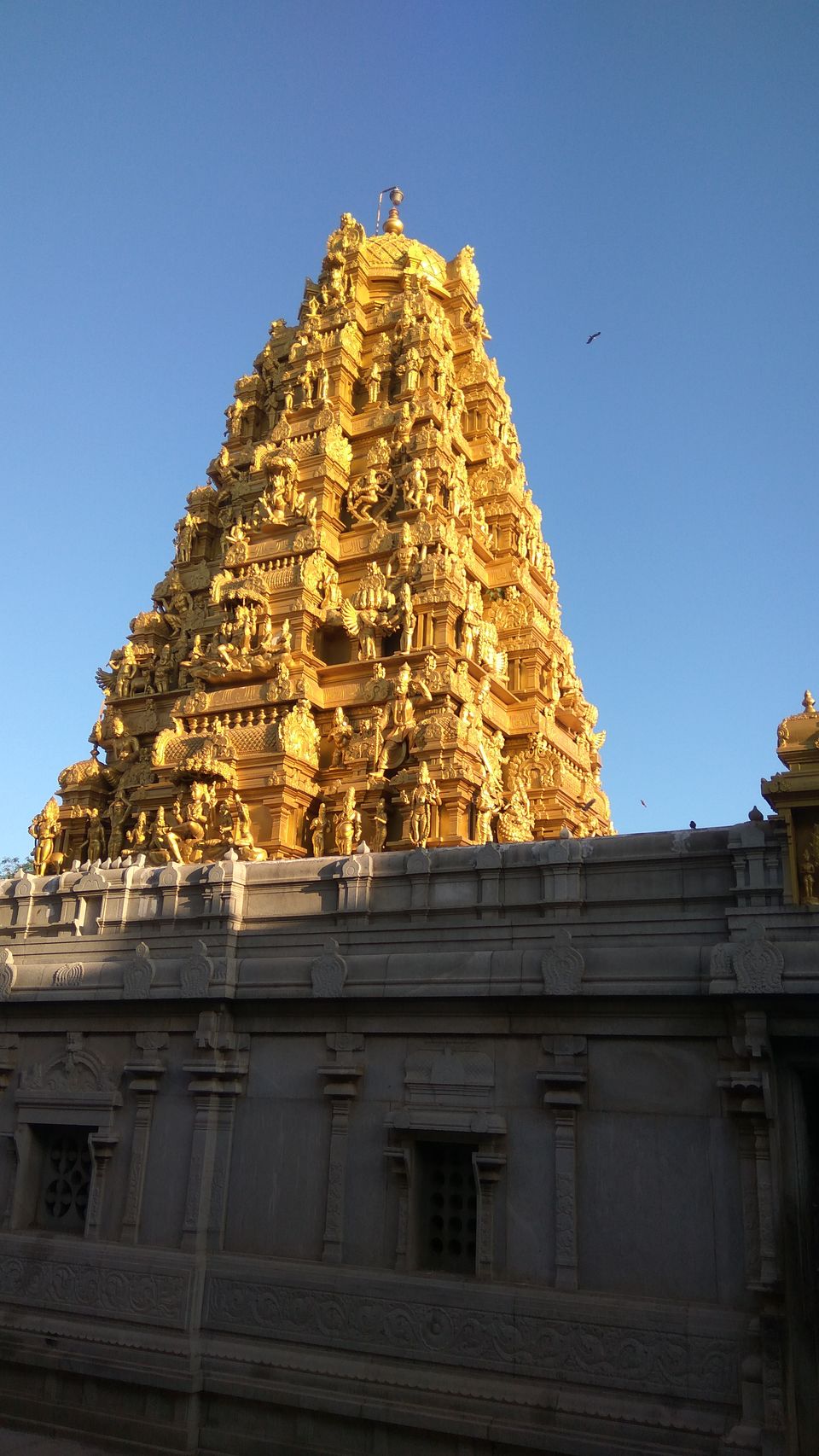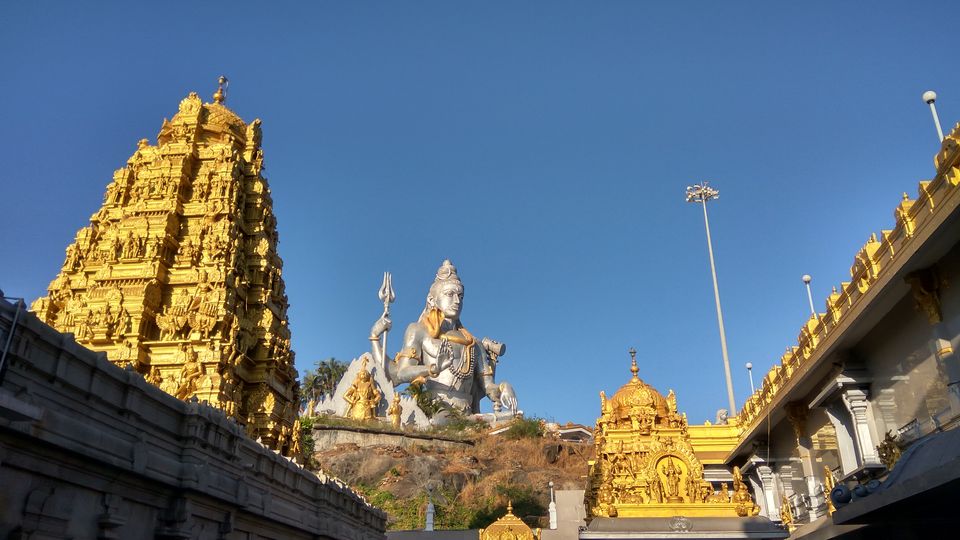 Moving towards the statue, we realized that we could actually go the top floor i.e. 18th floor of the Gopuram. We quickly rushed to the top via a lift (Rs. 10/- pp). We reached to the top and could exclaims just one word 'wow'. The panoramic view consisting of the statue of Lord Shiva, Arabian sea, beach, boats and Murdeshwar village you get from the top is totally mesmerizing. There are four windows to the four sides of the building giving you equally four fantastic views. After having a lengthy landscape photosession view moved down for visiting the statue.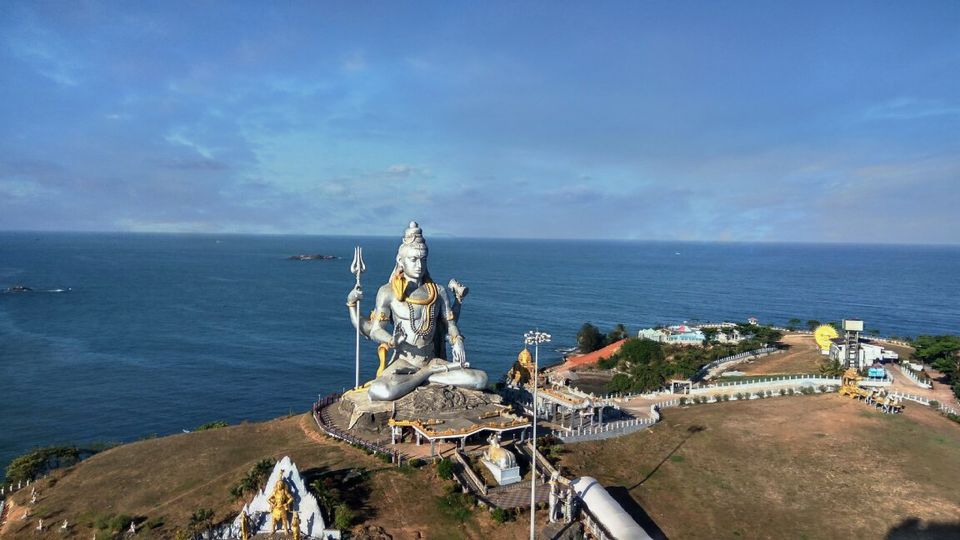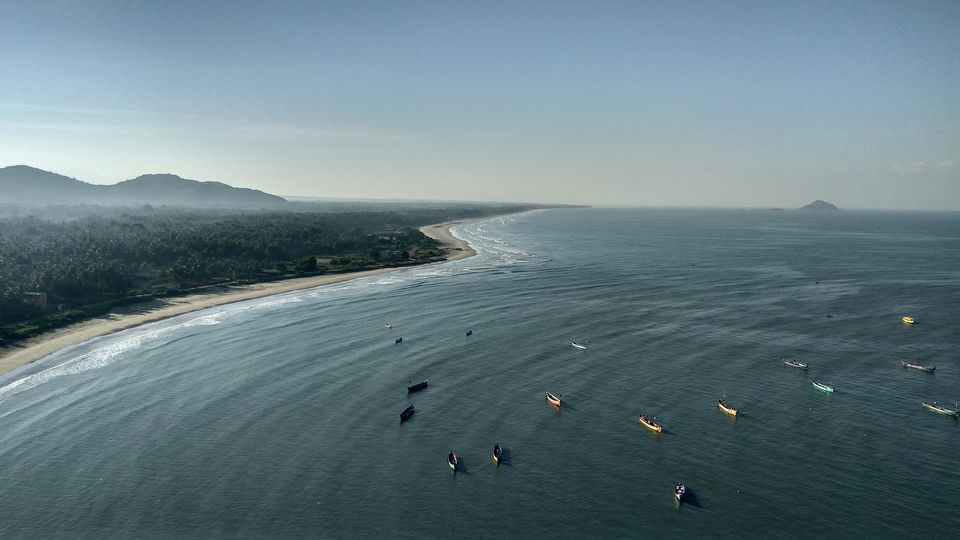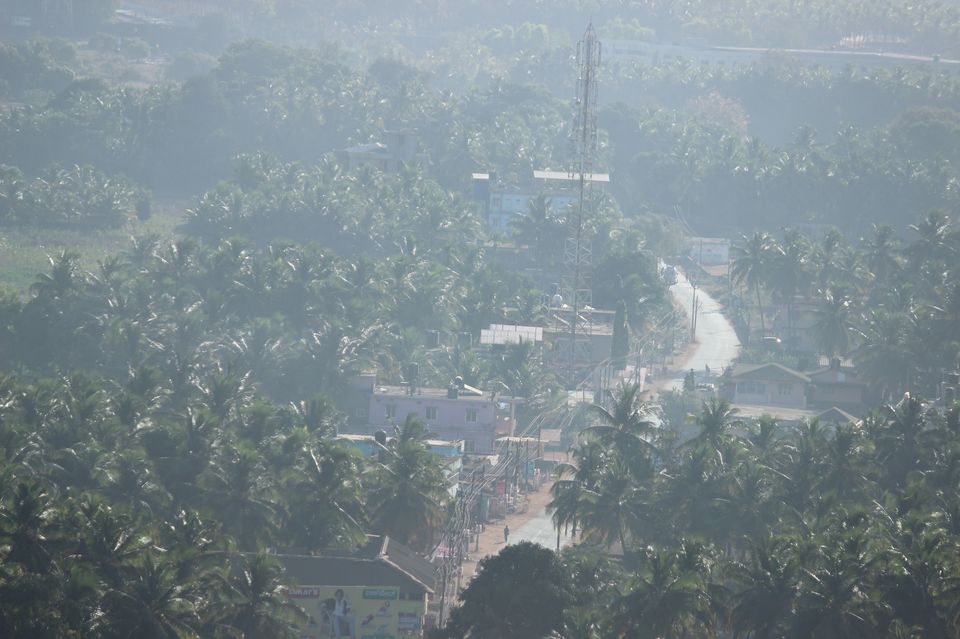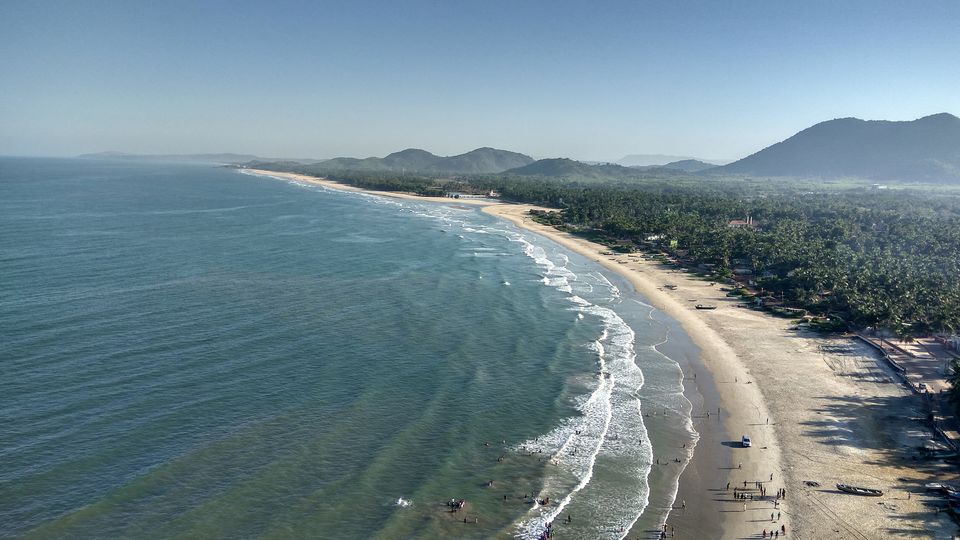 Lord Shiva's statue is surrounded by a bit smaller statues of his deciples in comparison. The statue is surrounded by a decently construction campus, allowing you to take a round across the periphery of the statue. This is a again a fabulous path leading you closer to the ocean and also giving you a different view of the gigantic statue. To the base of the statue you have another temple. Spoiler alert : You can't go up close and personal to the statue.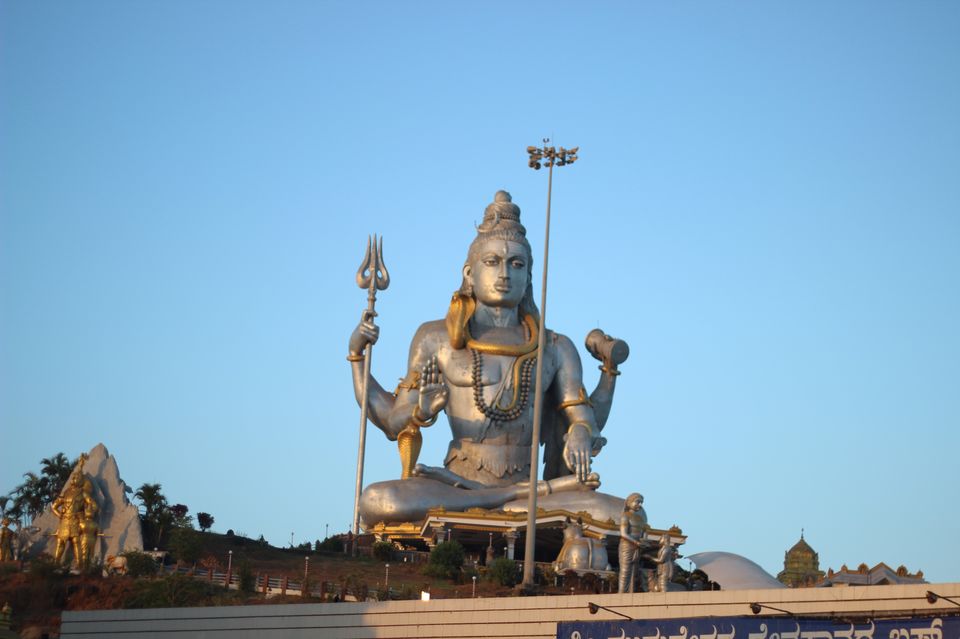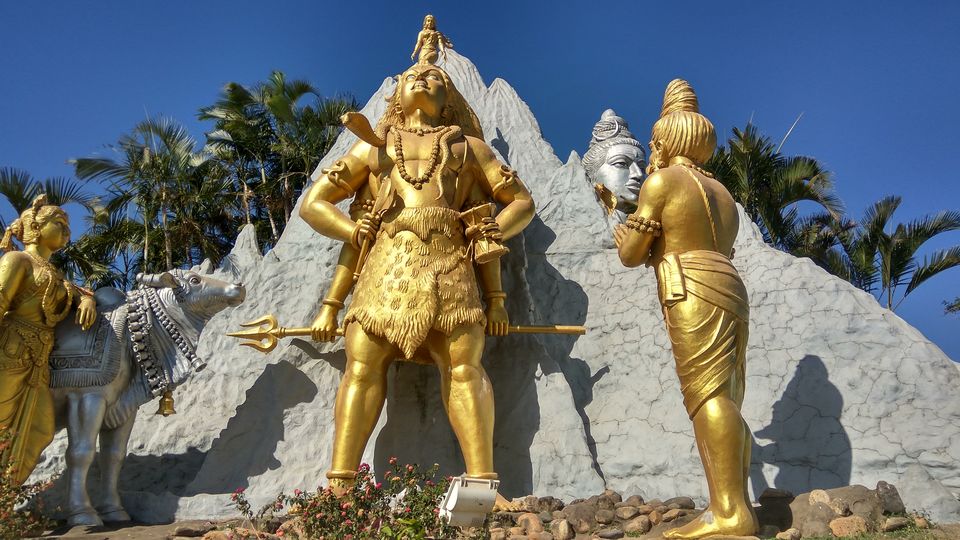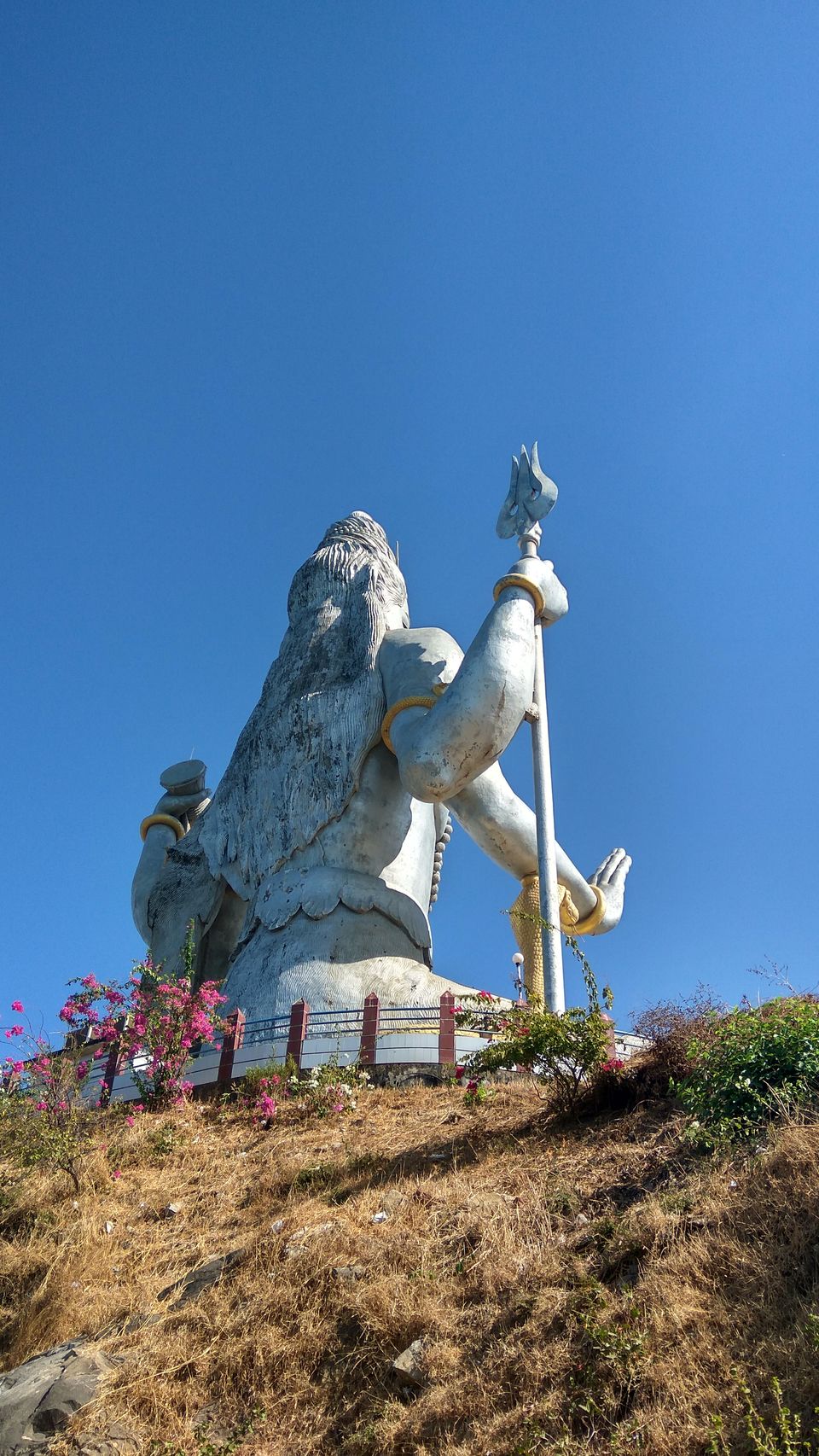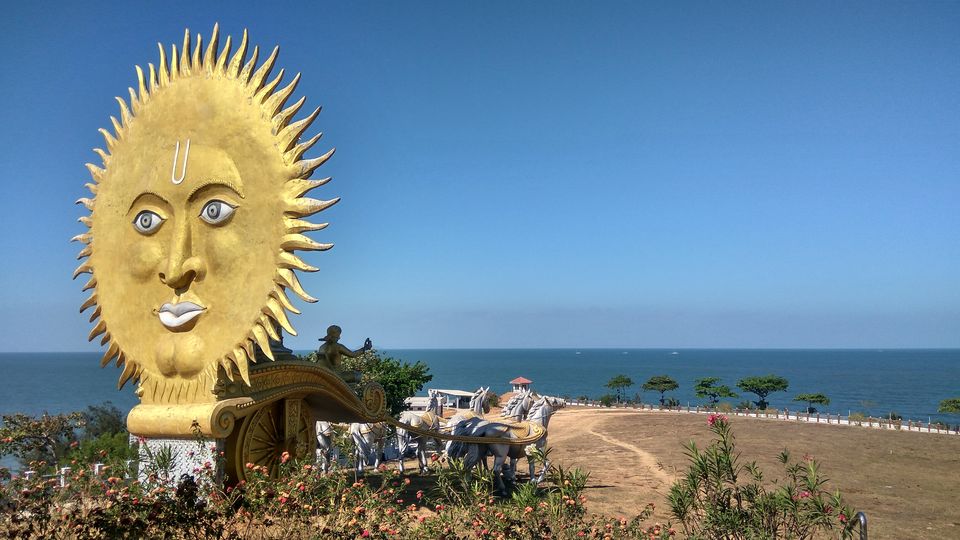 After having the darshan we had a hefty breakfast at 'Naveen Beach Restaurant'. Now this is a very affordable dine in hotel with a poster card view . You can just sit here for hours literally with this vibrant breeze, the sculptures, the structures, turquoise sea and the pristine beach around you.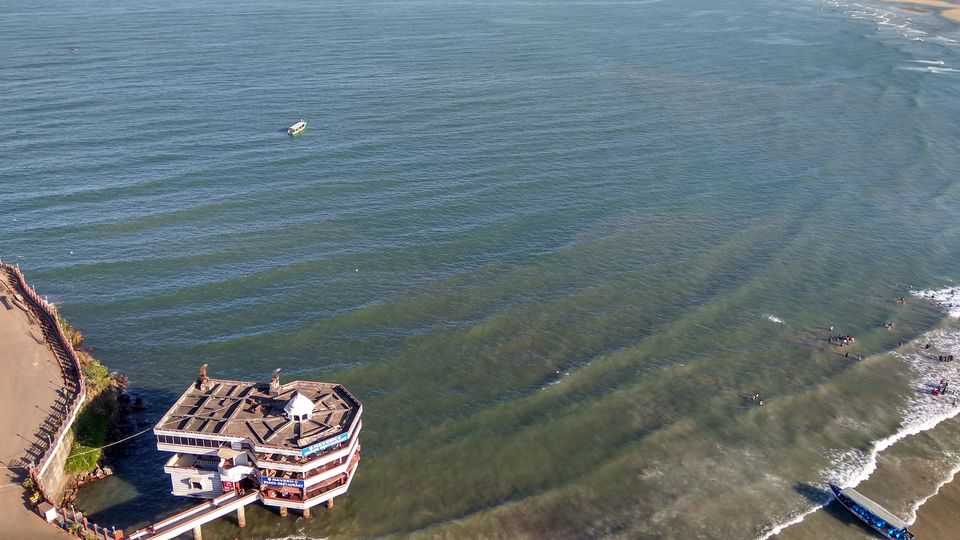 With the sun moving above our head we headed to Gokarna.
Best time to visit Murdeshwar:
You can visit here throughout the year but as this place is on the coast to have a pleasant climate visit during September - March. During monsoon you can find heavy rain and during summer this place will be hot & humid, not ideal for any trip.
How to Reach Murdeshwar:
1. Take a train to Murdeshwar Railway station and then take a rickshaw costing (Rs. 40/3persons). This is the fastest and most comfortable route.
2. If you are in Goa, reach Kumta(as this place has more frequency) and then take a bus to Murdeshwar. This may cost you some where around Rs.250/-
Things to do near by:
1. Visit the temple.
2. Relax and have a leisure day in a sea facing hotel 'RNS Residency/Guest House/Beach Resort'
3. Go to Netrani Island for island hopping and scuba diving.
4. Go to Gokarna for some emphatic beaches and pristine beach treks.
5. Murdeshwar Fort.
6. Bhatkal Beach.
This place is ideal for an extended weekend.
For more information, photos and videos you can leave a comment below or contact me on my Instagram page " _pranav_joshi_ "