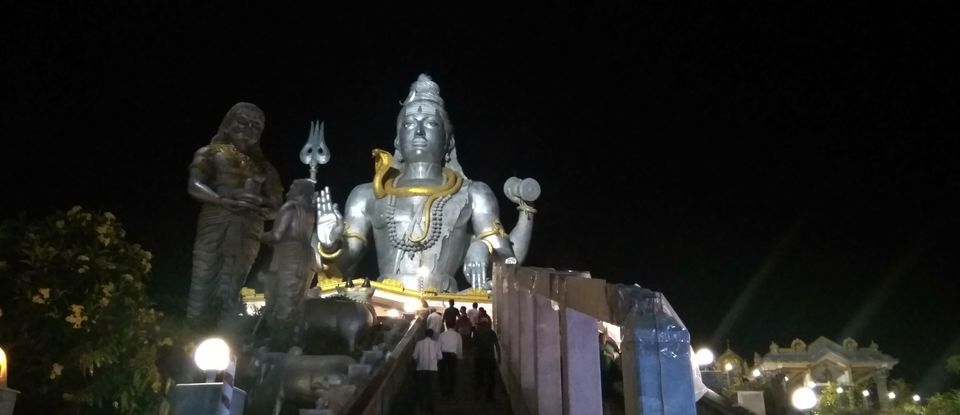 Our trip started from Honnavar which is about 27 km from Murdeshwar. Murdeshwar, also known as the holy land of Lord Shiva is majorly famous for it's temple and the 123 ft tall Lord Shiva's statue which happens to be the second tallest Lord Shiva statue in the world.
There is an interesting piece of mythology which entails the origins of this place and why it became to be called so. One of the pandits in the temple were kind enough to take some time out and narrate us the story.

As the legend goes, Hindu gods and goddesses used to attain immortality by worshiping the Atma-Linga (Soul of Lord Shiva). Ravana also desired to achieve immortality by similar means. Through his sheer devotion he managed to make the gods happy and Sri Mahadeva appeared before him. Then and there he asked for Atma-Linga. Sri Rudra agreed to grant him his wishes on one condition. he told Ravana that if he wants immortality, he should take the Atma-Linga directly to Lanka without touching ground anyplace else. Ravana agreed to the conditions and took Atma-Linga.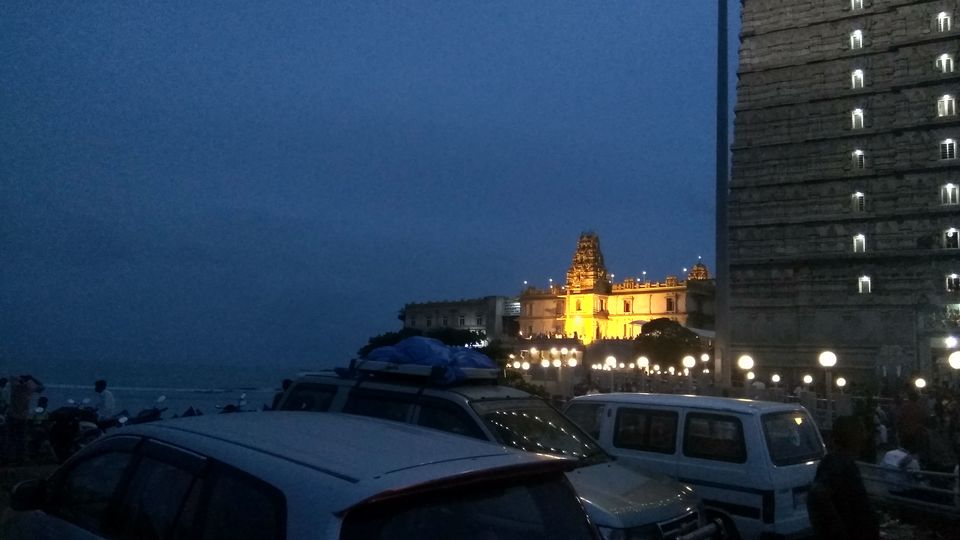 On hearing this Narada became extremely worried and rushed to Sri Ganesha in search of a solution. Sri Ganesha knew that Ravana was an extremely devout persona and always respected his rituals. One of the rituals were during evening time. So making use of that ritual, Lord Vishnu blotted out the sun for a while to give the impression of dusk. At that time, Sri Ganesha approached Ravana in a brahmin disguise and aggressively addressed him regarding his dedication for his rituals. Ravana was now in a dilemma. He had to perform the ritual but also he couldn't put the Atma-Linga on ground. At that moment Sri Ganesha struck a deal with Ravana as per which he will call Ravana thrice before putting the Linga on ground. When Ravana came back from his ritual, Lord Vishnu removed the blotting revealing it was a perfect sun and the Linga was on ground.
On realizing that he got bluffed by the Gods, Ravana became furious and tried to uproot the Atma-Linga from the ground. In his attempt to uproot, few pieces of the Atma-Linga fell here and there while the cloth covering the Atma-Linga fell on a place called Mrideshwara at that time. This place is now called Murdeshwar.
On reaching Murdeshwar, the first thing you'll notice is the 20 storied gopuram followed by the 123 ft tall Lord Shiva statue. These things make up for quite a sight. On weekends this place is a little crowded as all the devotees come here to worship Lord Shiva. And the special ceremonies of Rudra-Abhsishek takes place. The sea view from outside the temple are quite good and they make up for a really good seascape.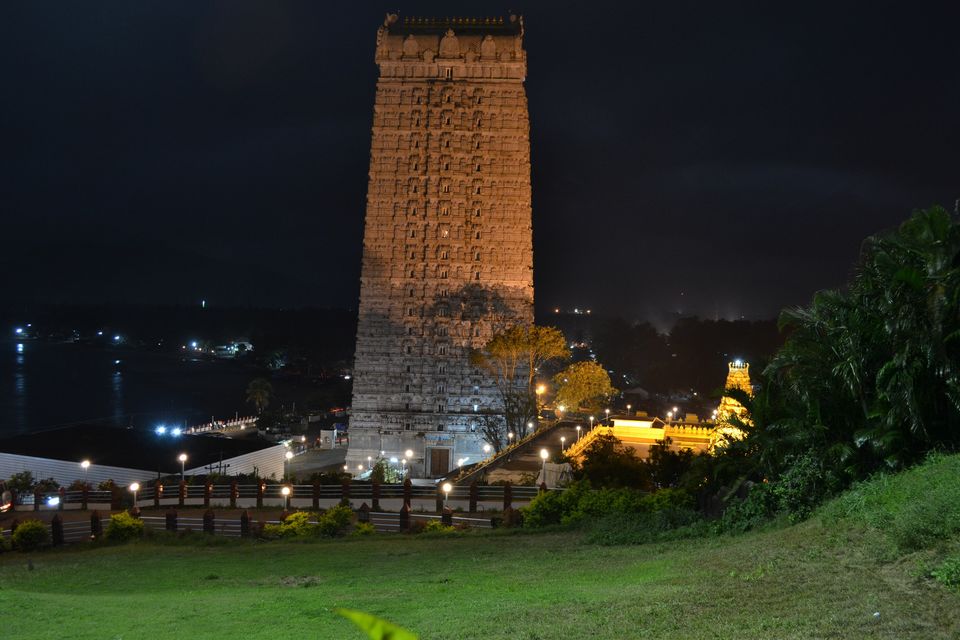 To enter the temple you need to remove your sandals/shoes and deposit it outside. After this there is a queue where you have to stand for your turn to enter the temple. It might take some time for the queue to clear on weekends as the place is usually a little crowded. Once inside if you are on the right time, you can witness the Rudra-Abhsishek first hand. We were lucky to enter the premises at the right time and got to experience it.
After the temple you can go towards the left where the road leads to the Shiva Statue. This place is relatively less crowded and easy to reach even at peak hours. When you reach here you'll come to realize how big this statue actually is and how marvelous the architecture is of this place. behind this statue you can get a look at the vastness of the Arabian Sea amidst which this statue and the temple is. The sea seems like it's endless but at the same time it offers amazing views of sunset because you can clearly see the horizon in distance. After experiencing the might of Shiva's temple and statue we headed back to our stay in Honnavar.

How to reach:
Murdeshwar is at a distance of 27 km from Honnavar, 76 km from Gokarna and 162 km from Mangalore.

The city has it's own Railway station too. So train is also an option for reaching here.
nearest Airport is Mangalore airport which is at a distance of 160 km.
Temple timings:
The temple is open from 3 AM to 1 PM and 3 PM to 8 PM all days of the week.