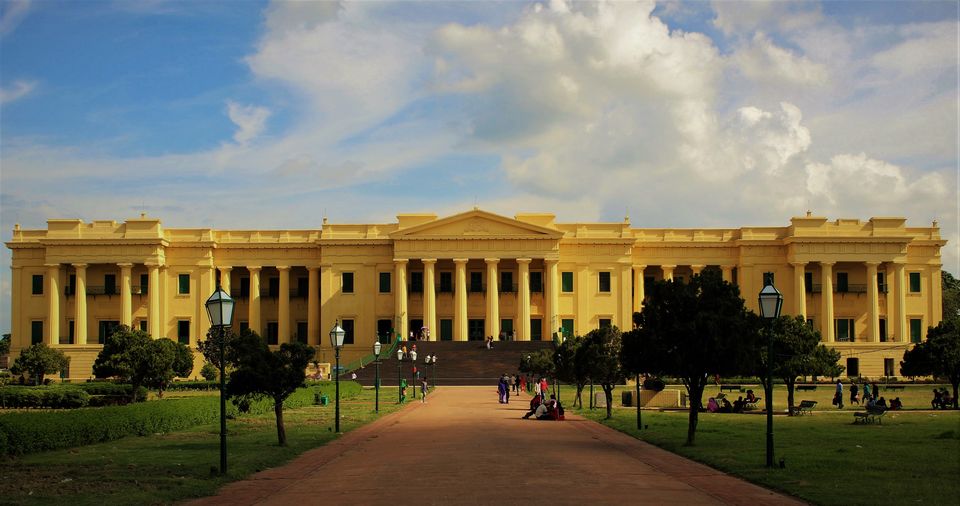 Murshidabad is a district town in West Bengal, India. It is situated on the banks of the river Bhagirathi (distributary of The Ganges). It was once the capital of Bengal, often called last capital of independent Bengal (comprising today's West Bengal, Bihar, Odisha and part of Bangladesh). It is named after Murshid Quli Khan, the Dewan (and later Nawab) of Bengal appointed by Mughal Empire. Murshidabad became the capital in 1717 and in 1773 the British shifted the capital to Calcutta.
THE HISTORICAL IMPORTANCE OF MURSHIDABAD
The name of the place Murshidabad is inextricably related to the Battle of Plassey (Palashi in Bengali, year 1757), a battle that was never fought (!) but had colossal consequences in the history of India. Sounds strange, but true. How could a side having 50,000 soldiers lose against a side having only 3,000? It's by same technique that the British applied in most of the battles conquering India – treachery. "…won it by promoting treason and forgery" as described by Jawaharlal Nehru in The Discovery of India. Then why this Battle is so important? It's important because it was the first. Once they (The British) won it here against Siraj-ud-Daulah, Nawab of Bengal, in the year 1757, they kept doing so for the next 100 years one after one…in Buxar, against Tipu Sultan in Mysore, against Marathas in the series of Anglo-Maratha wars, during siege of Jhansi and so on. They conquered all the local powers and formed the formidable British empire in India. The Battle of Plassey was the first, which showed them the way and that's why it's a very important turning point in Indian History (considered as a very important milestone similar to 1192, 1526, 1857 and 1947). We also calculate the duration of British rule in India as 200 years approximately (1757-1947) from this point.
HOW TO REACH MURSHIDABAD
Murshidabad is accessible from Kolkata by road and by train. Distance between Kolkata to Murshidabad is around 225 kms by road and 193 kms by train. You can hire a cab for entire trip from Kolkata. The best is to go by train which takes around 3.5 hours. It was a long weekend. On the Saturday morning, we took the Hazarduari Express (13113 Up). It starts from Kolkata Station in the morning at 6.50 a.m. reaching Berhampur Court Station (you can drop there or at next station Murshidabad) by 11 a.m. While coming back (13114 Down) it arrives at Murshidabad around 4.45 p.m. reaching Kolkata by 9.30 p.m. We came back on Monday. Other trains are Bhagirathi Express, Lalgola Express and Lalgola Passenger.
PLACES TO VISIT
• Hazarduari Palace and Museum:
It means Palace of Thousand Doors. The Palace with one thousand doors, though some of them are false doors, used to create confusion for any outsider. Perhaps the most significant tourist attractions of Murshidabad, this sprawling palace has been built on 41 acres of land by Architect McLeod Duncan during the reign of Nawab Nazim Humayun Shah. It has been converted to a museum with exhibits ranging from Siraj-ud-Daulah's possessions, weapons used during Battle of Plassey, statues, rare books, paintings and other antiquities. It is now maintained by Archaeological Survey of India. The timings for the Museum is 9 a.m. to 4.30 p.m.
• Nizamat Imambara:
Just on the opposite side of the palace lies The Nizamat Imambara, built in 1847 by Nawab Nazim Mansoor Ali Khan. The stunning mosque was built after the original built by Siraj-ud-Daulah got burnt down in a fire.


• Footi mosque:

Located towards the east of the Hazarduari Palace.


• Wasif Manzil:

This Palace was built by Nawab Wasif Ali Mirza Khan, located at the south end of Hazarduari Palace.


• Madina: A small mosque between the Palace and the Imambara.
The above 5 can be complete in 3-4 hours as they are within/ in and around the same Complex, with Hazarduari being the main attraction. People who want to take good pictures of Hazarduari may visit in the afternoon. We reached Berhampur (nearest big town and headquarter of Murshidabad district - 10 kms from Murshidabad) by 11 a.m., checked in at Hotel at Berhampur around 12 noon, had our lunch and started towards the Hazarduari around 2.30 p.m. By 7 p.m. we could complete all the above and returned back to Hotel.


We saw the remaining places throughout the next day hiring a car

.
Battle ground of Plassey:
If you have more time, you can make a separate trip to the Battle ground of Plassey. Plassey is a village that is 40 kms from Murshidabad (30 Kms from Berhampur). You can hire a cab and visit. There is a rail station also – Plassey. It will take 3-4 hours for this tour, and normally people avoid this because there are only two things to see - the battle ground and a small monument.
Following places are worth visiting in Berhampur:
• Barrack Square: It witnessed first war of Independence i.e. mutiny of Sepoy broke out on 25th Feb 1857. There is a "Saheed bedi" situated here.
• Armenian church: Built in 1858, it is the oldest church of Murshidabad
• Dutch Cemetery: Built in 1632.
• Krishna Nath College: Built in 1853 after the structural design of Oxford College.
• Cossimbazar: Visit "Bara Rajbari" and 'Choto Rajbari".
THINGS TO SHOP:

Murshidabad Silk Sarees are a very popular variety of sarees. With its origin in Murshidabad, these sarees are famous for their intricate designs and pattern works.


PLACES TO STAY


Being a small town, Murshidabad does not have big luxury hotels. There are few good options at a reasonable price range of Rs 1,500 to 2,500. There are lodges and other small hotels at low prices (Rs 1000 or less). Hotel Sagnik is a good hotel and close to Hazarduari and other tourist places. If you are ready to stay in Berhampur, then options increase, but not that much. Hotel The Fame, Roopkatha, Hotel Sunshine etc. are good options. We stayed at Hotel The Fame, which is very close to Berhampur Court Station. The price ranges from Rs 1500 to 3000 for all these.

To read more visit My India thru' Lenses: Murshidabad - A small town with a big history