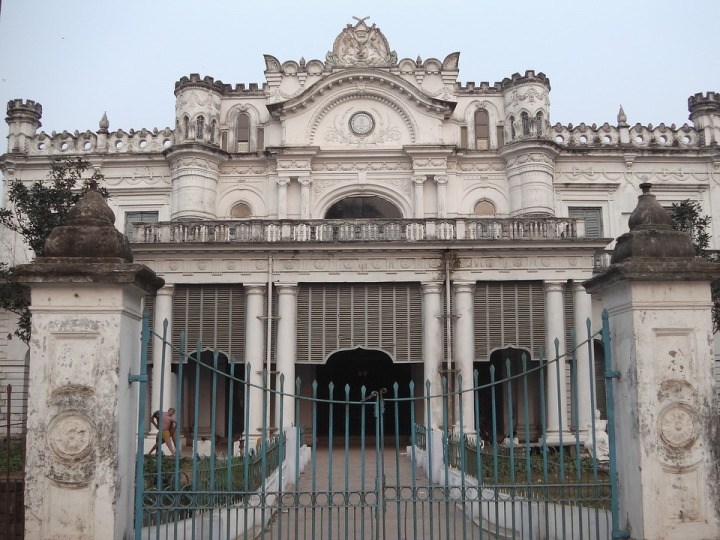 I lived in Murshidabad for less than a year for some work. My house was near the national highway and I could hear the voices of all the vehicles passing by day and night from my window. The town is busy as you stroll on the roads no matter which path you take. The place is famous for its beautiful silk sari and ivory carving.
Local transportation includes bus, train and auto which connects most of the nearby places. Interesting part is the boat ride which you can see many locals riding and carrying their bikes along at a nominal price while crossing the river. You have bridges to connect but the locals prefer going by boat as it reduces the time.
Very little has been written about this historically important place, the last independent capital of Bengal. But if you visit once or have lived here, you understand that much can be done for awakening the interest as it is very rich in monuments, culture and history.
It was one day that my friends came from Kolkata by Hazardwari express and we decided to explore the different places. We started with Hazardwari palace or as the name aptly depicts 1000(Hazar) doors(dwar), is a marvellous historical palace where 900 are real doors and 100 are false doors made to capture invaders. There are various 3-D paintings of successors in the palace painted by Dutch, Italian and French painters. There is a mirror on the wall where you cannot see your image but the person standing behind you. As it was official residence of Nawab in the year 1829, utmost care was taken for his safety. There are many preserved birds & crocodiles kept in the museum along with admiring pieces of ivory. You can visit the palace in the morning till 5 in the evening but you cannot take a camera inside.
Just opposite this palace is a mammoth structure named as Nizamat Imambara. It is a beautiful white building which is reconstructed and has Madina in the centre block which is 300 feet long. It is situated just on the banks of Bhagirathi river. The old madina mosque is still there near the Bacchawali tope and the clock tower. Bacchawali tope has a story which says that it was fired only once and the sound made the pregnant women to give birth to their child, hence the name Bacchawali tope. It is a cannon and was used to protect the city of Murshidabad from north-western attacks. You can find a beautiful white horse strolling near the Imambara which looks old like history.
We covered these 2 places in 4-5 hours and took a rickshaw ride back to the town. After having lunch in Hotel Fame which is one of the finest hotels of Murshidabad, we decided to drop our bags in my room and go for exploring the town on foot. Traffic is no less in evening and crossing a lane can be done fast on foot than any vehicle. We crossed the local market full of fruit vendors and local shops on the sides to reach Khagra which is a local market and you can find anything and everything of daily use. There are some small local shopping malls along with brands like Pantaloons, Levis, Pepe, Turtle etc. You will find Murshidabad silk sarees in local shops like Manmohini, Silk Khadi, Bharat Khadi, Bagrecha etc. After having some street food in Khagra only, we came back for a good night's sleep.
Next morning we woke up early with the sounds which I mentioned earlier and also the sun rises a bit early in East. We ate Radha Ballabhi and Luchi with chaa(tea) from a local shop and decided to explore some more places.
We started with Katra Masjid, the oldest and the most imposing Islamic architecture at Murshidabad. The facts written by Archaeological survey of India about Katra Masjid states that, it was raised on a lofty platform. It is said to be built by Nawab Murshid Quli Khan, the founder of Murshidabad in AD 1723 and its importance lies not only as a great centre of Islamic learning but also for the Tomb of Murshid Quli Khan which is buried under the entrance staircase. As you see this architecture from far away you realise that it is huge and there are two large corner towers which have loopholes and are believed to be for musketry. Interesting Huh!
After this, we went to see Jahankosha Cannon which literally means the destroyer of the world. The great gun known as Jahan Kosha or the world sub-duer lies as a solid testimony of the metallurgical skill of the Bengali Blacksmith Janardan who made it. It measures 5.5 m in length and weighs more than 7 tons. It was made at the instance of Subadar Islam Khan during the reign of Shah Jahan in 1637 AD.
We carried some snacks(Jhaal Muri) and water to keep us going for the whole day. It was cloudy unlike those sunny days of Bengal so we thought of covering some more places. We went to check Wasif Manzil which is a museum reconstructed after a major earthquake which destroyed the palace badly. It contains the age old things used by Nawabs including the furniture and utensils which are displayed. I had visited this place before as the famous Bera Utsav is held here and the current Nawab also participate in this to maintain the legacy and inheritance. The beautifully decorated boats are carried to the Bagirathi River where lamps and lanterns are lit. The sky is filled with crackers and light and various people from adjoining villages and town visit here to experience this beauty.
We then went further to visit Nasipur Rajbari, famous for Debi Singha who was a ruthless tax collector under East India Company. The famous Jhulan Festival(celebrating the love of Lord Radha-Krishna) and the fair is held here and all the adjoining town and villages people come and see the dramas held on this occasion. The temples inside this palace are unusual and have many mythological tales which are told differently to us by local people.
History has many stories to tell, so is the story of conspiracy which led to the defeat of Nawab in the famous battle of Plassey. Jagath Seth along with Omichund, Mir Jafar and Robert Clive held this conspiracy in his house against Nawab Siraj ud-Daula as mentioned in the books and journals. Seths were known as the "banker of the world" and were unrivalled in northern India. You can visit this palace - Jagath Seth's palace and look at the fascinating structure with things at display.
It was already evening and we decided to end our day with our visit to Moti Jheel which is a reconstructed beauty and has an entrance fee of Rs.20. with all the modern amenities including battery operated vehicles which are mostly seen in good Hotels/resorts. It has huge garden, kids swings, a shop of artifacts, a lake , some cottages and a light show in the evening. You can think of it as a picnic area which is well maintained and the evening show depicts the history of Murshidabad. As the history recalls, it is known as Company Bagh from the fact that it was associated with East India Company. Within the blend of the lake was built a beautiful palace called 'Sang-i-dalan'(Stone palace)using materials especially the black basalt pillars brought from the ruins of Gour. This was built by Nawajesh Muhammad Khan alias Shahmat Jang, nephew and son-in-law of Nawab Alivardi Khan. After his death , his widow Ghaseti Begum lived here until Siraj-ud-Daulla took over the palace and seized enormous amount of treasures in 1756 AD. The mosque of Nawajesh Muhammed also known as "Kala Masjid" is built on the other end of Bagirathi river along with other buildings.
We headed towards my room after this tired day and ate whatever we got on the streets of the town. Since it is lesser known, it is not a tourist destination yet. But as you read about it, there is much to be done. Local work like brass, sandalwood and shola work can be made popular which can solve the problem of unemployment. Young people often leave for work in Kolkata as there are few job opportunities in the town.
There are some more places of interest like Kathgola Bagan, Chak Masjid, Dutch Cemetry, Babulbona Cemetry, Ratneshwar temple, Jagatbandhu Dham etc which are eually important but we didn't have time to explore them and postponed it for our future visit.
Next morning, my friends returned to Kolkata by bus crossing the villages and the farms sharing their encounters afterwards.
I often wonder that learning dates and places was so difficult in my childhood and how wonderful my history lessons would have been, if I got this exposure of travelling!
Recommendations:
If you want to reach from Kolkata(Bengal) -India, you can take either a train or you can reach by road. I used to travel by road from Kolkata(210 Kms) taking a highway till Bardhaman following a single road to reach Murshidabad. On the way you will find small villages, farmers working in the field, children playing with dogs, bullock carts loaded and you will understand you have entered an entire different world.
There is history all around as you walk past some of the very old buildings of district which serve as government office now or are abandoned for no use. The place which I lived was close to National highway and I had to cross Lal Dighi towards Cossimbazar daily for work.
You can stay in Hotel Fame / Hotel Samrat where I used to have my meals sometimes.
Murshidabad is quite hot in Summers so wear lighter clothes and carry water & food if travelling in Summers.
People speak Bengali but they understand Hindi to a certain extent.
Happy hitchhiking!