Continuing my adventures in Thailand, we left Bangkok in much anticipation of the endless blue green waters only to land in Chumphon, the point from where we were to take the ferry to Koh Tao (Our first stop in the series) in pouring rain. No, this was not the kind of rain that stopped after a mild drizzle, this was the kind that outpours and floods cities like Mumbai. Needless to say, our hearts jumped to our throats. We were in for a week of sun, sand and the beach not to cower under shacks from heavy downpours. We researched all we could at that point and realised much to our dismay that November is the time for rains in the southern part of Thailand and we realised gravely that this oversight could cost us our vacation.
Trying very hard to stay upbeat we trudged along, on board the ferry when it was time, dreading the weather as we reached the islands. Thankfully, the weather had cleared up by then and we could stand atop the top most tier of the speed boat to enjoy the mesmerising blues and landscape as our boat made its way to Koh Tao.
The Turtle Island - Koh Tao
A journey of around two hours went past in a haze with the beautiful sun rising atop glistening the blue waters with a shimmer like no other. Soon we spotted Koh Tao, rightfully named Tao which means "Turtle" in Thai as the tiny 21 km2 island actually looked like a giant turtle. As we spotted the turtle island and praying to the rain gods for some kindness we rushed to our resort.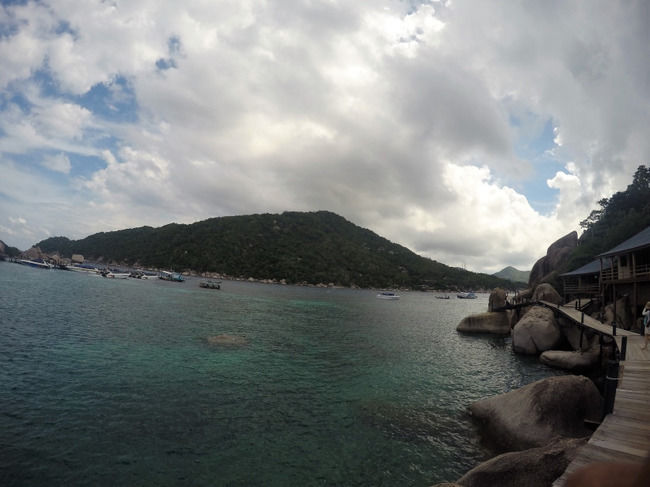 View of Koh Tao – The Turtle Island
We reached the resort dropped our bags and headed to Sairee Beach right opposite our resort. It was a beautiful coast truly. We had a sumptuous breakfast (read bread for vegetarians) and headed out to find a taxi to take us to the next beach spot. For commute in Koh Tao, you can either rent bikes as cheap as 150-200 Baht per bike for a day or you can hire a cab at 1000-1500 Baht depending on the places you want to cover. Since we were a large group, we preferred going together in a jeep and took a taxi to Tanote Bay.
Tanote Bay is definitely one of the best beaches I have ever been to. With the backdrop of other islands by its North and beautiful resorts by the bay. There were small houses at the end of the coastline that made you think that you could just leave everything in your life, buy the house there and wake up every day to this beautiful view with a smile extending from ear-to-ear. I wish I was exaggerating but the calm beach and the idyllic house just made me want to settle in there. We had the most engrossing of conversations by the beach and as the sun was starting to go down we headed up to the Two View point with the lovely aerial view of the beach on one side and the tall palm trees and the other islands on the other.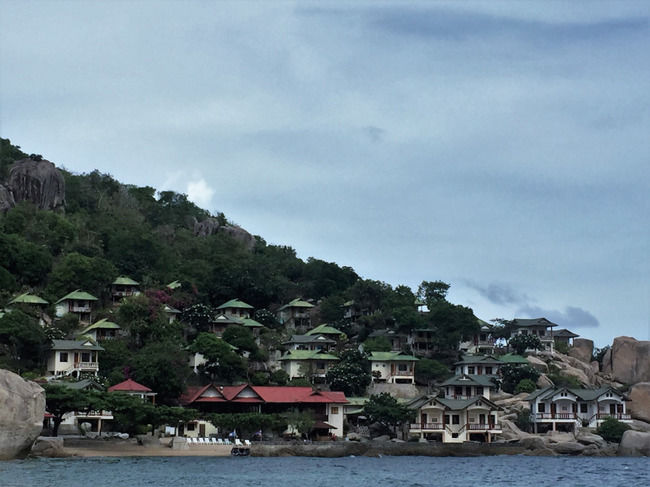 Tanote Bay
Our second day in Koh Tao, we planned a day long island hopping snorkeling trip starting with the lovely Koh Nang Yuan island where a beautiful strip of sand connects two tiny islands and the endless blues of waters on either side. It was gorgeous to say the least. While I learnt later that this is a natural occurrence in several beach countries, this was my first time and it was one of the marvelous things I have the chance to experience. On either side, you could face and tiny waves come in crashing at your feet. There was not much else I could ask for.
However, the weather came in every now and then to play a spoilsport and by the time we were to leave the island for our next island Mango Bay, the ocean had swelled up to twice its size. Since our boatman seemed quite confident we stepped in to our boat. As soon as we got in he started pulling out life jackets and asked us to put them on and we were all left speechless. Biting all our words and fears we quietly put them on and as we left the bay and the boat rocked away making its way to the endless ocean.
The boat took it one wave at a time and every single landing crashed a little more ferociously than the previous one. The first few crashes were fun as water sprayed from all sides but as it went on and on, our hearts lurched up and down along with it as well. As we moved further and further away from the land and all we could see was the blues of the water, an uneasy silence spread across the boat like we all had started uttering our prayers at the same time. Luckily, we were moving away from the storm and the waves settled in after a good one hour by which time we were drenched in water but also washed away with relief with the gentle rocking of the boat. They should use the word "Gentle" in bold and italics when the phrase is used for without the gentleness its plain scary. But it made for one memorable experience in retrospection.
As we moved away from the storm, we realised that the bay was completely inaccessible due to the storm. We swiftly moved to our next stop. But since we really wanted to snorkel, the boatman suggested anchoring the boat further away from the bay and asked us to jump into the ocean with our life jackets and gear and asked to snorkel away to our hearts content. He insisted that there was nothing to fear and to be very honest after that rocky boat journey all we wanted to do was reach land and kiss the sand but we figured we might as well do it all the way.
The bravest of us all jumped first assured us she was not dying and one by one we got into the waters and it was enchanting. The waters were crystal clear and as the boatman poured in more and more fish food from above, we managed to catch a varied school of fishes and I also captured my first underwater video, thank you Go Pro for that.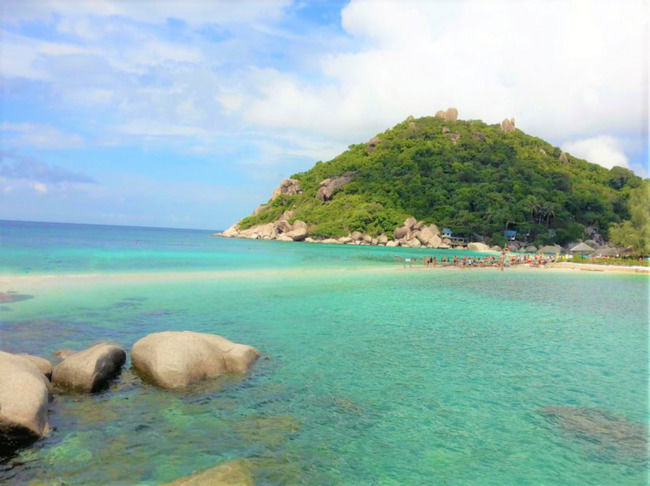 Koh Nang Yuan Island
Once we were content, we made our way back onto our boats and slowly made our way past Shark Island, Tanote Bay and finally stopped at our last stop Freedom Bay and while it was the smallest coast line I have ever seen, it was beautiful. There were several small trees by the tiny coast that made it seem like nature compartmentalized the beach into tiny coaches and each group picked their coach and we sat by the sand and watched the sun set gradually. We had a jolly good time by the coast and as the evening set in, we made our way back to sairee beach. It was truly a day well spent. Of course, as we made our way back to our resort we realised we needed a good dose of pampering after the exhausting day and we made our way to our hotel massage and spa and got lovely Thai massages.
If Koh Tao hadn't won our hearts already, the small island's night life was astounding. The quite shacks by the beach during the day transform into happening party scenes by night with the best of music and entertainers from Jugglers to fire blowers. Refreshed from our massages, we went all out to explore the tiny joints and had a ball.
The Party Island - Koh Phangan
As morning came, with a heavy heart we bade goodbye to Koh Tao and made our way to Koh Phangan. We made the mistake of not booking our ferry through Lom Prayah and paid the price of a delayed ferry by over an hour and a half. The journey to Koh Phangan was smooth (Thankfully so! We had our share of sea adventures already). We had a short stay in Koh Phangan and got a pretty amazing resort for our stay. Sarikantang, a boutique resort, right on the Head of Leela Beach next to Haad Rin beach is a delight for pretty much any agenda you have on islands.
The resort arranged for a pick up as smoothly and before we knew it we were exploring the lovely property. As our stomachs craved for food after all the delay we went in the hunt for some good food and my oh my did we find a catch. A small restaurant called "Moon Paradise" was just by the resort and we just stopped to explore the menu and it was pretty much perfect – Lovely view, an all comprehensive menu and excellent prices. Like it needed any selling, it also had the best waiters who reminded you exactly why the restaurant is the best, the guy just kept saying "The best food at cheap prices, only at Moon Paradise" and well, it was pretty much undisputable. So we decided to go with it and had an excellent time there.
As the setting sun approached, we walked by the coast in the property and reached the lighthouse and parked ourselves among the rocks to view one of my best sunsets ever. It was the most beautiful play of colours in the sky I have ever seen. Koh Phangan being Koh Phangan of course had a party going in Haad Rin despite being just a day after their glorious "Full Moon Party". We preferred a quite night by the beach and we did just that. We woke up early morning to catch the part of the rising sun and had a lovely walk by the same coast as we saw people coming back from the party still in another world altogether and realised with a deep sense of disappointment just how much we were growing old. Nevertheless, we enjoyed the quiet breakfast by the rising sun and we had little time to soak in the property before we had to make our way back to the ferry point.
The Touristy Island - Koh Samui
We soon caught the ferry to our last destination for this trip "Koh Samui" , the most beautiful island and beautiful it was. But the worst part of a last destination is that you have a dejavu feeling of already having seen it all. Trying to keep that feeling to the bay we made our way to the hotel. We had booked lovely budget hotel right by the Chewang Beach and it was pretty awesome location wise.
Chewang was by far the most happening beach place we had seen and we relaxed at our hotels and moved around in the street. As evening set in we were asked to go to Ark Bar, one of the party places by the beach in Chewang apparently. While it was definitely not happening when we went, we all had a good game of pool by the beach.
No Thailand trip is complete without their infamous Ladyboy show, was it. So, we did our research and found out that we were pretty much at the best place to watch one of their best shows in Paris Follies Cabaret. They have two shows every night and while there is no charge to enter, purchasing a drink is mandatory. The show was very decent and a fun experience. A must if I say so in Koh Samui.
The next day we made our way to the local sightseeing to the Big Buddha temple, Wat Plai Laem, No Muang Safari Park and multiple view points across the coast line. While they were impressive and what struck me curious again was the similarity in Indian religion and Buddhism.
However, what caught my fascination was the Hin Ta and Hin Yai Rocks. While rock formations across Thailand is no surprise, but these ones were unique because they were rocks in the shape of male and female genitals fondly called by the locals as Grandpa (Ta) and Grandma (Yai) rocks. Legend has it that it was an old couple who lived with their son who had come of age in the southern part of the district. In their pursuit to find a suitable girl to ask for a hand in marriage, the couple set out on a boat across to a neighbouring province.
Caught in a storm, the couple were unable to swim ashore and it is believed their intentions to find a suitable bride for their son shaped the rocks as a reflection of their intentions. While the story is much questionable, the rocks do stand proof of the legend till date with an excellent view of the Lamai Beach.
By the time, we reached back to Chewang the weather had gone for a complete toss and it began raining like crazy. We figured it was just a matter of time till the weather would set right again, but we have never been so wrong. The rains started around 4 pm local time in the evening and just never stopped. We went drenched to a nearby lounge and hung out playing Backgammon, jenga and pool hoping for the rains to subside, but we had no luck. We got back running through the rain to our hotels.
We woke up to a flooded Chewang beach, with water everywhere and no respite of the rains. We were informed that Koh Samui was in a storm and that no flights were flying in or out of Samui. We were in for a soup as most of us had a return flight booked back to India from Bangkok and we just could not see a possibility of reaching Bangkok the same evening. We rushed to the airport hoping if we could reschedule ourselves to an earlier flight just to realise just how many people were stranded in the island, all with international connections. It was a nightmare.
The airport was a tiny space managed completely by Bangkok Airways and with every passing hour, the crowd in the airport doubled with no silver lining visible. The airways made a priority list depending on international departures but the first flight for the day landed at 3 pm. We were scheduled to depart at 3 from Samui with a flight from Bangkok at 10 and we left Samui at 7 in the evening barely making it in time for our flights. While one of us actually had to miss our flights, it was definitely a night to remember and lesson for life to not plan return journeys from any place else but your last destination.
Nevertheless, Thailand was a delight in many more unassuming ways than I could have ever imagined and I am definitely going back for more.
This post was originally published on Shwe Travelogues.