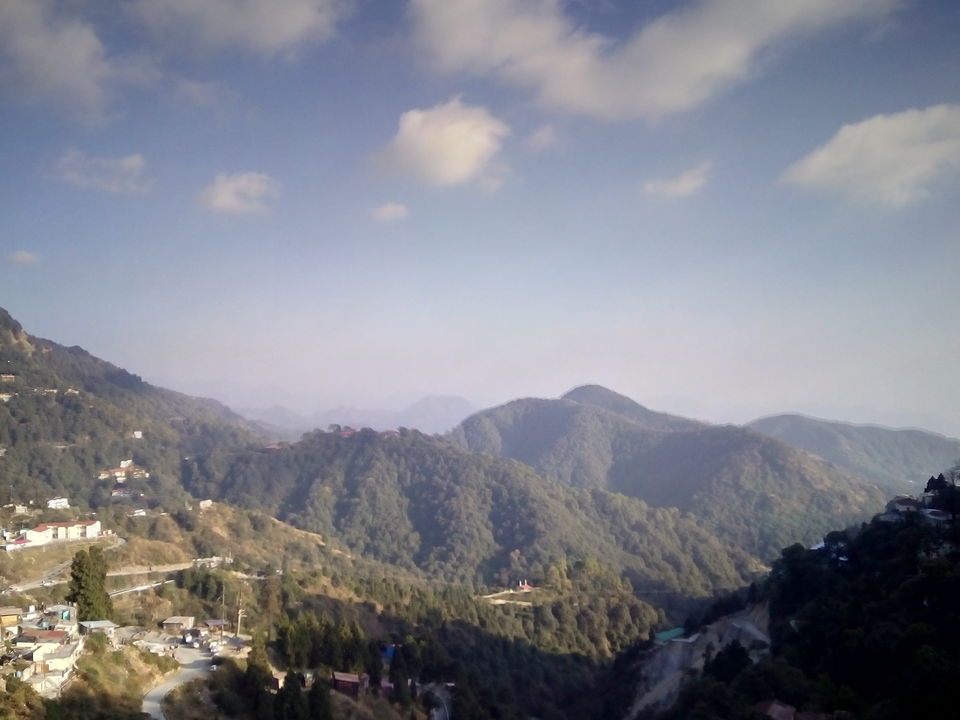 "…And when all the wars are over, a butterfly will still be beautiful."- Ruskin Bond
One of the first things that I notice as I enter the bustling Mall Road is a board outside the Picture Palace, boasting of a 7D experience, followed by a United Colors of Benetton outlet advertising a 70%-off sale. I am two decades too late for my liking, and a lot has changed in Bond's Mussoorie. Then again, some things never do.
The best part about travelling alone is that I get to indulge in what Ruskin Bond refers to as the "zigzag walk" in more ways than one. Armed with my smartphone and navigation app, there isn't a realistic possibility of getting lost. But ever so often on my trips, I pick the uncharted route, huff and puff my way up a semi-paved trail and find myself quite some distance away from my original destination but in the midst of a wonderful new experience.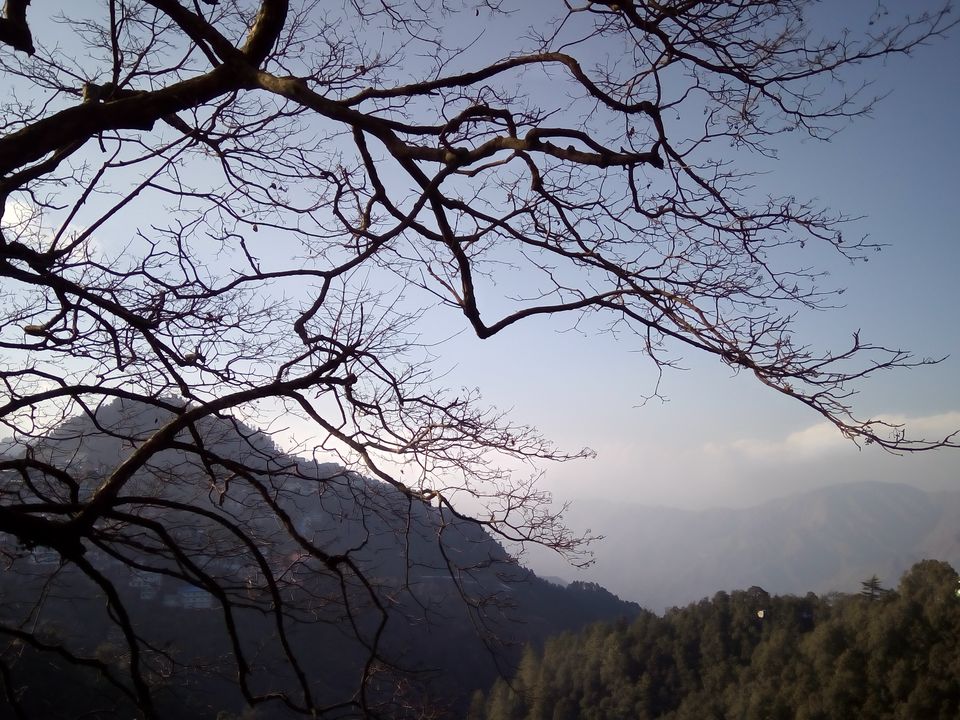 Taxis are convenient but boring — one misses out on so many potentially interesting conversations and people. So, in deference to the writer in me, I choose a rickety public bus that will take me from Dehradun Railway Station to the Library Bus Stand, Mussoorie in one and a half hours for a mere sixty rupees. The seating system is surprisingly organized, and I soon find myself sharing a Poppins toffee stick with an old, mild-mannered Pahari man next to me.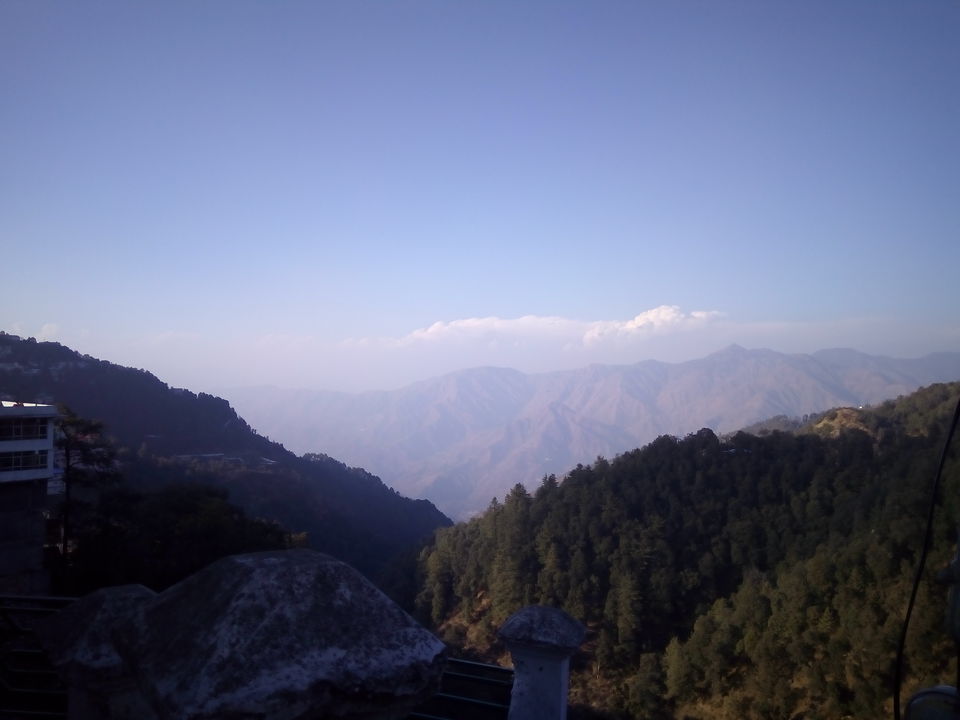 More than once, he helps me keep my suitcase in place as it precariously slides around on the overhead luggage rack at every hairpin bend. He notices when I shiver at the onslaught of mountain breeze and slides the window shut of his own accord. I thank him with a watery smile. Things have been difficult lately, and there's always something extremely moving about the kindness of a stranger when you're least expecting it.
The bus drops me at the Library Bus Stand where the locals tell me to take a taxi to Kurli Chowk. Burdened as I am with a backpack and suitcase, I listen to them, suppressing a sigh when my driver quotes "three hundred rupees, fixed rate" for a distance of less than three kilometres. He gives me his number for emergencies before dropping me, which I thank him for. Tugging along the load full of winter clothes my mother insisted upon (there is enough for a full family of Hobbits), I follow the Mall Road to my hotel which lies in an alley off the main market. At every uphill turn, I swear to myself that I will never bring more than one extra set again.
---
My room on the second floor faces a few houses and a segment of the mountains. The manager assures me it's the best view in the entire hotel and I nod absently. It's Saturday afternoon and the one thing on my mind is the upcoming meeting with Mr. Bond at the Cambridge Book Depot. But first, food. I pick up my bag and head to the Tavern Café on the Mall Road.
With classy wooden interiors, and a playlist of English songs that makes me nostalgic for college, the menu gives a lowdown of Mussoories's celebrated personalities (apart from Ruskin Bond, actors Tom Alter and Victor Banerjee and author-photographer Ganesh Saili, to name a few) and places (Landour, Camel's Back, LBSNAA and Wynberg Allen school among others).
Having an hour to kill before the bookstore appointment, I decide to trust a fellow Bengali and order Victor's choice, a delectable chicken cacciatore ("hunter style"), with a side of vegetables and potato wedges, along with a hazelnut cappuccino. The first bite of food snaps my attention back to the present moment- the blend of flavours simply doesn't allow any vacillation.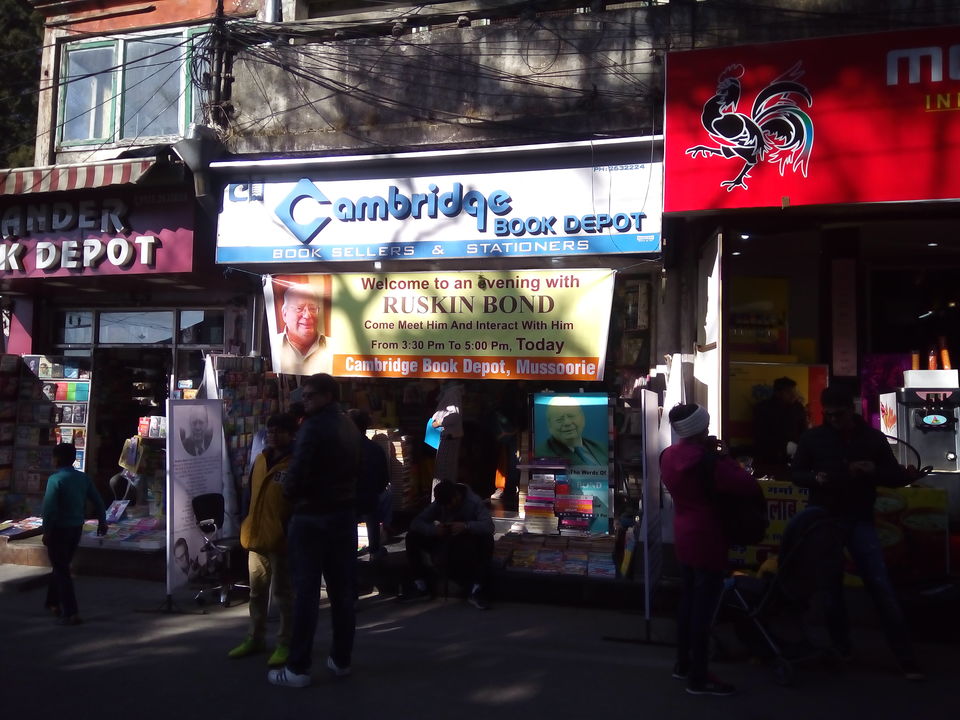 Leaving the Tavern at three with a stuffed belly, I walk to the Cambridge Book Depot, half a kilometre away. As I approach, Mr. Bond's face beams down at me from a meet-and-greet poster, and I can already see around ten to fifteen people hovering around the packed bookshelves. Without further ado, I purchase five more books in addition to the two I have already brought with me (the list of those who've "always wanted a signed copy" is long when most of your friends are readers) and get in queue. He will be here any minute, says the friendly shop assistant at around three-twenty.
Just then, a car drives up to the store. The eighty-something author carefully climbs out, supported by the owner of Cambridge, but walks with ease across the road, calling out a "Hello" to all of us who're staring at him, speechless. A few confident people manage to blurt out their own Hellos. A boy of ten standing in front of me bounces excitedly in place until he's asked to step forward, holding his first Ruskin Bond book, The Room on the Roof.
Second in line, I realize I have no idea what to say or do as I walk up and greet him. He smiles up at me from his desk, and asks my name and where I'm from, and suddenly we're talking about his recent trip to the Kolkata Literary Festival and how much he liked it there. "They pamper me a lot", he says with a diffident smile, and my awkwardness melts away. I can't fathom why I was nervous in the first place.
---
He signs all seven books and poses for pictures and looks pleased when I offer him the tiny gift that I have brought him. "A bookmark! Wonderful, thank you." I walk out of the bookstore with the silliest grin on my face, walking for nearly fifty metres without noticing a thing. Then I stop and take out each of the books from the packet, tracing a finger over his signature. "Stay Well and Happy", he's written underneath my name. And I suddenly have a feeling that I shall.
I walk back towards the bookstore for another glimpse and nearly collide with a lady of around forty whose expression mirrors mine. "Exciting, isn't it?", she blurts out, and I say, "Yes" with fervour. She is a professor from the plains. It turns out that we've both been reading Bond's work for most of our lives.
"It's my birthday and I knew this is what I wanted to do."
I nod. "It was my birthday last week. This is my gift to myself as well. "
Her eyes crinkle into a smile as she bids goodbye. I continue walking, my head wrapped up in thoughts of how this one man, writing about simple things in a straightforward fashion has, for decades, spun stories that cut across thresholds of age and experience. That lady who was born in an era when handwritten letters were the norm, that little boy who might never know what it's like to receive one, and I, caught between frantically ringing notifications and consecutive days of checking the letterbox- we all dream of a place of our own just like Rusty. When someone asks me what kind of book I want to write, this is the answer. I want to write a book I can come back to at any juncture in life, and still find something to love in it.
---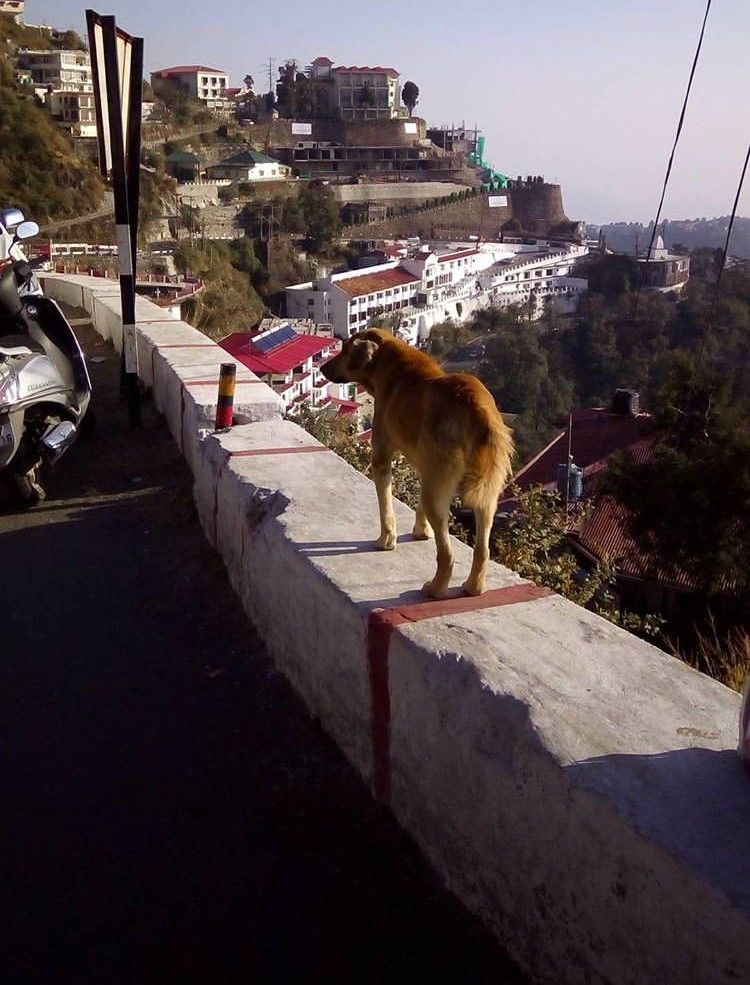 Lost in reverie, I walk downhill, accompanied by a solitary caramel-furred canine. He wags his tail ever so often, walking ahead with the confidence of having lived here all his life. I follow him for nearly half a kilometre before realizing that our destinations aren't the same. With a touch of regret, I wave a goodbye before turning to the nearest human to ask the way. The lady gives me an expression I'm familiar with —  the "Why are you all alone?" face — before informing me that I should have taken the left turn two lanes before for Landour Clock Tower.
I thank her and start walking back, stopping to buy water on the way. As I dawdle an extra minute at the shop, struggling to fit the bottle amidst all my books, the shop-owner comes up to me suspiciously, wondering if I've filched an extra bottle. Once upon a time, this would have left me flustered, babbling and defensive- now I just give her a smile and tell her I didn't realize my books would leave such little space for other things. She looks a bit embarrassed and I smile at her again and tell her not to worry about it.

The road off Picture Palace leading to the Landour Clock Tower slopes gently upwards throughout, but that means an easier return journey. I make my way past a small church, and a few local vendors, checking off landmarks on the map to make sure I'm on the right path. I stop quite a few times, as much as to take in the view as to catch a breath. Mussoorie is called the Queen of Hills, but tucked into the hillside, it looks more like a rainbow-hued crown jewel.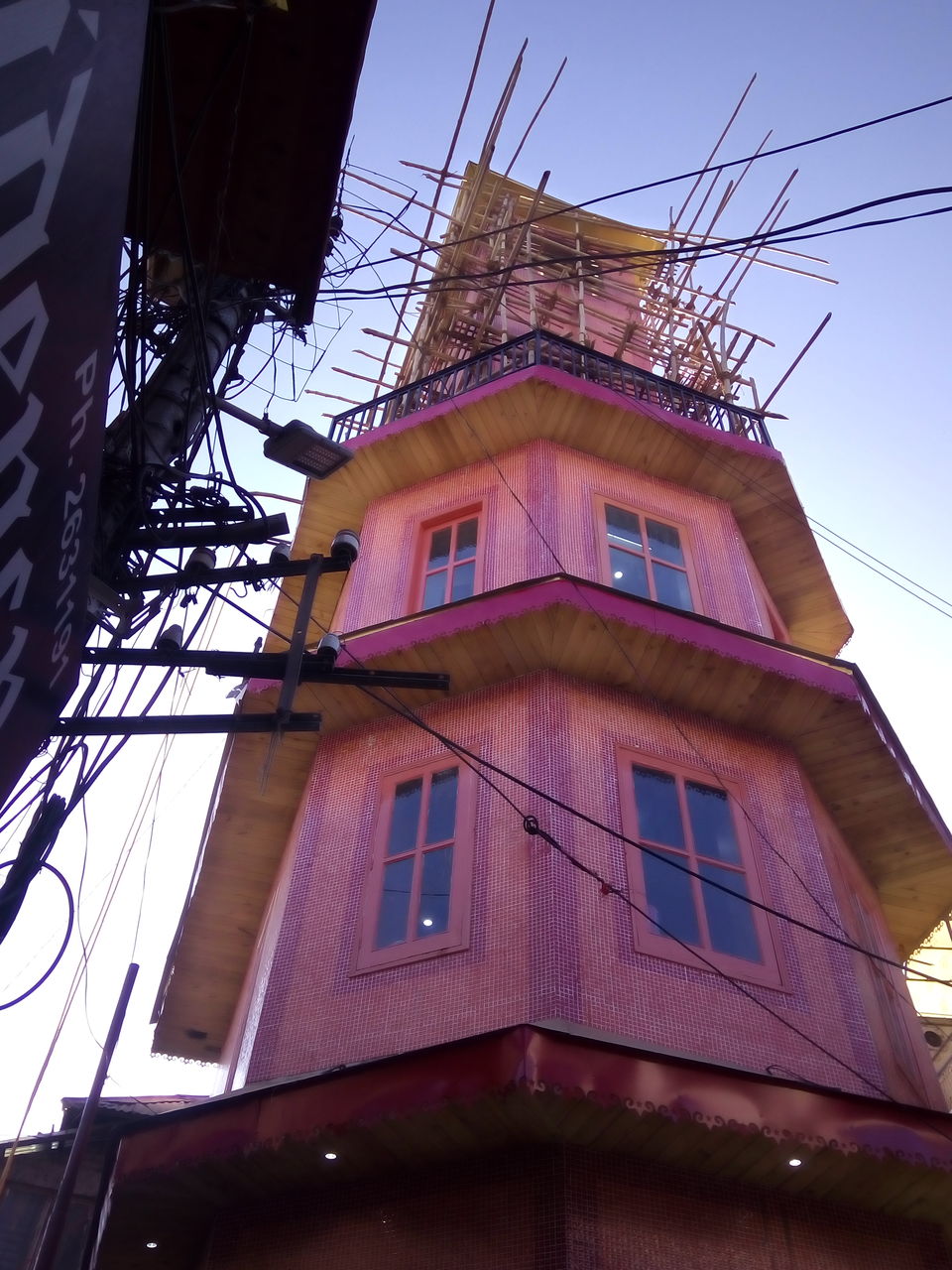 Soon enough I reach my destination, a pillar-like structure that is undergoing repairs. There isn't much to see and so I walk ahead instead, following the Landour Bazaar Road for some distance. A covered balcony-like enclosure with benches is my next stop as I take advantage of being the only person there to look out at the mountains. This would be a great selfie spot if the holidaymakers found it, but fortunately for me, they're probably all away checking the popular viewpoints like Gun Hill Point and Camel's Back off their bucket lists.
I wonder for a moment if I'm missing out, but thoughts like that seldom persist when one has a splendid view to feast on, devoid of all clamor. I sit there for a while before moving on at a leisurely pace, unabashedly gazing into houses and shops and lanes whenever I can. At one point I look skyward and a ramshackle building with shimmering blue glass panes on the first floor catches my eye.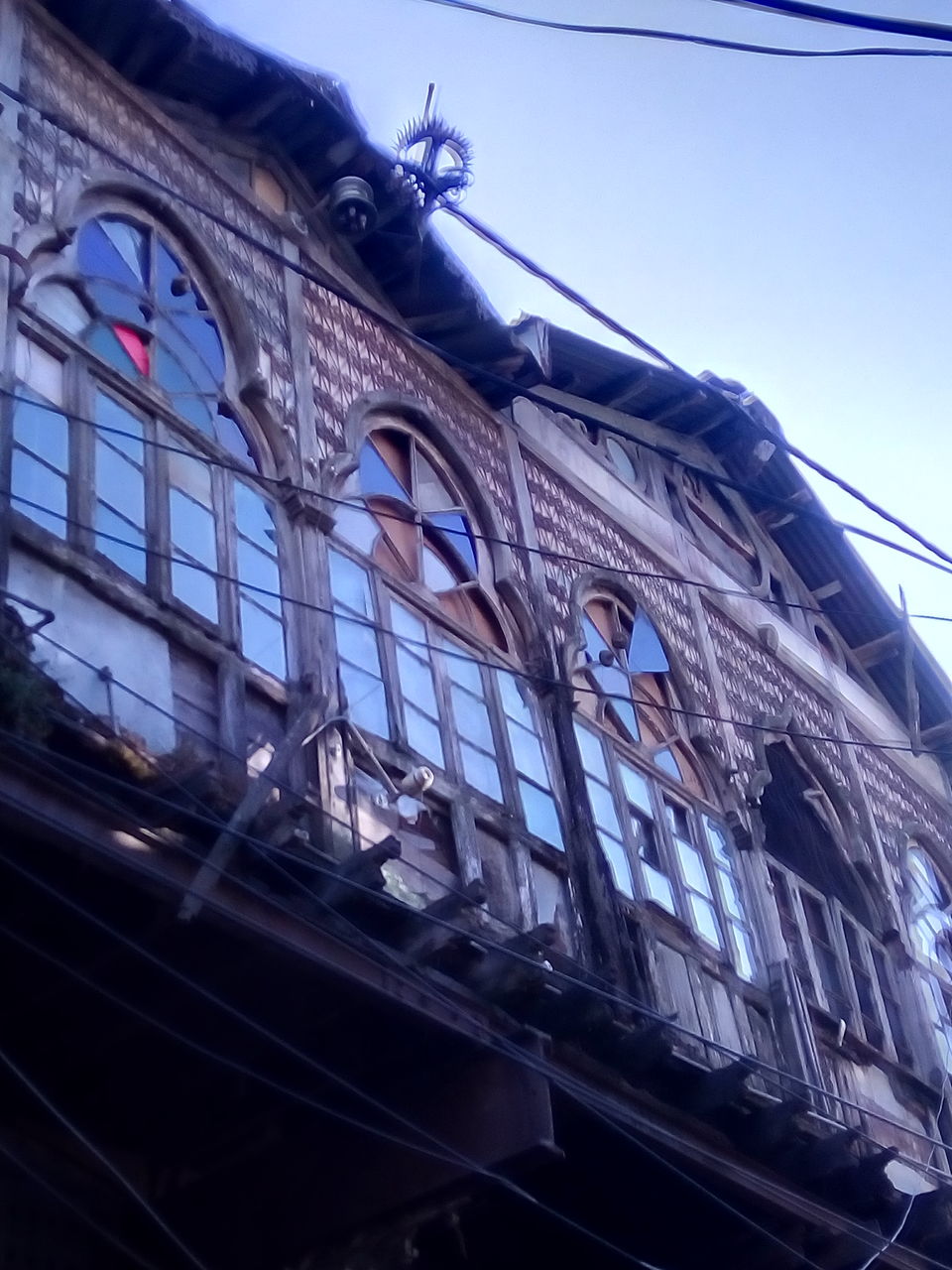 I am suddenly reminded of the Rani's stained-glass windows in one of Ruskin Bond's stories. Quite certain that this place is not just another house, I pop in for a quick word with the man who owns a shop directly below it and he tells me that it is called the Kohinoor building. "Google it, Madam", he urges. Dutifully, I whip out my phone and key in the name, to discover that it is one of the oldest buildings in Landour Bazaar, dating back a century. Once the abode of nautch girls, Kohinoor is said to have witnessed several mujra performances in its heyday but is now on the verge of being demolished. I look at the building even more appreciatively for a few minutes, idly wondering if someone would notice me sneaking up there. Remembering the promise made to my mother (to not get picked up by the police) in the nick of time, I decide against climbing up those decrepit stairs and retrace my steps to the cosy Clocktower café adjacent to the clocktower.
---
A feeling of warmth washes over me the moment I step in. The wood-and-brick interiors are dotted with posters of Led Zeppelin, Jim Morrison and Pink Floyd while Audrey Hepburn gazes wistfully at the mountains from her frame beside the window. I order a ginger lemon Assam Tea as I pull out a recently autographed book from my bag and begin to read. Occasionally I look out through the glass panel and watch the hillside change hues as the sun slowly begins to set.
My stomach reminds me that I've walked a fair bit since lunch and I decide to go ahead and order a hot chocolate brownie. Quite a lot of my travel revolves around cafes and restaurants and contrary to all the childhood lessons in sharing, sometimes the best part of life is getting to eat exactly what you want without having to part with any of it.
With this profound thought, I decide to head back. Downhill is a much quicker walk now that I'm familiar with the route, and I briefly make a detour at Mall Road to watch the sun dip below the horizon. Sundown in the hills is like a scheduled power cut; one moment you have warm sunshine on your shoulders, in the very next, it's pitch black and the houses on the hillside are glowing like tiny fireflies as the icy wind lashes your face. I arrive at my hotel a little after six, holding a takeaway cup of Keventer's warm almond milk.
Spreading my recently acquired books across the double bed, I spend some time picking each one and reading pages at random.
Meeting one of the authors who made my childhood magical seems to have kicked away my writer's block as well. I pull out the laptop that I've brought along specifically for the evenings and spend an hour finishing a long-overdue non-fiction essay.
At around seven-thirty, a member of the hotel staff comes up to me apologetically and tells me that I'll have to make my own dinner arrangements- they've closed the kitchen for the night.
I decide to make my way down to the Mall Road and experiment with the numerous eating options there. Café By The Way looks promising but mostly has breakfast items on the menu so I head to the Momos restaurant that promises good Chinese and Tibetan fare. Once again, I am the only one at the restaurant. The restaurant staff watch a cricket match on TV as I finish my dinner of lemon coriander soup and spicy Tibetan Shaptak (stir fry).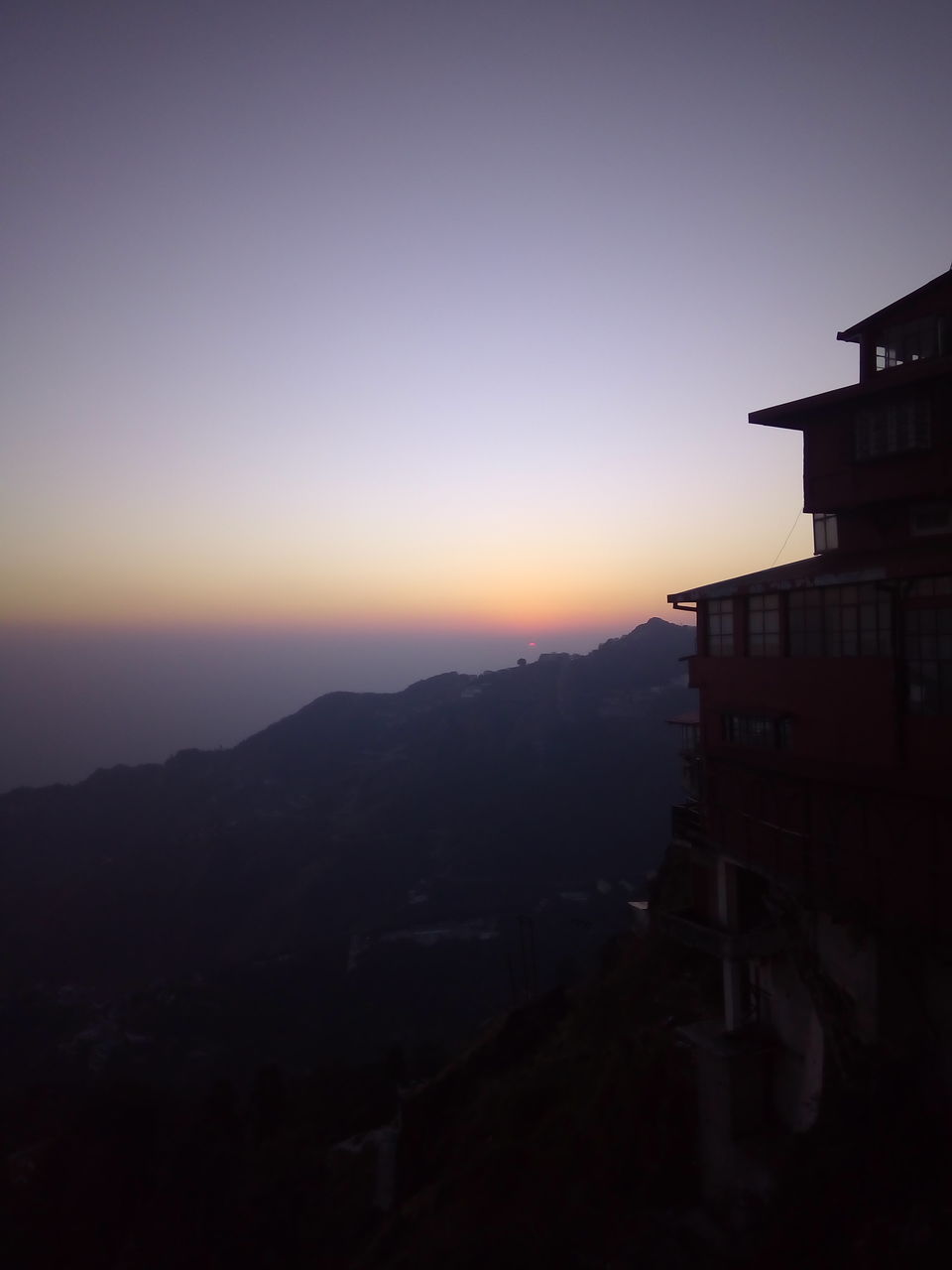 I decide to get the mandatory souvenir shopping for home over with, and my favourite purchase of the day turns out to be a soft animal head-shaped scarf for my baby niece- if you want to imagine it, a little bunny wearing a tiger on its head should give you the picture.
My agenda for the next morning is to trek up the four kilometres or so to Doma's café, and Ivy cottage, where Ruskin Bond lives with his adopted family, followed by Chaar Dukaan. It's going to be a tight schedule because I must head back to Dehra around two-thirty in the afternoon for my train back to Delhi, so at eleven, after some more writing, I decide to call it a day.