I have developed a romantic relationship with Goa. There hasn't been a time in the last 6 years that I haven't visited Goa atleast once, sometimes even twice. Travelling to the same city year after year can get quite boring and monotonous but somehow I always manage to have a novel experience every single time. This time when I went there last month for a work trip and to celebrate a friend's birthday, starting from the place that I stayed to the restaurants, cafes, even the beaches I explored were new. Before the work began I was there for about a week so I'd like to tell you about the cafes I visited.
- Villa Blanche Bistro, Assagao: This has to top my list of cafes. A spacious open French cafe covered with tall conical canopy, Villa Blance's interiors are painted in bright blue colours and house pretty wooden furniture with beautiful tile art paintings all around. It is run by a French lady who has made Goa her home for the last 11 years. There is a small boutique shop housed within the cafe where she sells dresses, jewellery and artefacts by other designers.
I went there twice for breakfast since the place is famous for its vegan and gluten-free dishes. You must try their pancake which is quite different from the ones you must have had. Their juices, shakes are freshly made and the lady personally tastes every ingredient that goes in the making of the dishes. The side dishes that they prepare along with the sausages are amazing. There are different varieties of freshly baked breads like walnut, multigrain available for sale every morning.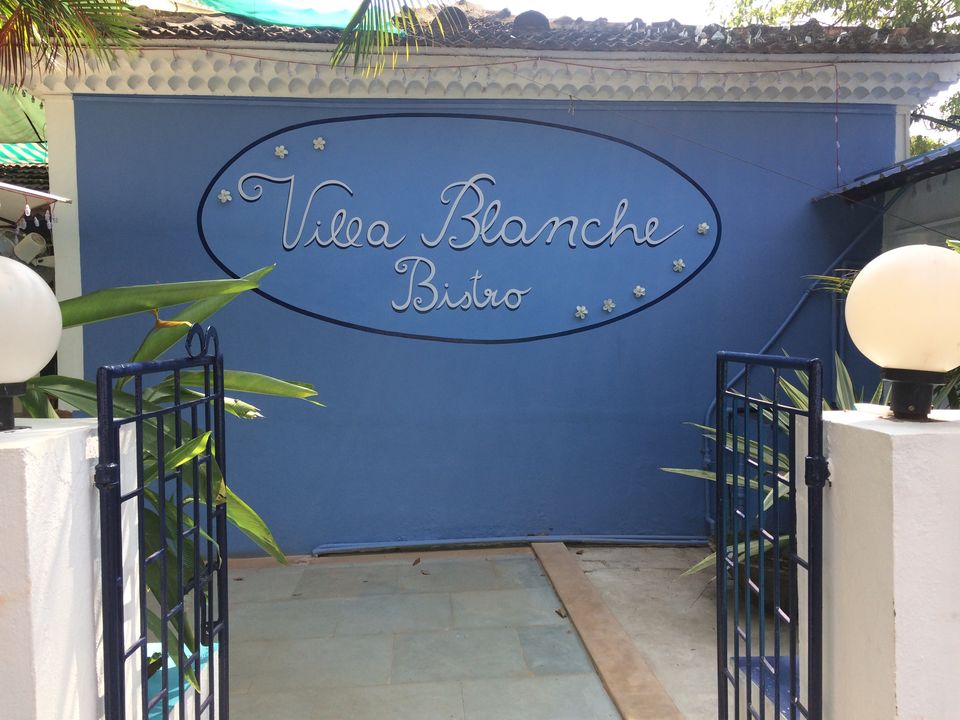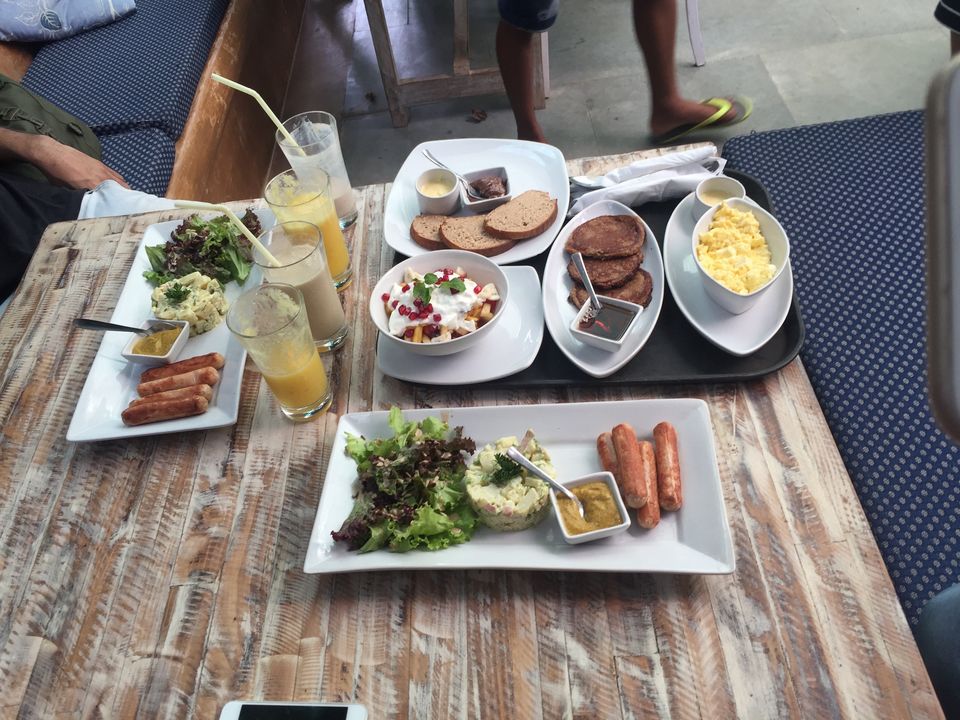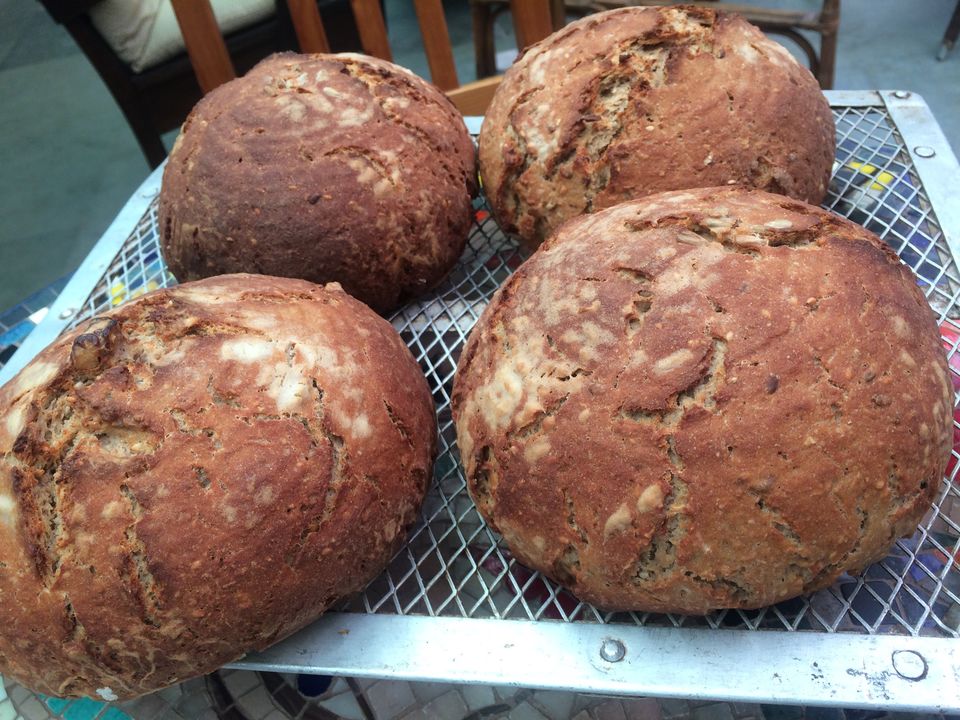 - Burger Factory, Anjuna: I ain't really a burger fan but the sheer number of good reviews and rating for this place tempted me to go there. There was not even a single negative review on Zomato for Burger Factory. That's quite a feat in itself. Their burger portions are huge and since we were just two of us, we called for a barbeque chicken burger which they serve along with baked potato wedges and a yummy egg yoghurt dip (the recipe of which the owner refused to share). Their potato wedges were great in taste and so was the burger, juicy and tender.
The only downside is the fact that they get sold out way before the closing time so if you really enjoy burgers, then you should go there early. They have good pork and beef variants too.
- Baba Au Rhum, Anjuna: This is another cafe that I always visit when I am in Goa, because of its secluded location and the friendly staff here. Since this time round I was on a break from caffeine, I went for their strawberry smoothie and mint smoothie. Along with that I had a yummy feta cheese croissant and Spanish omelette. The best part about this cafe is that you can just sit there indulging in endless, uninterrupted conversations for hours while gazing at the infinite stretch of land in front of you.
PS: A friendly advise: try their crostinis or baguettes at your own risk. They are hard as stone!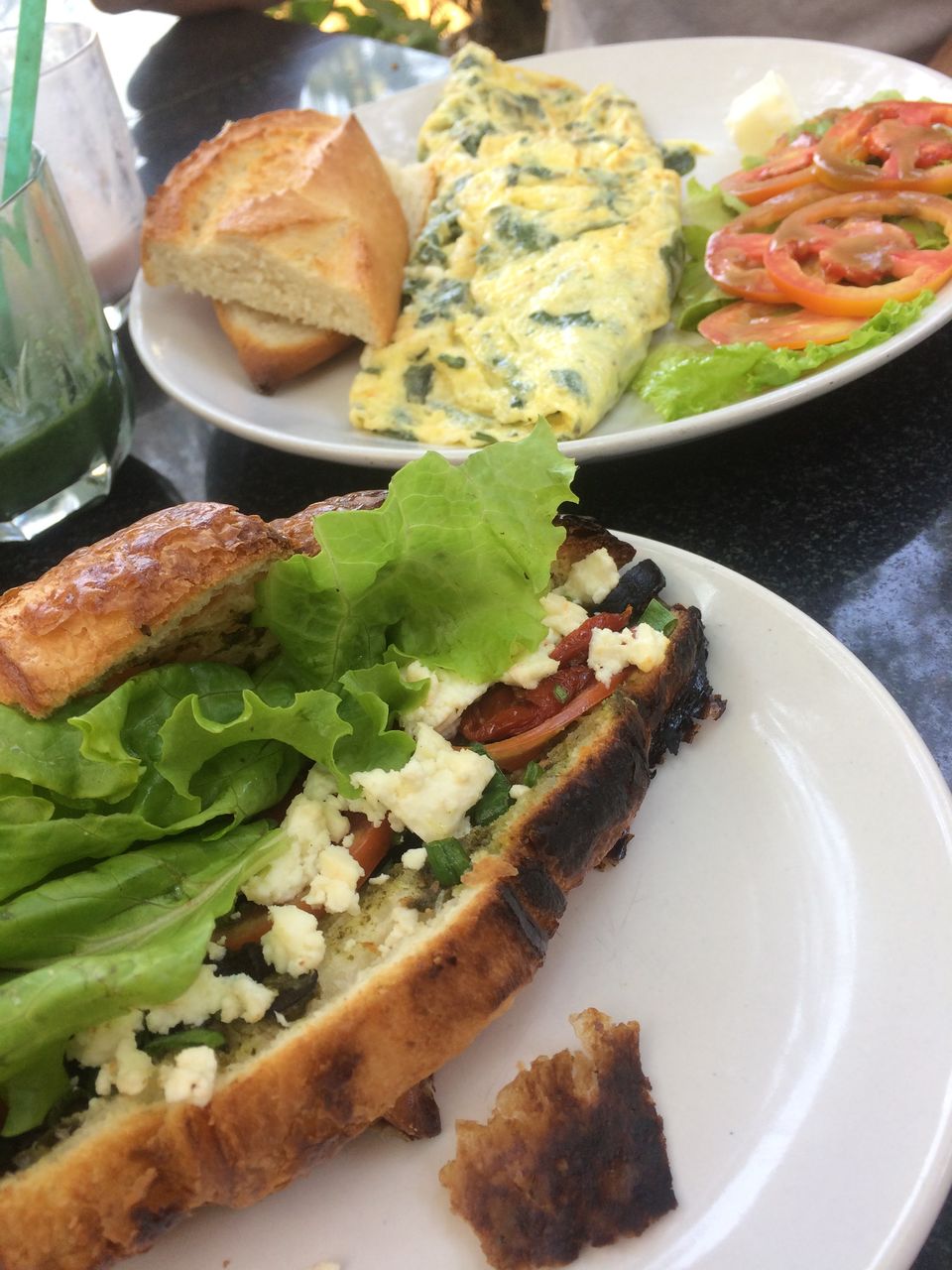 - Artjuna, Anjuna: From attending the season onset party to lazy breakfast and befriending interesting strangers, Artjuna has been one of the highlights of the trip. The season party was so good. It started at 4 pm in the evening and was to go till 10 pm, in which the cafe will serve some appetisers and sodas for free. It was entertaining to watch the locals dance like free souls letting their hair down without having to worry about a penny (considering it was first week of demonitisation).
- Old Quarter, Panjim: This is also a hostel located in one of the prettiest, old town of Panjim. There is a famous church around the corner and I went here on one of the evenings after my work strolling around. All the buildings near the hostel are painted in different colours of the rainbow inhabited by cute old aunties and uncles and how I wished I was staying in them. Even the tea stalls there were colourful. The cafe is quiet and although it doesn't have much variety on its menu, you must visit the place for pretty architecture.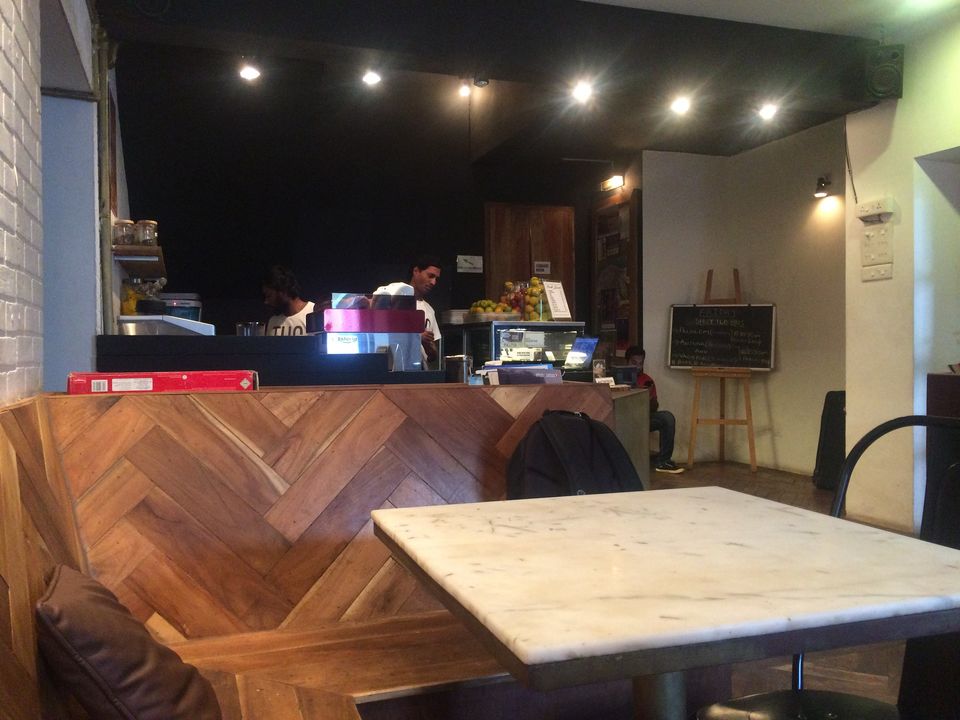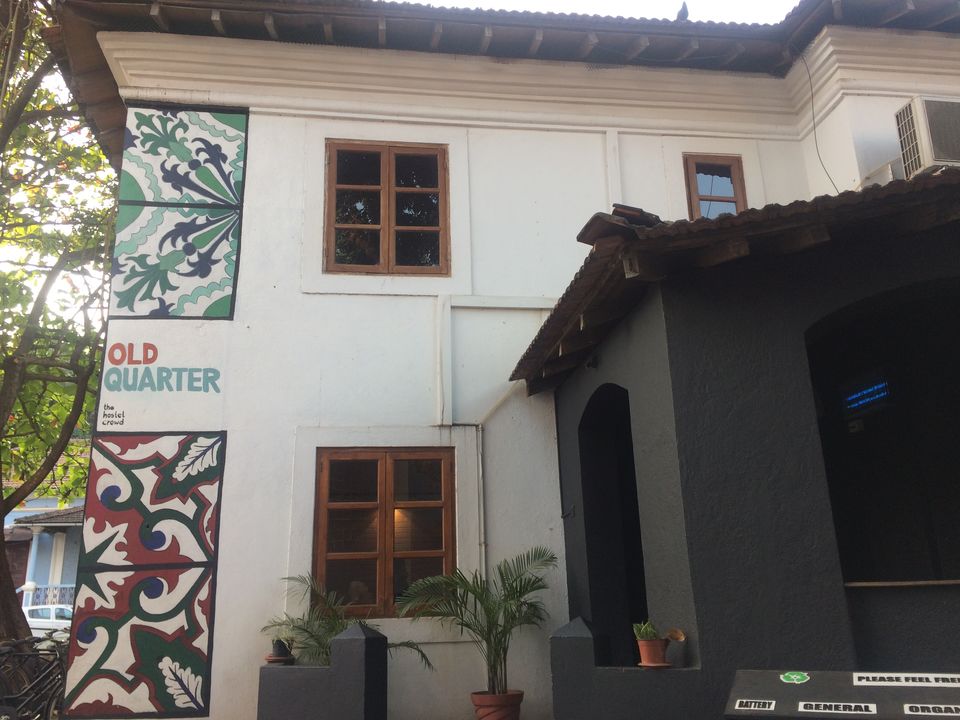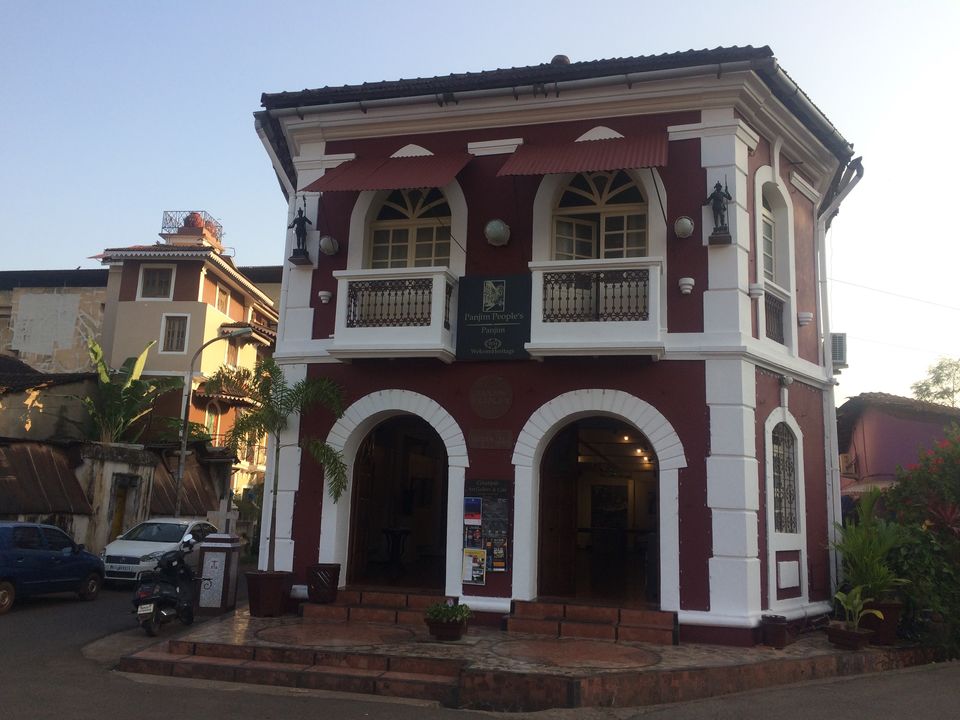 Since I was staying in Vagator, most of the cafes that I went to were around Anjuna, Morjim and Vagator. But trust me if you want to have a European cafe experience, you must visit them.
Happy travelling.