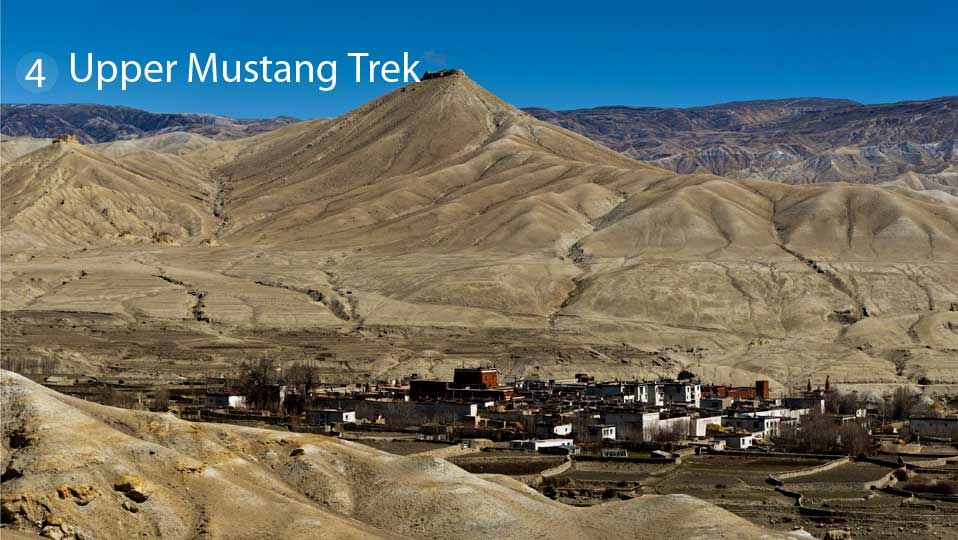 Mustang Region is also known as the Last Forbidden Kingdom or the 'Kingdom behind the mountains. This region remained restricted to the rest of the world until 11th October 1991when the government of Nepal finally allowed Mustang to the rest of the world.  Mustang is the only place in Nepal which still has their own King, Jigme Palbar Bista.  Even after Nepal was declared a republic in 2007, the Nepal Government took back the official recognition of the Bista as the Mustangi King. However, the people there still respect him as their King or tribe-leader. Bista also grants audience the visitor upon request.
Lo Mangthang is the capital of Mustang district and is located in the Himalayas with its borders extending northward onto the Tibetan plateau. Mustang region is rich in culture, tradition, unique lifestyle and many mysterious man-made caves. This trek brings you flying through the deepest gorge in the world, between the Dhaulagiri and the Nilgiri. The trail follows to Dhakmar where you can find the oldest Tibetan monastery in the world, the Lo Gekar Monastery.  Lo Gekar Monastery was built in the 8th century by the famous Tibetan magician Guru Rimpoche.  Legends have it that Guru Rimpoche had to kill a powerful demon first and the blood of the demon was used to paint the rocks around Dhakmar. This trek will also bring you to world's deepest gorge Kali Gandaki Region and the world's highest regions of Lo-Mangthang Valley that passes through dry barren landscape, a steep rocky trail up and down hill and panoramic views of Nilgiri, Annapurna, Dhaulagiri and several other peaks. The trek passes through high peaks, passes, glaciers, and alpine valleys. The thousands years of isolation has kept the culture, lifestyle and heritage remains unchanged from centuries to this date. The houses in Mustang are mostly made from stone and sun baked mud bricks.
Another attraction in Mustang region is the Tiji Festival influenced by Tibetan Buddhism, which is celebrated every year during the end of the dry season. The Mustang people have their own way of family life and culture, which is a surprise for many foreigners, one such culture is that, all the brothers in the family are married to a single girl, what you may call a practice of polyandry.