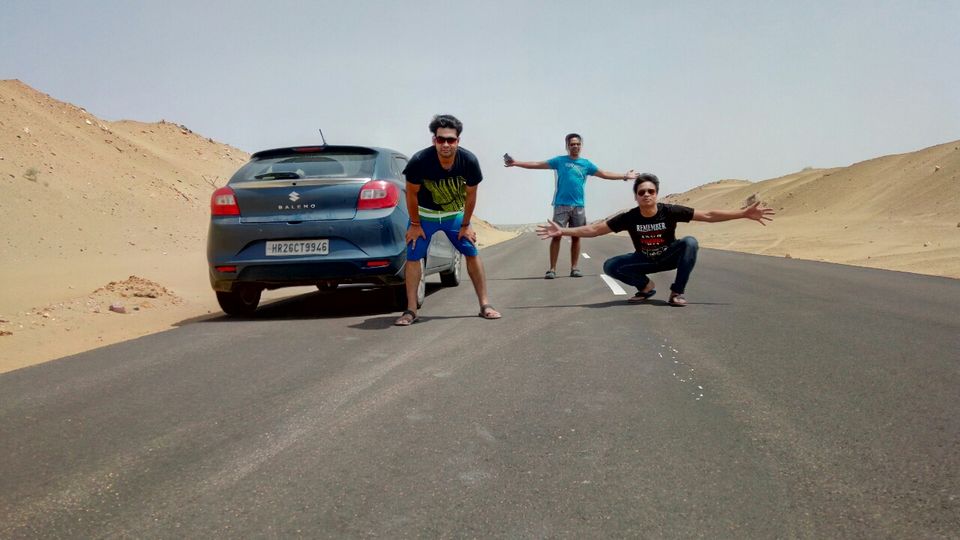 And yes.. It's time for Jaisalmer - The Golden City...!!! 
"Dil hoom hoom karein" song from "Rudali" or "Ye hoshla kaise ruke" from movie "Dor". In both movies we have seen Rajasthani culture and people.
Jaisalmer is one of the major travel destination among international travellers. People all around the world come to visit this Indian city.
I was planning to visit Jaisalmer since long time. So finally me and my three friends started our Jaisalmer Road trip on 12 Aug 2016 night around 10 pm from Gurgaon by Car. From Delhi / NCR, there are two route to reach Jaisalmer. One is via Jaipur and Jodhpur and other one is via Mandawa and Bikaner. We knew that the distance is too much but decided to reach our Destination. It's almost 17 - 18 Hours drive by car. When we started drive towards our destination, it was raining. 
Don't want to write about night drive because it was a dark and dark night only. I couldn't see anything.. He he..
I slept for few hours and when I opened my eyes we were at Ajmer around 5 am. We stop there for having tea and snacks for few minutes then again drive toward jaisalmer. We were at Jodhpur around 8 or 9 am. I don't remember exact but I remember we missed Megrangarh Fort because we already crossed the point from where we could visit as we asked local person. So didn't come back and following the path to our Dream city. On a way we stop at local restaurant (Roadside Dhaba) for Brunch. It was a fun. Lying on bed (khaTiya) for having rest and then Indian aloo stuffed parantha with Dahi. Nice food.. Desipan..!! And obviously it's fun when you live in a City where you find bars, pubs and restaurants only (ohhh corporate offices too????)- GUrugram and find time for Desipan for a short time. It's amazing..!!!
Kahan tha main?????
Ohhh.. Brunch I guess. After brunch, again our driver (my Friend ha ha) started driving. Around 3 we were at Jaisalmer. So finally after 850 kms (approx.) Non stop drive we reached.
When we reach at the hotel and ask for a room he said there is no reservation made in your name. New twist..!! I took a deep breath, controlled my anger and said "OK". No issues but arrange a accommodation for us as that was hoteliers fault. They had given me room confirmation on mail but forgot to hold the room. Anyways they arranged camp accommodation for us in sam dunes which is 45 kms from Jaisalmer City. 
We were very happy for staying in Sam dunes. Sam dunes is the major tourist attraction of Jaisalmer.
Again we started drive and reached Sam dunes in the evening. Once we saw desert area, we forgot tiredness and refill with more energy. View was amazing "Golden Sand". We checked in to camps. After little rest, we went for Camel ride on desert to see sunset. Seen amazing views and sunset too. Wonderful evening followed by wonderful night too. After camel ride and too much fun at desert we came back to camp for sometime. Till 11 pm we enjoyed at dinner venue with cultural programs. Folk singers and dancer were doing there job. We enjoyed a lot with them and with crowd of tourists too.
I mon't remember much about that night but yes I sung "Tu maan ya naa maane dildara" song with them. When I finished crowd clapping and that was the wonderful feeling.
Next day woke up around 7 or 8, freshed, had breakfast and checked out. Our neXT destination was Tanot (Last village between India - Pakistan) border. Tanot is around 120 kms from Sam dunes. We started drive again and between 120 kms drive we found two amazing desert view location. After I saw first location I was thinking about Dubai. The view like we are in Dubai. And after I saw next one, suddenly Arabian nights came into my mind. Both were breathtaking location in between.
After 2 - 3 hours drive we reached Tanot. Home are there like we have seen in JP Datta's "Refugee" movie. I was feeling proud that very less percentage in India or can 0. Something (He he.. Joking ????) who have been visited this places. Tanot mata temple is there. We took darshan and back to our way to Gurgaon on 14 aug 2016. While returning we followed road through Bikaner. At night around 8pm we reached at Bikaner. Booked hotel and stayed. Next morning after checked out we proceed towards Karni mata temple to visit which famous as Rat temple. Karni mata temple is 30 kms far from Bikaner. After darshan we started drive to Gurgaon and Reached at Night around 11 pm.
The tour was end but creates  life time memories in all fours life. There were so many funny things happened during this trip I can't write here. But believe me start travelling you will feel better than life you are living since long time. 
Earnings and Savings..!! For non-travel background people. I don't know know what's happening in everyone's life and what are the responsibilities they have. 
Your life is your, respect everone and behave like a gentlemen but Live your own life too and come out from reality of life (Vegetables, Gas, wagerah wagerah - Jokes apart ????) for sometime.
Thank you for reading my 3 Night 3 Day travel experience. Will share new experience soon. Stay connect and you may follow my on FB too.
https://www.facebook.com/Subodh-Bisht-1565970690326141/videos