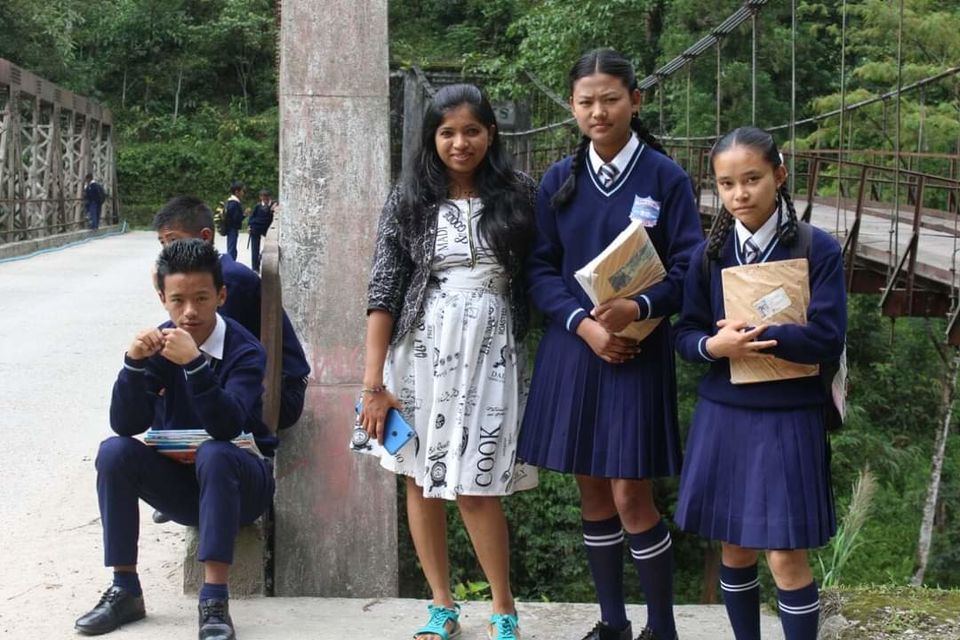 So we started our journey from Bagdogra Airport (I never heard the name before) of West Bengal, the nearest airport to reach the Organic state - Sikkim. It was as hot as Mumbai as we arrived there and found that the city was as messy as any other small city of India. After few minutes of the drive we accompanied by Teesta river and felt like our actual sojourn is begun. The Teesta is having mesmerising green colour and its beauty was being unfolded curves after curves. The river did not leave us until we reached Sikkim.
With my little or no knowledge about the state, I was curious to know more and more. The first day was visit to Baba Harbhajan's Temple. The temple itself is situated between wonderful mountains and you have a lot of nature to click pictures with. On our return journey we took a hault at Changu lake and grabbed opportunity to click pictures with Yak. The lake is having crystal clear water and again being guarded by the black mountains layered with the white snow. There was lot of snow on the way and tourists were glued on it causing a jam on that narrow road.
Second day, we headed to Lachung. The way itself is a dreamlike. There were lots of falls on our way crowded with people. It was looking like location of any hollywood movie based on dense jungle. There were big huge wall like mountains covered with never seen trees, bushes, vines and other plants. The roads were very very narrow and risky. The journey itself was an adventure. The vallies were so so deep. We were accompanied by small small villages on our way blessed with beautiful colourful never seen never imagined small big flower plants.
We were arranged to live at Mountain Cliff residency. The hotel was basic but rooms were antic with wooden set up with spacious balcony. When I woke up at morning I was mesmerised to see a beautiful view of the cliff and it was like seeing a god in form of mountain. My first reaction was awwww..... And secondly my palms got joined and I bowed before the mighty form of the Lord. It was like Lord shiva standing before me in form of that black huge mountain and there was flow of water flowing like ganga from the dreadlocks of the lord. That day we visited to zero point. Though it was not a season we got the snow and even we got to slide on that snow. We took lots of pictures there. On return journey we took hault at Yamthung Valley famous for Rhondaneous flowers. There were different shades of the same flowers ranging from pink, red, maroon,yellow, blue and violet and other species.
Third day was of Pelling. The road is too too bad. May be because of frequent landslides in that way. Half of our journey we were cursing government for bad roads. My back was paining because of all those bounces. I think it will take some more years to get the better road done and it is highly advised to avoide Pelling. You can visit here Char Dham Temple complex as well as huge statue of Guru Rimpoche.
Next day, we visited holy lake of Khecheopalre. Monks were chanting some mantras there and feeding soya chunks to fishes of the lake. There was a shoal of fishes competing to get feeding like a mad. And that was a scene to not miss to see big bulky fishes with open mouths. We also visited a nearby monastery and took lot of pics. Monasteries in all of these areas are well maintained and full of art and creative marvels plus you feel positive and peaceful here.
We stayed at Sonam Chen hotel here. We loved the big spacious rooms and again we were lucky to get a spectacular view of Mountain Kanchenjunga next day morning. When we moved to take some pictures the Lord Kanchenjunga got covered with the curtains of fog. It ruined my mood, but again I convinced my mind that at least I could take Darshan of Kanchanjunga. The same day because of some differences we could not visit Kanchenjunga falls. The big advise - do not make a mistake we did. Do not miss to visit Kanchenjunga falls.
Last day was visit to Darjiling . I heard lots of about the place and was very much excited to meet Queen of the hills. But as we approached the main city it was like disaster of all the image in the mind. Narrow roads, illegal construction on both the sides of roads more of that discontent of the locals towards state government. Every driver we met there was unhappy due to ill governance and absence of administration. According to them West bengal is giving them step motherly treatment. According to them the state is earning a huge revenue from Darjiling through its Tea plantation as well as tourism but state has never worked for development of Darjiling. There was high demand for separate state of Gorkhaland as the culture of the land highly differs from rest of the state and it mostly resembles that of Sikkim.
People are mostly Gorkhas and everybody was proud Indian. Their tales moved our hearts. One of our driver told us that their ancestors has come from Nepal but they have given their blood and sweat for this country, even if in future it would be required they will go on boarder, kill enemies and prefer to die, to give better future to their offsprings. Gorkhas always has dedicated their lives for a country whenever it was required and even after that they are often treated as outsiders. He told us how it is hurting and still they prefer to maintain peace. The journey of Darjiling was more like eye opener. The toy train journey from Darjiling to Ghoom was not as pleasant as expected as more than view of nature, we were surrounded with the slums due to illegal construction which covered the mountains.
We loved Darjiling Zoo, the Zoological museum and Himalayan Mountainering Museum as it was too informative. Also visited a Tea garden near the city and one monastery and peace pagoda. It was only a day given for Darjeeling sightseeing and I was highly disappointed to see plight of that hill station. Our driver of the day advised us to take a nepal boarder road to return to airport next day, which was not included in the package and we were meant to pay extra to driver to take us by that way.
The next day, we were arranged to go back with one another family in same vehicle, so I was sure that that plan has gone in vein. But later, the family also got ready to go by nepal boarder way and I was on cloud nine.
Omg ! The way was damn damn damn beautiful and I was like it is actual Darjiling. The dense, very dense forests. Tall, very tall pine trees. I even spotted deers at some places. Tea gardens were looking unexpectedly beautiful with that lush greenery. The driver allowed us to hault at one of the garden and we took abundant clicks there at that beautiful landscape. As we moved forward, after few minutes we were driving parallel to Nepal. At one side of road it was Nepal and on other side it was India. I got so excited as usual. Later he stopped vehicle at Pashupati Nagar and there was big entrance made for Nepal. We got down their and took pictures. It was the first time I was stepping in another country. It was an unexpected sudden expedition and I was feeling damn lucky. After few hours, witnessing the actual beauty, elegance and grace of Queen of hills which was not included in our itinary we reached to Bagdogra Airport, again to become part of the crowd.
The memories of Sikkim and that of Darjiling will always remain engraved in our hearts though.