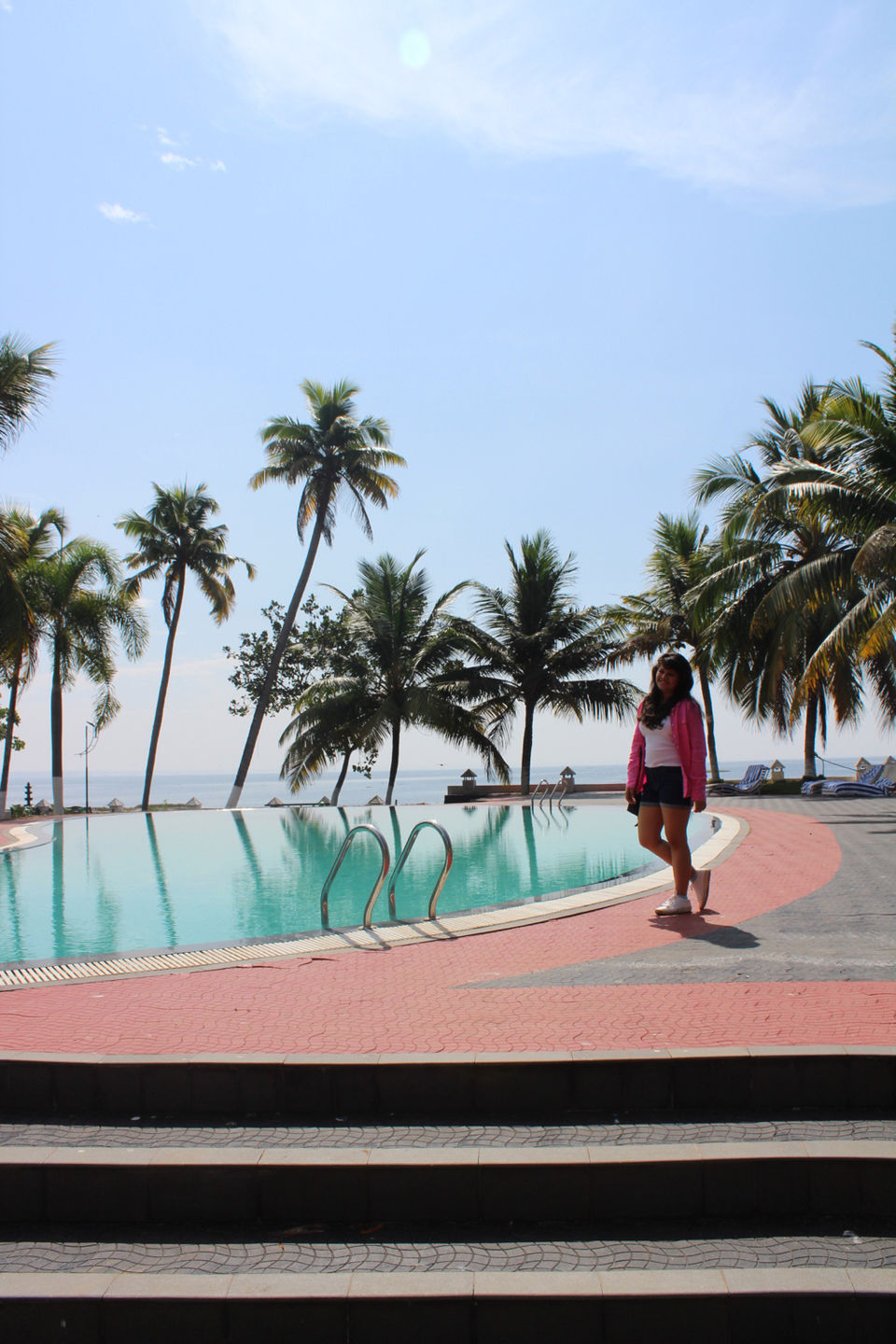 So here's from the Puneri mulgi..we flew from Pune to kochi. I got return tickets for 4 of us in 25k. That's the benefit you get when you book in advance. The kochi airport looks like an old castle which is newly decorated with English colours. Loved the feel of it!
We started off for Munnar from there. Stopped on the way for some SOUTH INDIAN snacks. At the beginning of the journey you're excited about everything and food is an important aspect when you travel.
Our driver, Mr. Eldos, looked like those villains from CHENNAI EXPRESS..me and my sister constantly giggling at his South Indian accent. He appeared like a villain, but was very quiet and shy.
The road from kochi to Munnar is a super adventurous and bumpy ride. Though the distance is not too much , it still takes about 5-6 hours to get there because of the winding ghats. The road is full of sharp turns and twists which I haven't seen anywhere in Maharashtra.
So be ready to swing from one end of the car to another.
This day ends and we check into a leisure hotel Plum Judy. Words are less to describe this place. It's absolutely amazing! Located at the highest point in Munnar,this hotel offers captivating views of the hill station and the lush green tea estates.
It offers all the modern and luxury amenities and even an inhouse restaurant. The menu is limited but food is delicious .
The staff here is very courteous and welcoming, going by the Indian hospitability.
It also has a spa which offers variety of options for relaxation.
So here we go to Day 2. We did sightseeing in Munnar. We visited the rose garden ( name is misleading, you will find all types of flowers here) . This place is treat for photography enthusiasts . I too tried my hand at clicking quite a few pictures. Then we visited the spice garden , this place will leave you thrilled with the variety of spice plants found in Kerala .the output or say the produce that we consume is completely different from the plant that you look at ,it's way too different.Then come the tea estates. You will find them all along the way though. But there is one point in the ghats where you're surrounded by the tea gardens on all sides . The view is breathtaking and it leaves you awestruck.
We then next visited the dam and the backwaters .Again this place is photographic. There's a lot that can be captured here.
The day gets over soon on this part of the town so make sure you visit the dam and the backwaters before 5 in the evening.
We returned to our hotel and relaxed, make sure to take good amount of rest since there is a lot of road tripping that you will do when in GOD'S OWN COUNTRY.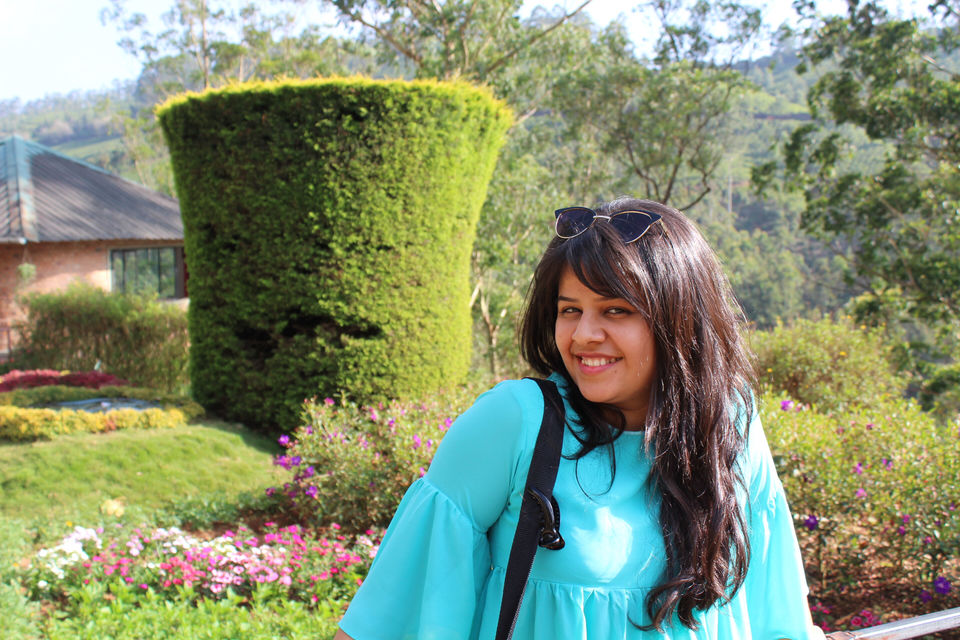 Next , we started our journey towards Thekkady. Again, the distance is not huge but reaching to the next destination took time because of the path. Thekkady is home to elephants, it also has the Periyar National Park. Thekkady offers a lot of fun filled activities for adventure enthusiasts which include bamboo rafting, elephant ride, jeep safari, trekking and hiking.
Our home for a couple of days in Thekkady was Hotel Mountain Courtyard. Like the previous one in Munnar, the ride from the main road to the hotel is a bumpy one. You have to cross a small forest and a small waterbody to reach the hotel which is located on a small hill. The hotel has an elephant feel to it. The lobby area has pictures of elephant carved into the walls. The staff was very welcoming. We checked into the hotel early afternoon, freshen up took some rest and then we went for the elephant ride. Elephant ride was a ride cum photography session with this huge animal. You can also opt to bathe the elephant and get clicked while doing that, but you have to pay extra for that. Not a little extra , Rs 800 extra. You get to feed the elephants as well, which again includes memory captured of you feeding the elephant.
Then we went for the Kathakali and the martial arts show. Kathakali is a very expressive form of dance. The eyes reflect the emotions of the dancer. It was a beautiful one. But mind you, if you are not very fond of art, culture and dance, you will not enjoy this one. The martial arts show was something that I really loved. I am not going to describe it, go see it!
I am an eggetarian. So there was a little bit of struggle with the food. Because, staple diet there consists of fish and all types of meat products. There are a lot of hotels which offer vegetarian food, but the menu is very limited. One thing to praise is the spices used in the food preparations. They are natural and you will not face digestion problems when there.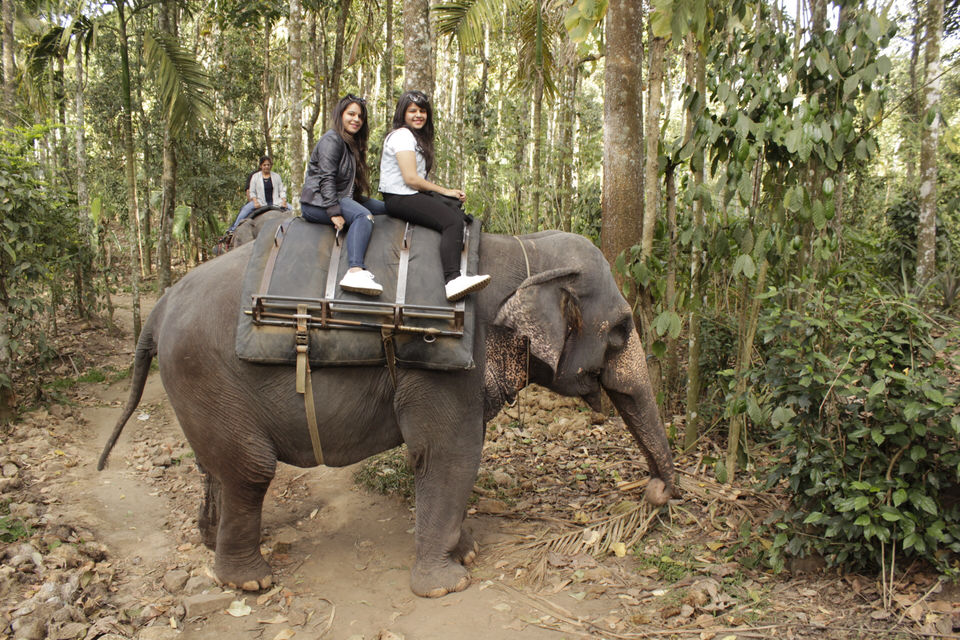 Day 2 in Thekkady : How beautiful it is to witness the monsoon in Kerala! Yes, it started raining late night and continued till we woke up early morning to see our window glass covered by a layer of fog. Waking up to such misty mornings on the hill station is nothing less than bliss ❤️Thekkady is also very famous for the Keralan therapies,relaxation massages and spas. There are many places which offer these services. It's better to go to a local spa than to go to a hotel with a luxury spa. In simple words, go to the one whose main business is spa instead of going to a hotel which also has a spa .Thats their side business.
So our to do for this day was to take a jeep ride of the Periyar National Park and indulge in some spa sessions.
The jeep ride is something that one must experience when here. You don't get to see a single animal at all. But what you're eyes capture are the breathtaking views of the mountains and the beautiful scenery. You actually become immune to the Lush green tea gardens. To put it in a few words it is 'PARADISE ON EARTH'
Next morning we headed towards Allepey. It is a 4 hour drive from Thekkady. We are now moving from the mountains towards the coastal areas of Kerala. We took the backwater ride in the Vembanad lake. The lake is just 4 feet deep. The view is again beautiful. Tall coconut trees all along the coast which throw a beautiful reflection in the water that can become a perfect click. We were taken to a small island where we took a small stroll. It was a forest island so be really careful of any wildlife or reptiles. We then witnessed a beautiful sunset towards the end of the boat ride. It was evening by then. We had decided not to stay in a houseboat because of the trouble of mosquitoes and also we didn't want to be stranded in a boat all night long, doing nothing. While going from Kumarakom ( the backwaters where we took the boat ride) to our hotel in Allepey, we crossed a bridge where Vembanad lake was on our left and the Arabian Sea was on our right side . The water was still on one side and sound of the waves on the left . It's a magnificent view. It's something that you will witness once in a lifetime. A feeling of content comes in which makes you thank good for the beautiful earth that he created.
We stayed at the 'the World Backwaters' in Allepey that night. This is not a luxury hotel but it has a perfect location. The backside of the hotel is adjacent to the backwaters. You get the feeling of relaxing in a beachside cottage when you're here.
We woke up to capture a beautiful sun rising from the backwaters of Allepey. It was truly mesmerizing. This is my very first trip as a grown up and I loved every part of it. This trip will always have a very special place in my heart. Our first half of the day was a little bit slow since my sister fell sick that morning. These problems come in your way and you have to deal with it. Her sickness was due to the sudden change in climate. Always carry some handy medicines with you when you are on a vacation and especially when you're changing climate zones.
We started for Poovar early afternoon. We took a small halt at the Kovalam beach and then continued towards our ISLAND RESORT ❤️❤️.
This is a place which you must must visit if you happen to go to Kerala. Not only visit, but spend a night there. It's called the POOVAR ISLAND RESORT. We reached the reception, can't call it reception actually. It is the point from where you take a boat to reach the resort. Yes you got me right, a boat to reach the resort. You cross the backwaters, the tilted coconut trees and the inland canals and reach the resort. This place is heaven for the people who love luxury stays. The whole concept of it makes you go gaga. It is a huge resort with about more than 100 rooms. They have what they call as floating cottages. One end of it is connected to the land so you're not just anywhere in the water. Still in one place but floating. A small walk to reach the lobby area, the path is surrounded by gardens on both the sides with tall coconut trees to provide some shade. The staff here is dressed in traditional South Indian clothing (men in a lungi and women in a saree). Abundance of hospitability, very courteous and welcoming. The pricing of the rooms is a little bit on the higher side. We opted for basic rooms. We checked in and enjoyed a delicious dinner at their inhouse restaurant.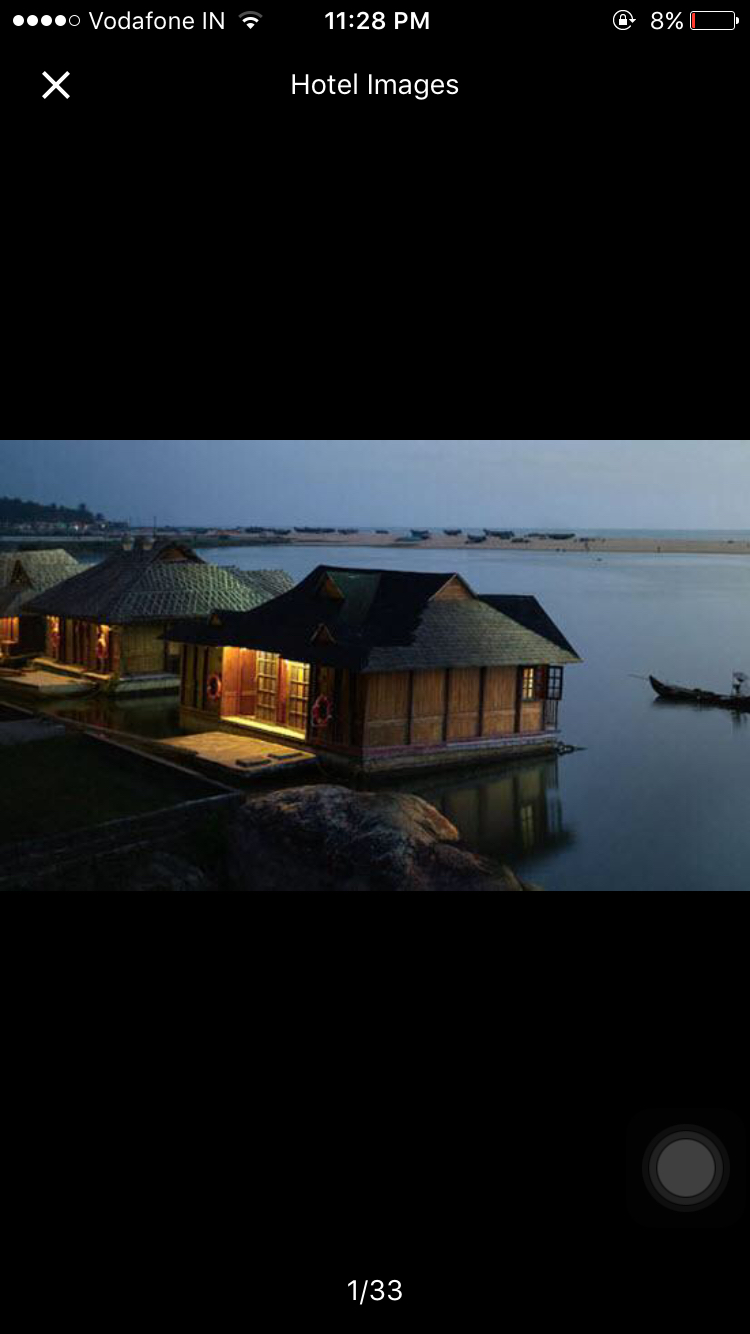 The next day was at leisure in the resort. We explored the entire resort. You can check up the video that they have uploaded in their website. It makes you want to go there. They have a swimming pool, a spa, kid's play area, a library, some indoor games, a lot to do actually. You will find many honeymooners here and the resort offers multiple dining options for them. They have options like a candle light dinner in the garden, by the poolside, next to the beach, a barbeque dinner on the floating restaurant, etc multiple romantic dining options and I found it cute.
Late afternoon, we took a boat and went to the beach. The beach is right across the resort. This is not a private beach but the only way to reach this one is through this resort. There are some locals who come here, not sure how. But it's. used only by the people who visit this resort. We experienced the beautiful sunset here and then back to our resort in the boat.
Their inhouse restaurant offers good food so you don't have to worry about that. One hotel staff that I met there, Dashisha, I am still in touch with her. It was just a connection that struck. She is a north eastern girl who was working as an intern there. She was very friendly and always made sure all our needs are taken care of. This is something that I loved, you meet new people everyday when you travel. These memories will last a lifetime.
This is the end of my beautiful journey. We checked out the next day and took a flight to Pune.