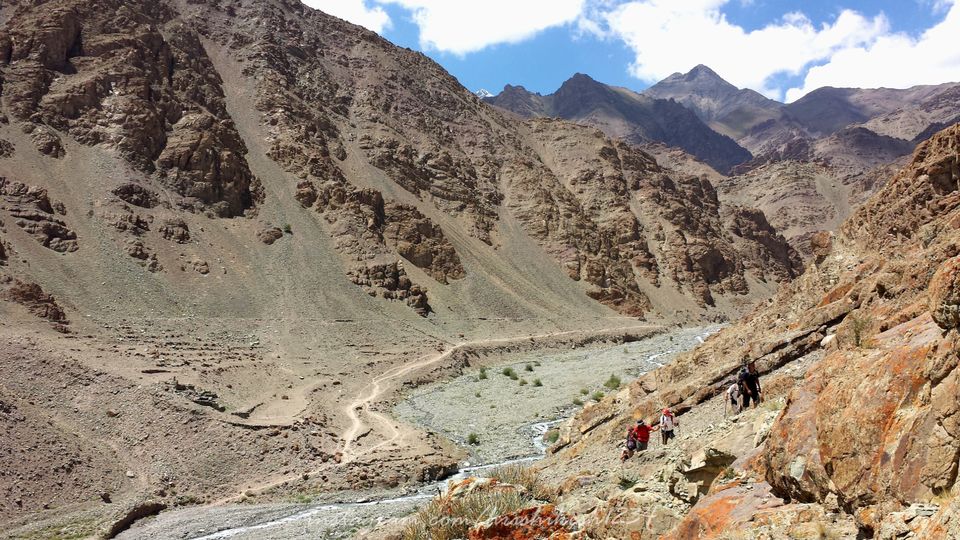 Its been almost 4 years to my visit to Kashmir-Leh for my trek to Stok Kangri. Those 2 weeks would change the way I trek forever. And even after 4 years th0se memories are vivid, the experiences livid. So let's try to recall exactly what and how it happened...
When it came to exploring around I always used to tag along with Anoop. So when Anoop called up one fine evening that they were planning to trek in Ladakh, without a moment's hesitation I said, "YES"! And I was in even before I did any research on the place or trek. It was simple. Work was taking its toll on me and I just wanted to go, away. So all the hard work was done by Anoop, and I, as usual just made the payment.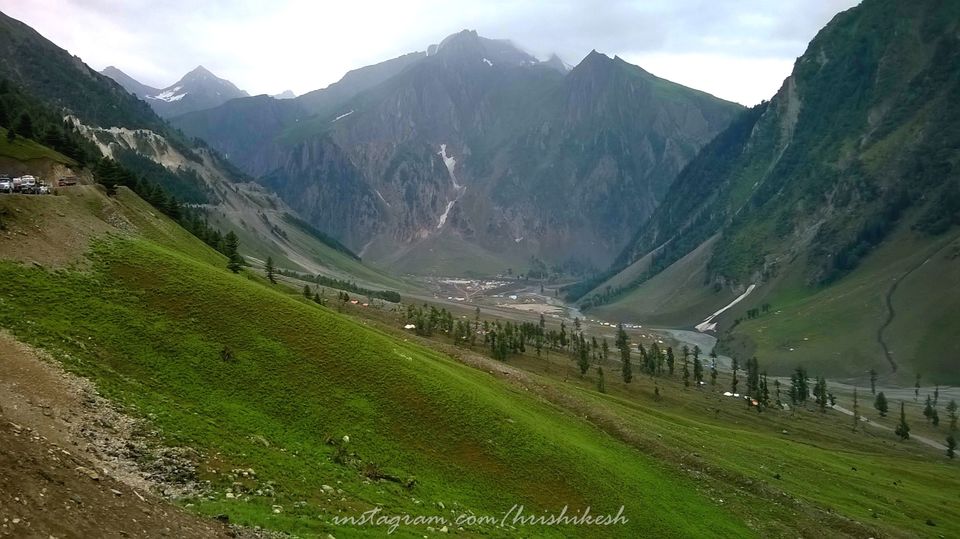 We decided to go with Trek The Himalayas for this trek. I made my ticket plans quickly. Trek starts on 9th August 2014. I still didn't have any clue about the trek though! I started to browse through videos and blogs on Youtube and Google respectively. When I saw the first video my jaw dropped. I mean, am I suppose to attempt something like THIS? This is difficult dude! I mean, what was I even thinking before saying YES! Damn!!
Frankly, I felt that was the stupidest thing to do; going on a trek with the remotest idea. And as it turns out it is one of the most challenging trek in India. Can't do anything much about it, can we? Better start preparing. So apart from my everyday cycling to work I also started with running sessions in the evening, and football twice a week. At the same time I started to gather the equipment and apparels as well. This is not one of your run-off-the-mill trek. At 20,000 ft (6,100 m) Stok Kangri is arguably one of the toughest trek in India which can be climbed without any technical support or equipments. In fact Stok Kangri is the highest non technical trek-able mountain in India. Organizers always advice trekkers to attempt ONLY if they have done a 14,000+ ft trek before.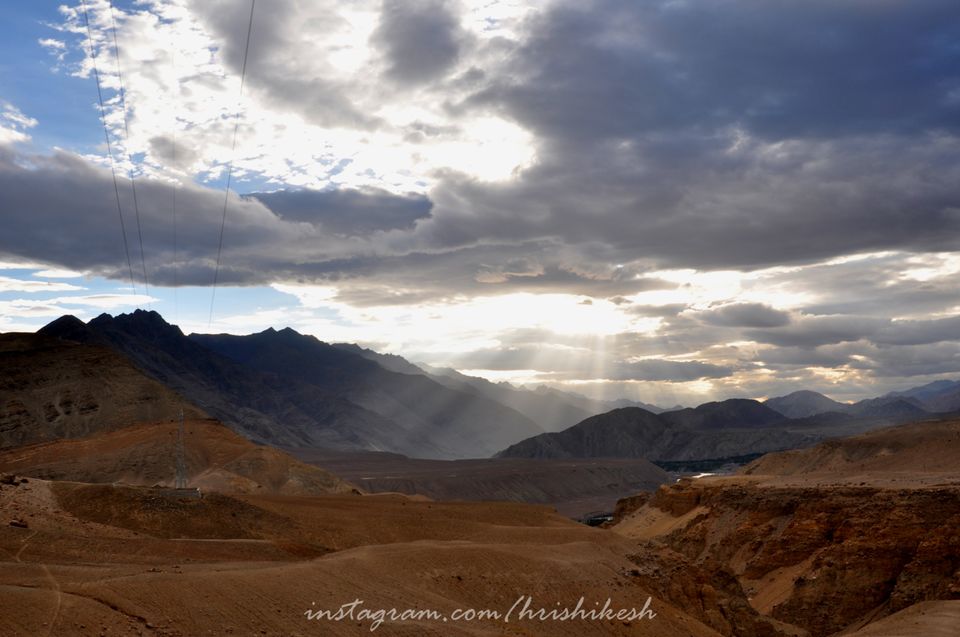 On the other hand I was fascinated about the prospects of trekking in Ladakh and being lost in the Himalayas. I always read adventure filled posts and blogs and drooled seeing the pics. So, one hand I was scared and skeptical, and on the other I was equally excited to be in the laps of Himalayas. And having said that I couldn't wait for August to come any sooner. Time passed and travel dates were near. Anoop introduced me to his trekking friends Hemanth and Harish. I would fly to Srinagar on 7th August along with Hemanth and Harish on an early morning flight to Srinagar. And then rendezvous with Anoop there itself at the Srinagar Airport.
Day 1: Beautiful Srinagar
Reached Srinagar by around 2pm. We headed out to find a cab for Leh. Now here's the trick; a cab with Kashmir registrion charges around 16-17K to Leh. On the other hand a cab with Lehor Kargil registration charges around 12K (all on your nego skills though). We went to the city bus stand, and met our driver Murtaza. We initially planned to drive at night to reach Kargill by midnight, halt the night, and start early morn to Leh. But Murtaza suggested to instead halt at Sonamarg (which is around 3 hours ride from Srinagar), and start next day early morn to Leh. This was the best advise we got and thankfully we followed. Our ride to Leh from Srinagar was the best road trip I've ever done.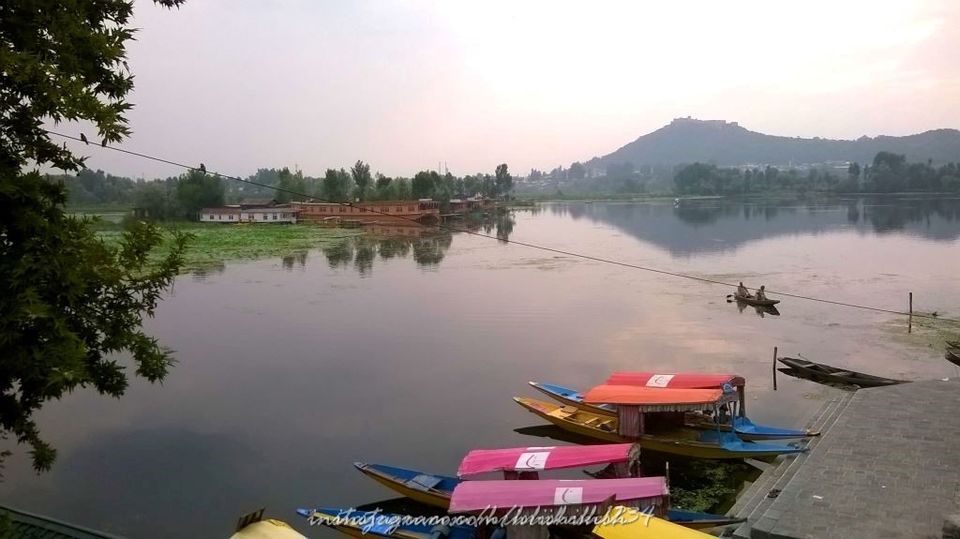 We started off for Sonamarg at around 3:30 pm in a Innova all to us.
Day 2: Julley Leh!
Next day we started our journey from Sonamarg to Leh, and we reached Leh by around 6pm. Our stay was arranged at a homestay, very beautiful and cozy. Our trek lead Raj ji would meet us tomorrow morning.
It was an amazing yet unique moment to be standing in this desert mountainous paradise. I have always heard about Leh-Ladakh; how its a must visit for every adventure lover, on why you should always visit Ladakh once in your life, and why it satiates the travel pang for every traveler. Well, I'm here. Also the homestay owner showed us what we were not expecting; the indomitable Stok Kangri peak is visible! Woah, that's one massive mountain right there! And to say we are going to climb THAT? I tell you that's one big a$$ mountain I saw.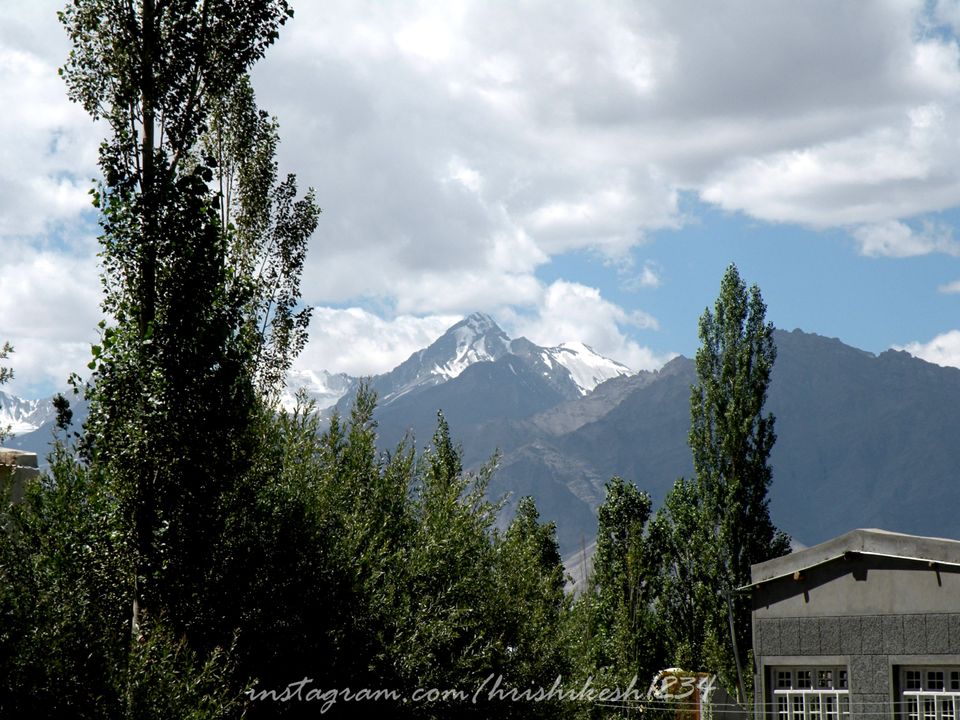 Day 4: The Start to an Epic Adventure: Leh -->; Stok Village -->; Chang Ma
TTH had organized a bus to ferry us till Stok village, the start point to this herculean adventure. It takes around 45-60 mins to reach Stok village. The drive to Stok village is one to remember, crossing numerous landscapes.
Once at Stok village gear up by applying enough sunscreen, take out your cap and glares, and drink enough water. Today is an extremely hot day, so much so that I switched to trekking shorts within 1 hour. The horses and the support staff take the trail next to the river, whereas we take the more adventurous hilly trail. The initial 1-1.5 hours is seriously taxing on the body; due to the body not used to this harsh landscape + a hot, dry day.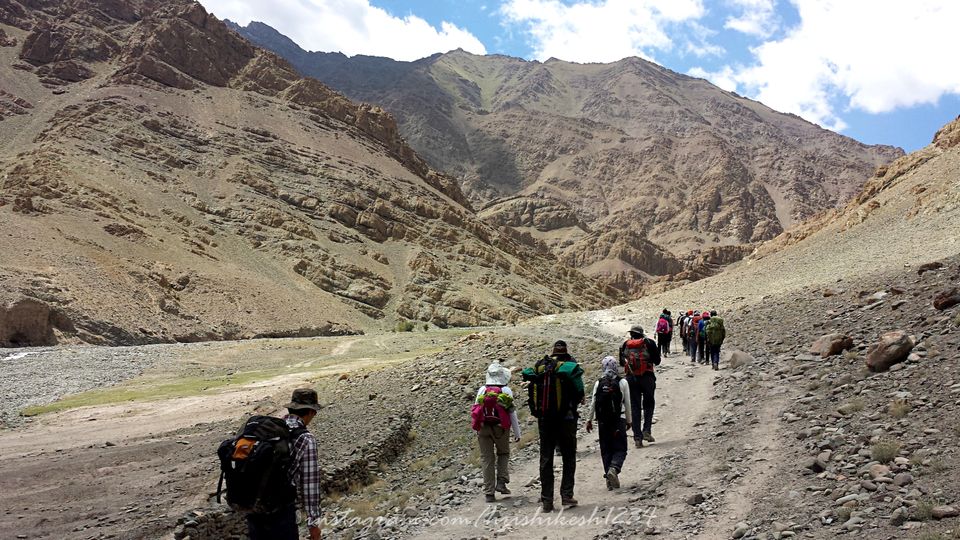 Day 6: To Stok Base Camp
Our task today was to reach Stok base camp. Although everyone looked fine but few of us were struggling a bit and was of a minor concern, at the moment. Again, today's trek duration should be within 4-5 hours for a fit trekker. Mind you, the Stok Kangri peak was still allusive but we could spot other snowy peaks. We started off at snail's pace. The sun was harsh, everyone were walking in a single layer of clothing. The support staff with their mules overtook us right in the middle of our destination. We took rest in middle, while Raj bhai spotted one of the dog that was accompanying us had mauled a marmot. I had never seen a marmot, so hopped across the stream to see how it looks.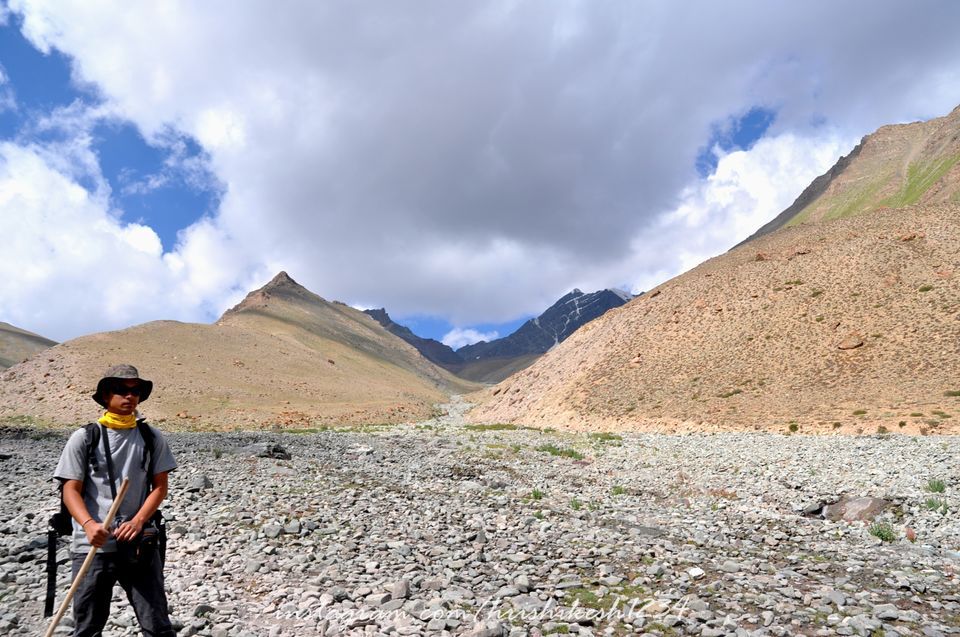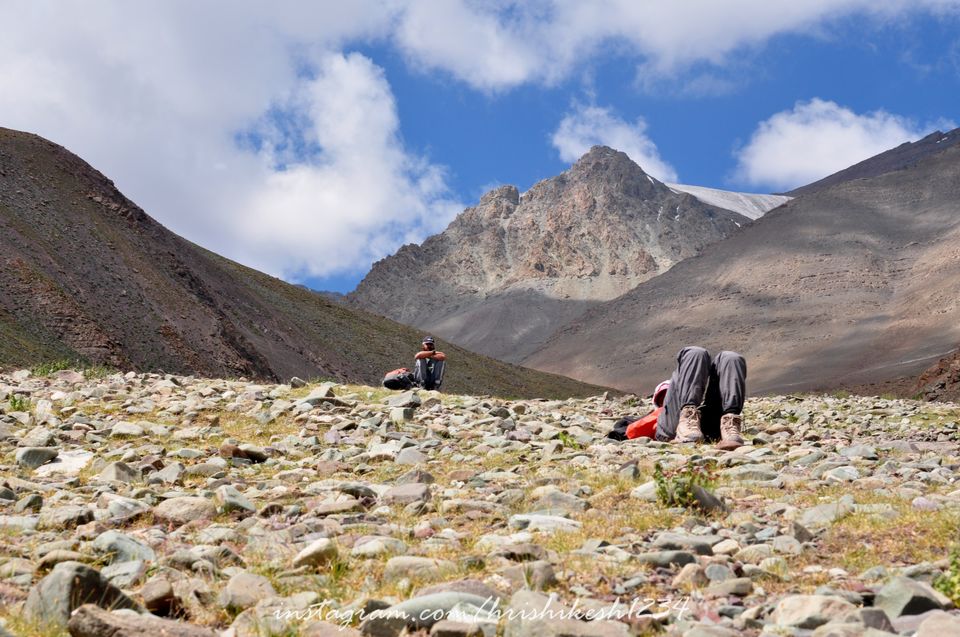 Day 7: Day of Realization and Disappointment
I woke up with a slight headache. Not realizing or taking it lightly I went around the campsite in just a t-shirt. 1st big mistake. That apart I didn't keep myself hydrated well, 2nd big blunder. I went to Raj bhai and told him about the mild headache. He brushed it aside, and showed confidence that nothing can happen for I've been very healthy and active throughout. Until now i.e. We had some sad news from the other side of the camp as well. The health of Shilpa, Hemanth, and Harish had deteriorated a bit, and would be extremely unwise to stay back instead of descending back to Stok village. They quickly packed their bags, and with a support staff walked back to Stok village.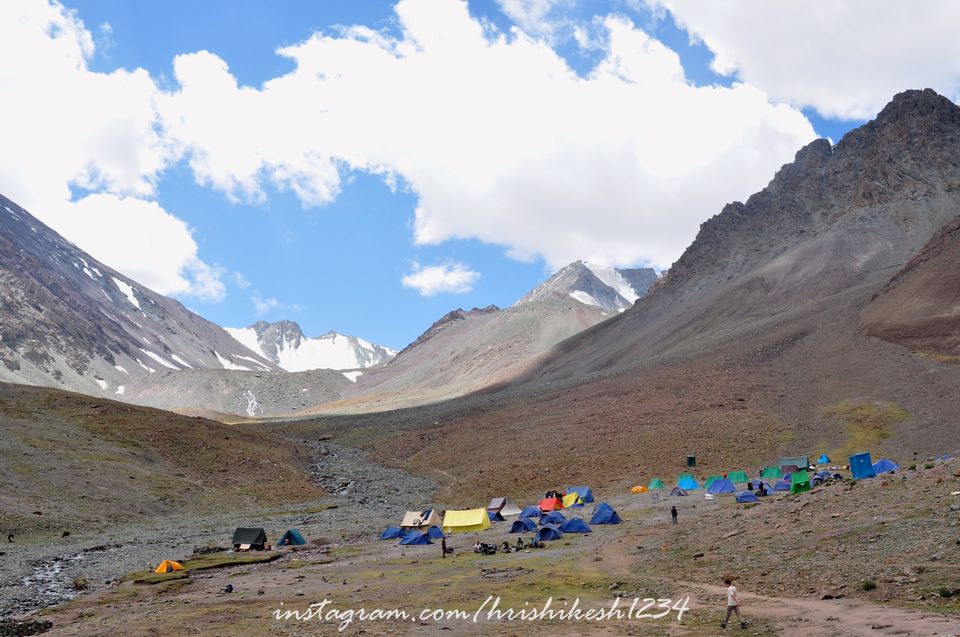 Harish and Hemanth were feeling a bit nauseated and preferred to rest. This is normal as we have gained considerable altitude on our way. But the driving from Srinagar rather than taking a flight directly is also critical for the body to acclimate gradually and adapt to the harsh conditions. And you can actually feel it in the air; you may face a slight difficulty in breathing, mild headache, or body ache. None of these symptoms on me so far.
Phone networks don't work if you don't have a J&K connection. Our phones were as good as useless. We went out in the evening to have a stroll in the market. There are numerous cafes and eating joints, as well shops for that last minute buy (jackets, balaclava, shoes, fleece... you can get everything here just in case if you forgot to buy something). You'll also spot numerous German cafes all around, I'm not sure why the hype to name only "German Cafe", or am I missing something? Must try is the Tibetan food like thukpa, momo, noodles, numerous home-baked pastries and brownies.
Day 3: A Day to Acclimatize and Roam Around
Today is a rest day, acclimatization day. We spend the day today to explore the city and also to acclimatize better. Lets face one thing; the terrain and climate of Ladakh region is pretty harsh and dry. I was already facing chapped skin, cracked lips, and ruffled dry hair. Ensure to carry enough moisturizers and lip balm.
We first went to Namgyal Gompa, pretty close to our homestay. It is perched on top of a hill, and glorious birds eye view of Leh awaits once atop. But before that you have to climb some "treacherous" steps to the top. Huff-puff, I was already breathless!
Once at the top the views are surreal. And its very calm at the top as well. One can just sit on the porch of the monastery for countless hours, and forget all worries. Its a pretty hot and sultry day, but quite cool inside the gompa.
From the Namgyal Gompa there is a trail to Leh palace, slippery, rocky, and dusty. The Leh Palace is one of the major attraction of the city, an epitome of Tibetan Architectural construction. Completed in the 17th century, the palace is in quite bad shape to be honest. Spent some time exploring the palace before descending through some narrow aisles to have our lunch. It was around 2 pm, and the sun was blazing out.
We had plans to visit the Shanti Stupa in the evening but let go of it in favor of some last minute shopping like woolen cap, a head-torch, and gloves. Make sure you have the complete gear that has been advised by your trek guide or operator. For next day is the big one...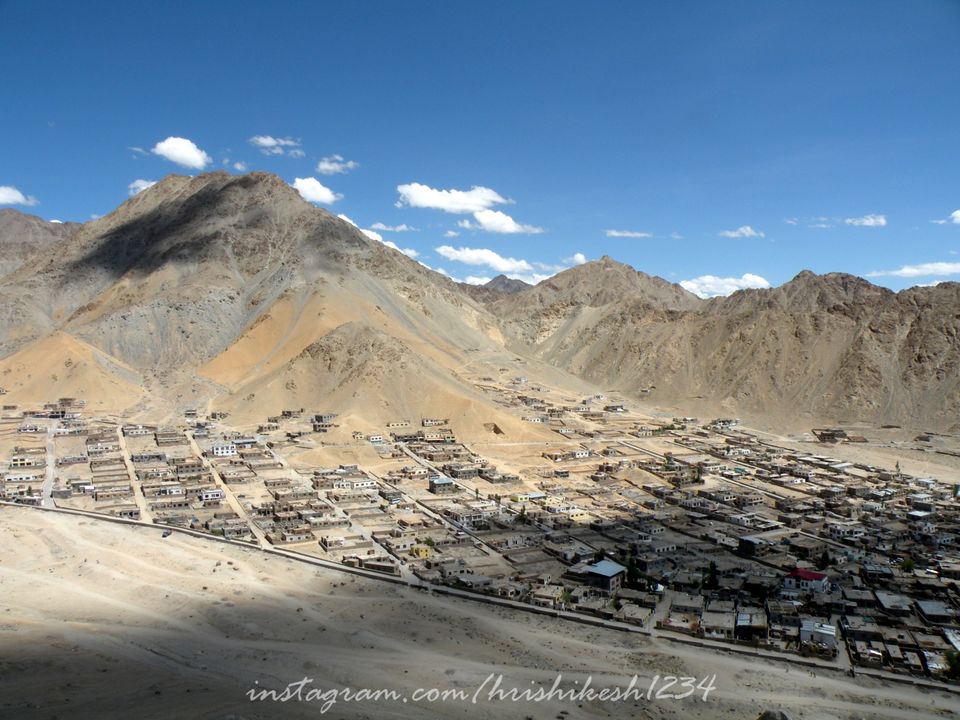 Be aware the climate is extremely harsh and dry. Ensure to drink enough water, even when you don't feel like. We climbed some hills, negotiated some tricky curves to reach our first campsite; Chang Ma. Chang Ma is not a major campsite for most trekkers attempting Stok Kangri, they move ahead to Mankorma (we go there tomorrow). You'll reach Chang Ma by around 2 pm, if you start from Stok Village by lets say 10-11 am at a decent speed. Not much distance to cover on 1st day.
At around 13000 ft. we laid our bags and started pitching our tents. This is where I learned how to pitch a Quechua tent. Raj bhai clearly instructed us not to sleep, as that may affect our acclimatization process. Anoop was filling a bit dizzy, worrying signs of AMS? I was doing perfect though!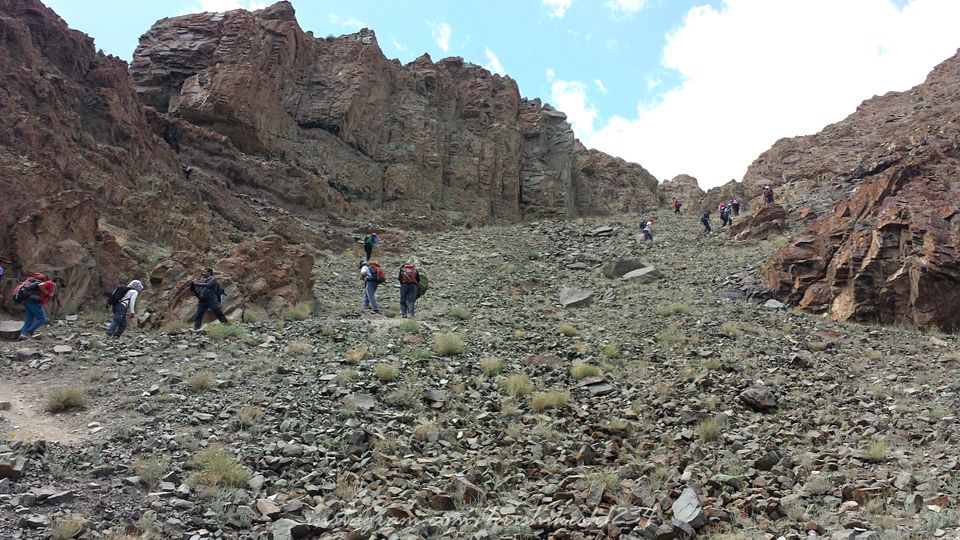 Raj bhai introduced football for us to play. Here we are, standing on a rocky bed, with no signs of vegetation, and with barren mountains and hills watching over us; and we have to play football here? Crazy as it may sound it was actually fun, as long as you don't trip and bust yourself by falling on a rock!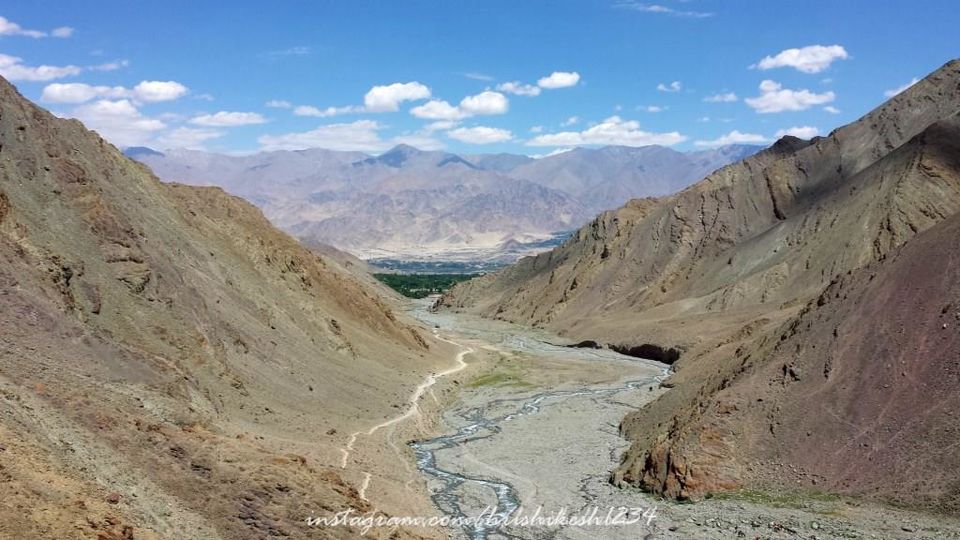 We go on a small acclimatization climb in the evening. With just a bottle in our hand we marched out in a line to climb a nearby hill. These acclimatization walks in the evening are extremely critical and shouldn't be ignored; also good way to explore the surrounding. We reached the top in 1 hour to have some majestic views of the landscape around us. There's hardly any greenery around yet it had a beauty and charm of its own. Mesmerizing Ladakh.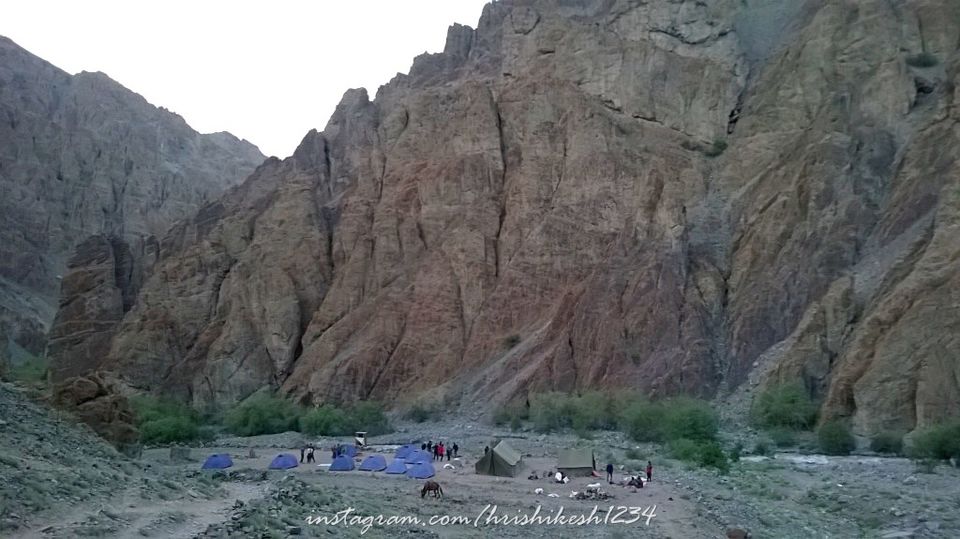 Back in the campsite and it has got pretty cold by now. Oh by the way there's also a Mitra cafe where you can have some sumptuous Maggi, juices, dal-chawal. Heck you can even find and gulp down a bottle of beer! All at a premium price of course.
As the sun hid himself behind the mountains Raj bhai introduced some rib-tickling games to keep all of us engaged. Amidst the echoes of our laughter hot soup was served and then no later dinner was ready as well.
Well no matter what or where you're camping TTH ensures you get lip smacking food even at such extreme conditions. I mean, hot dal, roti, rice, dal-makhani, gulab jamun; it was more of a food fest!
Tomorrow we move to Mankorma, yet another day of short distance.
Day 5: What a Bright, Sprightly Morning? Err, Where do I go for My Morning Poop Session?
Woke up to a campsite which was already buzzing with activities; Raj bhai with his loud voice waking all up, support staff getting ready with breakfast for all, and other fellow trekkers scampering here and there for a place to "sit". Yeah, my first trek in the Himalayas, as well as my first "outing" in the wild let loose some weight. Found an isolated spot and let go before being spotted by anyone. This day had passed.
Our trek to Mankorma should take not more than 3-4 hours today. Though a hot and dry day we will be mostly walking under the shade of the mountains, so it will be a bit chilly. Gobbled down some nice aloo parantha before foraying on.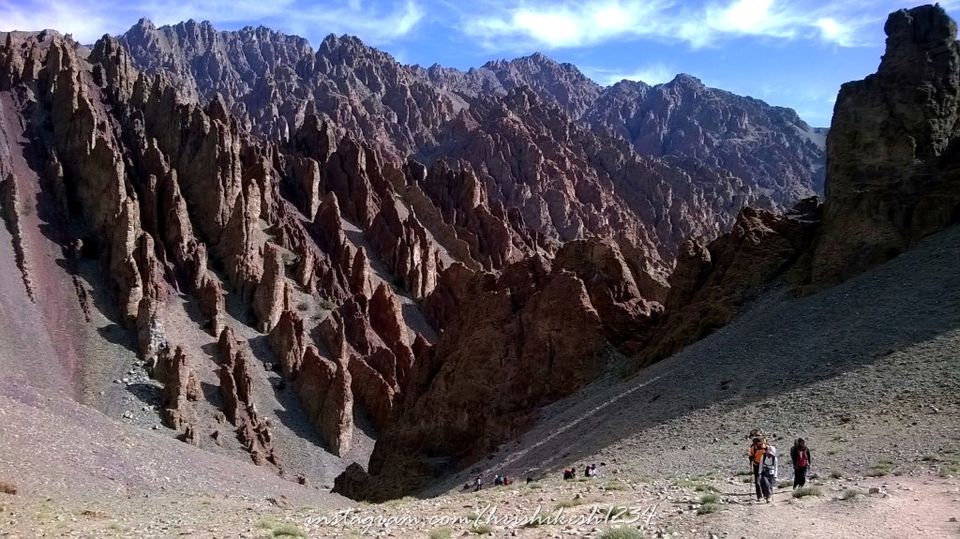 We walk mostly on a river bed, right next to the Indus river. You mostly walk on stones, boulders, and feet starts aching soon enough. Walking over large boulders and rocks can be tricky and painful. All the majestic hills around us made us look like marching ants. Today's trek to Mankorma involved around 1300 ft of gradual altitude gain. We reached Mankorma fairly without much difficulties. Like yesterday I was doing absolutely fine. With desolated, harsh, rocky surrounding it was for sure a no man's land. We had set up our camp by now before lunch. The river just next to ours was inviting, but the moment I set my fingers in it made me realize why was it a bad idea. Anoop was feeling a little dizzy, and took some rest inside the tent. Same for Hemanth and Harish who decided to sleep for a while.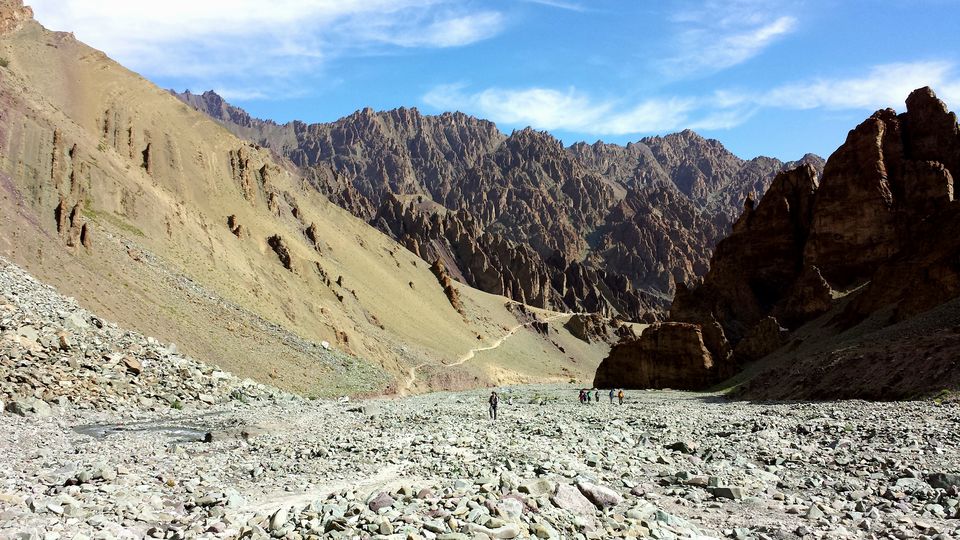 A bright sunny day calls for a good relaxation. Raj bhai told everyone to be ready for evening acclimatization hike at 4. Till then you're free to do whatever you wish. At 4 we set out for our acclimatization hike to the adjacent hill. The trail was made primarily of loose rocks, and made for one challenging ascent. These acclimatization walks in the evening are a fun way to get used to the thin air, without any backpacks. The view from the top, though was a different affair; layers of mountain lie in perfect arrangement.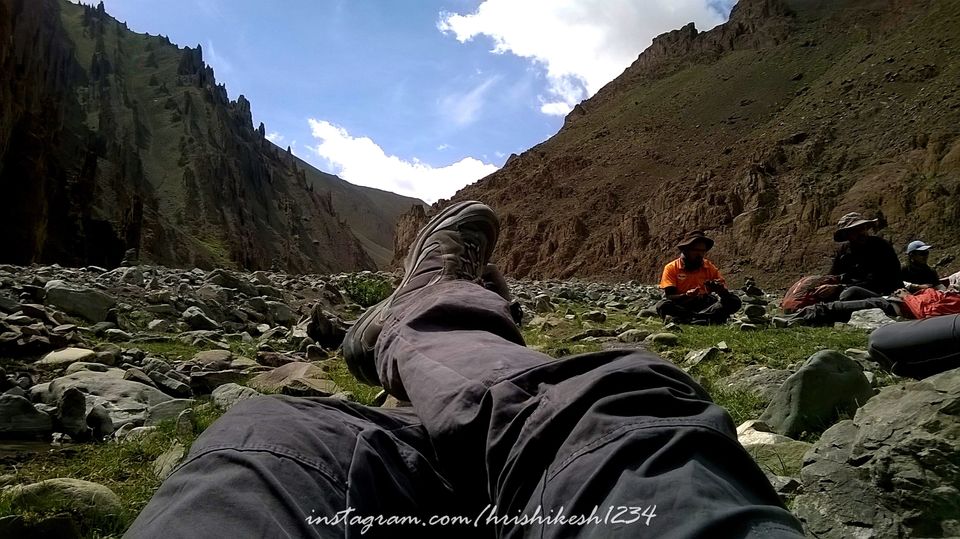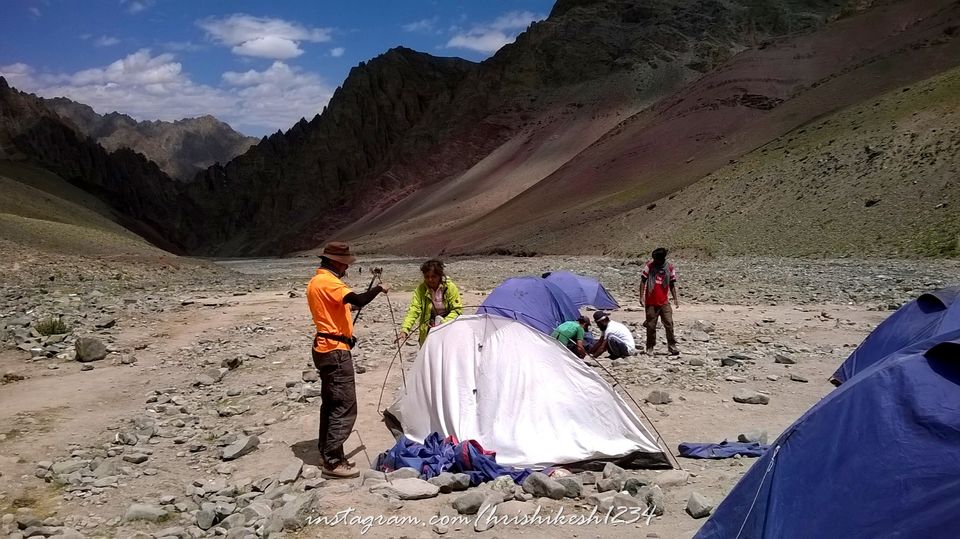 Now getting down to the camp was a tricky one. Due to the loose soil and rocks it was literally not possible to walk down the normal way. Hence, we decided to 'glide' our way down. By sidefooting we were able to reach in 10 mins. Rest of the evening was spent just chit-chatting around with the other trekkers. Mind you my oxygen reading was in between 93-95%, and pulse under control, quite better than the most.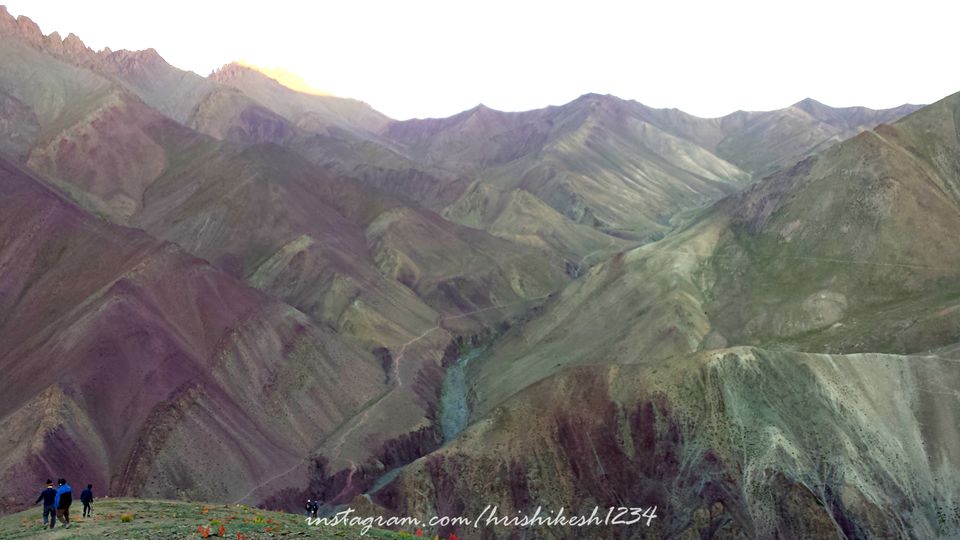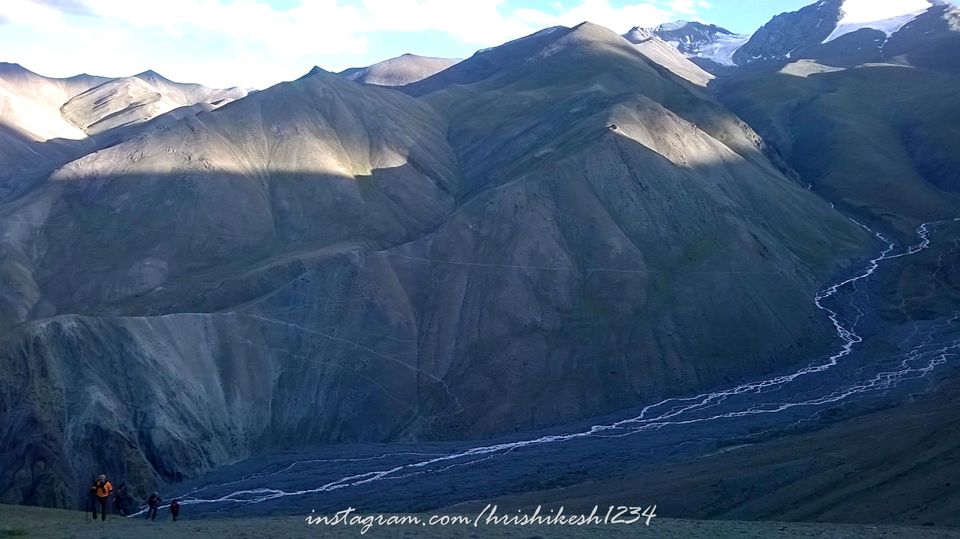 Tomorrow is a crucial day; we head out to the Stok base camp at 16,300 ft.
The final push to the campsite is a tiring one. It is based on a good altitude and most of us took our own sweet time to reach there. Once there it looked like a small village; there were so many tents put up. Not a single inch of the space was wasted. Coupled with horse-dung all around. Stok Kangri sure is a popular pull. Anoop was feeling a little uneasy and decided to rest. While the rest of us decided to indulge in football, only this time we had more space to us to kick around. The sun never felt so good for a change, with the cold wind brandishing its might over our fluttering tents.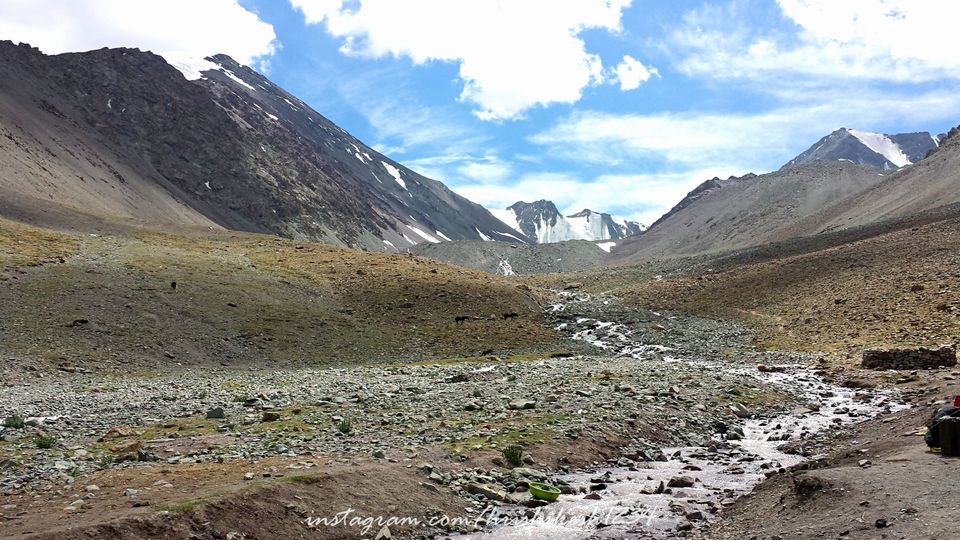 In the evening, as in the other 2 days, we go for a acclimatization walk. Only this time we go near a glacier. The same glacier from where the Stok river originates. Our path to the glacier was only comprised of scree near the glacier. One needed to have a good footing to avoid a fatal fall. While nearing the glacier we could hear roaring sounds, suggesting of glacier breaking. Nature, I tell you! Hemanth and Harish didn't join us as they were feeling nauseated. I've never seen or been so close to a glacier, and this one, right behind my back, was a HUGE one! We spent some time there, clicking away, before heading back to our campsite. Tomorrow's a rest + preparation day, and at night we make a march to the summit when the whole world is asleep. I was so excited about the entire proposition. Let's get some nice sleep.
By lunch time micro-spikes were distributed and instructions were laid out how to use them, just in case we encounter snow and had to walk on the glacier. What started off as a mild headache gave me the worries of AMS. I really wasn't ready to go back, not because I came from so far and spent so much of money. But the fact that I had prepared for it, was fit-n-fine, and I mean I am so close to my destination. This drudgery was bothering me. With all the conundrum of anxiety I went to my tent at 4 pm to sleep. Team attempting for summit will be departing at 10 pm.
I was woken up by Anoop at around 9 am, felt like a sledge-hammer battering my head. I felt disoriented. I have clearly contracted AMS. Anoop was confused, he asked me to get up and get ready. Outside Raj, Sunny, Kiran bhai were aloud waking everyone up. I tried to stand and instantly fell down. This was not good. Anoop immediately alerted the staff, and Raj bhai came to check. My oxygen was oscillating around 71-73. Not good, not good at all. Raj bhai checked my pulse and it was racing up as well. Evacuation was not possible at this hour of time. Yes, evacuation is the right word. I was able to talk but not in my senses. Guides were in a dilemma; whether to go ahead with the remaining to the summit or to help me get down. A conscious decision was made that the group will continue with the planned summit attempt. On the other hand one support staff will continue to monitor my oxygen and pulse. I went back inside my sleeping bag, trying to sleep it off as just a nightmare. That I'll wake up chirpy and ready to go for the summit in the night.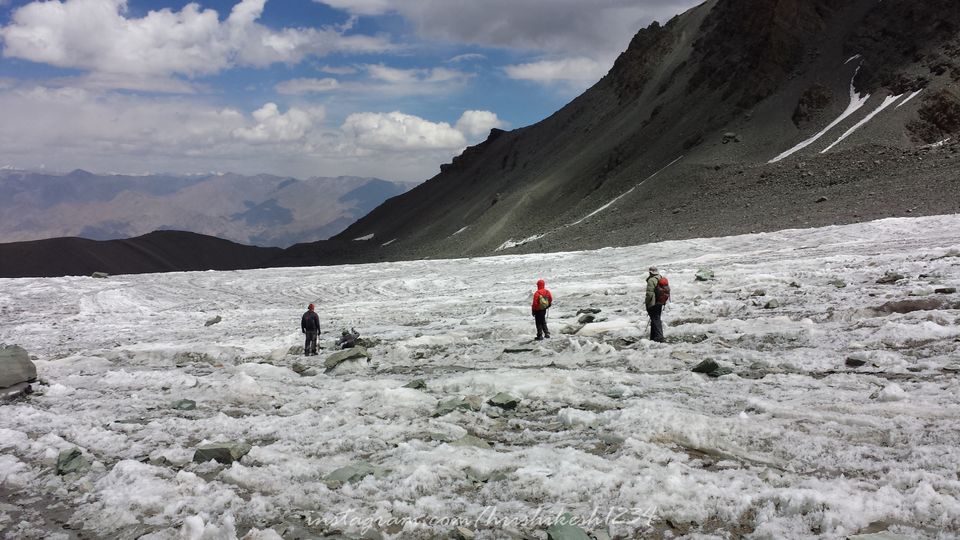 Throughout the night the support staff kept checking on me. My vitals were monitored closely and I was asked if I'm OK so as to ensure I don't pass out. I woke up at around 8 am to a cheering of successful summit by most of our mates, unable to comprehend what just happened to me last night. I sat back inside the tent and my vision was all black. It took a good 5 mins for my senses to fall back in line. I tried getting out of the tent, instantly regretting it. My head was still heavy, disoriented. I had survived the night. My condition had improved by 10, and as more of our mates came down, gleefully jumping with joy of their summit success I just stood there hi-fiveing all thinking I could have been one of them. I decided not to go down to Stok village today, and would instead head down with the entire group. I was danger, all thanks to the good guys at TTH. The scariest moment of my life had passed on.
Day 8: The Struggle to Reach Stok Village
Last night was crazy. I have been sleeping throughout the day, trying to get better. I woke up in the middle of the night to take the call of nature. SNOWWW!!! Our campsite was engulfed in a blanket of fresh snowfall. All our tents had turned white. So much so that we had to clear the same from our tents. Seeing all I felt even more better. Anoop came out as well to witness this spectacle. Its 2 am! It was sort of a blizzard.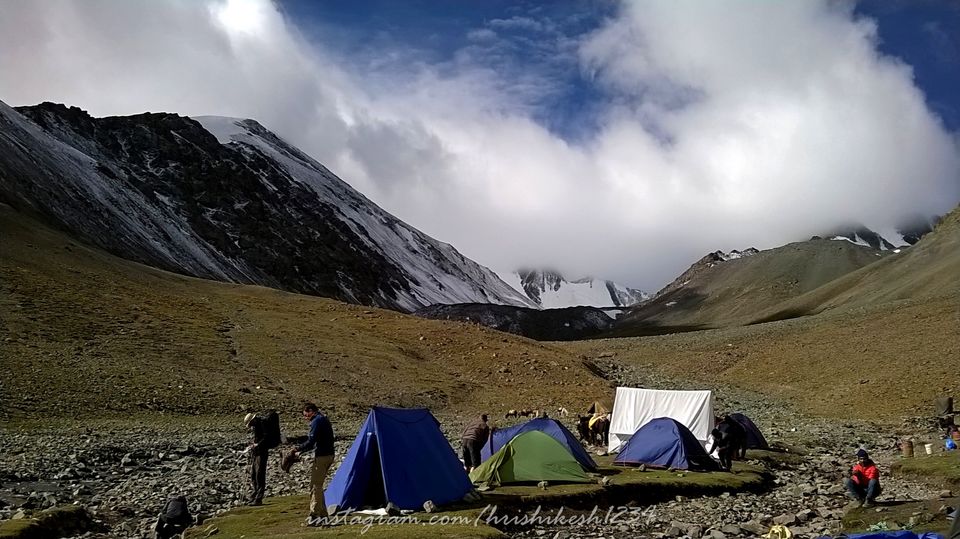 Today we return back to Stok village, and then to Leh. Got to know that the Indiahikes team had to return from the middle because of the incessant snowfall. Knee-deep snow had built up and was risky to proceed. Our bags are packed, and the glow of everyone's successful summit attempt was visible. Its not everyday you stand atop a 20K ft. mountain. I was weak, and offloaded my backpack. I would be ahead in the pack when we started our descend but would gradually fall behind. I was too weak to keep up with the pace of the rest. This turned to a gap of almost 2 hours. We were just couple of us along with the sweeper trying to go faster. It was a struggle for real. And then it would start raining just before we reached Chang ma, making it worse.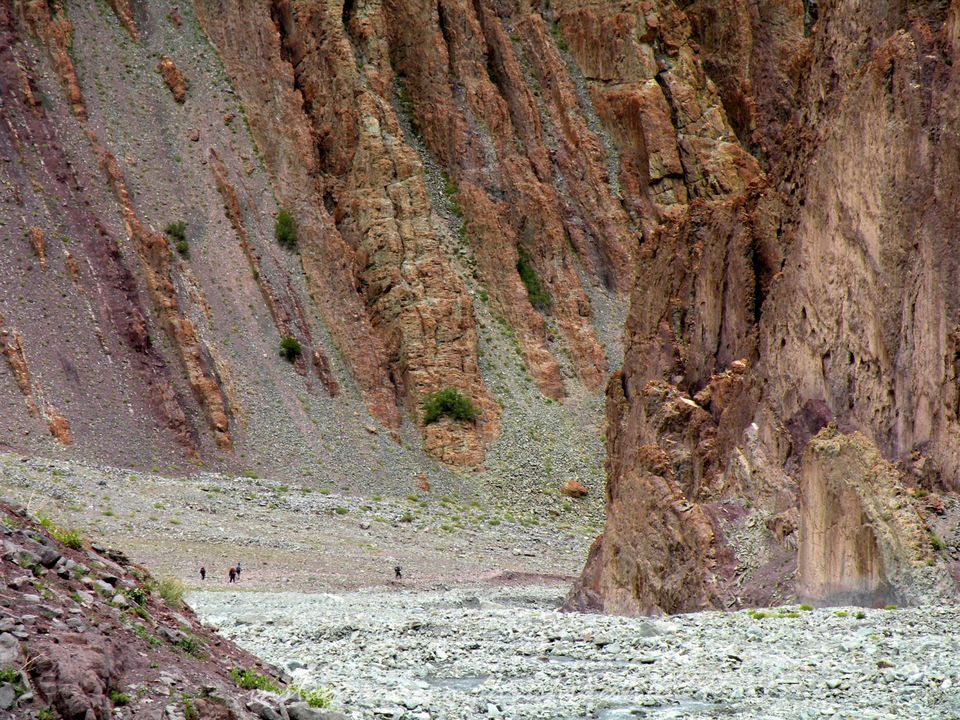 If I remember well I reached Stok village 3 hours late. Most of them had reached long back and were waiting for us only. Evidently they were miffed with me. Sorry folks, I couldn't have do it any faster.
Our pick up van was waiting, and soon we all left to Leh. Its not been easy there in the mountains, a good wash-up we all need. I sat there staring at those endless sky-scrapping peaks in the far end. Till today I believe the happiness of making out alive from there far outweighs my failure to scale the top. And I will be back there, just a matter of time.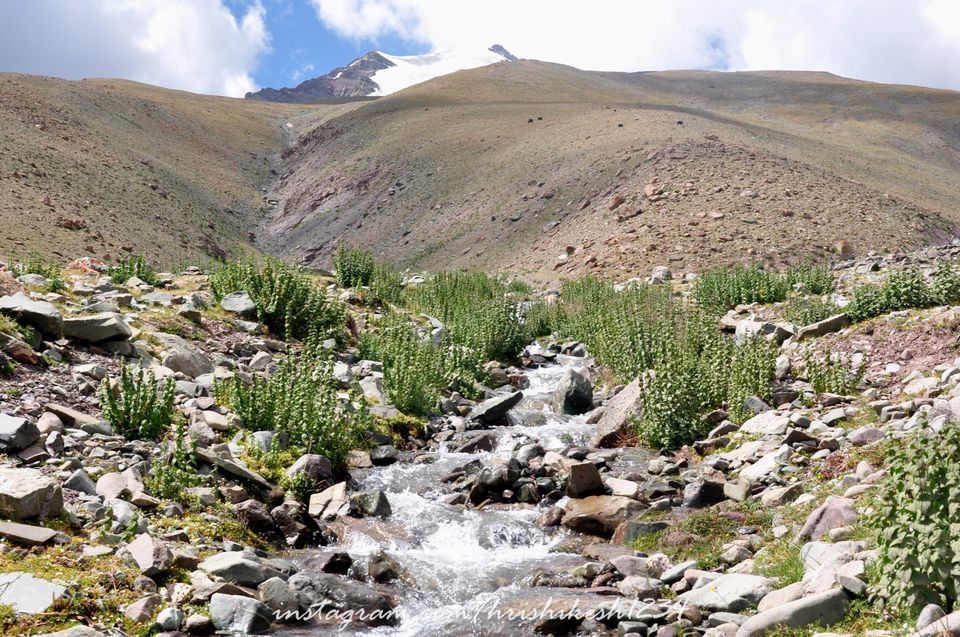 Back in the Stok basecamp I just stood there, staring at the path of the Stok Kangri trail. Just then Raj bhai came to me and consoled me, "Hrishi ji dukhi mat ho, aap wapis aana fit hoke. Pahad kahi nahi jayenge, par aap wapis kabhi bhi aa sakte ho" (Hrishi don't be sad, you come back once fit. The mountains will be here only for you). Those words still ring in my head whenever I am in the mountains.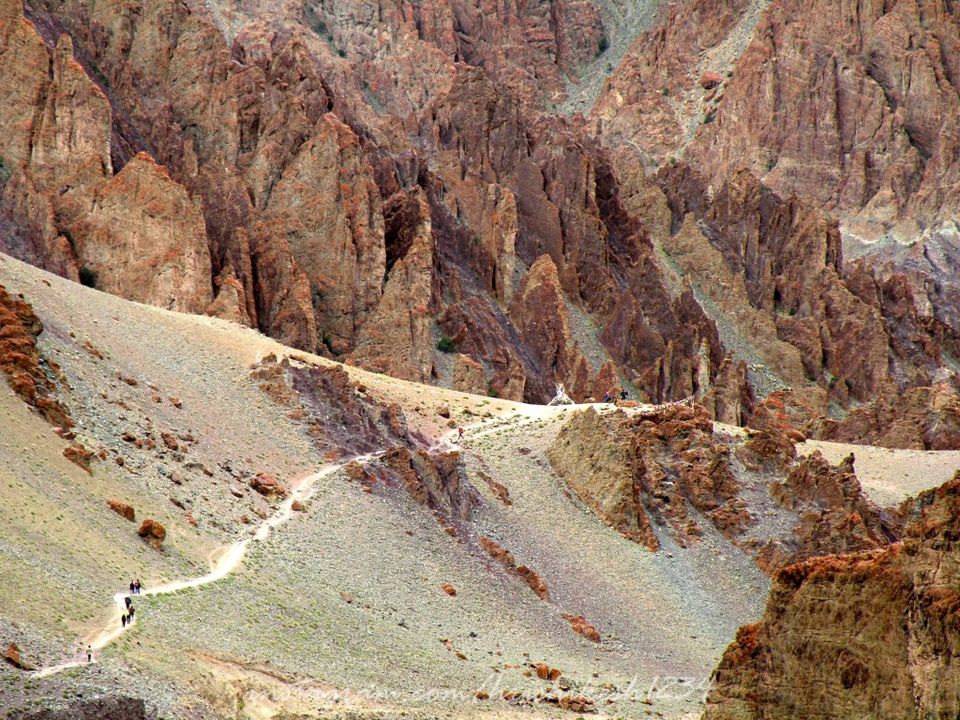 Precautions and Preparations
Stok Kangri needs some good level of preparations. Do not underestimate it. Even the most ardent trekkers falter here. People have died in those remote mountains. Start preparing atleast 1 month before your trek date. A good way will be to start running 5 kms in 30 mins, and gradually increasing it. Also, other ways will be to do cycling, swimming, play badminton, or any sport that involves intense cardio.
1. Ensure you drink atleast 4-5 ltr of water everyday.
2. Take good quality wind-proof jackets.
3. Take good sun-screen creams, moisturizers, and lip balm
4. Do not be stubborn, under any situation. If you are not feeling well then the best thing to do is to listen to your trek leader. Even if that means returning back immediately.
5. The environment in Leh is harsh. A good way to acclimatize well will be to reach Leh by road, either from Manali or Srinagar.
Frequent Searches Leading To This Page:-
Cheapest Leh Tour Packages, Places to Visit in Leh, Best Tour Packages for Leh, Top Leh Tour Packages for Family, Top Leh tour packages with price, Budget Trip Packages for Group to Leh, Things to do in Leh, Leh Ladakh Road Trip Packages