Growing up as a kid in New York and living through some terrible winter weather it was always a treat when our family would take us to Florida on winter and spring break. The warm gulf waters and beautiful white sandy beaches recharged our souls and gave us the strength to endure the long winter months. My father was the one with the real passion for the gulf coast of Florida, he would never tire of the dolphins and sea life that was always close by. Fishing and swimming and surfing filled our days and made great memories that we will cherish forever.
The love of Florida and its wonders stuck with us as adults and as my siblings had families of our own we instilled that sense of love into them as well. Family vacations always were centered around Florida and making sure the whole family could meet there every year to stay at the family timeshare in Saint Petersburg. You could say that we are a Florida family that lived in the north east.
Parents age as we all do and when my father was in his early 70's he got sick. Through his 4 year battle we kept our yearly trips to Florida and dad was a trooper, I think he forced himself the las couple of years for the grandkids sake, although it was obvious that he still enjoyed it there. It was a hard time for the whole family. We are all so proud of him and how hard he fought but in the end we lost him.
After the cremation it turns out that dad told my mother that after his cremation he wanted to be scattered into the ocean in his favorite place in the world, Florida. So we set out to plan our yearly vacation and find a charter who could help us with this task. And this is the happy part of my story. After searching countless fishing and sightseeing charters who all did scatterings on the side we found Ocean Ashes Inc. based in Saint Petersburg. Things turned out great.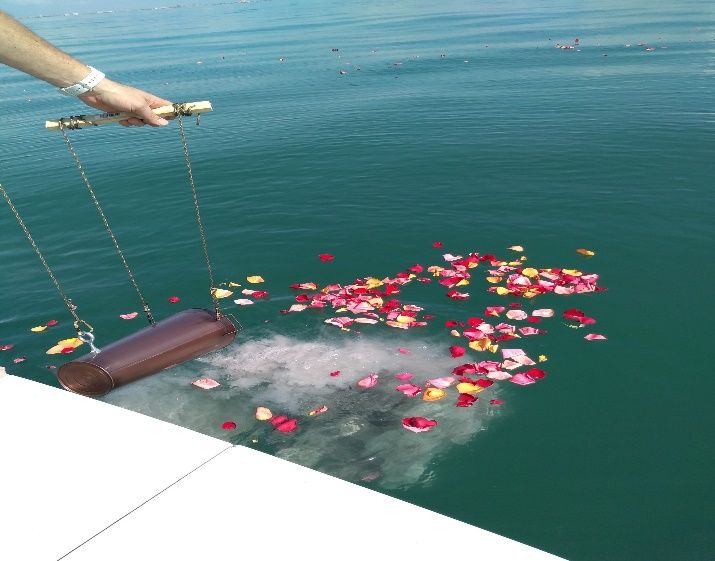 Captain Brett McGhee operates a beautiful private charter that only performs Ocean Ash Scatterings in Florida. His vessel is a beautiful cruiser and we all had a great experience. We took a wonderful cruise out to sea where the ashes were scattered with fresh flowers. The cruise was complete with a cheese tray and drinks. We all cried at the beauty of it but it was a happy cry as dad now will travel the ocean currents of the world forever.
Weeks later when we got the certificate back from Ocean Ashes we were so thrilled, it was wonderful and I had to order four more after everyone saw it and wanted their own. It was a great choice to go with a provider who is so highly rated and recommended. So if you have a loved one who loved the ocean as my dad please consider ocean scatterings, you won't be disappointed!