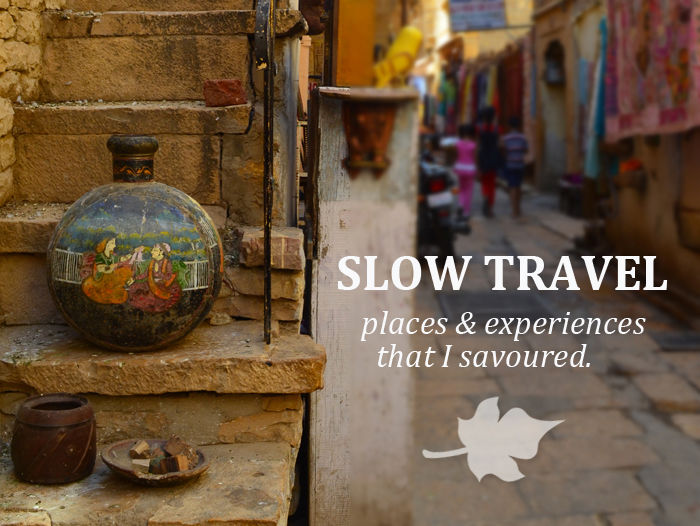 Slow Travel is my favourite way of exploring a place. I like to travel without an agenda on mind. I wouldn't say that I don't visit 'tourist' points. I'd say that although I mostly enjoy immersive, slow-paced travel, I do follow set itineraries once in a while. But, I don't believe in visiting all the hot spots and exhausting myself. I believe in visiting a few places with inquisitiveness and keenness.
So what is slow travel?
In my opinion, slow travel is following your heart. It's about observing the everyday life of a place, the locals, the regular shops, markets, cafes and restaurants, and other such things. I also believe that slow travel is about not caring about time. When we are too busy in our schedules, we try to accomplish a lot through the day. But, we end up feeling that time is just flying away. So, slow travel is your opportunity to hold that lost time and live it.
How to travel on a slow pace?
I have been able to do slow-paced travel on both long and short trips, because I guess it's more about your attitude and style. If you want to soak in the tone of a place, you stop and notice a lot of things. I'm not saying that you should put the popular sites off your list, but keep a balance. For instance, I did visit the magnificent Mehrangarh Fort in Jodhpur, but I also watched the sun rise from my hotel's rooftop. Do your share of touristic stuff, but do it within your comfort zone. Don't over exhaust yourself.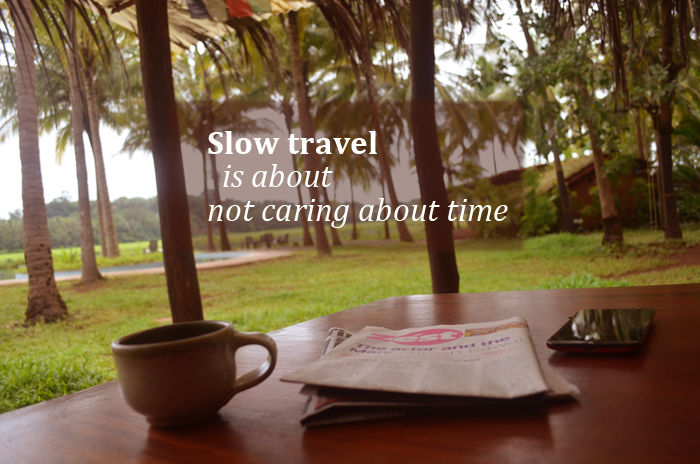 So WHERE should you go to experience 'slow travel'?
Well, as I said earlier, slow travel is an attitude and style of a traveller. You can experience a slow-paced travel anywhere in the world. But, I have a few favourite destinations for SLOW TRAVEL.
There are places that are ideal for slowing down and doing nothing. Since I have travelled mostly in India, I'd like to talk about destinations in India –
Jaisalmer
I had a two-day trip in Jaisalmer. I wouldn't say that it was exactly slow-paced, as my first day was totally consumed by the desert safari. However, I made the following day an immersive one by not doing much. I sojourned at one of the guest houses in the Golden Fort, which is the best place to stay in Jaisalmer for the real 'soak-up' time. You don't need to go anywhere. The moment you step out of your hotel, there are varied elements to introduce you to the culture of Rajasthan. Besides, there's a different air to Jaisalmer. It's a world of its own.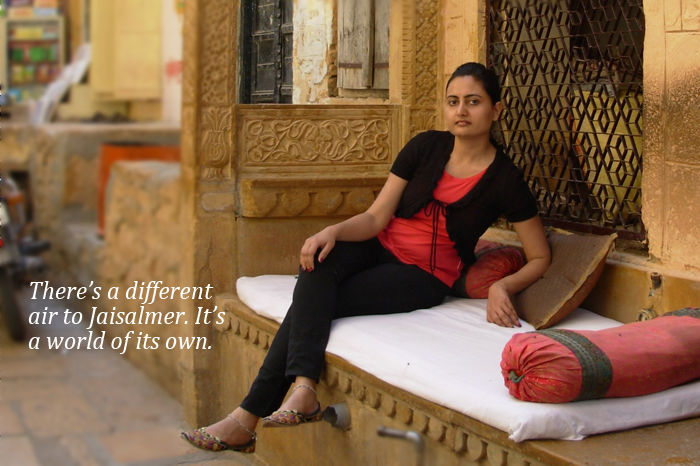 Here's what I did to absorb the essence of Jaisalmer –
– Enjoyed an early morning tea with my fellow travellers. We sat on the rooftop overlooking the temples and the entire vicinity of the fort.
– Wandered through the narrow lanes of the fort.
– Watched the locals go about their day, children play cricket, artists paint and shopkeepers and vendors do their work.
– Had an afternoon of natters with my hotel staff. It was a different experience for we always look at them from a business perspective. It was nice to know about their lives.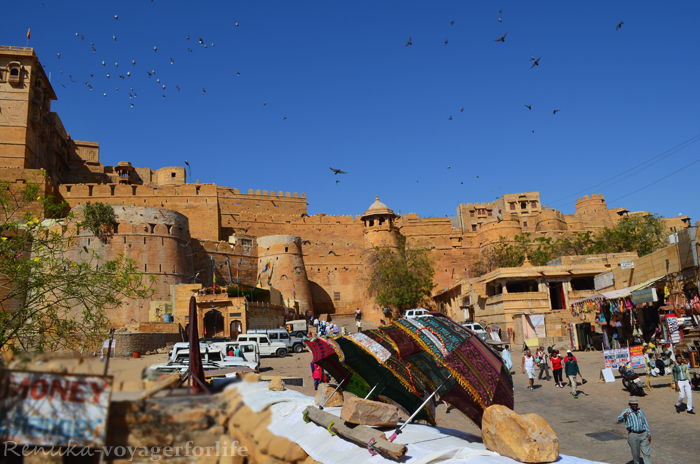 I'd definitely like to revisit Jaisalmer on a long trip, maybe a week or so. I'd like to spend my days sitting in a café, reading books, writing something or talking to people. Jaisalmer has quite a few interesting cafes and restaurants, which are ideal for slow travel. I didn't get a chance to explore them due to my tiny trip. But, on my next visit, I'm going to snack on every meal possible and drink as much caffeine as my stomach allows.
Offbeat Goa
There's an 'unruffled' Goa that I absolutely love. I was amazed when I visited it during its busiest season of Christmas and New Year, and I could still discover the quiet Goa in the lesser-known places like Saligao (North Goa) and Loutulim (South Goa). Then on another trip, I got to explore Olaulim (a village in North Goa), which is your 'Goa sans beaches'.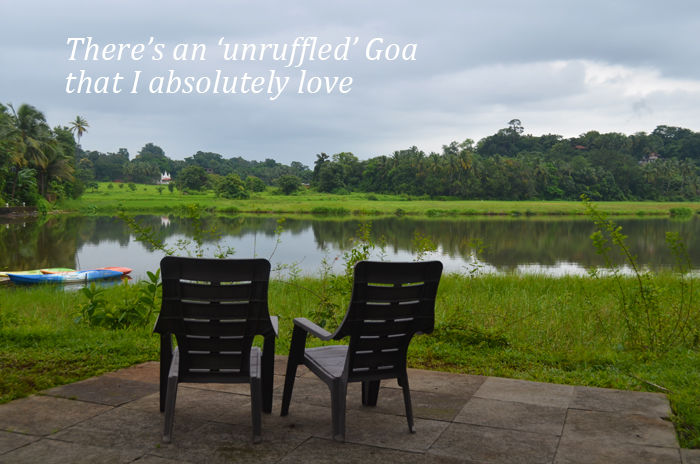 Here's a quick glimpse into why Goa is my favourite 'slow travel' destination –
– My morning saunter through Saligao, discovering the countryside, and visiting a local bakery.
– Exchanging pleasantries with locals, taking their tips on what to explore in Goa.
– Wandering through Fontainhas – the Portuguese gem of Goa.
– Bathing my soul with lushness at Olaulim Backyards.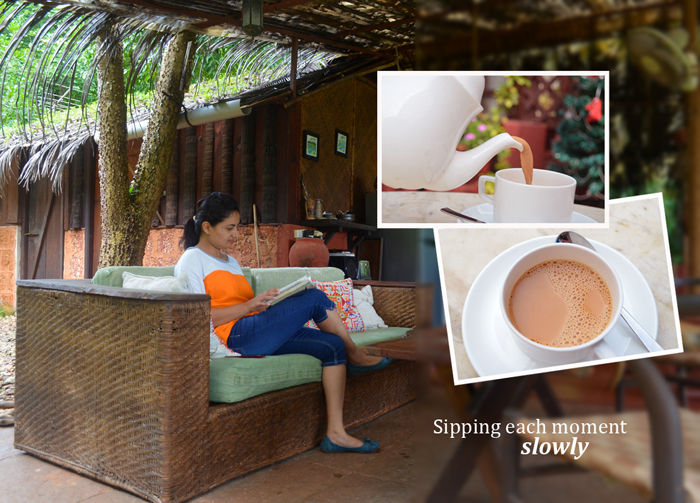 I have never visited Goa alone. So, I definitely have a 'solo and slow' trip in store for myself. I'd like to sojourn at a heritage home stay, eat only the basic Goan cuisine, wander through places, discover cafes and restaurants, check out bookstores, markets, and perhaps build some friendships.
Srinagar
I had a long solo trip in Srinagar, Kashmir. I'd say Srinagar has been my best 'slow travel' experience so far. I was there for 13-15 days, out of which I made a few quick trips to the other parts of Kashmir. But, Srinagar was my base and I really dug deep into its local life. I ditched the Mughal gardens and most of the things that are on a tourist's wish-list and embraced the sights and sounds of the markets, the alleyways and the famous Dal Lake. My 'solo' shikara ride is one of my most favourite memories.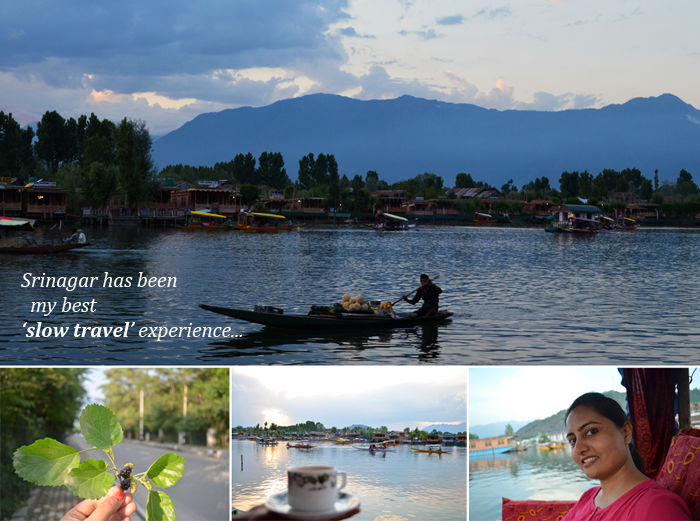 Here's how I absorbed the beauty of Srinagar bit by bit –
– Repeated visits to the Dal Lake, solo Shikara ride, and my natters with the houseboat chaps.
– Bakery hopping, lots of auto rides, lots of aimless walks around the Dal Lake, Boulevard area and in the old city.
– My stay with a traditional Kashmiri family.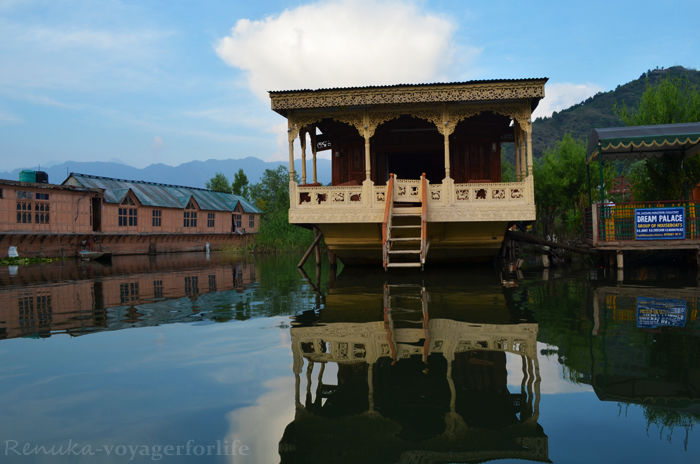 Srinagar was totally a no-agenda trip. Therefore, I could learn so much about the Kashmiris. I realized that except for some 'hard selling aggression' of the business folks, Kashmiris are usually sweet and polite people. I'm definitely going to revisit Kashmir during the autumn season when it's all 'yellow and brown'.
Also, I'd like to encamp in the lesser-known regions around Srinagar… I have never really backpacked, but I'd like to try an external frame backpack and live in a solo tent.
Hampi
I enjoyed four blissful days in Hampi. Although Hampi has lots of places to visit (it is a World Heritage Town recognised by UNESCO), you can spend days doing nothing and simply soaking in the laidback vibe around. I did a mix of sightseeing and relaxing.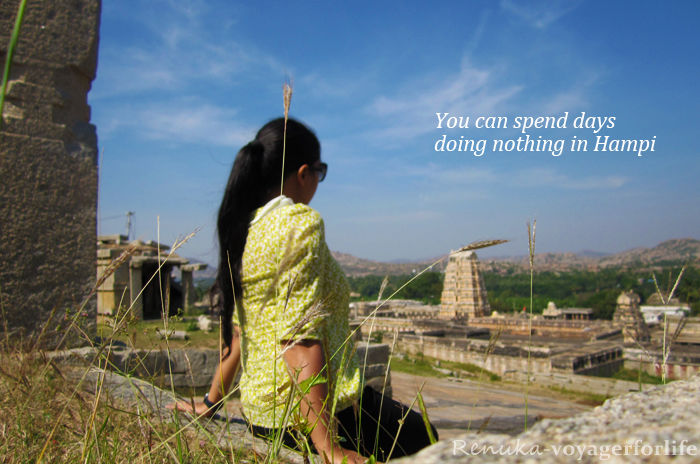 The top 'slow travel' experiences that I had in Hampi –
– Woke up early to witness the countryside bathed in the mellow morning sunlight.
– Bicycled my way to the Anagundi village. Halted to have a 'disastrous' lunch with a fellow traveller. (Travel isn't about delicious meals all the time.)
– Enjoyed noshing on delicious continental food across the river.
– Mingled with my foreign fellow travellers at the guest house where I stayed and shared a dinner with them.
– Watched quite a few beautiful sunsets.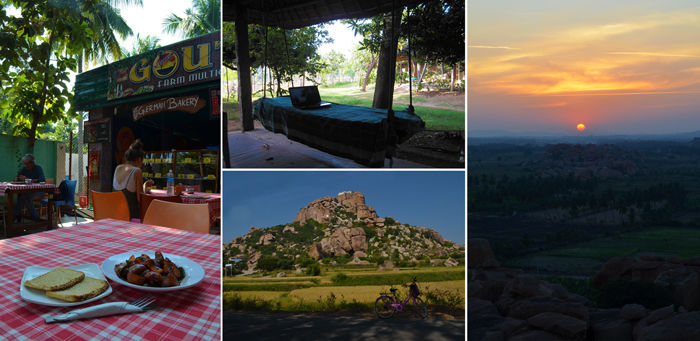 I'm definitely going visit Hampi again. But, I won't just go for its heritage. I will also aim at eating a lot of food – both local and continental. I'll try to make it a reading holiday, too. Hampi is a perfect cocoon for a reader. You can sit with a stack of books on a hot afternoon and just enjoy every bit of it.
What are your favourite places for slow travel?
This blog was originally posted on Voyager for Life.