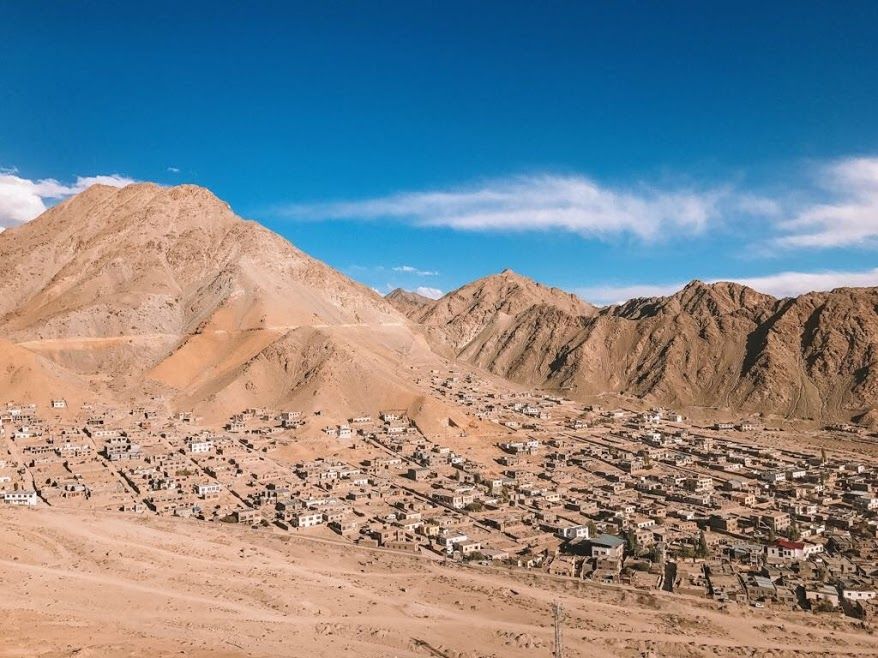 Pre-planning & Planning Stage:

Leh-Ladakh; name itself is enough to trigger the sleeping traveler inside. I had been planning my Ladakh Bike Trip since ages but it never happened. I am not an ace biker, just a commuter (100 cc discover vala); this was one of the primary reason why I wasn't confident enough to go for the trip. I realized one thing that to go to Ladakh, first I ll have to get out of my comfort zone, only then I can conquer my fear. So the decision was made, 2017 was going to be the year I took the trip which I had been postponing unintentionally intentionally ;) & two of my friends were gonna accompany me.
We went through various blog-posts & vlogs to get an idea of the journey ahead. During this I also bought my bike (Thunderbird 350). I had my own bike & the idea of going on a bike trip was so exciting that it kept playing with my head. Now I wanted to do the whole trip (Mumbai-Leh-Mumbai) on my bike. I had no experience of long rides, no experience of riding in mountains; leave aside mountain passes. So you see the whole idea of going to Ladakh to conquer my fear was getting side tracked here. I wanted to do everything in my first trip itself as if its my last trip. Thankfully my friends knocked some sense into me & we came to a unanimous decision.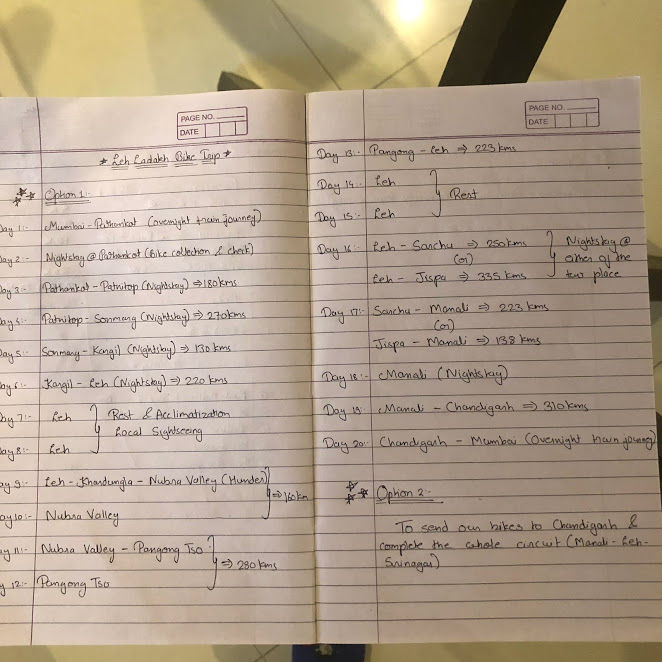 Our itinerary was prepared. We decided to send our bikes to Pathankot & from there we were to begin our ride (Pathankot-Leh-Manali). But again things didn't go our way (heavy rains in Mumbai) due to which our train got cancelled so we had to move on to Plan B. We lost around a weeks time in initiating Plan B.
Plan B was to send our bikes to Chandigarh this time. But unfortunately Ram Rahim got arrested & violence broke out in parts of Punjab & Haryana. We were happy that Indian Judiciary finally took a bold move against this so called fake God-men & sad that due to violence our train got cancelled again. We ran out of plans & were running out of time. The feeling that our trip is jinxed started to creep in.
It was getting frustrating but we were determined to make our trip. At this point taking our own bike didn't matter, we just wanted to go to Leh by hook or by crook. So we sat & made our final plan. We decided to take direct flight to Leh, so that the chance of our plan being cancelled gets minimized or so we thought.
Our flight was scheduled for Sept 13th. Night before our flight my friends came over to my place. It was apple X launch night. I remember we were watching the show, chilling & suddenly weather outside turned bad. It was one of the worst thunderstorms of the year. We were completely disheartened. We got extra drunk, didn't have our dinner & wasted our night.
Fortune Favors The Brave..!!! Next day we woke up with a bad hangover, drew our curtains & what a scene it was; a bright sunny day..!!! Mountain God were with us. Quickly we started packing. We were ready by say 7 pm. We had ample of time for our flight so we thought of having our last few drinks as we knew we won't be able to enjoy alcohol in Ladakh or so we had read (more on this later).
Finally we left my place for the airport. We were still very apprehensive because of the past record. But the moment we boarded our flight we were like in seventh heaven. We felt a sense of accomplishment. We were going to Ladakh, finally..!!!!
This was just the beginning guys, Asal Trip to abhi baaki hai mere dost !!! ;-)