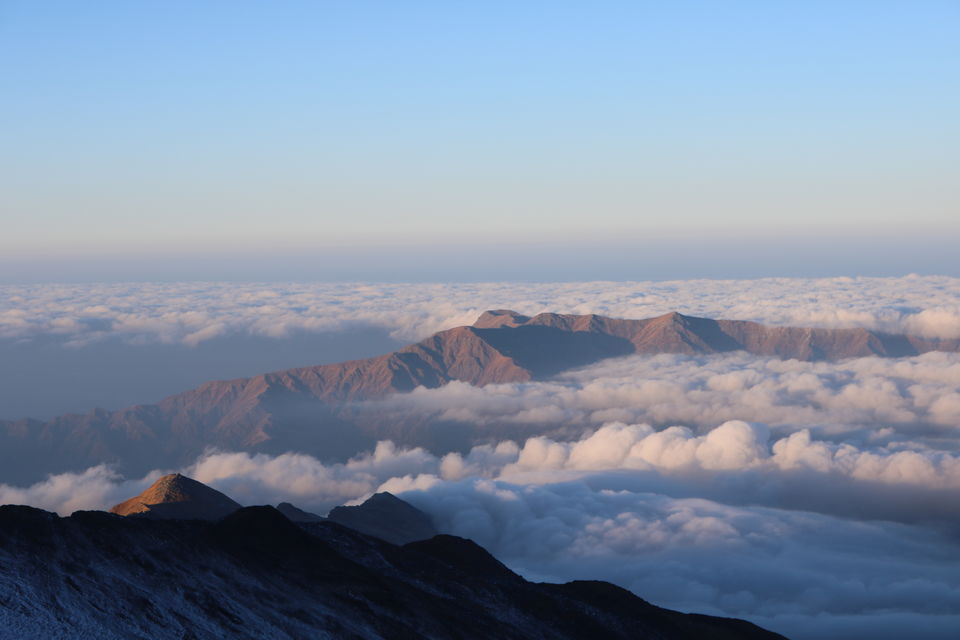 I am a trek enthusiast. It was a trek to Kheerganga which made me realise this is the kind of thing I can do forever. Though it was a small trek but its also a bit tiring for the first timers but the mountain makes it all easy.
Mountains are my escape. I beleive it cleans up my mind and soul.

So, this time I decided to go for a long trek. Browsed all over the internet, shortlisted almost every trek and then what caught my eye was the Roopkund trek. Looked for it on Tripoto and got to know about this trek better. I was enthrilled.
Yes, Roopkund you are the one. I am coming to you love.
Without any delay I booked my trek to Roopkund.
I booked this trek from crazy peaks and it was an amazing experience with them. Super cool and well trained trek leaders, met with an awesome group of people.
Roopkund: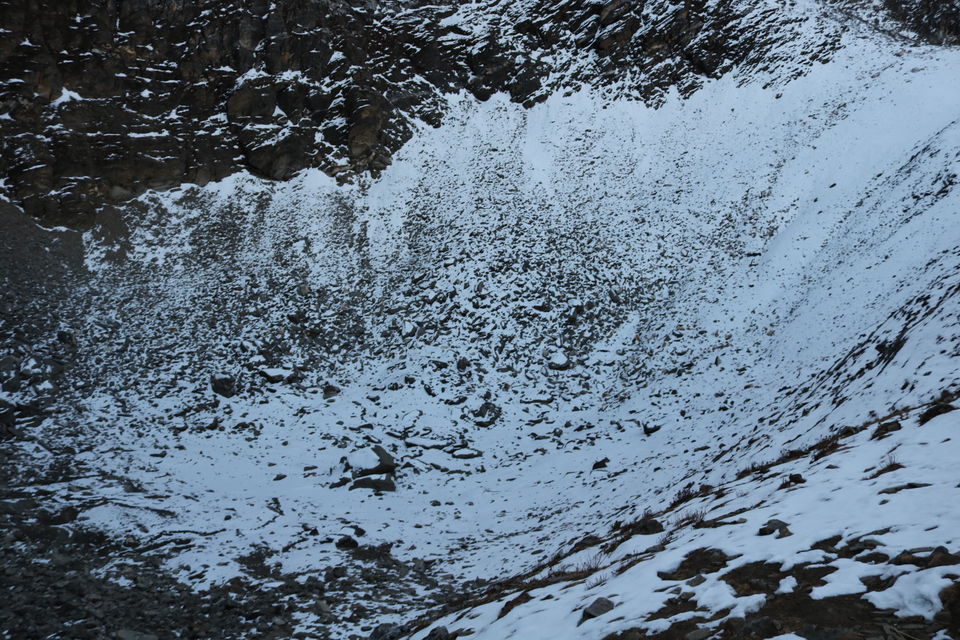 Roopkund is a Himalayan trek located in Uttarakhand. Surrounded by mighty Mt.Trishul gives it a splendid view. It is also known as the mystery lake because of the number of skeletons(very old) present in the lake. So many stories about it but yet no one knows really what happened. As it was month of october the lake was dry and covered with snow.
Duration - 5 days
Difficult - moderate to difficult
Best time - May-June ( if you want to see snow)
Sept-Oct
Trek Route -
Day 1: Kathgodam to Lohjung (drive)
Day 2: Lohajung to Didna (8 km trek)
Day 3: Didna to Bedni Bugyal via Ali Bugyal (12 km)
Day 4: Bedni Bugyal to Bhagwabasa via Ghoda Lautni & Pathar Nachauni. (10 km)
Day 5-: Bhagwabasa to Roopkund to Bhagwabasa to Pathar nachni (23 km)
Day 6: Pathar nachni to Wan to Lohajung.
Trek Distance - 53 km (approx)
The verdict - A born again experience.
Reached Haridwar, took train to Kathgodam at night. We got there early morning, a bus was waiting for us with the fellow trekkers which took us to our base camp which was located in Lohajung. The drive to Kathgodam to Lohajung was long anyway I slept for most of the time but got up when a good landscape came. So, at night we reached Lohajung, got introduced to our trek leaders and the other trekkers.
Had dinner, repacked our backpacks and was all ready for the next day.
Lohajung to Didna -
Morning, morning !! We were all damn exited about the trek, we got briefed by our trek leaders about the trek, do's & don'ts and obviously some mountain rules.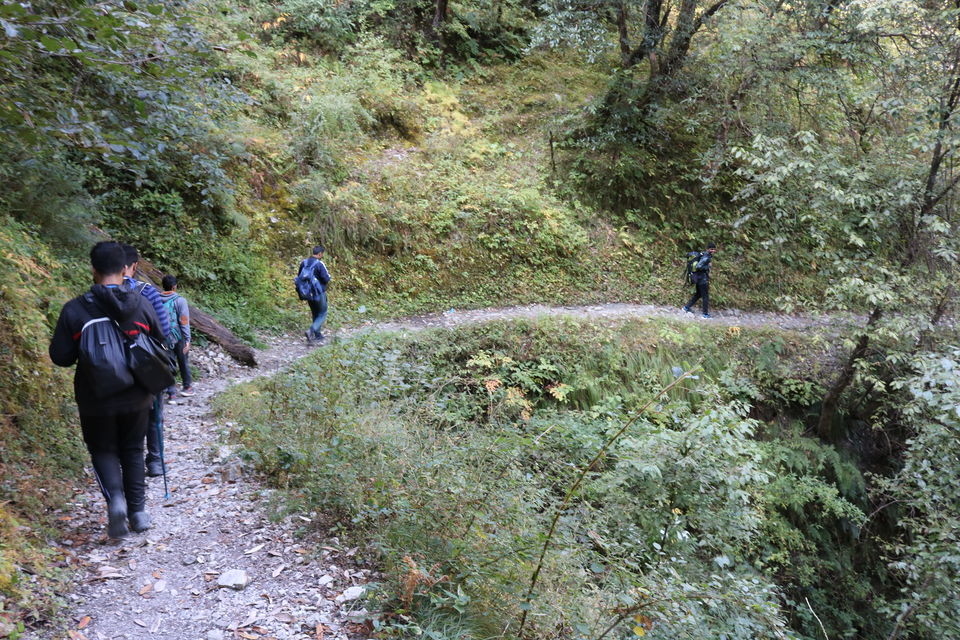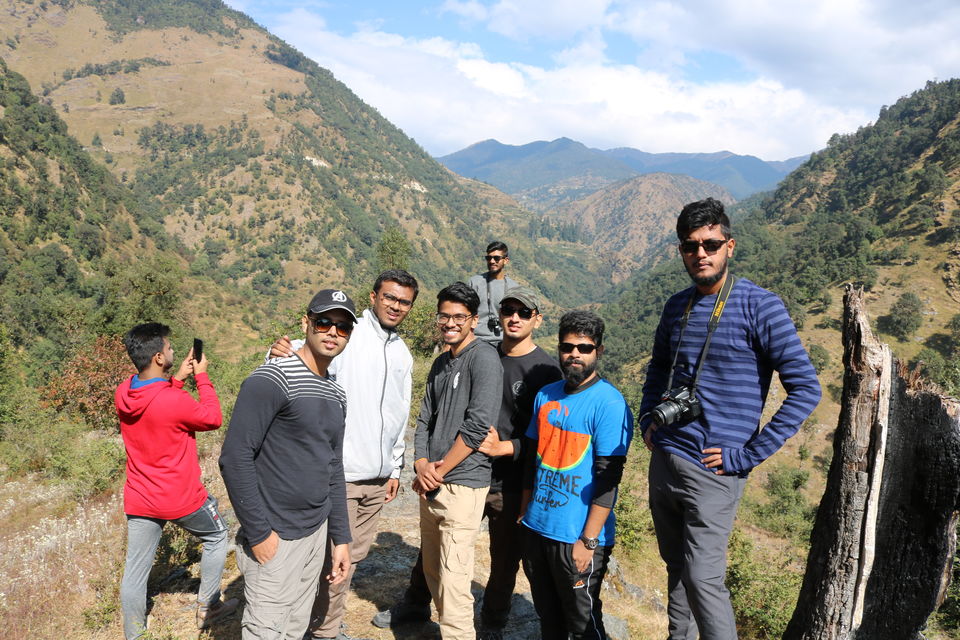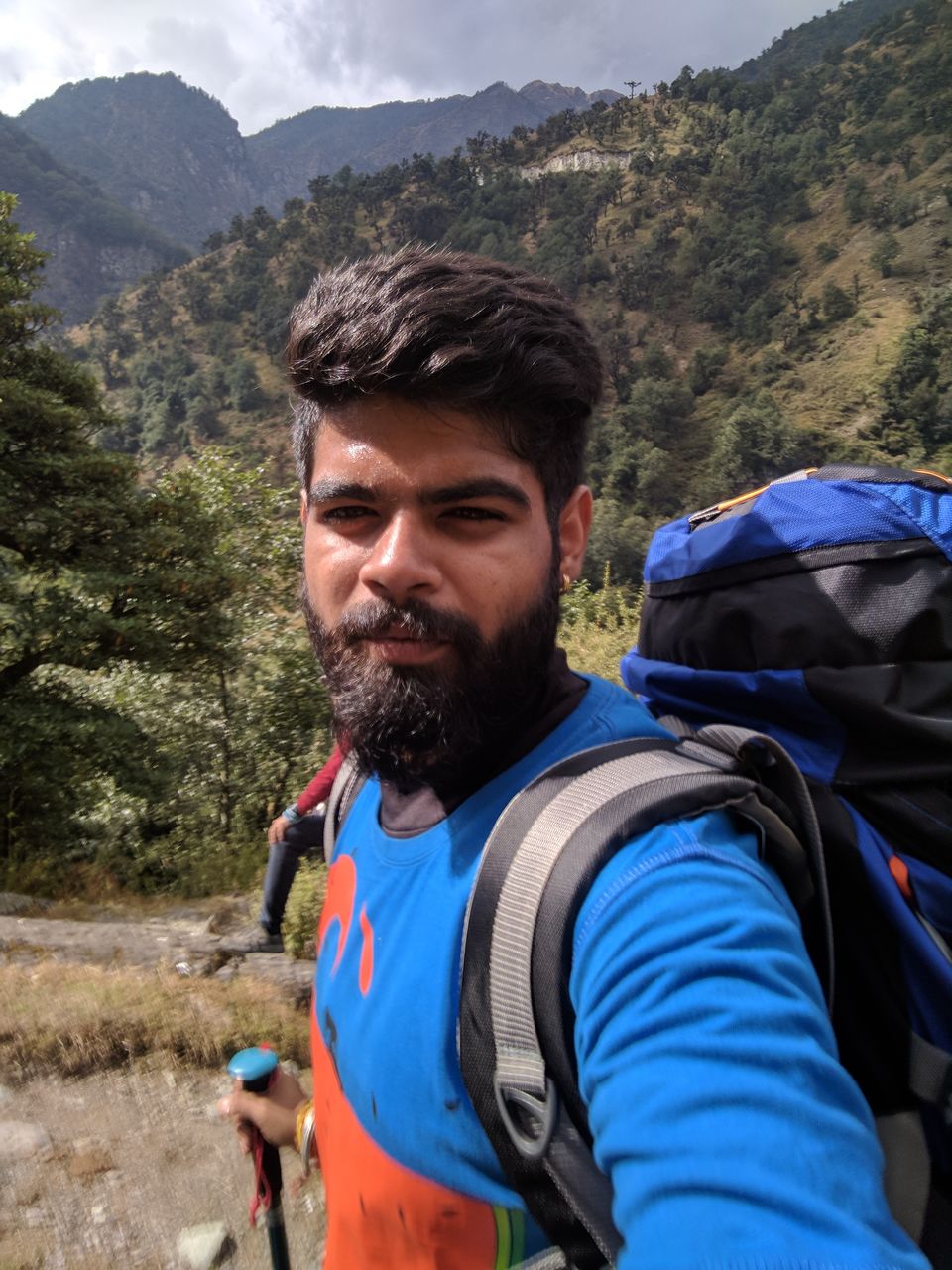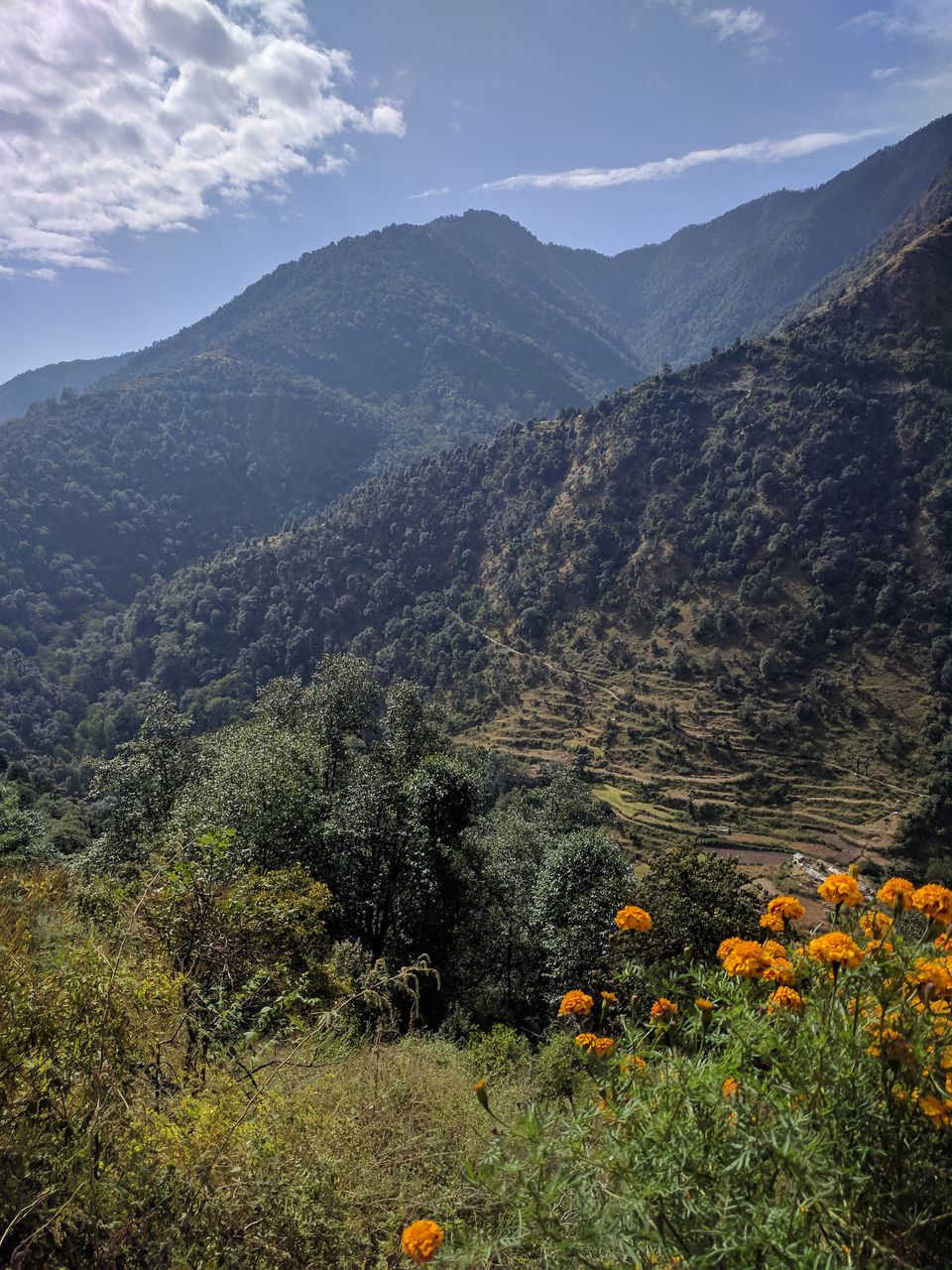 Backpacks on our back, Hiking pole in hand we proceeded towards Didna village, our first stop. The trek was easy at the starting as it was gradual descending. But then from a point there was a steep climb which literally took my breath away.
Damn ! The satisfaction you get after reaching the camp is priceless. It was 2 pm, we reached Didna, had some rest, had lunch, played uno, rest again. In the evening we went for a little walk in village and nearby forest.
The temperature was droping and giving us the chills, this calls for a bonfire said someone. Aye !! said everyone, on our walk we collected woods for the bonfire. The warmth of fire made the surrounding cozy and comfortable. We sat for a long time near the fire listening to songs under the starry night. Just pure bliss.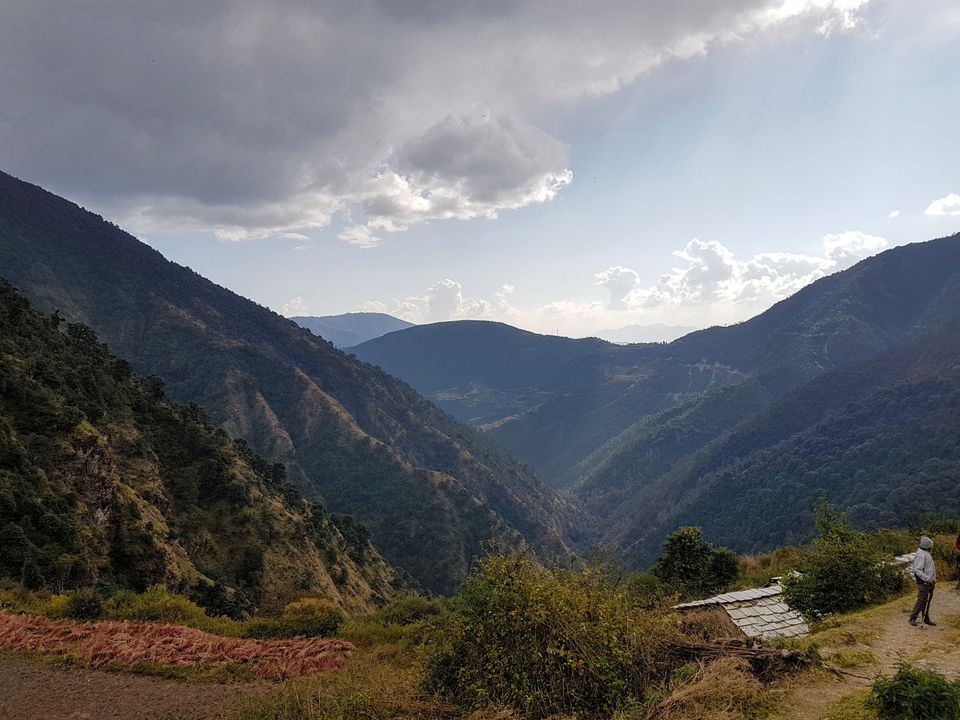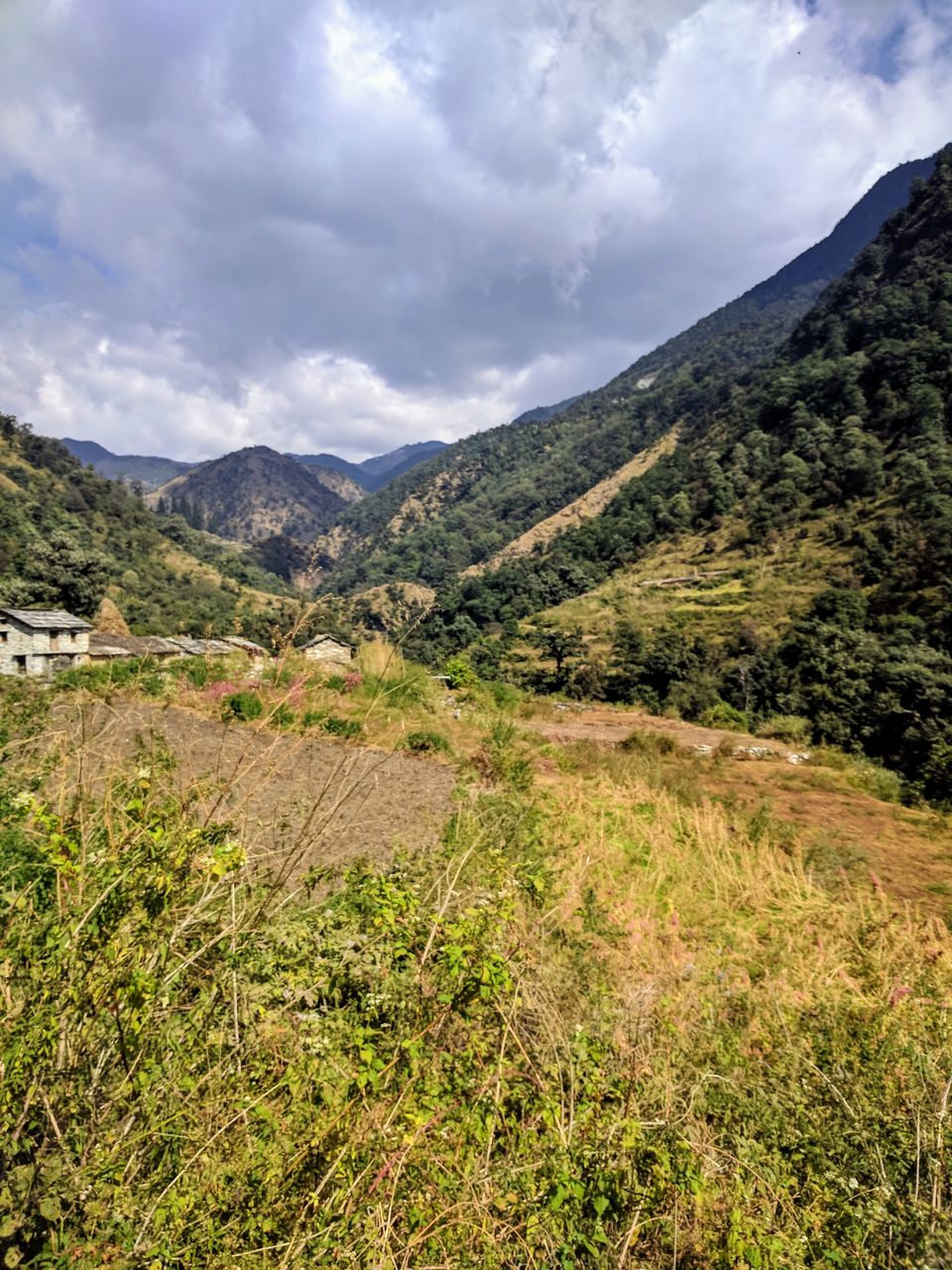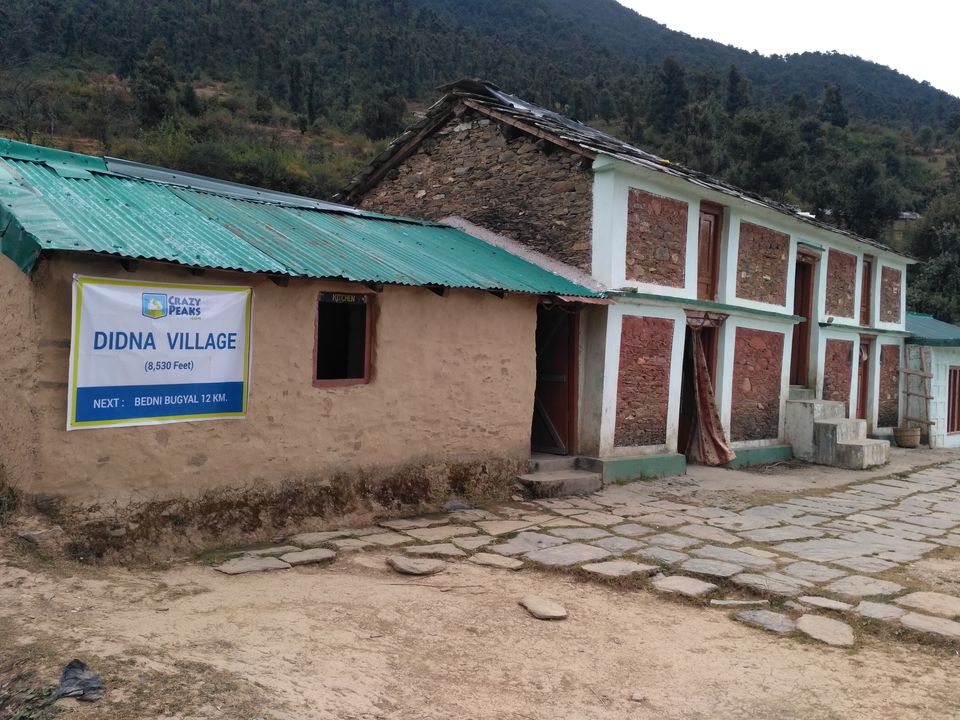 Didna to Bedni Bugyal via Ali Bugyal -
Woke up early in the morning. Had our breakfast, grabbed our packed lunches and was ready for our next stop - Bedni bugyal. Bedni Bugyal is Asia's largets high altitude meadows.
After a 3-4hr long and exhausting ascend we reached our pit stop Ali Bugyal to refuel ourselves. Everytime it felt like I cant walk anymore, it was the view and breeze of fresh air that kept me walking. I wanted more of it. Another 3hrs trek to Bedni was to be covered.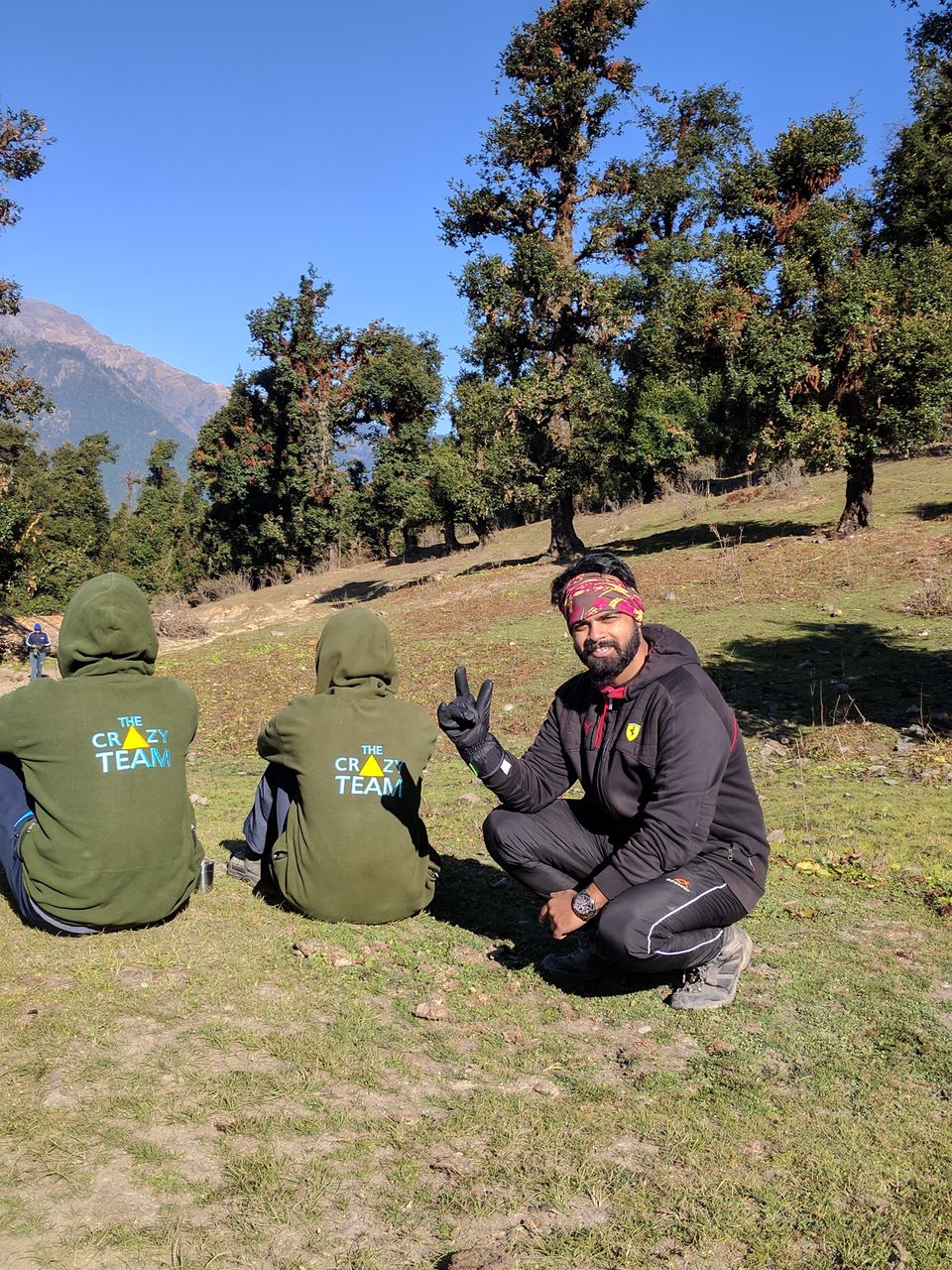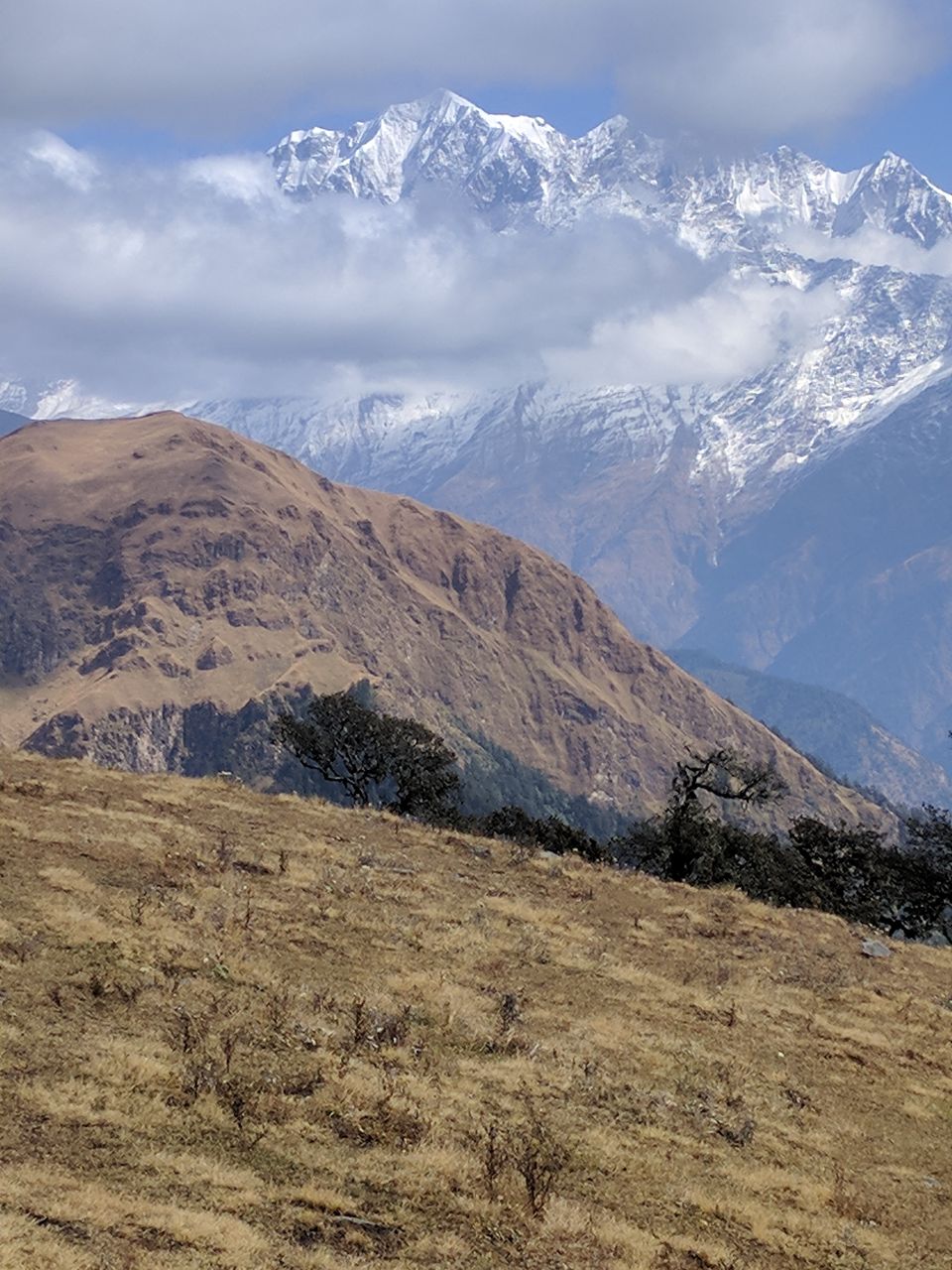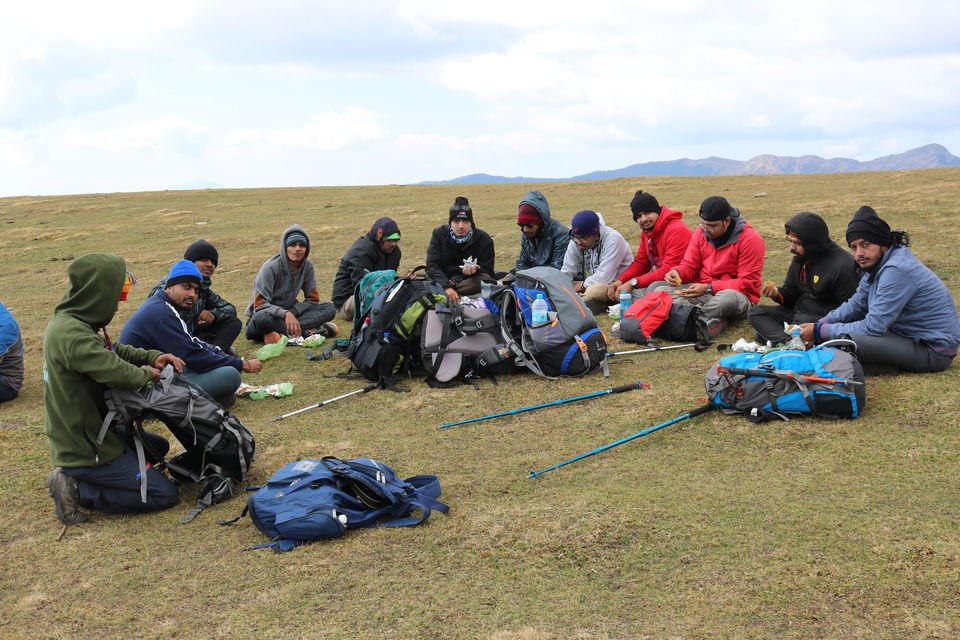 There it is !! Our camping site (pointing his finger from further) - said our trek leader ! We were damn exhausted but also filled with zest to reach the destination. What a wonderful sight it was. Huge grass meadows, horses grazing around, a spectacular view of Mt.Trishul and Nanda Ghunti, just eyegasmic !! Its was just like my drawings I used to draw in school.
This is what feels like coming out of your comfort zone and you should do it more often, Surely the one thing you wont regret ever. The night was amazing but we slept early as everyone was tired and needed a good sleep. I woke up around 2 am for peeing, stepped out of my tent. It was shivery outside. There was change in atmosphere as we gained some altitude (from 7630 ft to 11,520 ft). Also the sky was full of stars and a distant view of gleaming snow capped Mt.Trishul was truly mesmerizing.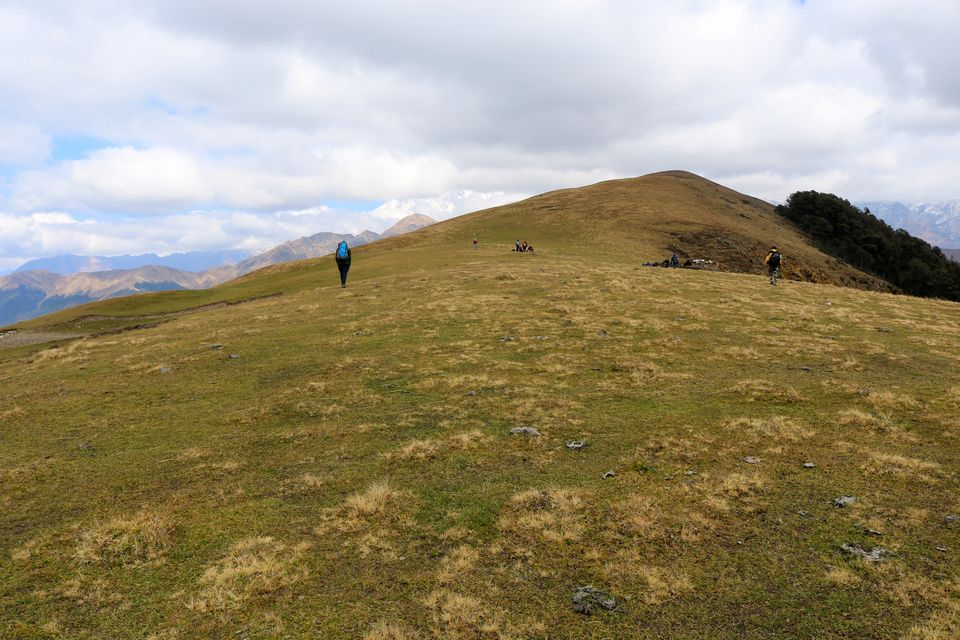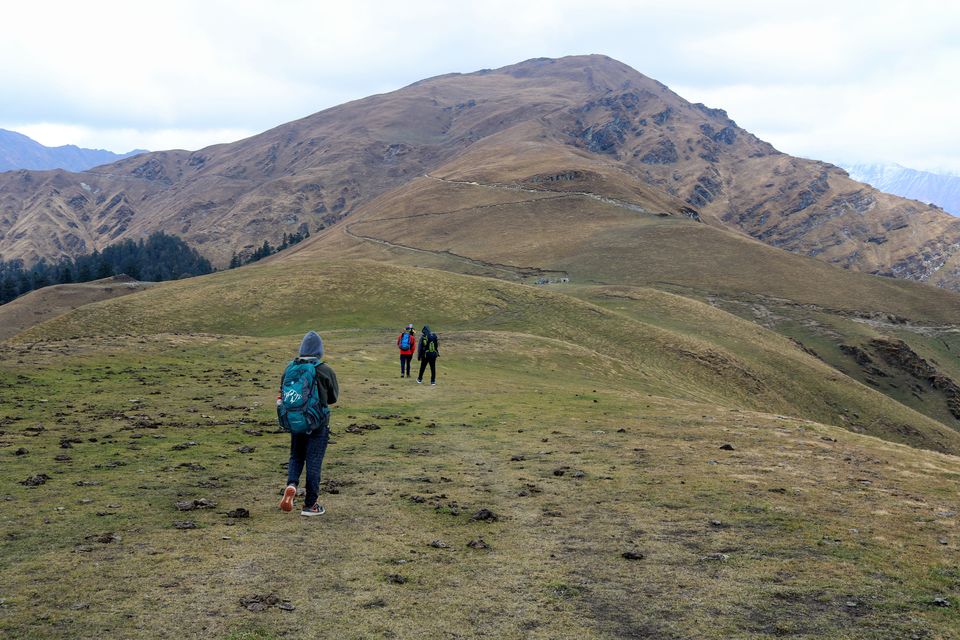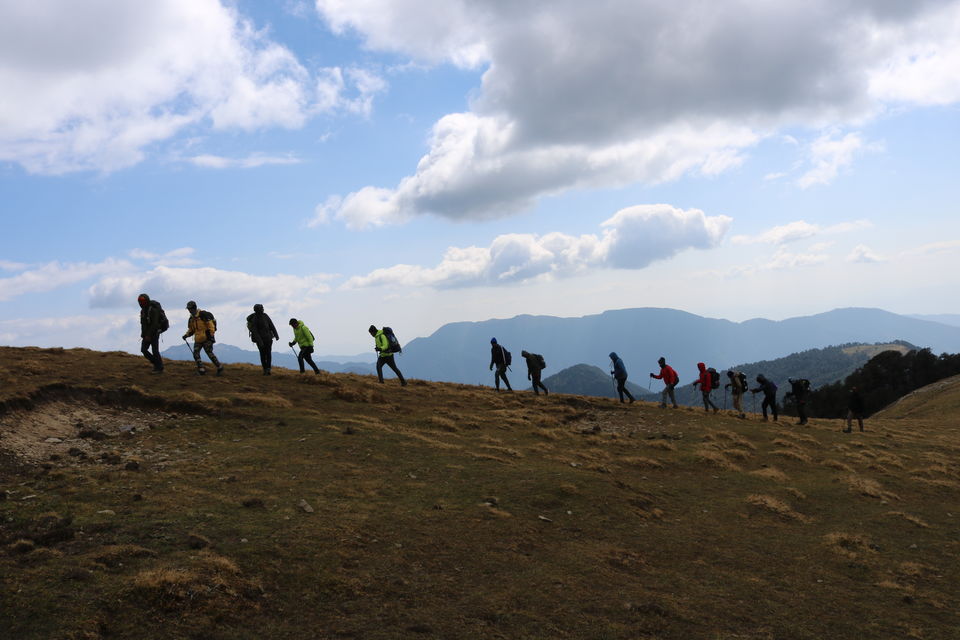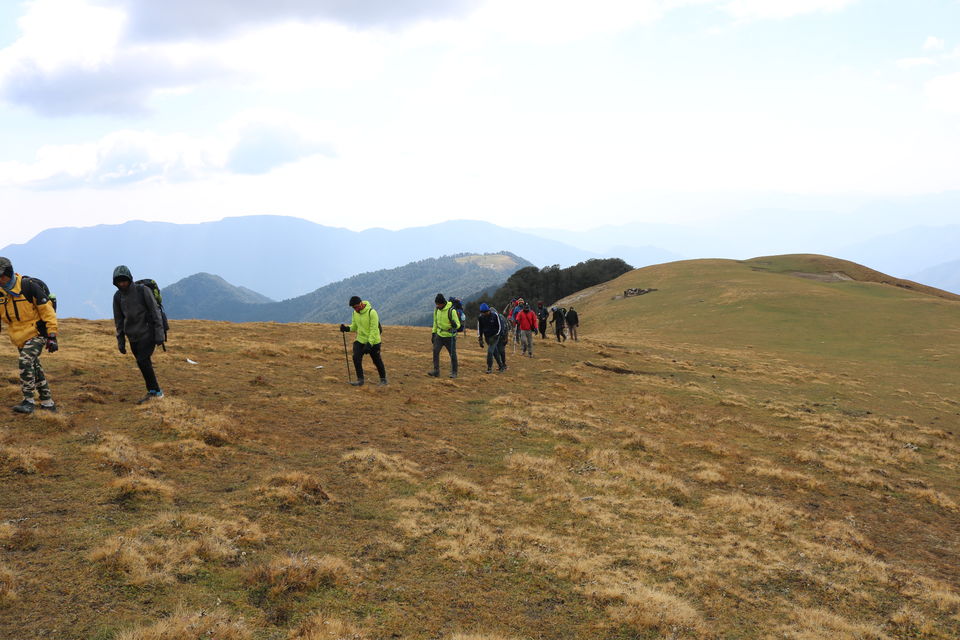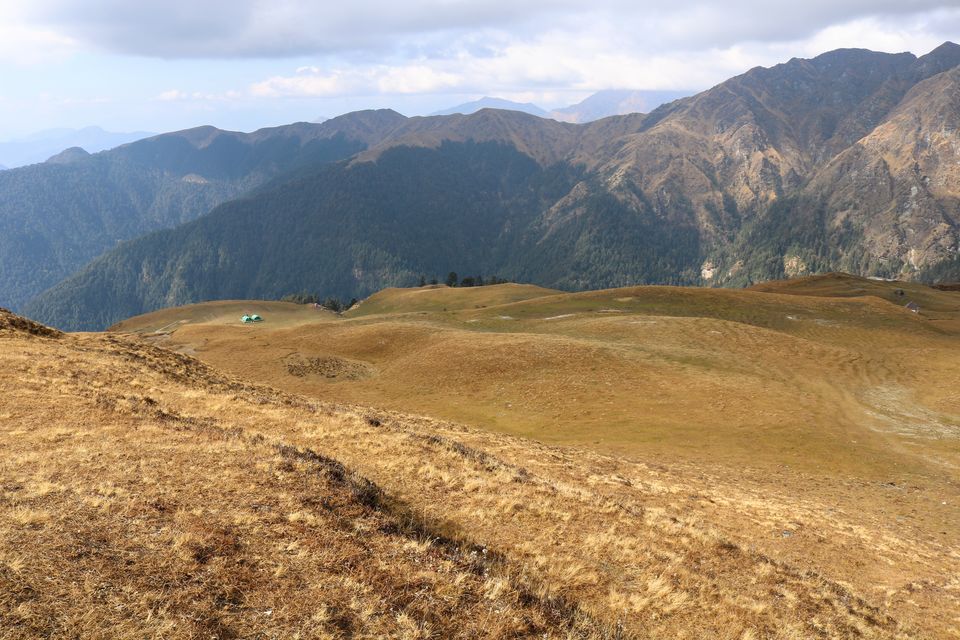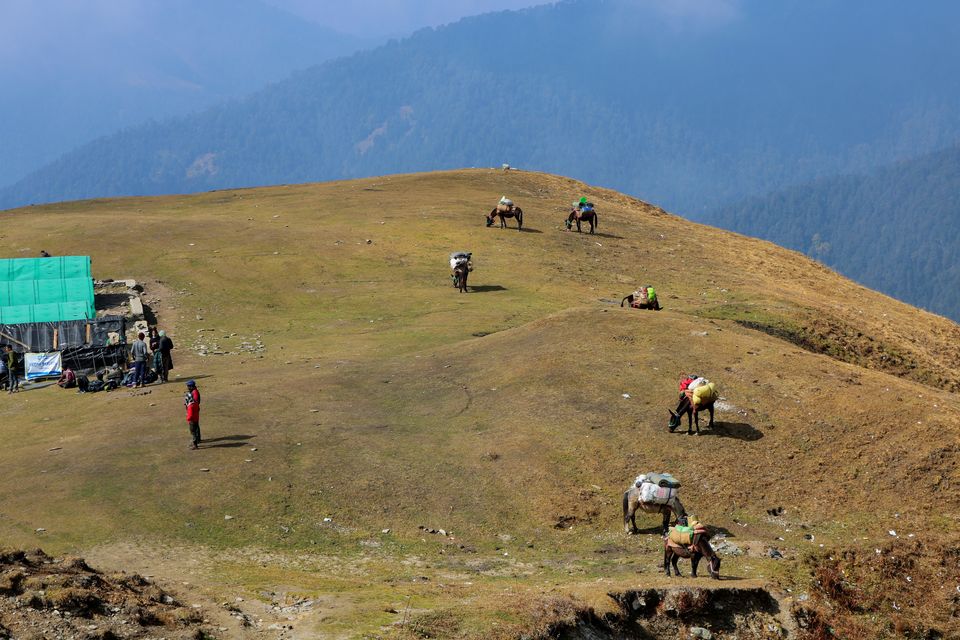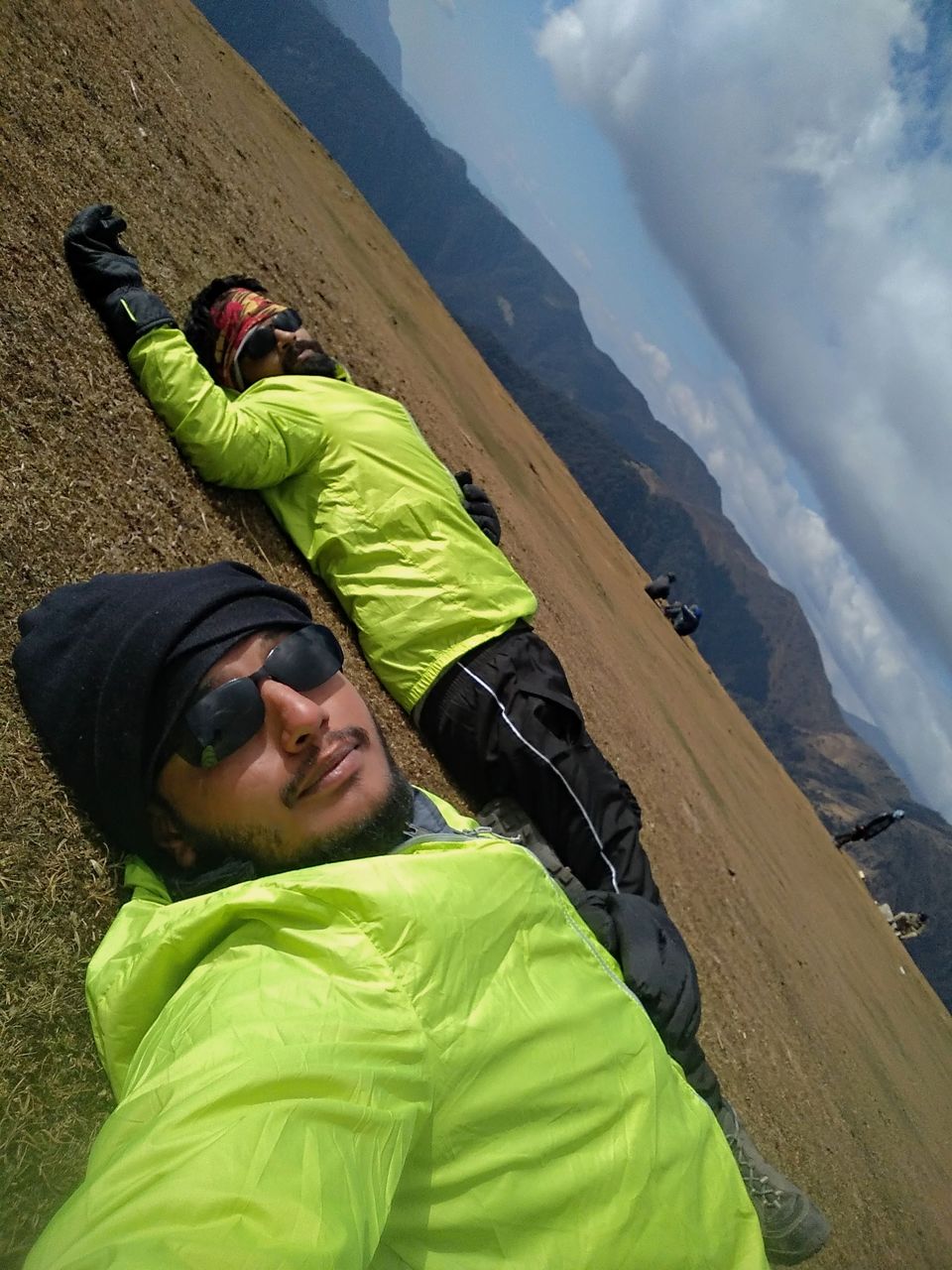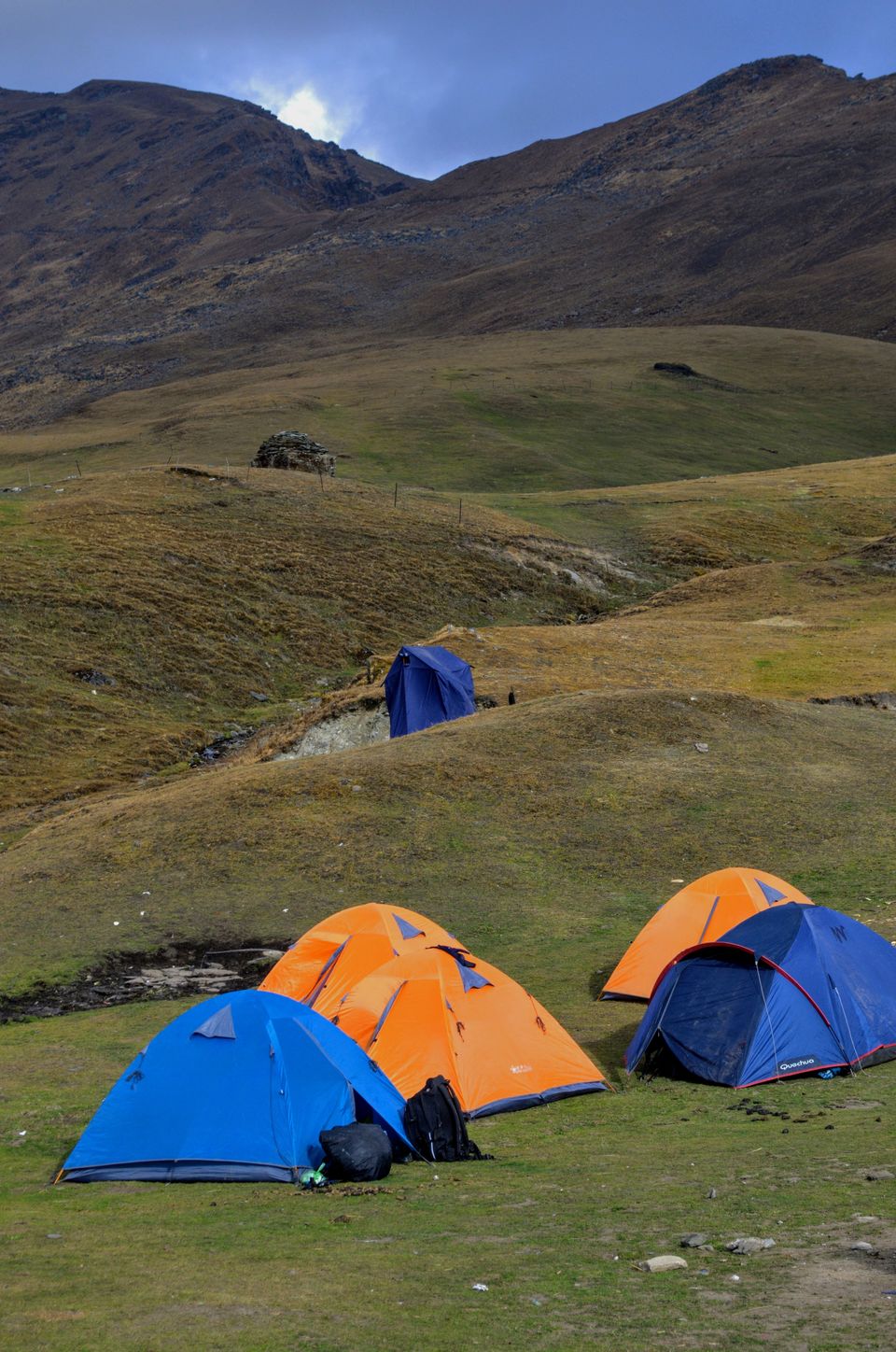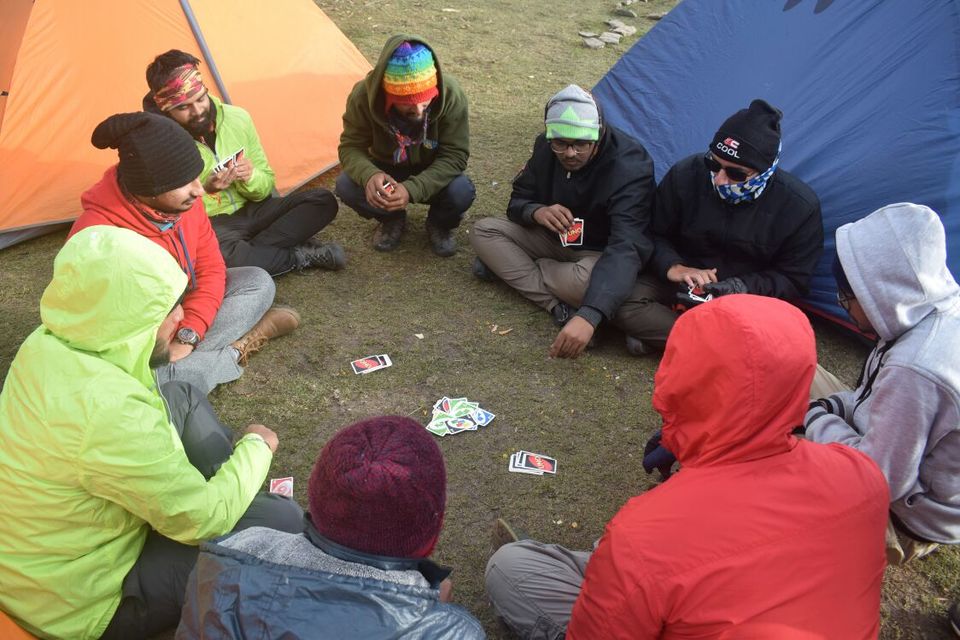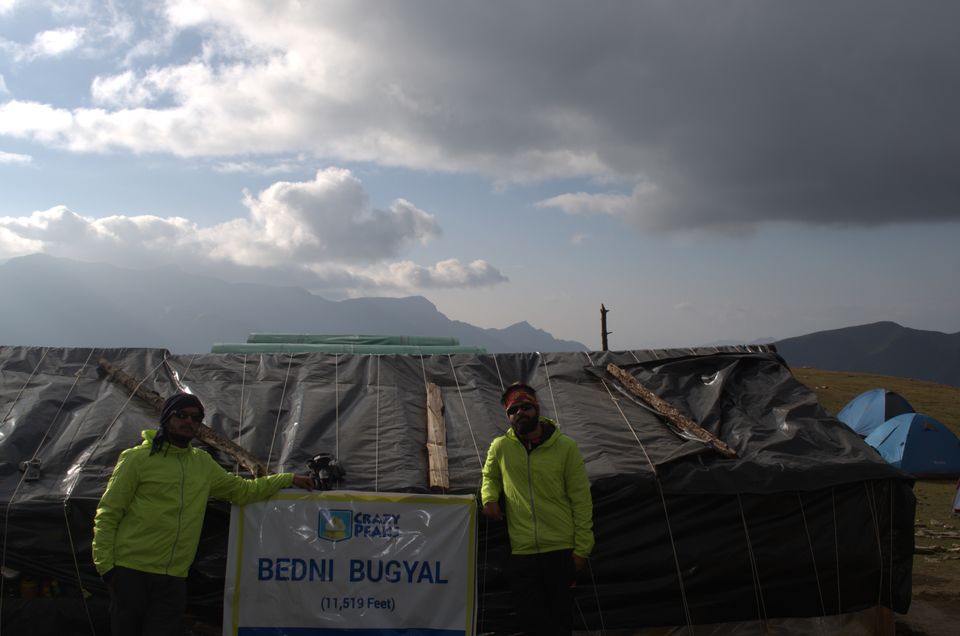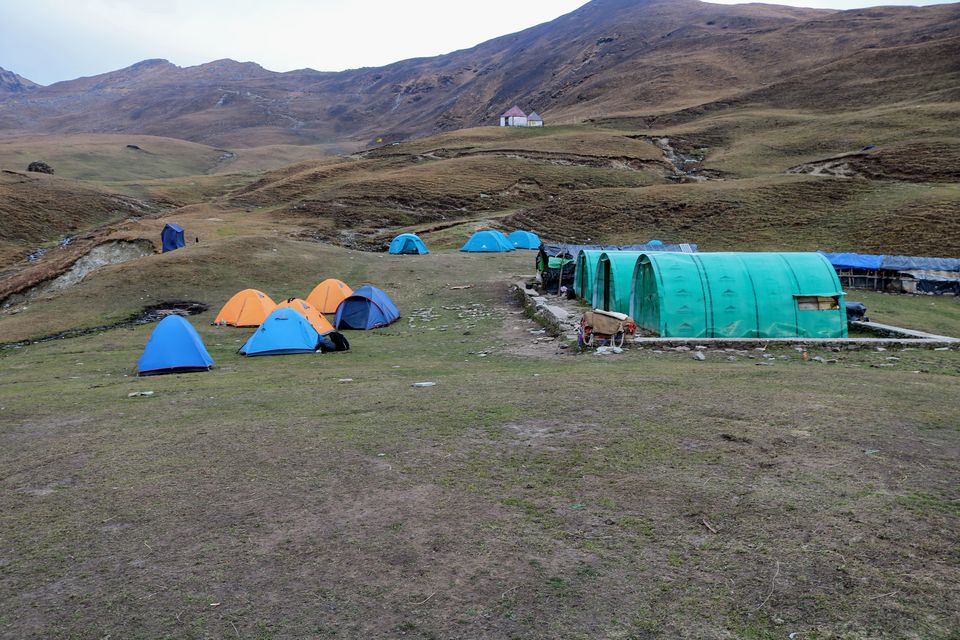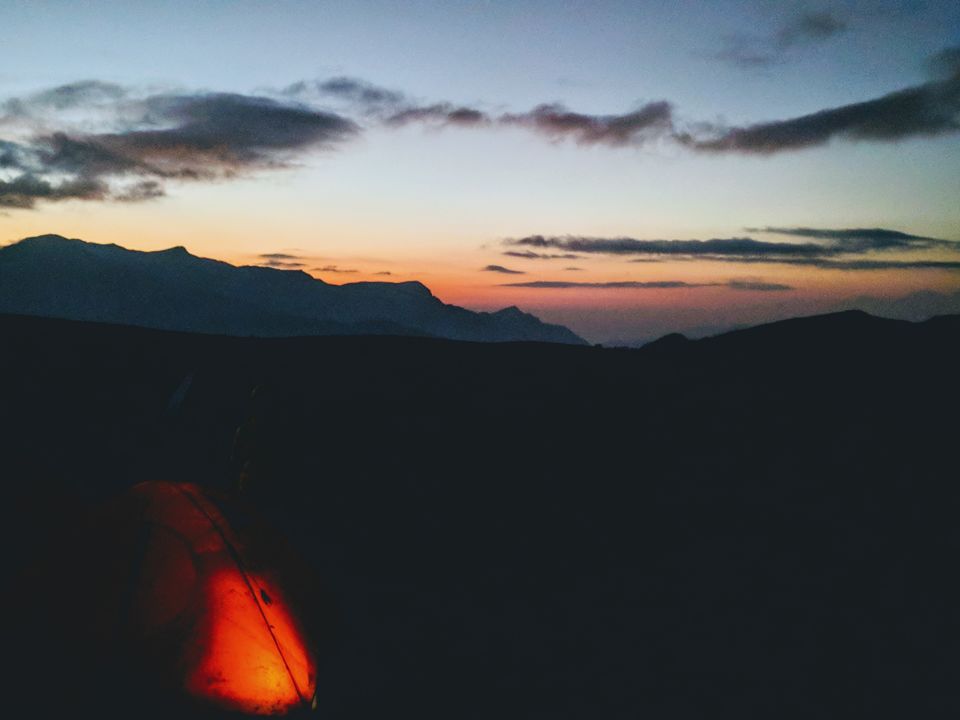 Bedni Bugyal to Bhagwabasa -
We woke up at 5 in the morning. There was a thin layer of ice over the grass and our camps. I need such mornings in my life, I could feel the freshness in air when I breathe in. Works just like a power booster. So, ready for our next stop Bhagwabasa.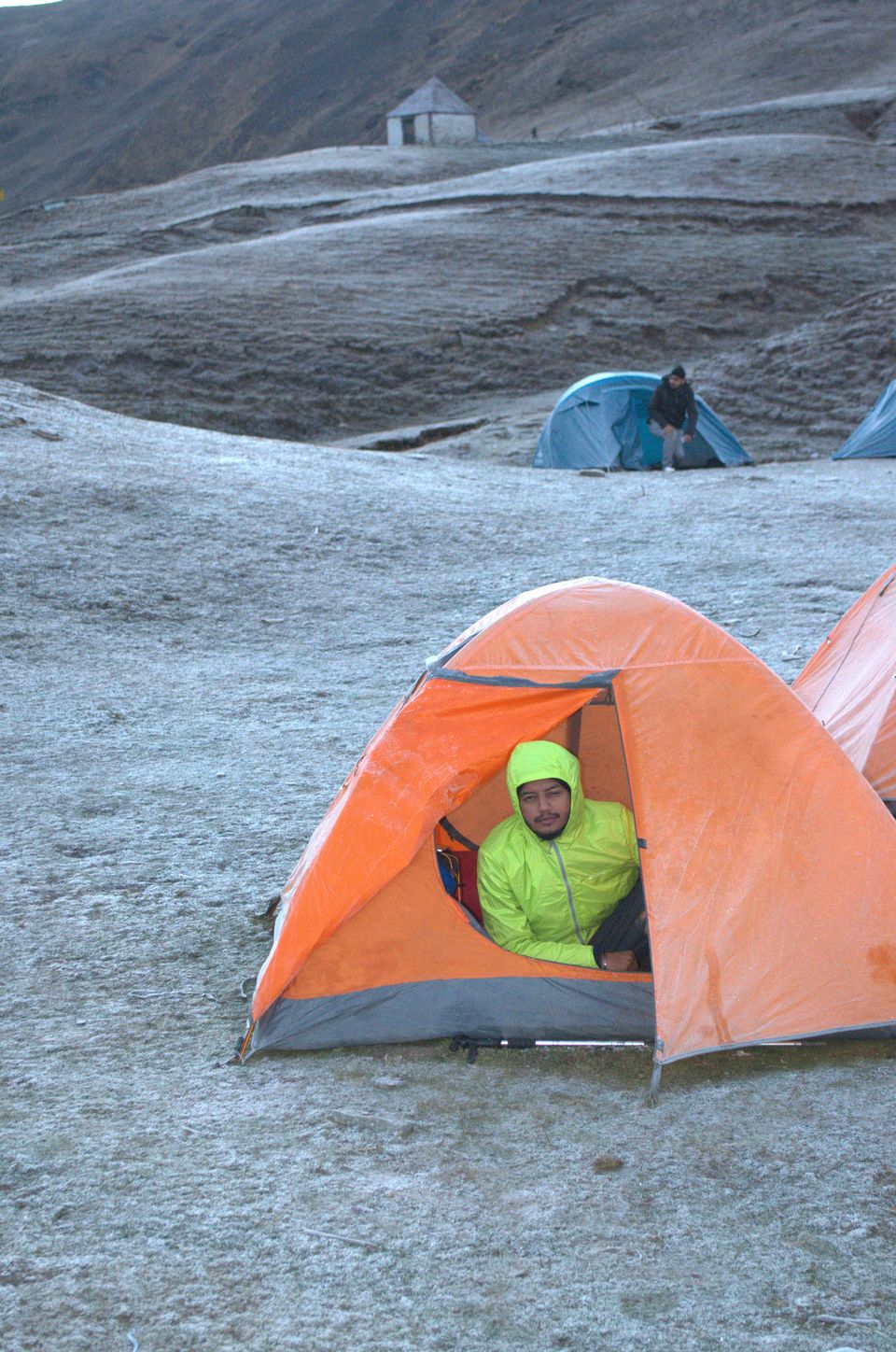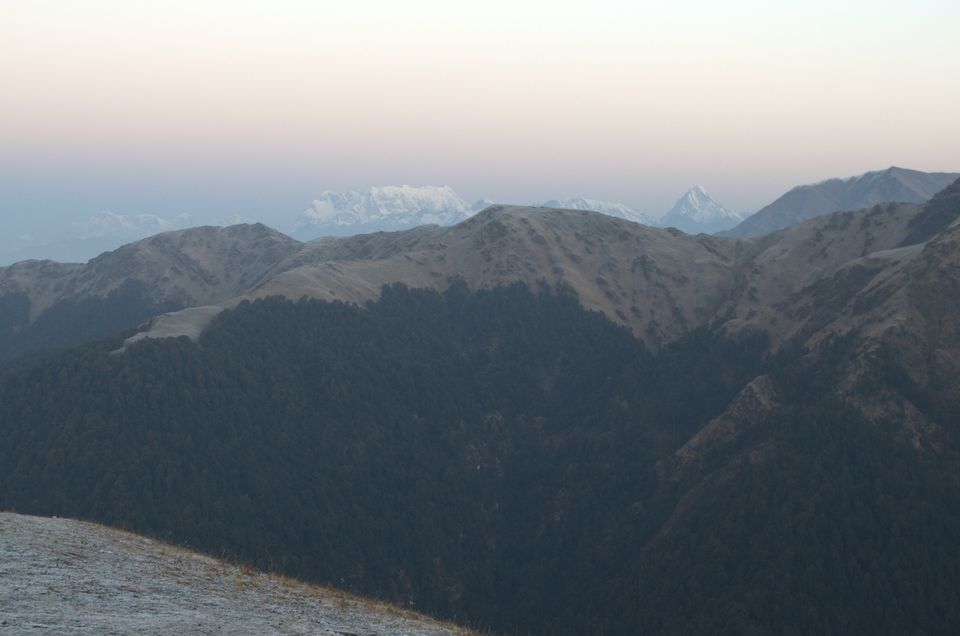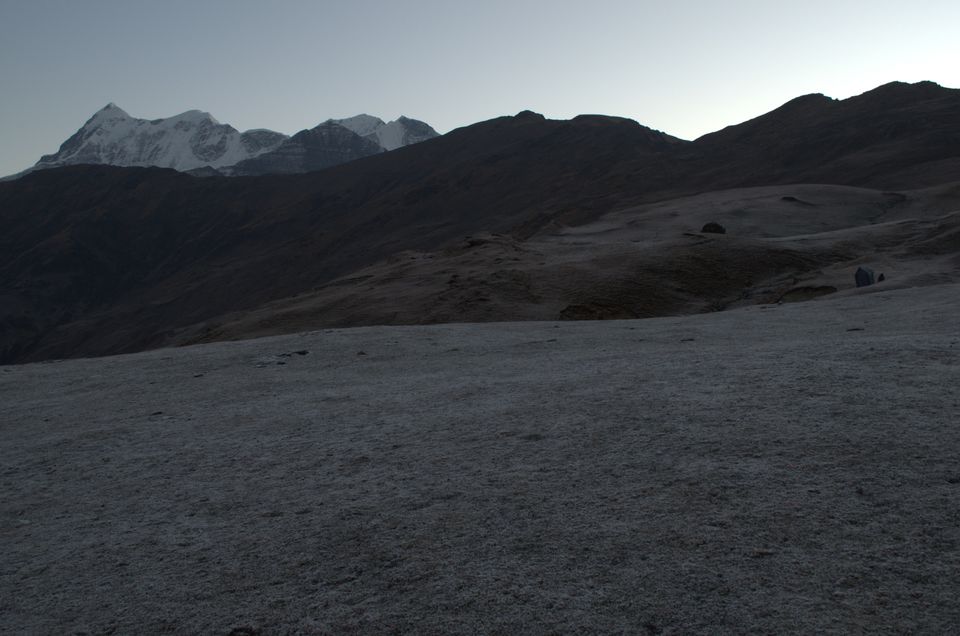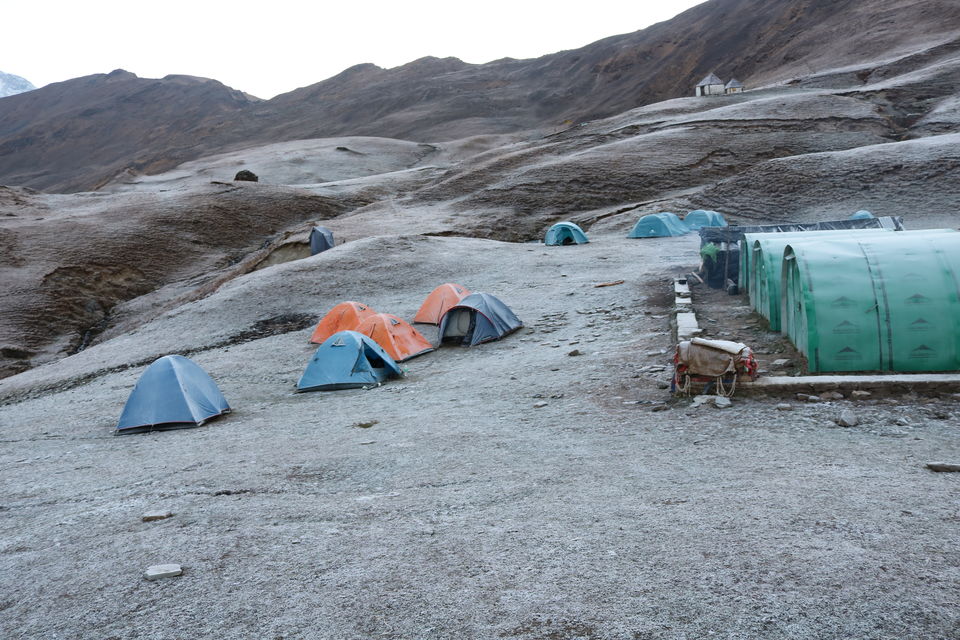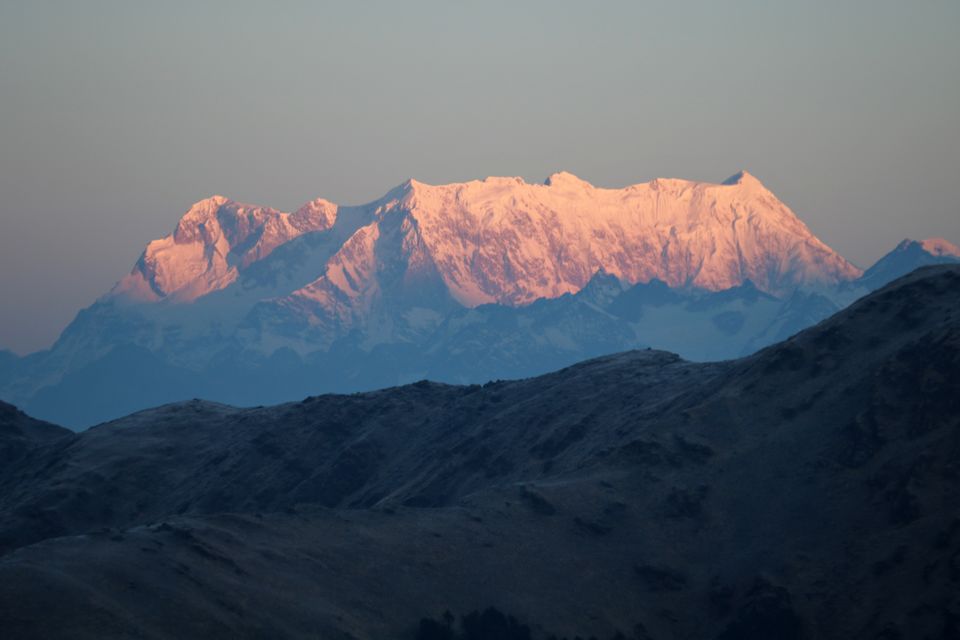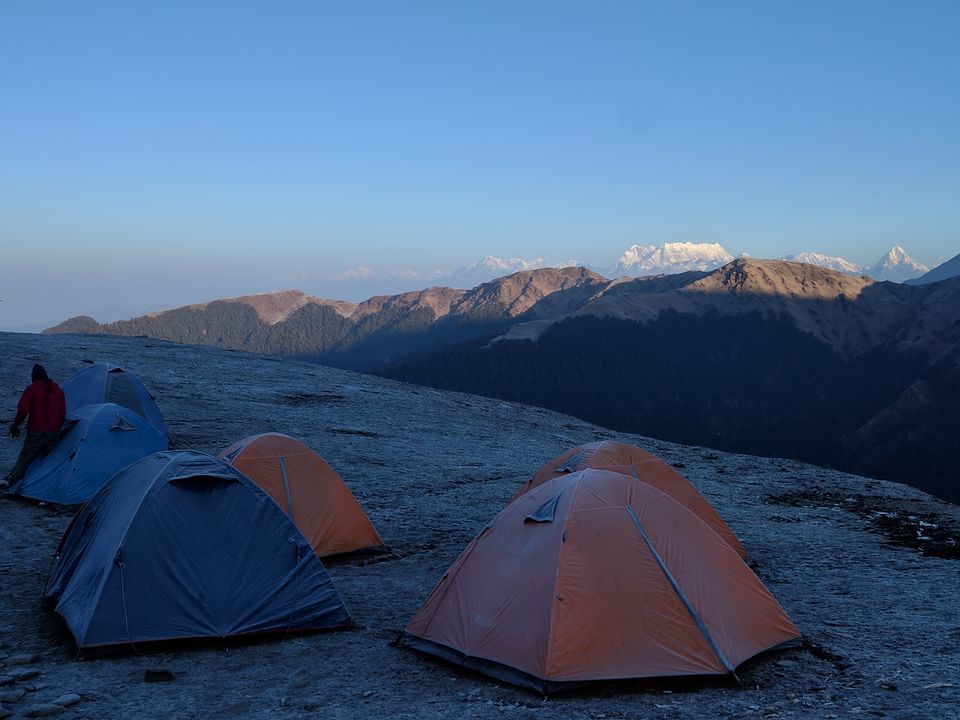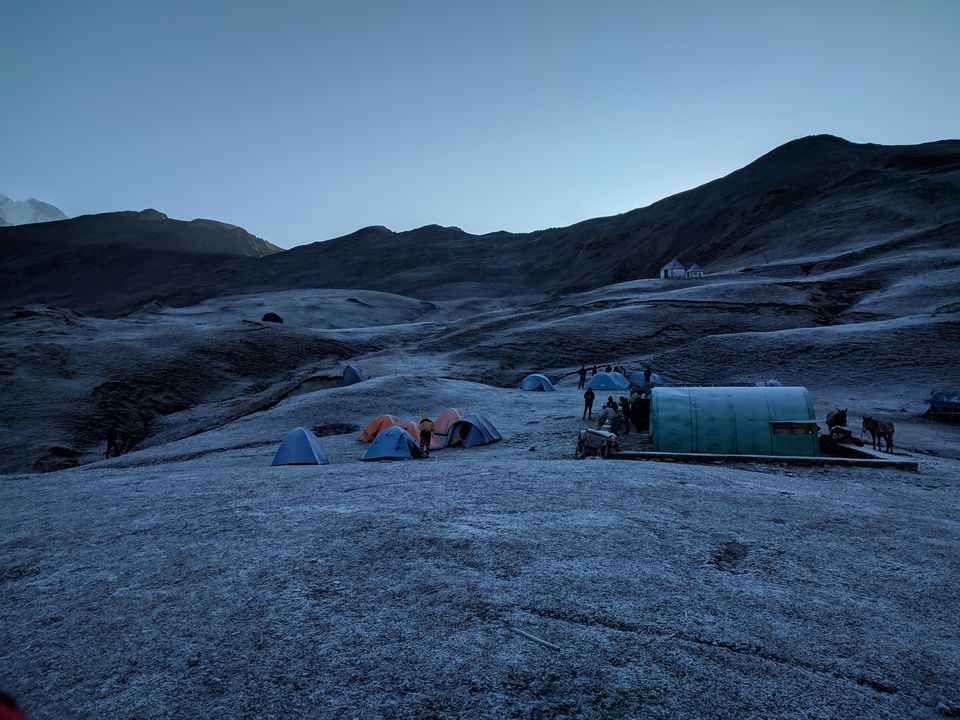 A decent trek to Ghoda lautni, a quickie rest point on the way. From there we were headed to Pathar Nachauni where we had our lunch. A very tiring trek (ascend) to Kalu Vinayak was ahead of us. Slowly Slowly we reached to the top and rested for a while. On the way up there came a point where we could touch the clouds, feel them with our hads. It was an amazing sight I got to see from there. The trek from Kalu Vinayak to Bhagwabasa was all snowy and the trek where we came from was dry. Just like two faces of a coin I witnessed two sides of the mother nature.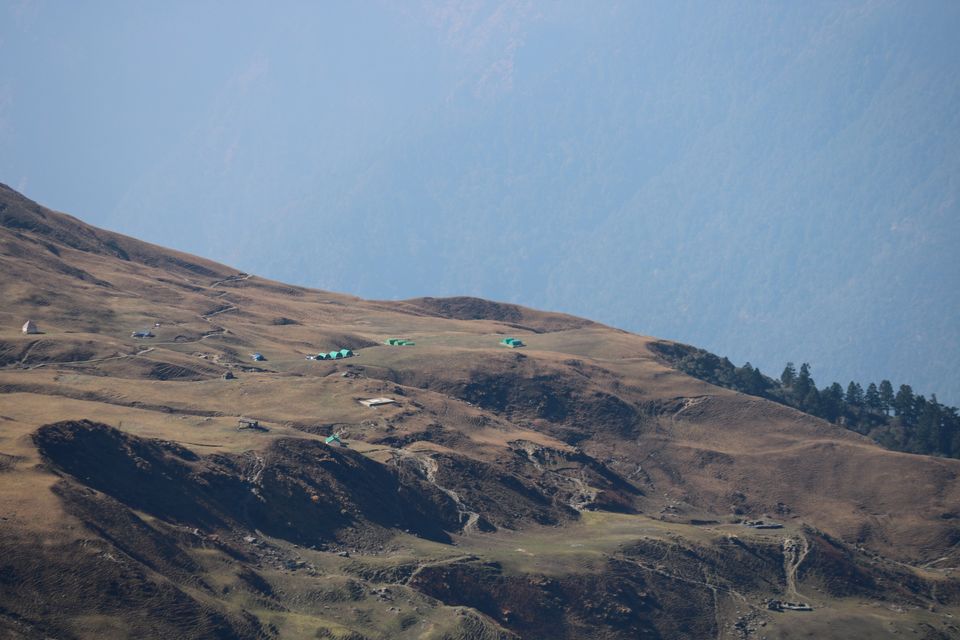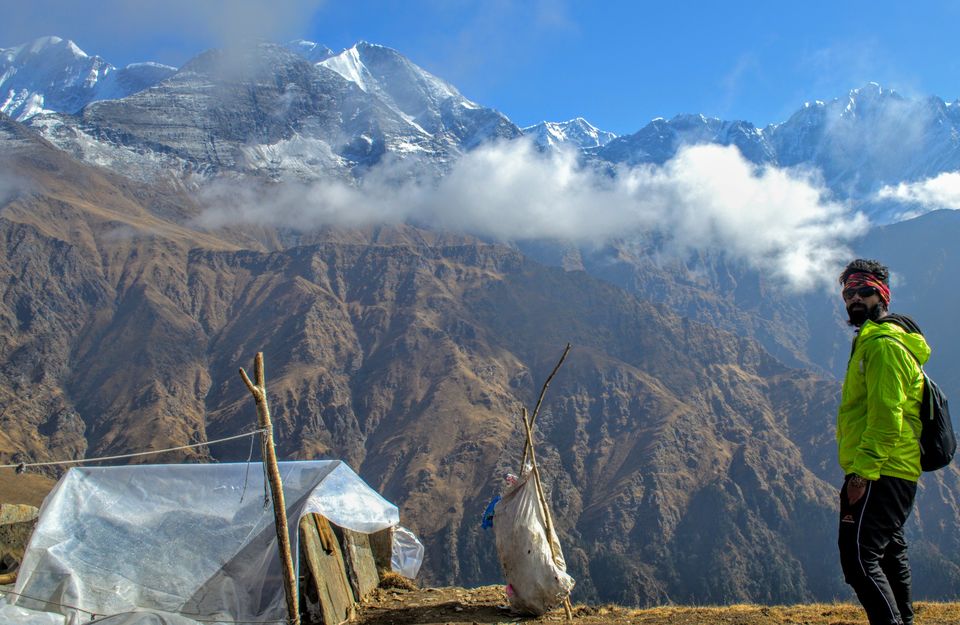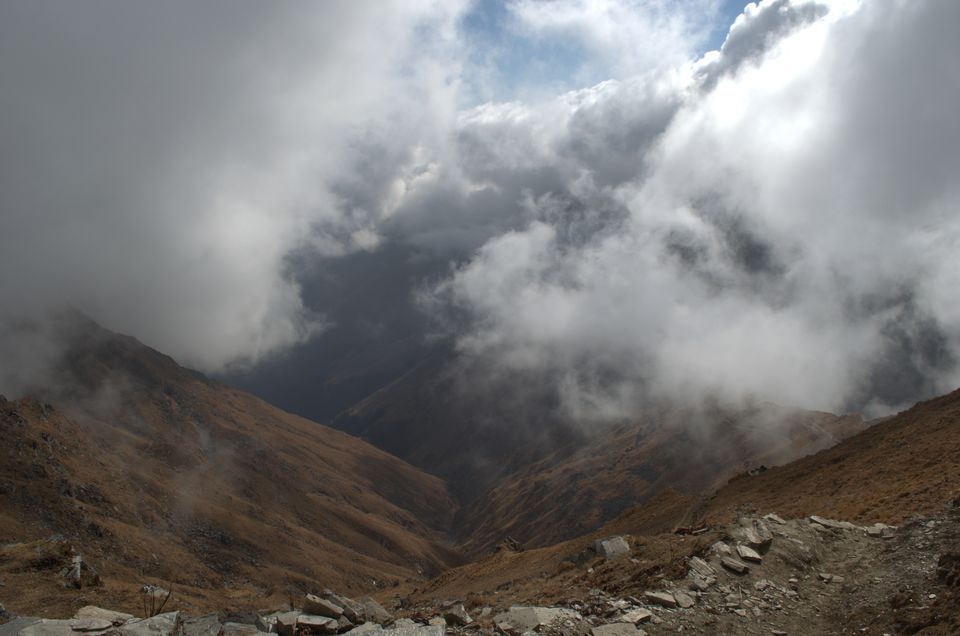 From a distance I could see a narrow trek in the snow leading to a paradise I guess !! The path disappeared into the fog after a point. So, lets go find that mystery path. It was a rocky terrain with snow all around us. After a few hours we reached Bhagwabasa - The Roopkund sunmit camp. A paradise indeed.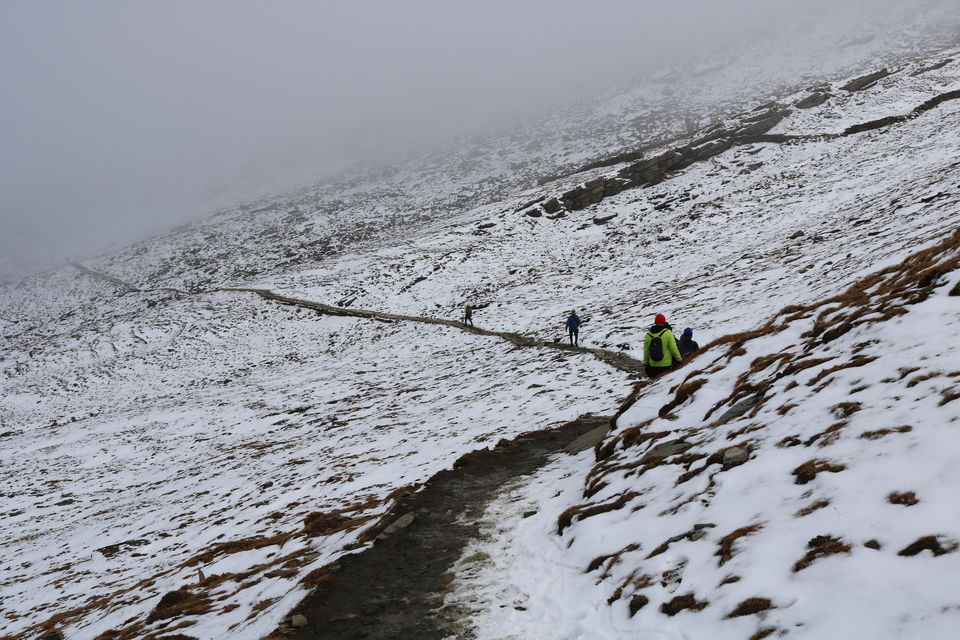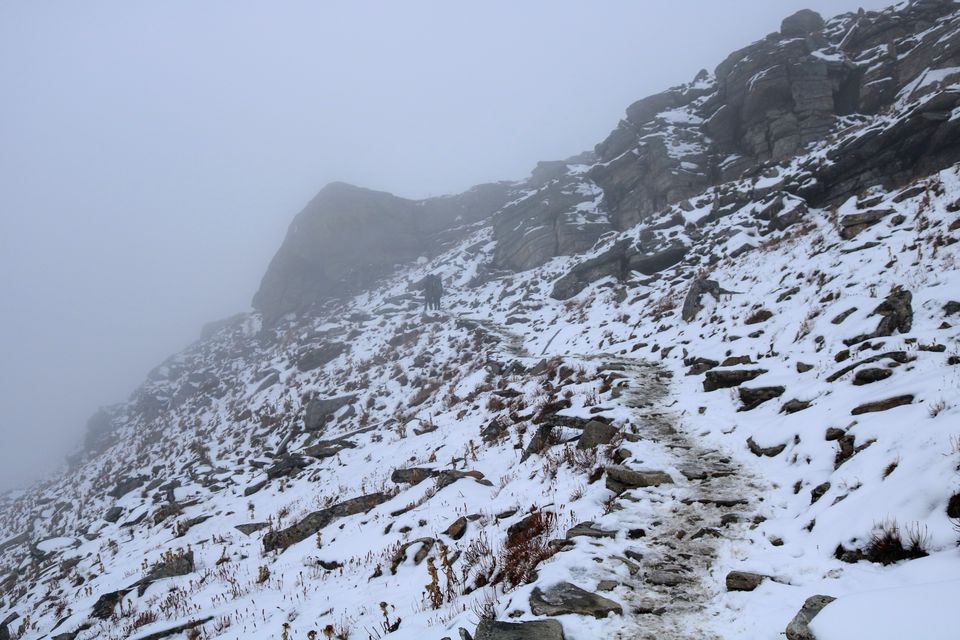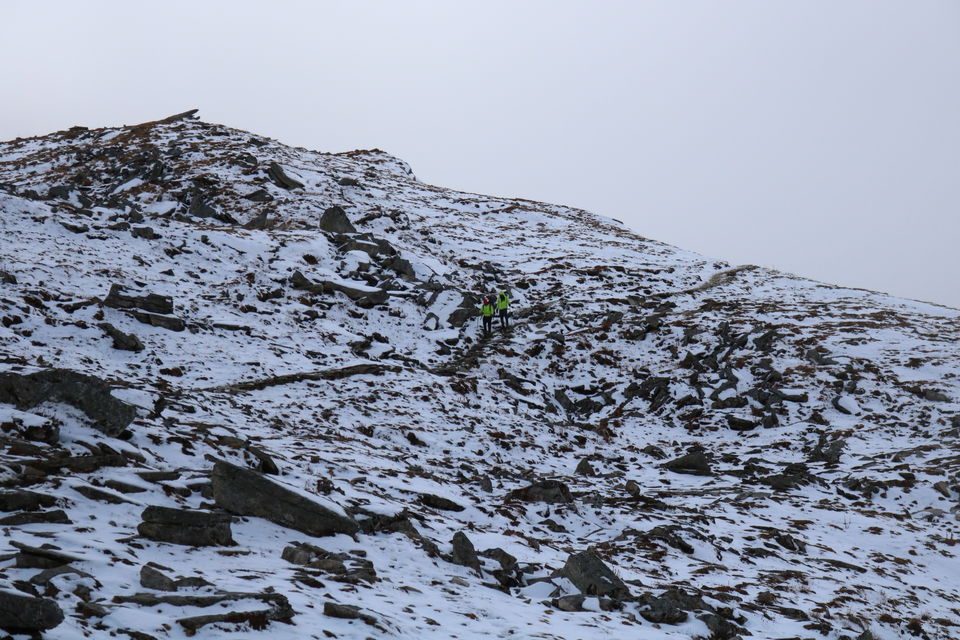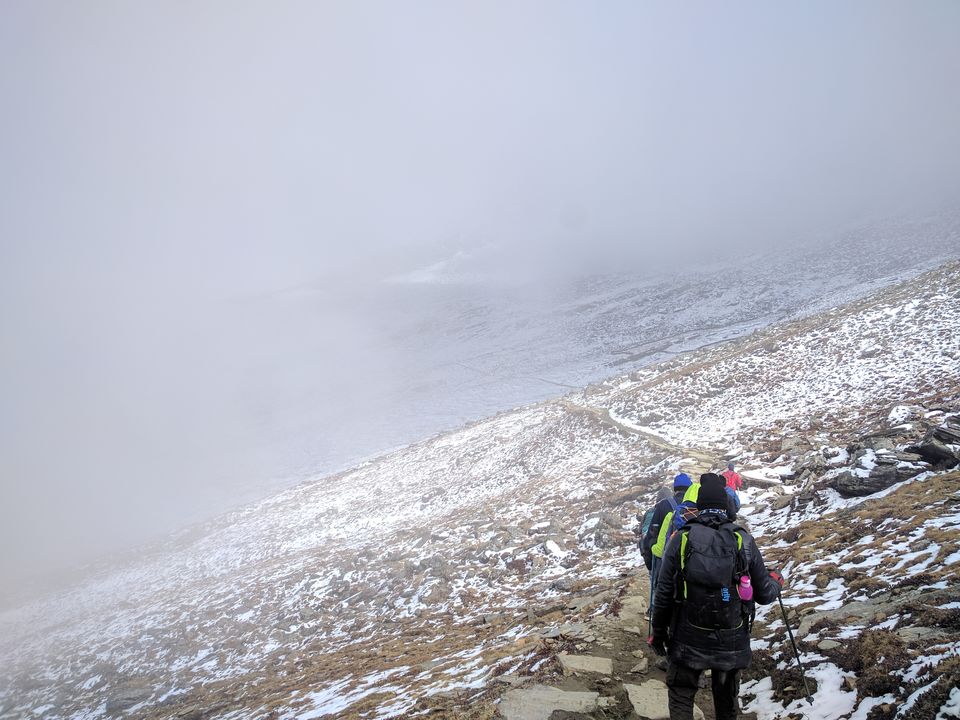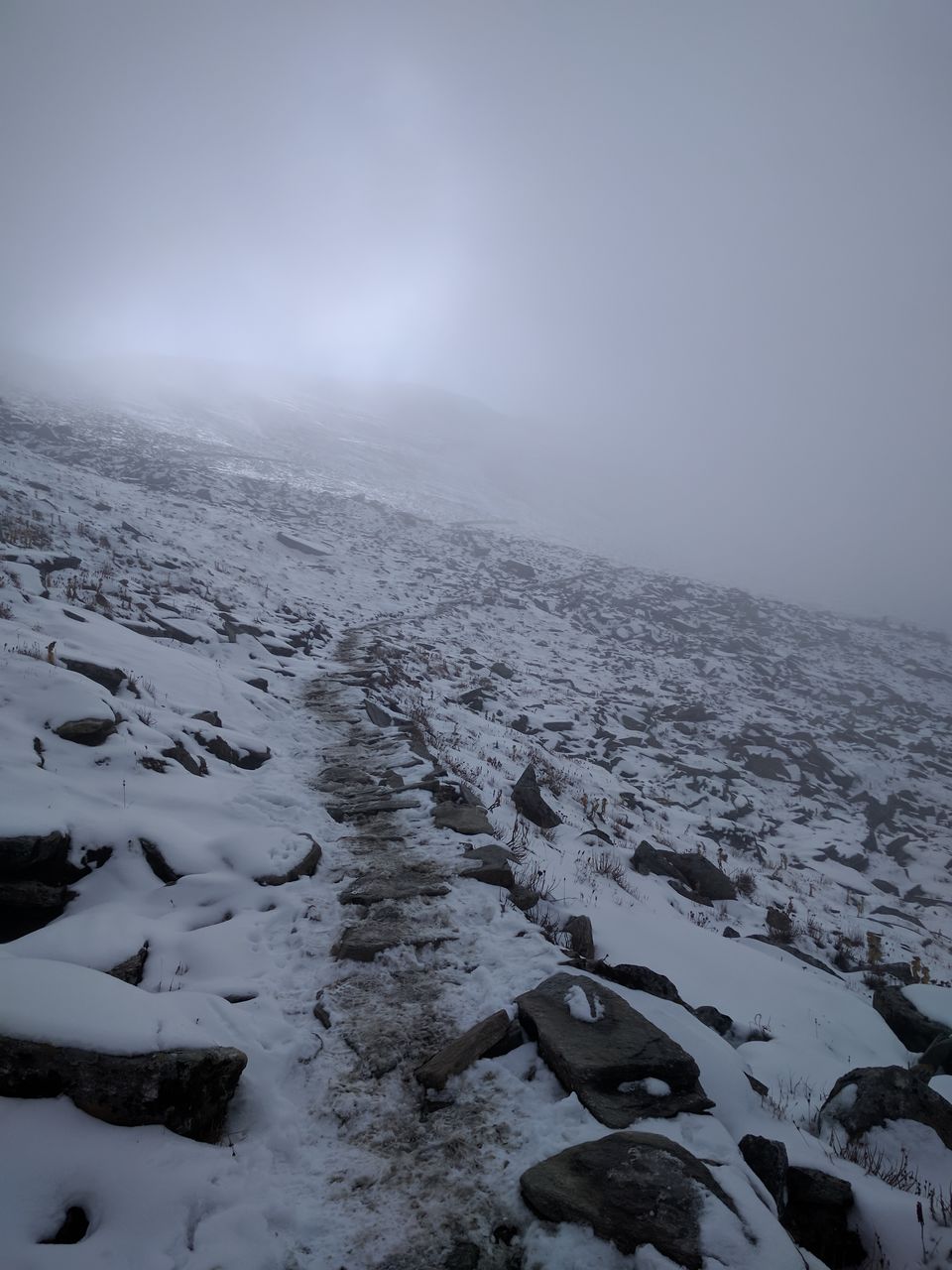 Now, the altitude is 14000 ft. Our oxygen levels was being checked because the low amount of oxygen in the surrounding makes it difficult to breath. Though I was completely covered from top to bottom, I felt the freezing winds penetrating my jackets. It was damn cold and foggy when we reached the camp. After taking a power nap, we had some soup and tea.
We got out of our camps to click pictures.
Whhoooooshh !!! Definitely some kind of magic happened. The climate was totally different. The sun was about to set and an ocean of clouds appeared. It was a magnificent view. Sun slowly settled down, the golden rays laying over the cloud ocean just alluring.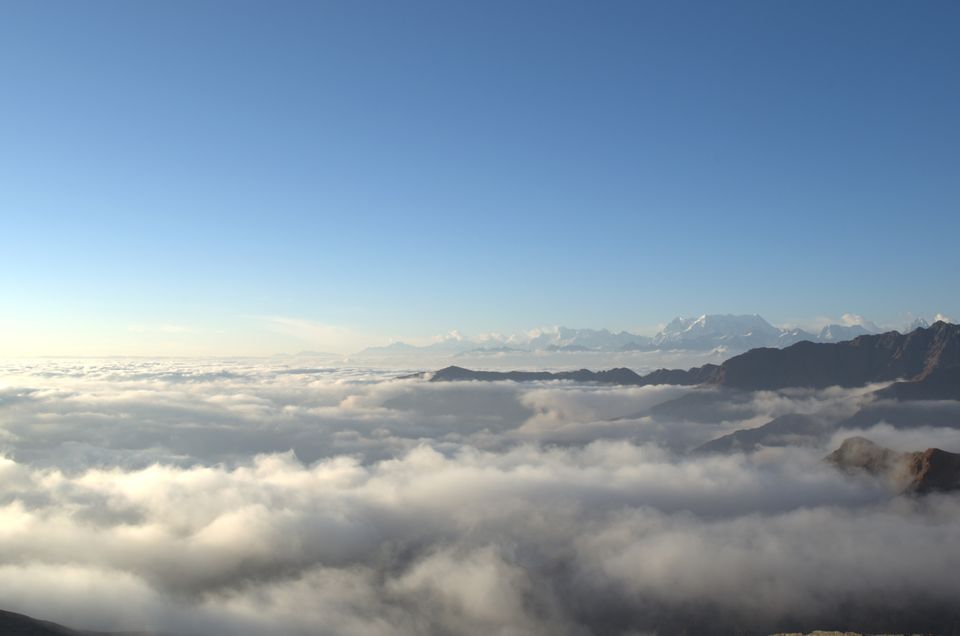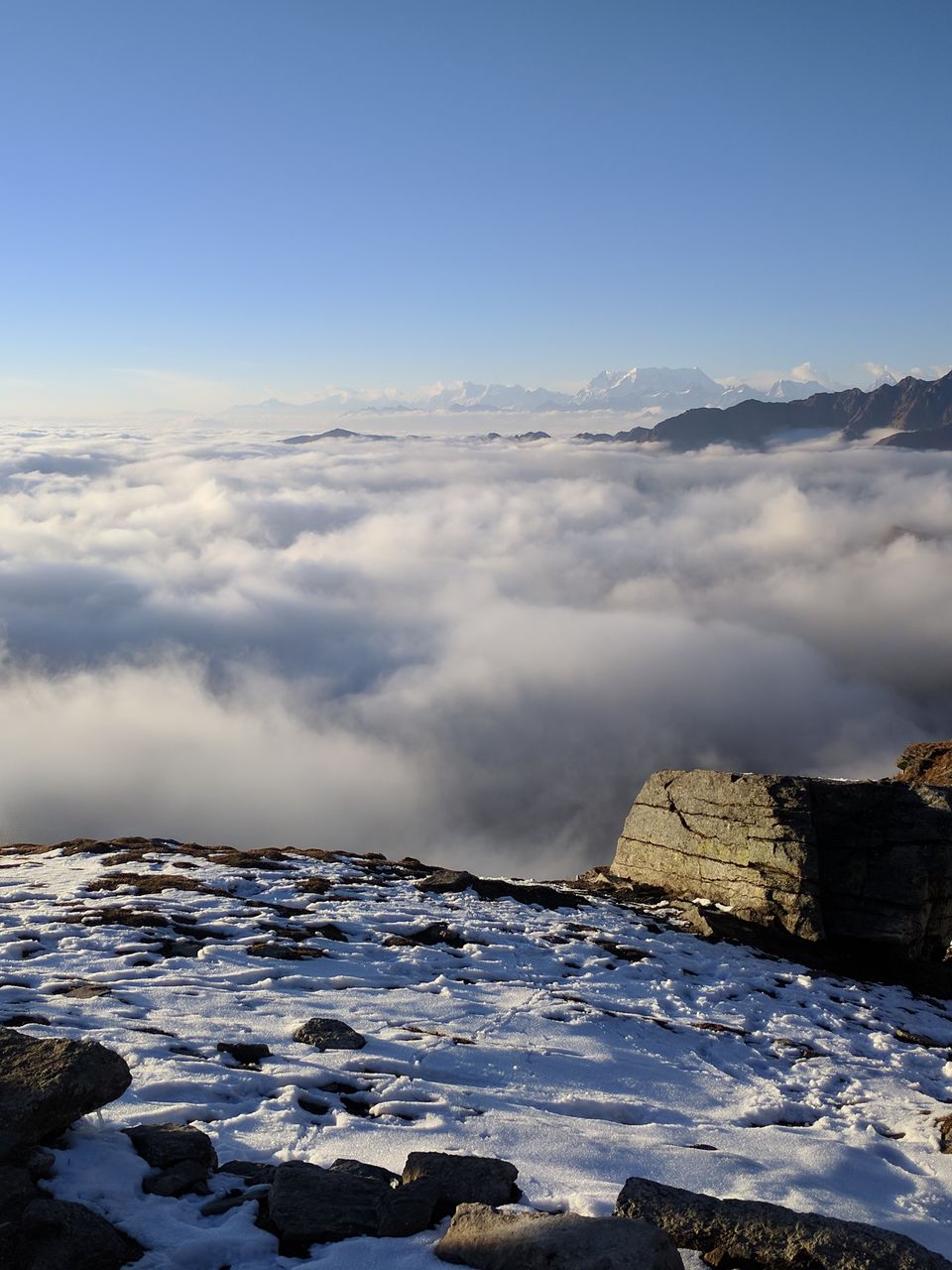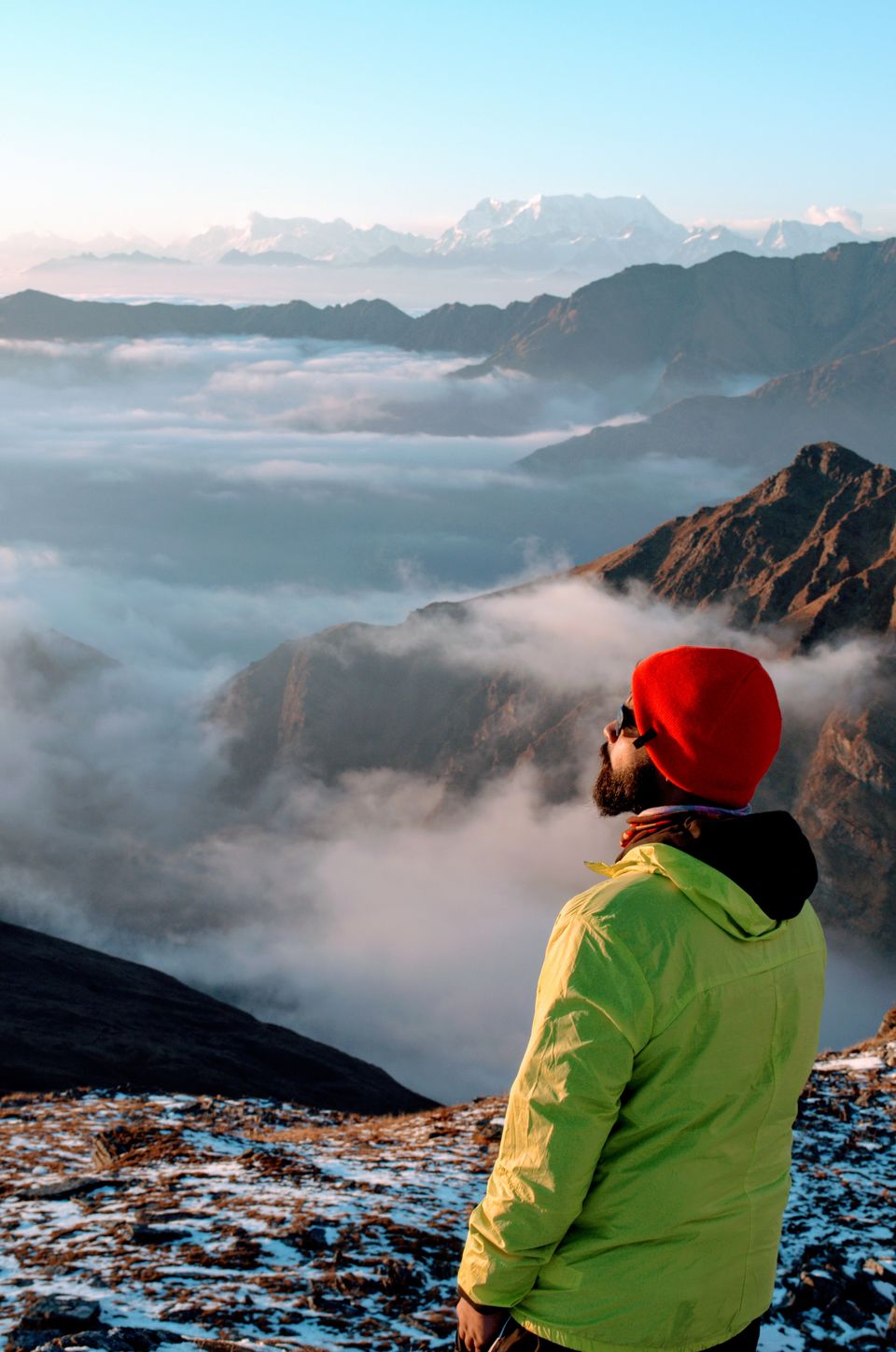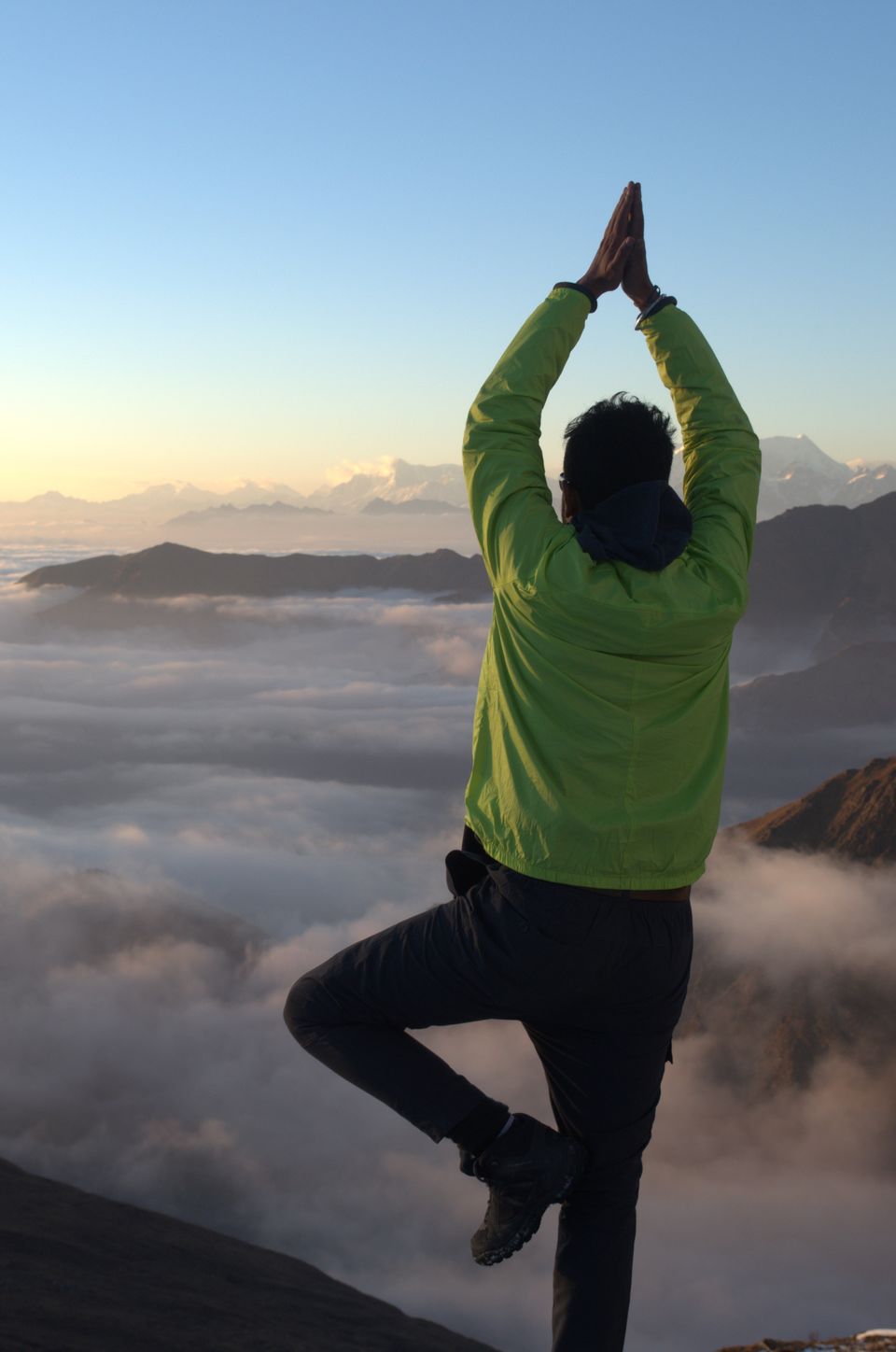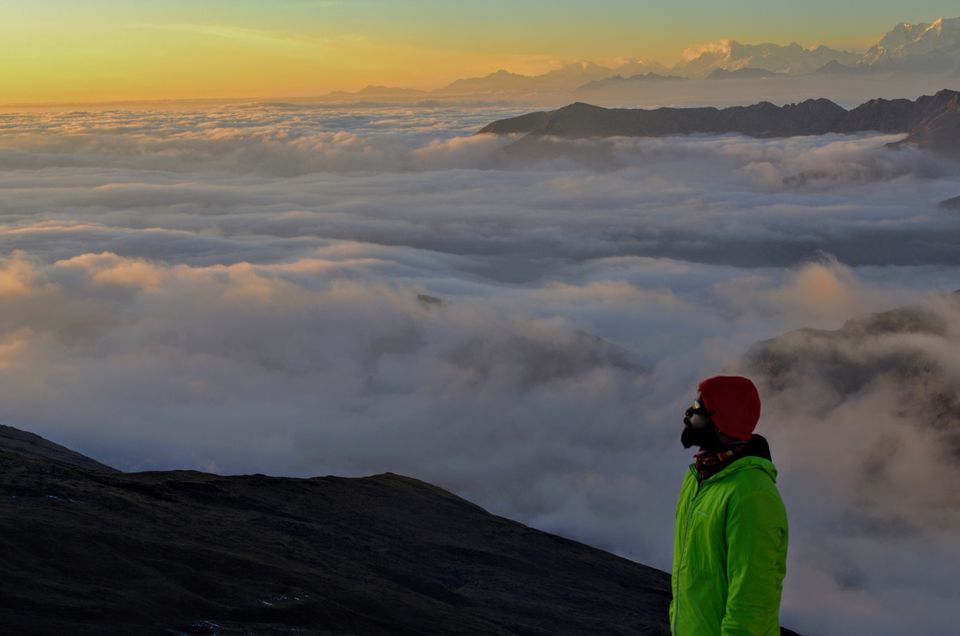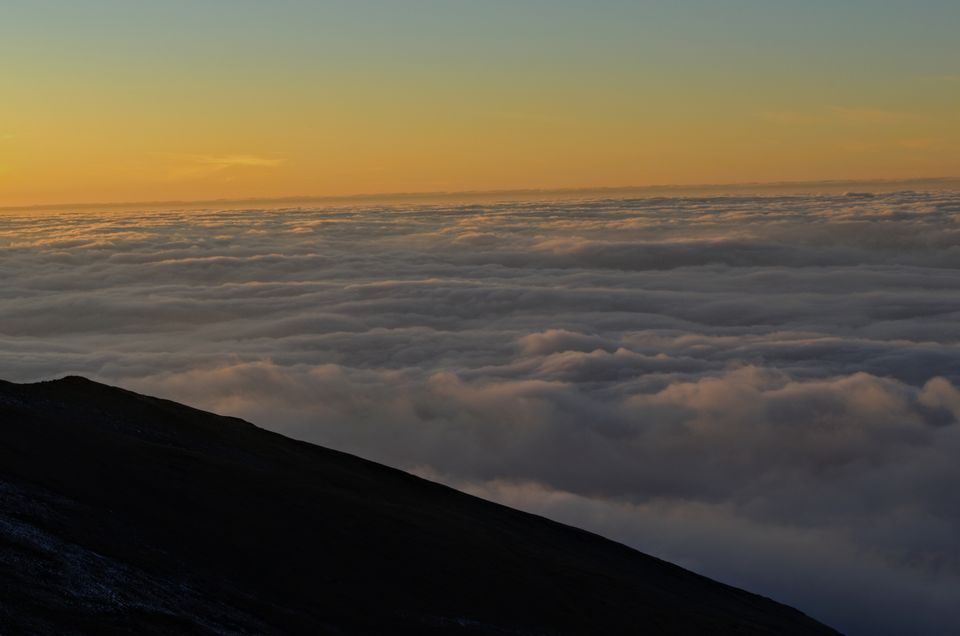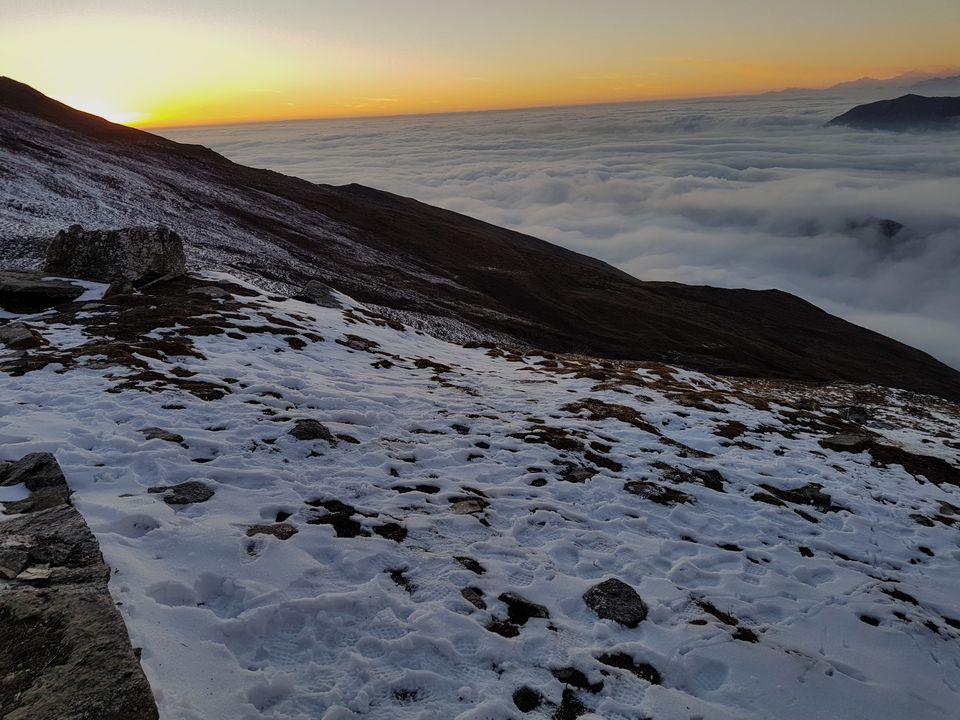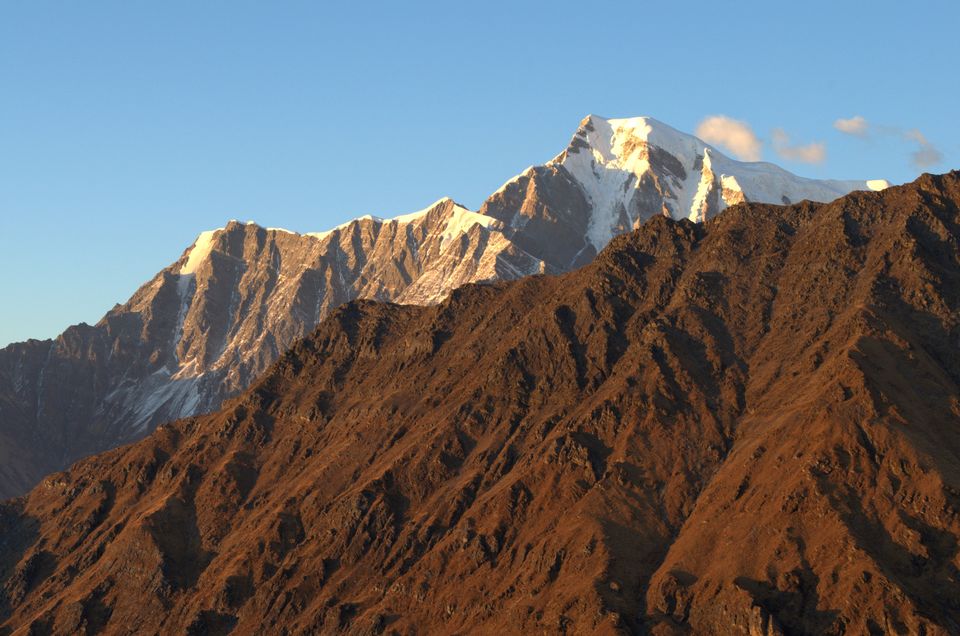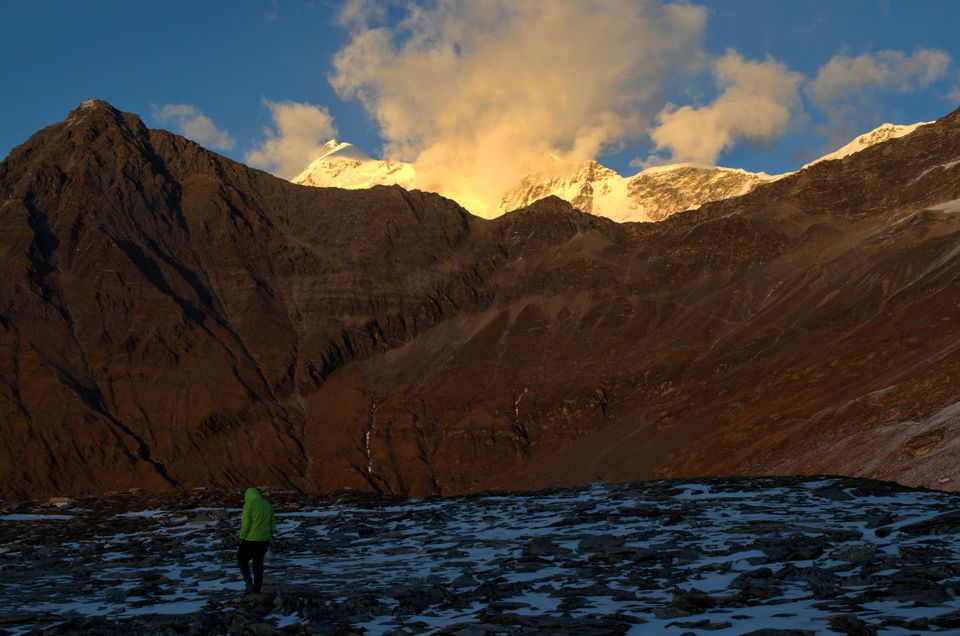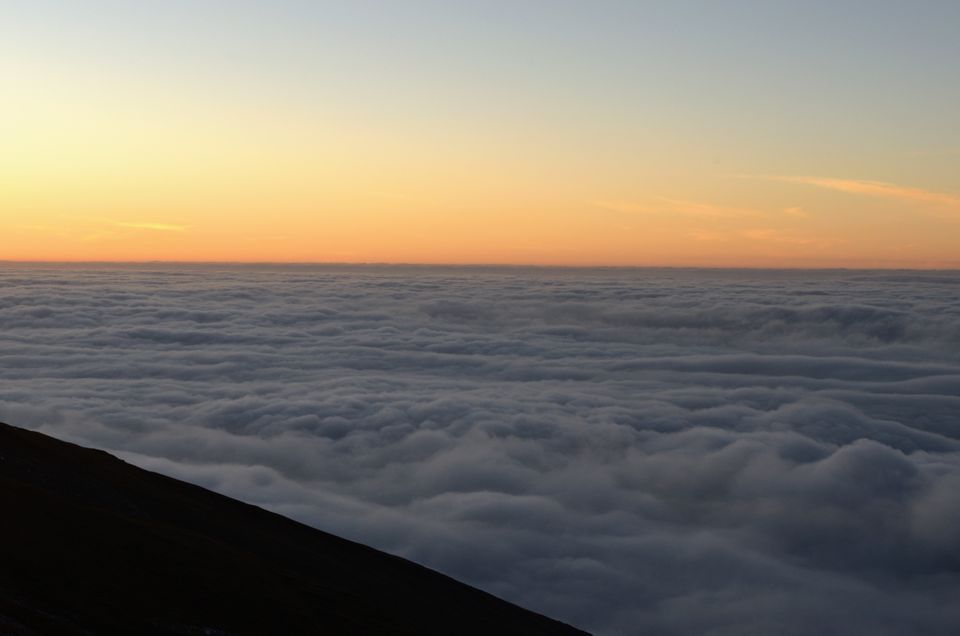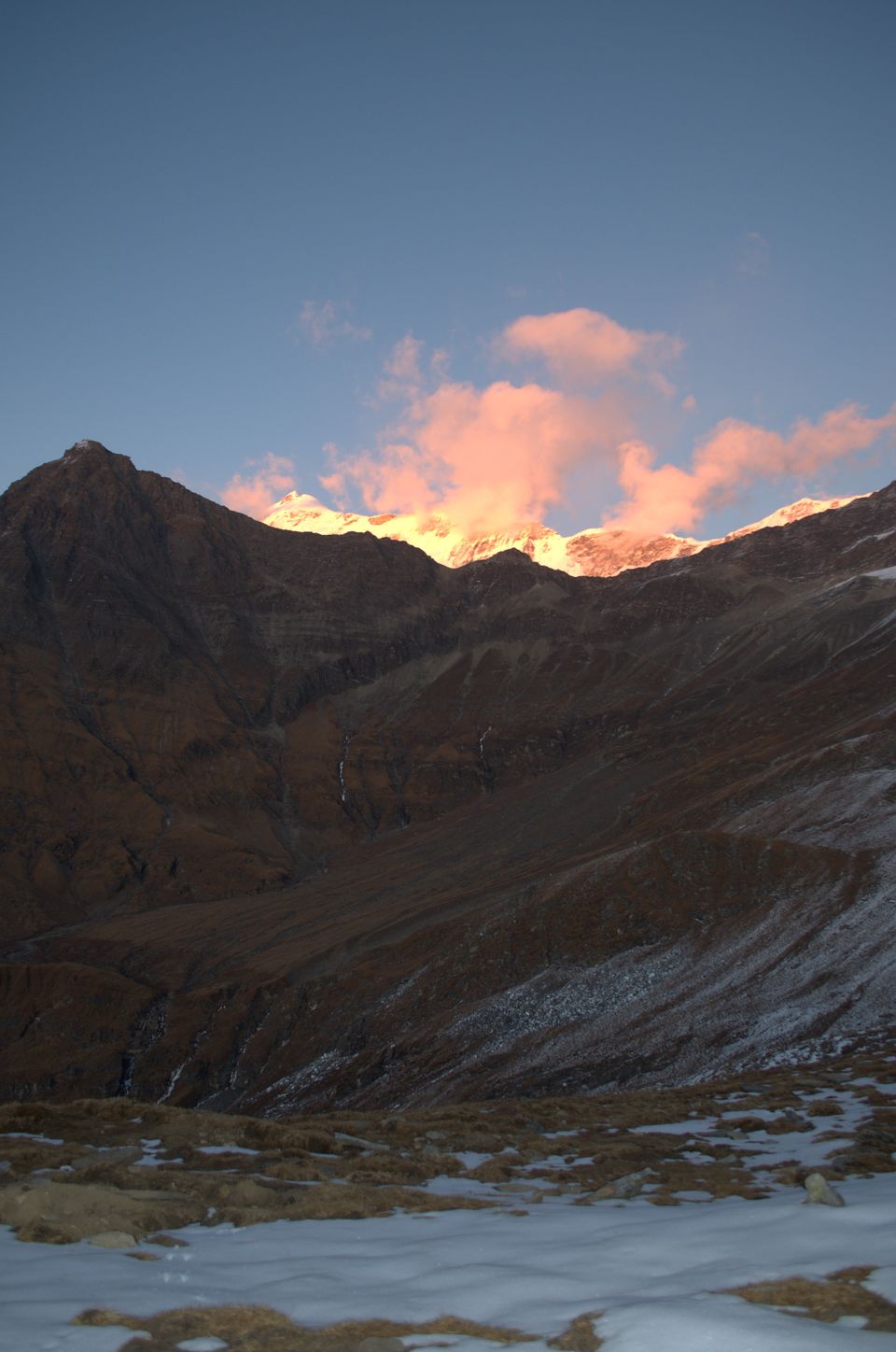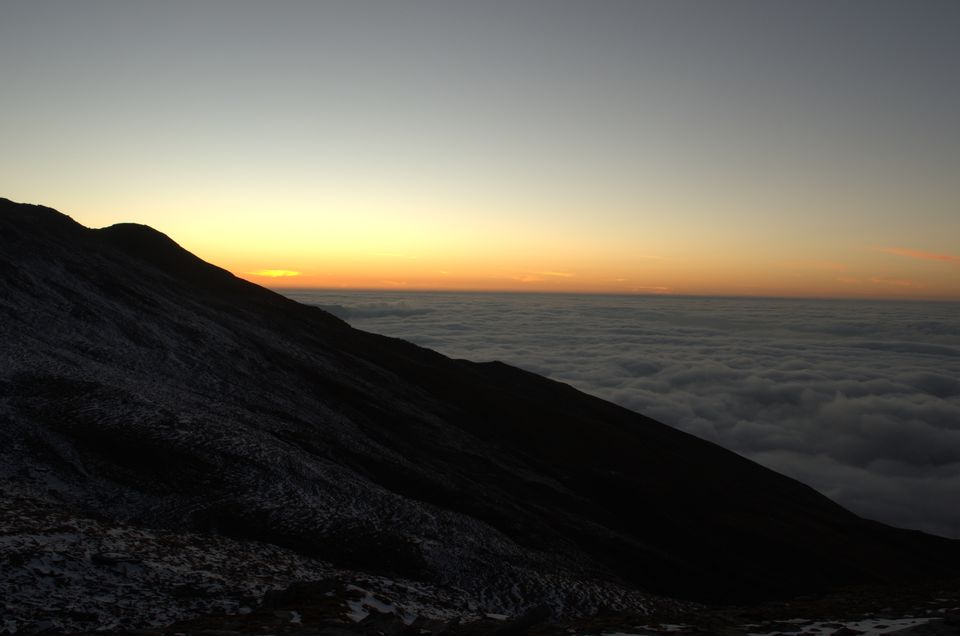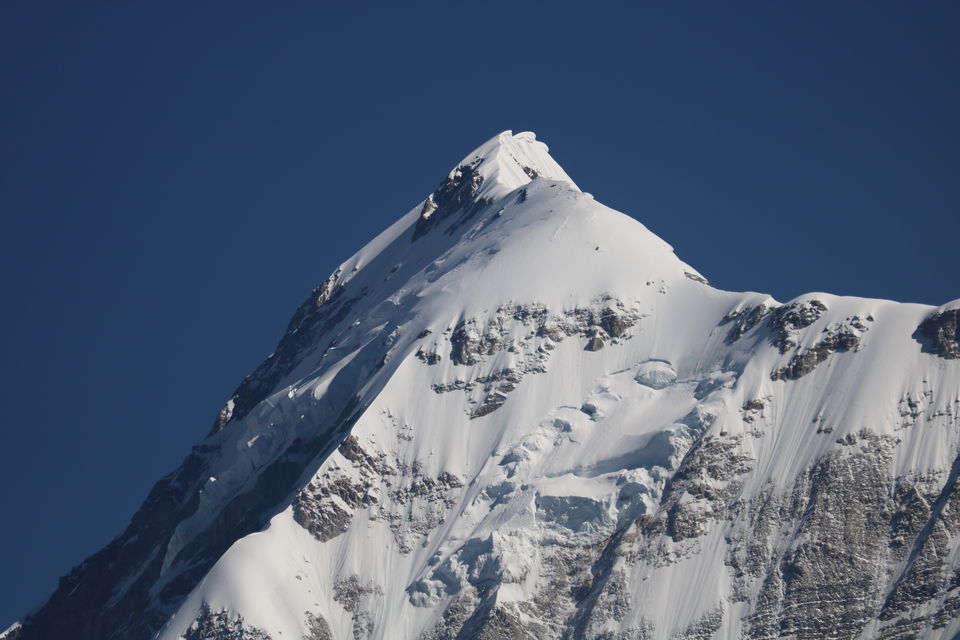 Bhagwabasa to Roopkund summit to Bhagwabasa to Pathar Nachauni
At night 2 am we woke up. Again our oxygen levels were checked and it was all good. It was a 3 kms tough climb to Roopkund which took almost 2 hrs to reach. Our torches were ready, stars all over us and snow all around us. It was thrilling and also a bit difficult. My legs became heavier, in every step I asked how much more to go and each time our trek leader said just 10 more min.
Finally, we reached the mysterious Roopkund lake. In the lap of Mt. Trishul and Nanda Ghunti it appears like a bowl. As it was month of october the lake was covered with snow. Roopkund is located at an altitude of 16400 ft. The view from the top of Roopkund was eye-catching.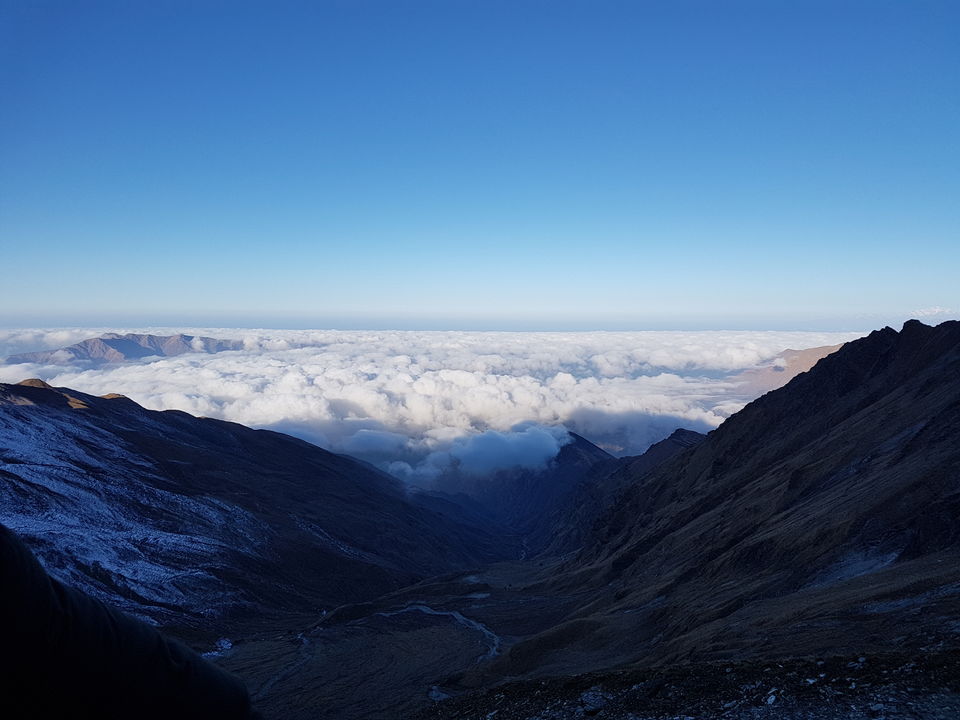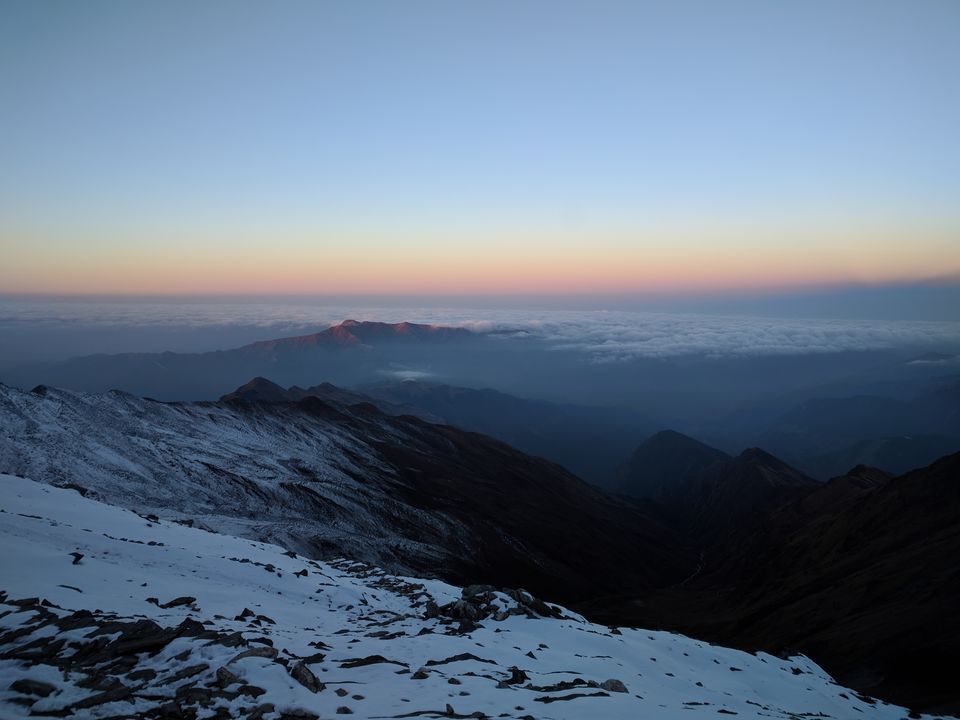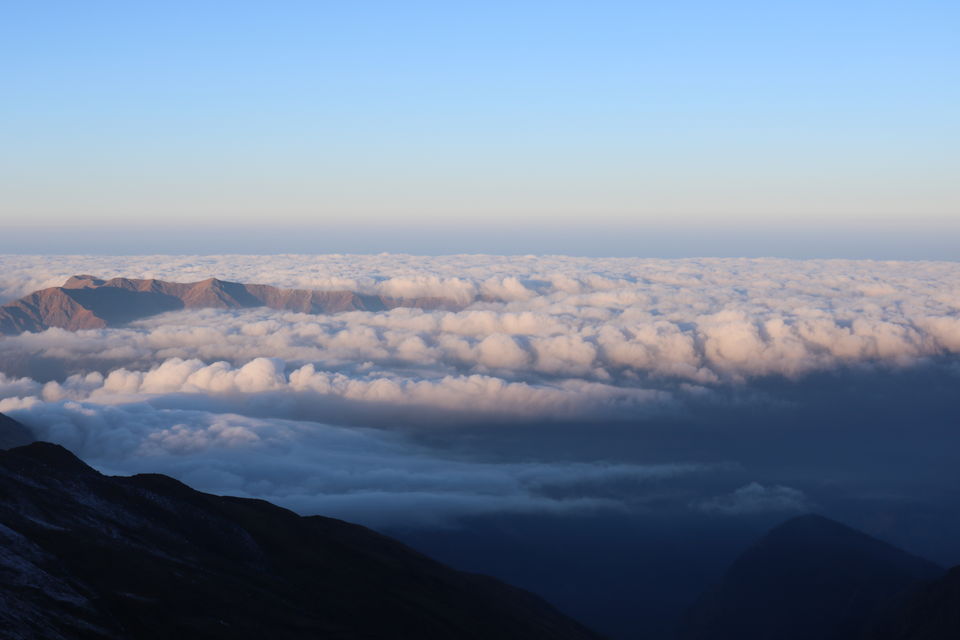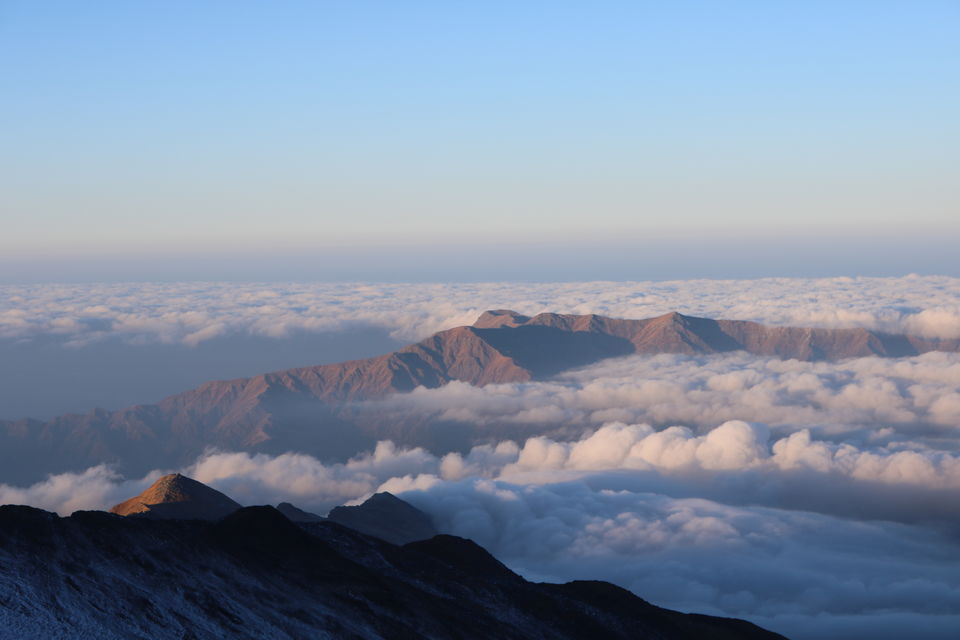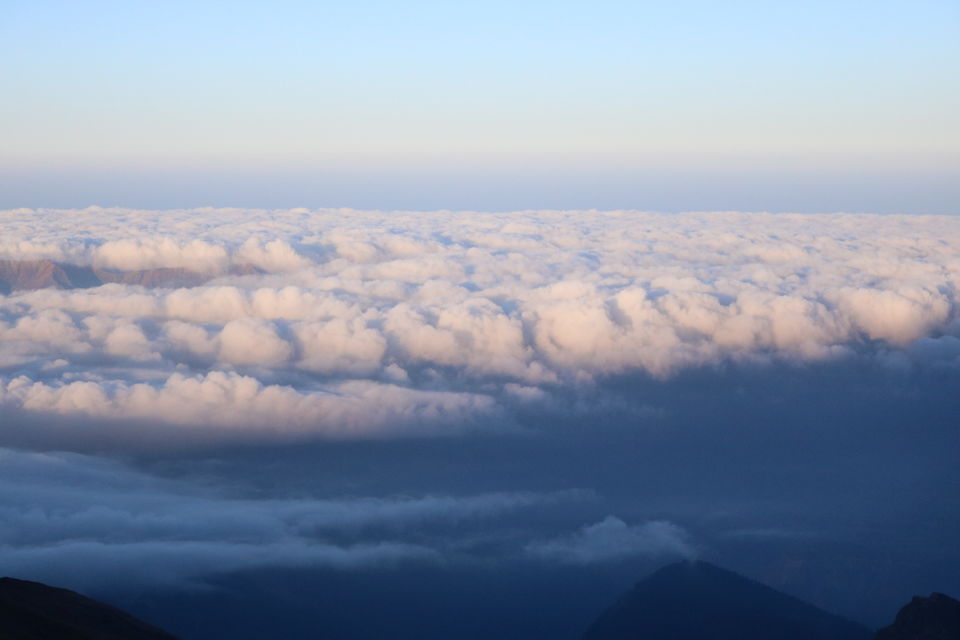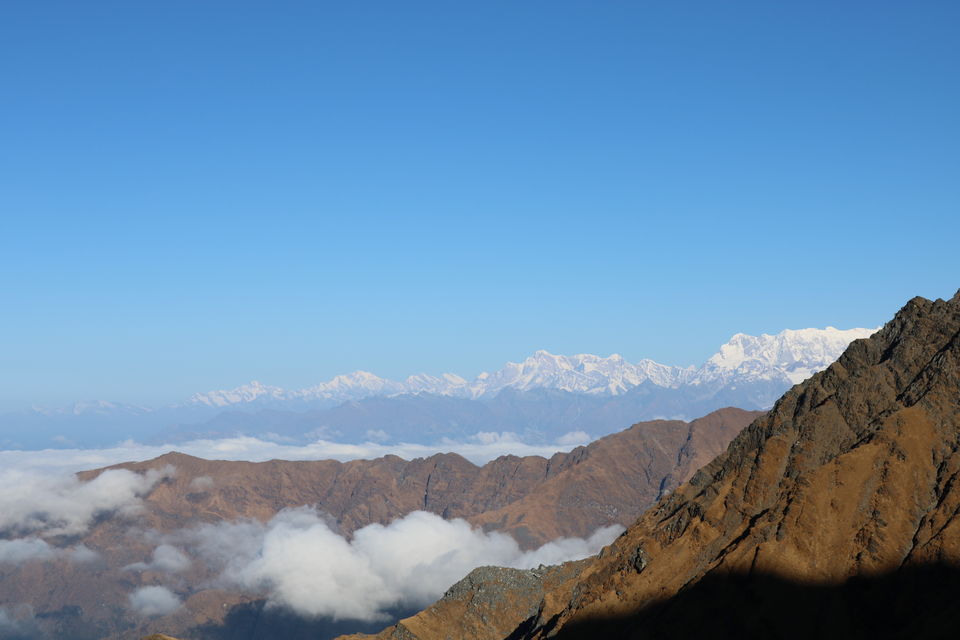 With snow the lake is also filled with the remains of the dead. People say there was a catastrophe a long time ago which led to death of several people. Till the date the skeletons are present all over the lake. It sounds spooky, right !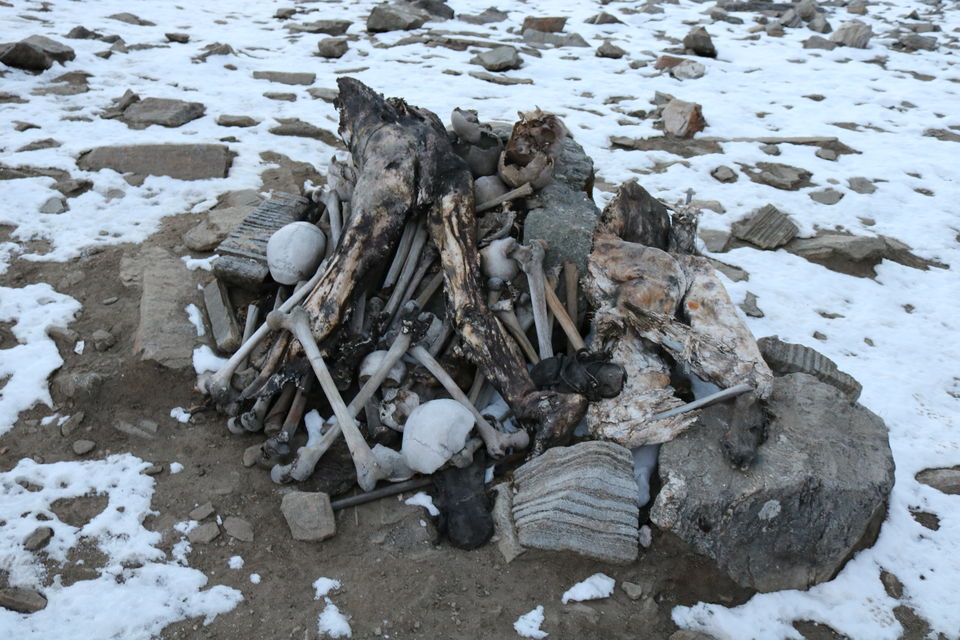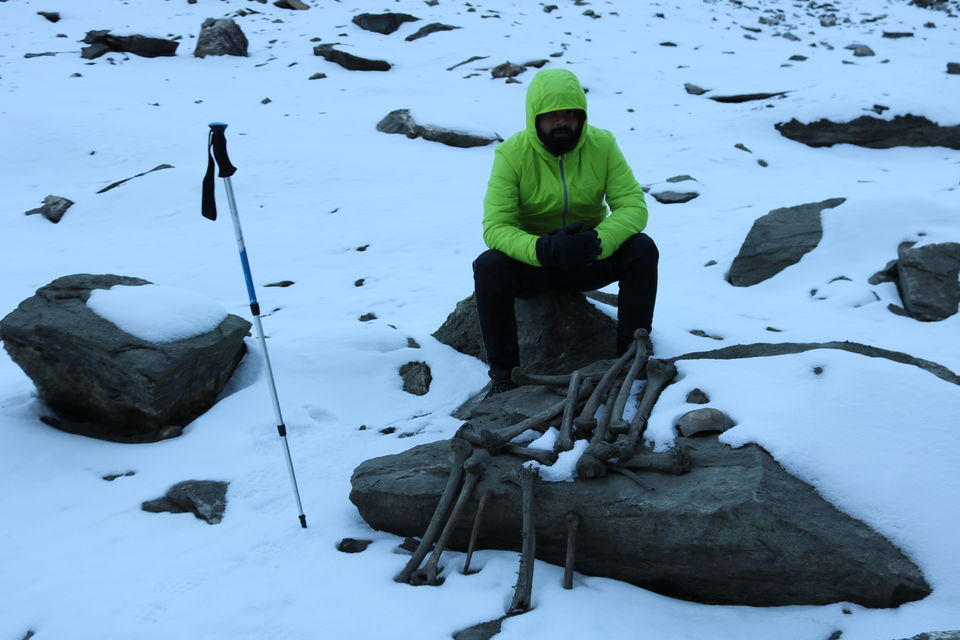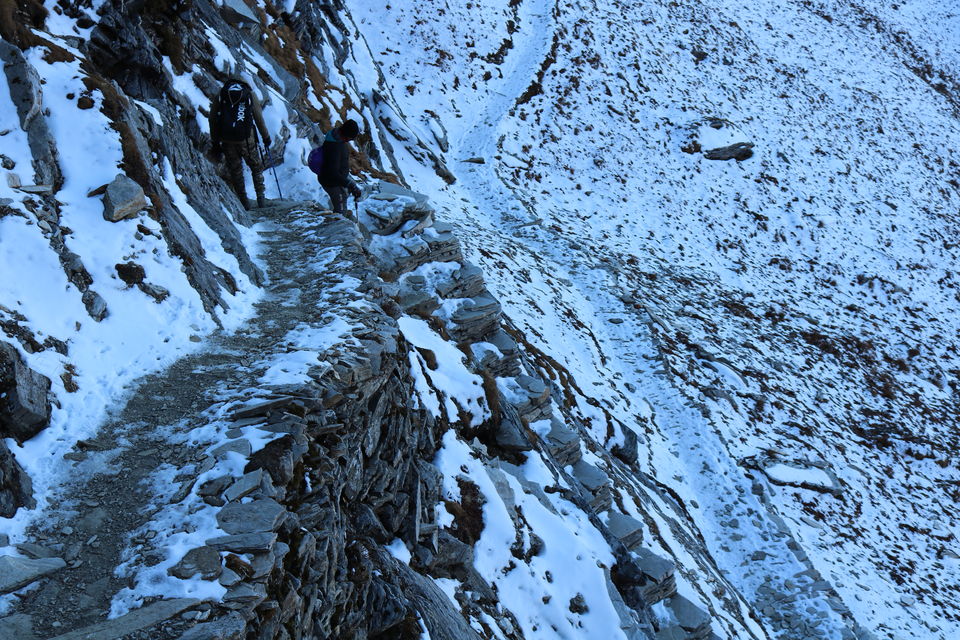 Another half an hour climb to Junargali gives an striking view of mount trishul.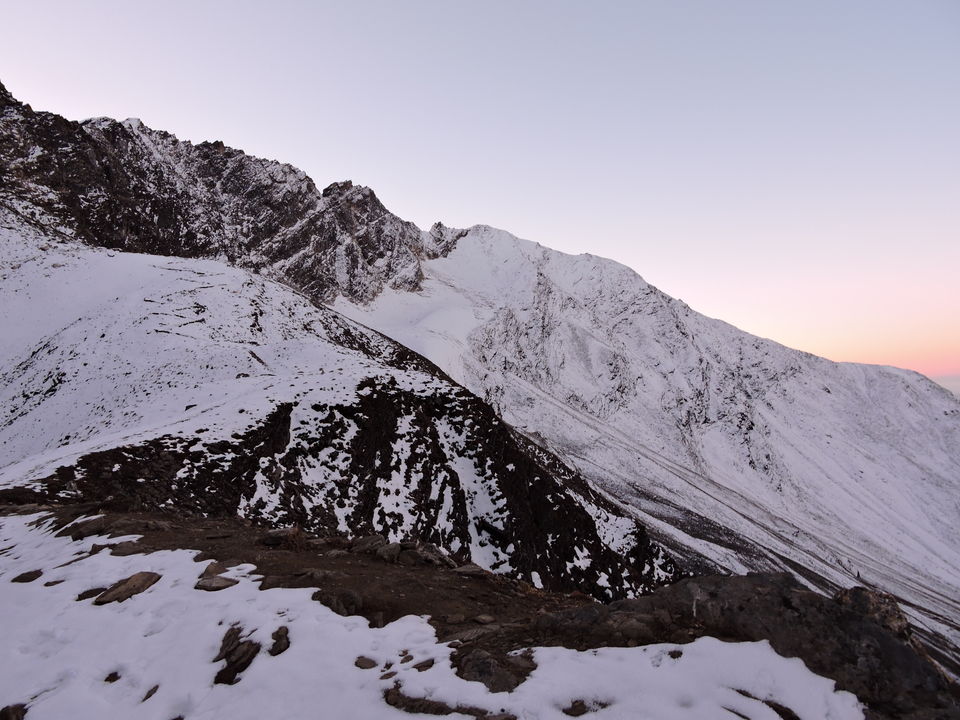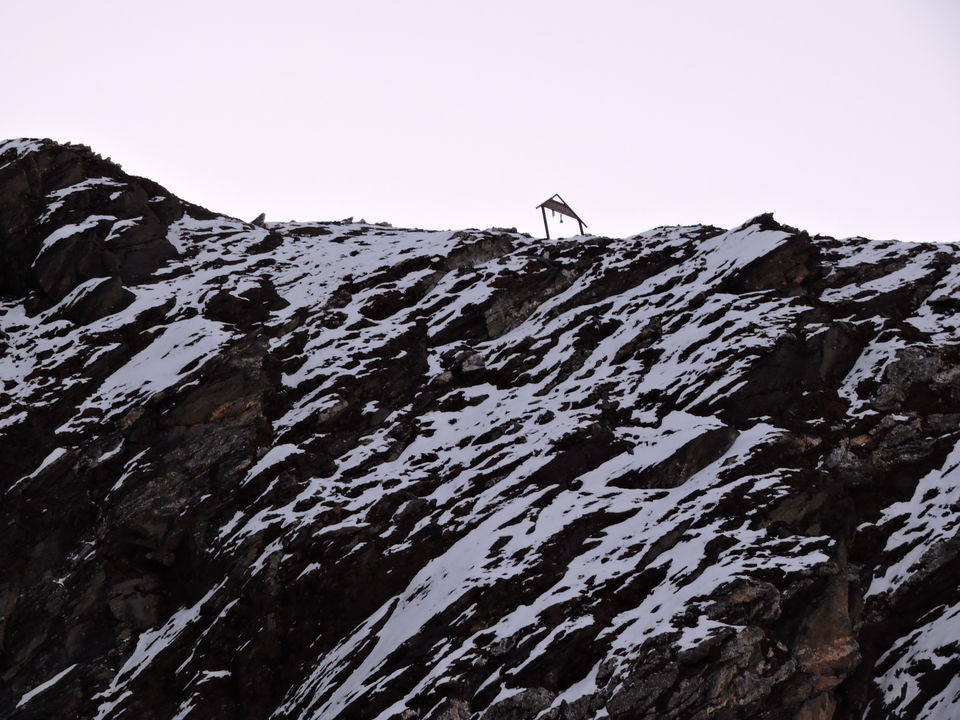 After a while, we started going down and it didn't take much time to reach back the summit camp. It was nice and easy. We relaxed for few hrs, enjoyed our power packed breakfast with a glorious view and was ready for our way back to Pathar Nachauni. Halted for a night there.
Pathar Nachauni to Wan via Bedni Bugyal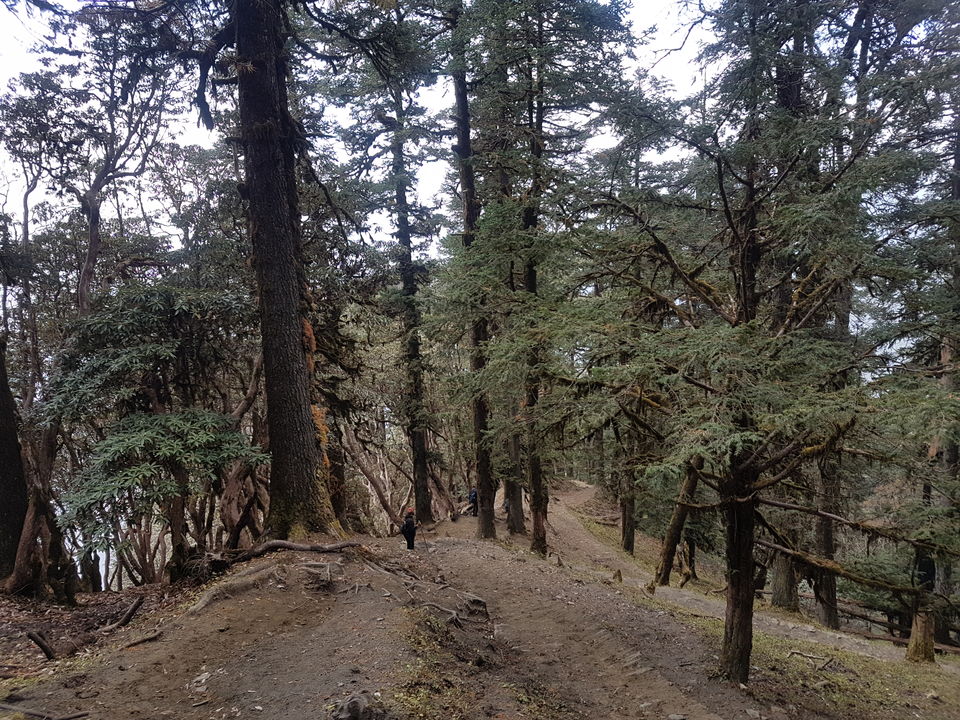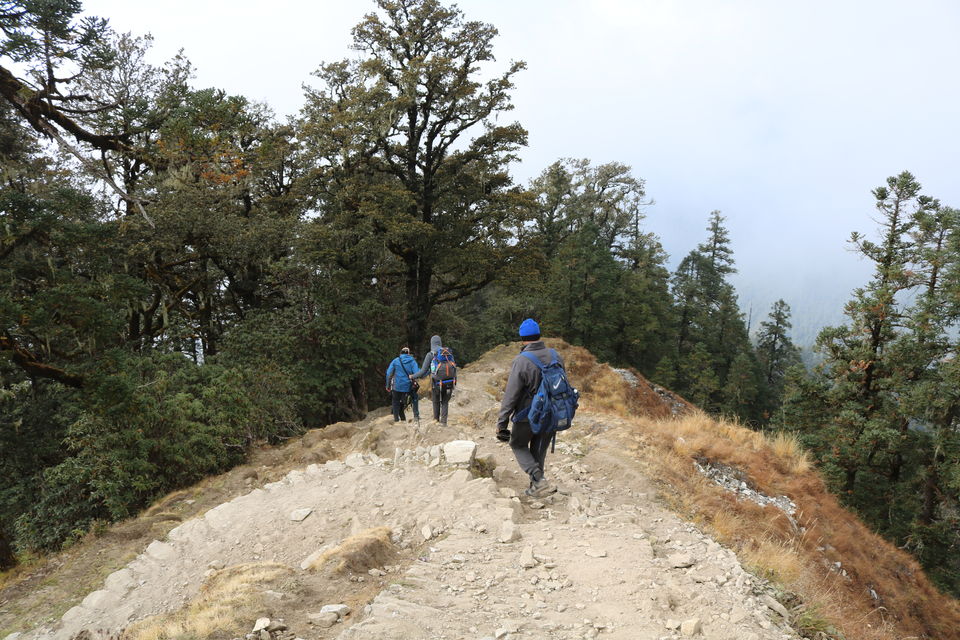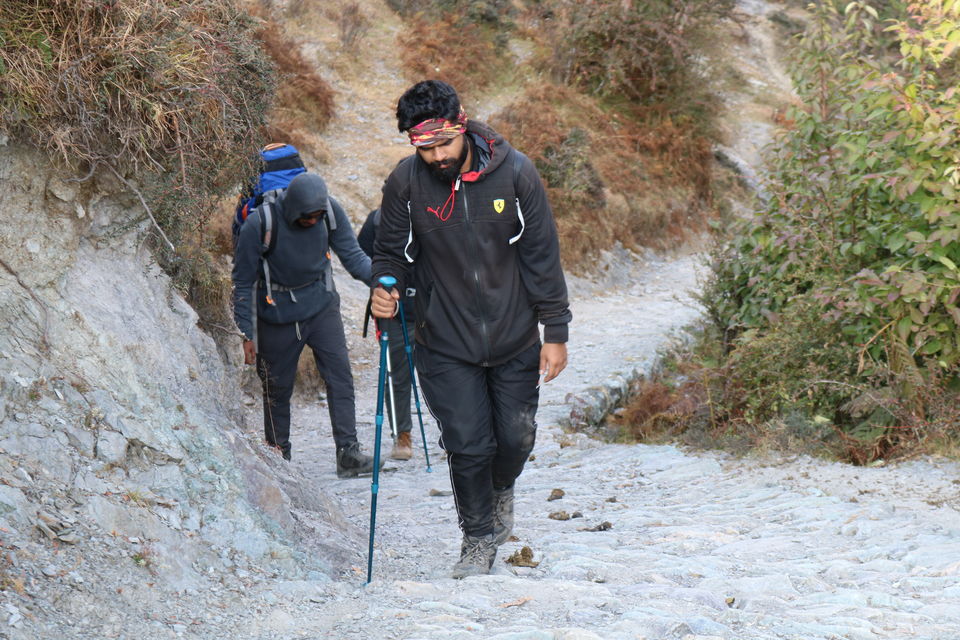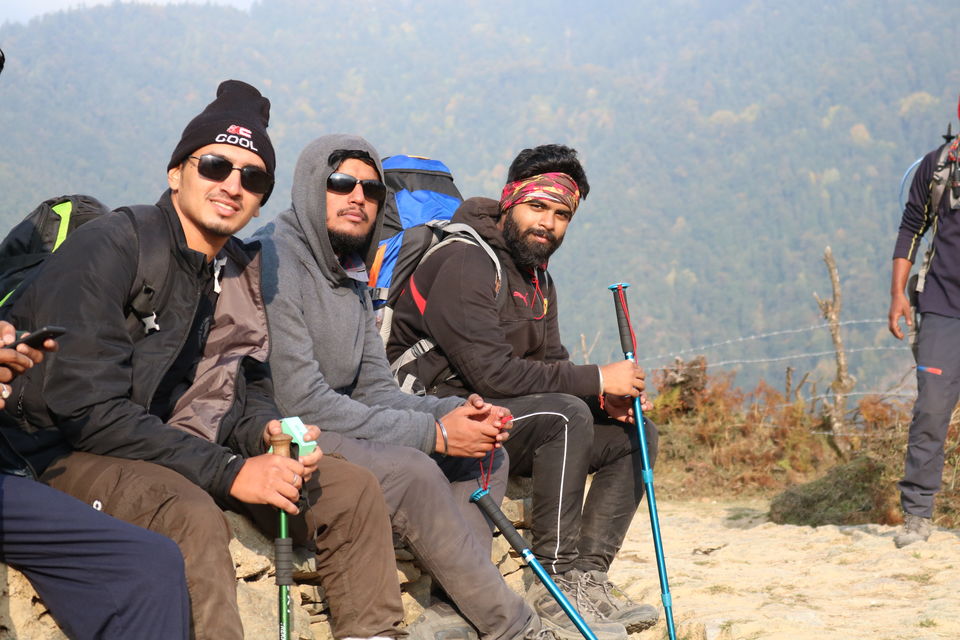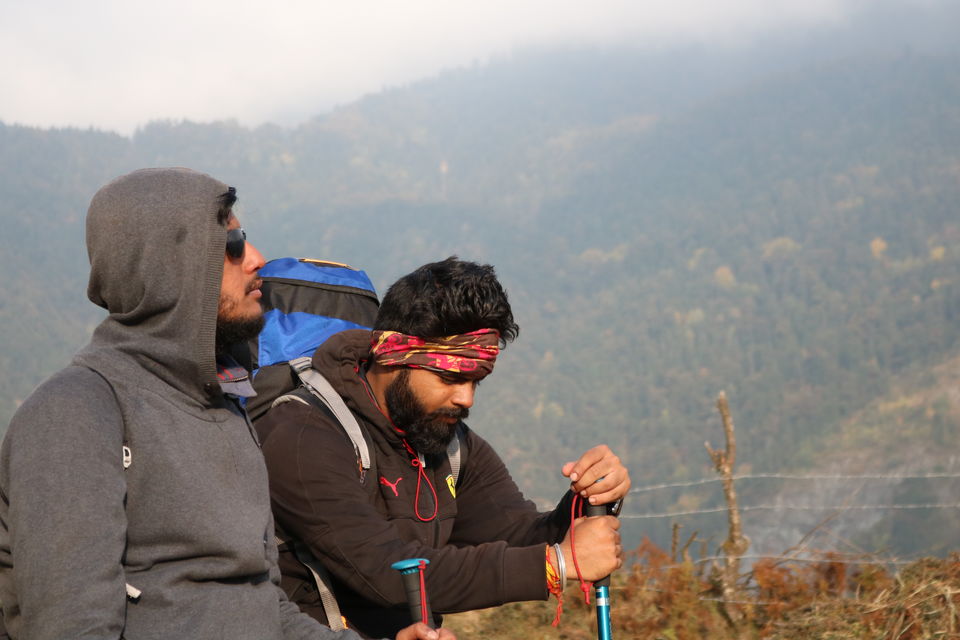 An easy trek to Bedni, picked our packed lunches and was off to village Wan. It was a 9 km downhill trek through dense forest and then a few kms ascend to Wan. The bus was waiting for us in Wan, then took us to Lohajung base camp.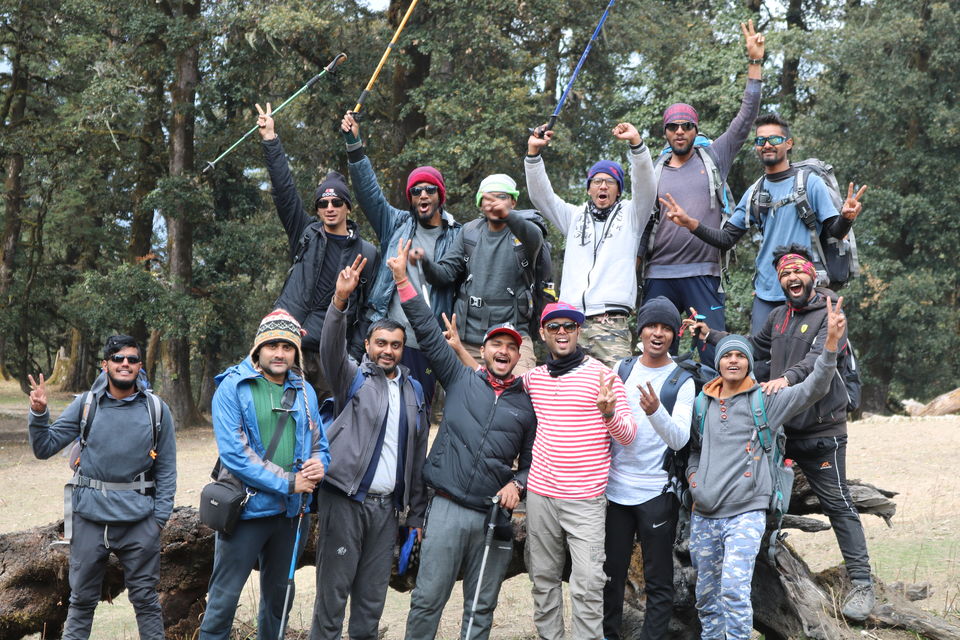 The end of an amazing trek. Trust me, you will never be the same person once you complete your first trek and every trek after that. On such heights and with such beautiful views, you truly understand what life is. A trek can teach us a lot of things in a good way. Away from the concrete jungle, away from the polluted cities,giving up your comfort zone is truly GOLD.