I come from a middle class family for which even the simple luxuries of life come at a later stage and when they come we cherish that moment forever. I still remember the excitement when I boarded my first flight five years ago or when I bought my first DSLR or when I first traveled on my own and visited Ladakh and even better when I did my first scuba diving in Andaman! They were all life changing experiences.
I never had the thought of going out of India even South-east Asia until one day suddenly a trip was planned to Malaysia with my husband Subhash and his best friend Marc. Now that it has happened I am glad that I got a chance to see another country. The trip was planned for 10 days covering Kuala Lumpur, Cameroon Highlands and Penang. I had no clue of travelling out of country and I was pretty nervous about everything but everything went on pretty smooth.
The visa process was pretty easy and Indians can get a visa for free online though their official website. You just need a confirmed return ticket, a recent photograph as per their specifications and a valid passport. As I said all this was new to me so I got visa though another website and got charged some fee which I could have saved easily had I known the official website earlier. AirAsia has cheap flights to Kuala Lumpur. I got my return tickets for Rs 12,500/- only without check-in baggage. This was the first time I was going on a long trip with luggage less than 7kgs which is the maximum you can carry as cabin baggage with this ticket.
So finally, we boarded AirAsia morning flight from Chennai and reached Kuala Lumpur in the afternoon of 31st May 2017. The flight duration was 4 hours. As we live in a different town, we had reached Chennai airport early and spent the night there till check-in started. Once we reached Kuala Lumpur airport we purchased a sim card there itself and this was again a very easy task. Just show the passport and get a sim. Further, the process of visa verification and immigration went very smoothly and we were done in an hour. We took a taxi to the hotel for the night which was Sunway Putra. Naturally, we were exhausted so once we reached our hotel we took a nap till evening. Our friend was yet to arrive from France and so we had time to rest.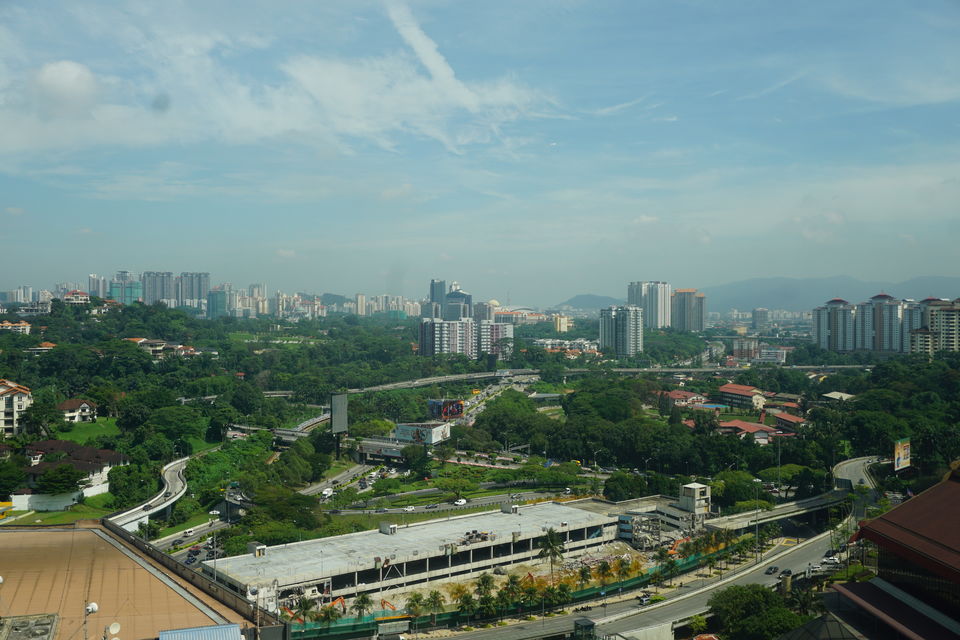 From the very beginning I was intrigued with the infrastructure of the place and even its people. The roads were fantastic with not even a single aberration and public transport was cheap, comfortable and easily available. The monorail was the best option to go around Kuala Lumpur and at other times Grab taxi app was good deal. Uber is also easily available. The cityscape was amazing with clean surroundings with high rise towers, lovely mosques and its signature Petronas twin towers adorning the place as a crown. The old and the new structures were blending beautifully in this city.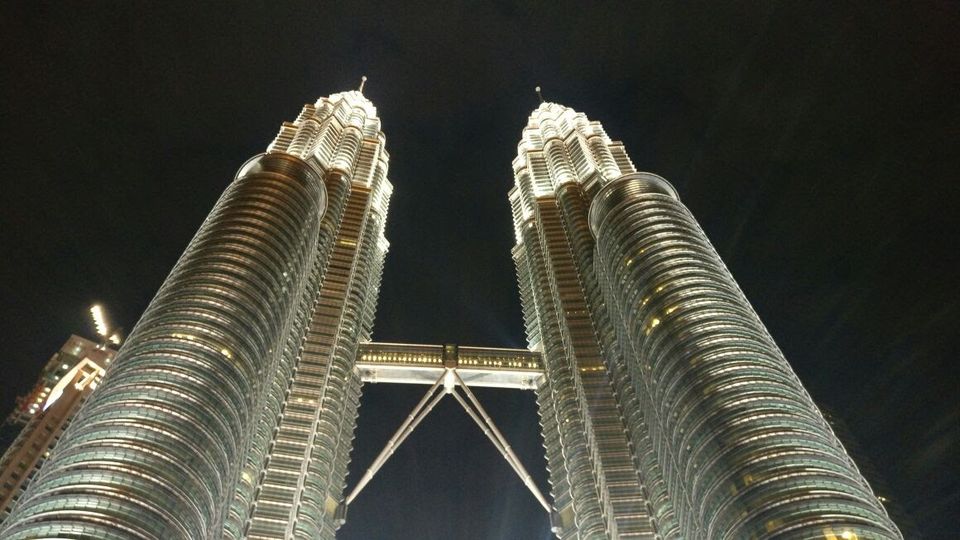 I loved the people there and especially the Malay ladies. Being an Islamic country it gave a very different experience from what we see in our country or hear in news. Even though it is an Islamic country, it gave an impression of an open minded diverse country with other religions and ethnicities co-existing and practicing their own customs and rituals hence fully justifying its slogan 'Malaysia-truly Asia'! And when we visited it was the Ramadan month when Muslims do whole day of fasting and then have a feast after sunset. We got to see how people enjoyed this phase and the numerous stalls that were setup by local families serving local Malaysian food and delicacies.
So here is my journey across the country which started from the city of Kuala Lumpur moving on to the hills of Cameroon Highlands and ending at the heritage and wilderness of Penang.
Kuala Lumpur
Our first destination for exploration was Kuala Lumpur (KL) with its signature Petronas towers; the tallest twin towers in the world. The Suria KLCC at the feet of these towers is a upscale shopping mall with interesting attractions like a philharmonic theater and an underwater aquarium. It was my first experience of seeing an aquarium and I really enjoyed looking closely at marine species and understanding their characteristics. Huge mantas, sharks and turtles were all present and this actually made our day worthwhile. It is rare to see them otherwise for normal people. Do check for concerts happening at philharmonic theatre. We attended a concert "The Best of Rodgers & Hammerstein" and even this was my first experience of witnessing an orchestra. The dress code is strictly formals so don't forget to keep a set if you plan to attend any event here. With so many first time experiences at Petronas towers, I was deeply overwhelmed.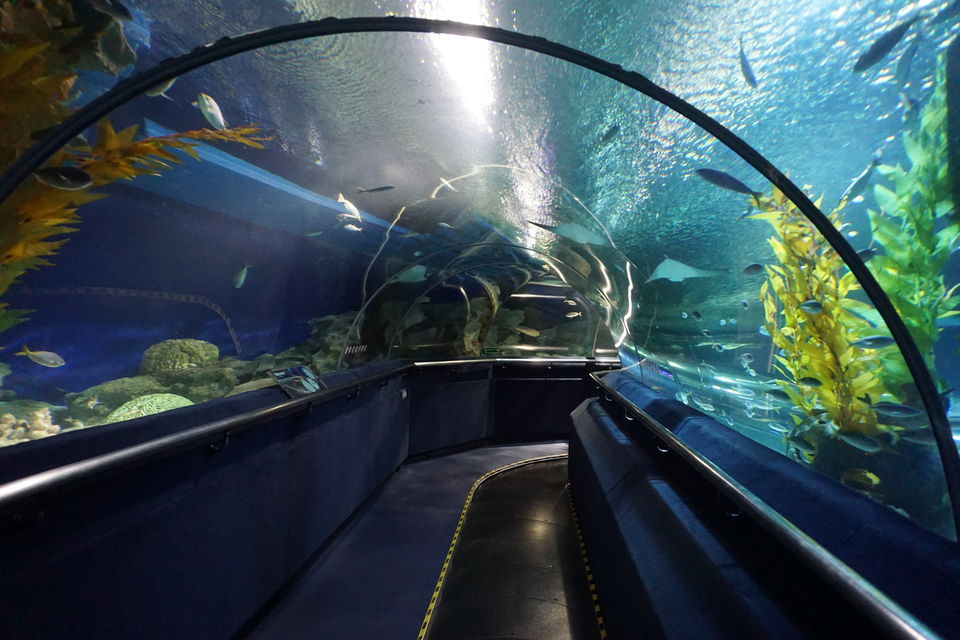 Aquarium @ KLCC
Apart from this, we explored Batu Caves which is famous for the tallest Murugan statue; the Hindu God and son of Lord Shiva. There are steps leading to the ancient cave and monkeys everywhere. Dress a little conservatively as this is a place of worship. The Tamilians form a considerable population in Malaysia and especially here at Batu Caves you can feel you are in south India with familiar faces and food. If you have time then you can explore the Dark Caves which we missed. Though the caves are beautiful, the place around is commercialised which we thought removed its charm. The Batu Caves can be easily reached by monorail.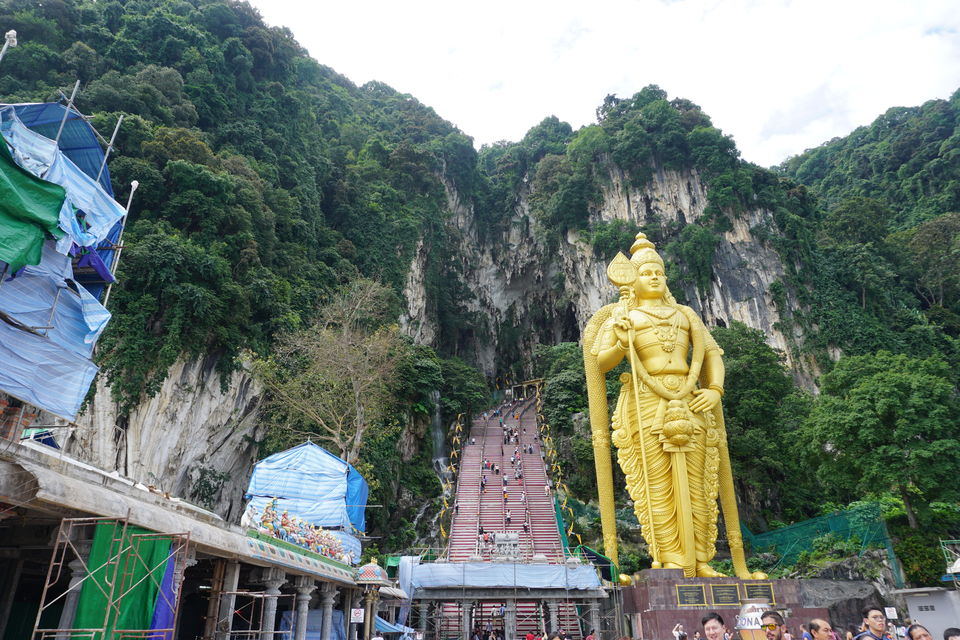 Batu Caves
Finally we visited Putrajaya which is a city south of KL and is the administrative center of Malaysia with all important offices and buildings including prime minister's complex. Putrajaya is known for its late 20th century architecture and the Putra Bridge.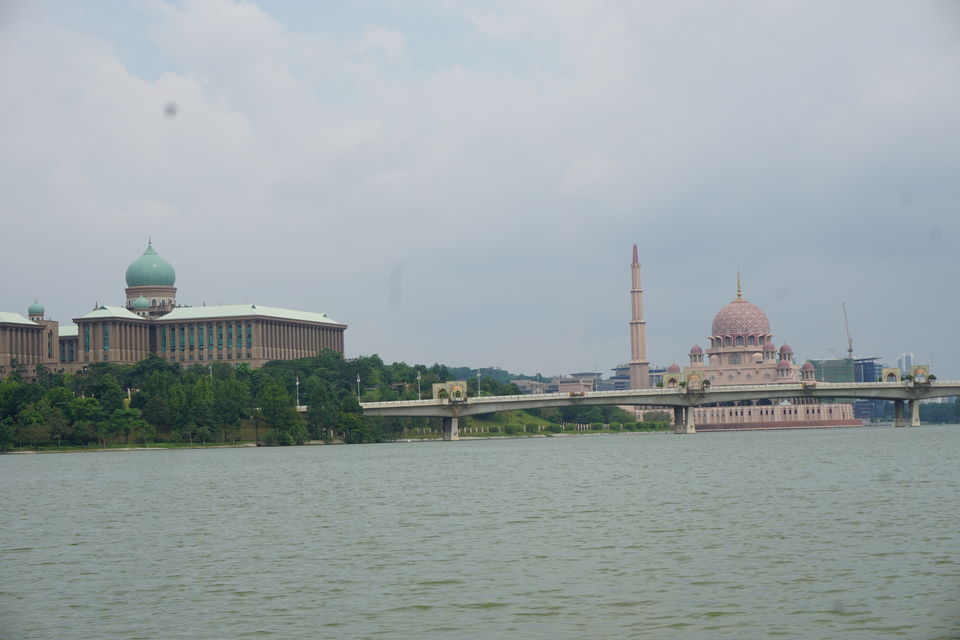 Putrajaya
We took a grab taxi to this place and spent the day here. The best way is to take boat ride in the Putrajaya lake and explore the place and its architecture. We visited this place during the day and it was hot and humid. I would suggest reach here around evening when the daylight is still there and spend some time till night. This would help you see the best of both worlds and you can see the transition of the city from natural daylight to artificial nightlights. If you have more days at hand then you can also make a trip to Melaka which is again an interesting place to visit in the night. Though a day trip is possible but I would suggest avoid weekends and do make a stopover for the night to fully experience it.
We stayed at Casa Residency which is a flat rental for tourists and we got a 2 bedroom apartment. The building had a swimming pool and we spent considerable time there too. Nearby was a Chinese food street which was crowded with overpriced food and unsatisfactory taste. Being a vegetarian I had to struggle a bit for food but I managed to get something to eat all time. The food will be mostly bland unlike what we have in our country so getting used to it will take some effort. I do enjoy experiencing different cuisine but still I was craving for Indian food most of the time.
Cameroon Highlands
After spending four days in and around Kuala Lumpur we started for Cameroon Highlands on Day 5. We took a CSC Travels bus at around noon from TBS bus terminal and reached Cameroon Highlands. The bus was 2X2 seater, spacious and felt royal. The 3 hour journey was comfortable except a small hiccup from the driver who was a Tamilians. There were people who were eating food in the bus and he literally shouted on them and rudely told them not to eat anything as this is Ramadan month and that there are people who are fasting. Now I am not aware if this is a custom so maybe it was wrong but the tone was disappointing.
Anyhow we reached Cameroon Highlands and as it's a hill station, the weather was just perfect and we checked into Heritage hotel. There was little chill in the air and landscape was undulating. It was a nice quiet place and we witnessed many stalls set up by local people making different kind of dishes and delicacies. We got to know that this was done during Ramadan month. My husband and his friend were excited to be finally able to taste authentic home cooked Malaysian meal. I being a vegetarian just enjoyed absorbing the atmosphere and enthusiasm of the place. Foodies will know that food is even tasted with the eyes, so I did have a great experience seeing the preparation and presentation of the food.
The Cameroon Highlands has many attractions like tea gardens and strawberry farms. But we skipped them all and decided to trek on one of the numerous trails passing through different parts of the area. We did the trek on trail no 10 and as I was not in a great shape, it was difficult for me at first but I thoroughly enjoyed walking in the jungles and taking in pure air. Without having to look after me they would have done the trek much faster but because of me it took more time. We completed the trek and went back to main town and had a good cup of coffee at Starbucks and freshened ourselves at the hotel. After a short naptime we were all ready to explore the local food stalls again.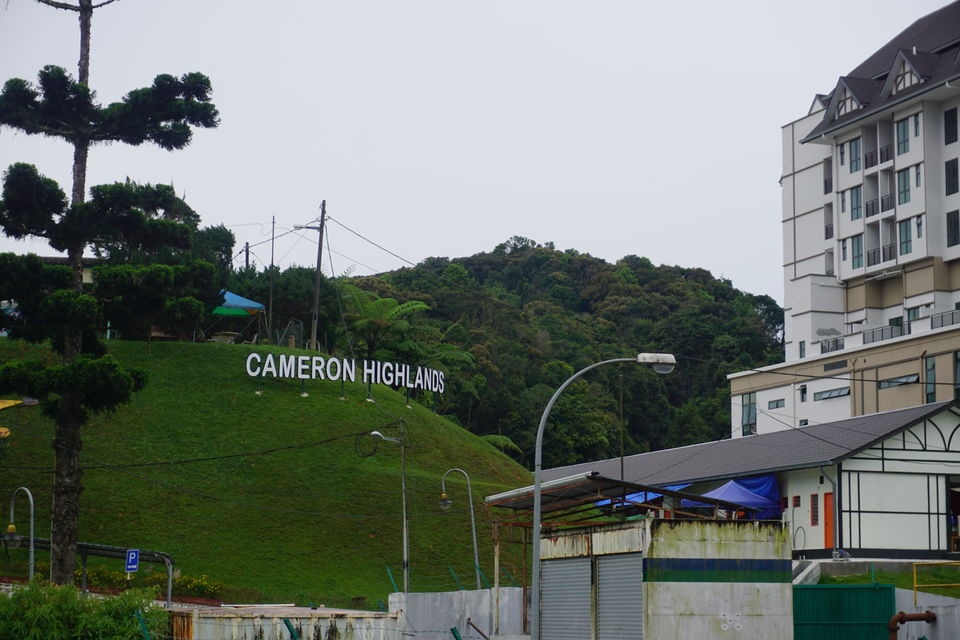 Cameroon Highlands
Penang
Next morning we took a bus from Cameroon Highlands to Penang. This was again a 3 hour journey. We started early morning at 7:30 am and reached Penang by noon. Penang is a very interesting place and this state has two parts; one is the Island part where its capital George Town in located and the second part is in the Peninsular Malaysia. There is a beautiful and eye-catching bridge connecting these two parts of Penang together.
We had our accommodation booked at East Indies Mansion in George Town. The historical core of George Town has been inscribed as a UNESCO World Heritage Site since 2008 due its unique architectural and cultural townscape without any parallel in the East and Southeast Asia. George Town has the largest number of pre-war buildings and hence considered an architectural gem. Another interesting part is that George Town was established an tansshipment port by Francis Light of British East India Company in 1786 making this the first British settlement in Southeast Asia.
The East Indies Mansion also has a story to tell of the Chinese merchants who built it to the various other people who owned it later and how it was saved from being destroyed. The mansion now has rooms for guests and all modern facilities while still giving the guests a feel of the past. George Town is best explored on foot as you can enjoy the sights of buildings. You will also find intersting art work on the streets and the best one is a wall painting of two children on a cycle. The best part is that I have a friend who lives in Penang and he was with us for the duration of stay in Penanag. Looking at Penang through his perspective made me appreciate the place much more and I also realized that Penang has so much to offer that this one visit won't be enough.
We kept walking on the streets of George Town following my friend wherever he was taking us. We passed through different buildings, party places, Armenian street, Little India, the beach street and honestly after some time I lost track of where we were going and just followed him. I saw this place as a kaleidoscope. There were mosques, Chinese temples, Hindu temples, street arts, illustrations and the street felt alive. And finally we reached the best part; The Tan Jetty. This was the most interesting part of the day. There were seven jetties but one was destroyed in a fire and now just six remain. These six jetties are named after the Chinese Clan that occupies it. So the Tan Jetty is occupied by the Tan Clan. These jetties are like water villages where the residents have built water houses. We went there in the night and it was dark and got a beautiful view of city lights.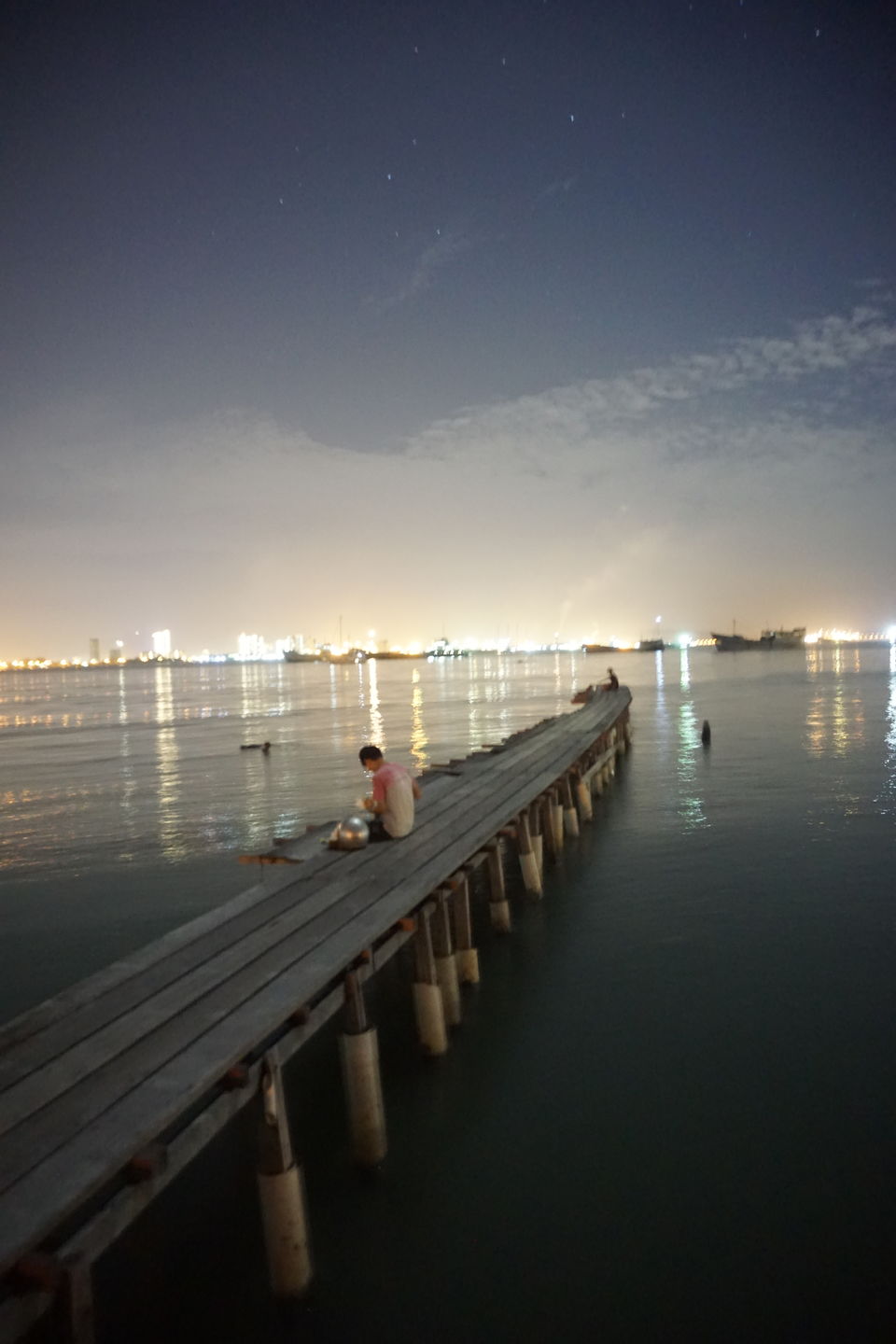 Tan jetty
The next day we went to Penang National Park where we trekked till the Monkey beach. This was an interesting well trailed trek with numerous occasions of watching wildlife. We saw many monitor lizards swimming in the sea and even a dusky leaf monkey. It was the cutest thing I have seen. This trek took 1 hour and at the end we reached a beach with lots of monkeys around and hence the name Monkey beach. We spent time there in the sea and headed back again the same way.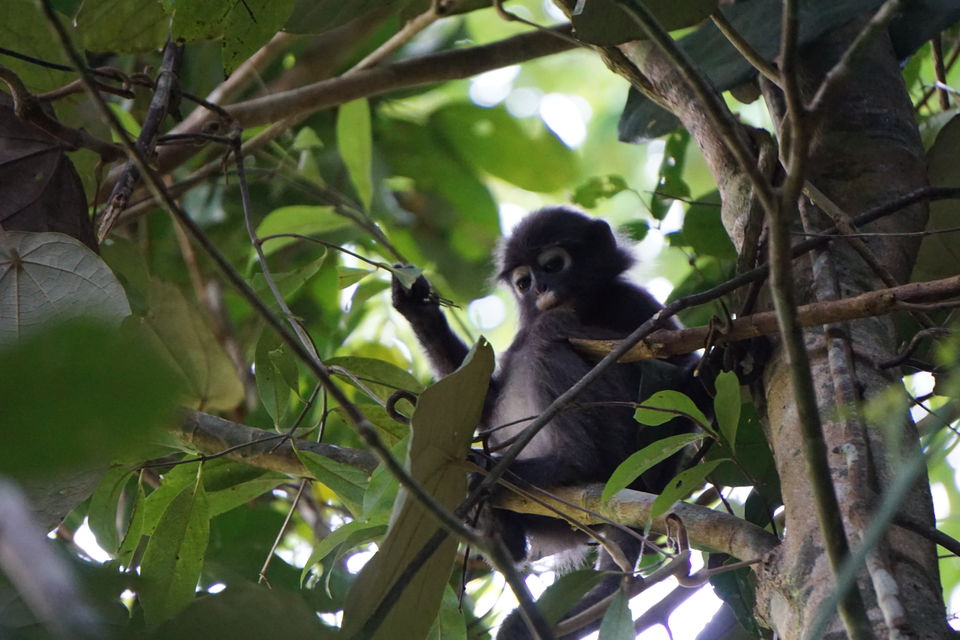 Dusky leaf monkey
Evening we spent walking around streets of George Town and had food in Little India. Little India is mostly settlement of Tamilians and provides a huge contrast to its surrounding streets. One moment you are is a Chinese street and the other moment you feel like you are in South India. This was a relief for me as I could finally get some flavors of my own country and satisfied my taste buds which were getting restless day by day.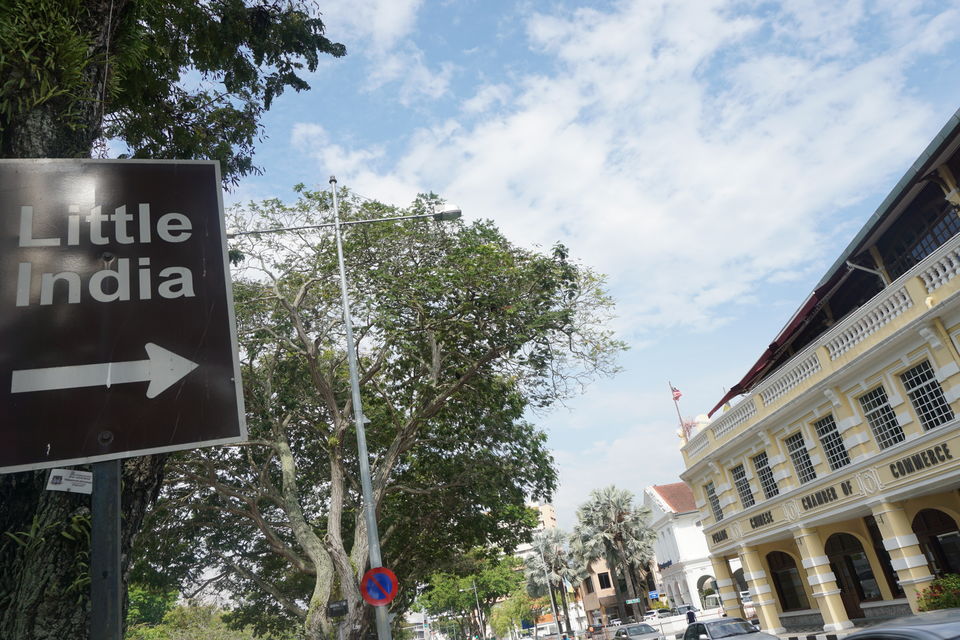 Sign showing 'Little India'
There was just one more day left to enjoy this city and we went to Batu Firrangi beach to spend the day till evening. Penang has a lot more attractions like Penang hill and more treks in Penang National Park. Langkawi is 3 hours by ferry and again a very beautiful island full of beaches and waterfalls. Unfortunaly my holiday was over and all this had to wait till next time.
In the evening I took a cab to the Penang Airport and met an interesting Uber Driver. She was a young and cheerful girl and we chatted all the way. She told about the food they make in Ramzan, how they live and how she earns by driving. It was interesting to talk to her and a girl driving a taxi is a good indicator of safety in the country. I really felt good to have met her.
My husband and his friend continued their stay while I came back to India with a heavy heart. I look forward to go back again to this country and explore more.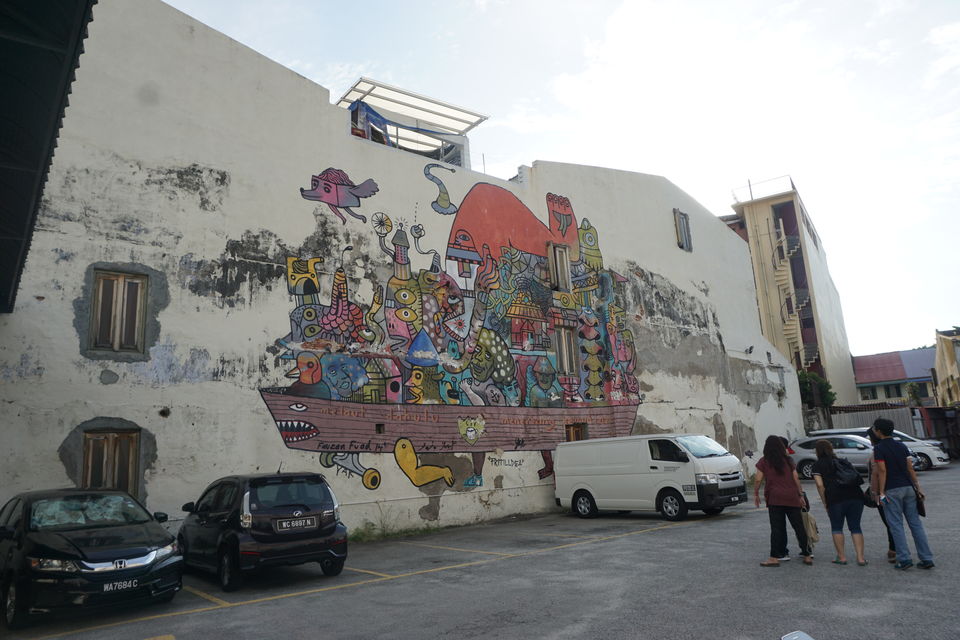 Wall paintings @ George Town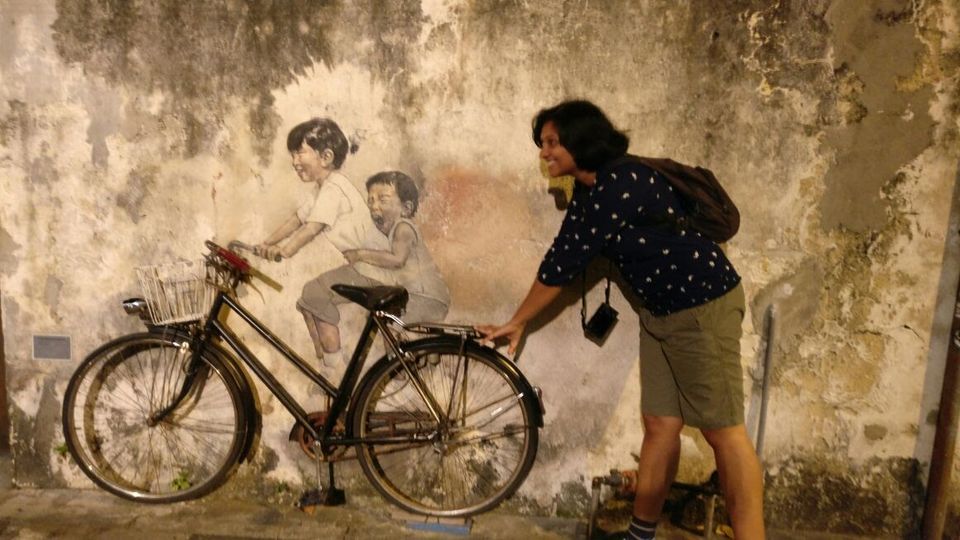 The most famous wall painting of George Town