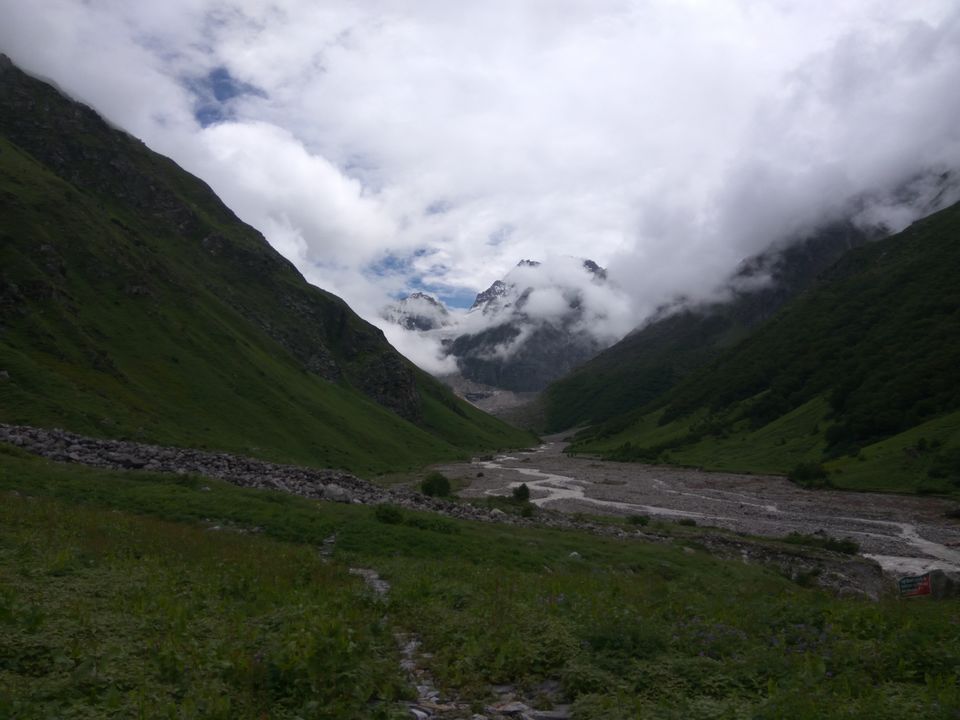 After completing few Solo treks to some pristine landscapes of Maharashtra. It was time for me to head to Himalayas.
To be honest, I am not an expert trekker but an experienced one.
My adoration towards Chhatrapati Shivaji Maharaj lead me to many of his fortifications on top of Sahyadri Mountain ranges.
These treks in the Sahyadris is well marked and somewhat doable alone.
I have written couple of articles on them which were done solo. They are available on Tripoto, I hope you read them also.
To name a few - Prabhalmachi, Peb Vikatgad, Sinhagad, Raigad, Sarasgad, Sagargad, Sudhagad, Rajgad, Torna, Raireshwar, Kenjalgad, Visapurdurg, Lohgad, Tikona Peth, Tungi and many others were trekked solo. These are fort treks.
Now-a-days, you even find motorable roads constructed till the foot hills of some of these forts. So it has become easy.
However, trekking is challenging when done solo. As the terrain is unpredictable. Nonetheless, it is something I truly enjoy.
I do not intent to showcase myself as an adventure junkie. However, solo trekking happened out of no choice. It was due to my routine work life where I couldn't get work offs on week end like my friends. So I started going on treks on my own. Later, I developed a habit for it. Importantly, I chose treks, post adequate research.
As I always said, Maharashtra offers everything except one thing - ie. Snow. So this weather condition I always missed during my treks.
Whenever I saw any picture of snow clad mountain, it raised my bar of curiosity. And I was pulled more towards them. For couple of years, I was planning to go on a Himalayan trek.
I knew none of my friends would agree to do treks. My friends are those touristy types who will go to Solang or Shimla and click 100 picture with their selfie sticks and are satisfied for life.
"Their yearly quota for Instagram is collected"
So these treks I thought of doing with a trekking groups. "Friends can be made anywhere". I was planning to contact an agency and go somewhere in the month of August.
I sent an email requesting for a week's leave in the month of August. To my surprise, my manager immediately approved it and asked me to leave Mumbai as soon as possible. As per forecasting at work, August, September and October were to be hectic.
I was in a state of fix, I was thinking about going to an exotic location such as Goa. But then it just struck me and my desire to go to Himalaya came to my mind.
Without any research, I packed my bags and booked a 3AC seat in LTT-Haridwar Express.
LTT-Haridwar AC Super Fast Express departs from Lokmanya Tilak Terminus (Kurla Terminus) from Mumbai every Monday and Thursday.
On 05th July, Thursday, I left home. The train was late but it was clean.
I was excited and my excitement grew with the passing of every station. The train was moderately crowded, so I could roam inside the compartment and enjoy the view standing near the doors. I was careful while standing near doors. There was also a seat near the doors fixed for the train's staff. So I sat there most of the time and stood near the doors whenever I felt like stretching my legs.
After some 28 hours, the train arrived at Haridwar in the afternoon. I had visited Haridwar and Rishikesh multiple times in the past. So I got into a bus going to Rishikesh quickly without wasting any time. At Rishikesh, I went around the bus stand inquiring about the options to reach Badrinath.
I had to reach Govindghat which falls 20 kms before Badrinath on the Badrinath - Mana highway.
I think, I should share the route in the simplest form for you to understand. Here it is.
- Rishikesh >> Govindghat >> Govinddham >> Hemkunt Sahib & Valley of Flowers.
While running around buses and behind conductors & drivers, one fellow driver helped me with the cost of the ticket.
Buses towards Kedarnath & Badrinath do not ply after 12:00 PM due to dangerous curvy roads. They leave Rishikesh early morning to cover the entire distance during the daytime. It left me with no option but to wait till next morning. This means, spending some Rs.500 on room.
But, then I remember that there is a Gurudwara in Rishikesh.
It has been built by a Trust which goes by the name "Shri Hemkunt Sahib Trust." I was fortunate to eat at the Guru da Langar at this Gurudwara every time I visited Rishikesh. But, never got the hint that it was built for Hemkunt Sahib.
I got the registration done at the Gurudwara. I was handed a pillow, a bedsheet and a place on the ground inside a dormitory.
I had my lunch and dinner at the Langar and got my name registered for early morning bus towards Govindghat. The bus service is right next to the Gurudwara.
What the bus service do is that they write your name one day before the bus departure and call you early morning to allocate the bus, based on occupancy. I was alone so I knew I would be thrown in any of them.
I woke up at around 03:30 AM got all freshen up. I was shocked to see a massive crowd of Sikh pilgrims gathered surrounding the manager of the buses. I did not move a muscle, just sat in a corner. I knew this will take time. By 05:30 I was given a bus number and I was the last one to get in. The driver put his foot on the gas at 06:00 AM with the sounds of "Bole So Nihaal" Sat Sri Akaal.
Sache Patshah - This is the kind of start I needed.
What a bumpy adrenaline ride it was till Govindghat.
The bus was stopped at Langars on the roads for refreshment.
I did not spend a penny on food during this Journey. Everything was free for us.
We reached Govindghat Gurudwara at around 09:00 PM in the night. The road further is tough and needs energy.
It is from here that the trek in real starts. Procedure remains the same just like the one done at Gurudwara in Rishikesh. You register, get a bedsheet and a bed allocated. The food is available at the Langar. Hence, no money spent here as well.
I had set the alarm to go off at 03:00 AM. By 03:30 AM I was ready to start the trek. However, the share car only ply starting from 04:00 AM. Yes, there is a share cab facility available which will cover first 04 KM. I did not wait for the cab. I left the Gurudwara shouting Bole So Nihaal and rest shouted Sat Sri Akaal.
(You cannot reach Valley of Flowers or Shri Hemkunt Sahib in one day. From Govindghat, one has to stop at a hamlet by the name Govind Dham. There are hotels available at Govind Dham and also a Gurudwara.)
As the darkness faded, my eyes caught the sight of a snow clad mountain tip far away. That sight encouraged me to keep walking. Midway, my body had used up all the water running inside me. I was lucky that there was waters and people available on the way.
The trek which I had started early morning at 04:00 AM, ended after 06 hours. It took more than 06 hours for me to reach Govind Dham. The route was very well marked.
The milestone showed 7 KM to Govind dham which kept me going. However, the 07 KM felt like 70 kilometers. You will find lots of refreshments on the way. You just need to follow the "Pushpavati" river to reach Govind Dham.
It was my first taste of a Himalayan trek and My Lord it was tiring as hell. It was not easy and I was dragging myself to reach Govind Dham.
I learnt my lesson that day which was to work more towards my fitness. Also managing food and water.
This was some of the picture I took on the way.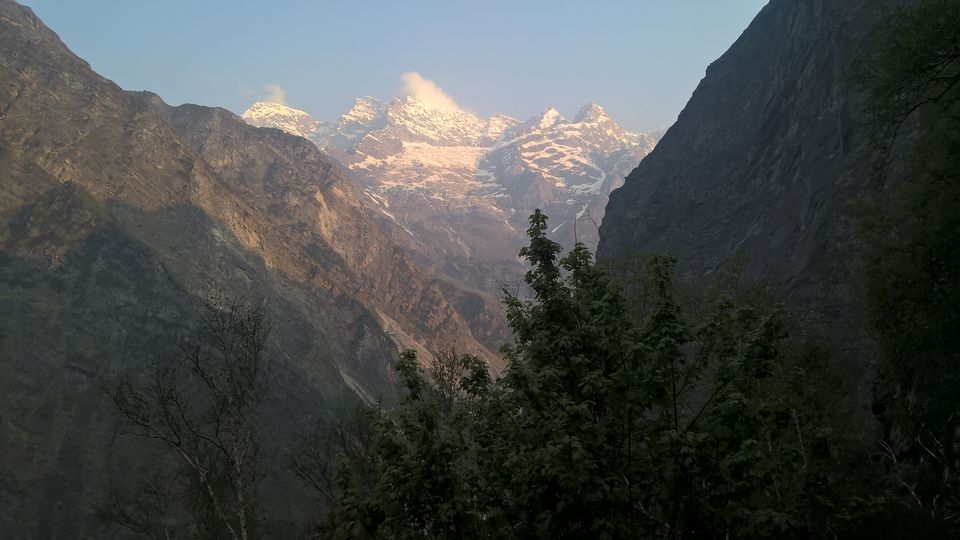 I did some roaming around at Govind Dham. Spoke to the locals and some security personnel. The security personnel guided me with the route to Valley of Flowers and the cost of the entry fees. I got a little hint of the way further through the mountains.
The next day I decided to go to Hemkunt Sahib Gurudwara and kept the second day for Valley of Flowers.
I cannot explain how I reached Hemkunt Sarovar. Only my feet knows well. However, all the fatigue, fear and exhaustion left me once I took a dip in the Hemkunt Sarovar.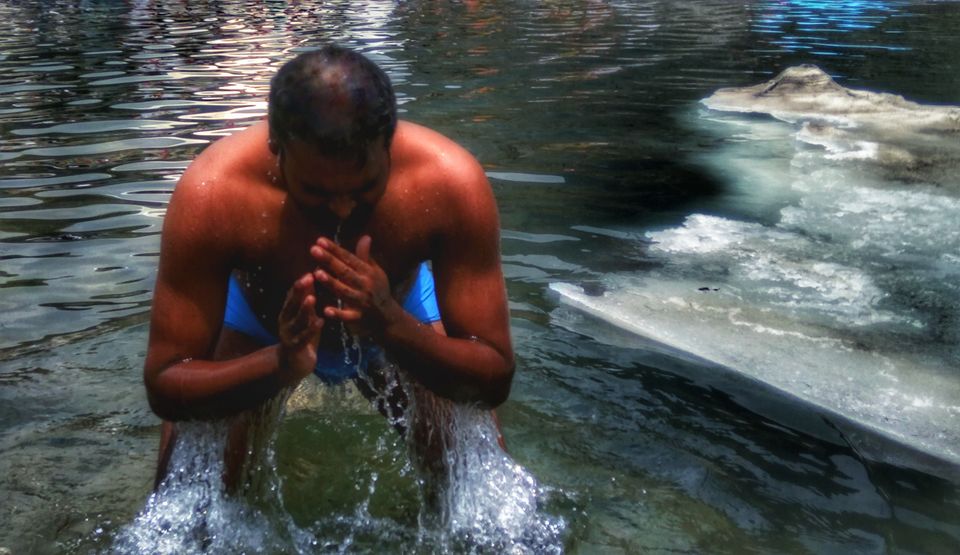 This Sarovar is the source of the river Lakshman Ganga. There is also a temple dedicated to Lakshman (Brother of Lord Ram)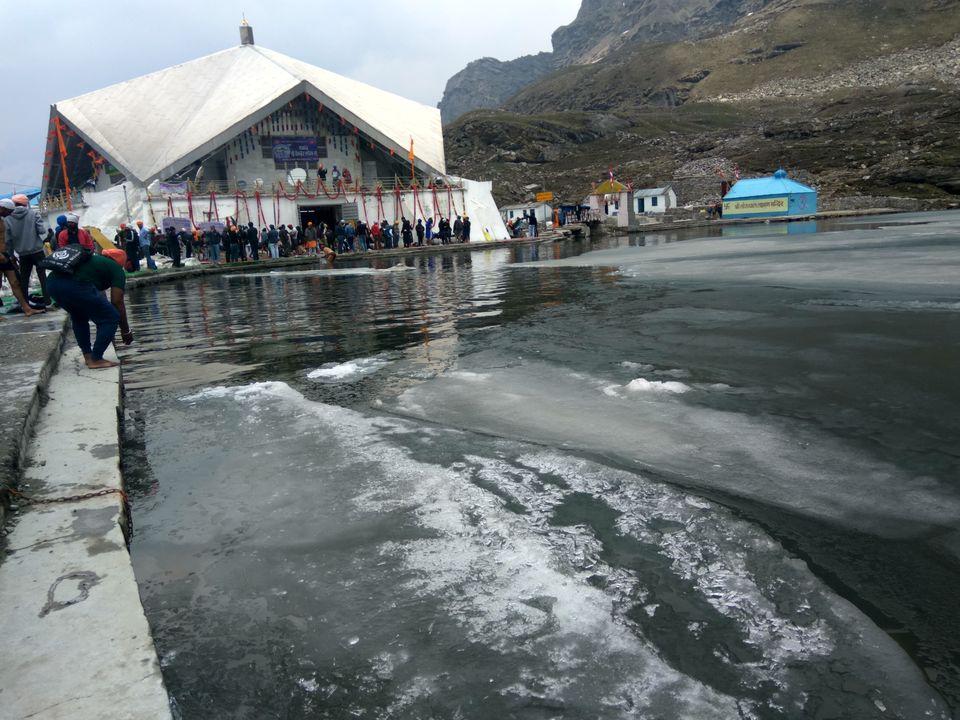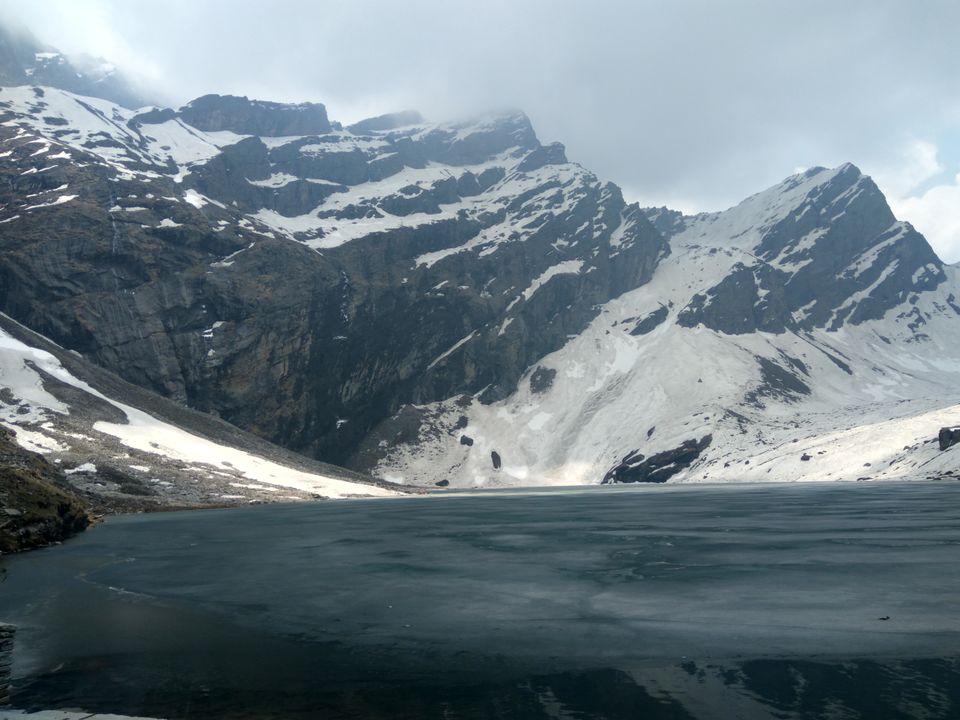 The last Ardas at the Gurudwara is sung at 02:30 PM. After this, every pilgrim need to vacate the area. The weather turns aggressive after 02:30 PM and I witnessed it. I waited till the last and saw the change in the weather, suddenly it started to snow along with rains.
The Trust has hoisted Seven "Nishaan Sahib" on the mountains near the Gurudwara.
("Nishaan Sahib" is an integral part of Sikhism. It is also revered like the Gurus in Sikhism. I could see 6 "Nishaan Sahib". The seventh one was not visible. I waited for the clouds to clear but it got more thick as time passed. May be next time, if I am lucky then.)
The descending part I did like a snail. There was no need for me to hurry to reach the bottom.
The next day, I started my trek to the Valley of Flowers at the same time, around 04:00 AM.
I was the only one to reach the security outpost. The security asked to wait for some time, as it was raining heavily. They also learnt about a land slide in the area, so they were reluctant to allow me to venture alone.
I waited for some half an hour then requested them to allow me to go further. By that time, a group of four had also arrived there. One of them agreed and he convinced the other personnel also.
So my trek to the Valley started with thunder sounds and rain.
The Valley of Flowers is situation behind these Mountains.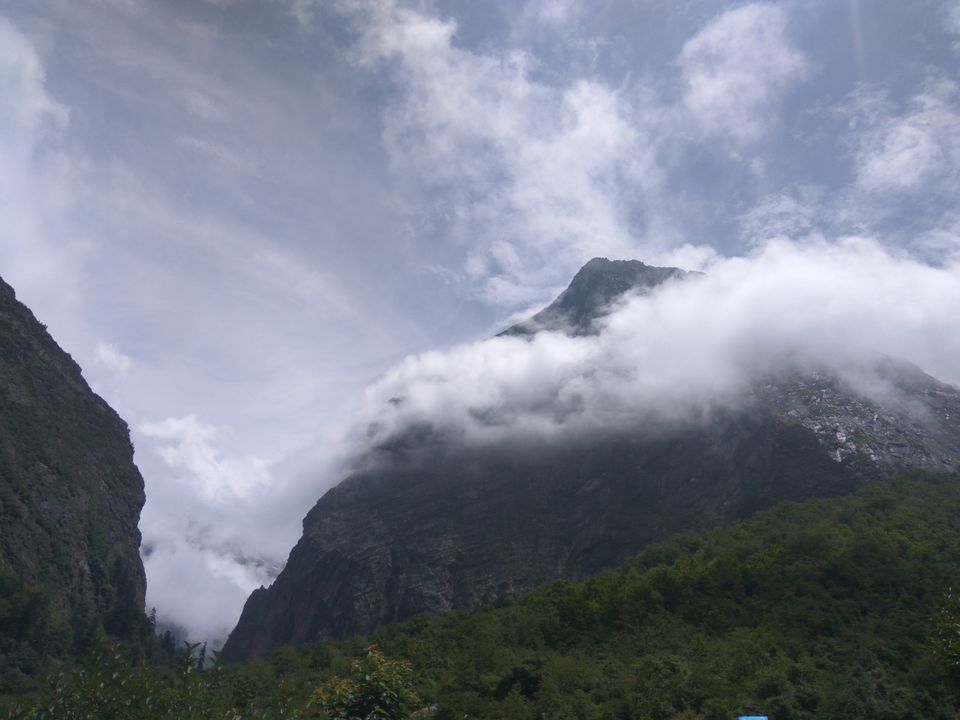 I was told to be careful while crossing the river. I came across n number of crossing on the way. The first one was bit dangerous as the bridge was made out of wooden logs and a steel roofing sheet which was loosely kept.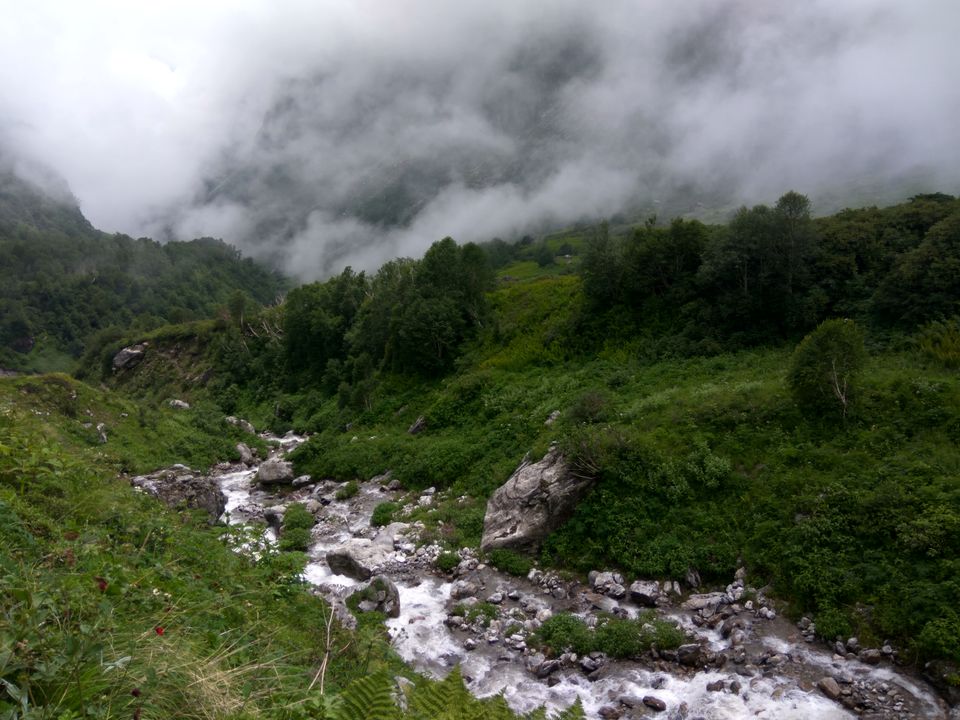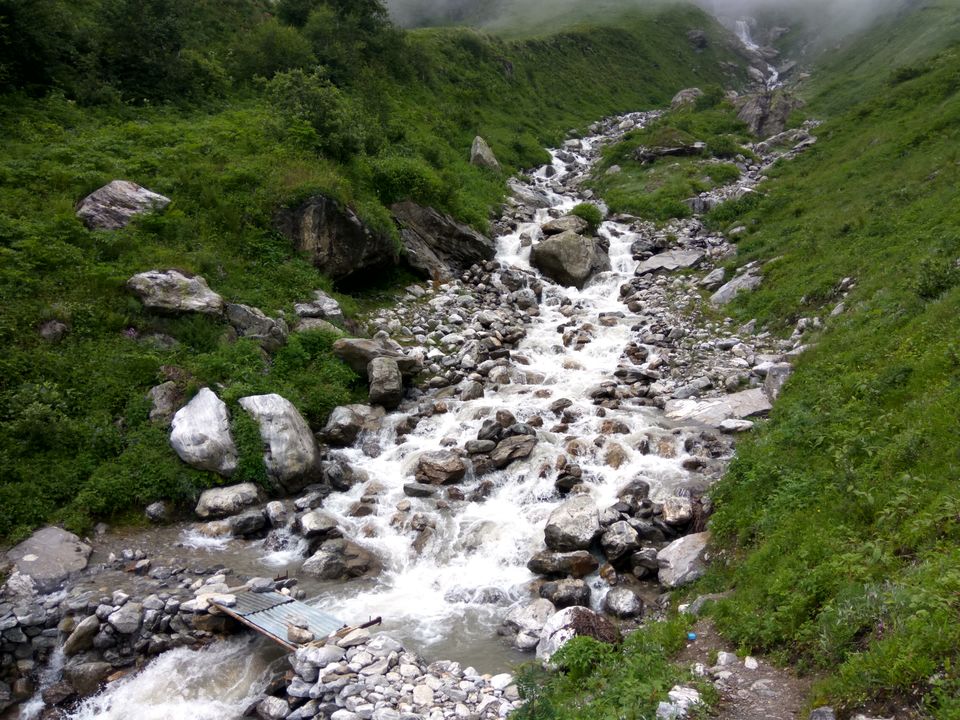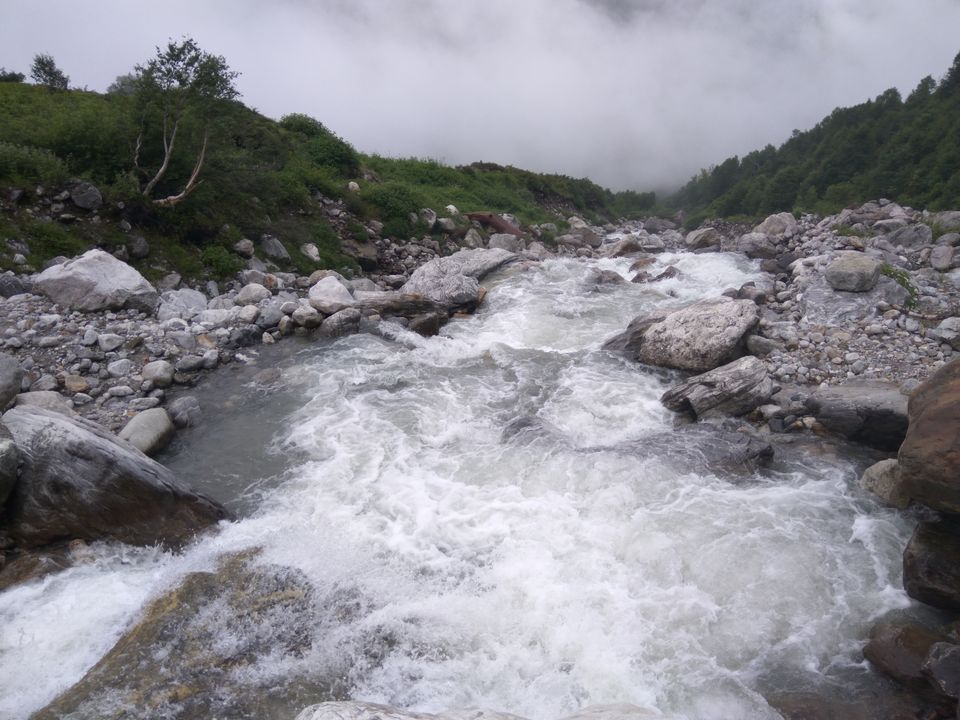 The army has carved a new trail which is bit elevated and runs corresponding to the river "Pushpavati"
You need to follow the path made carefully with markings and signs.
The trek is enduring. But, the view it offers is out of the world. Whenever the cloud cleared it felt like the doors to heaven are opening.
I went upto the river bed - the last point of this trek. After this point you are not allowed to proceed. Also you can be here till 02:30 PM, after that Bear and some other wild animals make their home as per the security officials.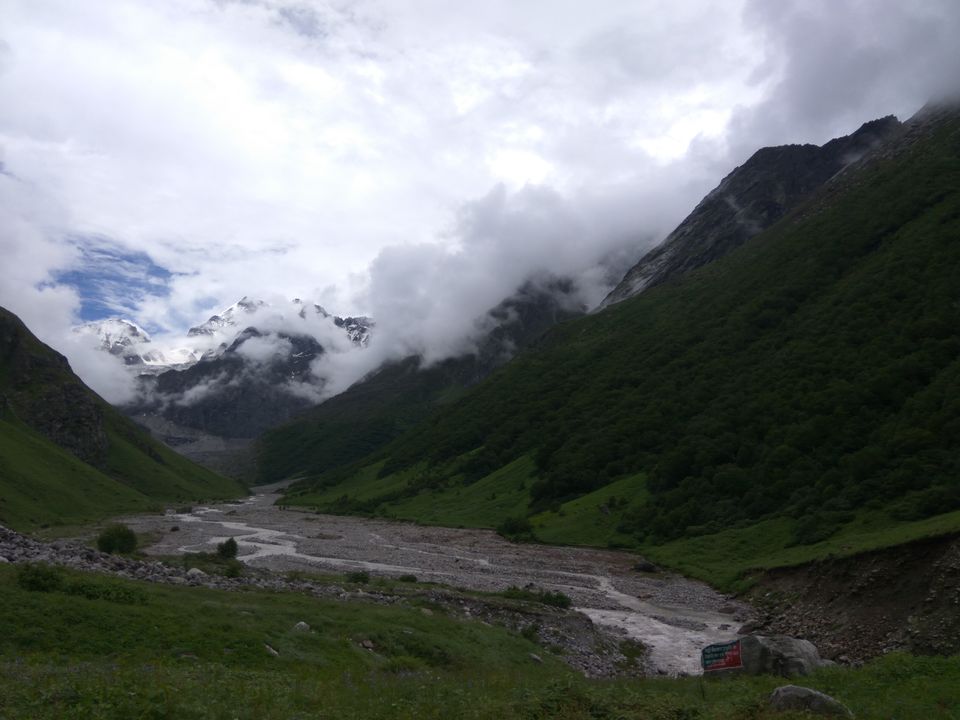 In the above picture, the snow clad peak is the source of this river Pushpavati.
Isn't this Beautiful. I was surprised and overwhelmed looking at this peak. It was the first time, I saw such a landscape in my life.
I was impressed by the nature's art work. I felt rewarded by it.
And Sitting near the river was a trophy - the icing on the cake. It was a fan moment for me and I was getting goosebumps. Every follicle of hair on my body was up in arms.
The vibes of this place was healing. I could feel the calmness inside me and suddenly every thing became so quiet. The feeling of being mindful found me finally after so many years. I removed my shoes and walked on the grass. Washed my feet with the cold flowing water, it took away all my weariness.
While on the way, I met lots of folks who were clicking pictures, taking selfies & eating snacks. Everybody was tired but happy.
I was happy and contented to go till the last point. I was happy with myself for bringing myself to this place.
I congratulated myself. And on this note I'd like to end this article.
I would like to share some pictures of the flowers I took on the way.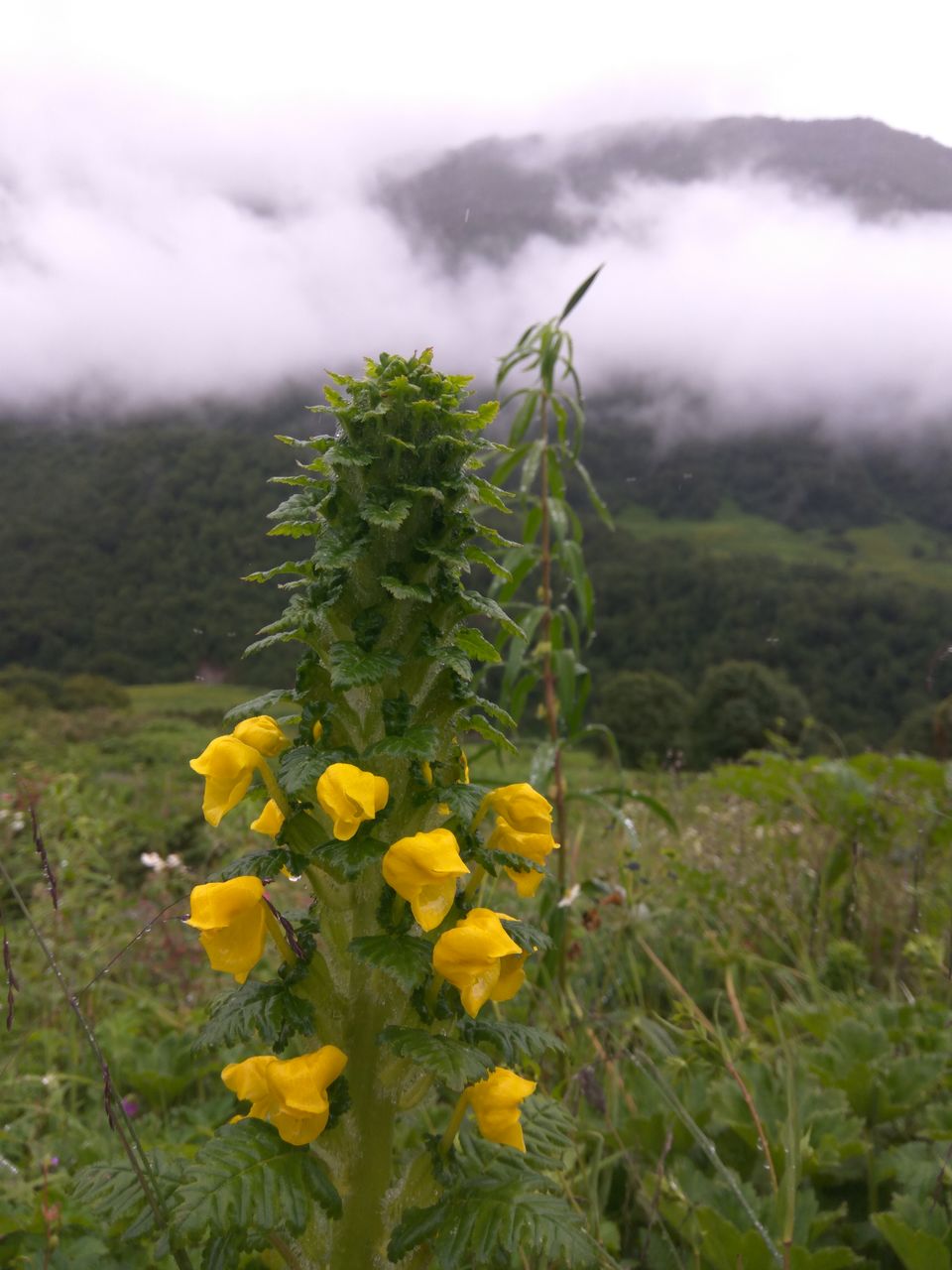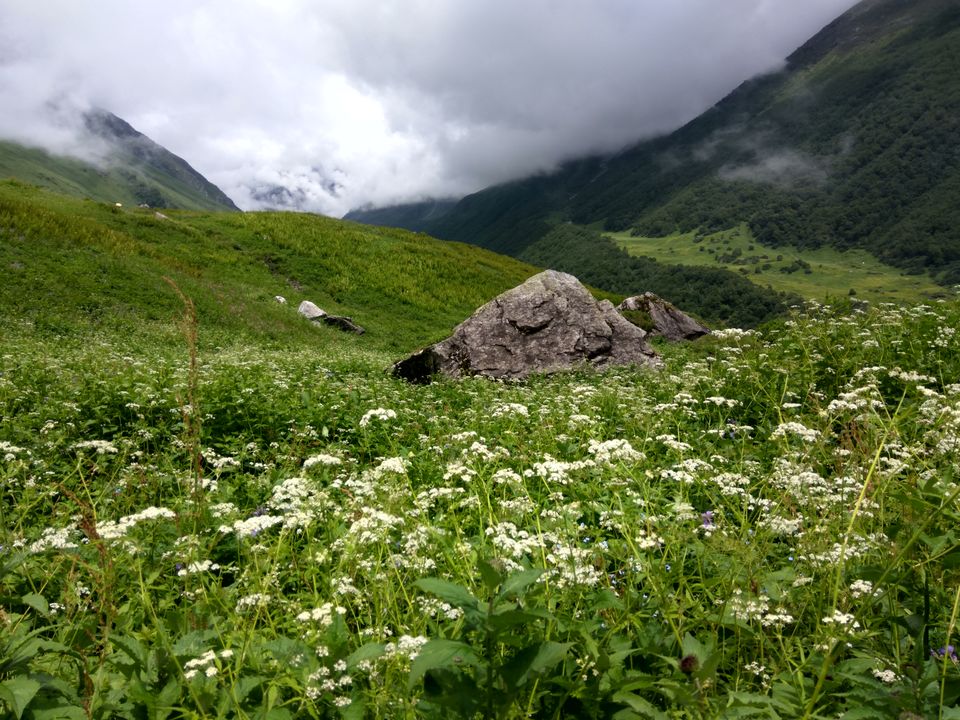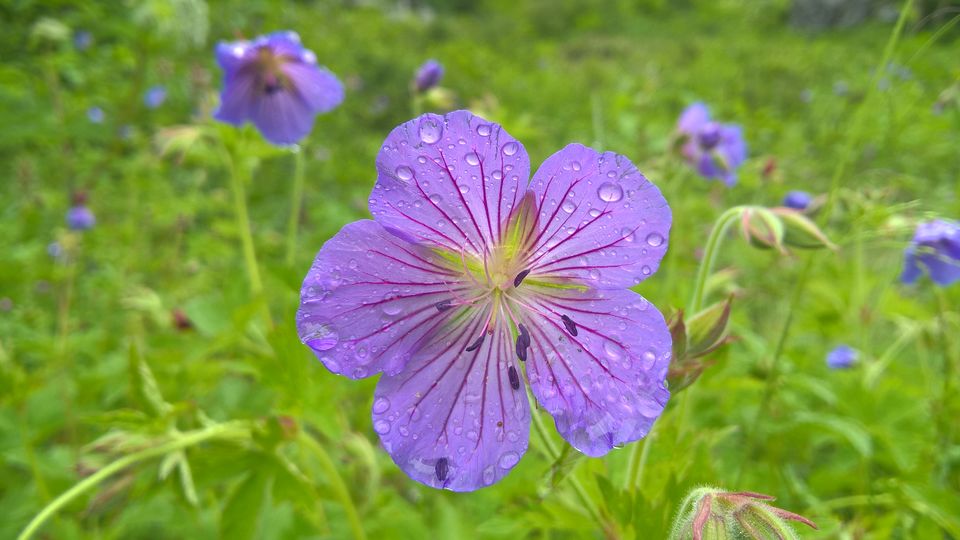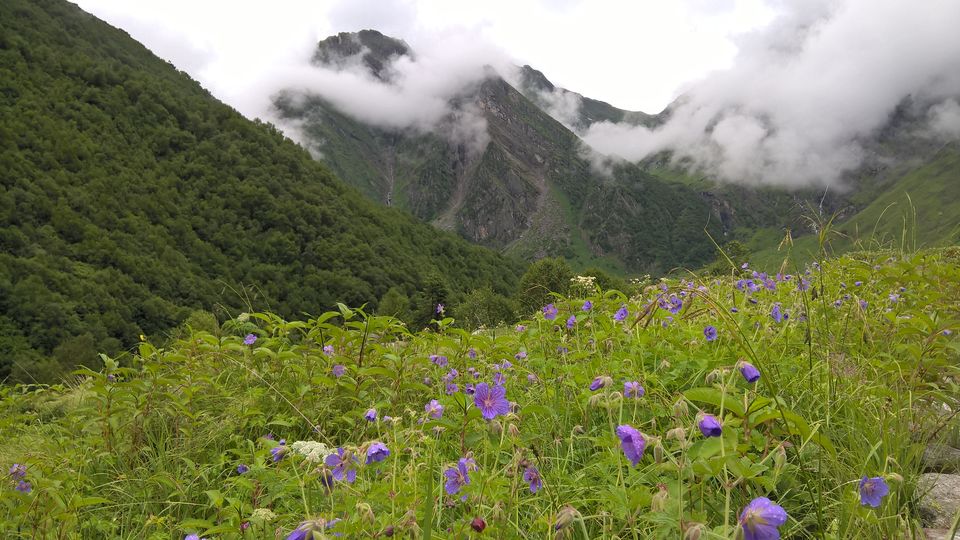 I hope you enjoy reading this article.
Keep Following for more stories.
Till then. Good Bye. Keep Travelling.
Regards,
Bonny
oldschoolindian