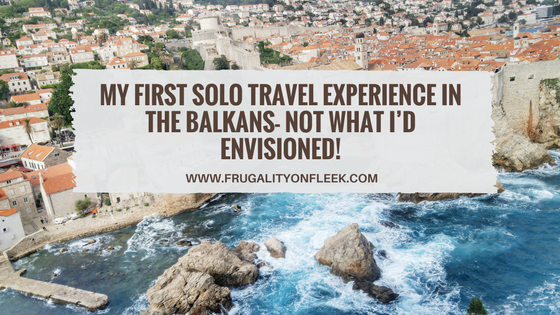 I was scared. I was more scared than excited- that's what I felt when I was a few days away from my flight to the Balkans. What was I thinking when I made this itinerary? A lot of people would rather go to the City of Love, Paris.. or London.. or Maldives.. Whatever popular countries that I forgot to mention. But I did not choose those countries. I chose to travel around the Balkan Countries. I was even told by my Austrian friend in Dubai that I would get kidnapped in one of the Balkan countries and they would sell my kidneys. And no! That didn't happen. Lol
This trip was the best decision I've ever made in my 25 years of existence. And I have to share it with you.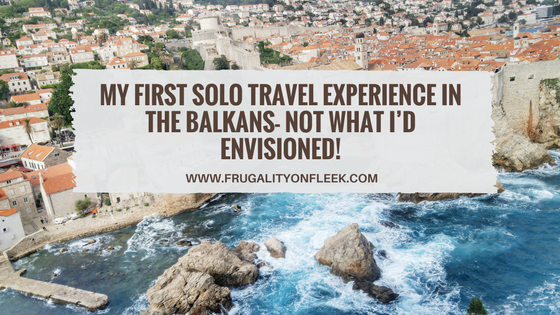 MY DECISION TO TRAVEL ALONE
Back when I was still living in Davao City (Philippines), I thought that I was so adventurous, outgoing and I really thought I had the best time of my life. When I moved to Dubai for work, I just realized how boring my life was and everyone around me would try things that were out of their comfort zone- such as travelling alone. I was living in a safe zone for 25 years.
I have a roommate and her name is Hannah Magsayo. Does her name ring a bell? She's a famous blogger in Dubai and I'm a huge fan! Lol. I asked her why she keeps on travelling alone. I mean, who would do that? Is it even safe to travel alone? What if you get lost or someone might kill you or God what. She told me, "It's fun to travel alone. You meet a lot of people and you will learn a lot". I still didn't understand her. One day, my cousin messaged me on WhatsApp that our Amsterdam and Italy trip would be cancelled because they couldn't go.
My vacation leave request had already been approved. The question is, who's going to come with me??? No one is available. But I really want to take this opportunity to have a fun vacation. I want to go somewhere really badly. I want to get away from work, from Dubai, from stress. And I decided to travel alone. But the question is, where??
MY DECISION TO TRAVEL IN THE BALKANS
I agreed to a Croatia trip 2 years before but wasn't able to go because of an evil person who wanted to stop me from being happy. Lol. Well, I already erased her in my life so let's move on to the story. Croatia never happened so I wanted to try my luck one more time.
The challenge for me is my weak passport. Philippines doesn't really have a strong passport and we can only travel to 61 countries visa free. And the thing is, I don't want to travel just in Croatia. The nearby countries are interesting too. So, I just researched and found a solution. So my research tells me that if I have a Schengen Multiple Entry Visa, I can travel to Croatia and other Balkan countries visa free. So I processed my Schengen Multiple Entry visa through VFS Global and in less than 2 weeks,I received my visa. Hooray!
THE BALKANS ITINERARY
I decided to tour on four (4) different Balkan countries. Starting from Slovenia as my point of entry in the Schengen Zone, down to Croatia, Montenegro and in Bosnia and Herzegovina. My itinerary was 9 pages. However, it didn't go exactly as planned. I wasn't able to visit some places like Plitvice Lakes National Park, Zagreb, Hvar Island and Banja Luka. Well I can just go back next time.
These countries might sound weird to you. She should have went to Paris- that's what you're saying right now in your head huh? Lol.
But trust me, it's worth it!
Further reading: 20 days in the Balkans: The Ultimate Itinerary
MY ADVENTURE
I don't know where to start but I'll give you a list of my adventures during my trip. These are experiences that I've never done in the past, and yet I experienced it all in just one vacation.
Couchsurfing is a social site to help budget travelers and backpackers to meet potential hosts in different countries. You can stay with your host for free of cost and if you're lucky like me, they can be your personal tour guide too. It's not just about staying in a place for free but also to exchange culture and travel experiences with your host.
I couch surfed four (4) times during my trip. I didn't really plan on couch surfing for the rest of my trip. I have hostel bookings that I booked in booking.com but it has free cancellation so I just cancelled it when I decided to couch surfed on some places.
Gasper took a week off and decided to travel with me in Slovenia. He has a car so it was easier for us to travel to different places in Slovenia. He was nice enough to prepare breakfast for me every morning. I even met his friends and we had a road trip to Istria. I had so much fun with him and his friends. Thank you so much Gasper and to your friends! Slovenia will always have a special place in my heart.
Jurko was like a big brother to me. Jurko was a sailor and during our tour around Split, his employer called him and instructed him to transfer a boat from Trogir Port to Dubrovnik. He told me, "Lissy, I'm sorry I can't tour you during your stay in Split. I need to transfer a boat from Trogir to Dubrovnik. If you want to come, you can join me." And guess what? I said "YES!". Haha.. So it took me only a day to visit the tourist spots in Split then we head to Trogir Port with his friend who is also a sailor. I thought it was just a small boat but when we got there, I was shocked because it wasn't just a boat. It was a yacht. A four (4) bedroom yacht with restrooms per bedroom. I just whispered, "Lord, what have I done to deserve this blessing?" haha. Thanks for an incredible experience Jurko!
Davor and Matea are a lovely couple! Matea shared with me her experience during the war. I learned a lot about the breakup of Yugoslavia because of her. We enjoyed drinking orange juice together while sharing stories about her country and also she was curious about my life in Dubai and Philippines. Matea also suggested that I should visit Kravice Falls. It wasn't in my itinerary but got a chance to visit it and she is right, it's really beautiful. Davor was very friendly and he showed me how to reach the places in my itinerary. I was supposed to stay at their place for one night but I end up staying for 3 nights. Thank you Davor and Matea for your hospitality!
Zeljko is very talkative which is a good thing because I also talk a lot too. Haha. He was very entertaining and very knowledgeable about the history of Yugoslavia and Bosnia-Serbia war. He was about 11 or 12 years old during the war and I could really feel the hardships that they have undergone during the war. No need to book a tour guide because Zeljko knows everything! He showed me the most important places in Sarajevo. I was in awe when I heard his personal experience during the war. I was never interested in other country's war history but I became interested when I heard about what happened in Bosnia and Herzegovina. Thank you Zeljko for an educational tour! It opened my mind and heart to history.
I was born in a city, raised in a city, live in a big city. I just want to experience and enjoy nature. I just want to see green trees, green grass, and mountains, breathe fresh air, smell the sea and listen to the waves. And I'm happy to experience all of these during my travel. I was relaxed and had peace of mind for 3 weeks. Then I went back home and peace of mind was gone. lol
Kayaking at Most na Soči
Hiking at Triglav National Park
Went to Lakes
Beachin'
Went to Kravice Waterfalls
I was always converting Euros to Dirhams, Kunas to dirhams, and Mark to dirhams just to compare. The food in the Balkans are incredibly cheap. So don't worry about getting broke because food there is really affordable especially in Bosnia and Herzegovina. Fresh fruits, fresh vegetables, fresh seafood and fresh meat are available anywhere. But my most favorite are home-made meals that are prepared by locals. Heaven!
I think I drank more alcohol than water during my entire trip. Haha. Beer and wine are so cheap! I just had to drink sorry. Haha. I tried different beers and different wines. I never said NO to alcohol during my trip. I'm not an alcoholic or what but it's just that it's very expensive in Dubai and we cannot enjoy drinking from morning till night without getting broke. Please don't judge me. haha
VISITING UNESCO WORLD HERITAGE SITES
Visiting natural and cultural heritage sites excites me! It never cease to amaze me that these UNESCO World Heritage sites has been there for ages. I'm so happy that they preserved and protected it and let the present and future generation experience the beauty of it.
Pula Arena
Diocletian's Palace
Old Town Dubrovnik
Stari Most
6. LEARNING A NEW LANGUAGE
I learned how to introduce myself in Slovenian language. Actually, South-Slavic language was primarily used in the places that I've been to. If I introduce myself or greet someone using Slovenian language in Bosnia, they can understand me. Their words are similar but may differ sometimes. It took me a few days to master my introduction! Haha. I'm so bad at memorizing plus I still have a weird accent. I can't copy their accent. Nevertheless, they said it's still cute.
Jurko the Croatian host that I met in Split took me on a yacht to Dubrovnik. I've never been on a yacht. So imagine my expression when he told me that the boat that he is referring to is not just a normal boat but a yacht. My brain and heart was screaming with joy! And guess what? It's free!! It's a four (4) bedroom yacht with restrooms inside. There's also a dining area, kitchen and a wide deck. We sailed from 6 pm till 11 am the next day. We passed by Islands like Hvar and Brac. I wanted to go to these islands but they told me not to because there's nothing going on there on the month of May. They said I should go during summer- July or August. The water is still cold too- 12 degrees or less? Haha. We were drinking on the deck and cooked dinner in the yacht. Actually, they cooked for me. Haha. They also taught me how to use the navigator and they let me sail the yacht. Cool right?
I'm not really a fan of Game of Thrones to be honest. I didn't even finish watching Season 1. I don't even know the name of the characters. I'm so sorry. Please don't judge me again. Haha. So I checked the GOT film locations online and found a blog post in Bored Panda wherein they tried to find all Game of thrones film location. Unfortunately, I wasn't able to visit all film locations in Croatia. I'm still glad I read their blog though as it helped me find the film locations from Game of Thrones in Dubrovnik. There are scene locations also in Split in the Diocletian's Palace but most of the locations are in Old Town Dubrovnik.
Red Keep In Lovrijenac Fortress
Outside the Walls of Dubrovnik Old Town
Kolorina Bay
Baroque's Staircase
King's Landing
Being a solo traveler has its advantages and disadvantages. Disadvantages would be getting hit on by a guy twice your age because I was sitting alone near the beach enjoying the view. Wtf. But I experienced more advantages than disadvantages during my trip. I met some solo travelers too and we formed a small group and we took photos together and explored the places. I remember waking up at 5:30 am because I have to meet them at 6:30 am just to have a photo shoot. Tip: Take photos early in the morning because there's no people roaming around. Haha
I met Greg in one of the social networking sites. I saw in his profile that he is in Dubrovnik for vacation. He sent me a message first and he invited me to their villa for a party. He said that they are nine (9) American guys and 2 Croatian girls in their villa. I politely declined his offer. The following day he invited me again but this time, he invited for an Island Hopping trip to the three Elaphite Islands near Dubrovnik. I was still hesitant in joining them because I don't know them. Then he suggested that we can have coffee first and if I think that he is a decent guy after we meet then I can decide whether I join them or not. We met at Art Café at 10:30 am to have coffee. He is with Miro,a Croatian guy who is so cool by the way. We chatted for some time and get to know each other. He explained that all nine of them are classmates in college and after college they started working to different places. Some are working in New York, some in Boston, some in Miami and some in London. They try to meet and have trips like this on an annual basis. He's educated and seems nice so I went with them.
When I was with them during the Island Hopping, It feels like I'm in a Hangover/ Grownups movie. Lol We drinking beer since we were in the van on our way to the port,at the boat and back to the villa until the evening. We danced at the boat and it was really an awesome boat party! When the guys rented the boat, they also rented two Jet Ski's. They wanted me to try riding the Jet Ski since I haven't tried it before. Awww.. So sweet you guys! They rented two Jet Ski's for 7 hours. I don't know how to ride it so Ted, one of the guys drove it and I was the passenger at the back. It was so fun! He was driving it very fast and I was just screaming whenever there was a big wave. I think I lost my voice afterwards. Haha. They really know how to throw a great party. I'm glad I went with them and didn't judge them without knowing them. Another lesson learned. When we got back in Dubrovnik, I thought we're going to split the costs for the boat rental but I was shocked because they already paid for it. Lucky me again!
Hitchhiking is not popular in Dubai and also in my city in Philippines. Maybe they do it in the provinces in Philippines but I haven't experienced it. This is very new to me and I'm scared to try it because it's not my country. Well it seems like it's popular in the Balkan countries and most countries in Europe.
First hitchhiking incident is when I was in Dubrovnik, I was pulling my luggage on one hand and was carrying a plastic bag on the other hand. I was struggling my way up to Pile Gate to get to the bus station because I'm leaving from Dubrovnik to Mostar. A delivery van stopped in front of me. The driver asked me where I was going and I said I was going to the bus terminal. He said it was along the way to his destination and he can drop me there. So I happily said yes. Yey for free ride! He asked me where I'm from because he can't guess it based on my physical features. I said I'm from Philippines. He was shocked and he told me it's his first time to meet a Filipino in Croatia. And because of the free ride, I arrived one hour earlier at the bus terminal. Thank you good person!
Another hitchhiking incident is that when I was in Sarajevo. I went down on a wrong bus stop. So stupid of me but I think that happens when you are traveling solo. Or is it just me? Tell me guys! Haha. I saw a car parked nearby. There's a guy inside talking over the phone. I let him finish his call and I gently knocked on the window of his car. I asked him if the airport is just nearby. He said its one mile from where we are. 1 mile?? My goodness! There's no single taxi passing in that street. So I asked him how long it will take to walk there. He said it would take me a long time and it was very sunny. I had a fever during that time and I think I'll die if I will walk for one mile. I was surprised when he offered to drop me to the airport. He barely knew me and I look shitty because I have a flu. He said people from Bosnia and Herzegovina are generally helpful. It's so true! They are very polite and helpful. Thank you good person for dropping me to the airport!
The most memorable hitchhiked was our trip to Kravice Falls. It's only 40 km from Mostar but getting there is a nightmare. I checked on google on how to get there. If I take a taxi, I will be paying 50 euros. And if I pay for a tour, It will cost me 30 euros. Then I met, Rafal on Hangouts in Couchsurfing. He told me that he will visit Kravice Falls and I'm welcome to join him and his Spanish friend, Arancha. I asked him if he has a car because getting there without a car is impossible. He said that they will hitchhike. What?? Are you crazy? What if we get kidnapped or get killed. Those were my initial thoughts by the way. Haha.
I asked for my friends opinion. Some said it's normal and it's safe, some said don't do it. But I still went with Rafal and Arancha. We hitchhiked three times from Mostar to Kravice Waterfalls and three times from Kravice Falls to Mostar. It was really a fun experience and we met some new friends on the road. I remembered that we rescued kittens that almost got hit by cars on our way to Mostar. They followed us and thought that we were their mothers. Haha. It was an amazing experience! Thank you Rafal, Arancha and the good people who drove us to and from Kravice Falls!
Now you guys know why I don't want to go back to Dubai anymore. Lol! Kidding! It was a fun adventure and I hope I can get a chance to travel alone again. Until now, I haven't recovered yet from my vacation and I'm still in touch with my travel buddies during my trip. The Balkans Trip is such a great idea. One of the best decisions I've ever made. I would recommend these countries to anyone!
Have you ever been to the Balkans? Or maybe you're planning to get go there? Share with me your experience or maybe you can share with me your planned itinerary. Maybe I can help you plan for it.
Thanks for reading and I hope you enjoyed it. : )