About the destination
I went to Mandi, a small town in Himachal Pradesh, India in late November 2019. It was peak of winters for the snow trek. And my final destination was frozen lake Prashar ahead of Mandi. It is nestled gloriously in Kullu Valley in the midst of the mighty Dhauladhar Ranges (also called Middle (or lesser) Himalayas).
Before jumping into my journey, let me give you a virtual tour of these giant Himalayan ranges and how are they connected.
What all Himachal offers?
Himachal Pradesh is a bouquet of all the major Himalayan ranges represented in it. The Greater Himalayas that begin from Kashmir and run all the way to Mount Everest, and Kanchenjunga and Hkakabo Razi in Myanmar, pass through Himachal Pradesh.
The Pir Panjal Range starts near Azad Kashmir in Pakistan all the way to Kullu passes through Himachal Pradesh. They end at the merging of Pir Panjal and Dhauladhar in Manali. The elevation of the Dhauladhars ranges widely from 3,500 m to approximately 6,000 m.
So let's start the journey…
Day 1: Delhi -Mandi- Bagi village
I started from Delhi late night and after 9 hrs of road journey I reached Mandi early morning. From where I took a shared taxi to Bagi village. It was a beautiful drive through narrow roads to the village. It was drizzling that morning. And rain in winter made the day even more cold. After a drive of almost 2 hours, I covered 40 kms and reached my home stay in the village. It was a very basic place; very few houses were there in the village. And the most beautiful thing was that I could see a 120 degree view of peaks loaded with snow and beautiful bird species to site.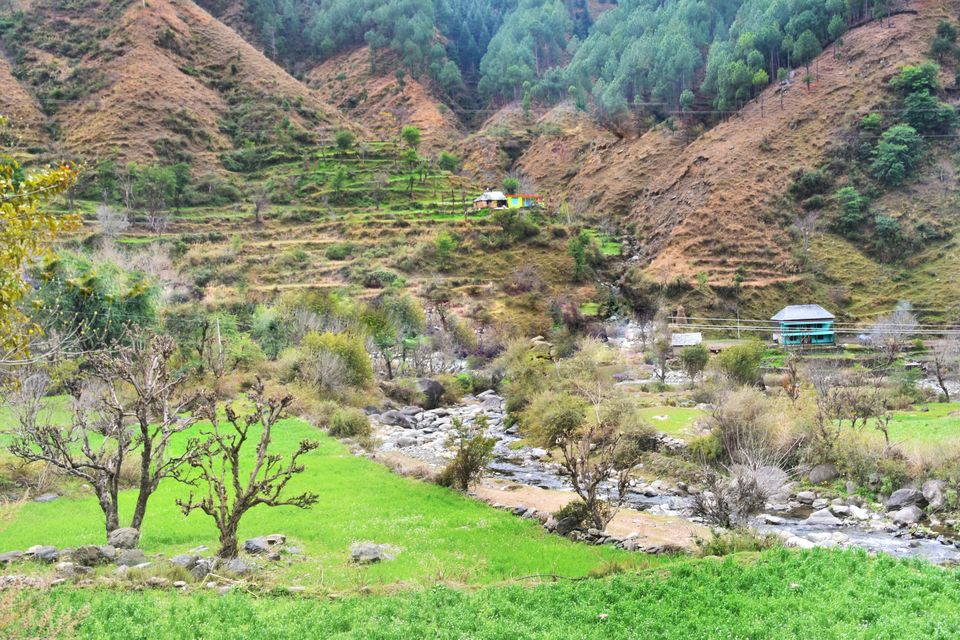 It was a rest day today and tomorrow early morning I had to start my trek. Around 12 pm, I had lunch, prepared by the care taker of the home stay. It was local traditional meal with fresh vegetables. And around 3 pm it started to rain again which continued for another 10-15 mins that's how it rains in mountains. Among all of this, the most interesting part was to witness clouds flying so low, I felt as if I can jump and touch it.
The village was absolutely stunning. As the rain stopped I decided to take a walk around the village. The houses in the village were quite old and a few in numbers. Some of the villagers told me that they don't get continuous electricity especially during unfavorable weather conditions; they asked me to charge my torch or phone battery.
The villagers were quite self sufficient for their daily needs. They had goats, cows, hens etc at home to fulfill requirement of milk, eggs or meat. There were small kitchen gardens almost in every house hold where they had their essential vegetables. A villager also offered me sweet corn grown in his farm in Mandi. It had a really different taste than what I had in city. I was so mesmerized by the welcoming people of the village; it made me feel like home though I was away from home.
I stood at a place where I could see 120 degree view of Dhauladhar range and it was quite visible after rain settled everything. I sat on a rock and soaked the view in front of me. The mountains appeared interlocked with each other just like a necklace and the snow on the peaks was like sparkling white diamonds. There was so much of peace in that view that I didn't take account of time.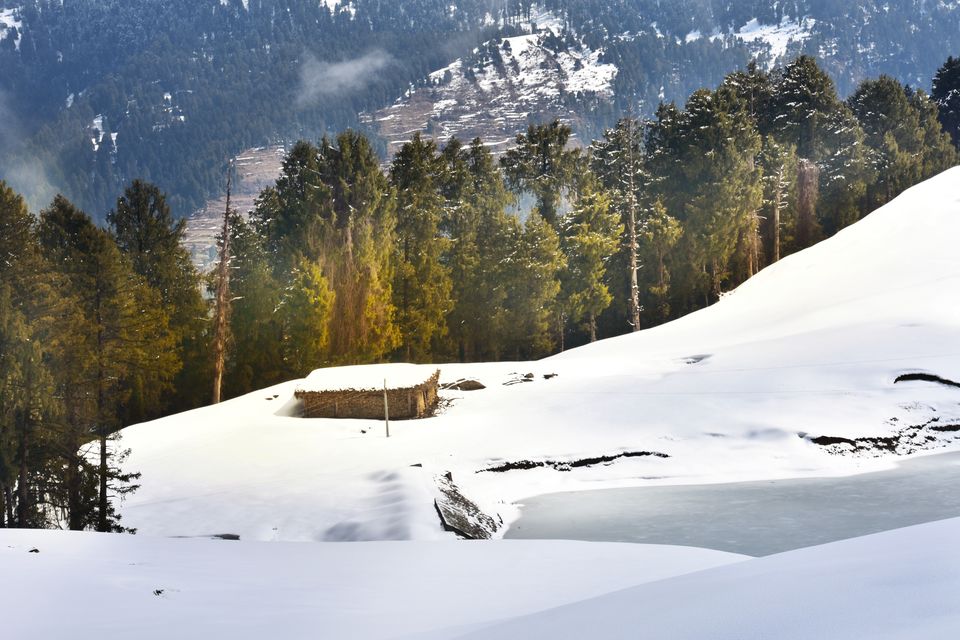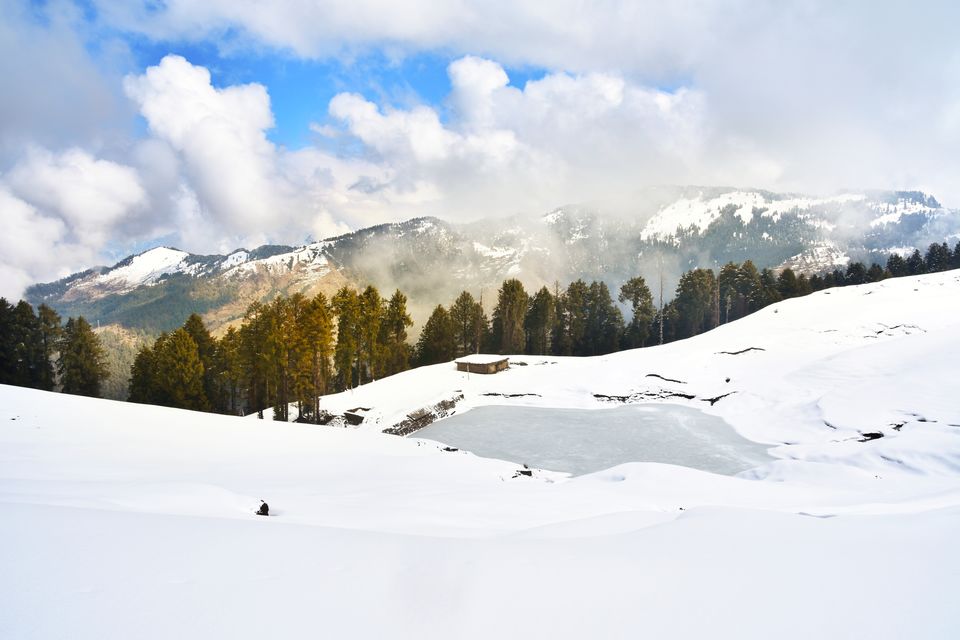 The view started to fade away with time by clouds approaching the village. And in no time there was hailstorm. Thankfully I could get a place nearby to take shelter.
At night, temperature had dropped to -1degree Celsius and as informed by the locals there was no electricity. It was a cold and dark night and somehow I survived that in one single blanket.
Day 2 Bagi village to lake Prashar
And the morning after hailstorm wasn't that easy on me. I got a bit unwell, with some sort of stomach infection. And I was feeling queasy all the time. And the biggest mistake was that I was not carrying any medication, and nothing was available nearby. I sat in sun for sometime had lemon water and some glucose that was least I could get.
And it worked; in sometime I started to feel better, at least that nausea was not there. I decided to start the trek. It was a trek of 9.5 kms from Bagi village to the lake.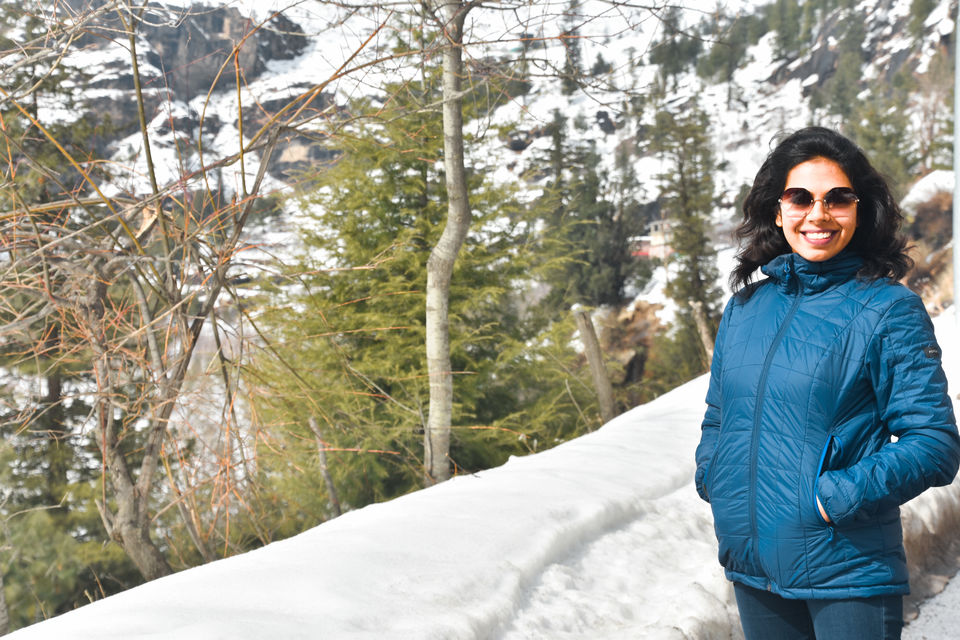 Now Day 2 had started with full swing and I started to trek with the minimal stuff in my backpack. I had to wear knee length snow boots because I was to encounter a lot of snow ahead my way. The initial few minutes were little difficult because I never wore that kind of shoes ever so I was trying to get accustomed to it. But before I could actually learn how to balance myself in those boots, I was having this snow land in front of me to walk through. And I did fell twice in snow. Falling, laughing, and getting up again I enjoyed the journey at the fullest.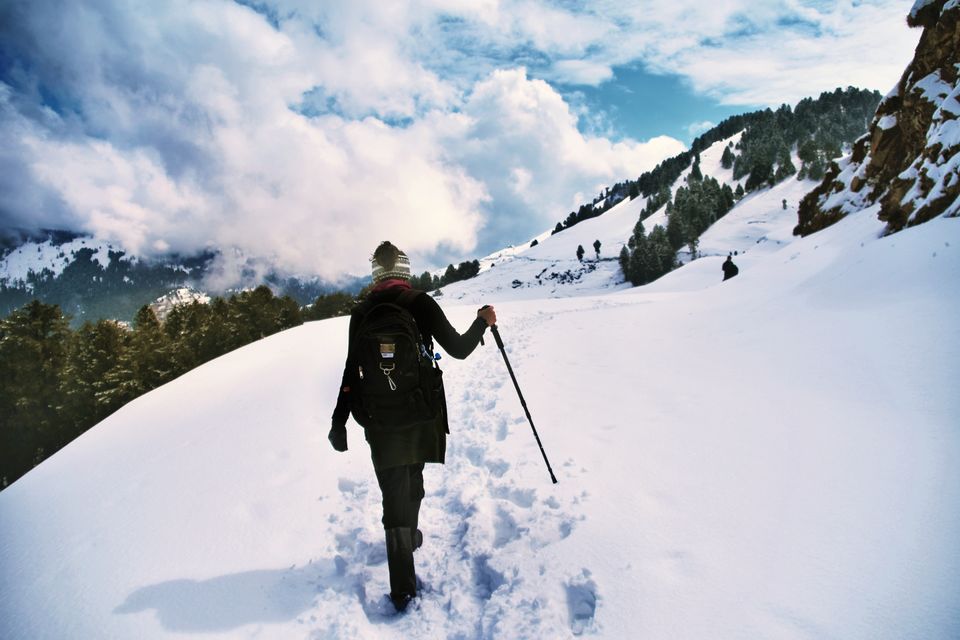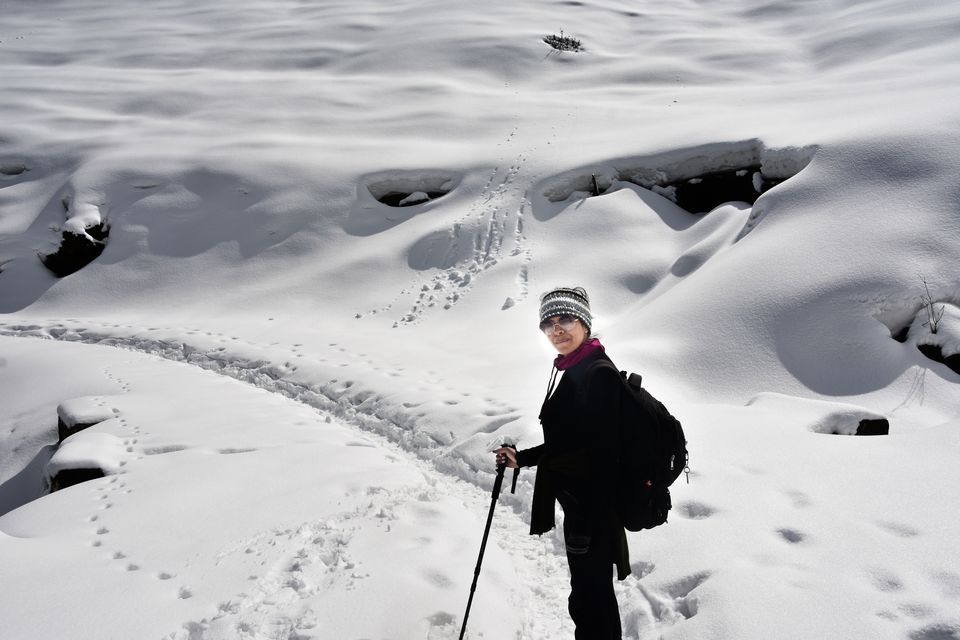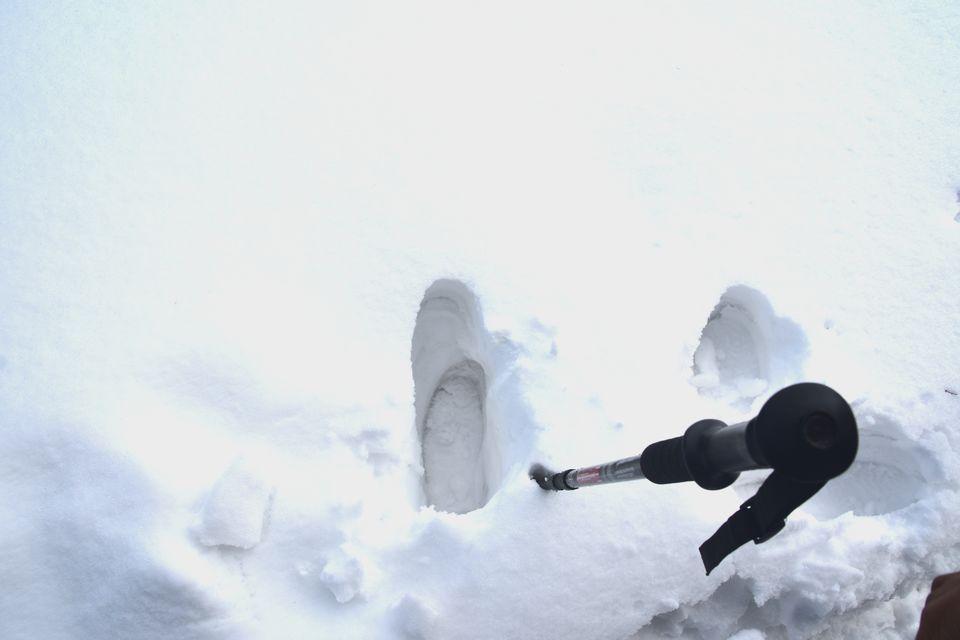 The trek was through 3-4 feet of snow which was even more at many points. I was carefully walking on the trail by following footsteps wherever the snow was too deep and my path was too narrow. And yes!! This was my first time to witness snow. I was feeling so happy looking at so much of snow.
I crossed a small green patch through tall trees, shrubs and slowly started to enter an area with lesser vegetation. And then in deep snow. There was a narrow path through which I had to trek.
On my right, there was a huge slope of the mountain loaded with snow and on my left was straight fall which actually looked like a huge snow sledge (in my imagination). And towards my left I saw dogs playing in snow and climbing up hill. I was still trying to accept that yes I am in the middle of so much of snow. Locals told me that the mountain has got heavy snow that year, its usually not in this much of abundance. I was lucky enough to touch fresh snow, it was powdery and fine as it snowed last night only. It was just snow till my sight could reach.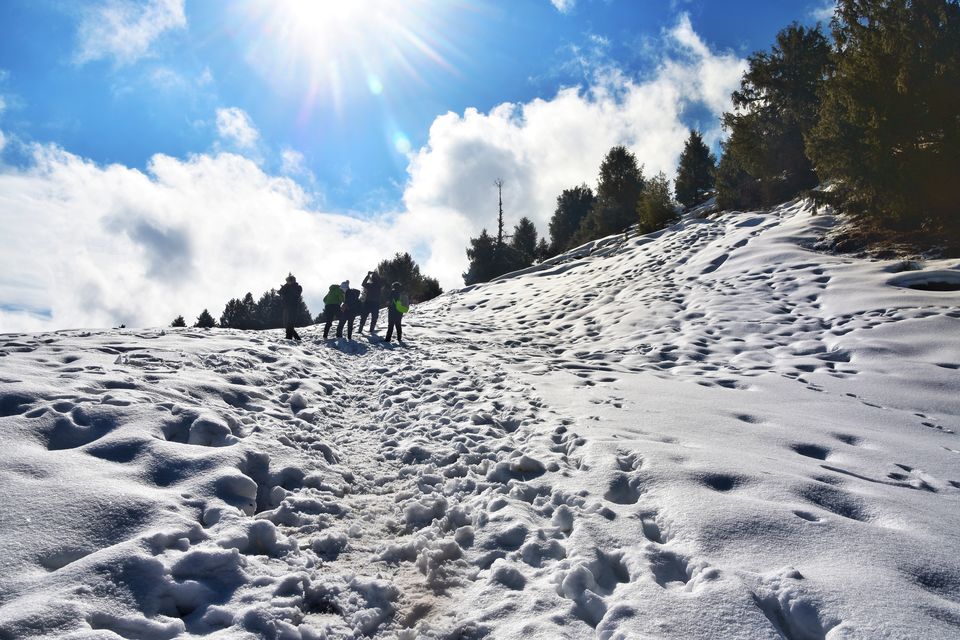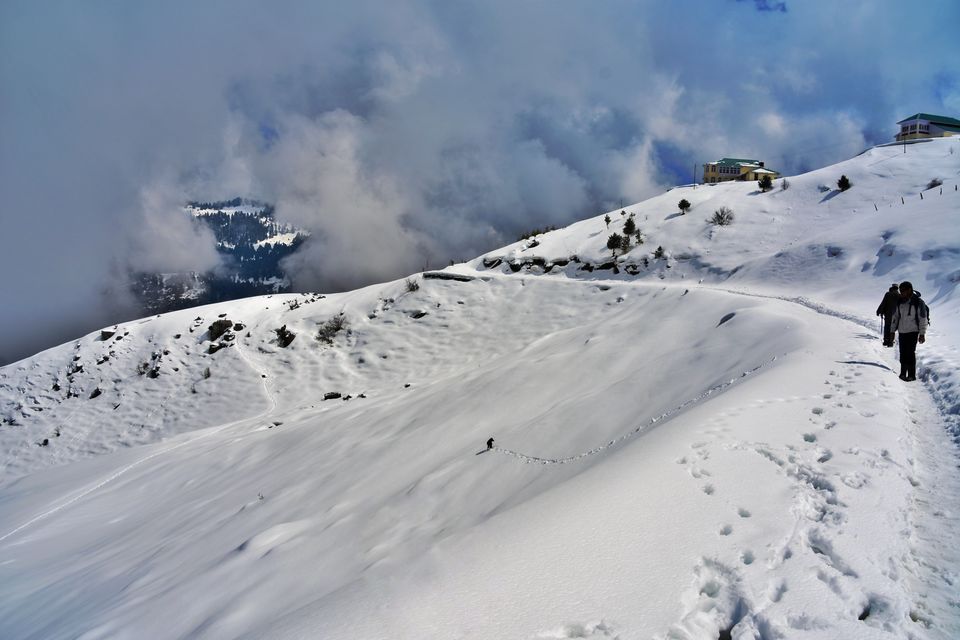 After a trek of 3 hours I reached the lake. I must say the pictures could not justify the beauty of the lake. The Lake Prashar was surrounded by sloppy meadows, dense forest and the panoramic view of snow clad ranges of Dhauladhar, mountain ranges of Kinnaur and Shimla were clearly visible.
I was at 2730 mts of altitude near the Prashar Lake of surface area of 2.5 acres. With its depth, still unknown. There was a beautiful floating island in it which looked mesmerizing.
About the majestic Lake Prashar
Prashar Lake has historical significance in Hindu mythology. The temple was known to be constructed by the King Ban Sen in 13-14th century with Sage Prashar.
It is also said that the whole temple was built by using single deodar tree and it took 12 years to complete the temple construction. When I visited the temple, I was amazed by the fine wood craft work done in and outside the temple.
After visiting the temple, I climbed a higher place to have a panoramic view of the Dhauladhar range and the lake. Everything was snow white and the frozen lake looked like an ice skating ring surrounded by mountains. I wish to visit this place again during summer sometime.
I sat there for sometime, had some food which I was carrying with me, a hot cup of tea and then again started to decend towards village Bagi. I just left my footprints and nothing else on the mountain and in return the mountain gave me beautiful memories.
Took another 2 hours 15 mins to reach back. Grabbed some snack after a long walk to base and then I left for Mandi to catch my bus to Delhi.
It was a short weekend trek, that can be easily managed if one can manage time well.
Thank you for reading. Travel safe, travel responsibly.
Get in touch with me to travel along