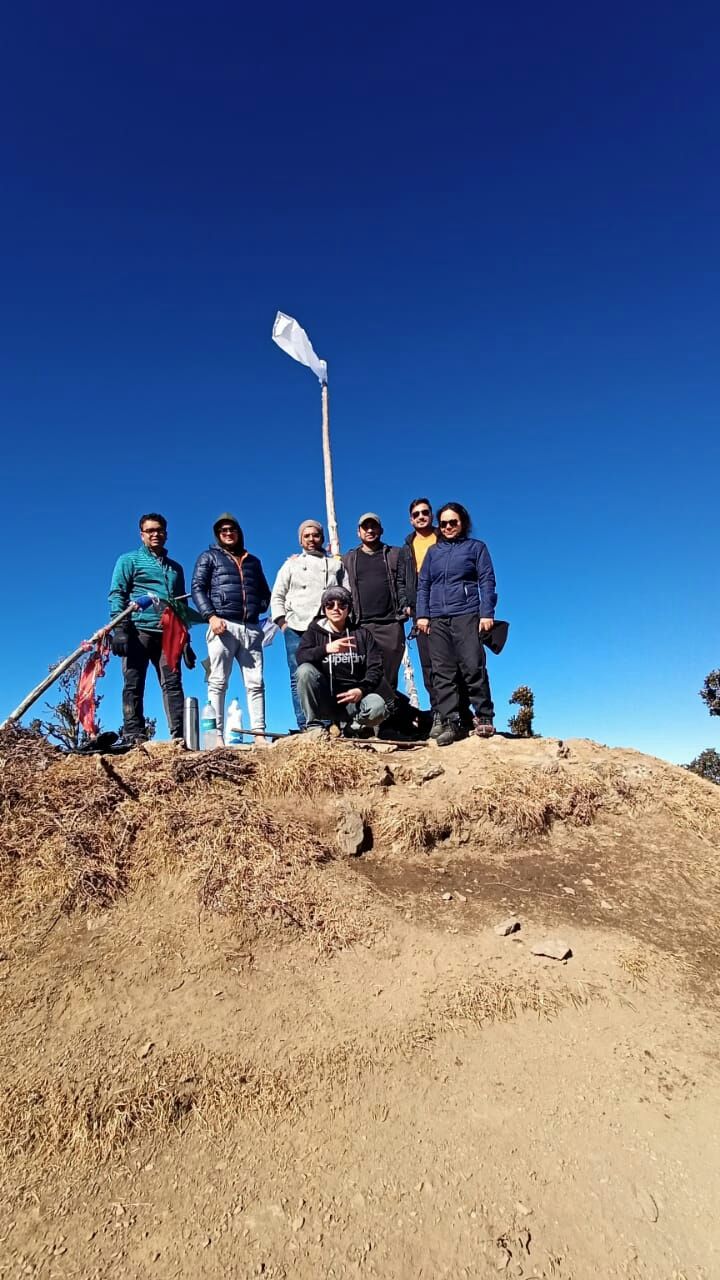 My trek journey to #nagtibbasummit #8febnagtibba2021
It's always been one of my to do things in life, to trek till to the top of an mountain. And i did get the chance to fulfill it in my trek to nagtibba summit. The summit was full of fun and pain and a whole full luggage of unforgettable memories. So I had started for my journey to nagtibba with my friend @sir_zubarofficial
Day 1: We took a bus early in the morning from meerut and reached at dehradun then we had breakfast there and took a cab to mussoorie we stayed there for a day, did take a tour of mall road tasted some food there and had back to our rest place.
Day 2: On the next morning we woke up and got ready for our way to pantwari from where the trekking get starts. We reach at #gandhuchowkmussoorie and had our breakfast nearby and waited for our traveller. We got into our ride which was being drove by Suresh ji (he's an amazing driver). We accompanied by Gaurav bhaiya, Nitin bhaiya, Rawat ji and Pandit ji. Rawat ji entertained us a lot with his life stories during our journey to pantwari. We saw some beautiful views during our ride. After we reached at pantwari we freshen up and met rest of our team there. And start trekking for our base camp from pantwari to goat village base camp. Sunil bhaiya was our guide (who's a teacher and a part time guide for the trek). We started moving up and came across some locals and one part that i loved about them was, they were greeting all no matter if they know you or not. We reached at our base camp which was 7km up from pantwari with some amazing sceneries and some break to catch our breathes. After reaching to our base camp we had our lunch daal chawal. And sit for a moment then we go to the sunset point the view was breathe taking. After the sunset we go back to our campsite where we were get serve tea and pakodas. There were no electricity so we use our mobiles flash light. After a while the bonefire was set up for the night everyone gathered there and introduced ourselves, sang some songs, had some chat and decided to start trekking for the summit the next by 3am.
Day3: We all woke up at 3am it was freezy outside, we quickly got ready everyone had maggie and tea and then at 4am started walking towards the forest gate. It was very dark we were using our mobiles flash light to see the way. The trekking path was full of mud, stones and snow. Due to which it was slippy and hard to climb up our sticks help a lot for support by the sunrise time we reach to the nagtibba temple area, the view was mesmerizing there was open field cover with snow we took a glance and feed in that view inside and start moving forward towards the summit. From temple area to summit the whole trek was snowy we got stuck at 4/5 place because it was sloppy and slippy both but our team work won. But 4 of our 14 people group stopped there. And rest of us continued to climb. The air was cold and we were freezing because we all had our clothes wet with snow. Well having some slips, bumps and scratches we finally reach to the summit the snow was sparkling by the sunlight. That view was heart taking all our tiredness was gone for a while we fed our eyes with the tremendous view from the peak. It's the best feeling which every trekking guy has after touching the summit. We all tired and starving too so our guide gave us the parathas that he carried for us all. After resting for a while we headed back to nagtibba temple. The slippy path got more slippy due to the heat after sunrise. And it was even harder getting down. Well we made it to nagtibba temple. Refilled our water bottles, took some rest and moved back to our base camp at goat village. After reaching at camp we had our meal rajma chawal with salad and aachaar and packed our bags and got down to pantwari from where our traveller pick us, we left out with a pocket full of lifetime memories and experience. Than the traveller dropped us at dehradoon isbt. We took a bus back to home from there.
Must take care of these things if you are planning for a trek:
1) start practicing cardio and hiit before 30 days at least.
2) carry proper gear and know about the place you are going. Plan your trip with a good company.
3) must carry chocolates water bottles and energy bars for trek.
4) lights and power banks.
5) a local map and a whistle to know your path and give signal in case you got disconnected from your group.
(*these are the things what i think one should carry as per my experience, you can do you list accordingly).
#trekkinglife #mountains #nagtibba #uttrakhand #beautyofnature #india