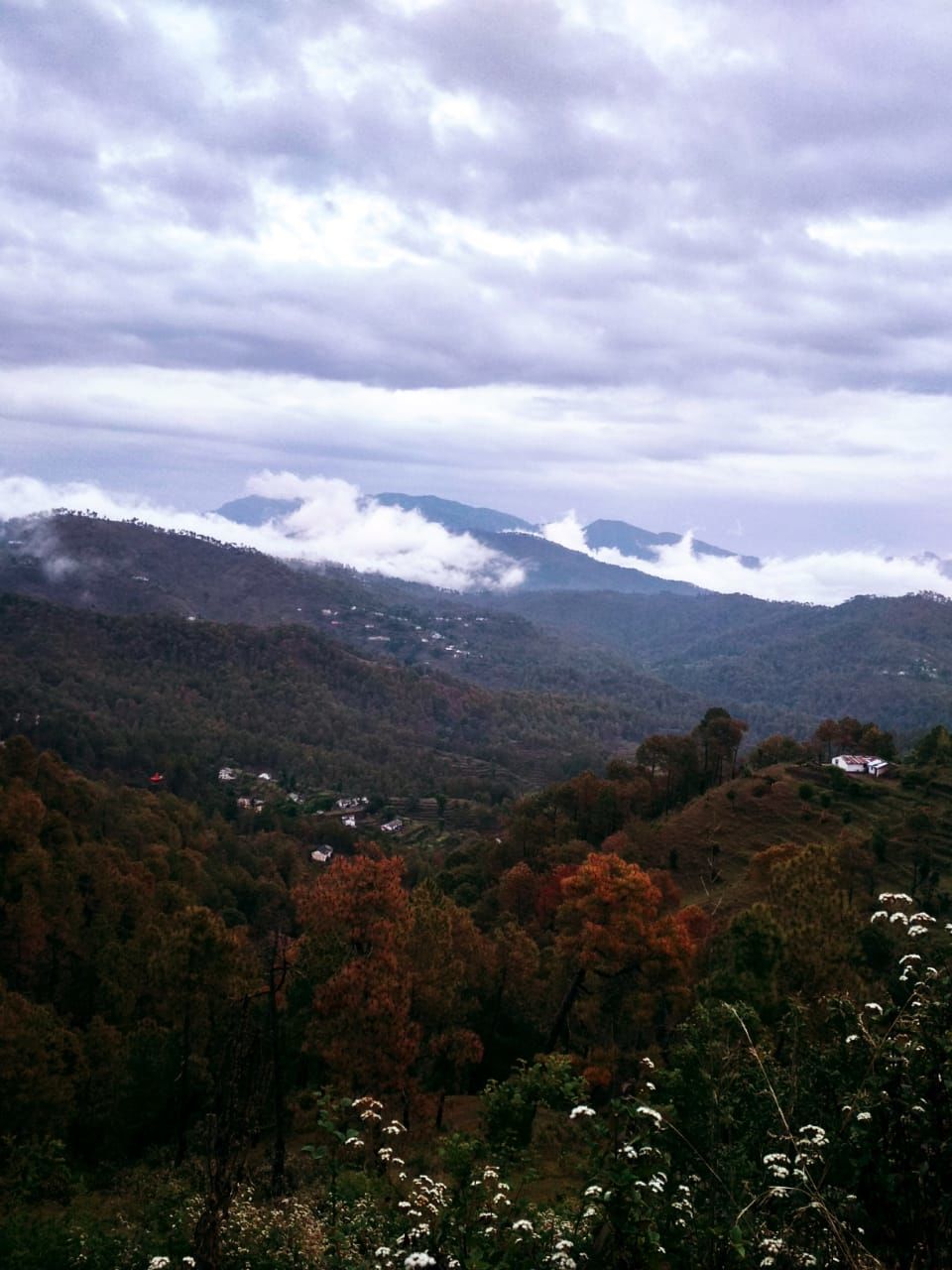 It all started a week before my best friend's birthday. She wanted to throw a grand party for her D-day, but being a crazy traveler that I am, I convinced her to spend her birthday with me, in a quaint hamlet, tucked away in an unexplored part of Himachal Pradesh—Jibhi.
She liked the idea of spending her big day away from the hustle and bustle of city life and agreed to come with me. It was a dream come true, since she had never been a part of my crazy travel adventures before! So, this travelogue is really close to my heart. Also, the level of adventure I had on this trip was beyond ordinary!
Without wasting any time, I booked two tickets to Jibhi and browsed through the best hotels in and around the area. I had my first 'aha' moment of this trip when I came around this pretty little tree house on B&B.
It was love at first sight. I knew instantly that this is where we would celebrate my best friend's birthday. Oh, and her name is Mansi. She is a stunning human and deserves the world. Coming back to my enthusiasm, I booked two tickets within five minutes of coming across the beauty that this tree house was.
We left Delhi on 11 September and reached Aut in the morning.
Here's How to Reach Jibhi
-Book a Volvo from Kashmere Gate ISBT to Aut. There are no direct buses to Jibhi, so get your sit booked in a Delhi-Manali Volvo.
-Get off at Aut. Ask the driver/conductor to drop before the long tunnel.
-From there, you can hire a local taxi that will drop you directly at the tree house. He charged INR 1,000 to the tree house. The price was reasonable considering that the road were spiral and under-construction and the hours spent in the taxi were a bit long. It took us around two hours to reach Jibhi but thanks to the gushing water of Tirthan River and majestic views of terraced hillside, we managed to keep up with our gusto.
The Magnetic Tree house
My beloved tree house was quaintly settled in a village called Tandi and even though, we literally had to trek our way to the tree house, WE. WERE. ENCHANTED. BY. ITS. BEAUTY.
For someone who had never stepped into a tree house before, this experience was totally wild but also surreal at the same time. The tree house was built on a mulberry tree and even had a little balcony that seemed like a gateway to heaven. It opened up to piercing blue vistas of the great Himalayan sky and a lush green valley! Can you imagine the picture in your head? I know you already are!
Look at how beautiful it really was-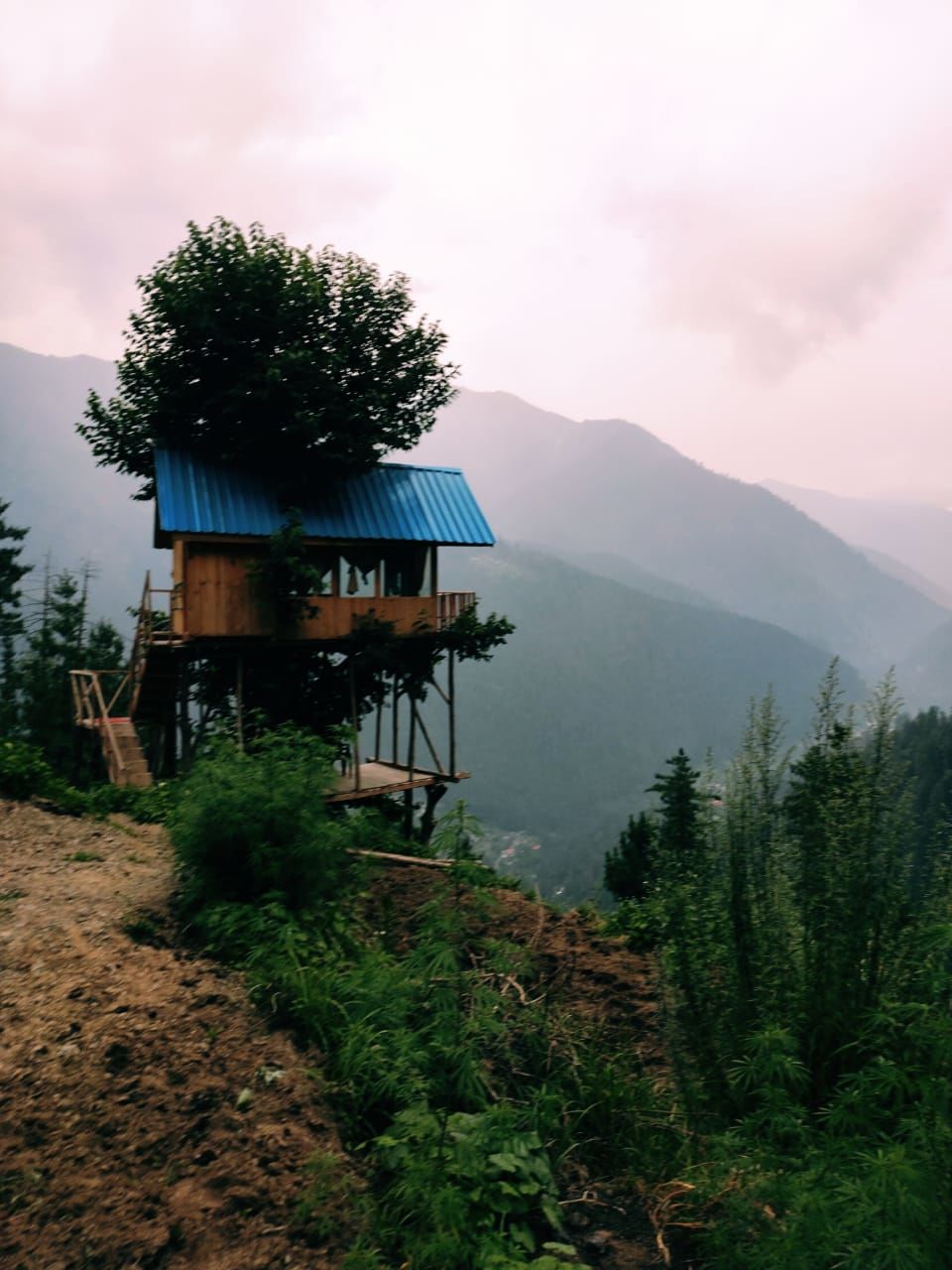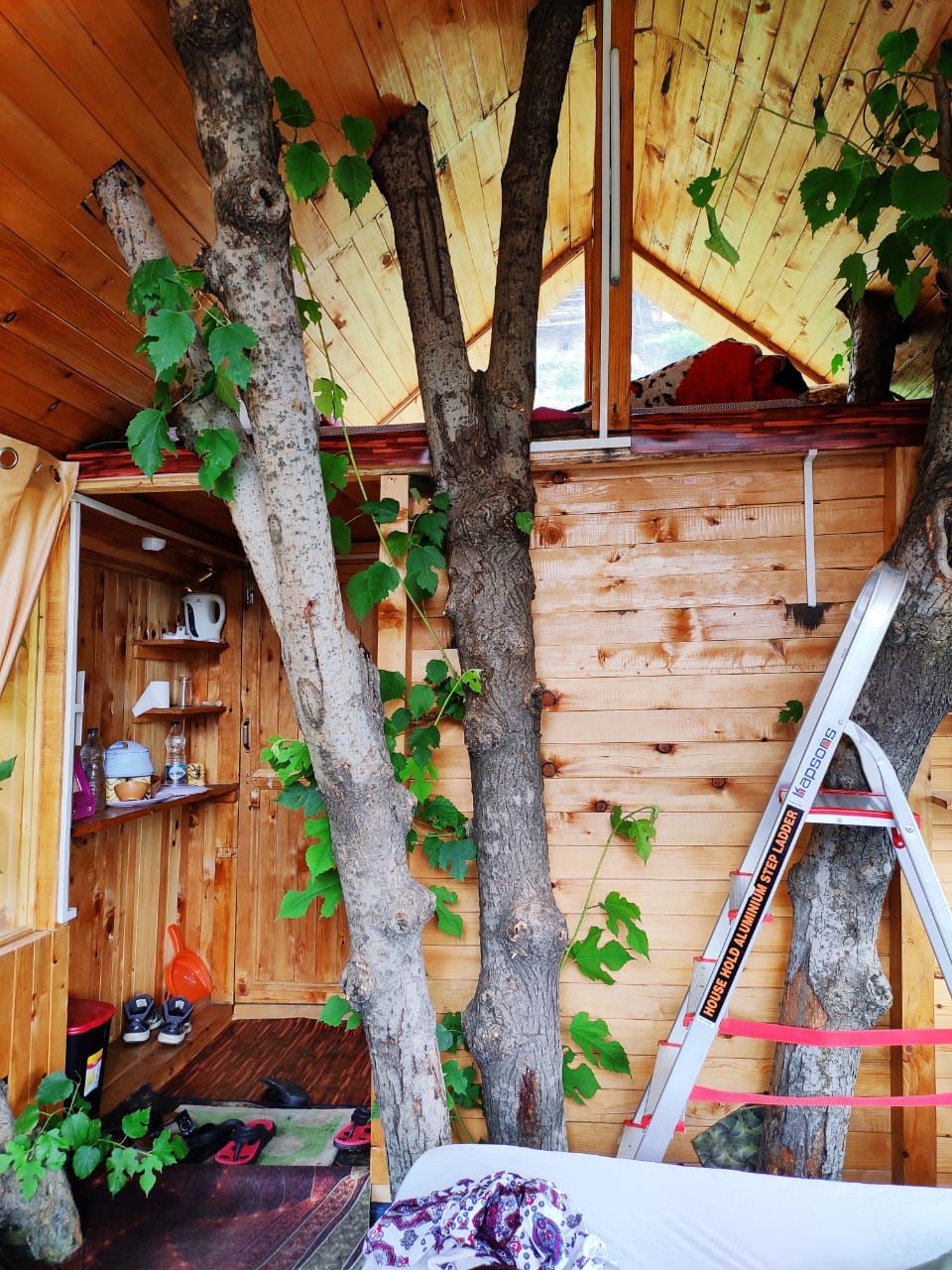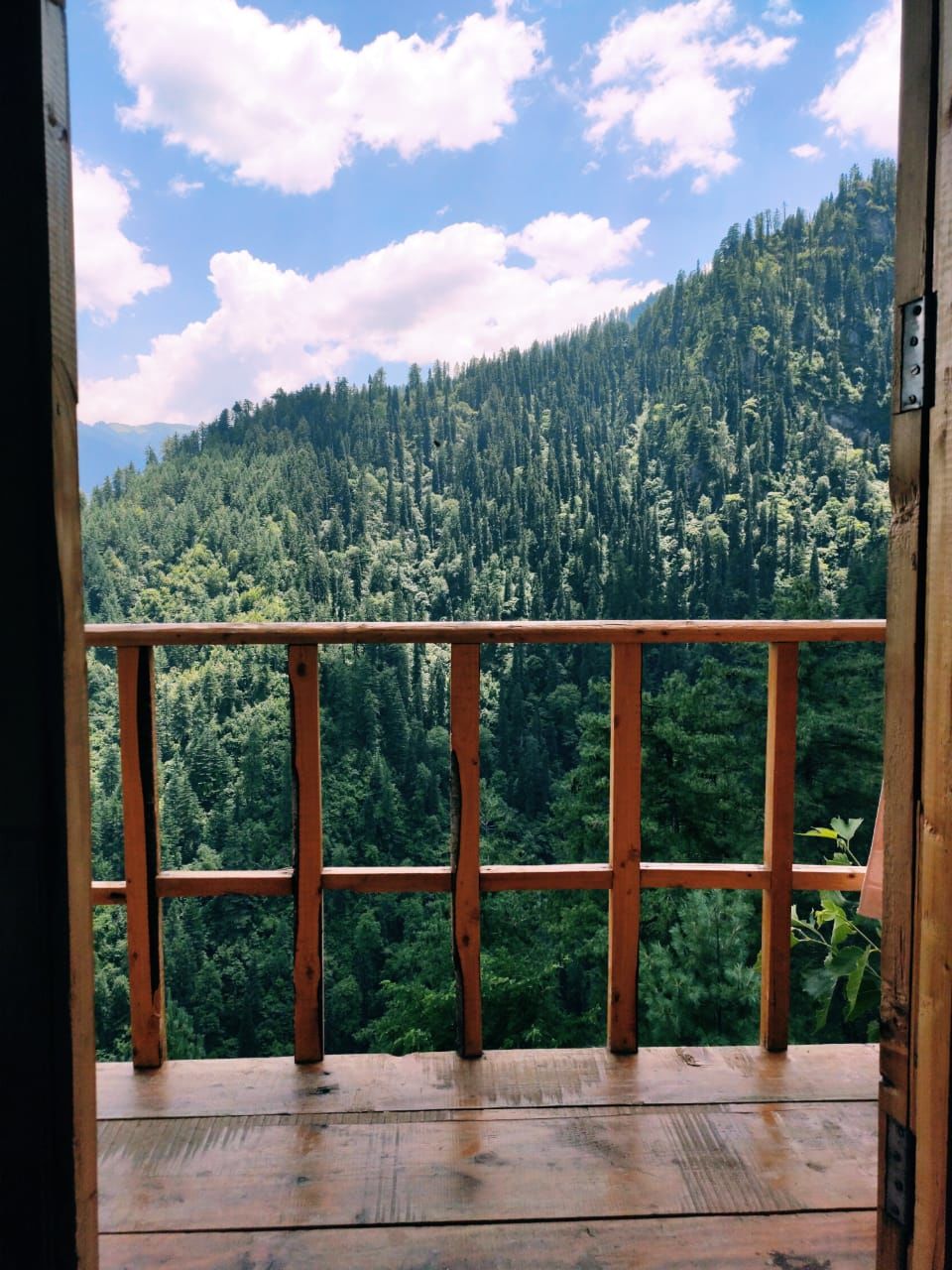 The tree house is looked after and maintained by the village people. A Himachali woman was assigned to us for all our needs and business. We were told that the food will be cooked by local people and fancy is not a word for them. However, they were willing to arrange food on request, but it would come with an additional charge.
Once we processed all the information regarding our stay at the tree house, we literally jumped into our queen-sized bed, ordered a cup of tea and a two bowl of Maggie and well, just soaked in the silence of the mesmerizing valley. That was it. The only con of the tree house was the magnanimous amount of insects it invited in. (Pro Tip: Please take your own insect repellent because you will not find any in Tandi).
Nonetheless, we had our Maggie and tea, and soon, we fell asleep. We woke up a while later, and it was raining! Imagine, two people, in the middle of nowhere, in a tree house with mist rising from the hindsight of the green hills, and rains!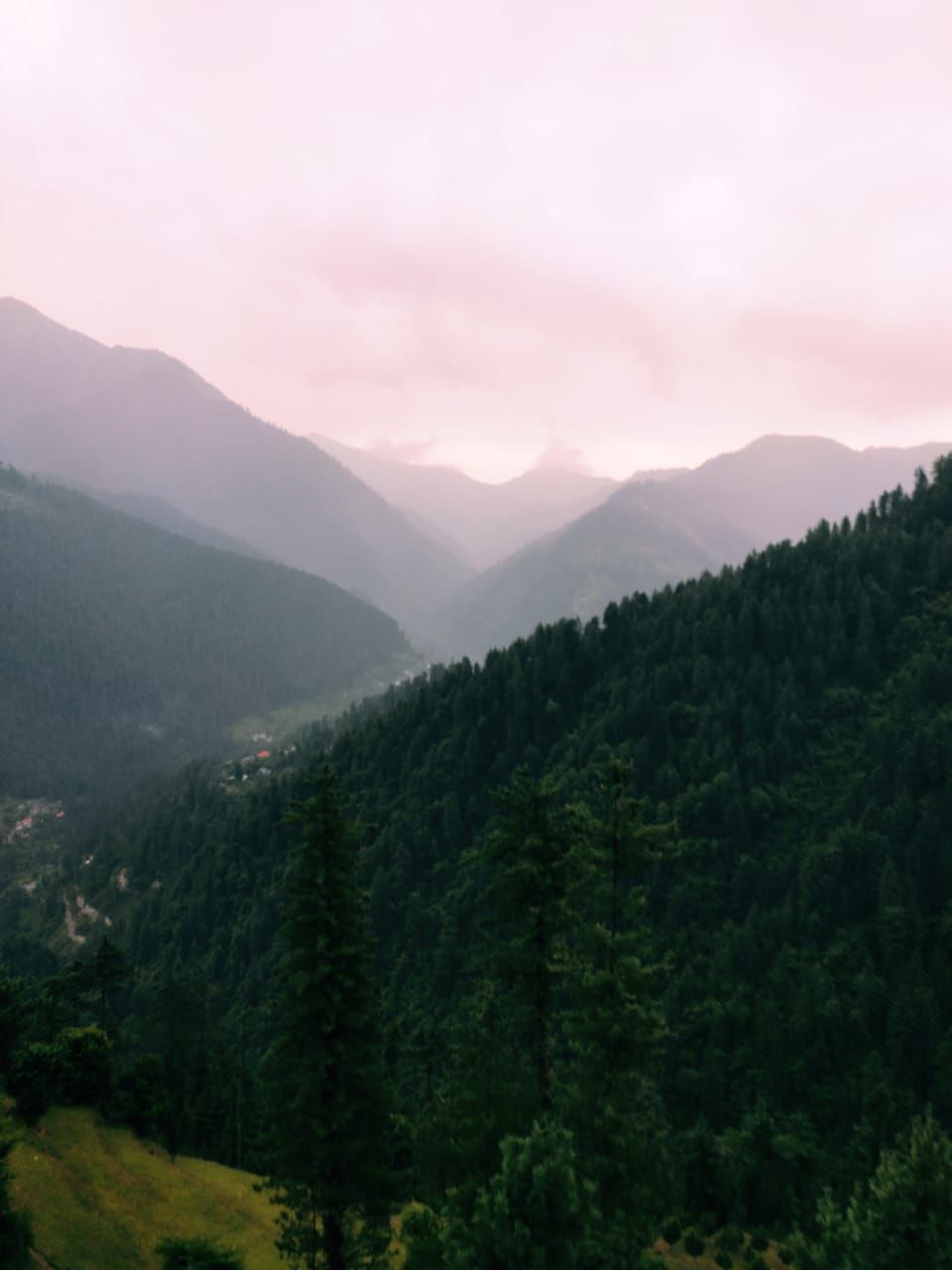 Like any crazy individual, we ran outside and got soaked! What a great start to Mansi's birthday trip! Next, we freshened up and went out on a little stroll in the area. The village was in full bloom and we figured that there were two more tree houses nearby, and we thought we had no one around!
It was already night by the time we returned. We had dinner and fell asleep.
The Great (Mis)Adventure!
The next day, we again woke up to roaring thunder and rains. Well, there went away our day, or so I thought. With plates full of paneer pakodas and stomach full of oily food, we got ready and well, waited for the heavenly shower to halt!
Thankfully, it stopped raining around 12 and the sun shone and boy did he shine so brightly! We decided to go down to the main bazaar and visit the popular Jibhi Waterfall. So, we had two options-
1. Trek our way through the woods and reach there in an hour (that's what village people told us).
2. Hire a taxi for INR 400 and reach Jibhi in about 20 minutes.
If you are a crazy traveler, you must have guessed our choice. Yes! We took the advice of village people and went with the first choice. I mean, how long is an hour, really. Well, in this case, five. Period.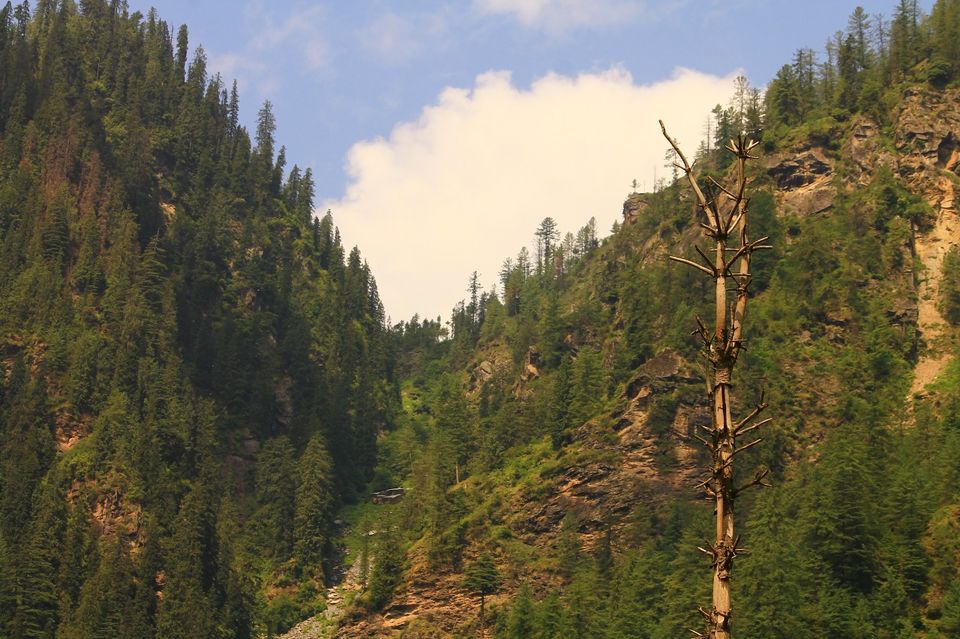 So, we started trekking downhill and came across colorful blossoms, magnificent trees of pine and oak, an alpine meadow, a little brook, and wilderness in its full capacity. Also, we lost our way to the bazaar. Yes, we did.
We went deep into the wood and apparently, found the source of the waterfall we were supposed to visit. We had lost our way into the deepest part of the jungle with not a single person in sight.
I don't know if it was a figment of my imagination (read fear), but I thought I heard a roar nearby. That was it for me. I asked Mansi to turn around and run. By the way, this was her first-ever trek! Yes, she had beaten me with a stick. Yes, I cried. Yes, she cried.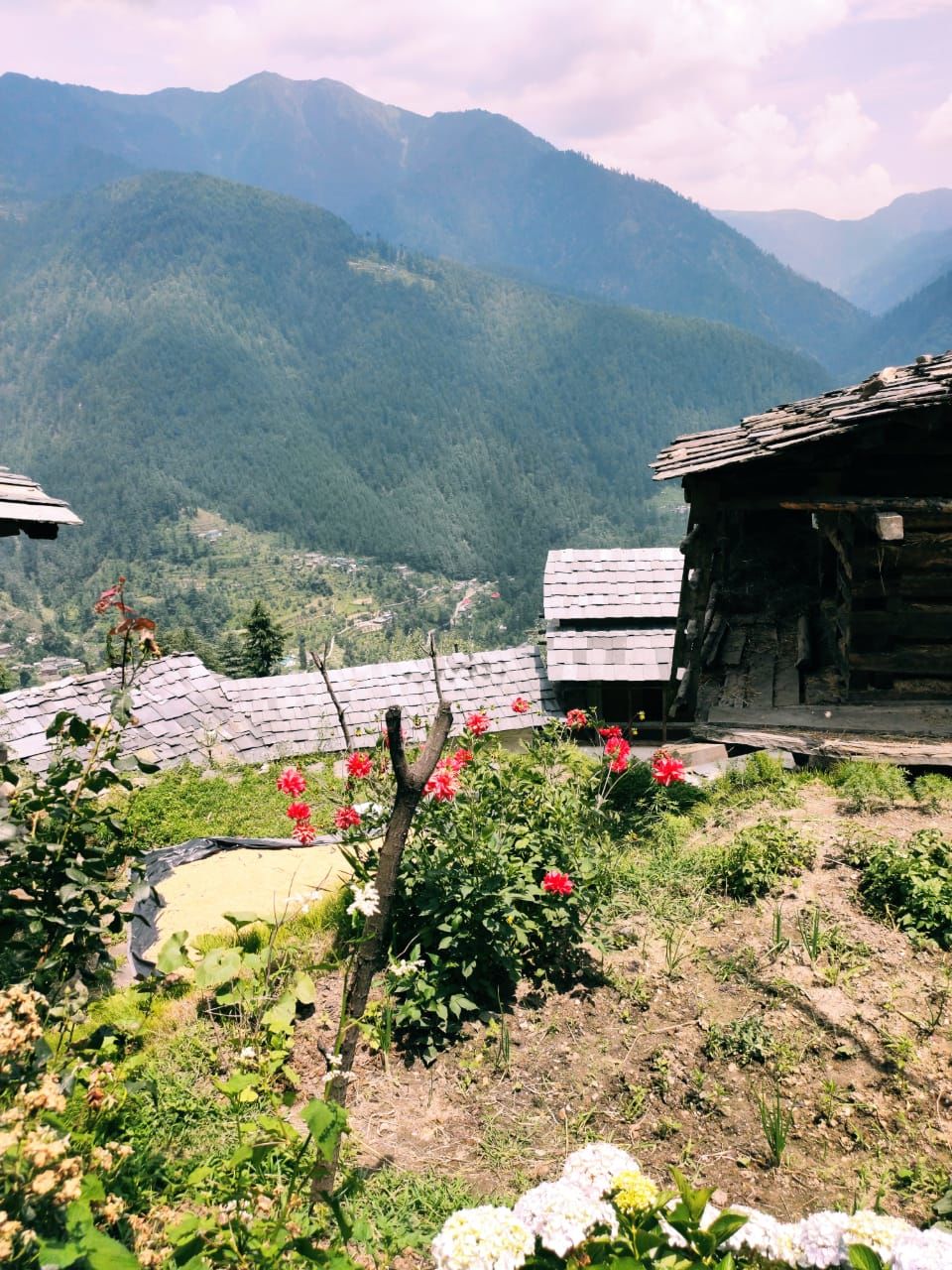 There was no signal in either of our phones, so we couldn't call anyone and well, there were a lot of trees and the only water bottle we had was already down our guts, because well, village people said it would just be an hour. We began at 1 and it was 4.30 already and we were lost in the woods!
We were walking with no purpose when we came across the brook we had previously passed. We were tired and finally out of the jungle. We were without water and sweating like pigs. So, we decided to relax near the brook for 15 minutes, which to our shock, turned into an hour, since we both had fallen asleep somehow! Do not ask for an explanation, we don't know.
We woke up at 5.20 PM, and in panic. I have a habit of singing songs or poems when anxiety hits me hard. So, I started murmuring that famous poem, 'The woods are lovely dark and deep,' when I saw a pahadi (mountain) woman coming right towards us. That was my second 'aha' moment.
We ran with the speed of light towards her and I am almost positive that we scared her for a while. She must have taken us for thieves, or some kind of rabble rousers, but we soon walked her through her situation, and finally knew the way to the bazaar.
She told us that we had to take a left from the meadow and we took a left, and that took us to the source of the waterfall.
We thanked her and ran down the trail that finally led us to the road of the bazaar. By the time, we were down; both of us were hungry and tired. Even so, the traveler in us managed to visit the captivating Jibhi waterfall.
Here are some of the photos of the cascading beauty.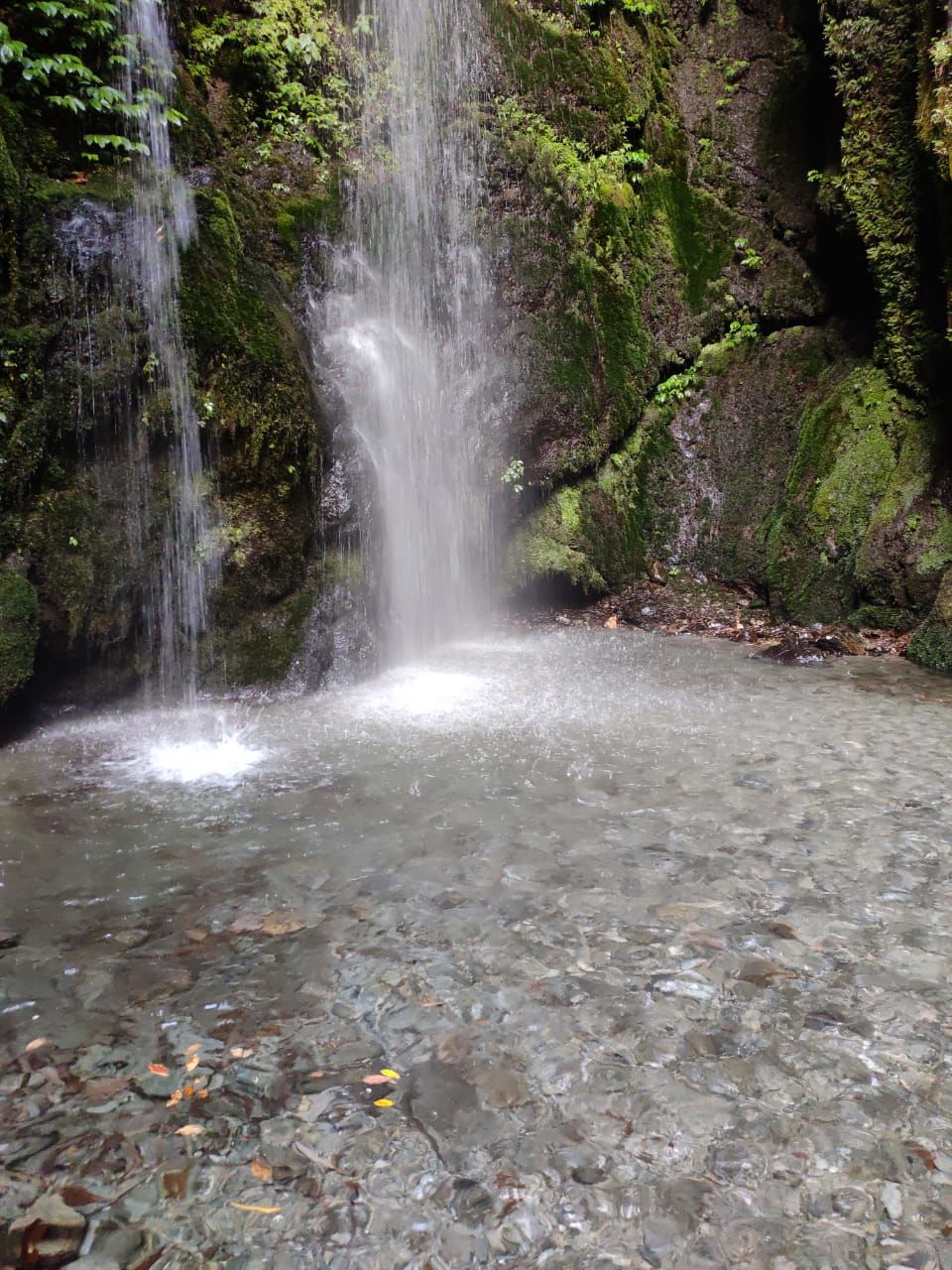 By the time it was 7.30 PM, we were done strolling through the bazaar, having food, and giggling at our stupid (mis)adventure. We finally hired a local taxi to drop us at our beloved tree house.
No points for guessing that once we reached our temporary abode, we fell asleep. We woke up at 11 because a bonfire with the birthday cake and balloons was in-progress for the big birthday surprise. It was Mansi's birthday and we had a gala time.
We spent the night talking and laughing under the stars that seemed to have come a little closer to us, as if they were a part of our little celebration. We fell asleep talking and woke up when our breakfast was delivered in the morning.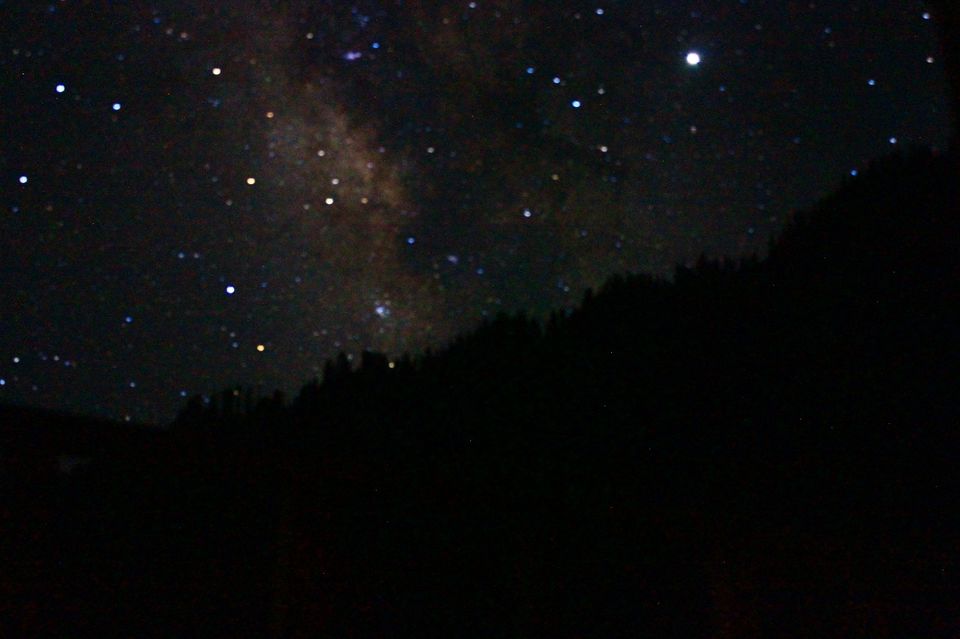 The Birthday, the Stars, and Village Tandi!
We spent the morning unwrapping all the gifts that I had brought for Mansi, followed by a quick chatting session with the villagers, who had come to wish Mansi, a long and happy life.
They shared a lot of stories of their village, and like true pahadi stories, they were mostly based on ghosts and spirits. Nonetheless, we enjoyed listening to them.
We spent the rest of the day exploring the untouched trails of village Tandi, chasing butterflies, eating all the good food we had ordered and well, laughing.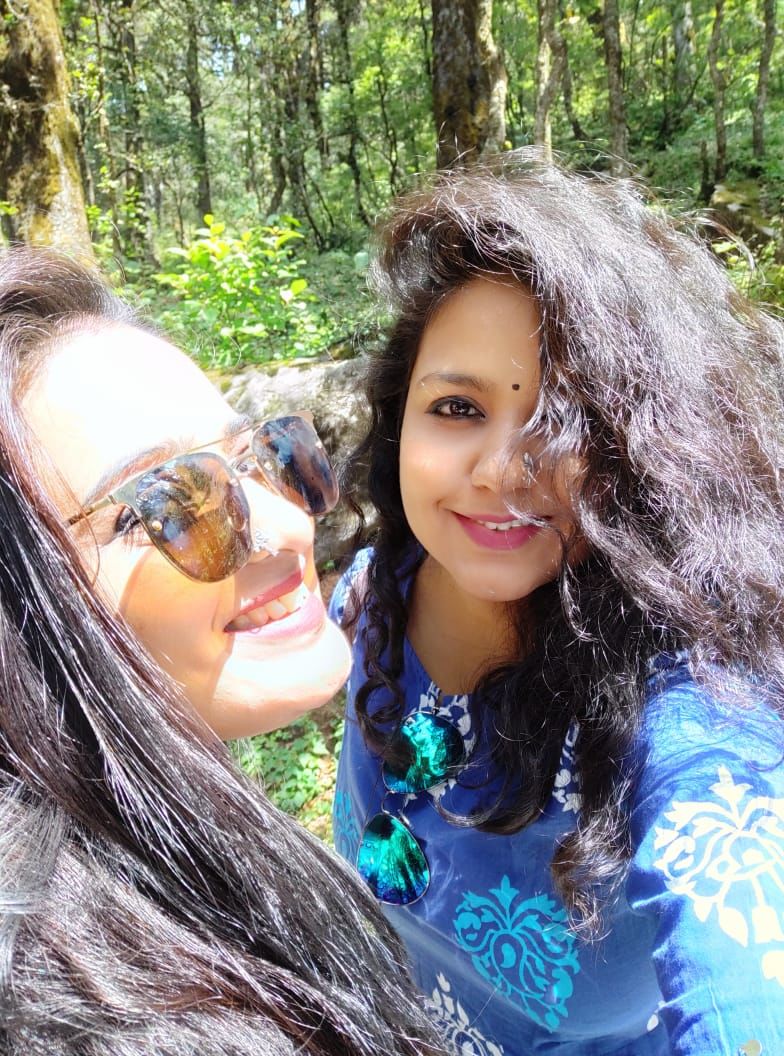 By the night, we were packing our stuff and feeling a bit sad by the fact that our three days were over in the blink of an eye. So, yes, we had our local pahadi dinner and fell asleep.
A Halt at Tirthan Valley Before Heading Back Home.
Next morning, we arrived in Tirthan Valley to spend some time near the Tirthan River. Have you read my Tirthan travelogue on Tripoto? You can find it here.
After spending two hours near the river, we headed towards Aut, from where we had to catch our bus to Delhi. The bus arrived at 7 PM and finally, we headed home with a lot of sweet and sour but extraordinary memories.