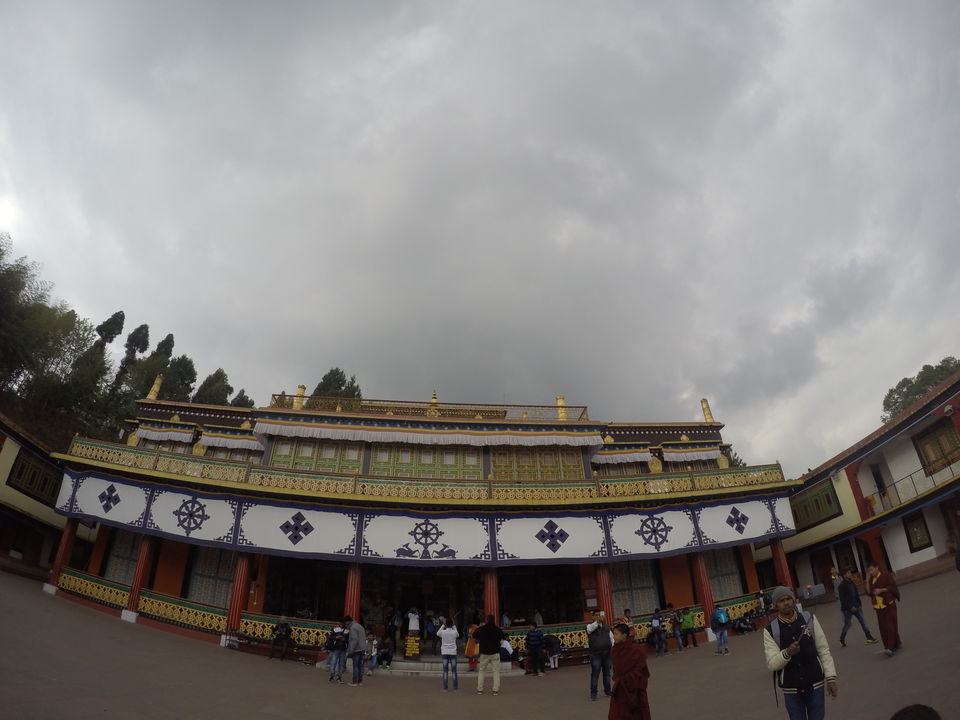 we stared your journey to north east from Mumbai took flight to Guwahati airport via Delhi, and booked uber as out had to rush for the ILP for the Horn-Bill festival from the Nagaland house.
after that went to hotel as had ample time to explore guwahati. went to kamakya temple the view from the top is awesome view of guwahati city, had traditional Assamese food at Khorikaa. we tried veg thali, fish thali and chicken thali. along with side dish. http://khorikaa.co.in/
we had night train for dimapur as we had plan to directly reach kisama heritage village by afternoon and see visit the hornbill festival. we had lodge yourself in home-stay of the owner name was Vikhono and the contact number is 9856487337 just 1/2 km from the heritage village. very nice family
Nagaland – Hornbill Festival – Truly Festival of Festivals
had visited the festival entire day on the heritage village cover their festival, this festival showcases the culture of the Naga Tribes. This week-long festival witnesses food fairs, sports events, ceremonies, colourful performances and traditional crafts exhibition-cum-sale. It was an amazing experience to see a different culture of India and it made me more proud when I saw people coming from all over the world to enjoy the festival. We stayed in Nagaland for only 2 days.
the festival in kisama is only till evening 5pm after ward people move to kohima as there is lot of night activities like rock show,night market,lot of restaurants are open till midnight during the festival.
we left for dimapur at around 2.30 pm from kisama village reach dimapur at around 7.30 pm after dinner we took bus for kaziranga national park,
we reach orchid biodiversity park kaziranga at around 4.30 in the morning
after some rest we left for our early morning jeep safari which usually starts at 6.30 am. we took 2 jeep safari and one elephant safari.
we stayed at home stay never book the safari from homestay or agents as they charge u more better visit the gate and do the book. as they try to accommodate you in the jeep if you are traveling solo.
we left for guwahati after breakfast u have option of catching state transport to or u can find taxi which usually go empty after passenger are droped at kaziranga junction. we reach at the guwahati-Shillong junction at around around 3.30pm we got taxi which took us to shillong for 2000Rs. during converation with the driver he was ready to take us for local sight seeing the same day. and to dawki lake and cherrapunji & living root double decker bridge.we reached shillong at around 7.30 pm we checked into the youth hostel shillong which just opposite to Bsnl telephone exchange. bazzar is just walking distance from YH.
next day after breakfast we left for cherrapunji and double decker bridge, we first went to double decker bridge at its the most tiring trek which has around 400 step descend and you need to climb when you return from the bridge.
time take to reach the bridge is around 1.5 hrs we send around 1 hrs at the bridge u can even get chance to photograph butterfly's just under the bridge.
if you not in hurry u can even ha fish spa for free in the pond just below the bridge, and while you return from the bridge you can see some pod which differ colours i:e blue,green,turquoise blue etc
we visited Mawsmai Cave which is just few km from the village Nongriat is just 15 km and from there seven sister fall is just 1.3 km from there you can view the fall but you need to trek to see it from below. which of one day trek.
next day early morning we left after breakfast to jowai town, for Dawki lake we reach at 11.30 am we first headed to the India Bangladesh border as there was heavy rush of trucks waiting in line for their permit to enter in Bangladesh border to unload coal. major export to Bangladesh from meghalaya is coal.
we took few snap at the border and we went to the dawki boating they charge around 500rs for the boat which takes to from the boating point till the tapoo where they drop you and wait for you till you return, those who want to swim can swim in the clear lake and can have maggi and tea as their are food stall on the tapoo. The sad part is the river flow from India in enter Bangladesh. we left for your journey back to Shillong at 5.30 pm , we reached Shillong late night at around 8.30 pm.
we left for guwahati early morning as we had flight to catch for bagdongra
your next stops was Darjeeling we reach at around 10.30 pm after putting our bags at the hotel we left for the local excretion Darjeeling Himalayan Railway toy train, Darjeeling station, monasteries, next day we went early morning to tiger hill for the sunrise it was the chilling experience as you cannot remove your hand from the gloves,you can witness the first rays of sun hitting the twin peaks of Kangchenjunga, along with a panoramic view of Everest peeping through the peaks standing by its side.
then we left for Batasia loop which is a spiral railway track where the toy train takes a complete 360 degree turn. one can go for shopping but the shop closed at 7pm.
next day we left for sikkim. and the best part we were the guest of the honorable governor of Sikkim. we reach the Raj bhavan in the evening at around 5.30pm. for next 5 day Raj bhavan was going to be are home.
The raj bhavan compound is at approximately 75 acres consisting of lawn and garden as well as kitchen garden, 4 different guest house, and fruit orchids,etc.
After tea we left for M.G.Road for the permit for Nathula pass. we need to give the car driver and car's details for the permit,
next day we visited Nathula pass, Tsomgo Lake,Baba Mandir, there are 2 baba mandir one newly made and the old one is about another 4 to 5 km from the newly build.
there are lots of restaurant around M>G>Road as u can try from veg to non-veg restaurant there few which serve alcohol which much cheaper.
Best joint to have Biryani is Khan Uncle's Biryani House.
next day from Bajra Taxi Stand at Gangtok at about 10 a.m. we started your journey for Lachen.
On the way stop for sightseeing spots like Tashi View Point, Kabi Lungtsok, Naga Waterfall, the Confluence of Lachen Chu & Lachung Chu at Chungthang. The whole journey is about 6-7 hours' drive,By evening reach Lachen and the day ends.
next day have early breakfast (At times Packed breakfast) and leave for Thangu Village (4100m / 13450ft), a remote high altitude village of Tibetan Nomads & Chopta Valley on your way to the Gurudongmar Lake.
Thangu valley occupies a very broad valley at the junction of Thangu Chu, Chopta Chu, & Lassur Chu. It is situated at an altitude of 14000ft.
Chopta Valley is situated at a height of 14,500 ft. This Valley is also known for its flowers. This is the second valley of flowers in North Sikkim after the more famous one at Yumthang.Both the valleys erupt in a riot of colours in the month of May, June & July. Also in the month of Dec & Jan you can play in the snow or even walk across the meandering frozen Chopta River.
From Chopta Valley drive for another 30kms in 1.5hr to Gurudongmar Lake (5225m / 17143ft) close to Tibet Border. This lake is the Second highest lake in India after the Tso Lhamu Lake. If weather permits and permission is availed, proceed for Gurudongmar Lake (17,800 ft).
Gurudongmar Lake is considered as one of the sacred lakes of Sikkim both by the Buddhist and the Hindus. The lake is named after Guru Padmasambhava, the Indian tantric Buddhist who conducted rituals there. The lake remains milky in colour throughout the year and it is believed that Guru Padmasambhava had touched the lake whilst he visited Tibet from this area. Hence, a portion of the lake never freezes.After spending half an hour to one hour there, we drove back to Lachen.
After lunch, visit the Lachen Monastery and start your journey to Lachung via Chungthang. Visit the Bhim Nala Waterfalls and reach Lachung by late evening for dinner.
Lachung is yet another remote high altitude village of Tibetan and Bhutia people in North Sikkim with towering rocky snow peaks, vibrant rhododendron valley, lush green yak pastures, perennial waterfalls and hot springs. This place is the base for exploring alpine valley of Yumthang and Yumesamdong close to the Tibetan plateau.
you cane visit the village and could see the Tibetan style hosue thier door and windows.
After breakfast leave for Yumthang (11,800 ft.) or the "Valley of flowers".
Yumthang is a lush green valley surrounded by snow peaks on all sides where the tree line ends. While on your way, you would be driving across the Shingba Rhododendron Sanctuary which has more than 120 species of Rhododendron trees and is also the home to the endemic Rhododendron Niveum, the State Tree of Sikkim.
In April / May / June the valley erupts in a riot of colours as Rhododendrons, Primulae and many other Alpine Flowers bloom in abundance.
In the winter, Yumthang is somber with snow all around, and the snow clad mountains add to the ethereal beauty of this place. Zero point is about 23 km from yumthang valley, although contrary to popular belief they are not the same places.Officially one is not allowed to visit Zero Point unless the whether permits.On the way back, we visited the hot spring is located some distance away from Yumthang village. To reach the hot spring, one has to walk for few minutes from the road of the village and cross the pedestrian bridge on the River Lachung. Return to Lachung for lunch.After lunch at Lachung, we left for Gangtok we reach Gangtok at night around 8.30 pm.
next day we went to Rumtek Monastery on the way back from Rumtek we took Ropeway which offers good view of the city and they charge Rs110 for a 2-way ticket for adult. In the evening we went for shopping at M.G.Road one can even visit Lal Bazaar as local's normally shop there.next day we were suppose to meet the honorable governor of Sikkim after a brief meeting we left for silliguri and lodge yourself in hotel near the bagdogra airport as did not wanted to miss your flight because of the TMC staging any protest or due to road block due to CM convey. we left for the airport after having your break fast as the airport was just 1 km from the hotel.