Switzerland is a country surrounded by the beautiful Alps and blissful silence. During the winter, everything is covered in a layer of snow and serenity. The entire land seems to have been painted white and for those who love the peacefulness of the winter, it is an ideal place to escape to. For me, it was heaven on earth.
In February, Switzerland is perfect for anyone looking to take a break from the stress of daily life. But in this season, the best of Switzerland is on offer for those who love to ski. This was my incentive to visit at this time. If you're looking forward to staying in a mountain resort and spending a weekend conquering those slopes, you should make a reservation right away because they tend to get sold out early. Check out places in Zermatt, St Moritz, and Verbier. For people who are looking at March-April, Verbier is a great option as they cater to demand for late season skiing.
For those of you who aren't visiting this mesmerizing land just to ski, there is a lot on offer. Here are three of my best experiences in Switzerland, which I think everyone should indulge in:
1. Feast your eyes on the magnificent Alps: Lucerne is one of the most popular destinations in Switzerland and adjacent to it is Mt Pilatus, a mountain that can be reached via cable car. It is over 2,000 meters tall and winter walks are carried out for those who wish to truly explore the Alps. The experience on the cable car is incomparable; I felt like we were floating through the clouds.
For those who wish to reside in the mountains, the town of Davos is the best option. It is the highest town in the Alps and the sights of the landscape will stun you. While there are many sports for the thrill seekers, there are options for fine dining, exotic shopping, and even enjoying a cozy stay in the mountains. There are casinos and discos for those who wish to enjoy the nightlife.
2. Take a ride on the Bernina Express: The best way to get a complete picture of Switzerland's exquisite beauty is to take a train ride through the mountains. The Bernina Express connects Davos to Poschiavo and then goes on to Tirano in Italy. The four hours it takes to complete the journey but it passed by in no time as the panoramic views kept me spellbound. The glacier Express is also a great option for those looking to travel to a different destination. If you cannot manage to take a train ride, another wonderful way to see beautiful sights is to take a cable car ride to Matterhorn.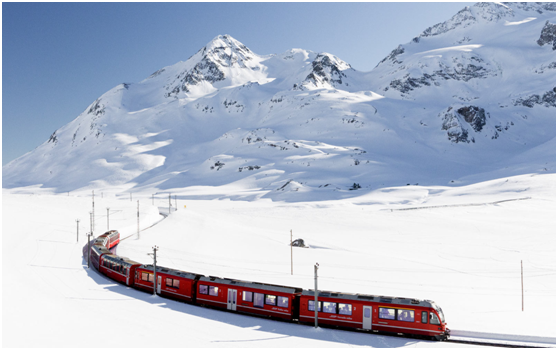 3. Sample local wines, indulge in the chocolates, and relish the cheese: Imagine yourself having wine made from Chasselas grapes as you look out on the shores of Lake Geneva. For the budding wine enthusiast in me, it was a dream come true. Swiss vineyards are a delight and since most of their wine isn't exported, the only chance you have to sample most of them is in the country itself.
However, vineyards hold specific events for sampling wines which mostly occur during May-June. I was sorry to have missed that when I found out (but the skiing experience made sure that I had no regrets!)
As for the chocolates, everyone all over the world knows the allure of Swiss chocolates. The milk chocolates that you get to taste will be unlike anything else in the world; and they make a great gift for everyone back home! And of course, the multitude of ways that the people of Switzerland use cheese is fascinating. In Fribourg, you can have some cheese fondue melted with white wine, garlic, and kirsch (cherry brandy). Or you can try some local exotic varieties as and wherever you go.
Before you head on there, make sure that you have everything you need. During January-March, the temperature ranges between -2 °C to 7 °C. If you aren't well prepared, the entire trip will be wasted in the bed, recovering from the effects of the cold. Here is a checklist that I made of the most useful items you will need:
o Snow Boots/Thermal Boots: Get proper snow boots for yourself because slipping is a risk anywhere you go. Walking will be terribly inconvenient without them, even in the cities. Try to get boots with soft rubber soles because anything else can get really hard due to the temperature and hurt your feet. Try to 'wear in' your boots before the trip because that will make them more comfortable. Invest in some quality woolen socks for your feet.

o Layer yourself in thermals: Anybody who loves the cold knows how important it is to wear your clothing in layers rather than pile on some thick jackets. Thermal underwear will not only keep you comfortable- it is also crucial to keep your body warm and safe. Get your hands on some good thermal underwear made of light wool or Merino wool, as they are comfortable even when it's hot. They wick away moisture and prevent odors.

o A warm jacket: Carrying a jacket is obviously necessary. Pick a slightly oversized one so that your layers can fit easily under it. It is best to get a waterproof jacket as rain is a big possibility and an umbrella will not be sufficient. This is because the wind tends to be too strong which makes an umbrella impractical.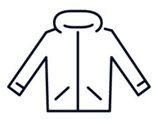 o Be prepared according to your itinerary: Temperatures will fluctuate depending on where you go and what activities you indulge in. Keep a warm hat and a scarf handy at all times so that you can quickly cover your head in case of strong winds.

Apart from the must-do activities and the skiing, Switzerland has endless joys to experience. You can immerse yourself in local festivals, see some contemporary art, take hikes, or even enjoy a quiet retreat in some quaint village. Regardless of what kind of vacation you like to take, Switzerland will never fail to delight you!
And for those who want to go skiing closer to home, Gulmarg in Kashmir is one of the finest destinations for skiing in the world. There are slopes for both amateur and professional skiers. The gondola at the top, called Phase Two, is the second highest cable car in the world. The best time to visit is between mid-Jan to mid-March.