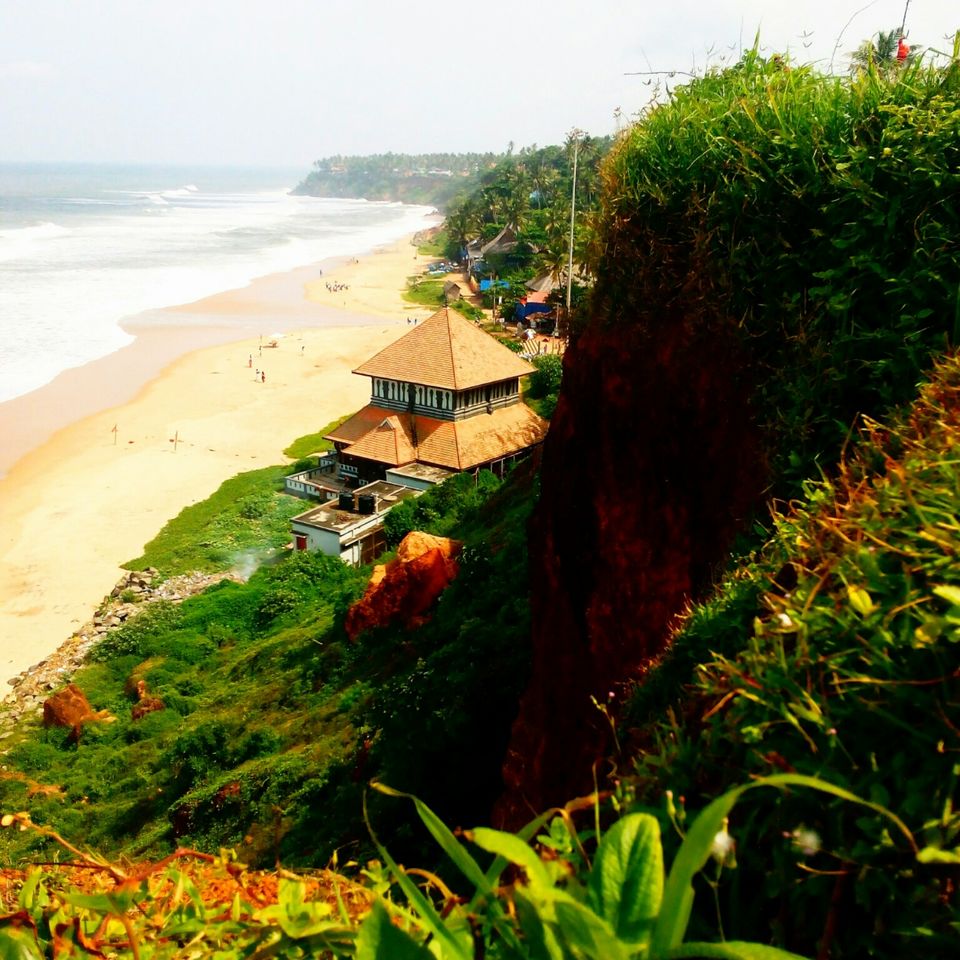 Do you have a craving for a beach?
Are you a beach freak, and love to ride bikes?
Here's my experiences of bike road trip to some of the most adorable beach locations in India, which i recommend highly -
i. Dhanushkodi
I was cruising along the Pamban - Rameshwaram road and towards Ram Sethu point, leaving the busy hustling town of Rameshwaram behind, which sported a religious outfit from head to toe. Temples everywhere in all its grandeur and architectural brilliance, standing like some kind of phenomena. And with people leading the religious processions in almost every corner of the road, chanting names of lord Ram on loudspeakers, and carrying that spiritually hypnotized look on their face,
I got a deep realization, that this heavy duty scene is what India (the country) could be all about.
A country of culture and traditions! Moralities and duties!
I was going deep in thoughts of India's history and traditions, neck deep into this sense of pride that "I am an Indian"
Until,
I heard the crackling sound of car horns from behind and saw the cows in front bringing me back to reality. Huh! Quickly focussing back on the road on which I was moving fast on my bike Royal Enfield Classic 500, I got out of Rameshwaram in exactly…. 40 mins, and entered the scenic surroundings of Dhanushkodi.
Dhanushkodi is an extremely fascinating place. A tiny village placed on the shores of Indian Ocean in Tamil Nadu, contains old ruins and houses placed on the beach area and overlooks a straight road coming from Rameshwaram and going towards Ram Sethu point. The road is surrounded by swamps, giving a fresh rich look on the banks of the mighty Indian Ocean and which continues to stick with the road until you reach Dhanushkodi. From Dhanushkodi to the last point Ram Sethu, the road is all sluggish filled with wet sand. In other words, after Dhanushkodi there's practically no road that exists! Once you reach the last point, the only thing you see is ocean water and its vastness, accompanied by strong pushing of wind from all directions. It's simply heavenly!
As I moved around the place, I saw a small market area as well. Ah! A marketplace in the ruins of Dhanushkodi? Can you believe it? Pretty unconventional thing to see.
The charming market is equipped with handicrafts, embroidery items, locally made bags, shoes and decoratives made of sea shells. There's outlets for lime water, and raw mangoes which is required for the heat that fills the area.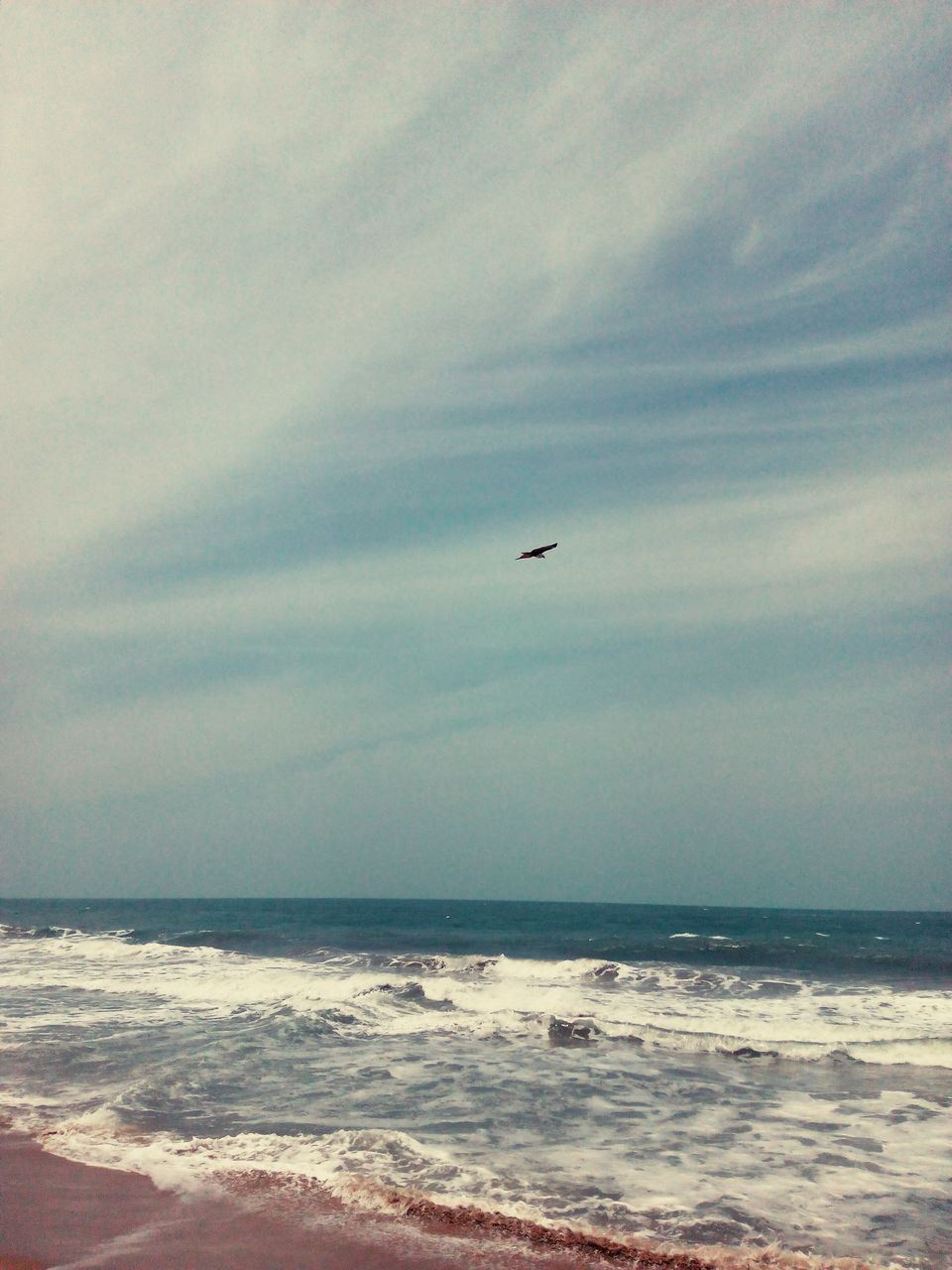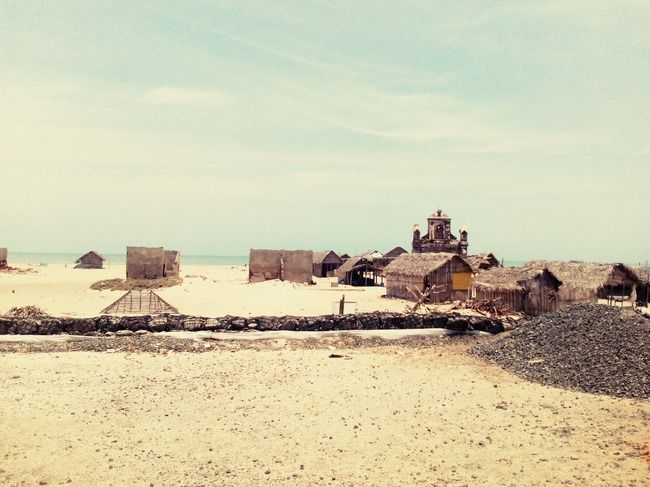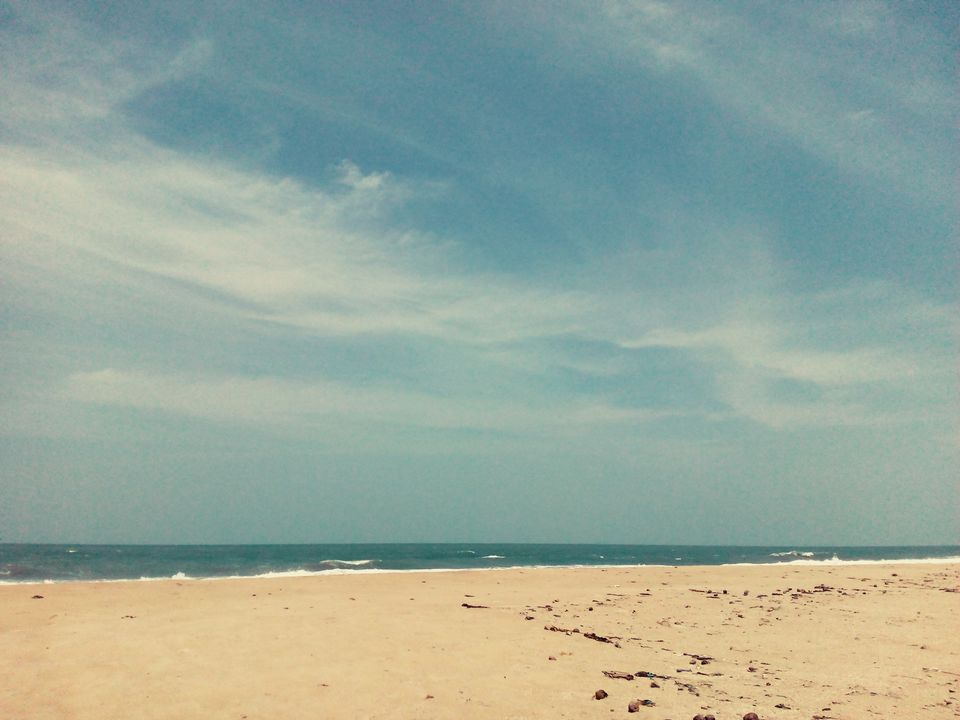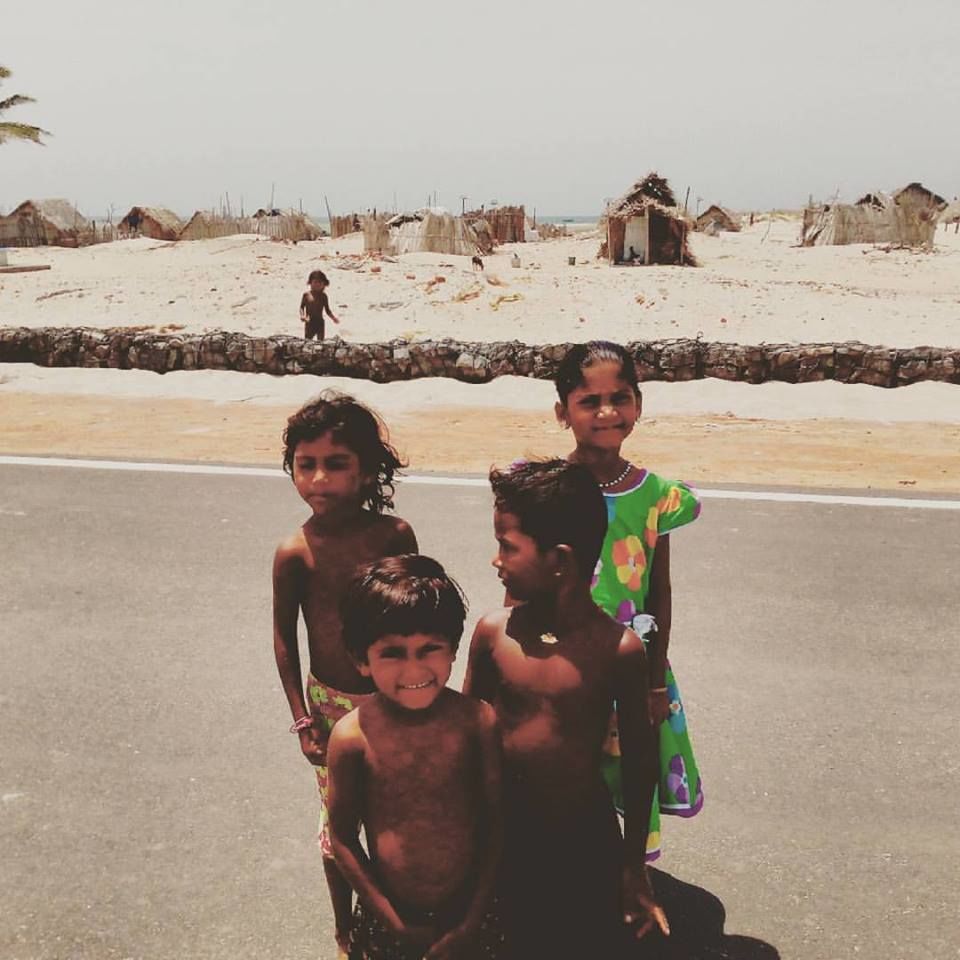 My Summary,
Strengths – A unique place because of its historic ruins, marketplace with local handicraft work and a beautiful view of ocean water surrounding the area from both sides of the road.
Weaknesses – A sense of fear due to area's cyclonic climate, very hot during summers, no shacks/restaurants on the beach side (it's the most rustic village I have come across)
Rating – 4.5 / 5 (deserves a high rating, as this is a place which goes deep into your psyche! A must visit if you are going on a bike)
ii. Kappad
After spending some good quality time with my mother in Mallappuram, a small town in Kerela, I was now heading to Bangalore via Khozikode-Kannur highway. A multi-lane broad highway on which I was racing at 100-120 kmph. Couldn't help with the speed, as it was very tempting. Heavy thrust of cool air on my body was rejuvenating my mood constantly, and then I started to wonder….
"There ought to be some beaches around this place". Reason, the highway lies on the coastal belt!
I was cruising on the highway till I saw a sign-board on the left saying 'Kappad Beach – 5 kms'. A gush of excitement stirred in my body the moment I read the signboard and immediately I knew that I was going there. It was afternoon, the sun was high on top, and I thought how perfect it was to suddenly make this plan.
That small 'insignificantly looking' left turn amidst the busy market came within no time, and I turned my bike on it.
Aha! What a visually appealing road I had got into. A road going through a village, and finally opening up to a beach. It was quite an effort to reach there with a lot of turns on the road and when I reached, none I could spot any restaurants, shacks or hotels. There is only one beach resort there, and it's called Kappad beach resort. This resort overlooks the sea, has coconut groves covering the road, and a huge resort premise with cottages lined up. Has a fancy 5 star type reception, and looked very promising if you have to spend a night there.
Kappad beach per say don't offer much recreation and is very secluded. But there indeed is one refreshment center where you get fruit juice, cake and ice cream :)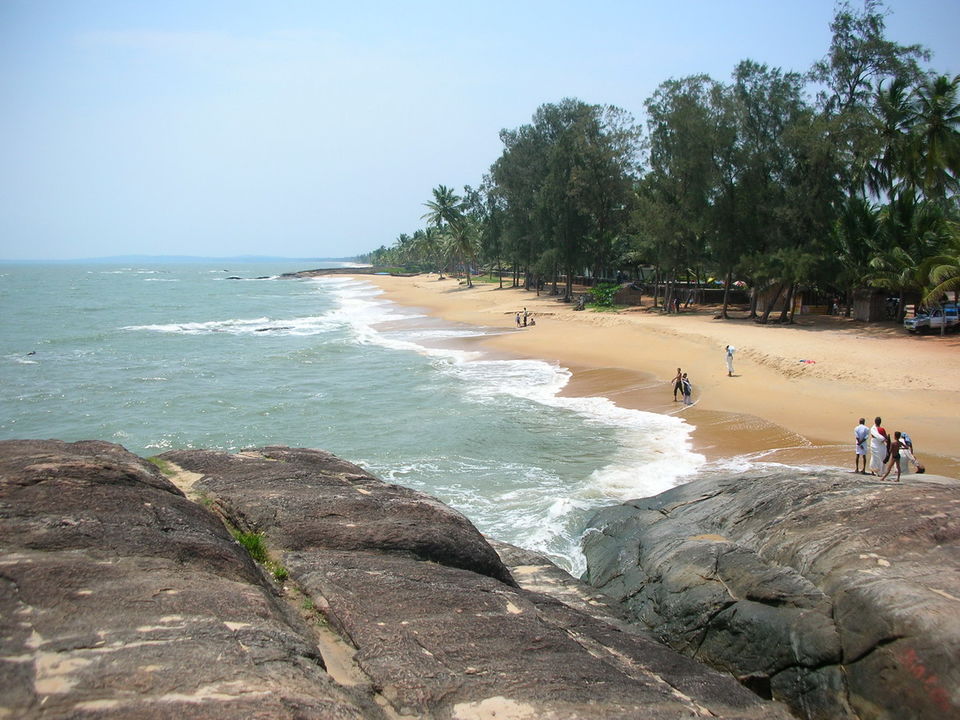 My Summary,
Strengths – A simple, peaceful and a secluded beach location, Kappad beach resort is a perfect place to stay overnight with friends
Weaknesses – not many shacks to hang around, no water sports/attractions
Rating – 4 / 5
iii. Varkala Beach Cliff
"Come to daddy, you beach"
The mother of all beach locations, Varkala is the best I have seen so far. I did knew this beach existed, but not planned to visit it when I was riding through the village settlements in Kerela crossing remotest of places like Pala, Manimala and Ranny. I was getting out of the Western Ghats, and moving towards the coastal road of Kerela. From Vagamon to Kovalam, my bike had spent almost 5 hours on the road and what a blunder of a plan to omit Varkala from the initerary.
But,
I did not miss it
Thanks to my instincts and 'good' habit of coming up with impromptu change in plans, I decided on the way that why not get a quick glance of Varkala which I had to cross to reach Kovalam. A total ride of 160 kms, which took me around 4-5 hours. Strange, right? Not to me it isn't, as I know how difficult it had become to come out from the Idduki district and small village areas. Absolutely no phone network, no English or Hindi speaking locale, and no sense of direction in those twisty and curvy roads.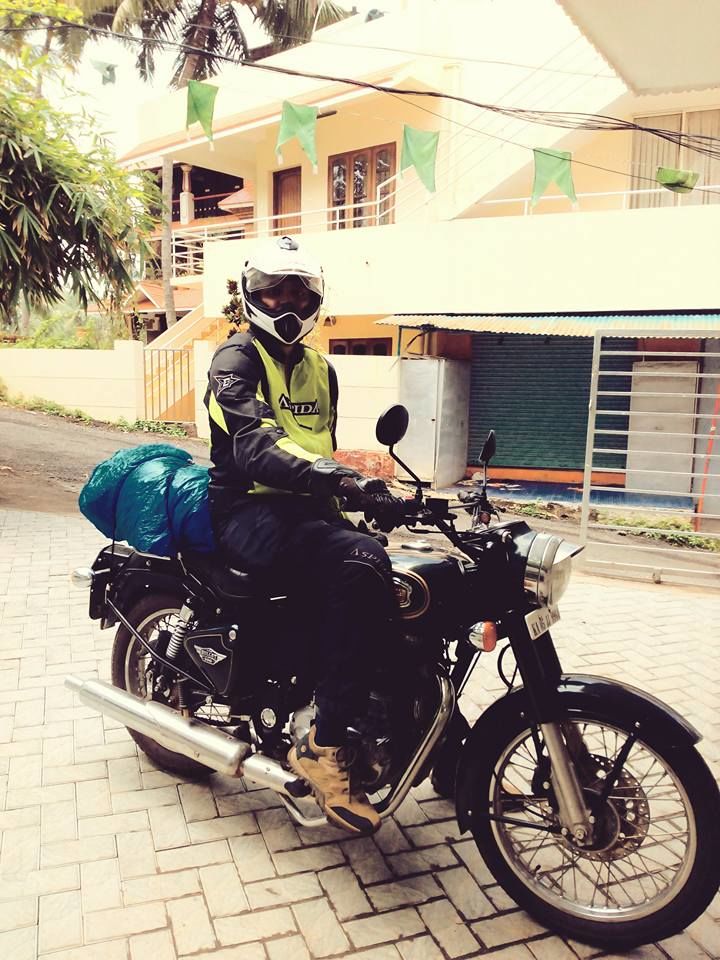 I didn't complain though :)
Reason is, this entire stretch of road from Vagamon to Varkala via Pala, Manimala, Ranny and Adoor was a delightful experience of nature, trees and flowing river. One of the best roads I have seen if you are on a bike. And so I took my own sweet time to reach.
I checked-in to a resort that night, and this is what I saw next day –
A heavenly abode dwelling on the banks of Arabian Sea, Varkala beach is nothing less than a paradise. And I am not over-stating this. It has all the ingredients that you look in for a beach location and the part which makes this place outstanding, is a cliff where all the people have settled to do commercials and trade. The cliff can be navigated on a 'kaccha' road, one side of which views the sea, and the other gives a big line-up of shacks, clothing outlets, massage/Yoga centers and resorts.
You want to enjoy the sea?
Sit at any one of the shacks, and get a panoramic wide angle view of the sea. It's simply wonderful. But oh, caution you will not get alcohol in any of these places, barring some shacks where you might get Beer if you ask for it specifically.
Not to forget, you can see a lot of eagles flying all over the place taking in all the cool sea breeze. I remember spending good 15-20 mins in just looking at them and getting stunned with their flying antics. Gliding back and forth, going far away and then coming back again to the shore, it was a wonderful scene to look at.
My Summary,
Strengths – Extremely beautiful view of the sea from the cliff, excellent place to hang around either with friends or alone, good turn out of foreign travellers/bag-packers
Weaknesses – No alcohol consumption allowed except for beer
Rating – 5 / 5 (well alcohol is a setback, but not a big deal. The scenic encounter of the sea outruns this requirement)
iv. Kappil
I was still in the hangover of Varkala when after 2 days I decided to leave. I enquired about other beaches in the area, and the name that I got was 'Kappil'. The name sounded interesting, and thus I decided to check it out.
Kappil beach is around 10-12 kms away from the main town of Varkala. After crossing multitude of railway signals and stunned locales (as they looked me and my fancy bike loaded with a huge bagpack tied up with bungys at the backseat),
I finally reached to this 'one of a kind' beach location.
Only beach in my knowledge, where you can witness sea water and quietly held up 'backwaters' touching each other gently. Not many people were seen as no major restaurants/shacks there. Only small ice cream vendors, to which I couldn't hold myself back ;)
Not much to see around in this area, but it was a scenic encounter of the sea and backwaters giving a good visual, and of course palm trees for which Kerela is famous for.
Wish it should have rained!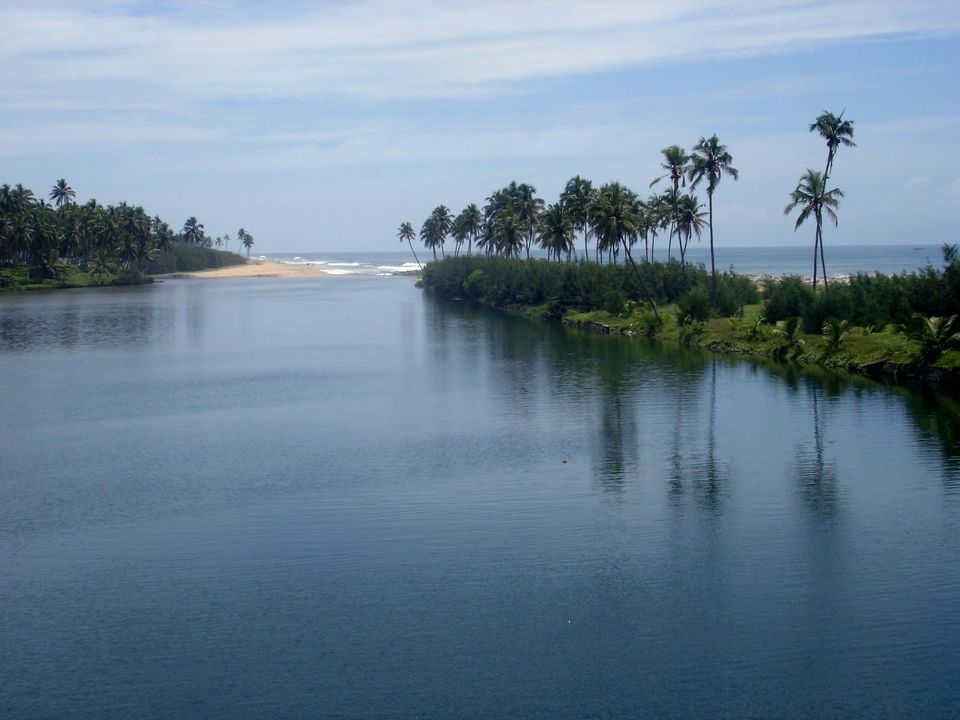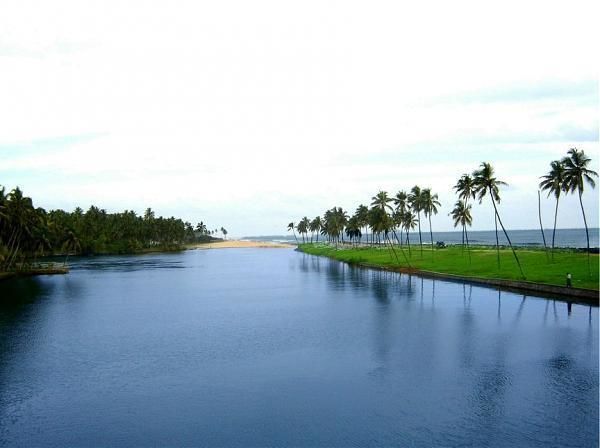 My Summary,
Strengths – Sea water and backwaters is a unique sight to look at, less populated and hence perfect for those who don't like many people around
Weaknesses – no shacks/restaurants so maybe you wouldn't want to spend much time there
Rating – 4 / 5
v. Marbela Beach Resort
I am guessing Marbela is not that 'secret' a name. Its quiet talked about if you are in North Goa, and falls just short of Arambol. Not that big in size, or movement with respect to beach shacks but there is this dazzling beach side resort, which let's say could be the hottest destination for beach parties, of all that I have seen in North Goa. It has a great bar area, some fine groovy music, spacious and those cosy beach beds which could allow people to spend quality time with their closed ones.
Especially on weekends, it's filled with people. And on occasions like Christmas and New Year, the arrangement takes a hypnotizing effect with party scene going on whole night and ending next morning with breakfast and tea ;)
So with all the respect in my heart, allow me to introduce Marbela Beach Resort, one of the best that I have seen in Goa! I happened to go there for new-year night 4 years back and it was the most random plan ever. We were four of us, two guys and two girls. As expected, we weren't able to find any wallet friendly place where we could hang around, and that was the time Rakesh (my friend) used his 'psychic powers' (yes you read that one right) to get hold of the hotel owner, and managed to get a free entry for all of us to Marbela beach party. We had never heard of this place, before that night.
We hired some bikes which we used to reach Marbela from Baga. I remember we rode almost all of North Goa the next day too witnessing nature, trees and the amazing vibe of Goa.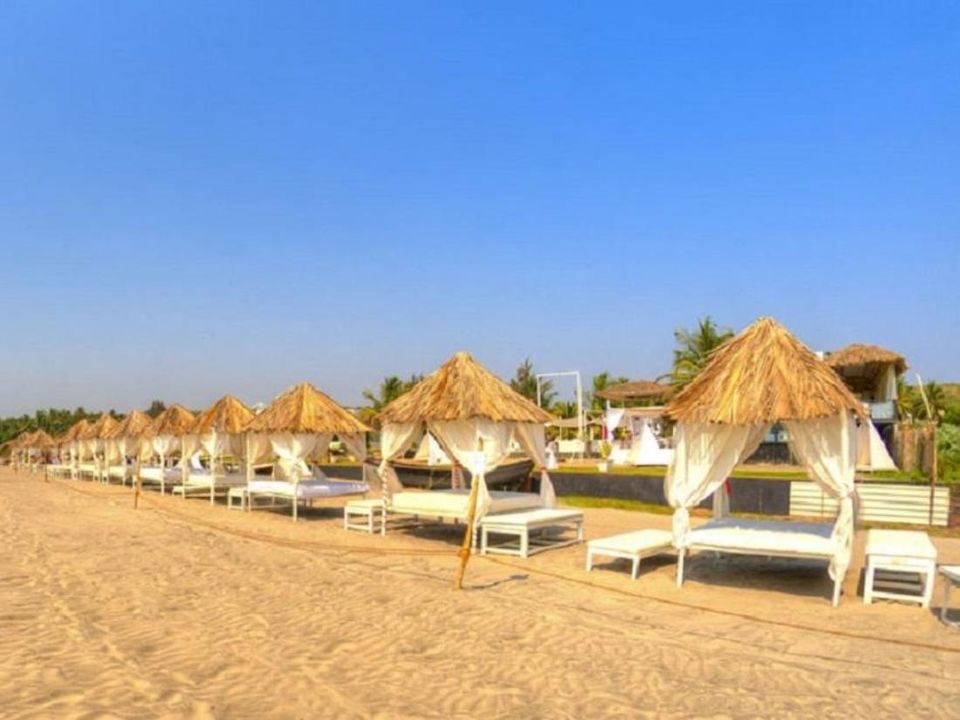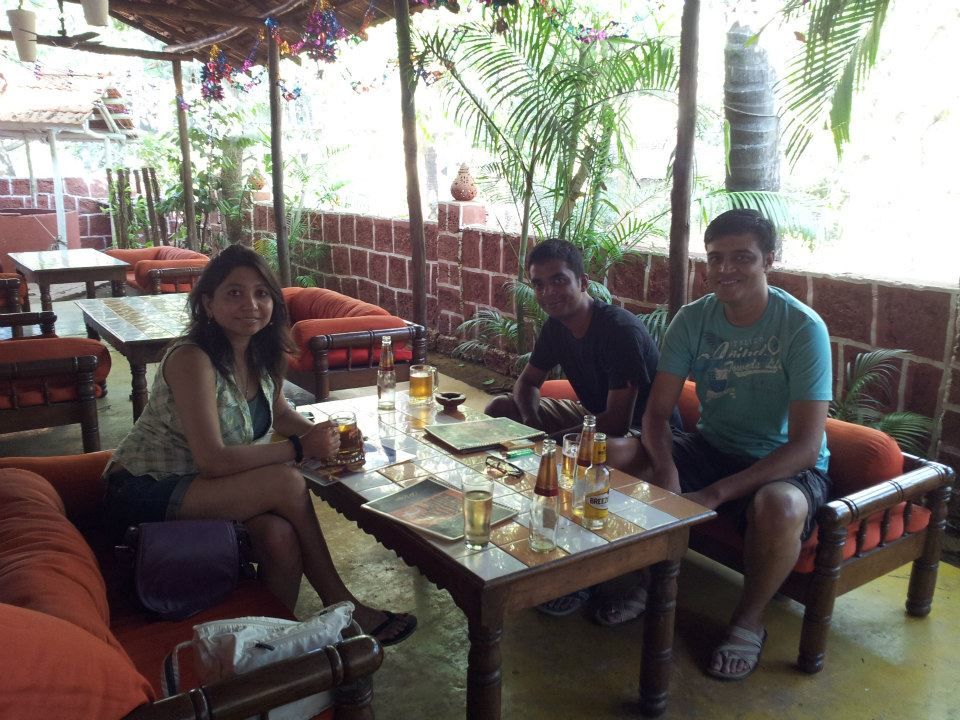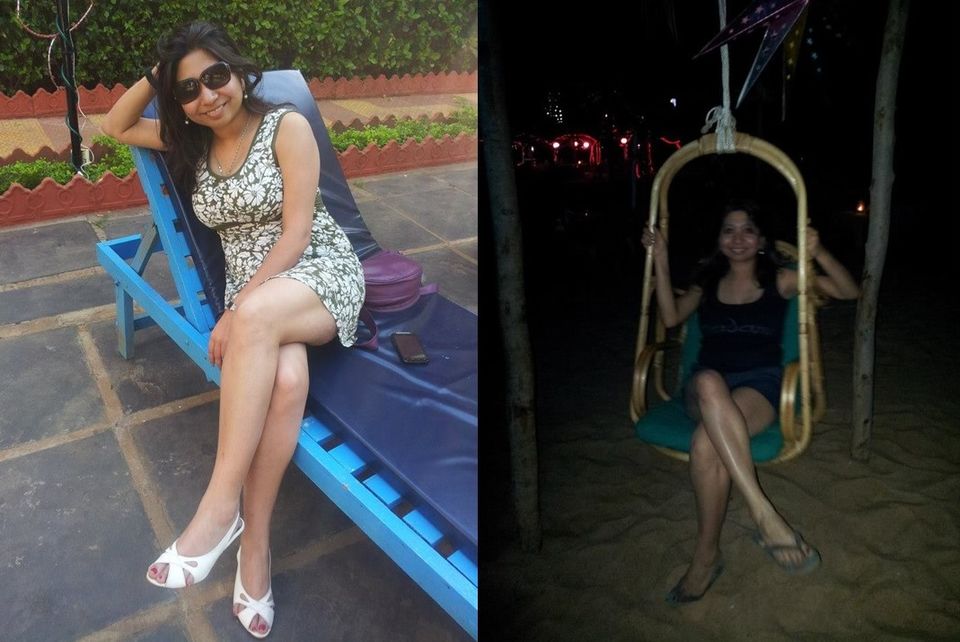 My Summary,
Strengths – a hot spot for socializing and partying, great interiors and beautiful setup especially the beach side beds which are perfect for couples to sit and relax
Weaknesses – too pricey for food and alcohol. Rest I don't want to think much on weaknesses, its goa guys! ;)
Rating - 4.5 / 5
vi. Kondakarla Beach
"What a superb sea drive this place is"
A road placed on the hills, and a view of the sea from this road when you drive on it is a scene to die for.
This beach is located 40 kms outside of main town of Vishakhapatnam, and is guarded by hills through which the road goes when you are moving towards the beach area. The beach is reasonably clean, blue in colour and people are seen doing fishing as well. Not much to see when it comes to food outlets, or restaurants so it's preferred to carry your food/drinks.
Well you can't really spend the night there, unless you carry your own camp kit. One of the most rustic beaches that I have seen because of presence of locales and their sea bound activities, Kondakarla is indeed placed high on my mind especially for bike ride.
My Summary,
Strengths – Terrific road drive on the Eastern Ghats providing a great sea view, peaceful and countryside feeling, fishing experience if allowed by the locales
Weaknesses –Not a preferred place if you are looking for beach parties/recreation, as it is isolated
Rating – 4 / 5
vii. Kushi Beach (Ariyaman)
Kushi beach or also popularly called 'Ariyaman' is a beach location on the Madurai – Rameshwaram road, and just before reaching Mandapam, it comes on the left. A road less travelled, this beach arrives after crossing a railway track (which leads to the famous pamban rail bridge), small village houses and gigantic bunch of Casuarina trees. These delicate trees are so many in number, that you can't actually get a sight of the beach from the other side of the trees.
A playful environment especially for children, the beach is straight forward outpouring of a carefree vibe bringing a balance to the sophistication that Rameshwaram has with its religious surroundings. A hot destination during Christmas, New Year and Bakarid festival, especially with water attractions like parasailing and water scooters, Kushi beach does manage to offer a pleasing experience.
I happened to go there when I visited Rameshwaram on my bike in the month of July. It was hot, and a good time for ice cream sellers where I spent most of my time, under the giant trees of Casuarina ;)
My Summary,
Strengths – Most definitely the dense Casuarina trees providing a big shade for people to relax especially in summers. Clean sea shore and white sand
Weaknesses – very hot during summers, no shacks/restaurants on the beach side
My rating – 4 / 5
viii. Mararikulam (The Fishing Village)
A beach nestled in the lap of nature, Mararikulam or simply Marari is the most exotic beach destination in the Alapuzzha district of Kerela. Popular for fishing chores with all the fishermen lined up with their boats, you will definitely get a glimpse of local flavor and habitation.
The best part is that Marari is not all that secluded. You can see lodges, resorts and people pouring in especially in season time from November to February. So in case you want serenity mixed with a bit of recreation and socializing, then Marari beach is the place to be.
The road to Marari is scenic as well which is the leftmost Alappuzha – Arthunkal – Kochi road. This road is terrific if you are on a bike. You will love every bit of it, and moreover its Kerela, so one obvious thing is the palm trees that follows you on the entire stretch of the road, and then even follows you on the beach. This dense huddle of palm trees even goes a long way with the sea shore, accompanied by the incredible white sand.
A perfect design of how a beach should be, if you ask me.
And yah, there is access to the sea water as well if you want to swim.
My Summary,
Strengths – The long sea shore with white sand and palm trees giving a good blend of nature. A great road journey till the beach. If you are a photographer, and looking for some cool shots then go there. Considerable flow of people including foreign tourists.
Weaknesses – a bit expensive to stay on the villas/resorts there especially on season
Rating – 4.5 / 5
That's it folks! Hope you enjoyed the blog :)
Follow me on
https://www.facebook.com/rubberandtorque/
and,
@rubberandtorque (Insta)
for more such travel pictures, and updates on bike ride events ;)
This is a shout out to all bikers/travelers, you can call me anytime on +91-9741788535, or write to me at debashishbaidya@gmail.com and i will be glad to interact with you
Keep riding...keep travelling!