Being a banker i bear heavy stress everyday...dealing with customers...targets...public welfare schemes...all make it difficult to live a peaceful life....i was posted from Noida to a branch nearby my hometown in august...i haven't had vacation from a long time..so i decided to visit the ladakh valley...though it was late as d best time to visit there is july august September...but still i wanted to go there... I have asked many of my friends dat uf they wana join me....nobody agreed...some had financial issues nd some had other.....so i decided to go alone......yes!! Alone..For this i have to take permission from my dad....as m d only son....he would never allow me to go anywhere far away alone.....Here,my mom played a vry gud role..she managed to make him agree.....so...m all set to fly....I hv read so much about ladakh...its beauty..its people...everything....though excited...i contacted many unknown people on FB to find out d right schedule.....At last i decided to go there by air....rent a bike there....come back by road....my budget was around 25-26 k....as i broke my RD prematurely....Here's my journey--
Day 1After coming home early from d bank..i boarded a j & k SRTC bus for Jammu...reached there at about 8 in d evening....stayed for d night at a frnd's place.
Day 2Jammu to Leh by air....it took 35 min to reach Leh..d district headquarter of Ladakh....reached there at 10:15 am..d outside temperature was aroung 14-16%C2%B0C..went to a guest house where i already had a booking..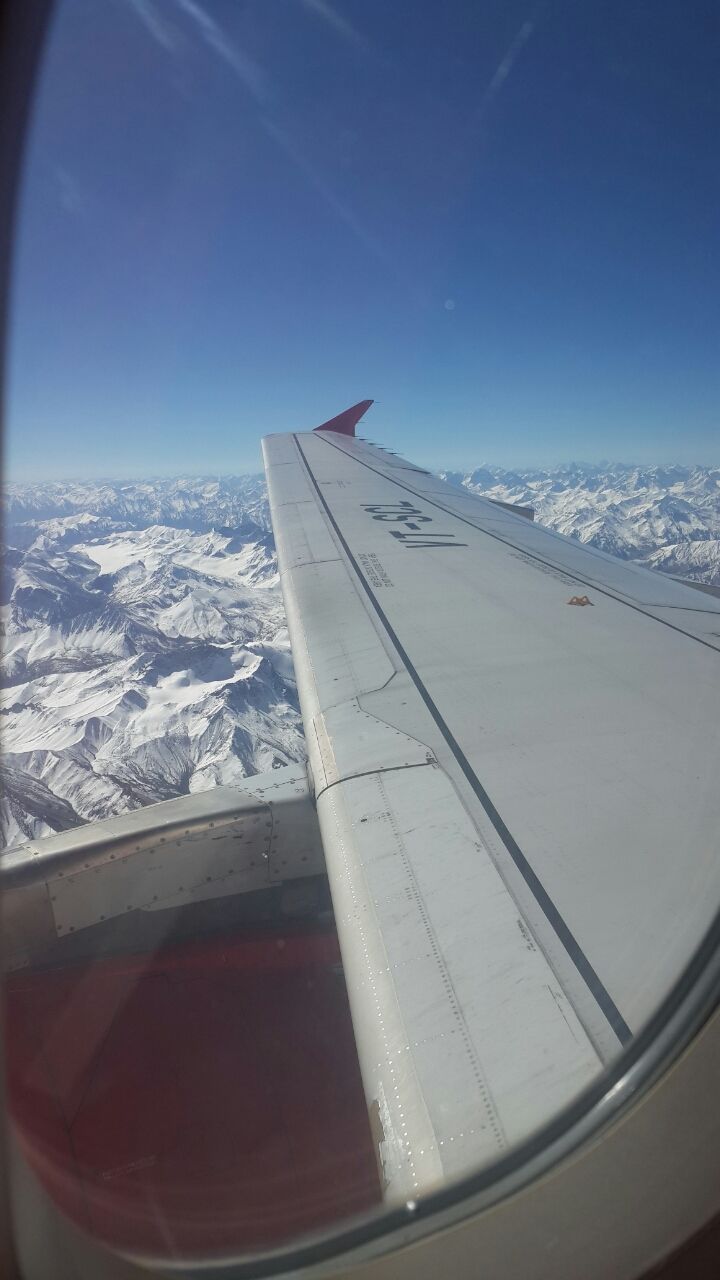 As leh ladakh is situated at a high altitude wid less amount of oxygen.it is advisable to rest there before going out for exploring for 24-36 hrs after arriving there so as to make ur body use to those climatic conditions...so i rested in my room for the next 22 hours
Day 3I woke up at 7 in d morning..went to d terrace to have a view of d place..it was amazing..seriously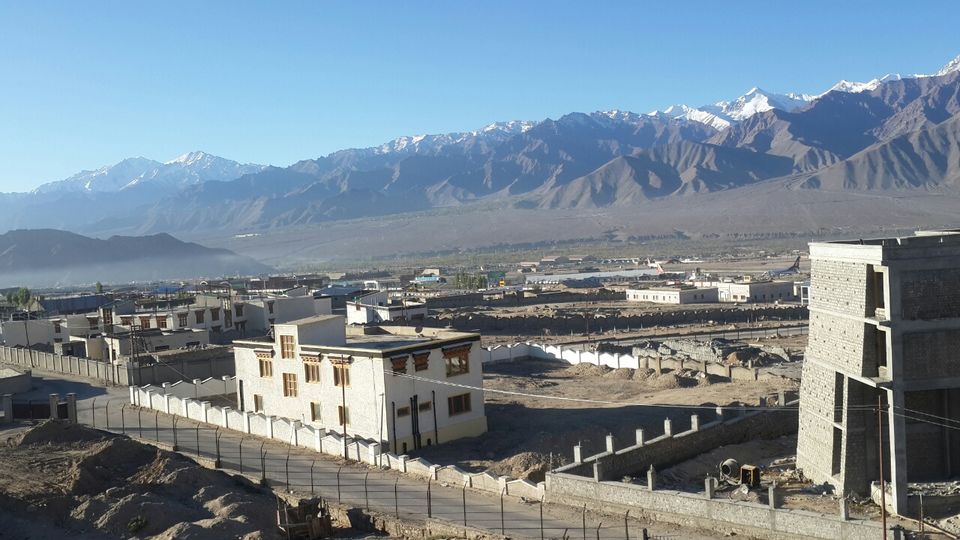 Leh is situated between d hills all around...d view of leh airport is beautiful from d terrace...After having breakfast i went out to reach the main market...a local guy driving a gypsy dropped me there..he advised me many things like drink much water..dont roam around in d dark bcoz d dogs there become dangerous at night..etc...he dropped me near a bike rental shop 
 Because of d season ending d rates were dropped..i got a Royal Enfield 350 for INR 1000 per day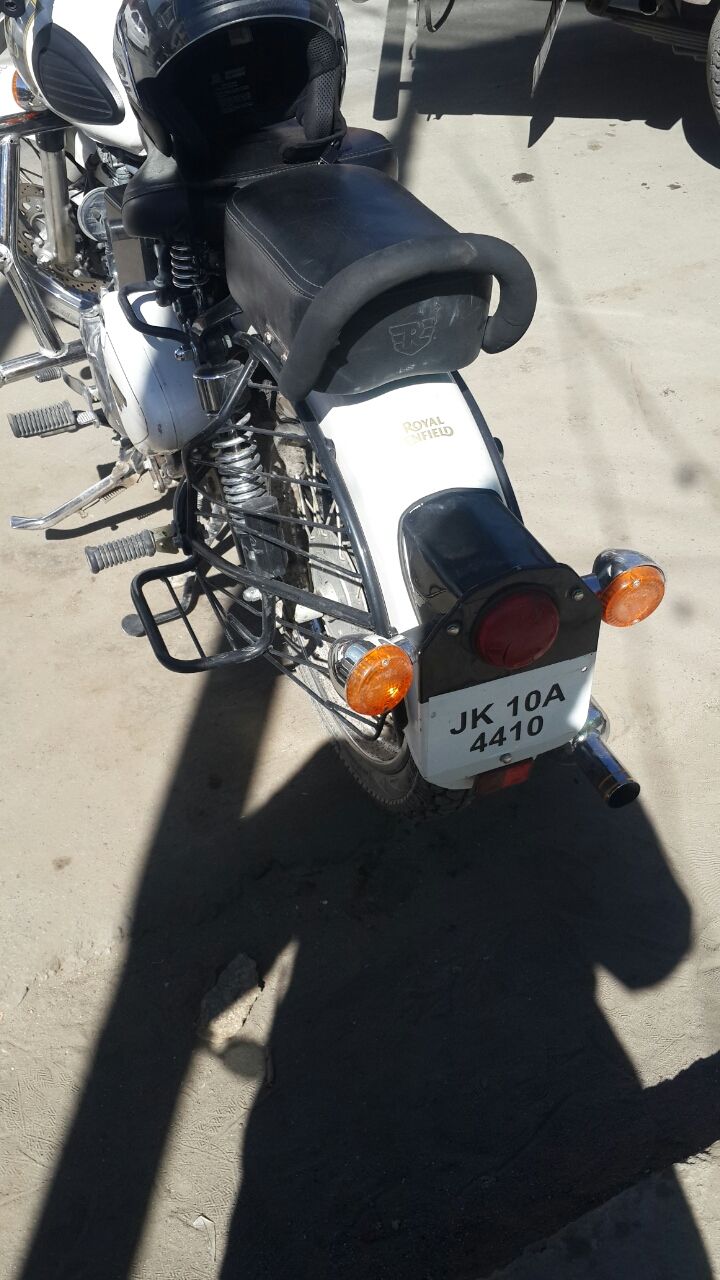 So here start my real riad trip....i went to a fuel station and got the tank full...went on to visit NIMMU village about 45 km away from the leh town..d main idea behind vising that place is to cover d local attractions like the Magnetic hill.....Indus-Zanskar sangam..Gurudwara Pathar Sahib....Hall of fame....etc..these places are on a 45 km stretch from Leh..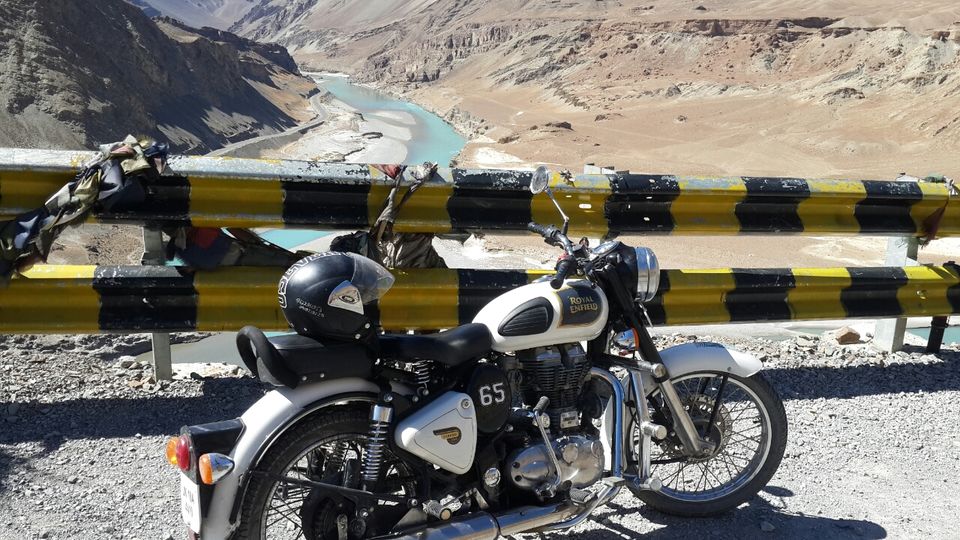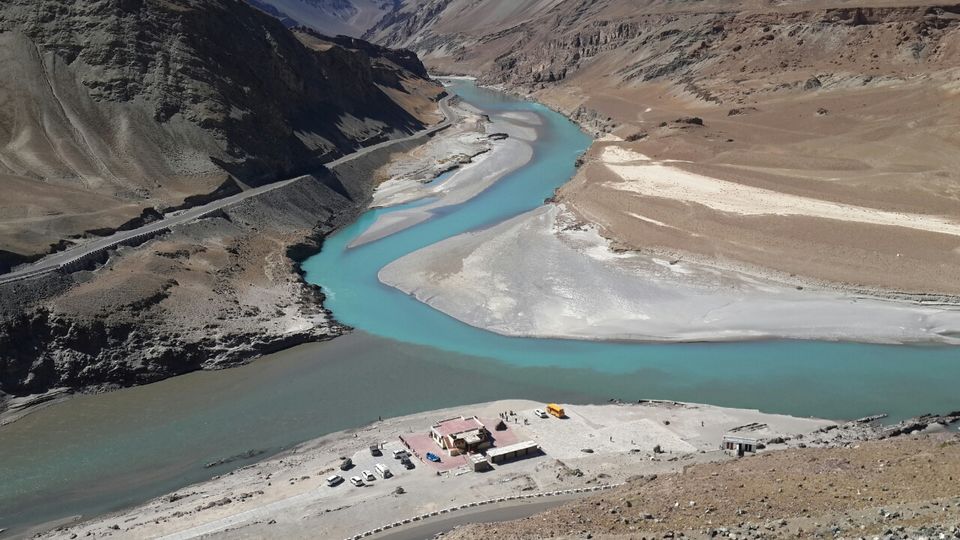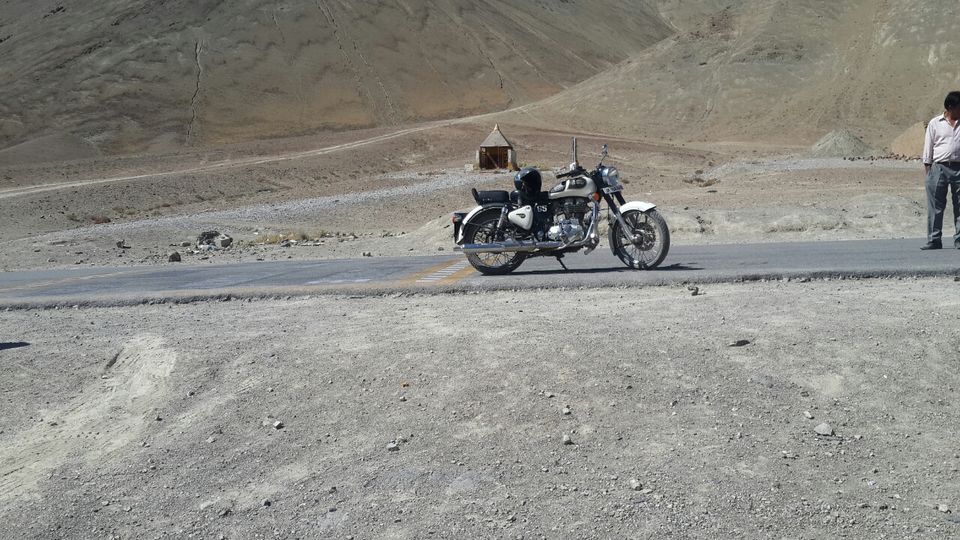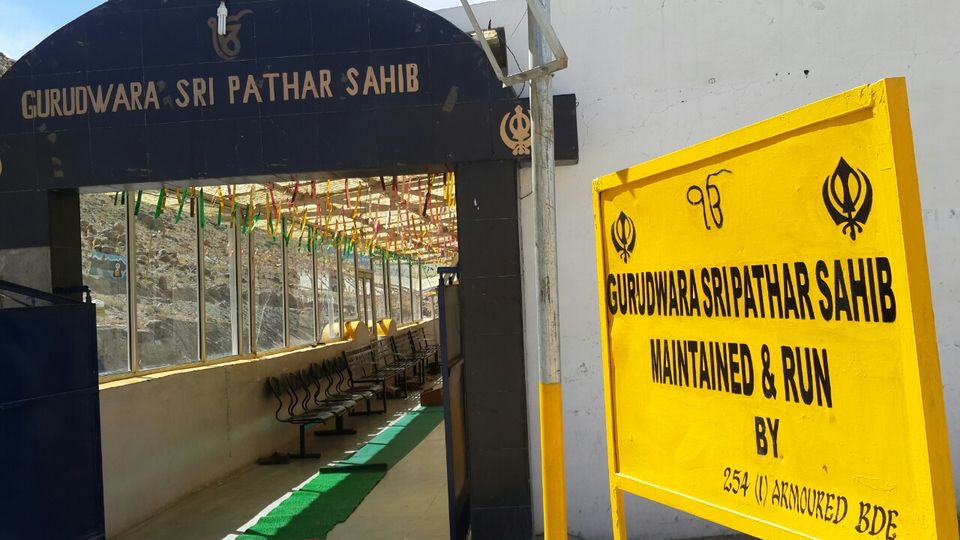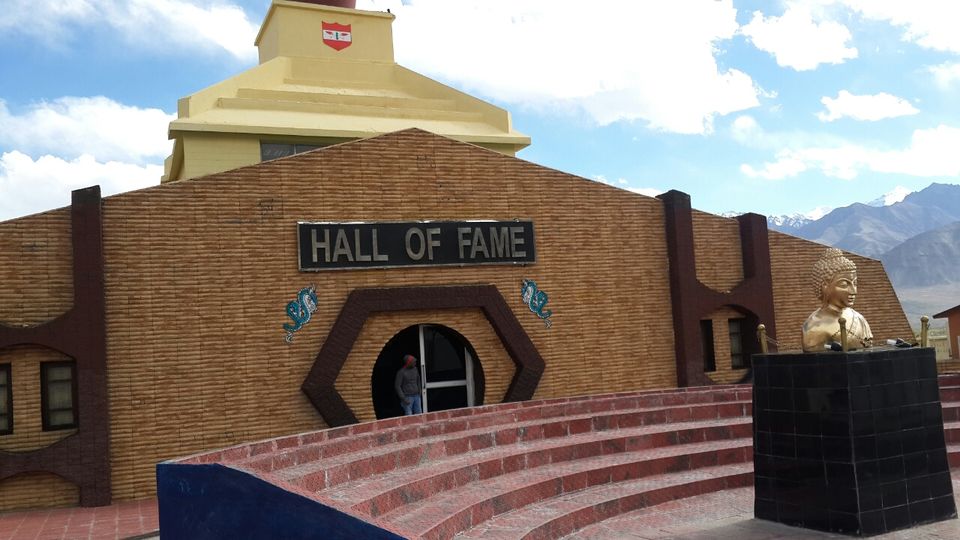 had a great day..returned to my room at about 4 in d evening..enough for d 1st day

Day 4It's 4th of oct and i have decided to visit the PANGONG LAKE..its about 165 km away from Leh..so i started early at about 9 in d morning...the road till kharu village is an expressway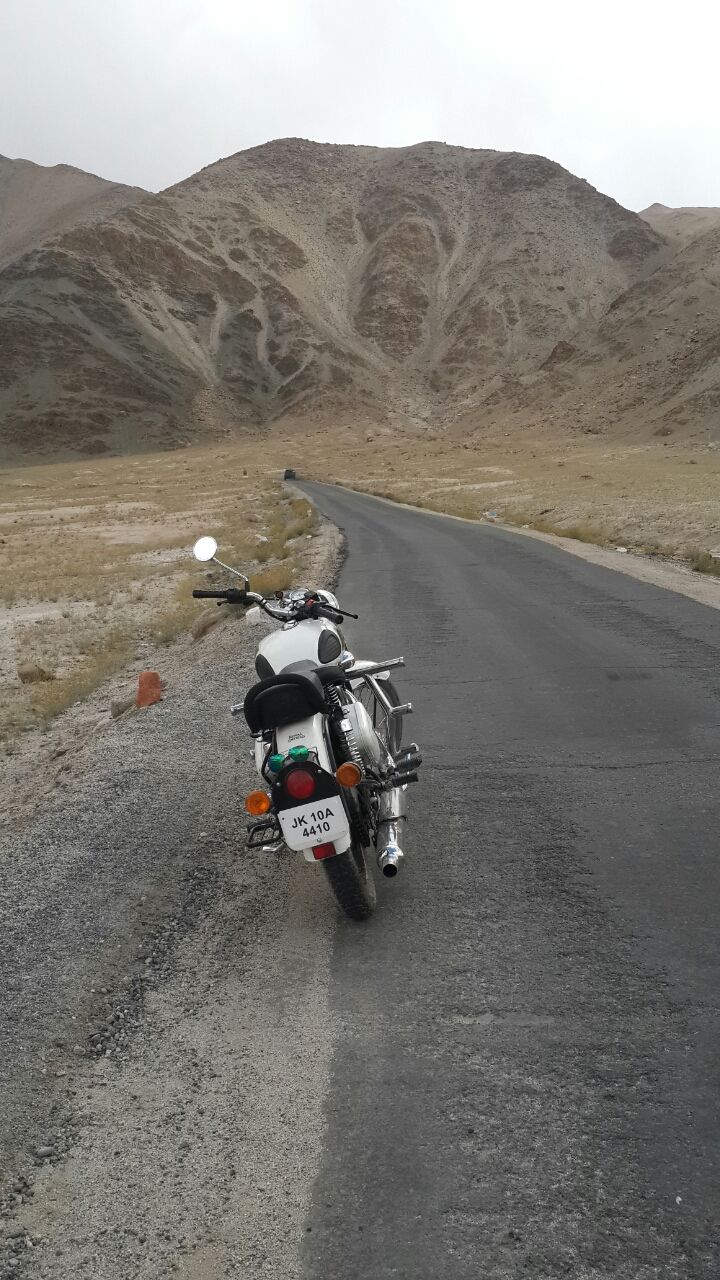 ...from Kharu the uphill road starts..i witnessed the real beauty of the Ladakh valley...monestaries...mountains...long roads..fresh nd cold air....its a Wow kinda feeling..reallly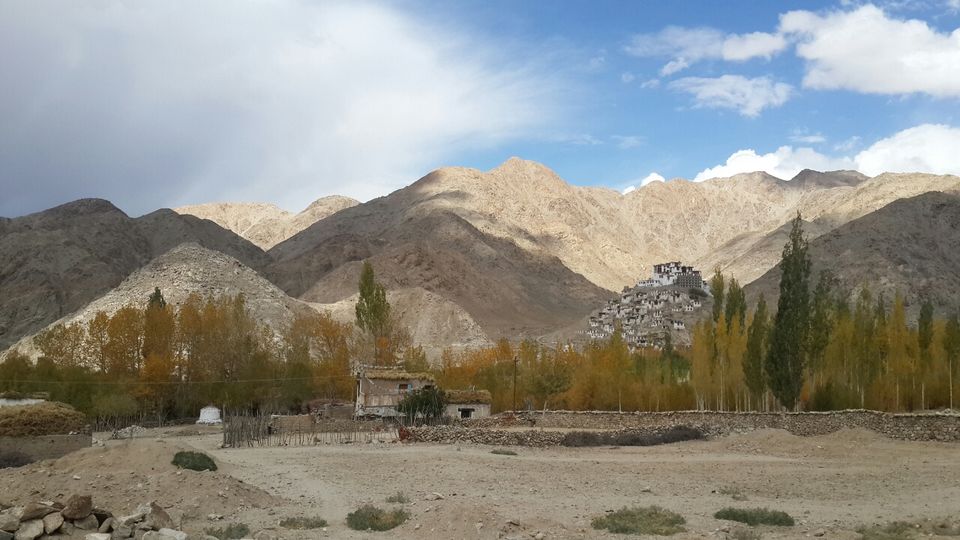 It took about 1 hour to reach the Kharu village...my next destination was d Changla pass..d 3rd highest motorable riad in d world...it took 2 nd a half hour to reach there though i stopped at 3-4 places for photography...wen i was heading to Changla...the weather was getting bad...nd in a few minutes i observed d icy air..nd drizzle of snow..but i contunued.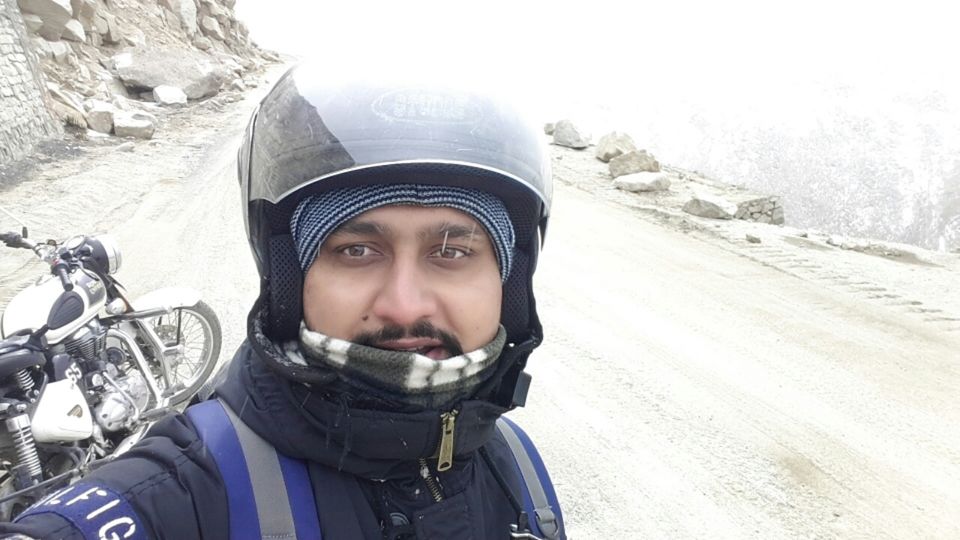 .though it was vry cold i had to stop 2-3 times to rub my hands against the silencer of my bike as my hands were nt working properly...as i reached Changla..i decided to hv tea as it was around -1%C2%B0C there...wen i came out after 15 min..i was shocked to dis this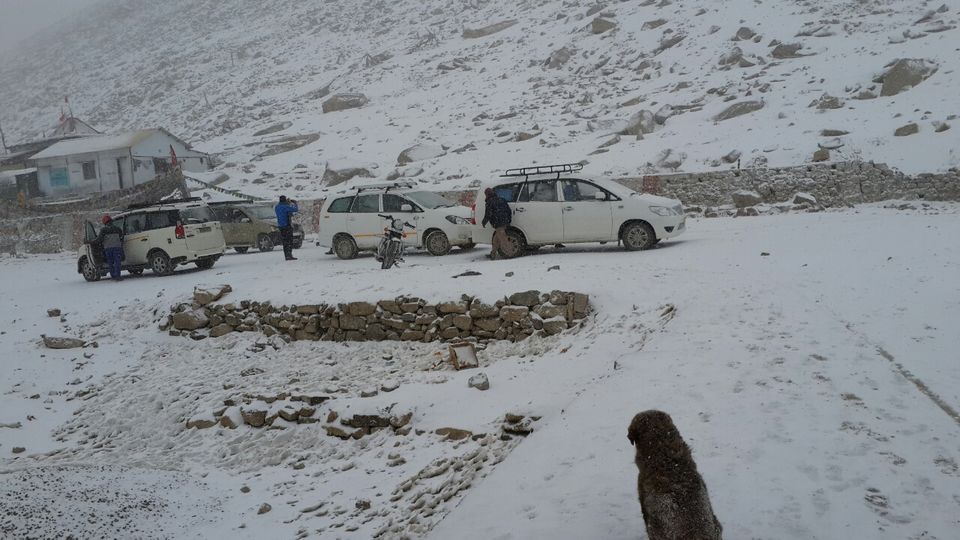 I got stuck there..neither i cud go forward nor backward....as my bike slipped twice...i decided to go back inside dat cafe nd wait for some truck or something to take me n my bike back to kharu..after waiting for an hr..i found a mini truck coming from Tsangste side..i requested him to take me n my bike downhill...nd he agreed...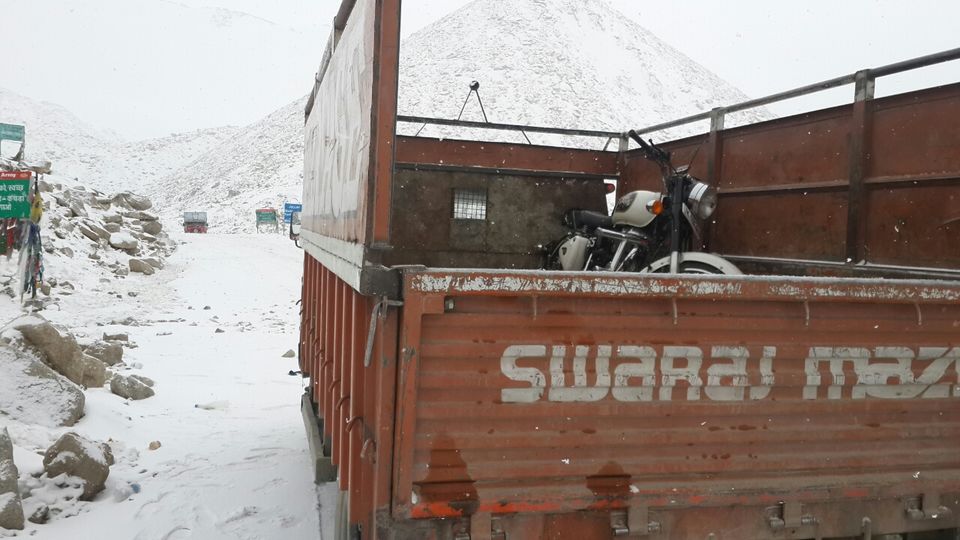 d road became bad to worse in just 1 hour of snowfall..d experienced truck driver dropped me safe to kharu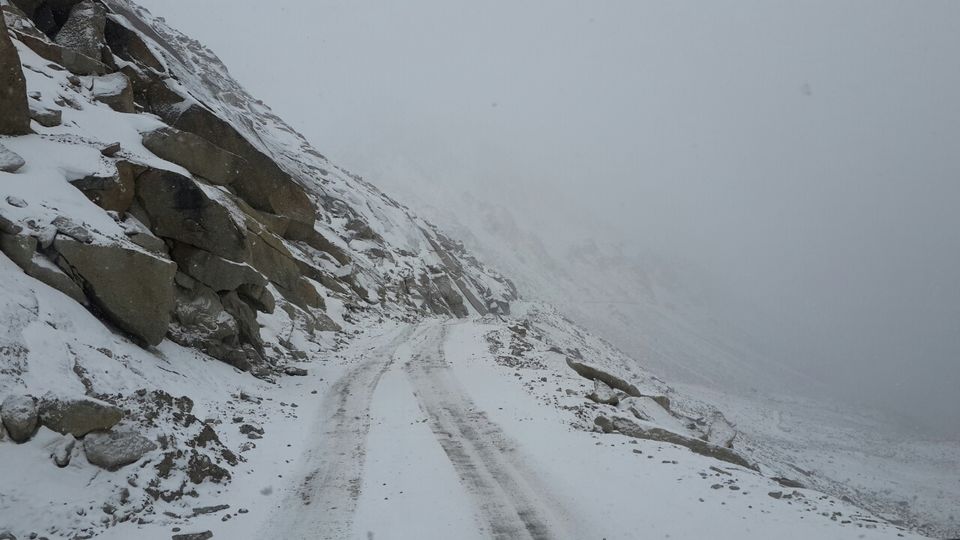 i was vry diappointed as i had to return back from d halfway...Visiting Pangong was a dream..but my bad luck.....so i travelled till Upshi...nd went back to leh...
A heartbreaking day for me 

Day 5I decided to visit the Khardungla pass..d world's highest motorable road..started at 11 in d morning..it's about 40 odd kms from Leh.till South Pillu d road is gud yet dangerous..but the next 20 kms are hell...d combination of cold..snow...bad roads make it vry difficult to drive...i managed to reach khardungla at 2pm..it was an ultimate feeling..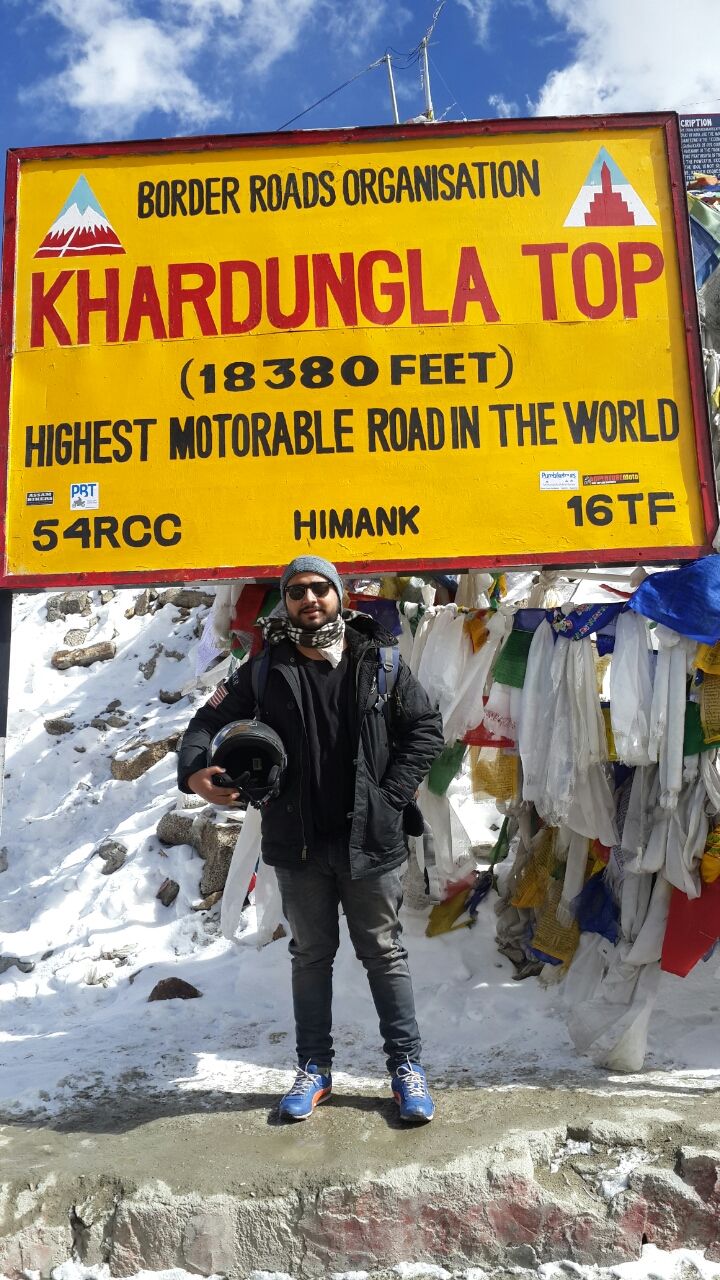 D picture describes the rest....though it is advisable not to stay there more than 20 25 min..i stayed there for more than an hour..had maggie n momos...talked to my frnds over fon n told them that m on d top of the world.i wanted to go to nubra valley bu i was already late...so i decided to go back to leh.

Day 6The twistin d story....it was a sleepless night..i was not able to digest that m returning after 2 days without visiting d pangong lake...i was confused.....being alone..i was not able to decide wether to go there or nor coz i was exhausted nd had d bad memories of tha snowfall at changla....I suddenly started packing my bag..nd decided to go to pangong lake....afterall dat was d main reason i came here for.....started my (2nd) road trip to pangong...after driving for 20 min..i saw a man Riding a bajaj  avenger wid halmet on...wid a big bagpack and petrol can...i overtook him nd asked himWhere?He:PangongAlone?He:YesM also alone..may i join u?He:Yes..of course 
So i found a company...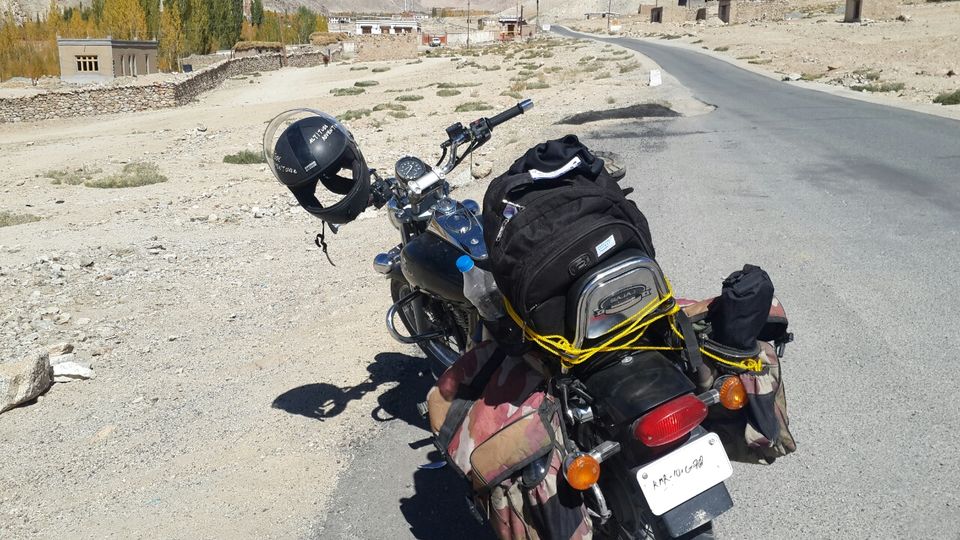 We started our journey...though he was a little slow...bt i must say that he is a passionate traveller nd a gud driver too...Saurabh....from Nagpur....was travelling alone just like me......i have found a man like me..yess!!I told him wat has happened wid me the other day at changla..so v decided to criss the changla pass as soon as it is possible..v took rest at 2-3 places. ..finally reached Changla...had maggie nd coffee there nd d boiled eggs that he was carrying wid him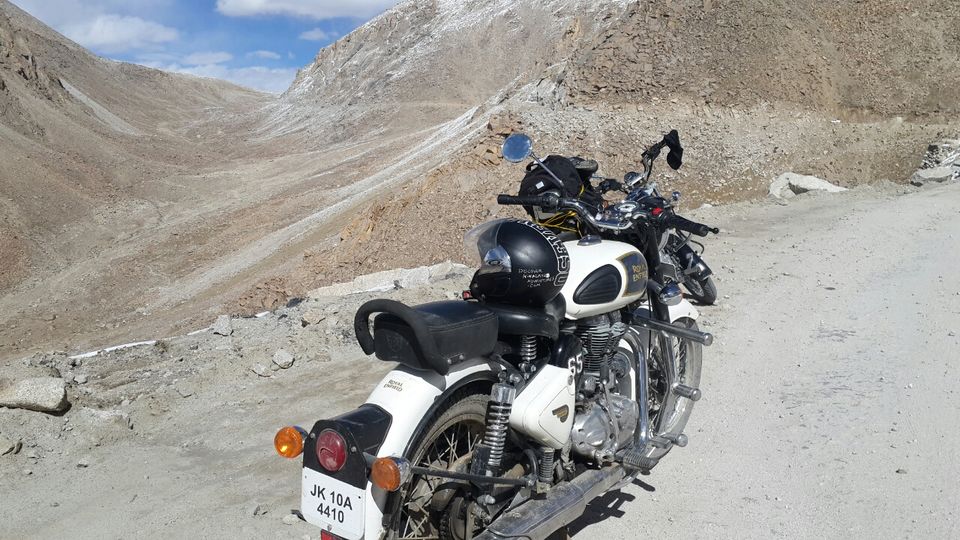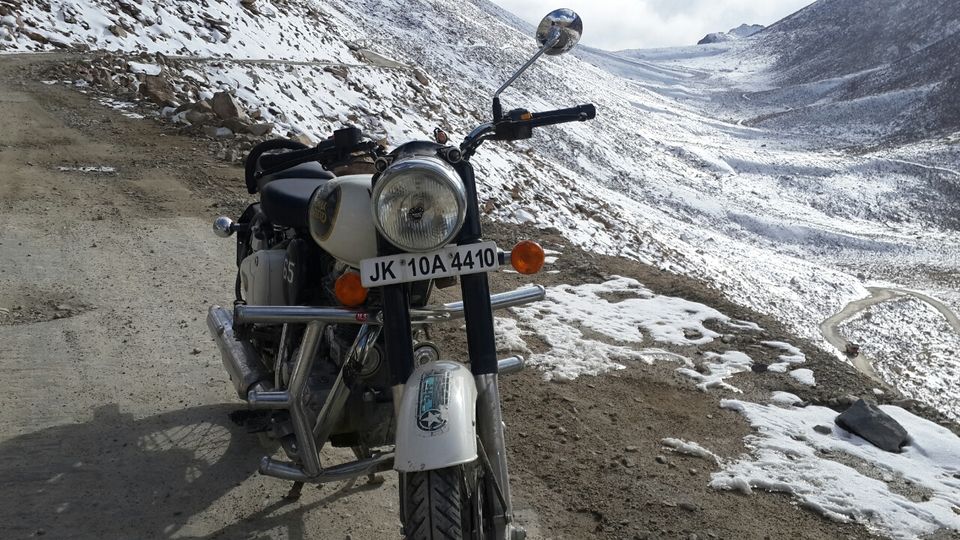 the 30 km stretch is in vry bad condition....we managed to criss it in 80 min i guess....d next stretch is like heaven.....though its not advisable to behave like pilots....as v were approaching pangong it was getting dark n colder.....finally v reached pangong at 6 in d evening..though v couldn't c the sunset....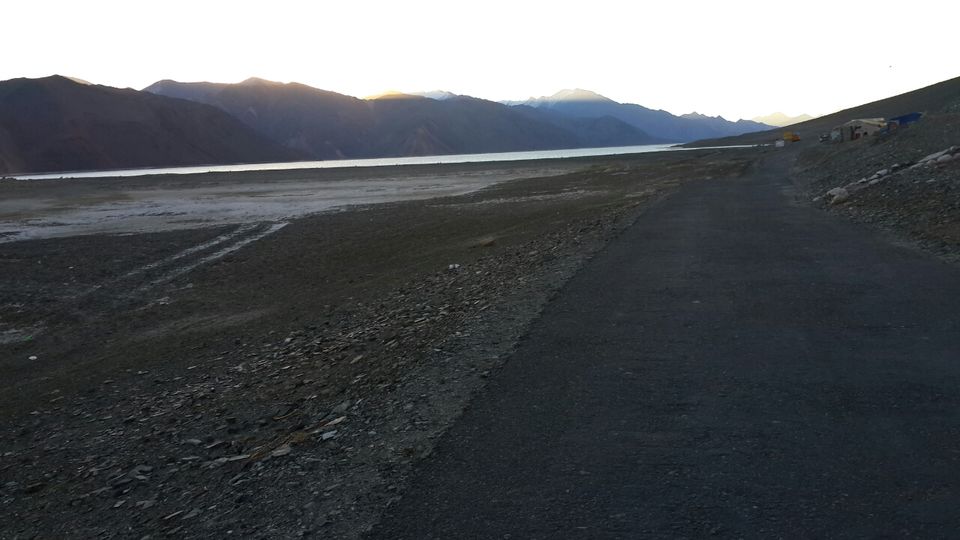 v took a tent..had dinner..d preparation was vry gud...v went to bed early as  we hv decided to wake up early to c the sun rise at pangong lake...


Day 7We wake up early at 6...took our cameras nd went on to c d marvellous pangong..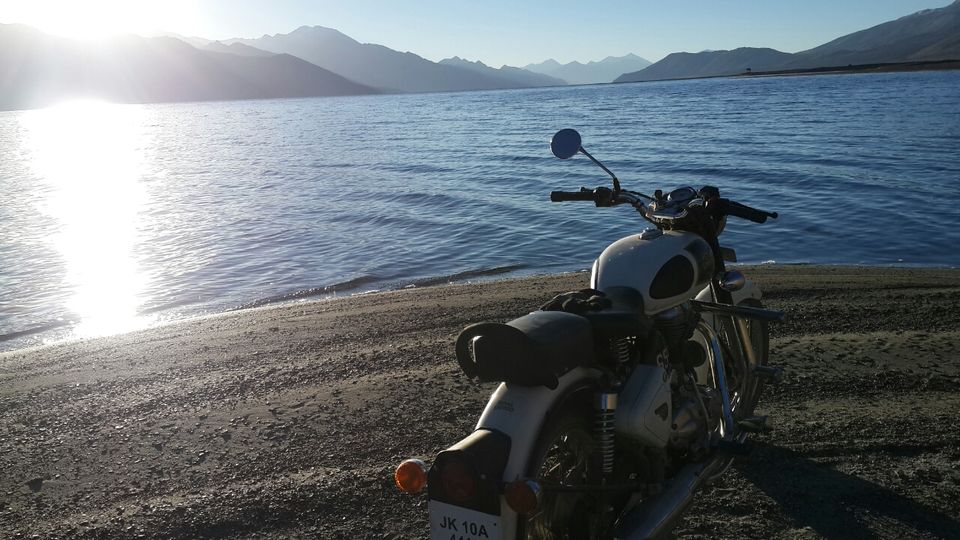 D moment i saw it i lost myself..iit waa far more beautiful than i saw on d tv nd on Internet...omg!! Simply...God's own creation....We stayed there for almost 2 hours..parked our bikes on d bank....had a healthy photo session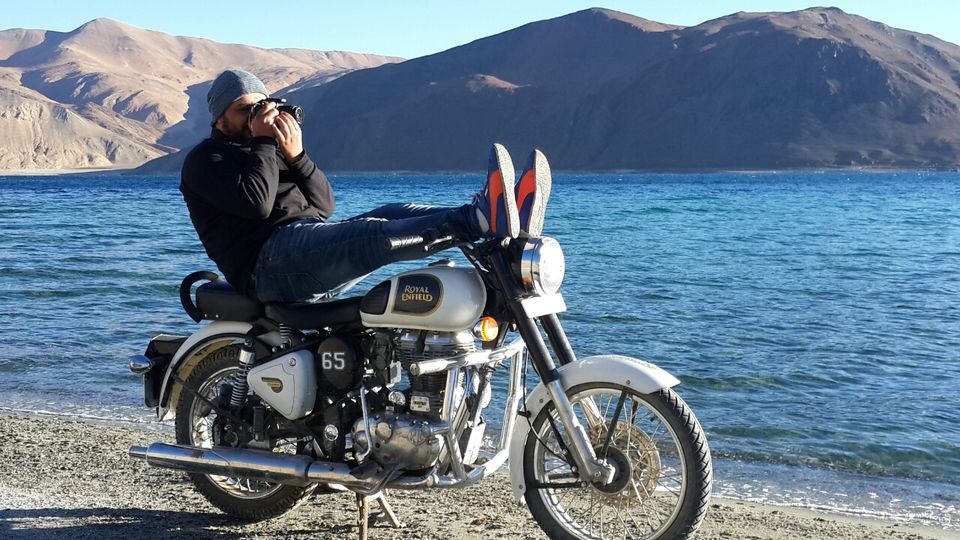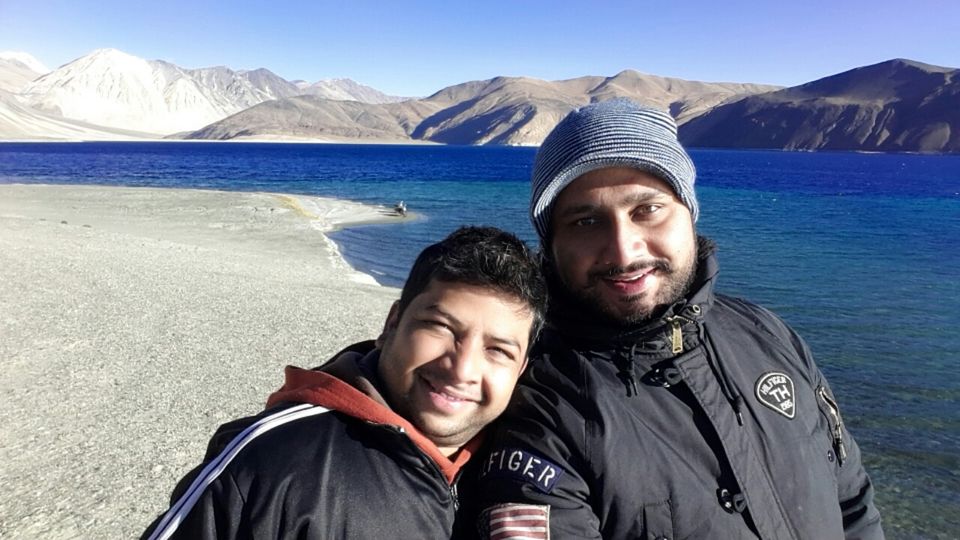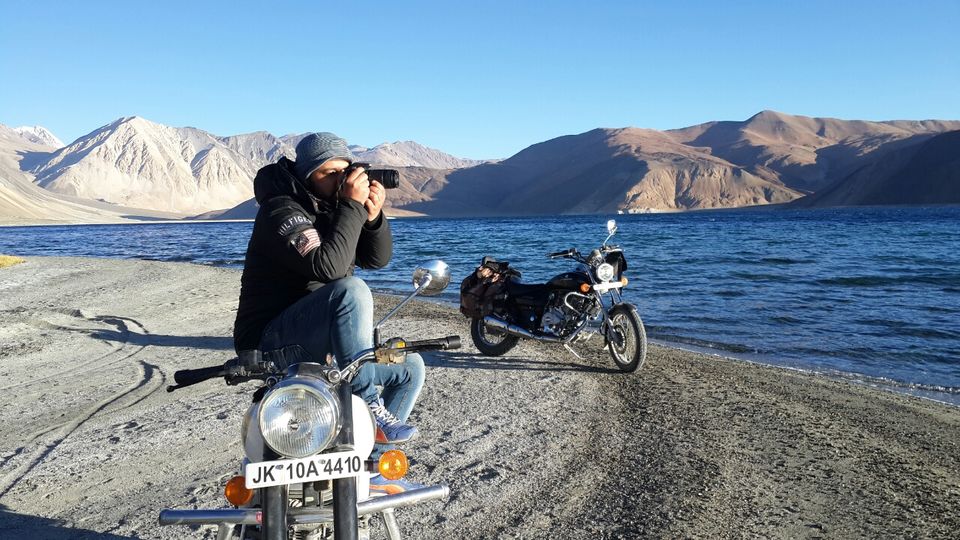 it was 1 of the best moments of my life

We returned to our tents and started for Leh after having breakfast..d stunning views  made us crazy...v clicked pics at every place v could     came back to leh at 5 in d morning...went ti my room..had a bath..nd  returned to d marketto return d bike to d owner....though it was likegivibg my heart out to someone....bt i had to.....me n saurabh had dinner together...d next day i was to go to Kargil.d he was to go towards khardungla....

Day 8I hired a cab towards kargil..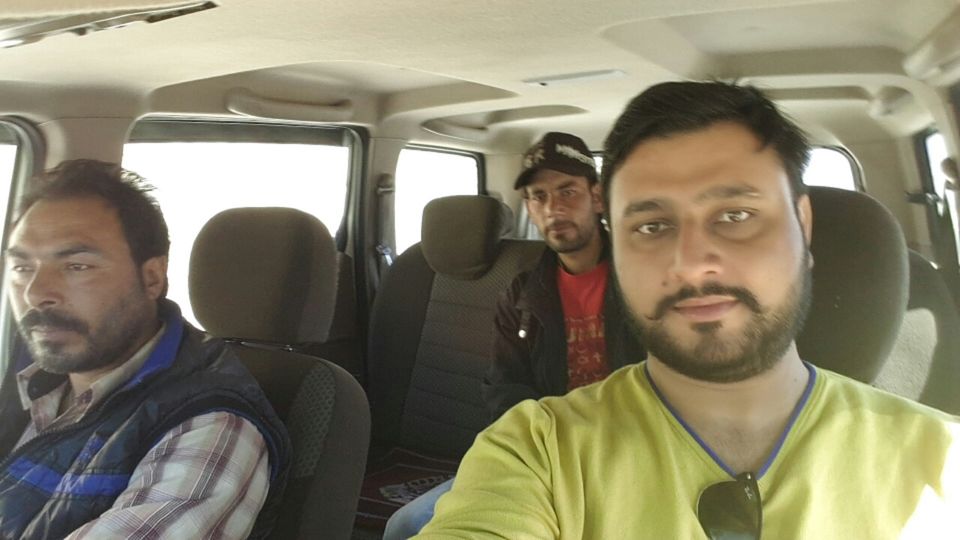 .kargil is a warm place compared to Leh....went to a guest house thr...

Day 9Kargil to Srinagar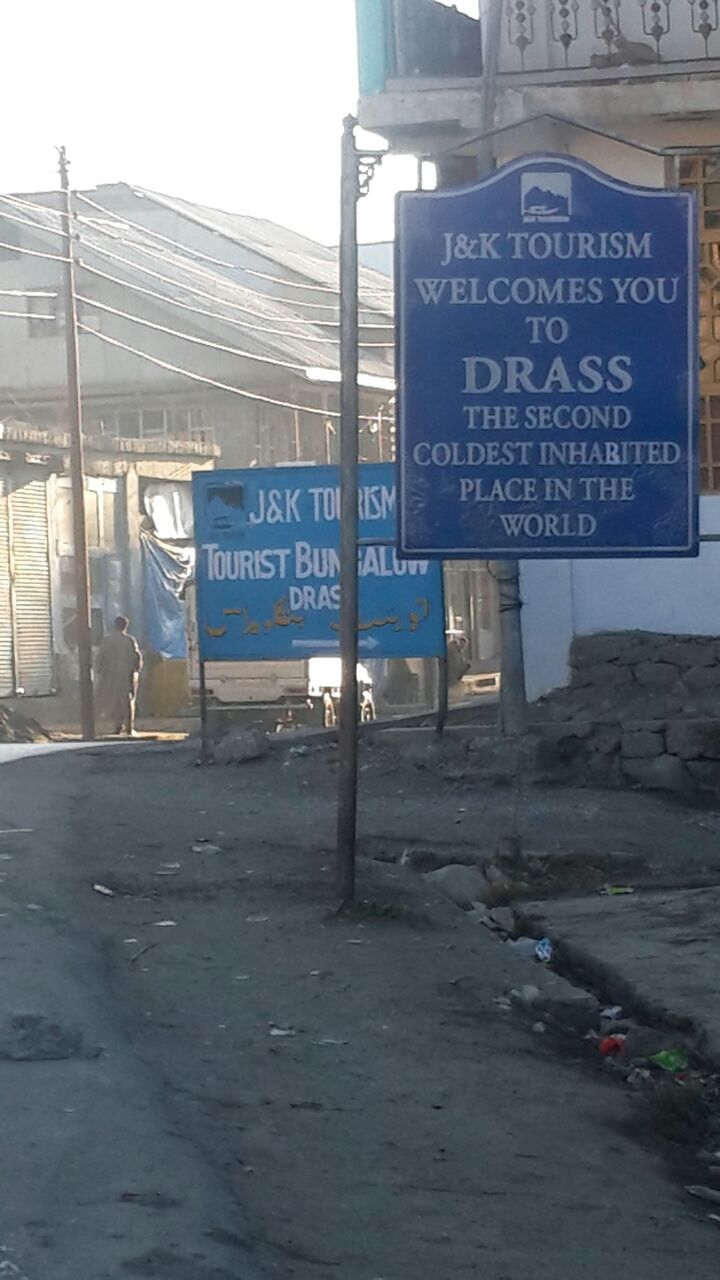 Drass to Sonamarg road is in miserable condition...at Zijila pass it become more dangerous nd worst Reached srinagar at 1 pm....i had flight from srinagar to jammu at 2:25pm.....d same day i reached my home..Gurdaspur...that is 100 km away from Jammu....This ends my beautiful solo trip to ladakh..