Watching a Kathakali performance was never in my itinerary during my trip to Kerala, especially during my visit to the misty mountains of Munnar. We were there to enjoy the greenery of post monsoon months. It was the second week of September but the monsoon was still making its presence felt quite frequently. It was still drizzling when we reached our pre-booked hotel at Munnar after nearly three hours of scenic drive from Cochin, the port city of Kerala. By the time we freshened up and finished our late lunch, it started raining heavily. The intensity was so high that the whole area was quickly engulfed by thick fog, a common feature in the hills during the rains. It literally stopped us from venturing out and visit tourists attractions for which Munnar is famous for. While sitting in the hotel lobby, shuffling the catalogs of different events that were currently taking place in Munnar, my friend noticed a leaflet which mentioned show timings of Kalaripayattu, a ancient martial art and Kathakali, a classical dance form at Punarjini Traditional village, Munnar. I asked the reception guys about the place where this show is being hosted and got to know that the place is just half an hour drive from the hotel through scenic tea gardens of Munnar. As we could not in any way visit other tourist places due to heavy fog and rain we decided to give this show a chance, albeit with a little apprehension.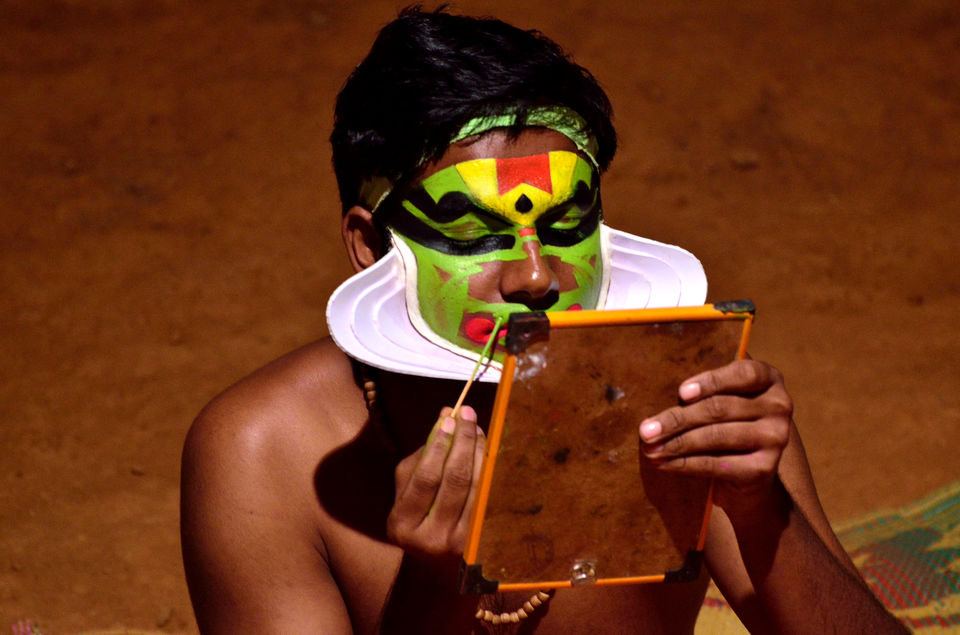 Once at the entrance of the theatre where these shows were supposed to be held, we were directed to the ticket counters. Ticket charges were Rs.200 for each show. Each of these shows, both Kalaripayattu and Kathakali was of one-hour duration with an offer to witness backstage preparations for extra 100 rupees. Well, we decided to go for it and I am glad that we made that decision otherwise we could have never known what actually goes through the process that makes both these art forms so famous.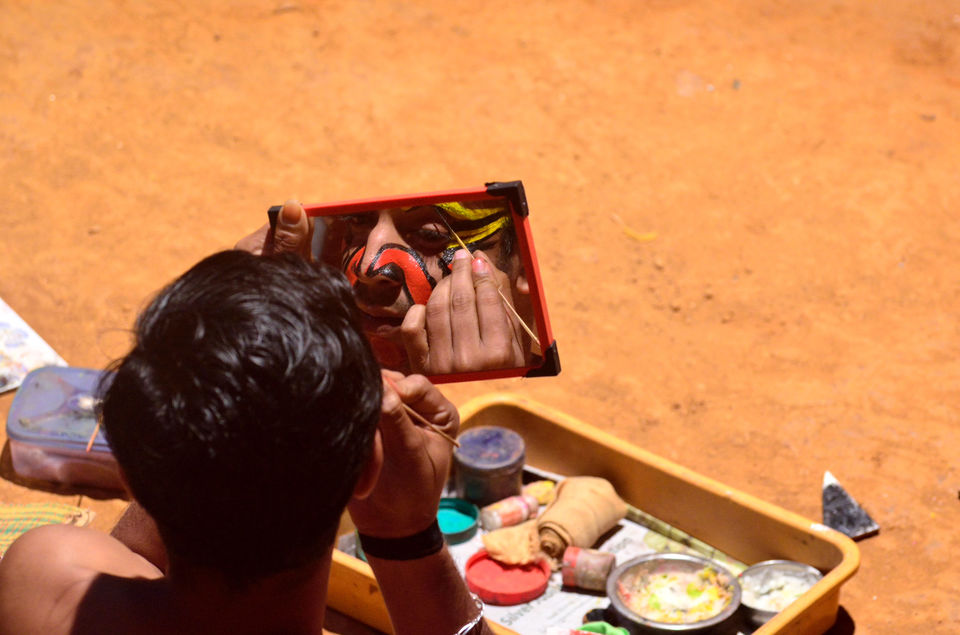 Once we entered the arena we could see Kathakali dancers and other performers were getting ready for their performance. Kathakali is a classical dance form which literally means 'storytelling' mainly having roots at temples as a form of folk arts and developed over the years as Hindu Performance art in the southern state of Kerala in India.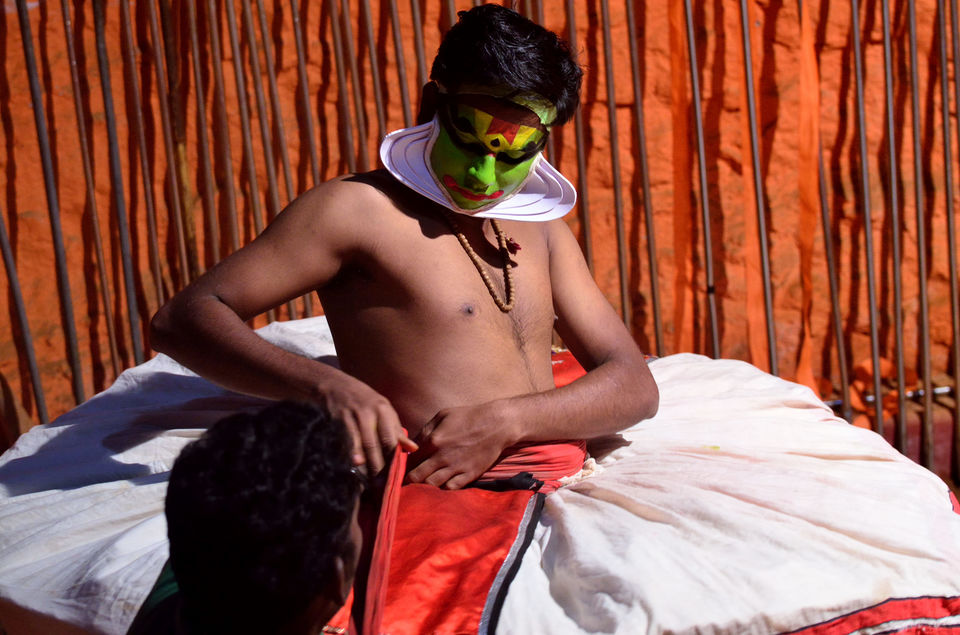 Like all other dance forms, Kathakali too is synchronization of music, vocal performers, choreography, hand and facial gestures to express stories that mainly depict episodes from Hindu epics and Puranas. Of all the classical dance forms of India Kathakali performers probably have the most colourful costumes, starting from colourful faces to headdresses to vibrant dresses the performers put up. There were colours everywhere.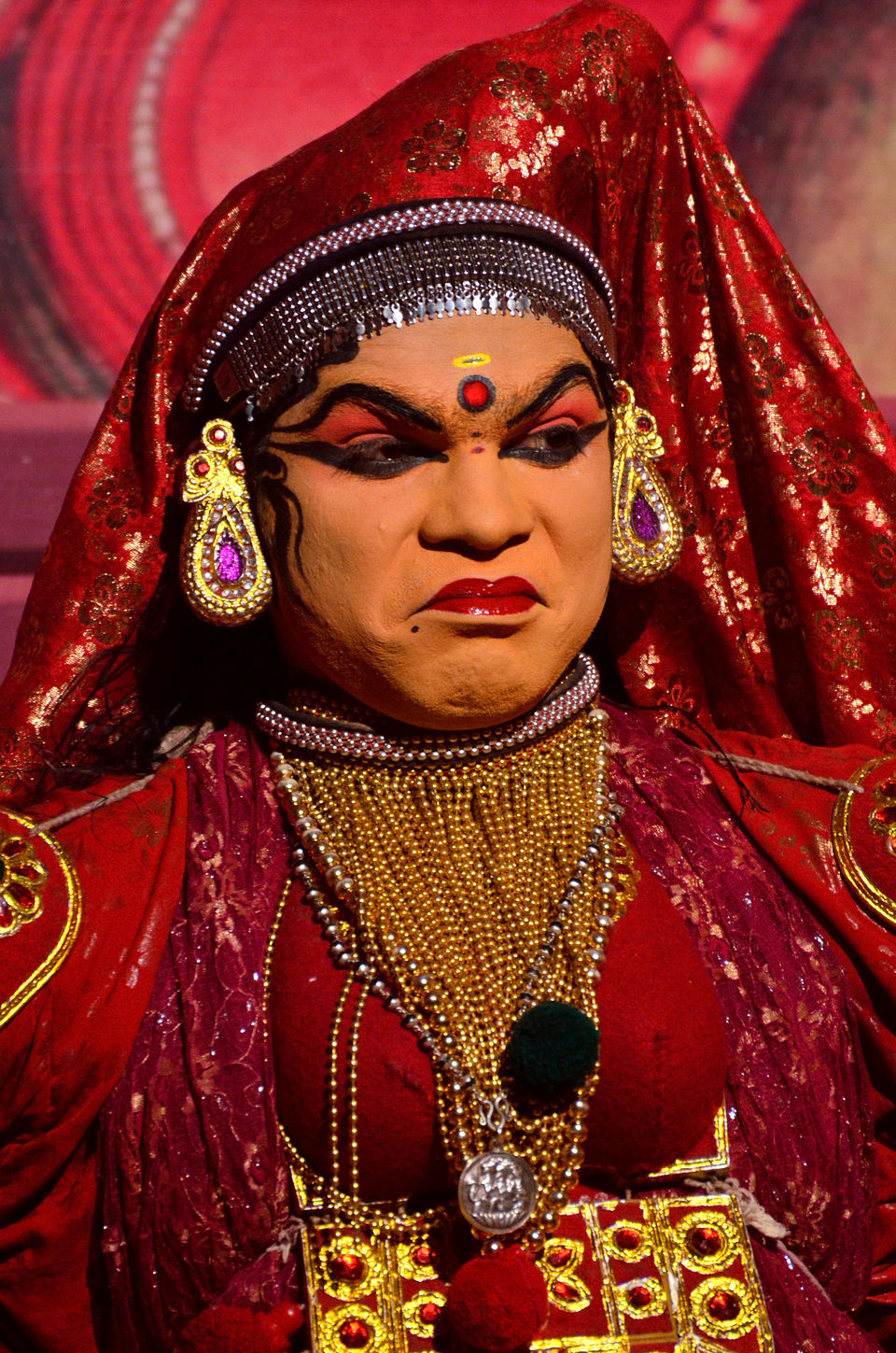 A traditional Kathakali performance includes seven types of make-ups namely Pachcha (green), Pazhuppu (ripe), Kathi(knife), Kari, Thaadi, Minukku and Teppu. The face coloured with green colour with coral red lips mostly depicts ancient heroes like Rama, Krishna, Shiva etc. The colour black and red is used for evil characters like Ravana, Duryodhana etc and yellow colour is used for women, monks and mendicants.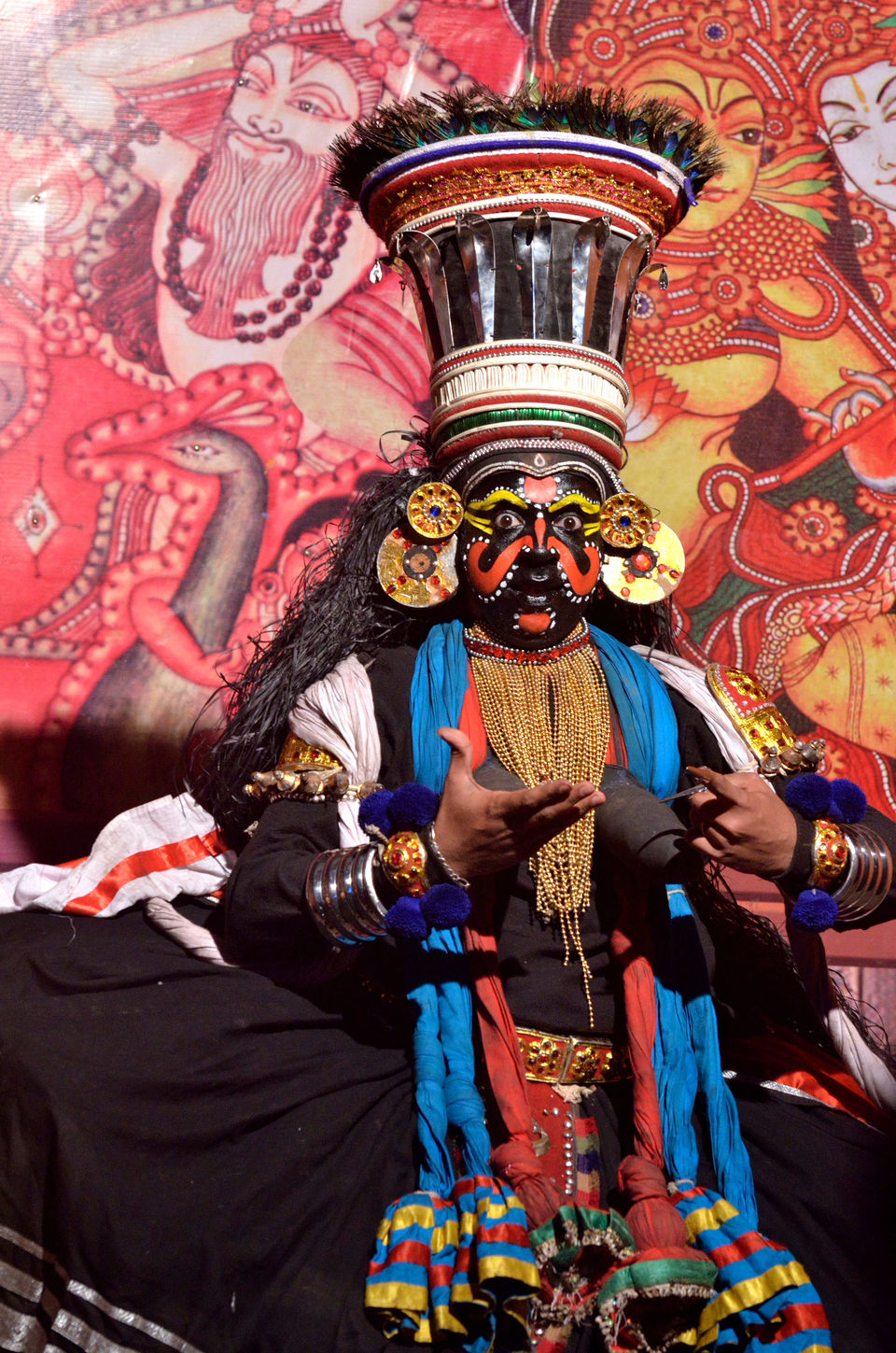 Several persons were helping the main artists in dressing up.The funny part was even the rolls meant for female characters were performed by the male artists in colourful costumes and impeccable make-up. Never before I had ever seen such an elaborate arrangement just fordressing up for the show. This dressing up led to an even more exquisite performance involving sign languages such as hand signs, eye and facial movements and with live traditional music playing in the background it was real treat for everyone present in the hall. In short it was a very well choreographed and engaging event.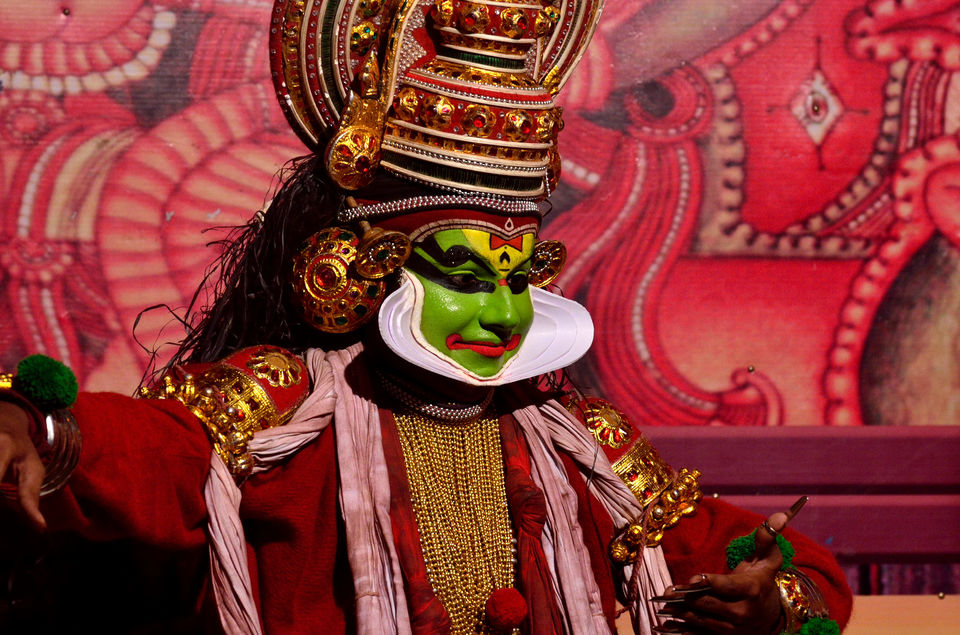 We never felt out of place or bored even for a single moment although the whole experience was new to us.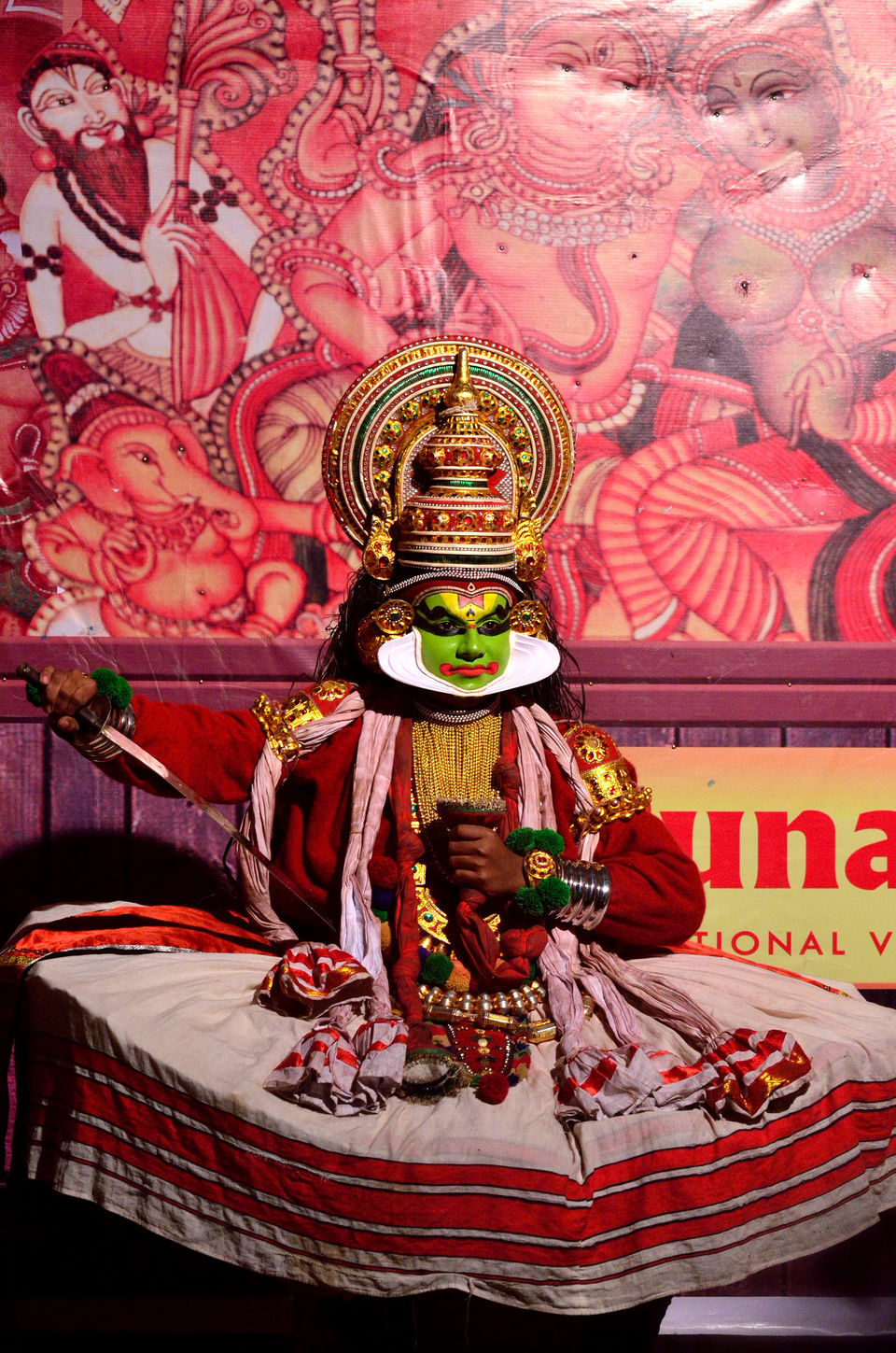 Time passes quickly when one is having the gala time and we didn't even realise when the show finally ended after an hour and stage were opened to meet the artists in person. It was great. After this event, we were guided to the arena where the next event of the evening was scheduled. It was Kalaripayattu.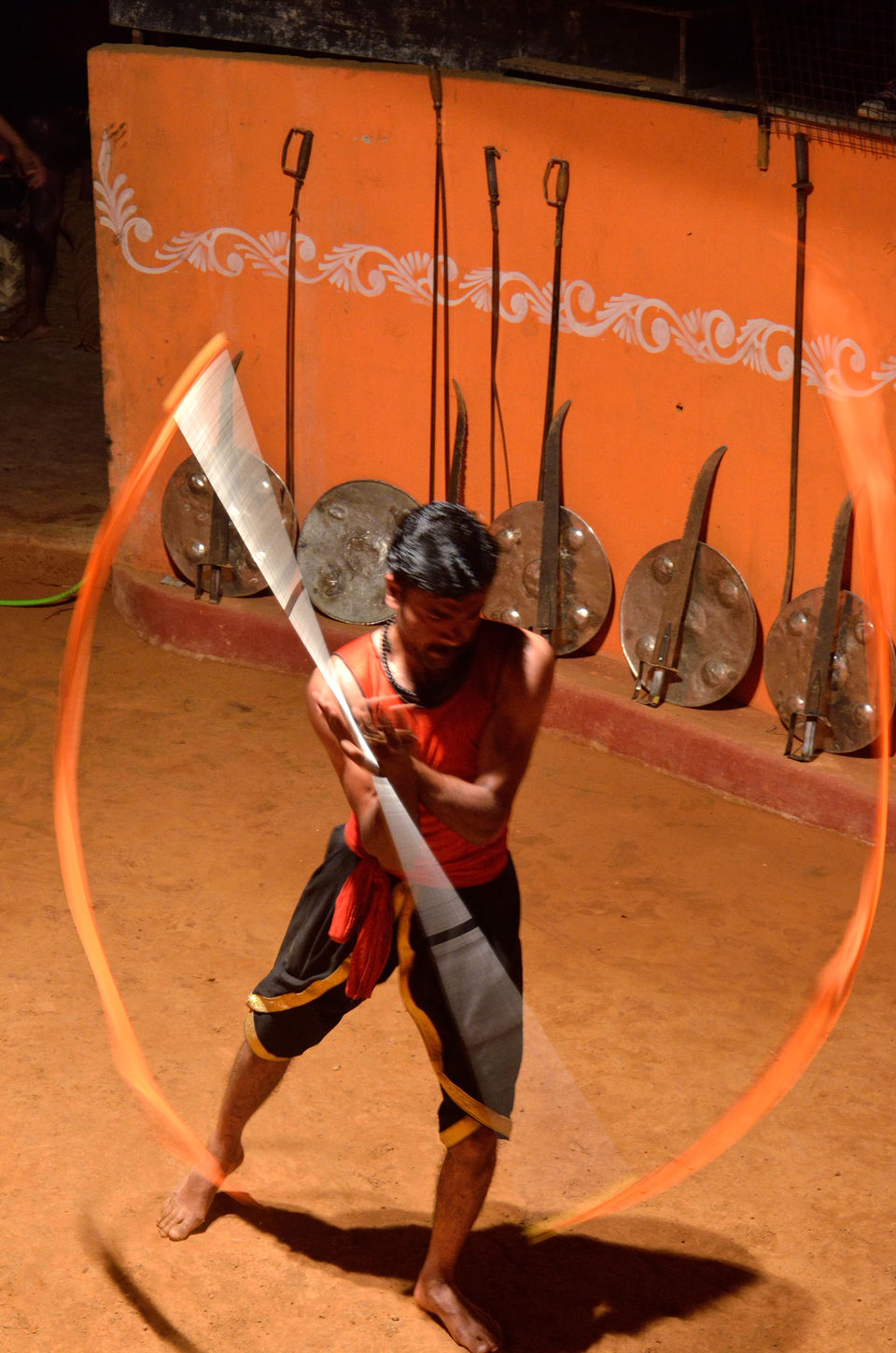 Kalaripayattu is an ancient form of martial arts still in practice. The earliest scriptures about Kalaripayattu, dates back to 300 B.C which gradually evolved over the time. This is a full system of fighting involving hand to hand combat and usage of different types of arms and was performed in either battlefield or the battle arena. It involves several steps and postures which are named after eight different animals. Though different schools have their own interpretation which varies with one another but theme remains the same.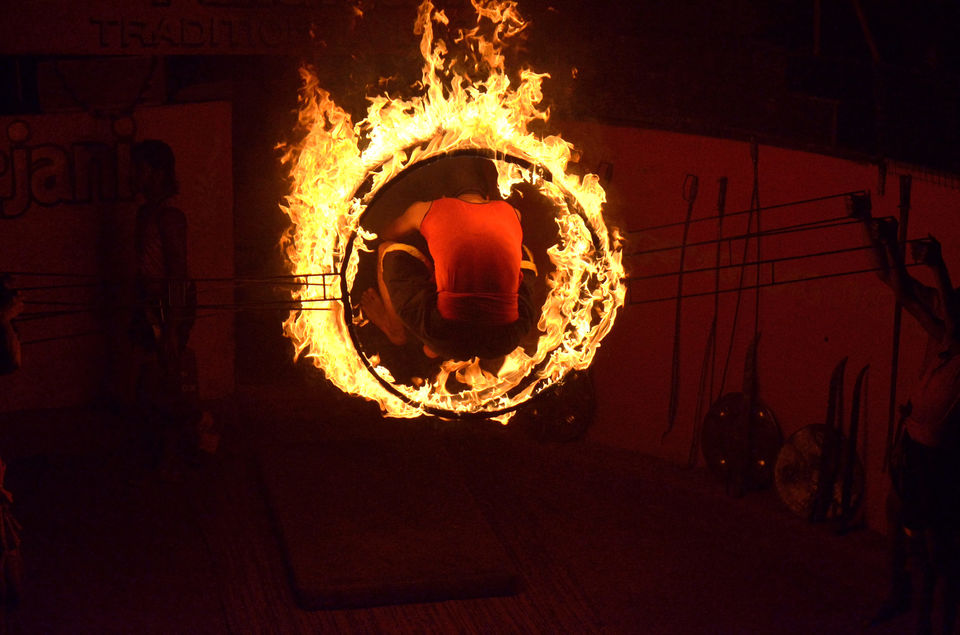 It is all about flexibility and speed coupled with intricate knowledge of body known as Marmashastram, that could be used to harm or heal the body. Marmashastram has evolved into modern day Ayurveda massage and healing therapies for which Kerala is well known for. It is said that a person who is good at Karalipayattu has an added advantage if chooses to perform Kathakali. The hour long show involved many exercises both free hand and with arms. Many daredevil acts were also part of the performance. In all we had an unforgettable evening that day in Munnar.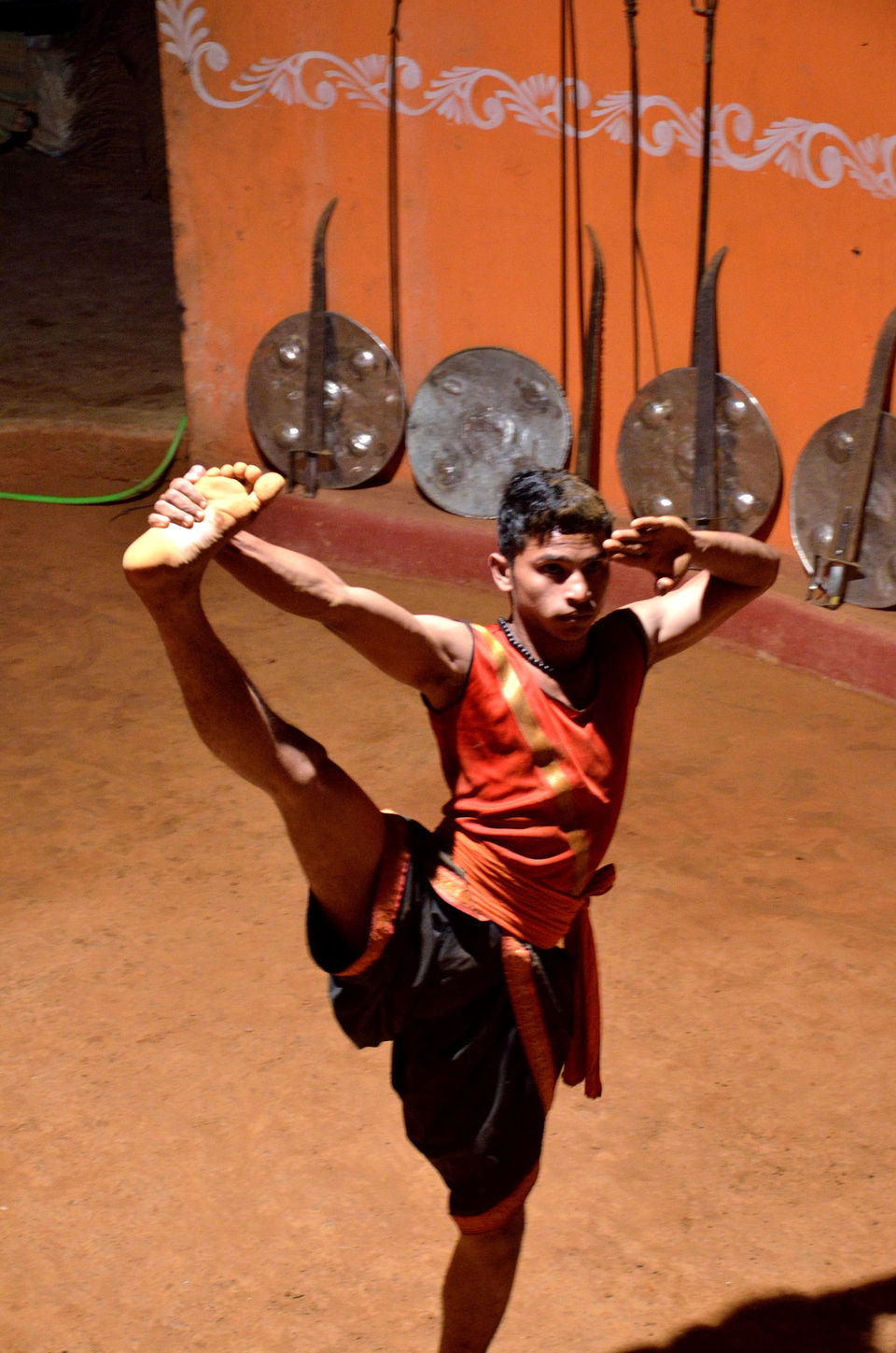 it is to be noted that Kathakali and Kalaripayattu performances are one of the major attractions for the travellers visiting Kerala. Similar shows take place in all major cities in Kerala, India throughout the year and should not be missed if in Kerala.