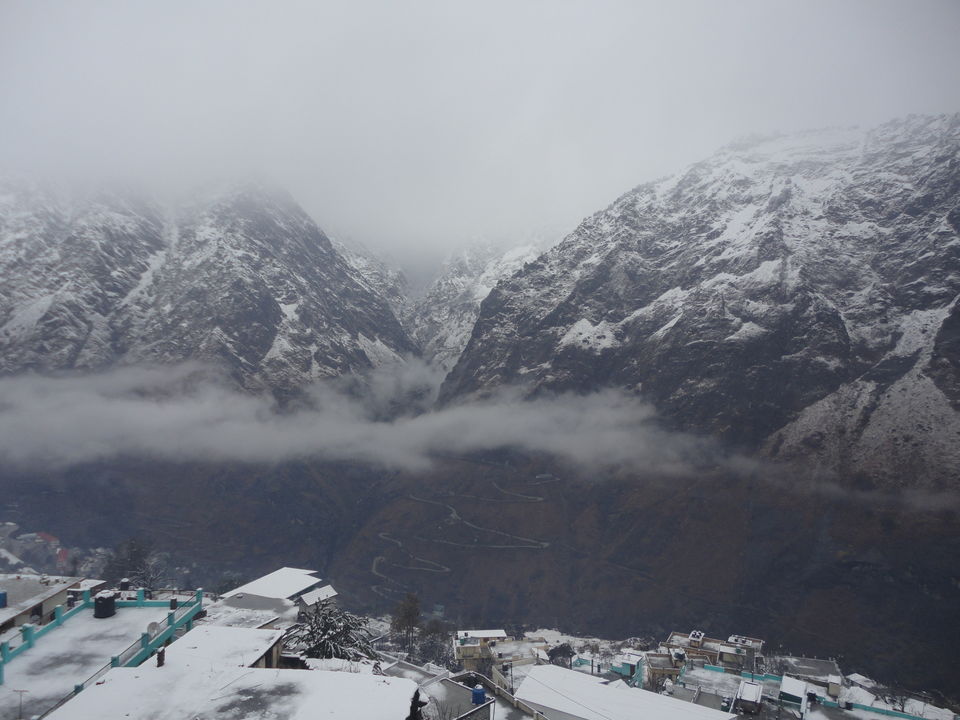 I started my bike around 10 am From Rishikesh with my friend Dilbar, road was not in good condition because Construction work was going on, On national highway 58.  we had to stop at various point more than 15 minutes. After riding 178 km we reached Karan prayag , at around 7 pm with muddy clothes. so we decided to Night halt at Karan prayag. i was very tired after riding bike on dusty and slippery road. after taking light dinner i slept.
last night rain was so heavy, i wake-up 2-3 time and it was continue till 10 am when we left Karanprayag, in last we decided to leave my bike in karanprayag and go by Taxi. we took sharing taxi till Chamoli from Chamoli other sharing taxi from chamoli till Joshimath. Sharing taxi were not available  from Karanprayag to Joshimath. taxi drop us 3 km before Joshimath because there were heavy snowfall and road became slippery, it was not possible to drive on road. we walked 3 km by in the way we shoot some videos and pictures. we took early dinner and try to sleep early because in morning we had to go Auli.
Every where as far as we could see only white carpet was there. since last two days there were snowfall so every tree and mountains covered-up by snow. it was picturesque for me  and amazing experience for my friend. after taking breakfast we opted Ropeway to reach Auli, Joshimath to Auli ropeway is one of Asia's  Highest and longest ropeway, so everyone who comes here should take experience of Ropeway. we enjoyed a lot in snow in Auli and get back to Joshimath in Evening.
we got up in morning to reach Karanprayag but no vehicles moving on road, i got information road became very slippery so no vehicles going to anywhere. we took breakfast and hotel owner told us, we had to stay till road is slippery. we had to come back so we decided to walk  towards Chamoli, after walking 4km we got bus, the bus stuck here yesterday and din't move to Joshimath. we took seat and reach karanprayag around 3 pm and reach parking area where my bike was parked. i decided to go slow because dusty road became muddy and more slippery. it was very hard to drive with passion and slow speed. finaly we reached Rishikesh around 10 pm.
this  journey was full of adventure we got Rain, snowfall, blocked road, snow-covered road, and lots of fun and enjoyment. 
my total expenditure for this trip was 3200/- per person from Rishikesh to rishikesh Including Bike fuel, food, Hotel room, taxi, ropeway ticket.