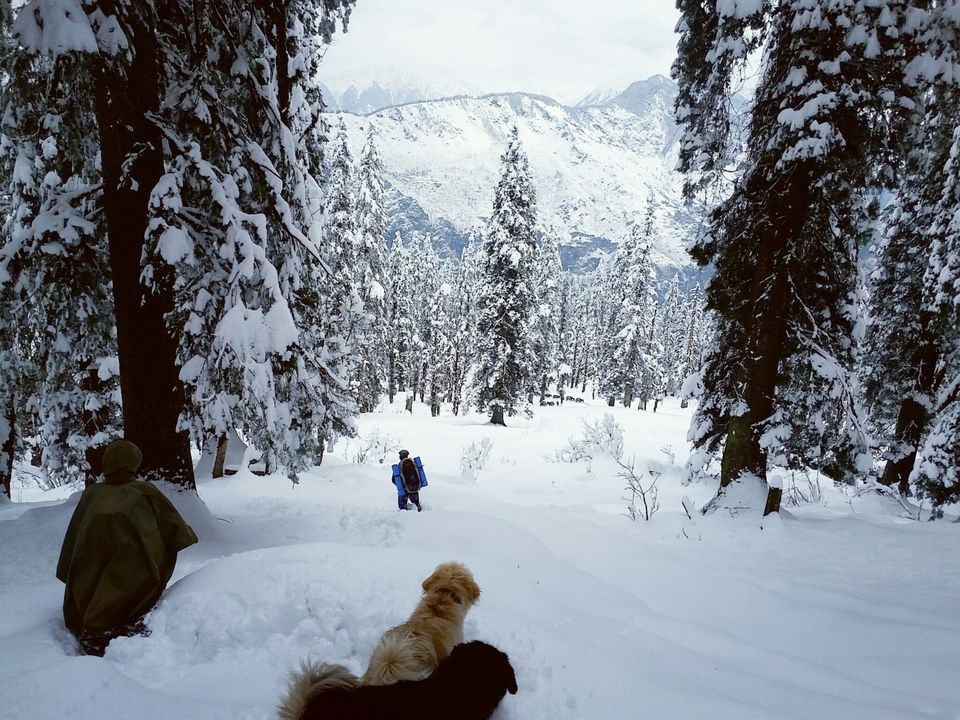 "The hills are calling and I must go "
Yes the hills did call and we did go.But I guess they had different plan for us.So my very first trek turned into a great adventure and a lesson in humanity.
We(me and husband ) started our journey from Dehradun. We had already tied up with HPMA (Harkidun Protection and Mountaineering Association ) for our transport to sankri village -base for lot of treks.It took us approximately 7-8 hours to reach.The journey was beautiful and totally worth the trouble.
We reached our hotel in the evening.kept our luggage,had dinner and slept off so that we were all set for our trek the next day.
Day 2 started at 6am with hot morning tea.The day was beautiful (and cold)and perfect for a trek.
We started trekking at about 9 am.HPMA sends a group of minimum 4 to 5 people for treks.Since there were only 2 of us they sent along 4 of their men to accompany us( guide, 2 cooks, helper ).
For me the trek was a little difficult since it was first time.So it took us more time than it usually takes.Our first tent was pitched at Juda ka Talaab.A very picturesque place.We clicked pictures ,had lunch and decided to rest.
By evening the snow had started coming down.Not too heavily but enough to cover the area.We lit fire ,had dinner and slept off to get good sleep for the next days climb.
Day 3 starts.We get up ,look out and what we see- we were buried in snow !There was 2 ft snow all around us and it was still snowing heavily.We along with our helps decided to not move ahead since it was too risky and we were not prepared for the snow (it was unseasonal ).
Our whole day was spent inside our tent since coming out was not an option .It did not stop snowing at all !The only time we came out was for food or for nature's call.
Now this is where these people proved that they take hospitality to a new level.These men cooked amazing delicious meals (yes meals ) for us in that subzero temperature- from breakfast to dinner along with piping hot tea and dessert.They had to come and scrape off snow from our tent every 2 hours since it was snowing so heavily.They did not let us panic and helped us out in whatever way they could.
Snow still continued to fall.So we decided to go back to Sankri village rather than moving forward.Now again this was not easy.We did not have proper shoes and were not even appropriately dressed to combat snow.We could not even see where we were keeping our foot.One wrong step and we could fall down in the valley!
Thankfully the guide was great. He kept telling us how to get down.we slipped and fell and were covered in mud and snow and water by the time we reached our base.Before I forget the view was breathtaking while coming down .Everything was white !
We reached our hotel safely ,thanked the staff for whatever they had done for us.
Even though we were tired as hell,we cleaned ourselves ,ate and headed out to explore the village.It had snowed in the village too.Apparently it was one of the worse snowfalls at this time of the year (what luck!)
With one hell of an experience we decided that we would come back again to this place someday to finish our trek.