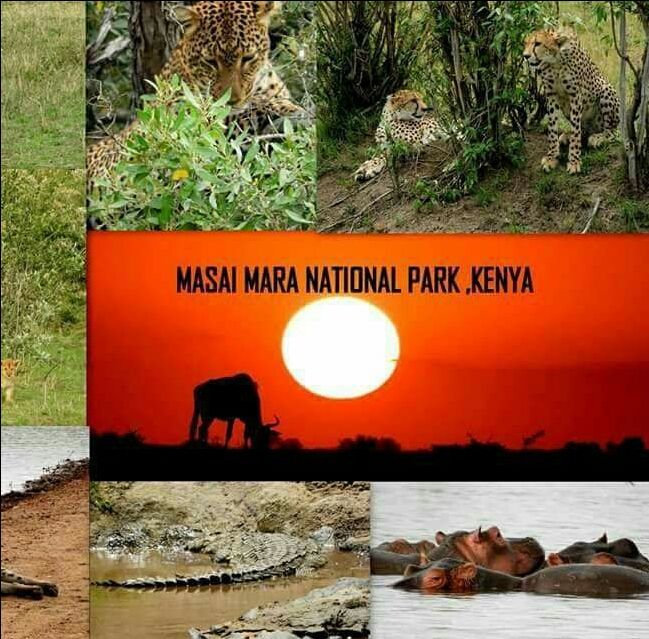 The Maasai Mara National Reserve (also known by the locals as ) is a large game reserve in Narok County , Kenya, contiguous with the Serengeti National Park in Mara Region , Tanzania . It is named in honor of the Maasai people (the ancestral inhabitants of the area) and their description of the area when looked at from afar: "Mara," which is Maa (Maasai language) for "spotted," an apt description for the circles of trees, scrub, savanna, and cloud shadows that mark the area. It is globally famous for its exceptional population of Masai lions , African leopards and Kenyan cheetahs , and the annual migration of zebra , Thomson's gazelle , and wildebeest to and from the Serengeti every year from July to October, known as the Great Migration . It is also home for so called "BIG 5" - Lion, Elephant, Buffalo, Leopard and Rhino. It was always my dream to spot animals in the wild and when my husbands cousin family decided to go to Masai Mara we decided to join them instantly. Our trip from Bangalore for Kenya started on 8th sept 2017 with internal flight to Mumbai and then a direct Kenyan airways flight to Nairobi. The flight was delayed by 2 hrs and we reached around 11.30pm to Nairobi. Our taxi was waiting for us and we all boarded the taxi to reach Royal orchid hotel where our stay was booked for one night.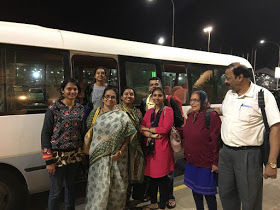 The breakfast and stay in Royal orchid was very good. After relaxing and hearty breakfast we headed to the Ark lodge. After visiting the Ark lodge and lake Naivasha on 1st and 2nd day (which will be explained in separate blog), on 3rd day we headed to Masai Mara. The final stop of our Kenya Safari was two glorious days in the Masai Mara. Our driver Charles told us that the road is much better these days as the Chinese are working on fixing up transportation all around the country. Who knows, maybe by next year it will all be smooth sailing. We had a bumpy, dusty, rocky ride for almost 80kms. Our animal spotting started right away with few giraffes, warthogs and few cattles :) Our driver Charles did not stop for photography even if we were excited to see Giraffes. He said we will be seeing a lots of these in Mara and we have to reach our hotel in time for lunch. We arrived at Mara Sopa lodge right in time for lunch and take a break till 3.30pm before our first sunset safari in the Mara. Located high on the slopes of the Oloolaimutia Hills, Masai Mara Sopa Lodge was one of the first safari lodges to be built in the Maasai Mara Game Reserve, a reason why its gardens and trees are so lush and mature. All the buildings follow the design of traditional African round houses with conical roofs, and these stretch along the line of the hills with the impressively large public area buildings and the swimming pool at their centre.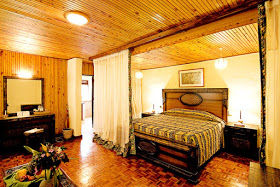 Room interior at Mara Sopa lodge
Our sunset safari was very good with lot of animal sightings. Charles explained different information about these animals as and when we see them.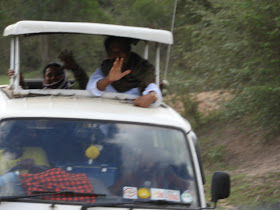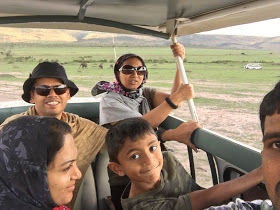 This graceful antelope is known for its long, spiral horns for males, which males use to challenge each other in tests of strength. Older impala males stake out mating territories and herd groups of females that they jealously guard against any rivals. During this exhausting mating period, the male must fight off challengers, herd his females, and mate with them. Unsuccessful bids to take over a male's territory usually end with the loser retreating to join a bachelor herd. Females typically give birth about seven months after they mate, usually to a single impala. Both mother and baby join a herd of females and offspring within a few days.
Wildebeest is an Afrikaans name that means "wild beast." These animals look like thin, muscular cows with large, sloping backs, curved horns and striped bodies. They also have manes and bushy beards. Our driver told that its fore head looks like that of a grass hopper, tail like a horse,
Next we came across small herd of African elephants.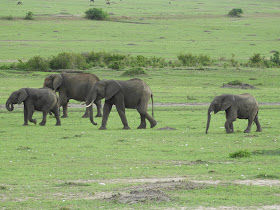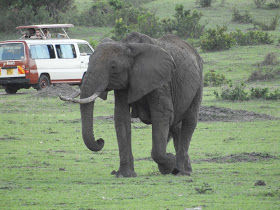 It is said that you can tell where an elephant comes from by looking at the size of his ears. African ears are like a map of Africa and Asian ears smaller like the shape of India . African ears are much bigger and reach up and over the neck, which does not occur in Asian elephants .African elephants' skin is more wrinkled.
According to the National Elephant Center, African elephants live in matriarchal communities. Females are very social, typically living together in the same herd for their whole lives. The herd is led by the oldest female, or matriarch, and consists of closely related females and their offspring. All mature females cooperate together in raising elephant calves. Male elephants lead solitary lives. When they are close to sexual maturity, they leave the matriarchal herd. Although they may associate with other males, or bachelor groups, male elephants spend approximately 95 percent of their lives alone.
We then heard in safari van interconnected radio that someone spotted lions and we headed right towards it. Hurrah.. the most awaited moment to see a lion in the wild :) The good part of this safari is that all vans are interconnected with a radio and whoever spots any animals will be broadcasted to others.
Lions are very social cats and live in groups called prides. African lion prides consist of up to three males, around a dozen females, and their young, according to National Geographic.
We also spotted some lionesses sleeping few meters away.
We also spotted few birds.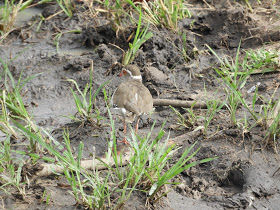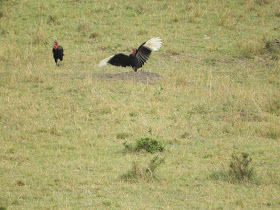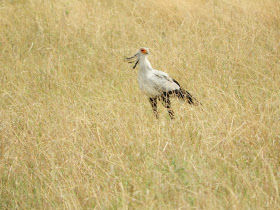 Below is a Masaai Giraffe. It has distinctive, irregular, jagged, star-like blotches which extend to the hooves. A median lump is usually present in males.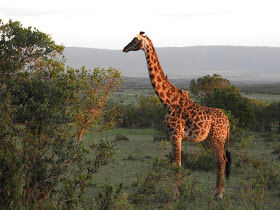 Our sunset safari ended of course with the most beautiful sunset in Masai Mara.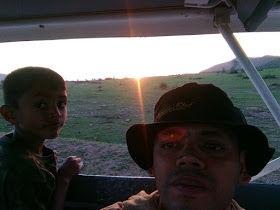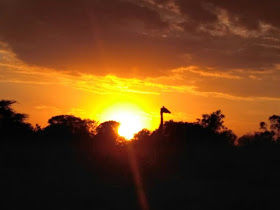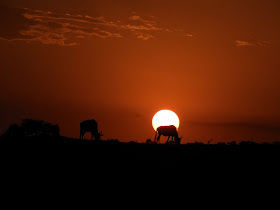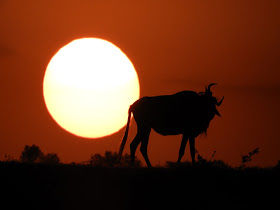 We tasted Dawa drink (a Kenyan cocktail consisting of honey, lime, white sugar, ice, and vodka) to end the day.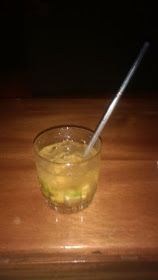 We started early next day around 6 45 am with a heavy breakfast. It was full day game drive as well, so our lunch was packed to be eaten in the bush :-) Today is the most wonderful day of my life as we saw lot of animals within short time in their natural habitat like lions,leopards, Cheetahs, elephants, buffaloes, wildebeests, zebras, giraffes, mongooses, many many colourful birds, crocodiles, vultures, fox, Antelopes from dick-dick (smallest) to Eland (biggest), imphalas, Topi antelope, warthogs, ostriches,hippos from the comfort of our safari vehicle. Most interesting part was that our vehicle was so close to the animals, even near carnivores.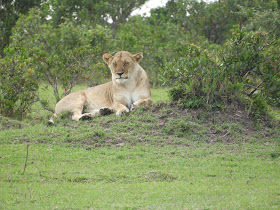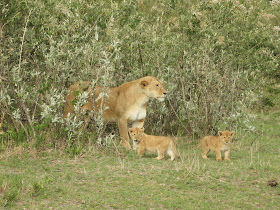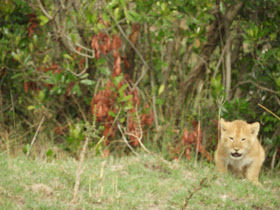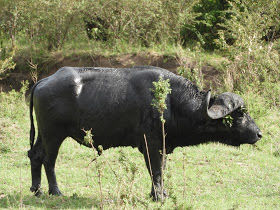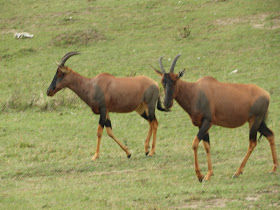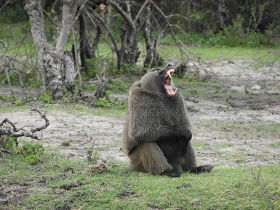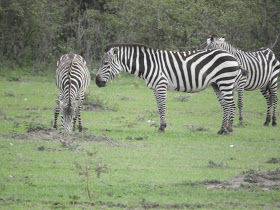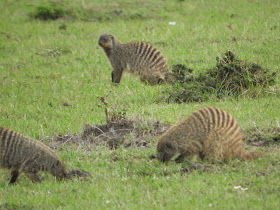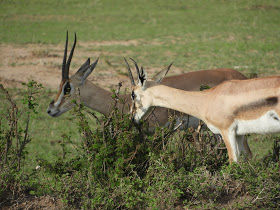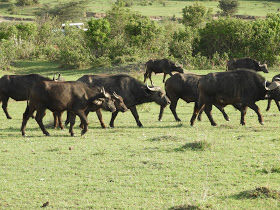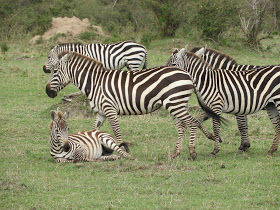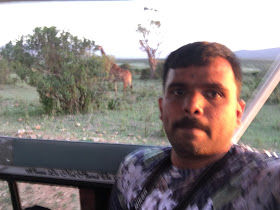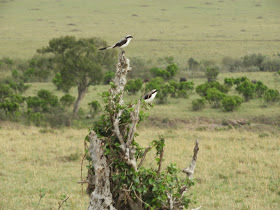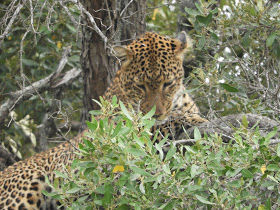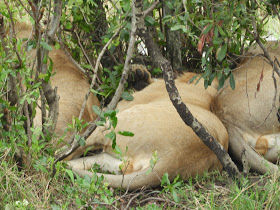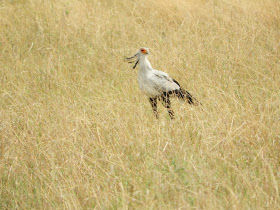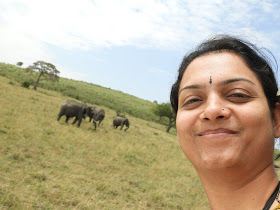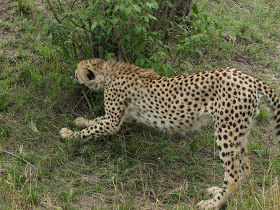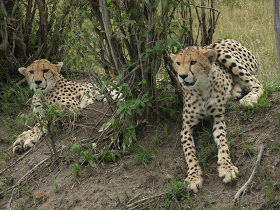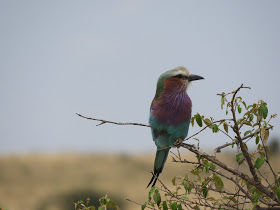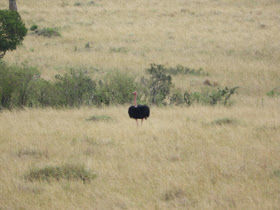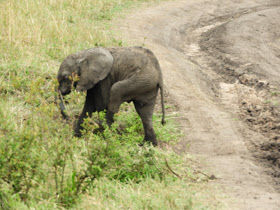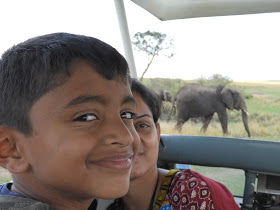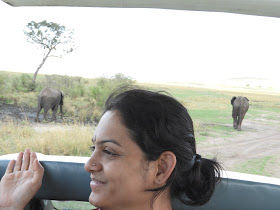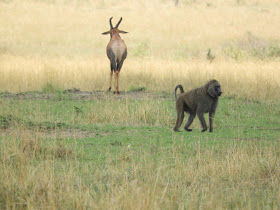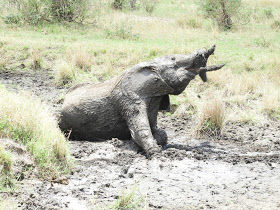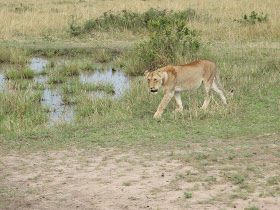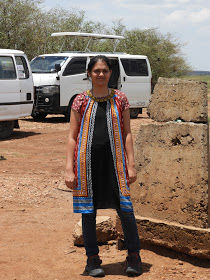 After picnic lunch in the bush, we went near Mara river which is famous for wildebeest migration.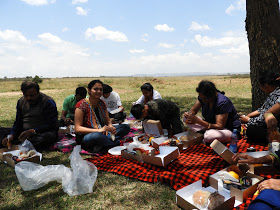 We were not lucky with the migration as it had already started in june this year and all wildebeests have almost crossed the Mara river and enjoying green grass in Masai. We hardly saw any animals on the other side of the river which is part of Tanzania.
About wilderbeest migration: After the rains when the first flush of grass turns the Masai Mara's golden savannah green, the most mesmerising wildlife spectacle anywhere takes place here: The Great Wildebeest Migration. Between the months of July and October one and a half million wildebeest, accompanied by vast numbers of zebra and gazelles make the long and dangerous trek from drier lands in Tanzania, northwards to this corner of Kenya. Lines of animals stretch as far as the eye can see across the plains. They come to give birth to their young and the grasslands echo with the sounds of the new-born. It is a time of plenty. But it is a time too when the predators are drawn from all around. High above on the hot winds the carrion birds, the vultures and eagles, soar. In the long grasses lion, cheetah, leopard and hyena prowl. Most dramatic of all is the moment when the migration arrives at the Mara River. They must cross it to reach the rich grazing. As the animals throng, crocodiles cruise the waters. Then the bravest takes the plunge into the swirling currents and thousands follow.
The river was silent when we went. We saw hippos, crocodiles and some dead wildebeests.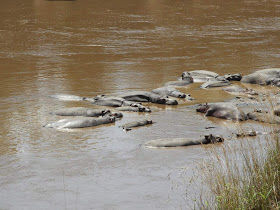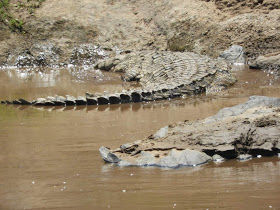 I shopped for a unique Masai bead necklace and bracelet and a hand band for Pratyush.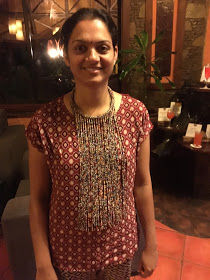 Visit to Masai Village: On the way back we had a visit to Masai village. Each Masai male like animals had 6-7 wives depending on their wealth and strength. He also have to fight with others for getting more wives. Lol!! Each hut in the village had 2-3BHK and 1 guest bedroom too. Very small huts with no electricity and no toilets. We could not stay inside even for few minutes. Hope god bless them with good life in future. We had to pay 120$ to visit them. They showed us how they generate fire from wood. They also showed their tribal dance. The dance had jumping at the end. It seems the guy who jumps the highest get the girl for marriage.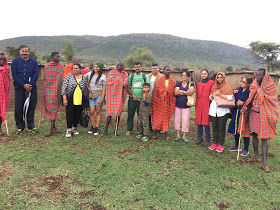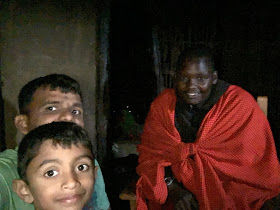 The drive back was pleasant again accompanied by gazelles, zebras, giraffes and wildebeests.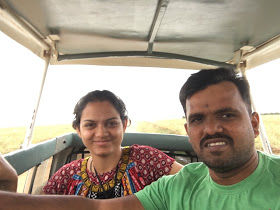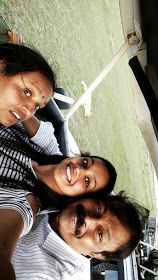 Dinner was good and also got good sleep. Next day we had booked hot air balloon safari and had to get up atleast by 4am. YEAH!!
Hot Air Balloon Safari on last day: We started at 4 30 am as planned and reached the place after 1.5hrs drive where our balloons were getting ready.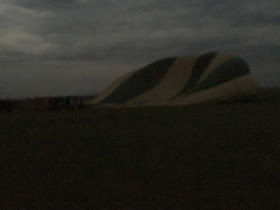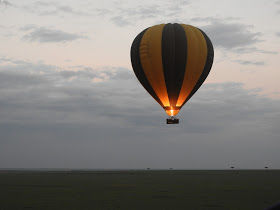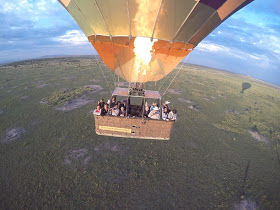 We chased few wildebeests and scared some antelopes from the balloon :-)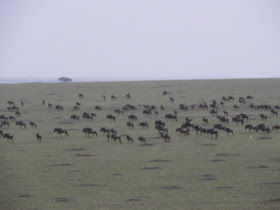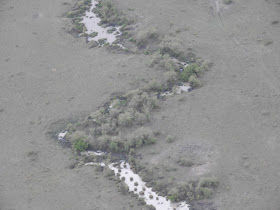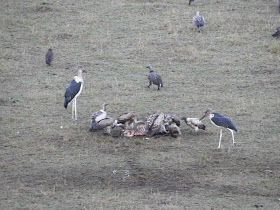 Interesting bio break :-)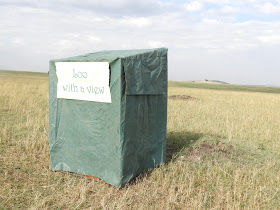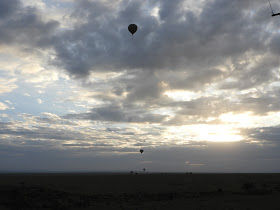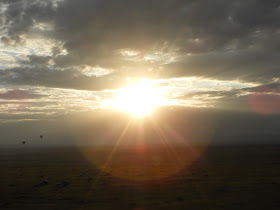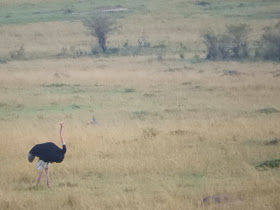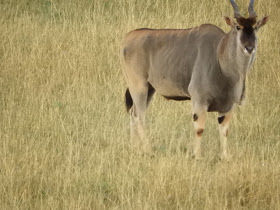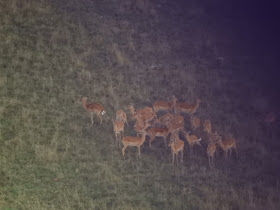 And look also what we caught...
Our landing was safe as shown below. Balloon safari was different experience. Quite expensive at 420$ per person but worth every second spent in it. As someone said, if 420$ are saved less for my dependents before my death, I will not repent :-) After all I will not be flying over Masai Mara every day!!!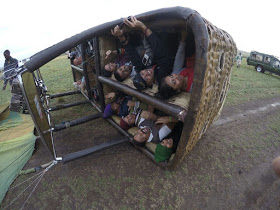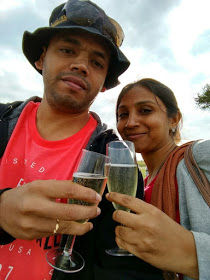 After heavy breakfast, we started our drive back. We enjoyed last glimpses of Savannah Masai Mara. Our farewell was given by a hyena nicely sleeping on the road :-)
In our whole trip, except Rhino, we have spotted 4 out of BIG 5 animals. We had hopped into our safari van and spent hours keeping our eyes peeled for wildlife. It's all out there, you just have to pay attention. These animals are made to blend in with their surroundings and if you blink, you may miss an amazing opportunity.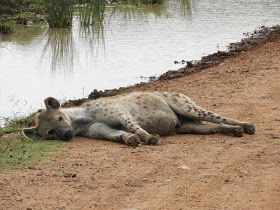 It was Mesmerising, it was magical, it was our Kenya trip. Photo credits : My lovely husband :-)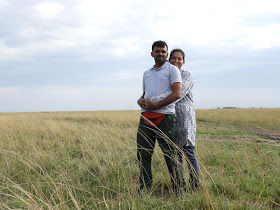 Thanks to all my trip mates my husband, son, mummyakka, bhavaji, pushpa maayi, mother in law, Nagesh, Sumitha and Sparsha :-) Looking forward for more exciting trips in future :-)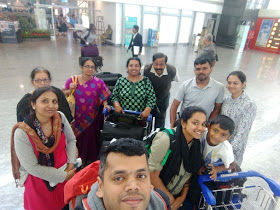 Its not the whether animals will survive, its whether man has the will to save them!! #savewildlife #MaasaiMara #saveittocherish -- Credits Sparsha Shenoy :-)