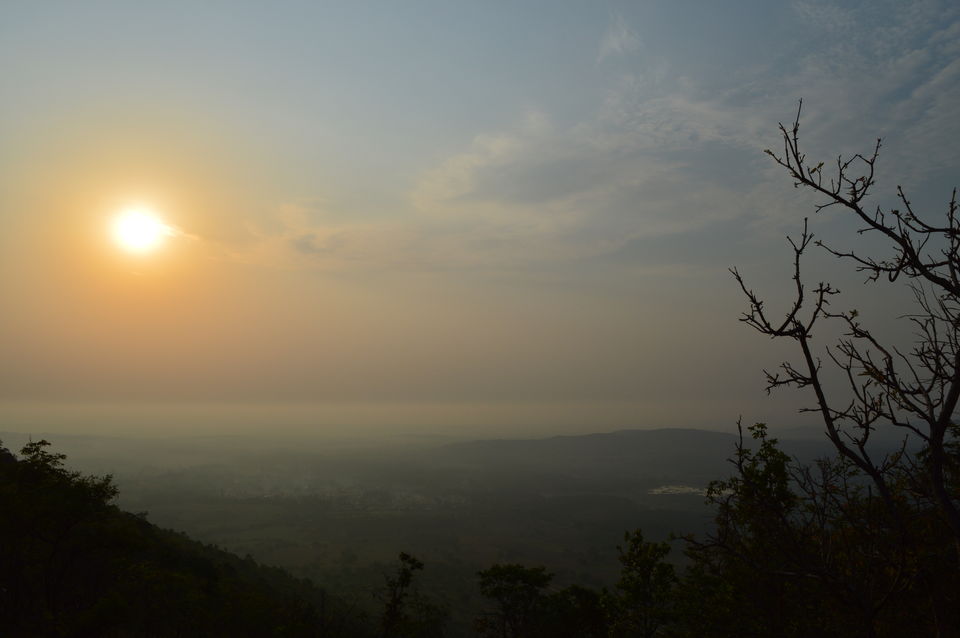 Everybody needs a break from their hectic schedule, so when a long weekend came our way, we decided that we'd go to a friends hometown, a village called Kalsapura, about 230 km from Bangalore.
We drove out of Banglore on Saturday morning to reach the village by 1 in the noon, where google luckily lead us through an inner route making it a scenic, unpopulated route. As soon as we reached his place, we were greeted with a glass of buttermilk which quenched our thirst. We soon settled in and we could feel the difference between the interior of the local, tiled roof house to the blazing sun outside.
After freshening up, we were treated to a sumptuous lunch, post which we headed out to explore the area. We first went to a temple close by, which though was built during the Hoysala regime, doesn't have tourist inflow like Halebidu or Belur.
Veeranarayana temple in Belavadi:
This has magnificently carved soapstone columns with 3 idols, the Krishna which as told by the Pandit is the most beautiful amongst all the idols in India according to ASI. It has three shrines, with three idols present, all which are worshipped by the people till date. The stone structure with not many tourists makes this an ideal place to spend your noon, sitting by the cool stone seats carved by the temple walls.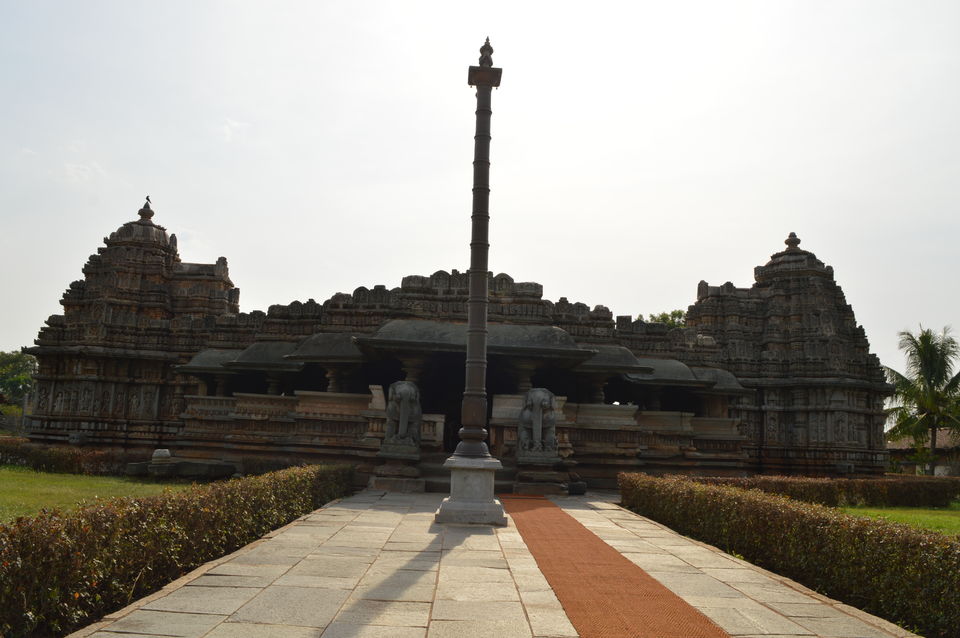 Yagachi Dam:
We then went towards Yagachi dam which to our disappointment, no longer lets people cross over it. You can sit in a park built by the side of the dam. We had ice creams and sat on the rocks watching the sun slowly set.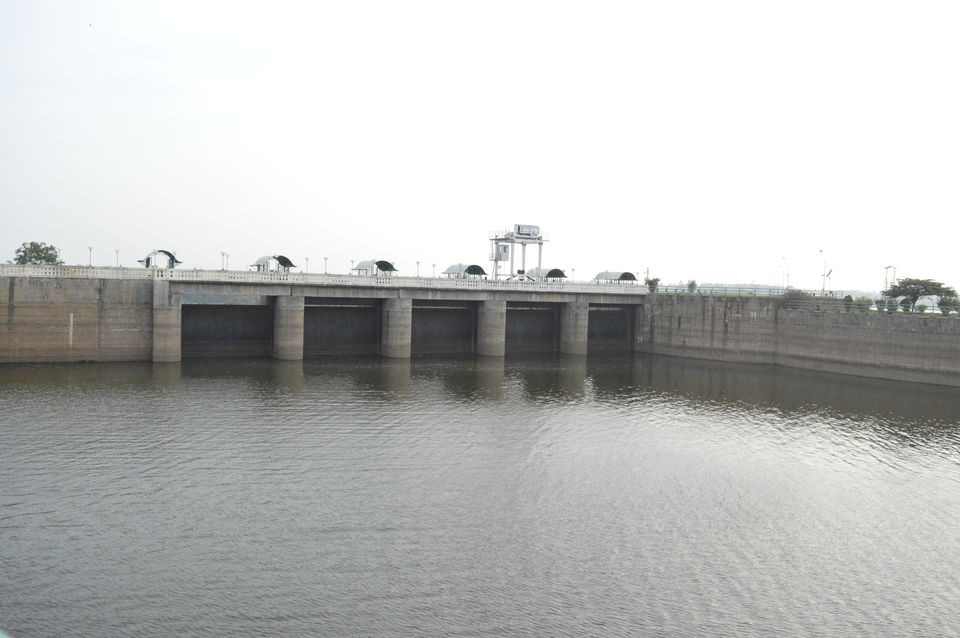 Saptagiri temple:
After visiting the dam, we went to another temple located in --- which though is an old temple, is being renovated and for me had lost its charm. Since this temple is located on top of a hill, it has a good view of the valley below and provides for a good sunset spot.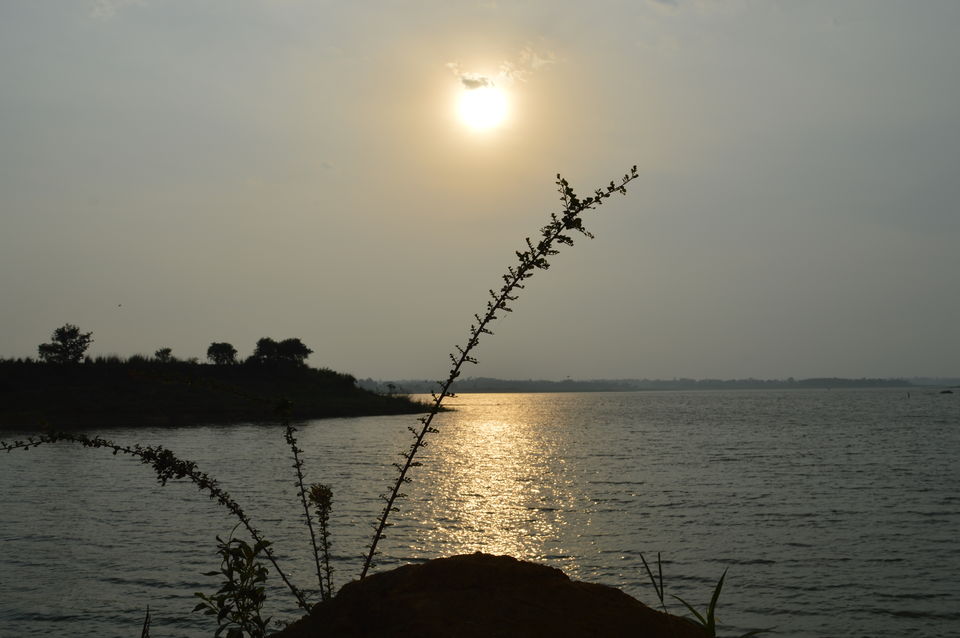 We then started our journey back home and were in the village in time for dinner. After having dinner our friend took us around the village at night. It felt so peaceful and safe. To be able to walk on streets not worrying about which vehicle might come ram into you or any eve teasers sitting by the road. After visiting most of the local spots including "nam ooru devastana( our towns temple), nam ooru shale ( our town's school) and nam ooru cricket ground, we went back home to sleep.
We set out early the next morning to walk to 'nam ooru kere' ( our village's lake). It was a pleasant walk along a rocky path for around 2km and as it was still early in the morning, the breeze was also very cool. We reached the lake soon as sat by it watching the fishes swim, the birds fly, a local wash his cow and women washing their clothes. We spent a good hour there before we decided to walk back to have our breakfast.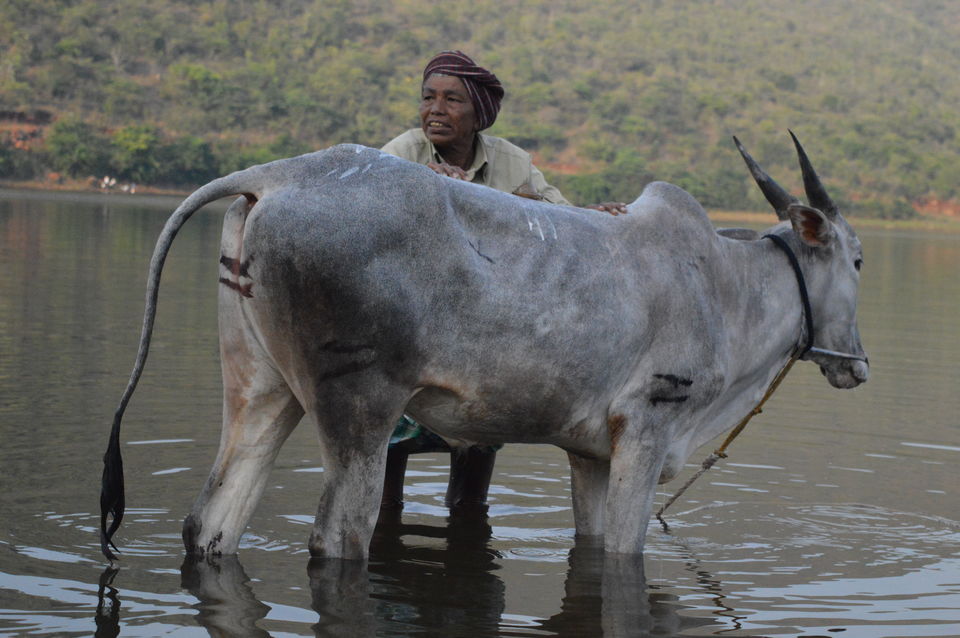 We then visited his dad's farm located around 2km away from his house. The farm had a huge tamarind tree at the entrance which was so inviting I had to climb it. We plucked a few raw mangos from the tree there, had a small picnic by the shade of the tree and then left the farm.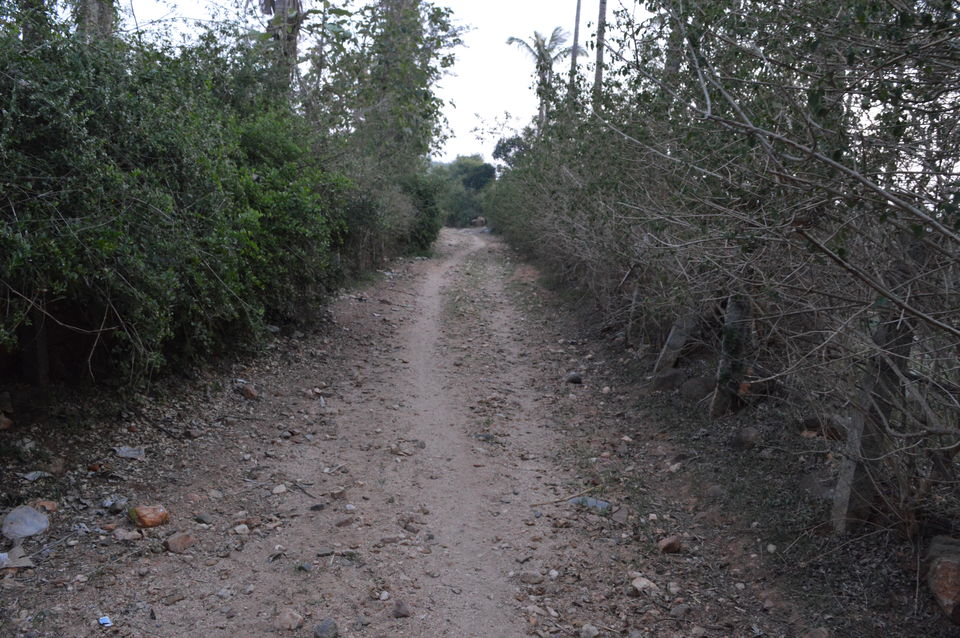 We went towards the next village to visit their local temple as we had time to spare. Soon hunger took over and we went back home for a hearty lunch. After lunch, we decided to go towards Goonibedu which was 70km away from the village.
Goonibedu is a located by the Hemavathi river which has a small old temple and the river flowing by. You can get into the water and swim around. As this was pre-monsoon period the water flow was very shallow and we sat in the river playing for almost 2hours. We decided to return back when the sun almost reached the horizon. It was very relaxing as not many people visit this place and luckily for us, we were the only ones playing in the water until the end, other than a buffalo upstream.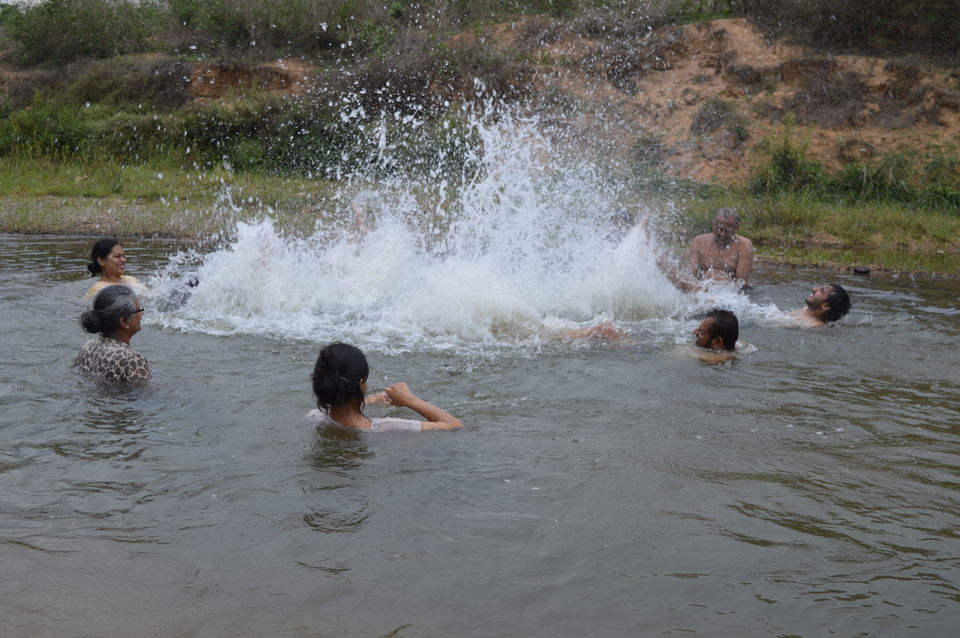 By the time we got back home, it was pretty dark. We sat outside his house on the veranda where the wind was blowing and the temperatures had dropped down drastically. We could spend the night without a fan. Ah, what nights they were, so serene, quiet, no sounds of vehicles, the stars shining above and the cool breeze blowing below.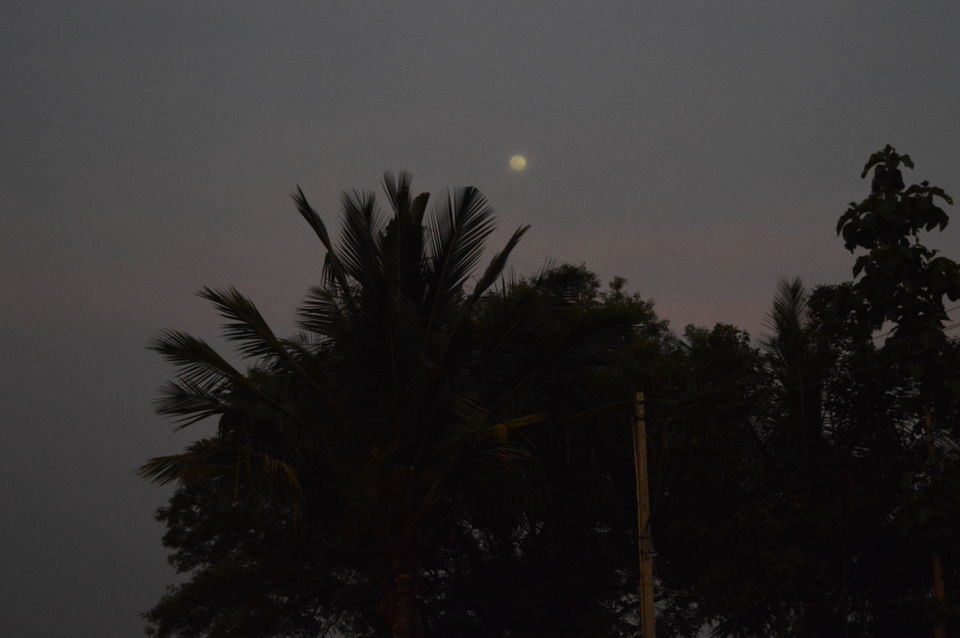 Naam ooru Betta: We got up early the next morning to go to the hill next to the village. It was a trek which took us about an hour and a half to climb, sat by the temple and took in the view. But as it is summer, the sun started blazing by 7.30 ish and then we decided to head back. We took another route down the hill, through the stone formations with no route marked. It was an adventurous trek down, which took us around 2 hours. We finally ended up near the lake, where we had our parents pick us up and went home for a good breakfast.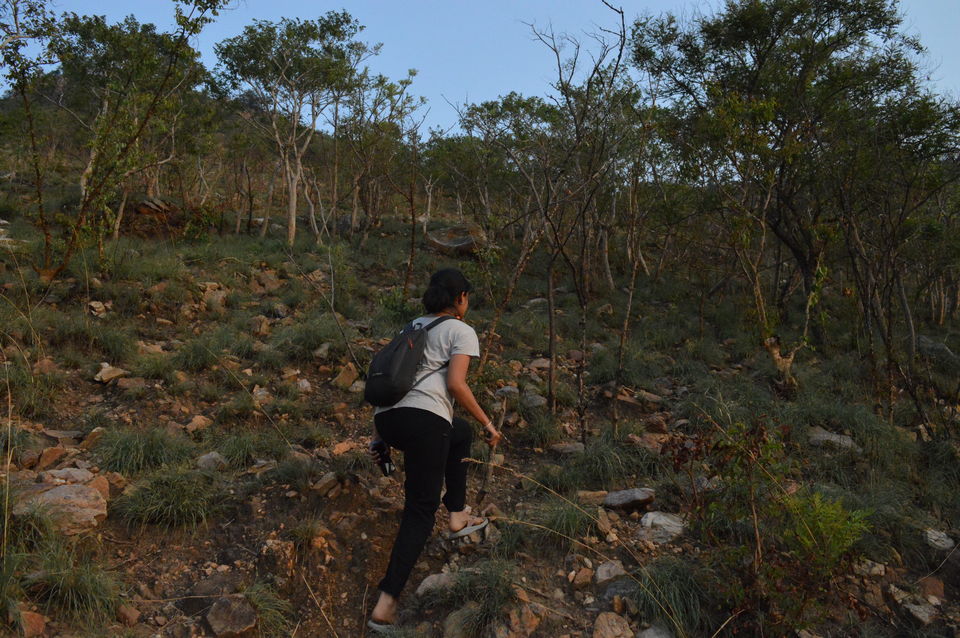 We sat home during the noon to avoid the heat, as it was getting very hot out there and then headed out to Chikmaglur during by 4 in the evening. Our next destination was the river at Kaandya
This was a quaint place, which is the place where two rivers meet. So, though you aren't allowed to jump into the water here, it is nice to sit by the banks and relax. Again, no traffic or other noises to disturb the peace around. There is a temple located right next to this spot, which did not garner much interest from the architect in me. So, by the river, we were for a good hour. Then we were back on our way home, took us about two hours to get back, to find a good dinner waiting for us.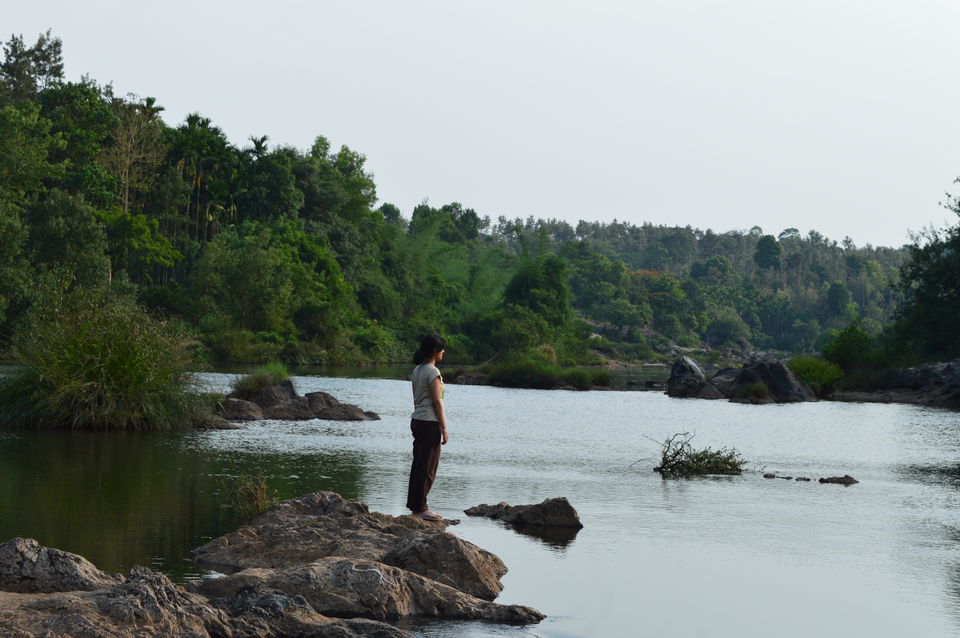 The night was usual, a hearty dinner, gossip by the veranda or maybe I can say talks about saving the world in the veranda, none of us wanting to leave.
Next morning we were to leave. But since it was so peaceful and perfect out here, my friend and I preached ourselves on the terrace and sat there for quite a while not really wanting to go down and get ready. Up there, I spotted the village temple, which as soon as I laid my eyes on, wanted to climb. And to my delight, the friend whose place we were staying on said its "legal".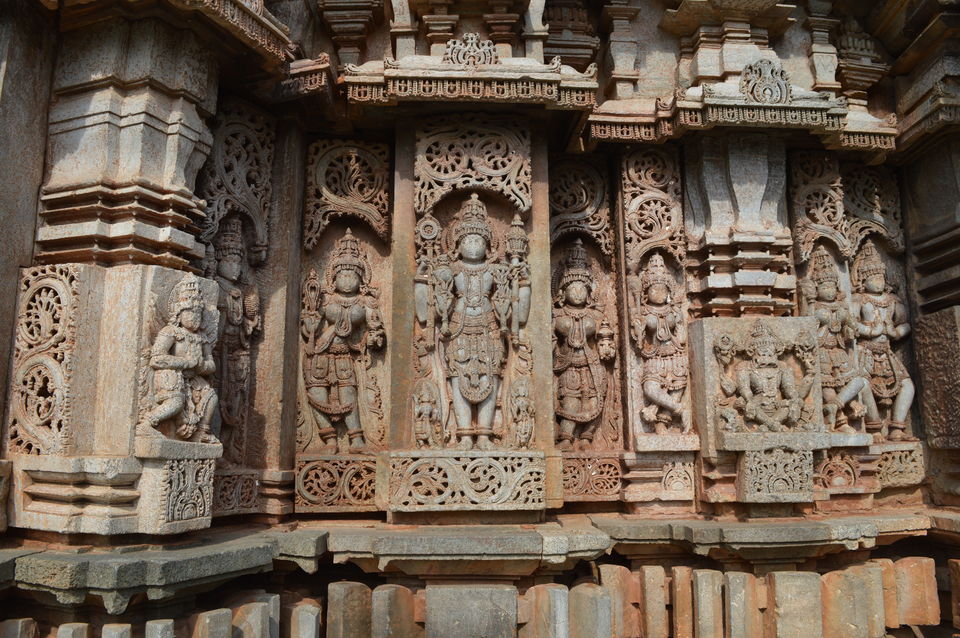 So, there we were, walking to the temple and slowly climbing it. While climbing up it was fun, as I could see where to put my legs, but then while climbing back down I was stuck. Like spider man on a building. Not going up or down but laughing. Until I told my friend I need a ladder and was going back up instead of hanging midway. He, of course, asked me to just come down, and to my amusement, it was just a simple push from the hand and let gravity do the rest. I did it in a few seconds, and to think of the time I wasted clinging on to that rocky sculptures!
Then we were off from beloved Kalsapura. On our way back we first took a deviation to visit the now famous Shettihalli Rosary Church. This church is said to get submerged during monsoon and then reemerge during summers. It is in ruins but it is interesting to imagine how it would have been in all its glory.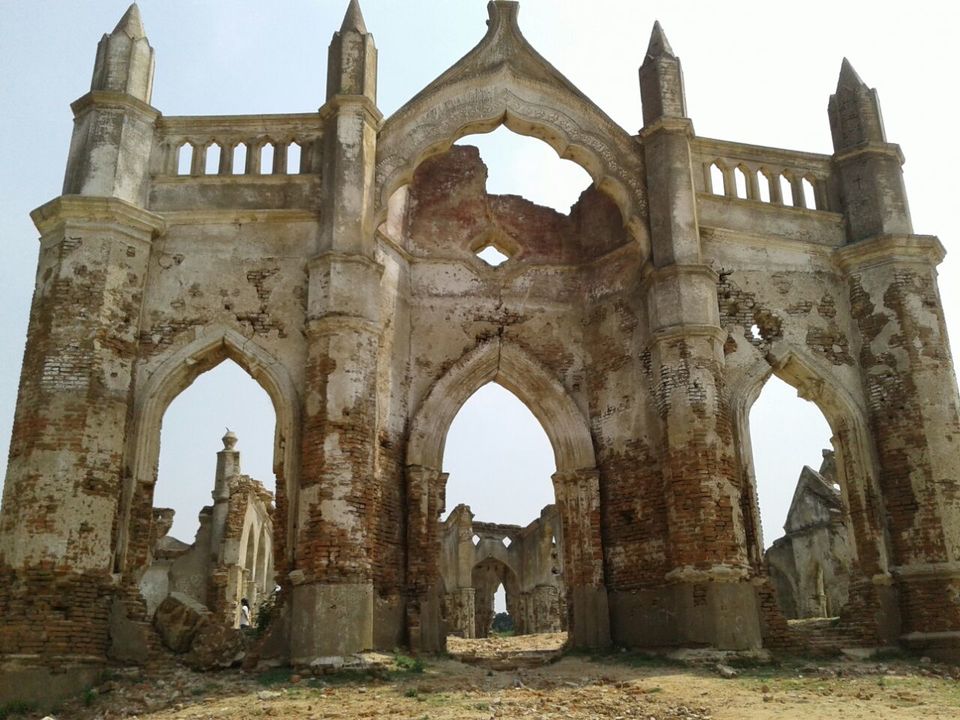 We then stopped by at Nugehalli Temples. We visited two temples in this small town, which famous. Soon, we were back on the highway, back to the city of Bangalore. . What a pleasant 4 days they were!