Fancy staying in tree houses, mud rooms and mystical caves right inside a National Park, say whatt? TATHASTU... granted as you desire. Yes, there's actually a place where you can see nature at its best amidst the jungle. Live your fantasy as we help you find a place in the middle of the wild that will offer you an authentic wildlife experience without compromising on your comfort.
Ideal For
This place is perfect for nature and wildlife lovers and for a holiday with family and friends.
About the Property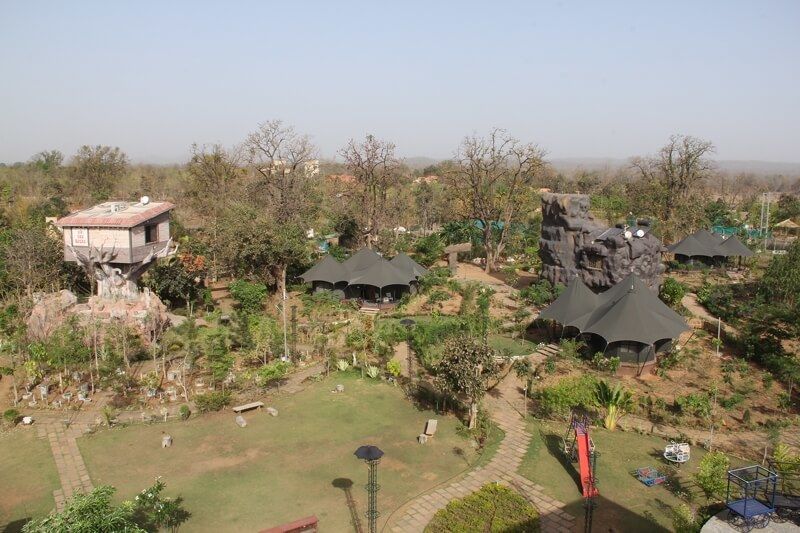 Tathastu Resorts is a luxury jungle resort situated in nature's lap in Pench Tiger Reserve and is 2kms away from Turia Gate. The pench reserve is spread over 785 sq. km and has gained popularity due to spotting of Tigers in their natural surroundings. This park is a paradise for bird watchers with 285 species. It is believed that the famous writer, Rudyard Kipling drew his inspiration from the forests of Seoni, and used as a setting for the famous book, "The Jungle Book". However, Mowgli did not have so many varied accommodation options as you have in terms of luxury & services. There are varied options for accommodation at this resort suiting everyone's pocket. Besides, the resort features everything from a swimming pool to an art centre sporting and adventure activities, art, music and much more. The good folks at Tathastu responsible towards responsible tourism by undertaking green initiatives like the plantation, rainwater harvesting, sewage treatment, solar energy generation, disposal of plastic and many more.
Accommodation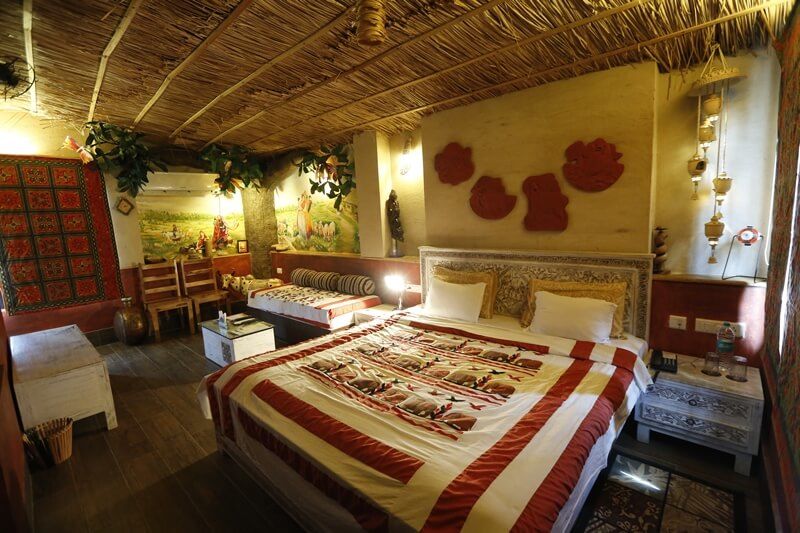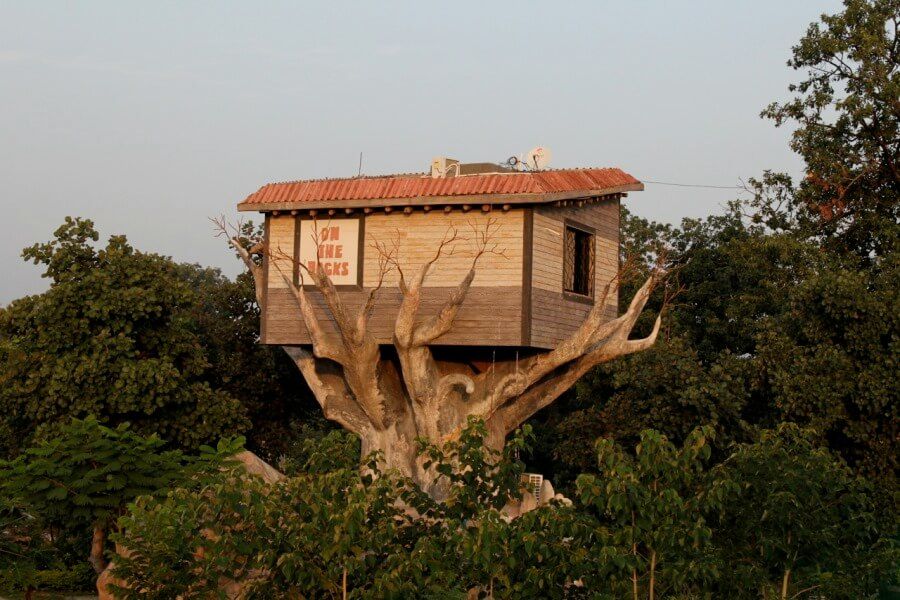 The best part about this resort is the multitude of accommodation options that are there for every type of traveller. Accommodation options include Monarch's Nape, villas, tents, tree houses, cave rooms and mud rooms. Monarch's Nape is the highest category that offers a fantastic view of the thick bamboo plantation on one side and lake on the other side. Cave rooms look extremely primitive and are carved inside a huge artificial created rock and have all the modern comforts. Tree house, this one is straight out of a fairy tale. You can enjoy 'on-top-of-the-world' experience. Tents have four sections, consisting of a sitting, a bedroom, a toilet and a veranda all combined into one luxurious tent.
If you want everything exclusive and best, opt for villas. From comfort to customised food, fascinating interiors to dedicated staff, villas make you feel super special. This category is highly suited for medium to large groups. Mudrooms, this one is a totally new experience. This one is for art lovers, wherein you can stay at the art centre amongst artisans and creativity. Try your hand at pottery, wood carving, painting, photography and much more.
Food
When the food is good, your mood is bound to be good. Along with the restaurant, Tathastu offers in-house bakery with cookies, cakes and other confectioneries. The preparations of the food are very home-like, less oily and prepared with the best ingredients. The best part is food can be customise food according to your personal tastes.Live Barbeque Setup can be arranged, if you inform well in advance.
Activities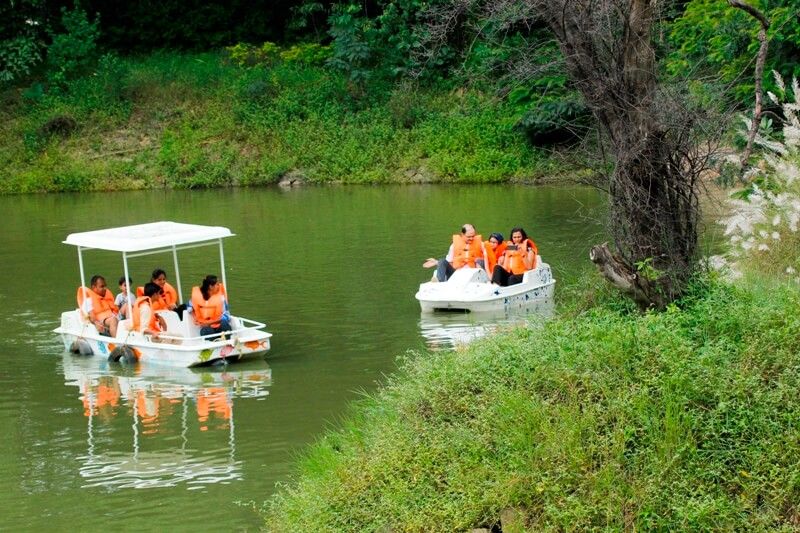 There is something for everyone at Tathastu. From indoor activities like carom, darts, board-games and enjoy outdoors by going for cycling, boating, fishing, swimming, nature walk, badminton, bird-watching, star gazing, bonfire, wildlife movies, tribal dances, art village kids zone, various excursion and so on. The resort also boasts of an indoor heated swimming pool and an adjoining party area along with it for great evening plans and activities. I wonder how many days you need to pack in for this holiday as there are so so many activities to keep you busy.
Cost
The accommodation cost varies depending upon the category you choose. For the villa, you pay Rs. 12,500 for a single night. Tents are priced at Rs. 14, 500; the tree house is also priced the same as the tents. Cave room is priced at Rs. 16,000 and Mudroom tariff is at Rs. 12, 500 and Monarch Nape is priced at Rs. 25,000 per night. The above pricing includes buffet breakfast, lunch as well as dinner. Your kids under 7 years of age can stay free with you.
Best Time to visit
November – June is the ideal duration to plan a visit to Pench National Park. The chances of spotting a deer and leopard during the winter months are higher.
What to do around the Property
Safari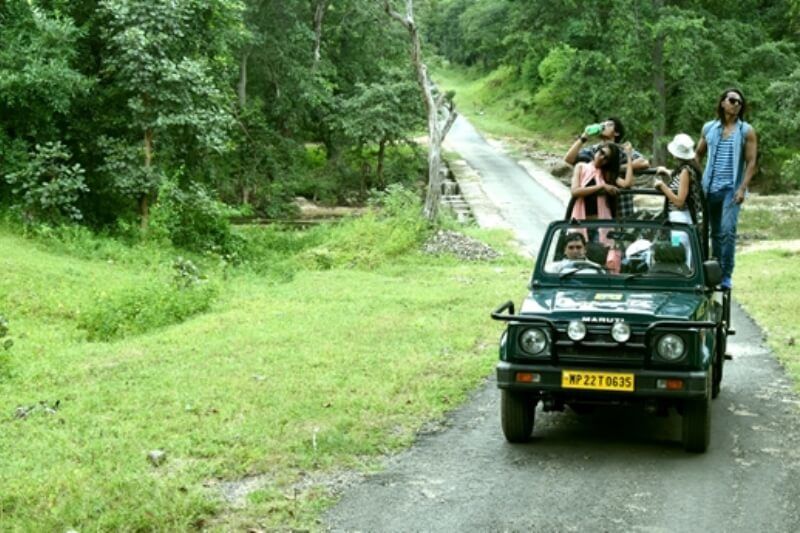 You are right there in the middle of the National Park. So, a safari is obvious. You can go for different zones, Turia Main Gate, khursapar wildlife sanctuary, rukkad wildlife sanctuary, sillari wildlife sanctuary, night Drive with naturalist; these all zones are close by from the resort. Choose the zone according to your liking and budget. The morning timings are from 6 am to 11 am and in the evening starts from 3 pm. Check the schedule before visiting the place.
Night Drive & Night Safari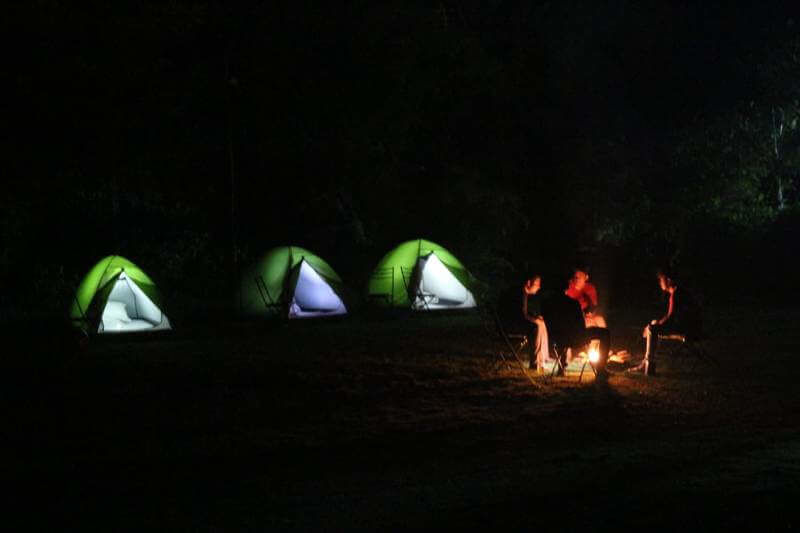 If you wish to enjoy night safari in Pench, 6 pm to 9 pm is the best time. It's around this time that the flora and fauna species in the park can be spotted at their nonchalant best. Deer's, hyenas, wild dogs and few exotic birds can also be seen during this time. Make sure that you have a proper plan in advance before heading for the Night Safari.
How to Reach
By Air: Nagpur Airport, at a distance of 93 km, is the closest airport to Pench National Park. Taxis are easily from the airport to the national park area.
By Rail: Seoni Railway Station, at a distance of 30 km, is the nearest station to Pench.
By Road: Seoni has good connectivity with the major cities nearby. Government buses, as well as private vehicles, are available from the bus stop to the national park.
A trip to this national park is all you need to experience the best of wild and wilderness. If you know of some hidden gem, please share your story here.
Check out Tripoto's Youtube Channel for some interesting videos.
Get travel inspiration from us daily! Save and send a message at 9599147110 on Whatsapp to start.