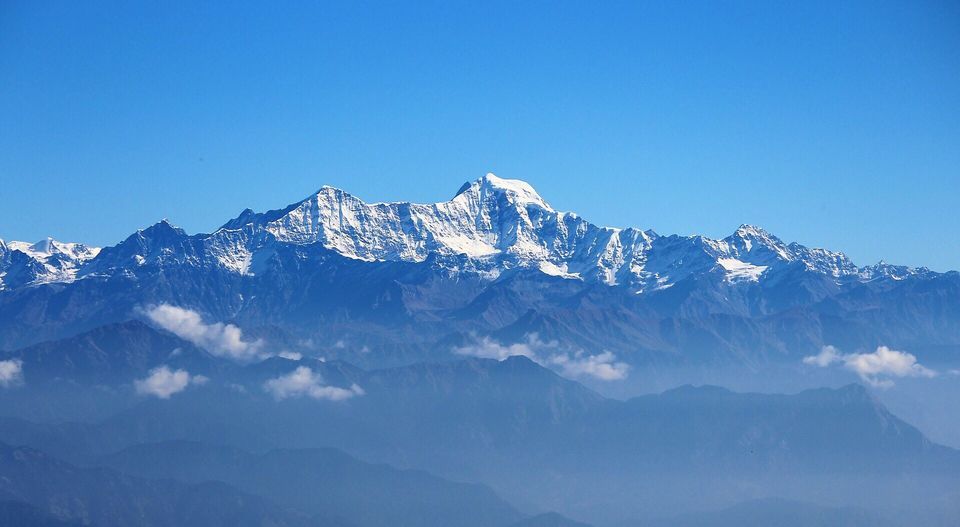 Trek name: Nag Tibba
Days: 02/03
Season: Jan – June and September – December
Nearest Railway Station: Dehradun
Nearest Airport: Jolly Grant Airport, Dehradun
Did it with: GIO Adventures (www.gio.in)
Why you should do this trek: Because it takes just 03 days. Pantwari (starting point) is easily accessible. One can book an overnight train/bus from Delhi to reach Dehradun and start the trek the same day.
Why this trek is not for you: If you are looking for long days of trekking covering a lot of distance, this trek will not satisfy you.
Itinerary:
Day 01: Dehradun - Pantwari (04 hrs drive)
Pantwari - Nag tibba Base (05 hrs trek)
Day 02: Nag tibba base - Nag tibba top - Nag tibba base (Trek 03- 04 hrs)
Day 03: Nag tibba base - Pantwari (03 hrs trek)
Pantwari - Dehradun (04 hrs drive)
Story
The trek begins from Pantwari, a small village in the Uttarkashi district of Uttarakhand. Early in the morning, one can find taxis and local buses waiting at the Dehradun Railway station for Uttarkashi.
Although one can do the trek by oneself, I chose to go with GIO Adventures as I had heard a lot about its great service from a friend.
Our group assembled at the Dehradun Railway station at 0700 hrs in the morning and got into our tempo traveller. If you are planning to reach there on your own, take a shared cab in the following manner: Dehradun – Mussoorie , Mussoorie – Nainbag and Nainbag – Pantwari.
Pantwari: A small village in the Uttarkashi district, Pantwari is full of small shops selling all kinds of basic necessity items. This is the last place to restock your pantry as well. We stopped here to sip some sweet tea as a few fellow trekkers checked out the shops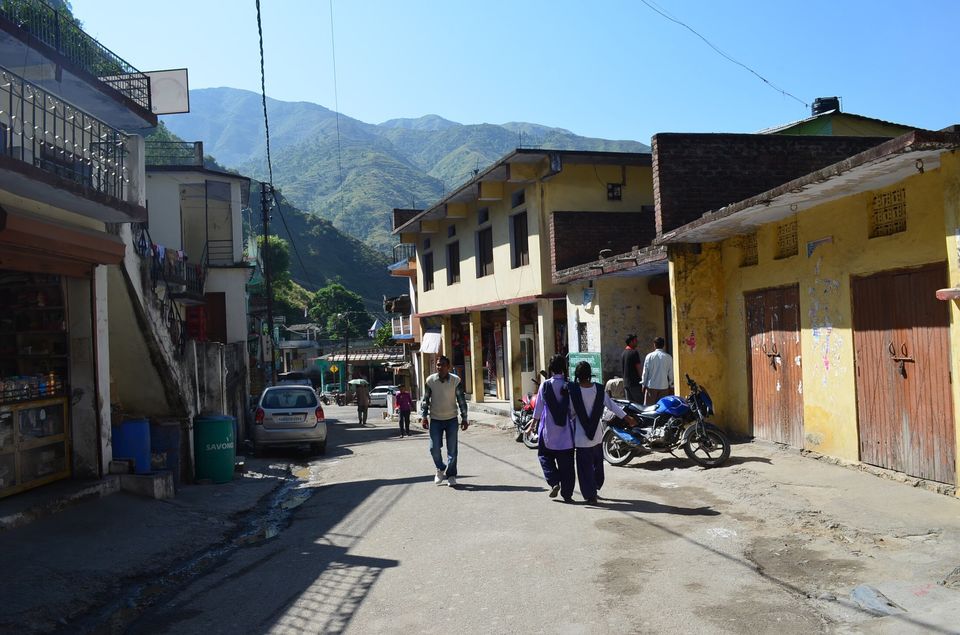 The trek began around noon and before we knew it, the small colorful houses gave way to a dense forest of oak and rhododendron.
Initially, the trail is steep, testing your calf muscles and stamina for a good 02 hours. Gradually, the climb becomes somewhat easy and one can take refuge under the trees.
First Water point: There is a water point around 40 minutes into the trail. It's a good idea to fill up your water bottles for the ridge walk that lies ahead.
The next leg of the trek is a ridge walk, offering many breathtaking view of the valley to the right. As there are no trees here, this patch can get taxing on a sunny day.
Keep: sun cap, water bottles and lots of sunscreen.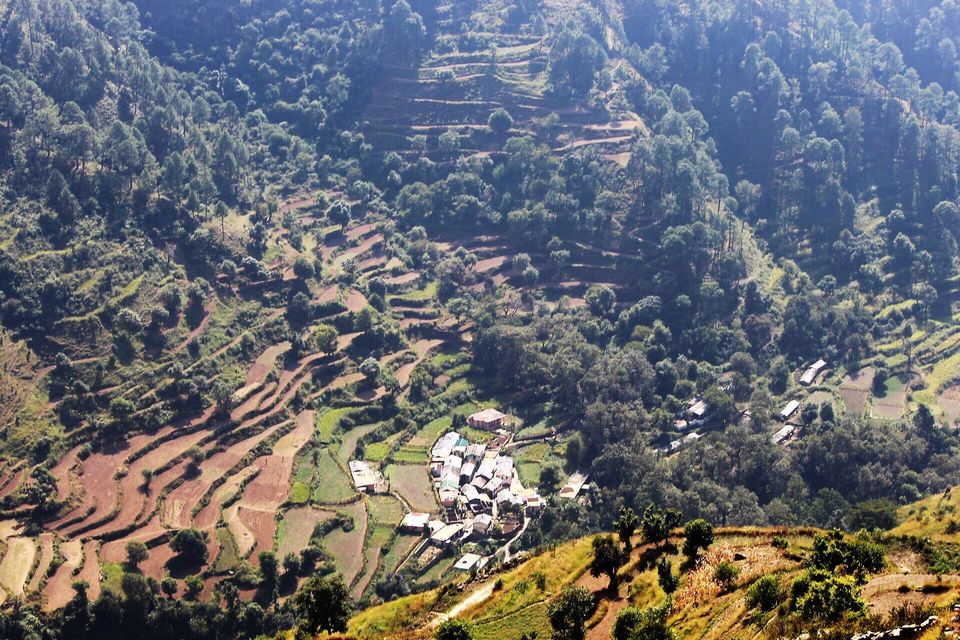 The ridge opens up to a clearing, where one can find shepherds tending to their sheep and a few villagers collecting wood or working in their farms.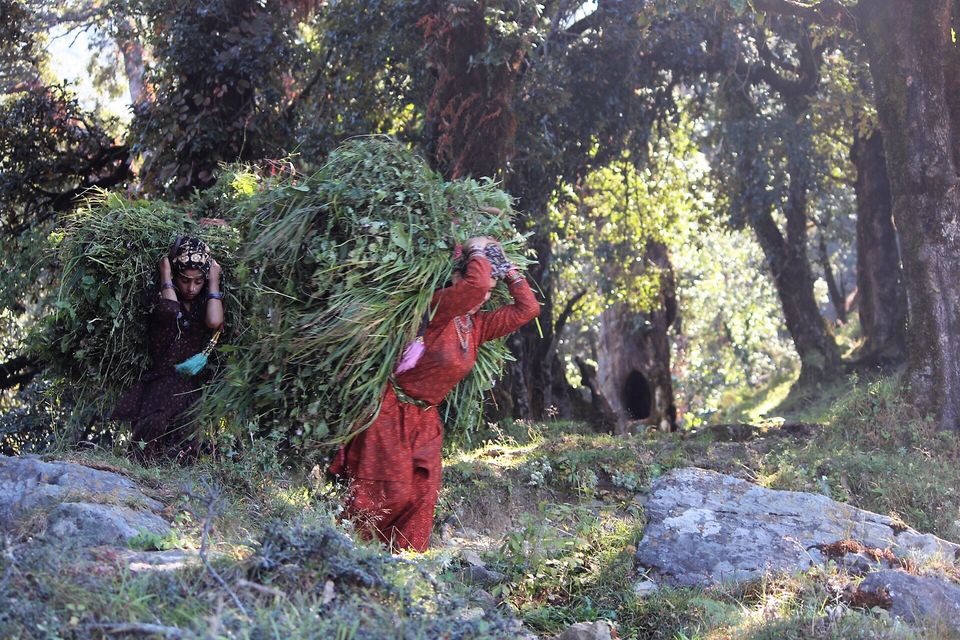 The second source of water comes after about 03 hrs into the trail. This can be a very good place to have lunch. We found this small hut a bit above and decided to take a break and explore the area.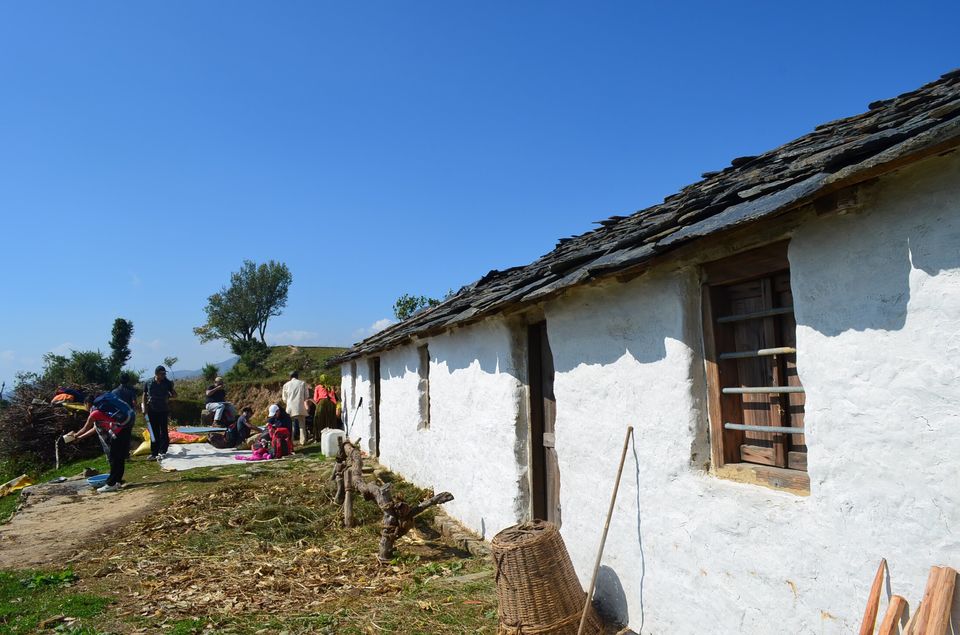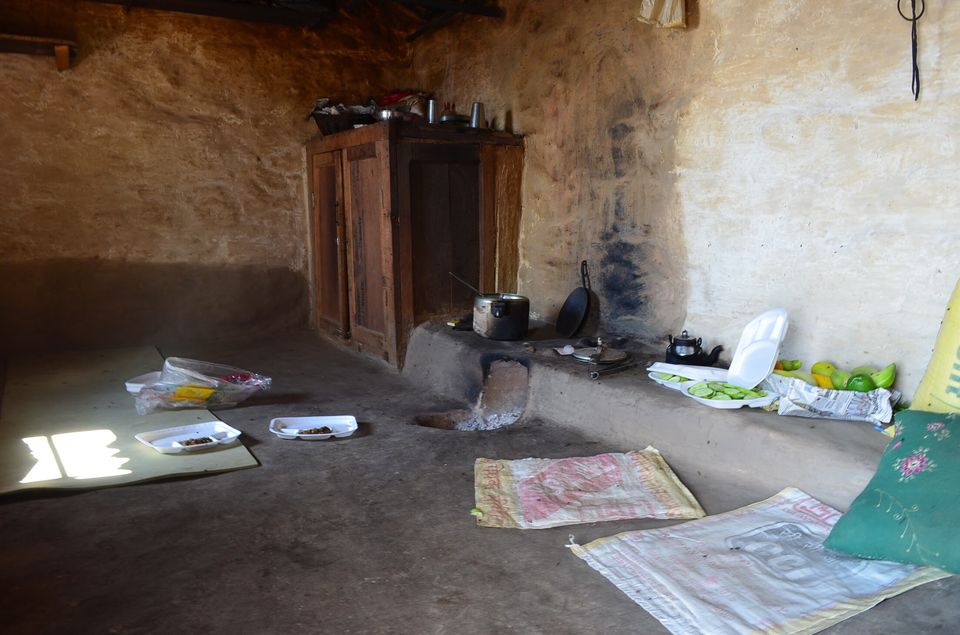 Post lunch, we were all ready to trek further up till the Nag Tibba base, which will be our campsite for the night.
Meanwhile, we crossed some very beautiful places like these: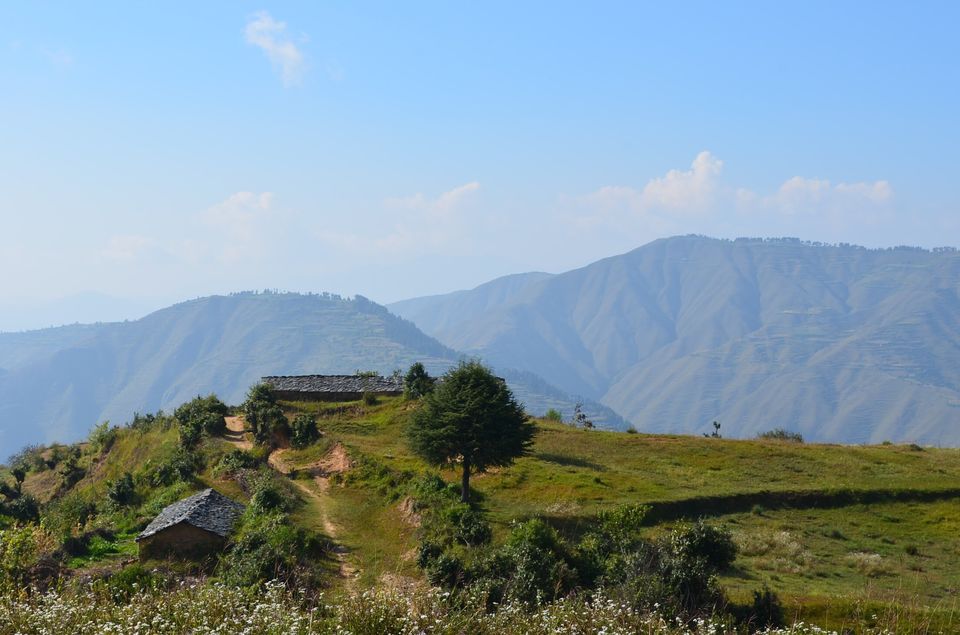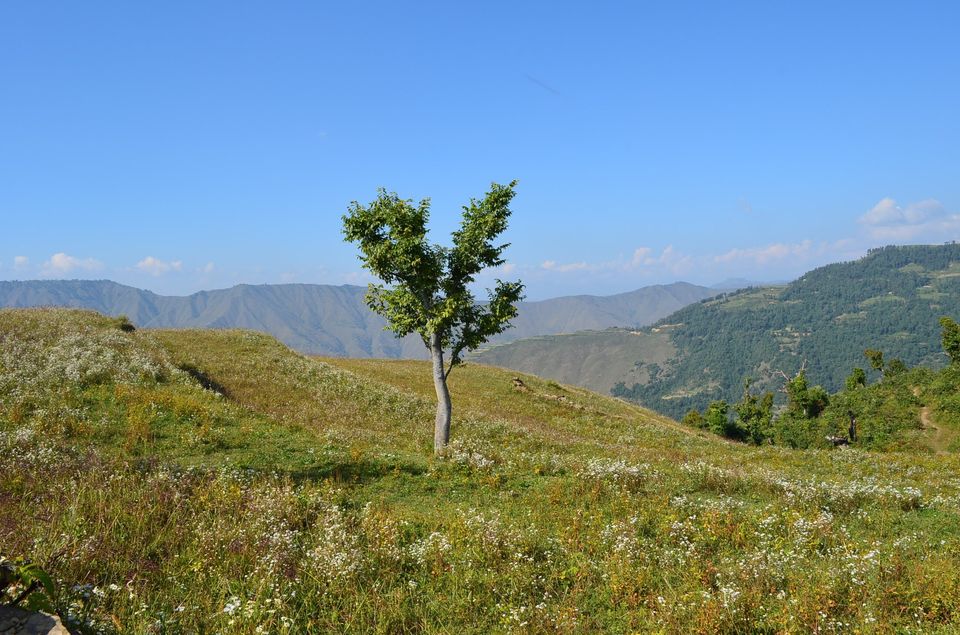 As I write, I still can recall the greenery of the meadows, the mountains all around and whistling sound of the wind as it passed through the rhododendron trees.
We reached the campsite (Nag Tibba base) by evening and quickly changed to warm clothes.
Day Ends: The site of our camp at the Nag Tibba base was probably the best view of that day. The GIO team was always ready to help and look after our needs.
Soon, the kitchen was set up, the tents were pitched and we were all sitting together, sipping hot soup, talking about the day.
The day ended early and as I slipped inside my sleeping bag, I closed my eyes, feeling peaceful and excited at the same time.
Day 02: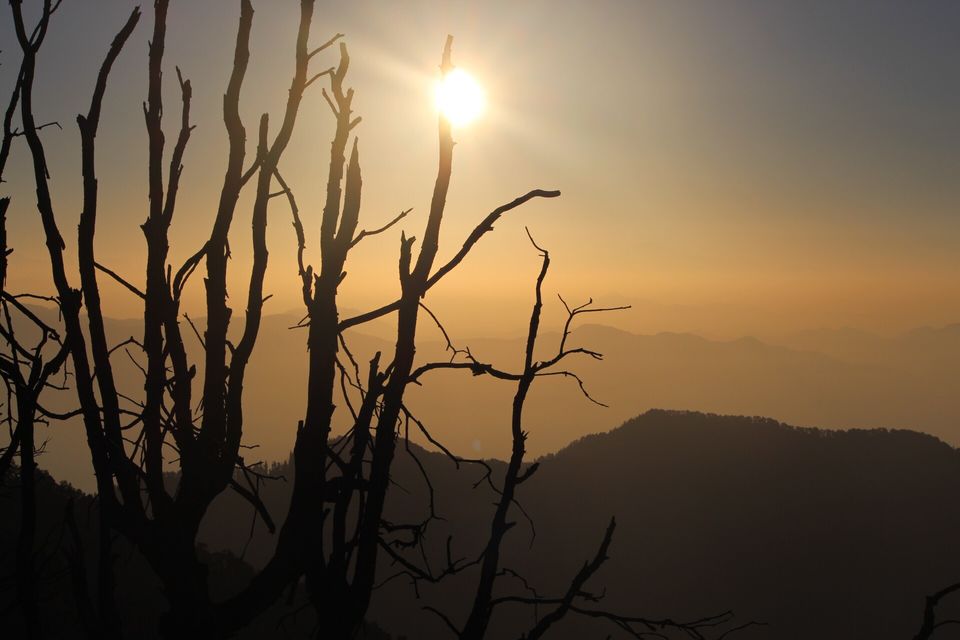 Sleeping in the mountains without my gadgets for one night had reset my biological clock. I woke up at 04 in the morning and slipped out of my tent. There was an ineffable silence that enveloped the camp.
The silence was broken only when the cook shuffled out of his tent. As soon as he looked at me, he folded his hands and murmured 'namaste' and went about to prepare tea and breakfast for us.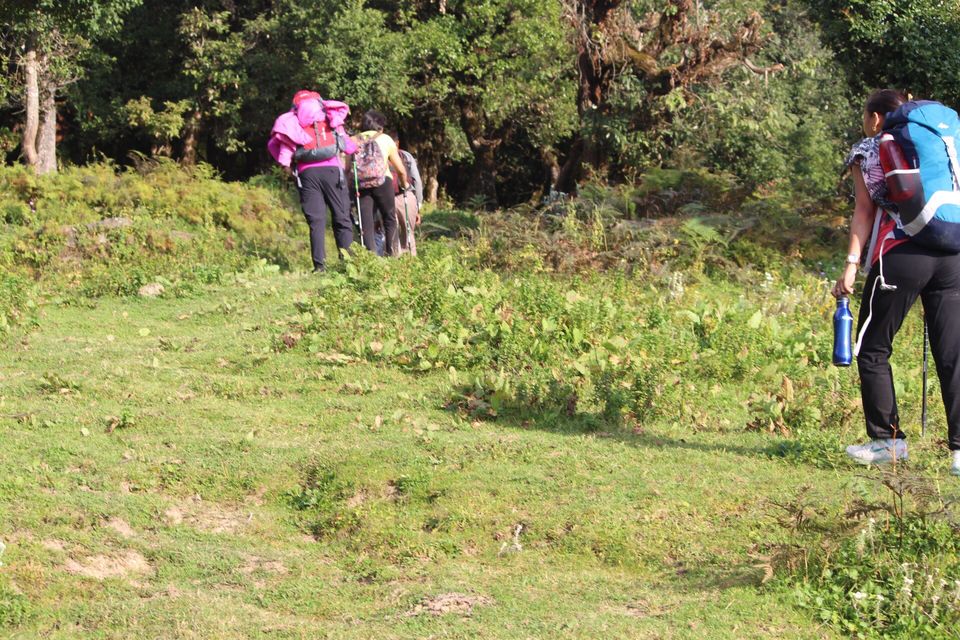 After a hearty breakfast, we started trekking again. The trail from the base to the top takes around 03 hrs, covering almost 07 kms. Initially, it enters a thick forest of oak and rhododendrons and one can feel the temperature drop inside the forest almost suddenly.
Keep: warm cap for the trail, water bottles and packed lunch if you intend to stay at the top for some time.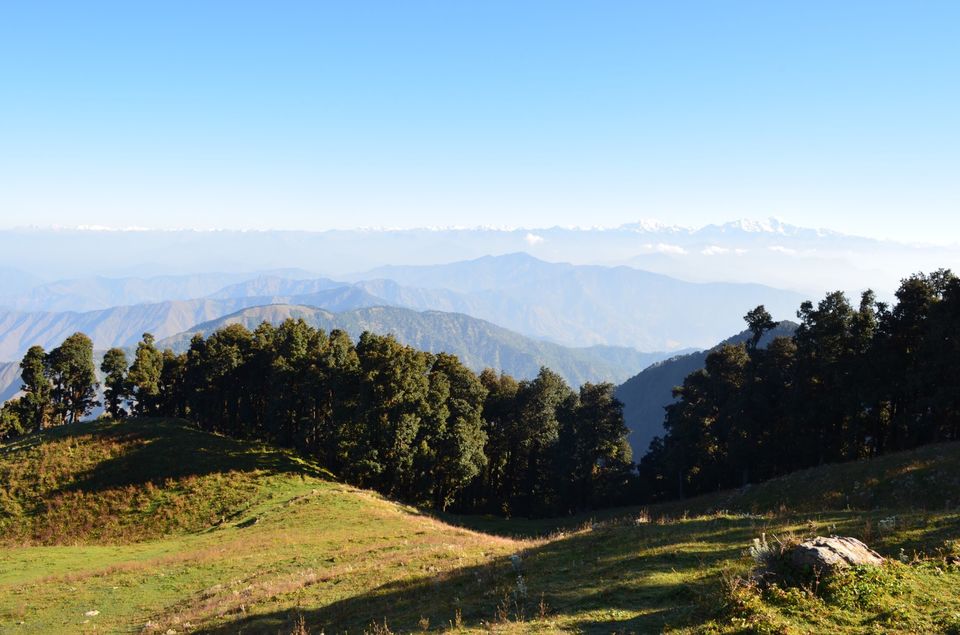 As the forest ends, the last climb comes into sight. The hills, covered with green grass seemed too inviting to rest now.
Finally, the majestic peaks of the Himalayas, including Bandarpoonch, Swargrohini, Kedar peak start coming into sight.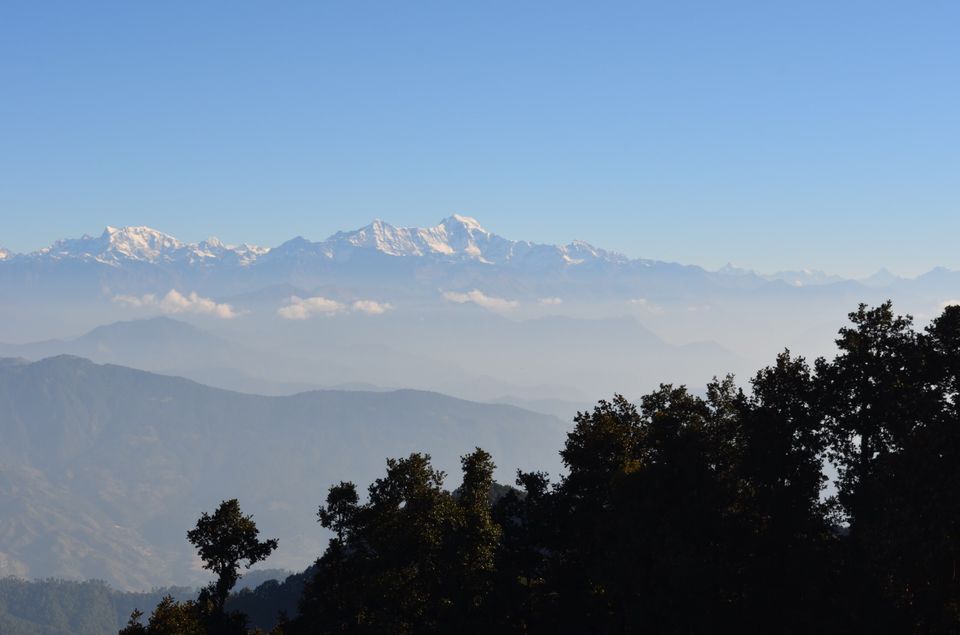 The top: A number of colourful flags fluttered in the wind and we knew we had reached the Nag Tibba top. There was a small stone structure, where a few villagers were sitting, offering prayers to the deity - Nag Devta.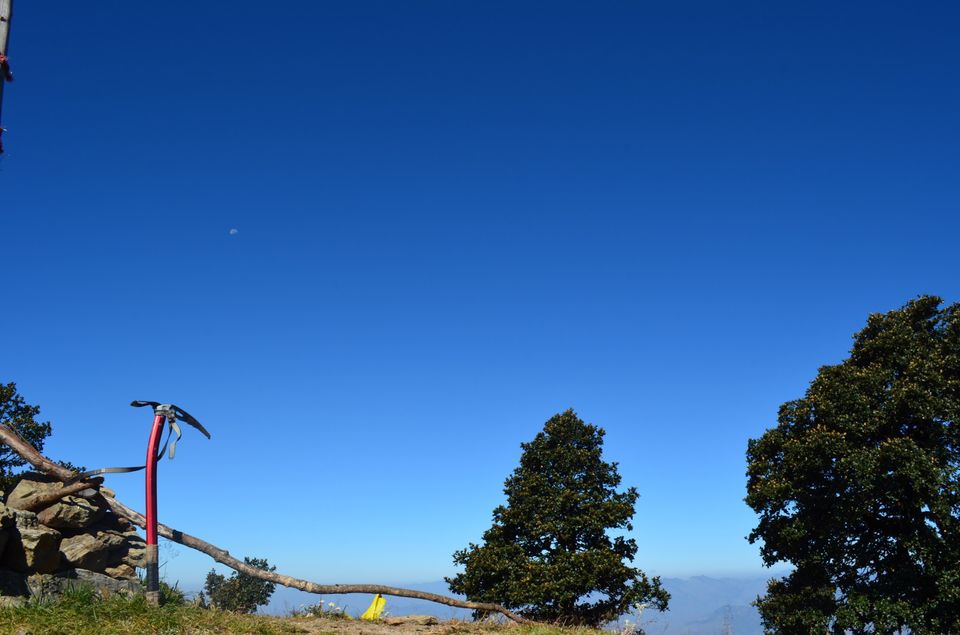 It was now that our guide explained us the significance of Nag Devta, the deity who protects all the cattle and farms of these villages from wild animals and the fury of nature.
Every year, people from all across the mountain come to worship the Devta, whose original temple lies near Devalsari.
We stayed at the top for a long time. Some took to photography, while others just lazed in the sun. A few, like me, tried their hand at everything and then finally settled down.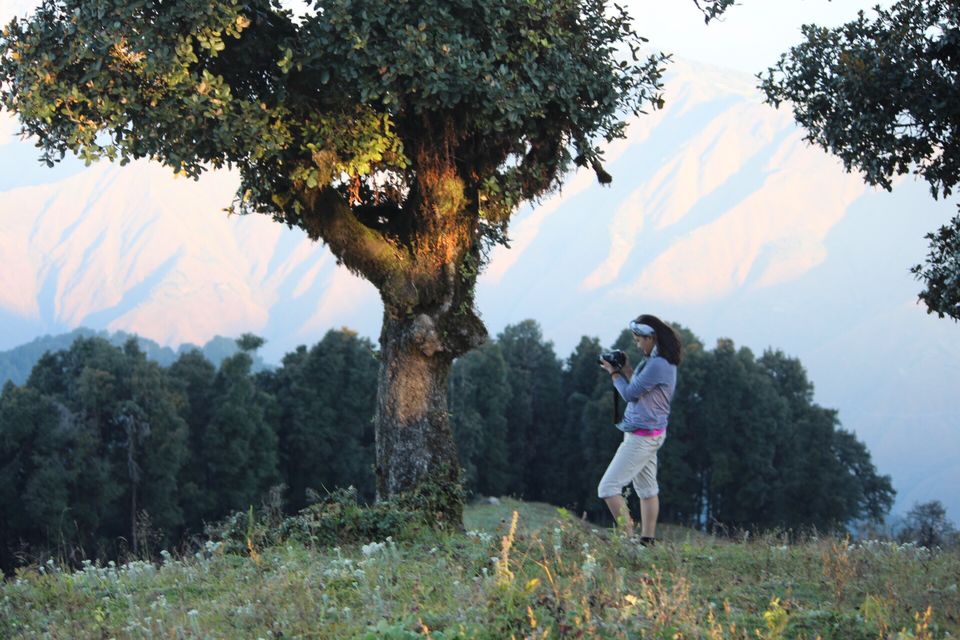 I came across a villager who was tending to his cattle. He was Manoj, a local villager, who worked in Dehradun and had come home for a few days. Manoj was waiting for his wife, who had gone to other hill to collect wood.
Telling me stories of animals that lived in these jungles, Manoj was sure that should his wife come across a bear, she would be fast enough to run with the pile of wood on her head.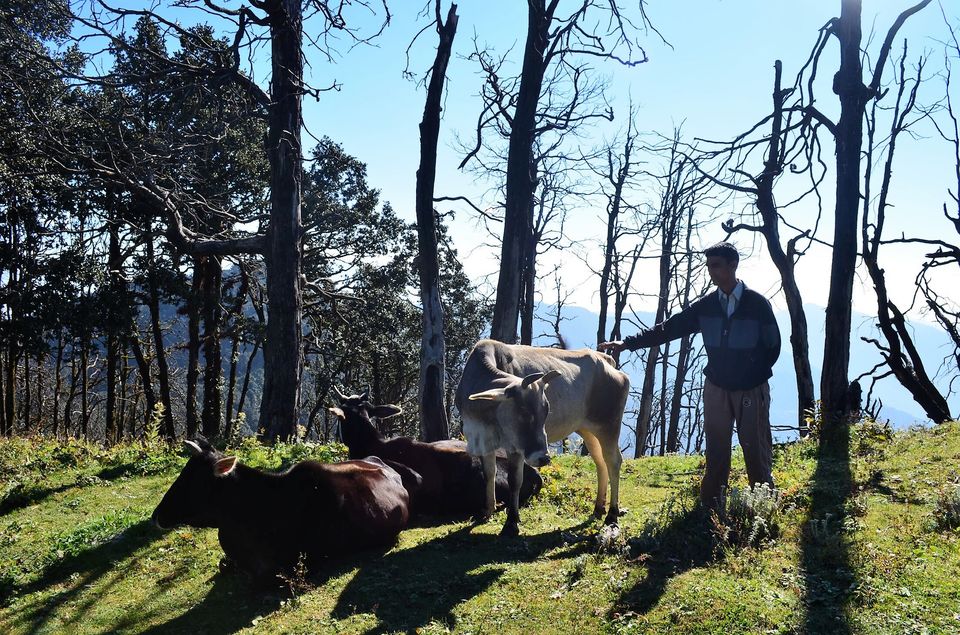 After the chat, I went to explore the surroundings and saw this beautiful arrangement of trees :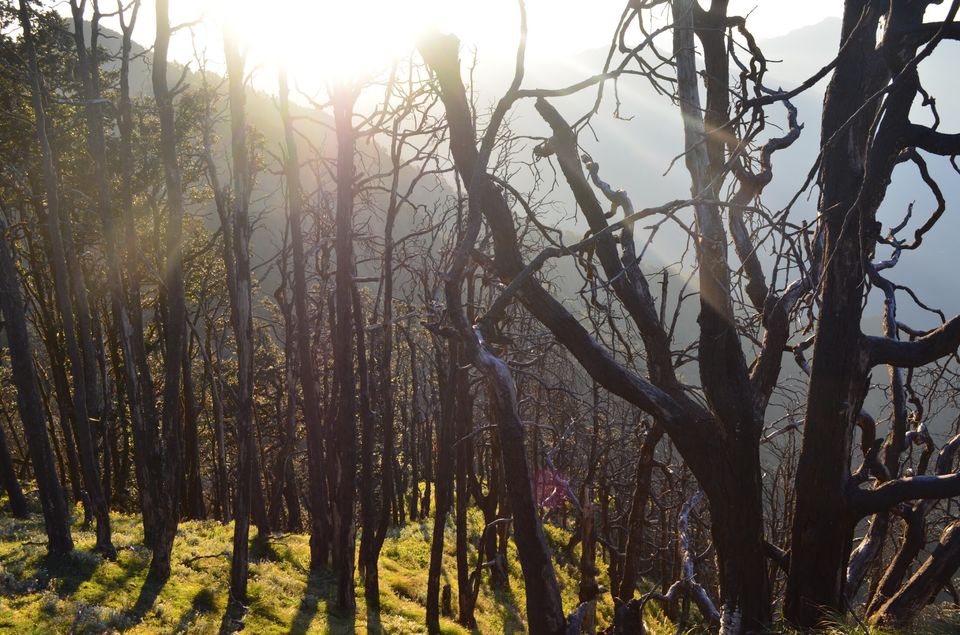 Finding a clear spot to sit and look at the beauty of the mountains, I dozed off within a minute.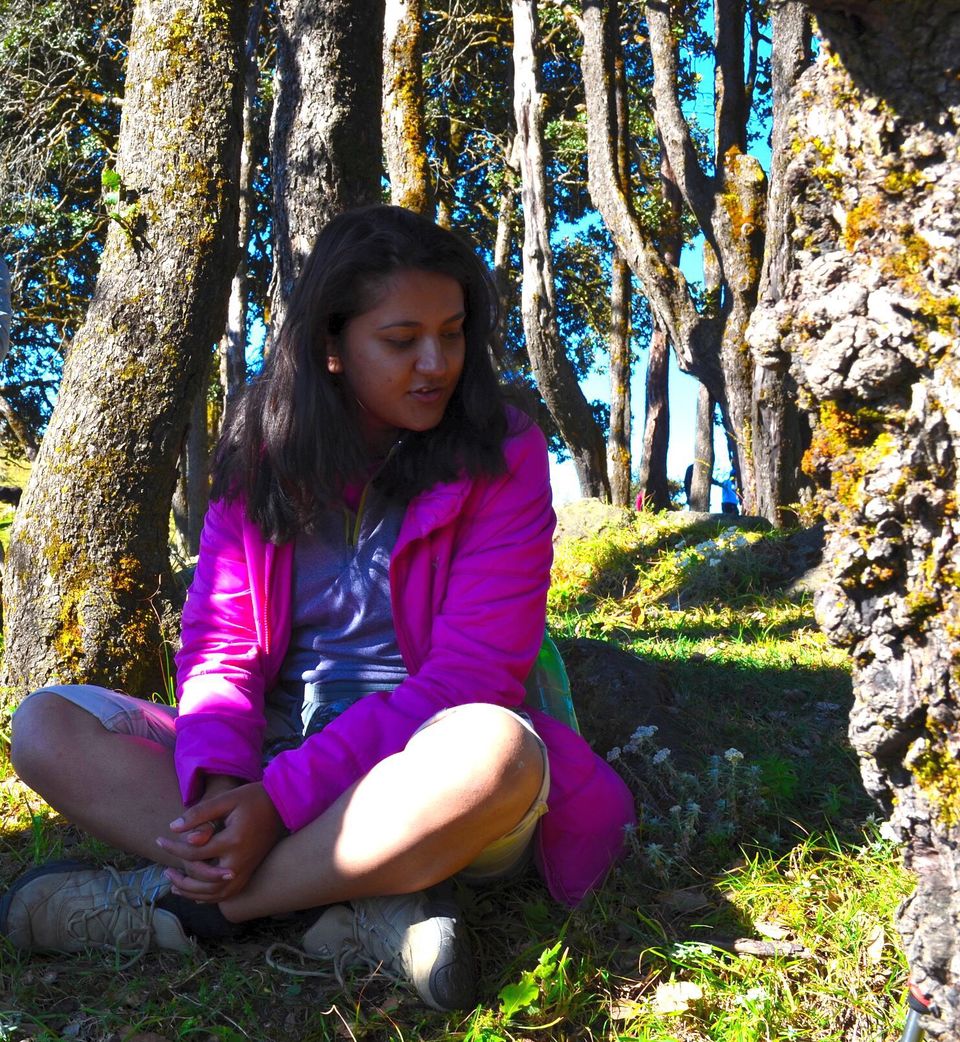 After having lunch, we started hiking down again. This time, we were all happy trekkers, filled with memories of our own.
We hardly talked till the time we reached our camp. That night, seeing the night sky, most of us realized how small we are in front of this huge universe and how little our problems were.
And then we sang. This went on till the time we were too tired to even speak. Slipping into my sleeping bag, I felt a different kind of exhaustion, mixed with a strange satisfaction.
Day 03: Departure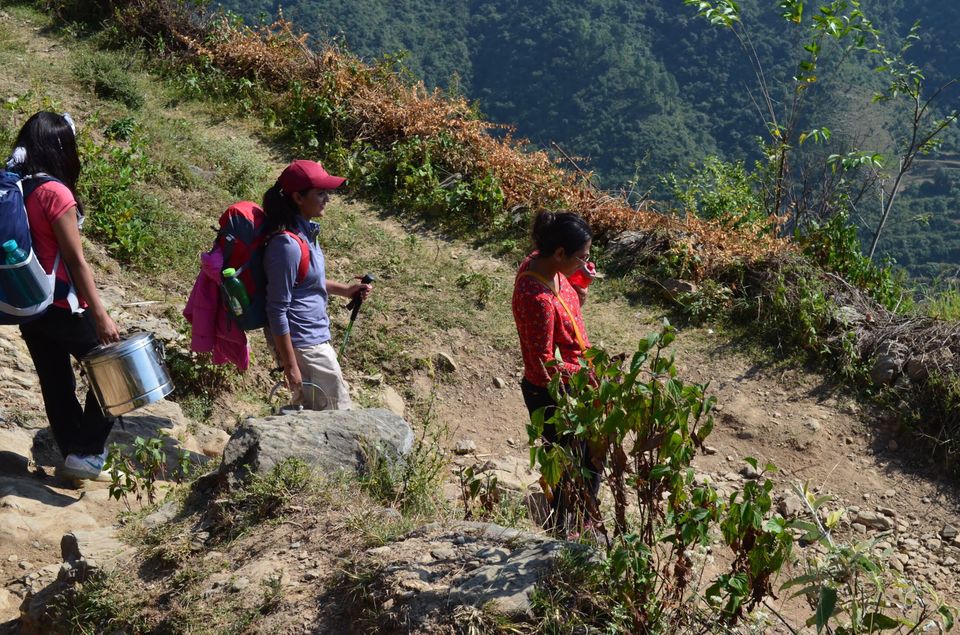 After an early breakfast, we started descending by the same route and made our way to Pantwari.
Our vehicle was waiting at the road head and the drive took almost 04 hrs till Dehradun.
Sharing these 03 days together, all of us had become friends. With a promise to trek more often and set our life's priorities right, we all parted ways.
As I look back to that day, I wish all of them are keeping up with that promise.