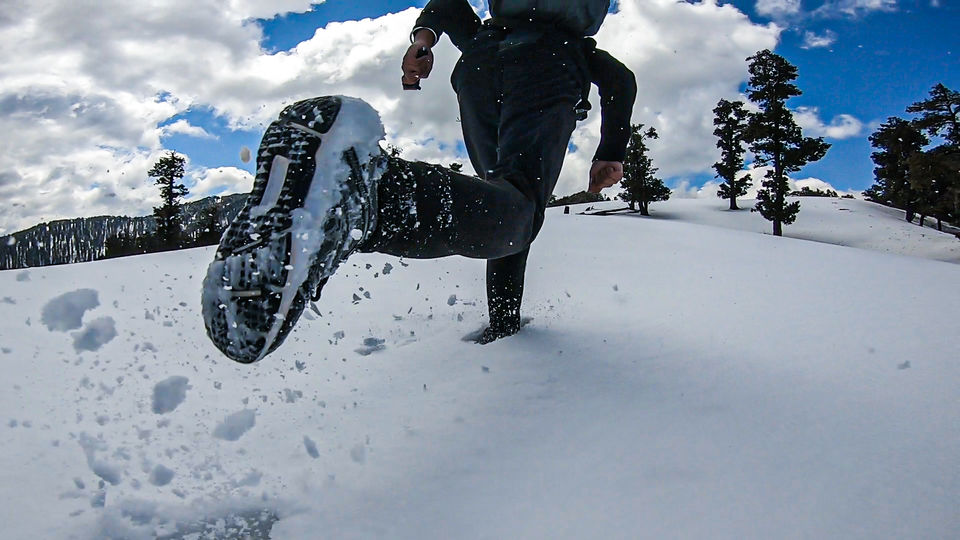 Nag Tibba is a short and easy trek located in the beautiful valleys of Uttarakhand . It will be your go to trek if you're looking for a short trail lasting 2-3 days. It stands at an Altitude of 9,915ft / 3022m and it is said to be the highest peak of the lesser Himalayan region and offers a bird eye view of so many faraway ranges of Uttarakhand . This trek is a Delight for those who are getting started with trekking.
A Brief Guide
This trek can stretch from 2-4 days and it depends on where you live and how you're planning to do it , if you have any camping plans and also which Company/Group you're going there with . I live in Dehradun so it was a one day trek for me as we were not having any plans of camping there. If you are planning it from somewhere else you first need to reach Dehradun via any means and then carry on with the further Journey! The level of this trek is fairly easy and its good for beginners but if you're going for trekking the very first time you should hire a proper guide or prefer going there with a Travel Company/Group like Tripoto itself .
There are a lot of trek routes to nag tibba but most likely you'll go via the main Panthwari village route, all these routes cover 8-12 kms of distance of breathtaking views. Panthwari VIllage is a journey of 3-5 hours (about 100kms ) from Dehradun. If you are willing to go there on your own or with a group of friends to do this trek in sort of a budget way well then you will have to take a bus from Dehradun ISBT to Nainbagh and take a cab for the remaining distance to panthwari. You will need to confirm the bus availability and timings beforehand because they often change.
Our Story
It was the two of us. Me and my friend Saurabh, both of us had not been out in a while and were thinking of doing a trek not so far away. Nag Tibba was something that came to our mind and since our plan back then was to go for something in a budget, this was just perfect.
We left from Dehradun quite early around 4 am. It was a clear day and we were excited to see what we'll get to see in that short journey of ours. Now most people and travellers/buses take the route via Mussoorie road if they wanna go to the villages ahead but we took a different route via NH507 for a change and also because this route is closer to the nature , free from all the traffic and one really gets to see the beauty of nature being close that way !
We were on a bike and since we were not bound by any rules we could wait and embrace our journey, make it a part of our destination in our own way . That route brought us surprises and things that made us stop every now and then so we could have a sip of adventure. We stopped by a suspention bridge , a vintage point , a river and what not . It was amazing taking the most out of a trip. Watch the YouTube video above where i tried my best to explain the adventure hahah...!
Views around this route were absolutely stunning from river creeks to spring green mountains. I wonder what these mountains and villages would look like in different seasons !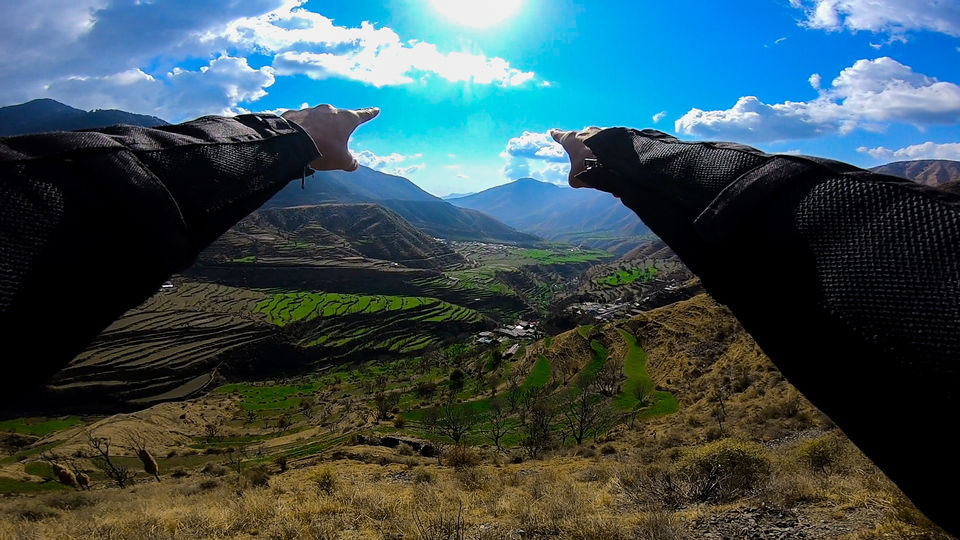 We had our breakfast at a small restaurant in nainbagh, nainbagh is also the place where you might wanna buy snacks and something to eat because it might be that you wont find any place to buy them later. But its better to carry some snacks and things to give you a boost during the trek at the very beginning!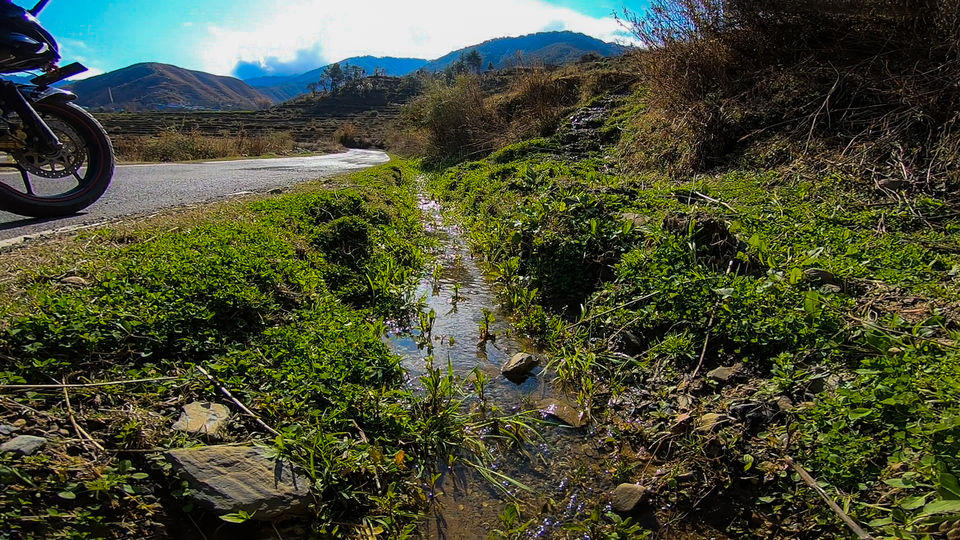 We were slowly diving deeper into the mountains and it only got more beautiful, like i said before there are a lot of trekking routes for the nag tibba trek and there's the most common one via panthwari village! but we took a really different route and we did'nt really know that it was'nt the main one that time. We kept following the road after reaching panthwari village, and the far away peaks started to show up, after a while there was this enormous view of the mountains ahead covered with snow and clouds and it came as a surprise to us since we were not expecting any snow in the month of march there. We were'nt really sure if what we were looking at was the nag tibba peak itself but we sure were starting to expect snow trails ahead during the trek!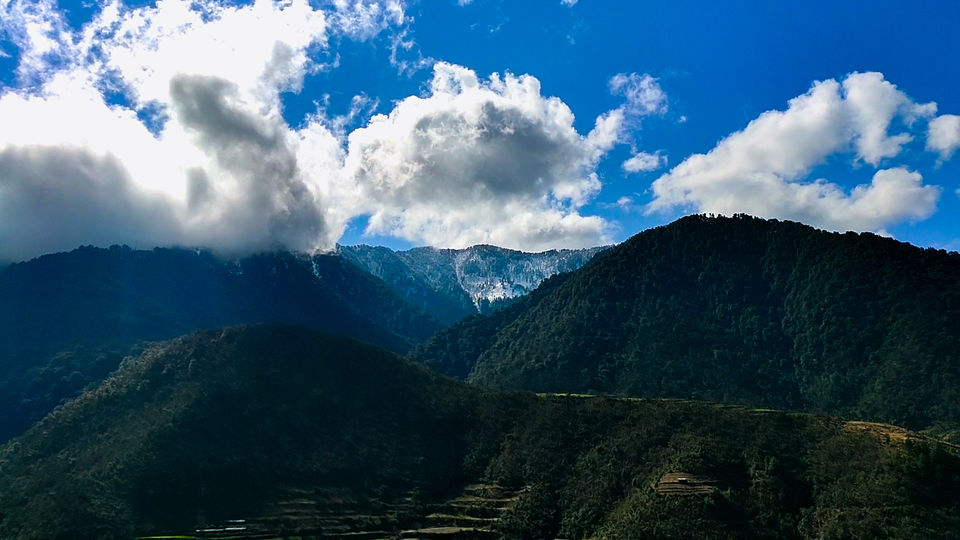 So the road was supposed to take us to the "Dulleshwar Maharaj Temple" which was our stop and from where we were supposed to start our trek. When we finally reached there we asked the locals if we could start the trek from that place. And after being assured that we were'nt lost 😂, we finally began the trek.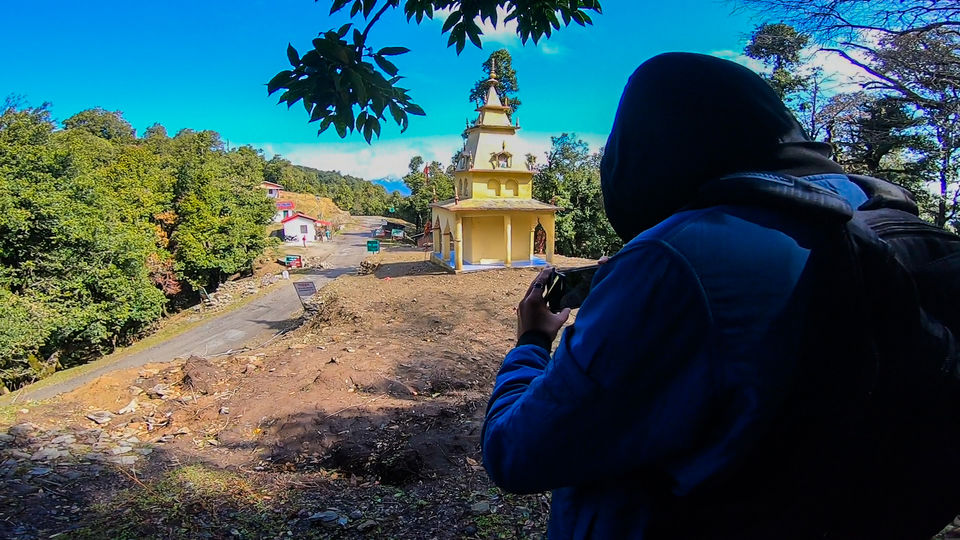 As we made our way through the trails, the clouds came all over the place, the trails felt like they had been untouched for a long while since this route was less common!
In a while we came across what we though was the least expected thing but yeah after gazing at those snowcapped slopes we saw earlier, the expectations of finding snow were high and then we eventually found ourselves walking on the beautiful snowy trails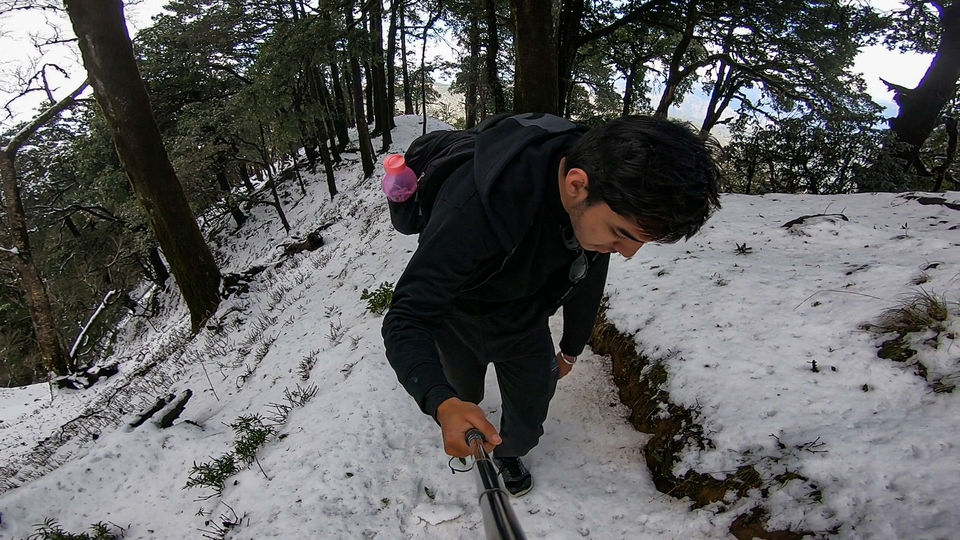 The snow levels were increasing as we rose to higher ground and of course trails were all covered. It was difficult to figure out which was the right way, then came a really steep trail fully covered with snow and the only option we had was to push through it.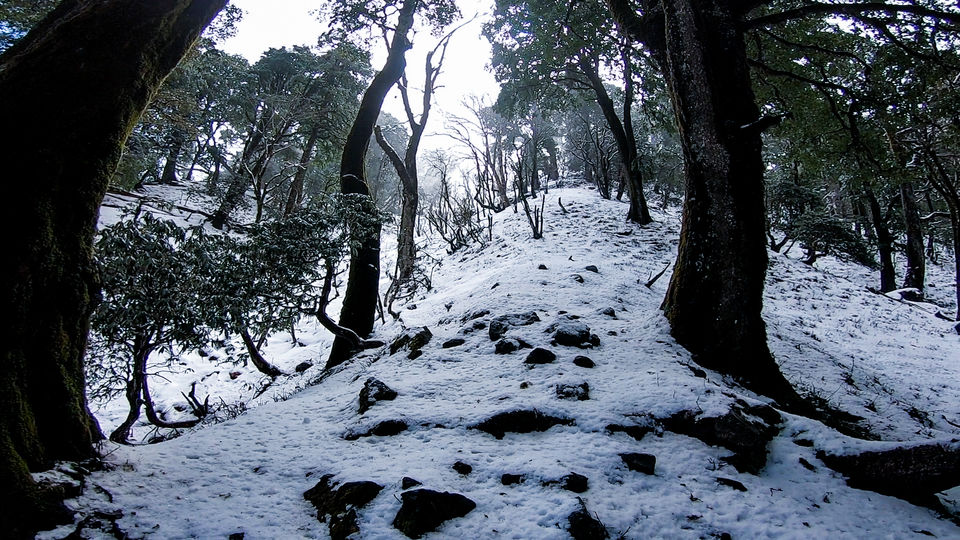 There was a moment when we found ourselves on the edge of the mountain . The place gave a clear view of the faraway peaks. It was the perfect spot to have a quick snack and rest for a while.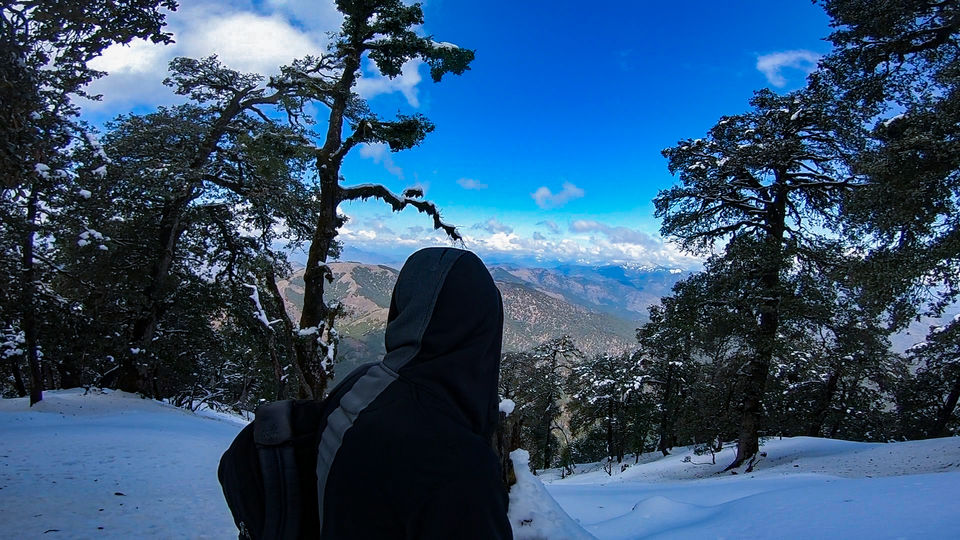 We could see that we were so close to the top, everything was clearing out and just after one last push was a delight. Open skies and Untouched slopes. We were overjoyed by the beauty of the place it was a feeling one can only feel and never explain in words.
Clouds were clearing the skies right in front of our eyes. It was was just the two of us there and it felt like the whole mountain cheered to our celebration.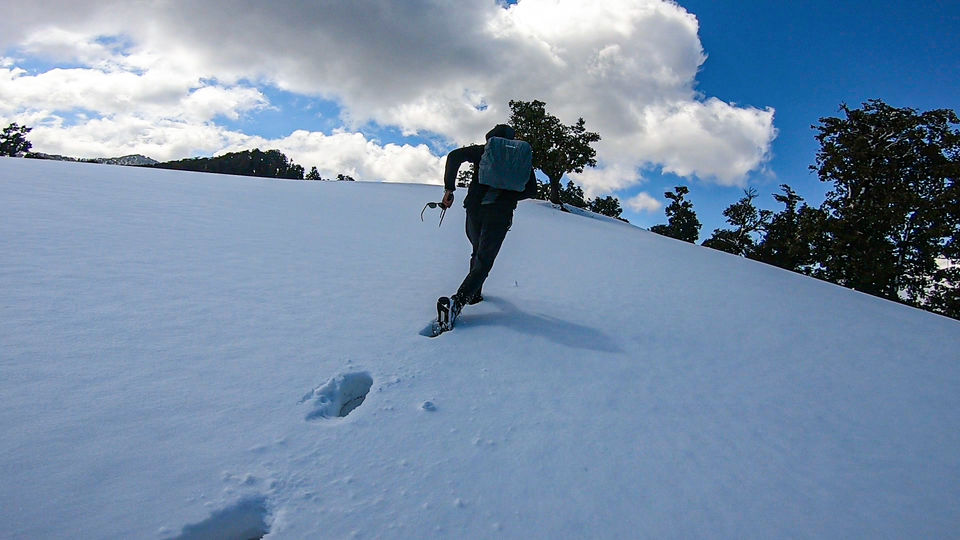 We could see Gangotri and Kedarnath ranges from up there. the view was breathtaking, I won't say it was the most beautiful place ever but in that moment it really was!
Nag Tibba was quite an adventure! full of surprises and the little things that made it so special!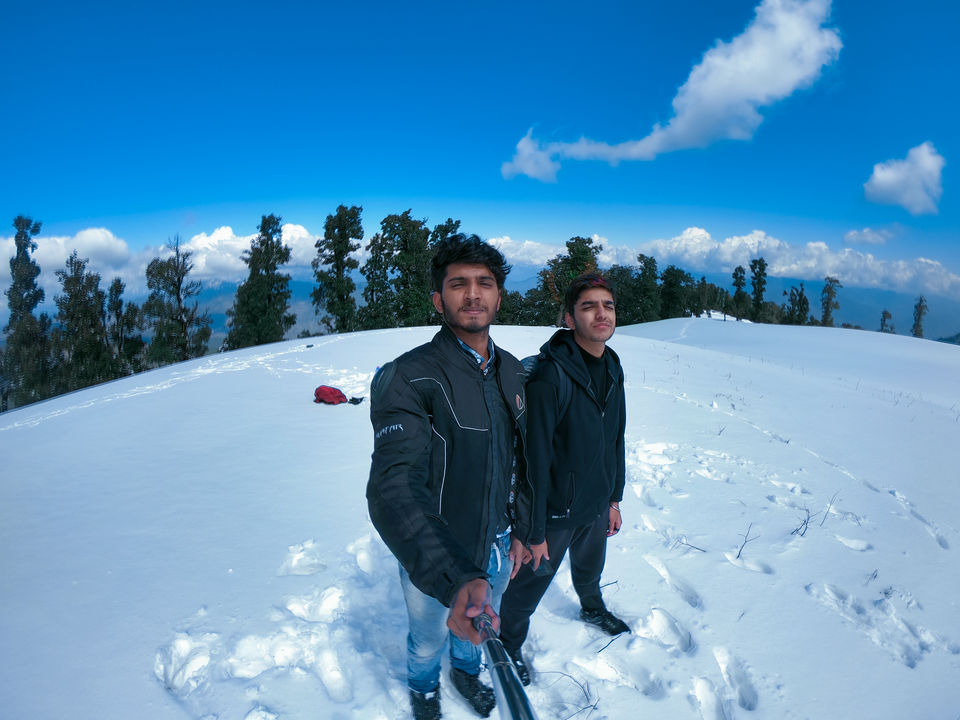 # If you have any queries or questions regarding this trek feel free to message me ! Happy Trekking and Love to All