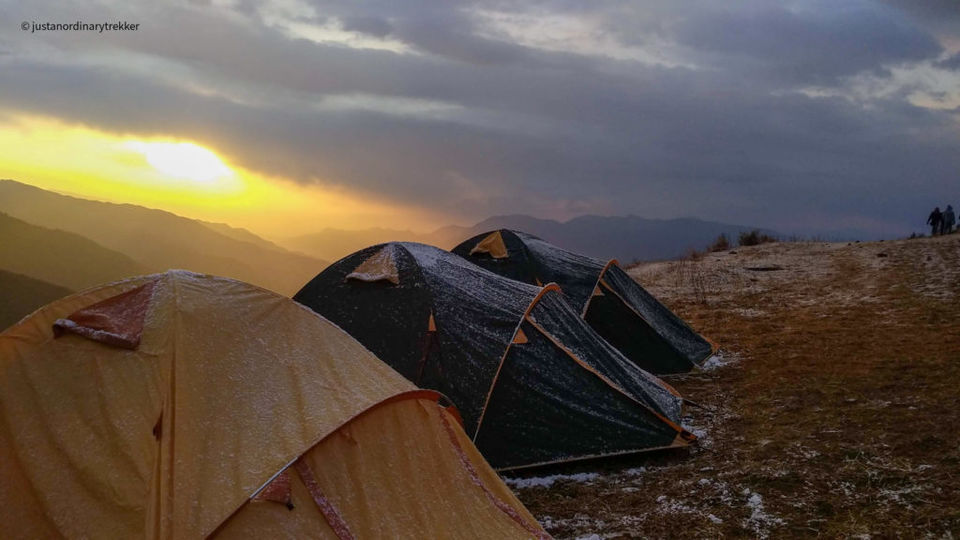 If you have stayed around Delhi or Dehradoon for a long time, I am sure there is a good chance you have heard about the Nag Tibba Trek which starts from Pantwari village in Uttarakhand. Nag Tibba which is also known as Serpent's Peak is the highest peak in the lesser Himalayas at a height of 9914 ft. From there you can get a majestic 100-degree view of the mighty Himalayan peaks like Swargrohini, Bandarpoonch, Kala Nag, Srikantha and Gangotri.
It is believed that the God of snakes or "Nag Devta" as called in Hindi resides there, hence this summit was named Nag Tibba (Tibba is a local name for a summit).As my Beas Kund Trek (Part 1 & Part 2) with Bikat adventures didn't go well, they had offered me another trek as a token of apology for the shortcomings there. So I figured why not Nag Tibba Trek as it is often described as the best weekend trek from Delhi and it is also in the same price basket as Beas Kund Trek. Thus, I chose Nag Tibba Trek as my first hike for the year 2020 and started this year with another adventure.
Day 1: Reaching Goat Village via Dehradun and Pantwari
Nag Tibba Trek starts with a super-efficient UPSRTC bus driver
I had booked a UPSRTC Volvo bus to Dehradun which was scheduled to leave Delhi by 11 in the night and reach Dehradun by 5:30 in the morning. My pickup by Bikat adventures was scheduled at 7 from the Dehradun ISBT so there was enough buffer time if the bus accidentally reached late. Surprisingly, the bus driver was in some serious hurry and we reached Dehradun ISBT by 3:30 AM in just 4 and a half hours.
Dehradun ISBT Tales
After deboarding from the bus, I was enquiring about any nearby spots where I can wait till my pickup arrives. That is when I stumbled upon a guy called Tushar who was also in my bus and going for the Kedarkantha trek with Adventure nation. While having a conversation with him, I came to know that he is also an avid trekker based in Bangalore and goes out trekking every other weekend to the western ghats of Karnataka and Kerala and this was his first Himalayan trek. As the conversation went by, I also got to know that he is also a keen football follower and an ardent Chelsea fan and our topic of the discussion gradually changed from trekking to football and two and a half hours just flew by.By the time our pick up vehicles arrived, we had already gulped down a couple of hot teacups to beat Dehradun's morning chill before saying goodbye to him. As I reached my pickup vehicle (which was tempo traveller) I was pleasantly surprised to see Shailender who was my trek leader for Bhrigu Lake as well. Once my pickup was done we moved to the clock tower from where the rest of the batch ( a group of 5 Bengali friends from Kolkata) boarded the tempo traveller.
Drive to Nag Tibba Trek's base village (Pantwari)
As soon all were picked and the vehicle made its way to Pantwari, I tried to get rid of my sleep deprivation by catching a quick nap. We took a short break near Kempty falls to freshen up and have breakfast. Once that was done, I continued my nap until we reached Pantwari by 10 in the morning. After we reached there, we were handed over some refreshments (Frooti and some chocolates) to use during our hike to Goat Village.
The hike up to Nag Tibba Trek's base camp (The Goat Village)
The Nag TibbaTrek started through the small lanes of Pantwari village which slowly got more and more rustic as we walked away from civilization. The hike till Goat village is a complete uphill trail and if you are a beginner, then you might find it slightly difficult. There are a couple of natural sources for filling up water, in addition to that, you will also find some shops in between who will be selling you package water bottles (however, please avoid buying that in these precious mountains).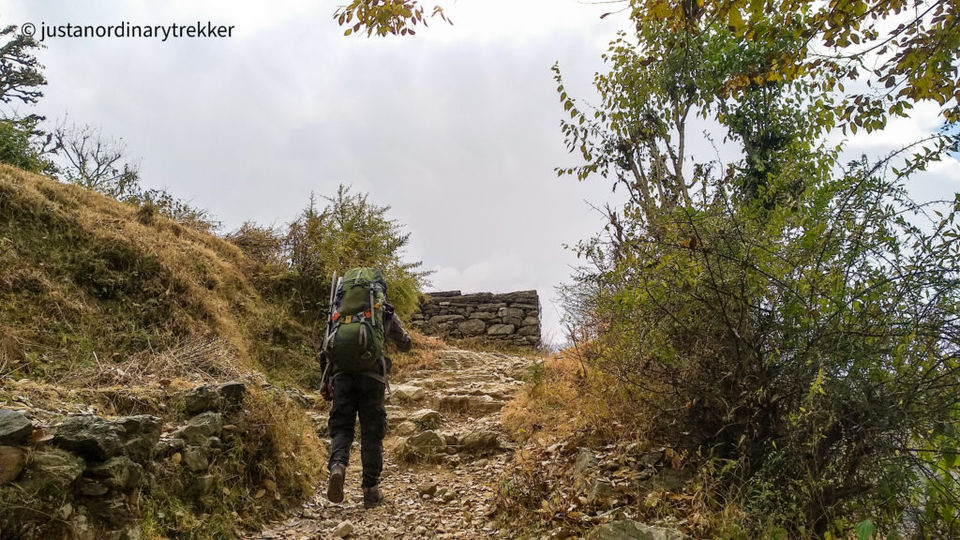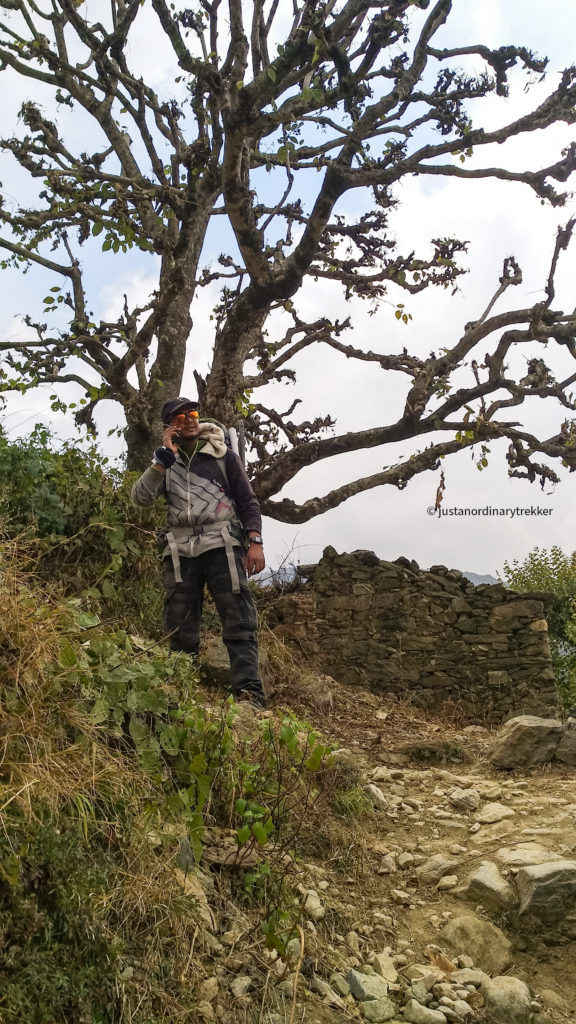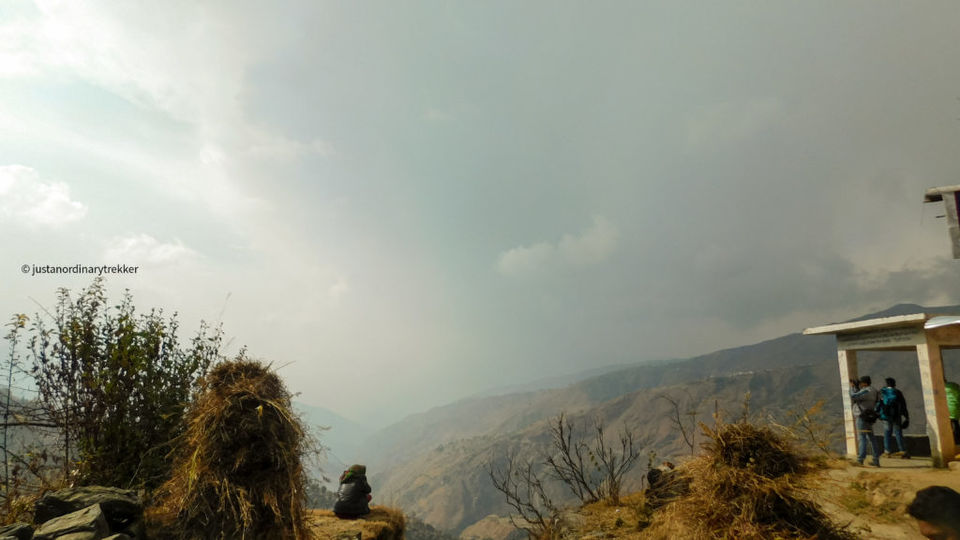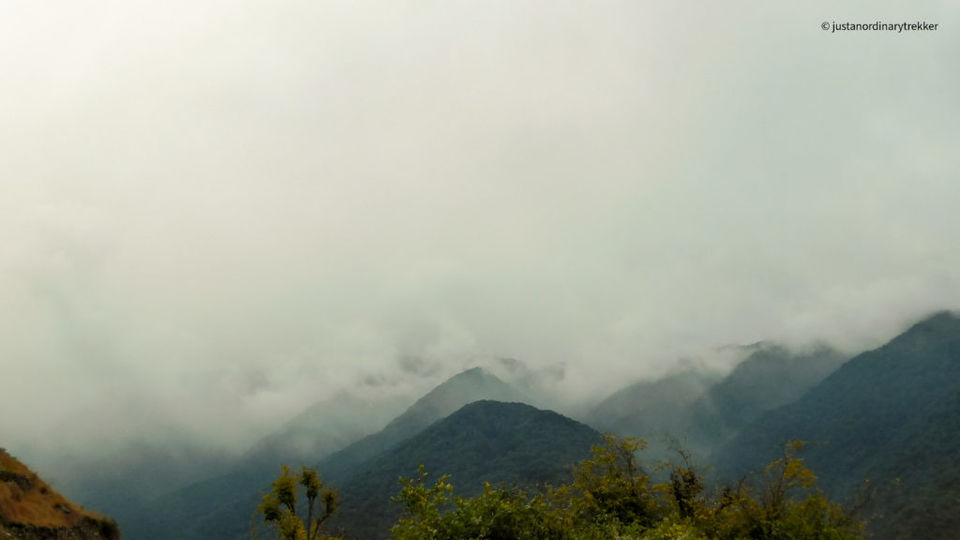 We reached the Goat village by two or two-thirty in the afternoon where we pitched our tents and quickly had our lunch. As soon as we were finished with that, to our surprise, a light snowfall commenced which continued for almost an hour. By the end of that snowfall, our tents were fully drenched in snow and we were left shivering. Finally, the sun appeared for some time and gave us some respite for a bit from the freezing cold before going down eventually at the dawn.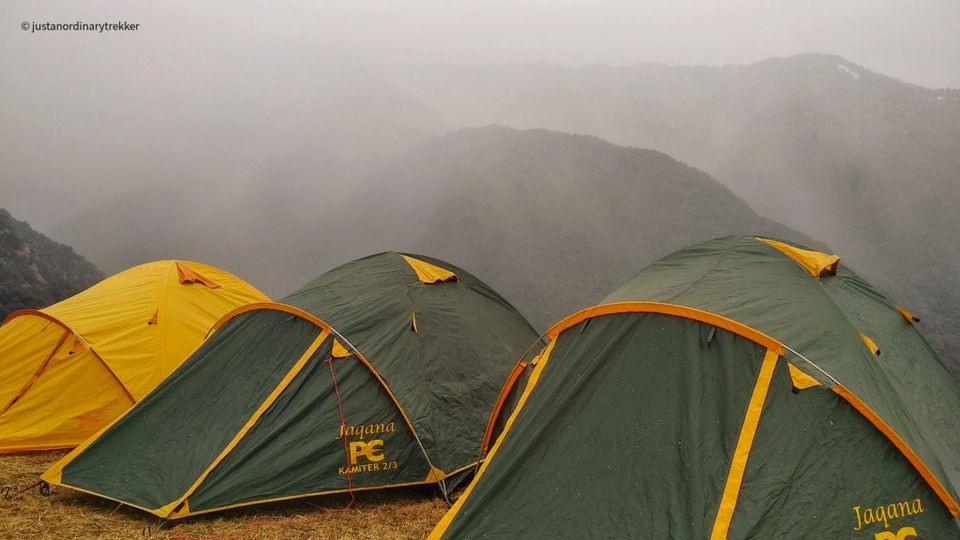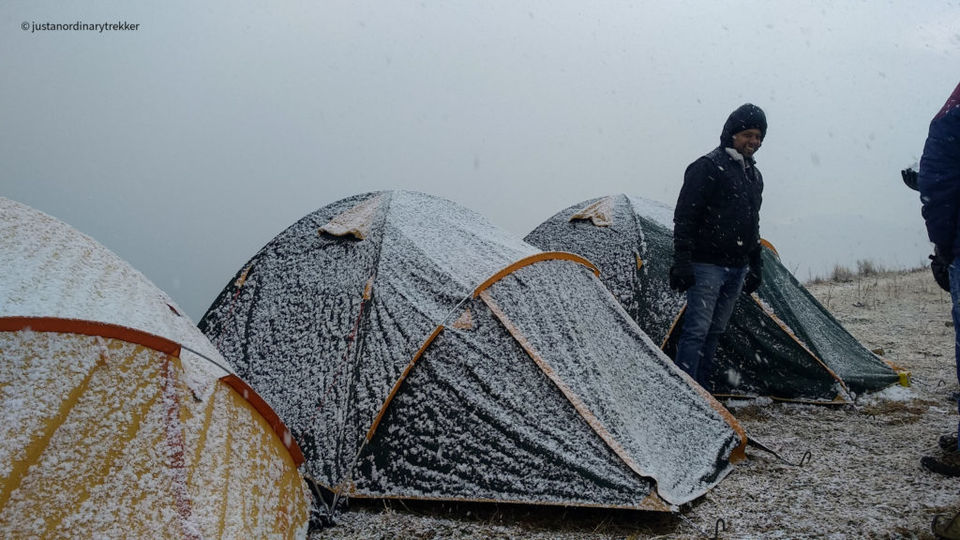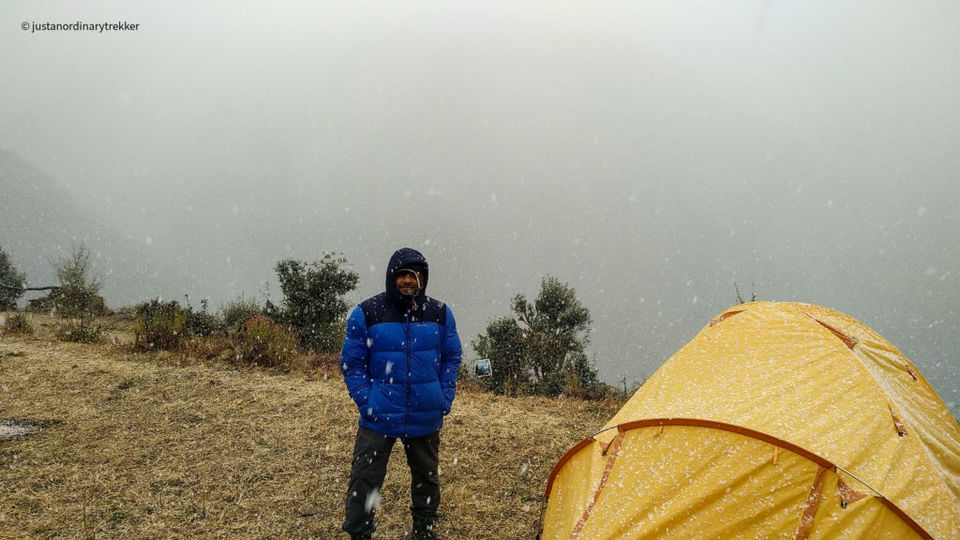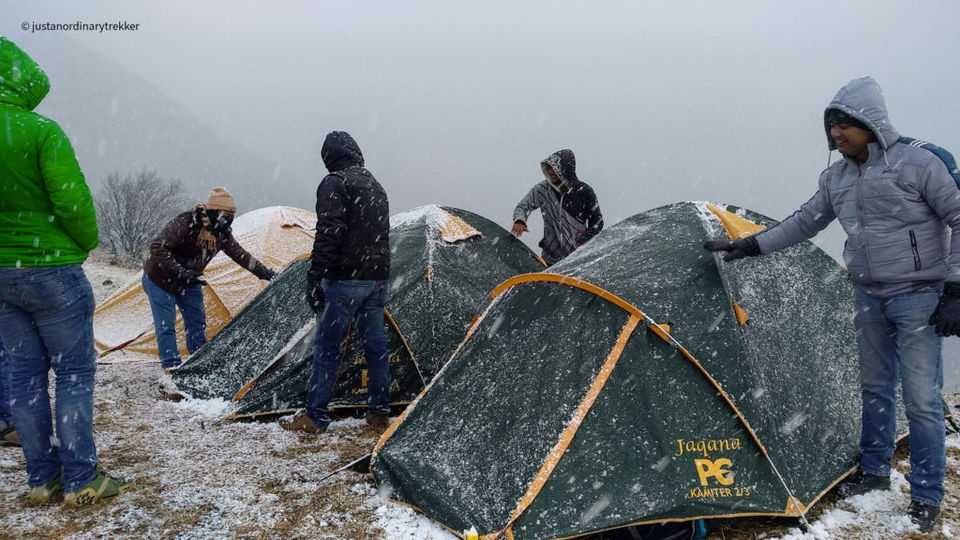 The beautiful sunset seen from Nag Tibba Trek base camp!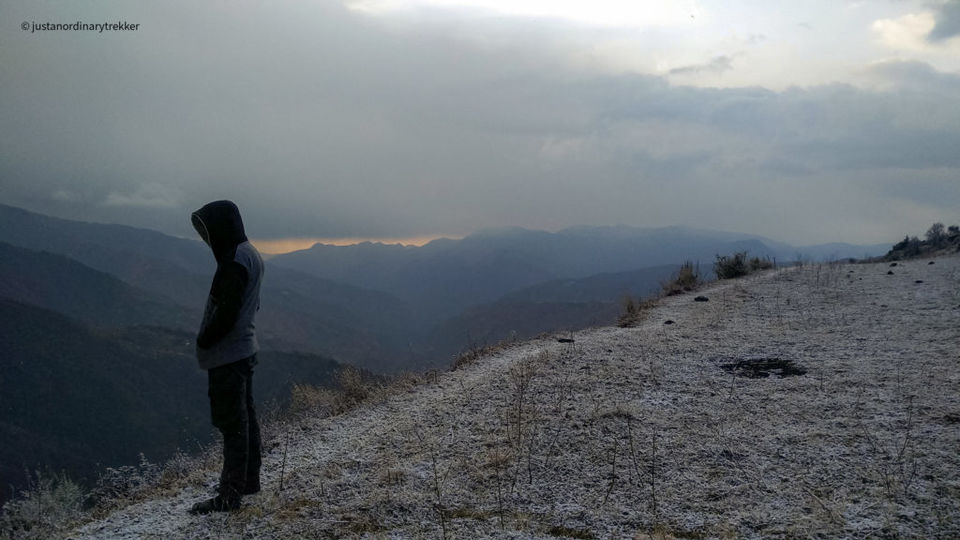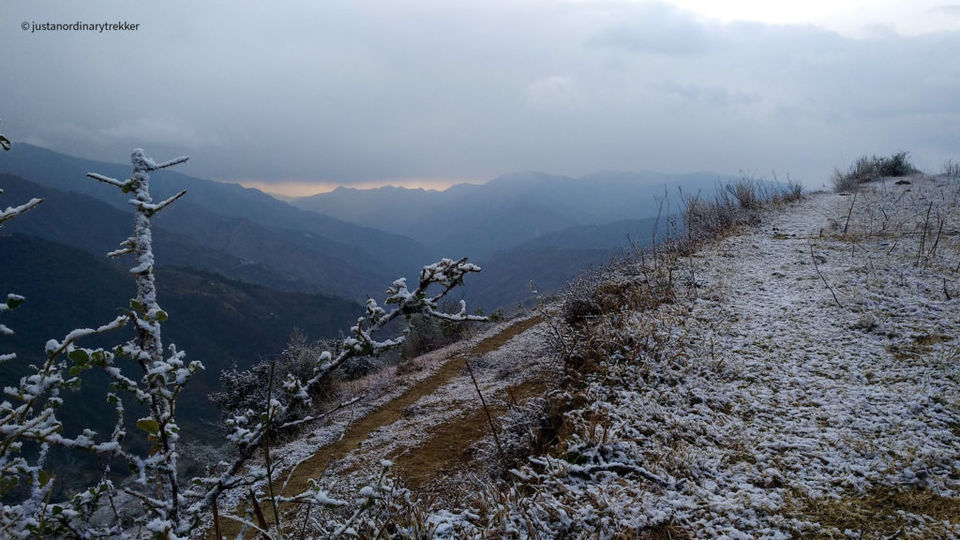 Apart from the fact that the dipping sun gave us a little respite from the cold, it also provided us with a visual spectacle. I have heard some great stories about the sunset seen from the Nag Tibba Trek, but never believed I could see such a beautiful one from this hike. The rays of the sun hitting the lower Himalayas at dawn when standing from Goat village is truly one of the beautiful sunsets which anyone can experience in the world.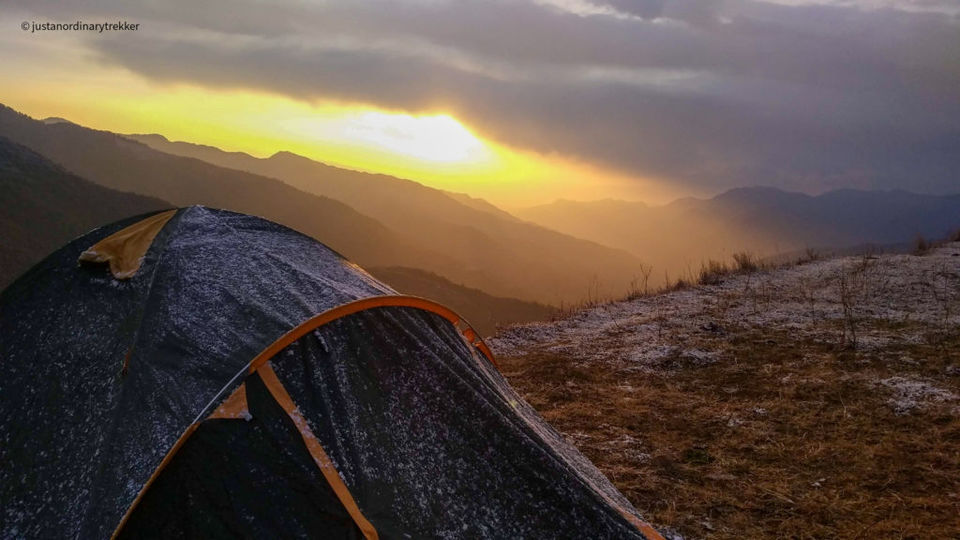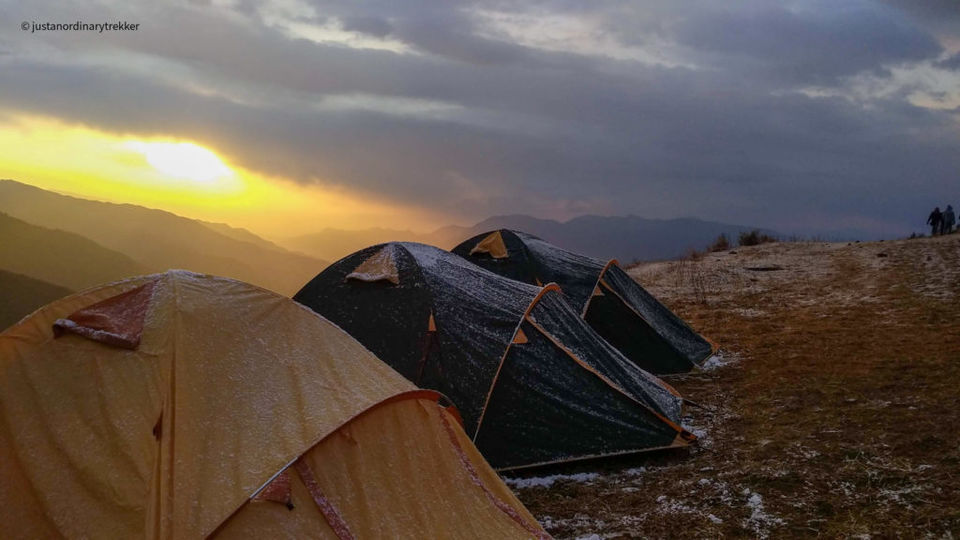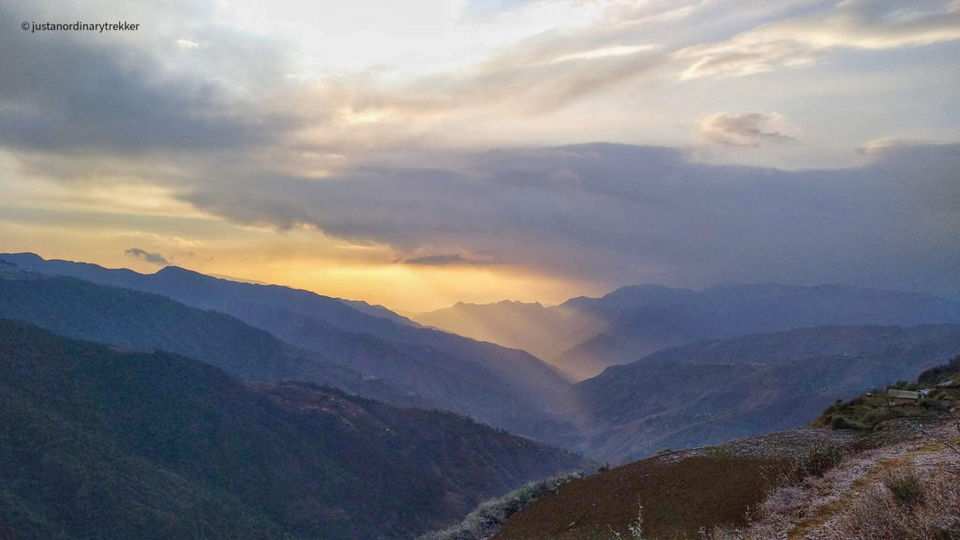 As the sun finally set, the temperature dipped sharply and we lit up a bonfire to avoid freezing to death. The bonfire along with the dinner helped us to stay a little warm in that biting cold, in addition to that there were some Bengali songs sung by trek mates which provided us with some joyful entertainment. By the time the bonfire was about to die, we all went to our tents and slipped into our warm sleeping bags.
Day 2: The hike to Nag Tibba summit and back
A walk into the Mussoorie Forest
We started the hike to Nag Tibba by eight-thirty in the morning as soon as we were finished with breakfast. The Poha and Daliya provided by Bikat Adventures were a good source of carbohydrates which we would need to scale Nag Tibba. As soon as we exited the Goat village we entered the Mussoorie forest area inside which the rest of Nag Tibba trek's trail is situated.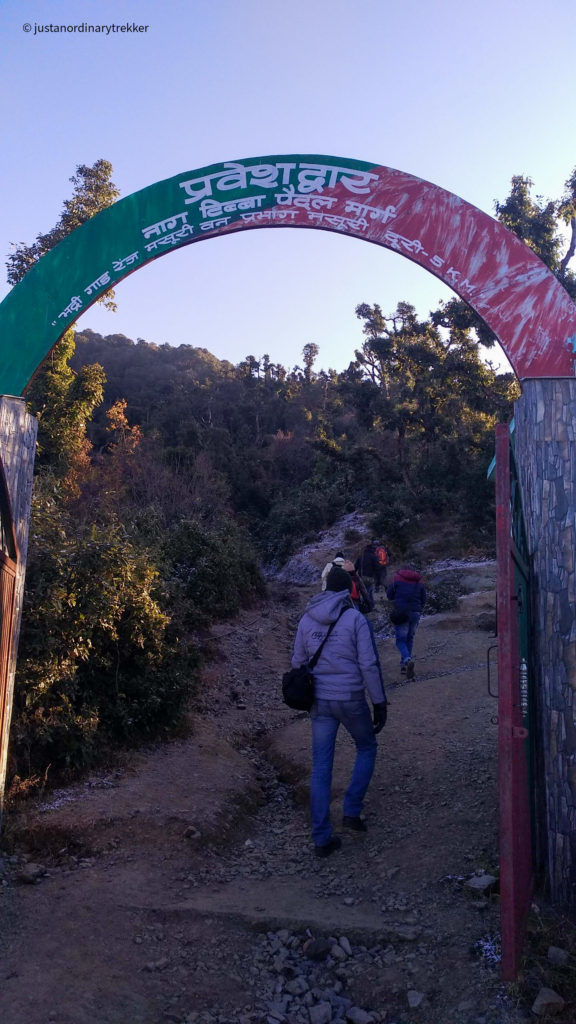 Thanks to this dense forest, we escaped scorching rays of the sun for the most part and avoided the usual skin tanning which comes with these treks. When I was walking through this trail of dense forest, it seemed like I was walking inside the world of Lord of the Rings or Game of Thrones.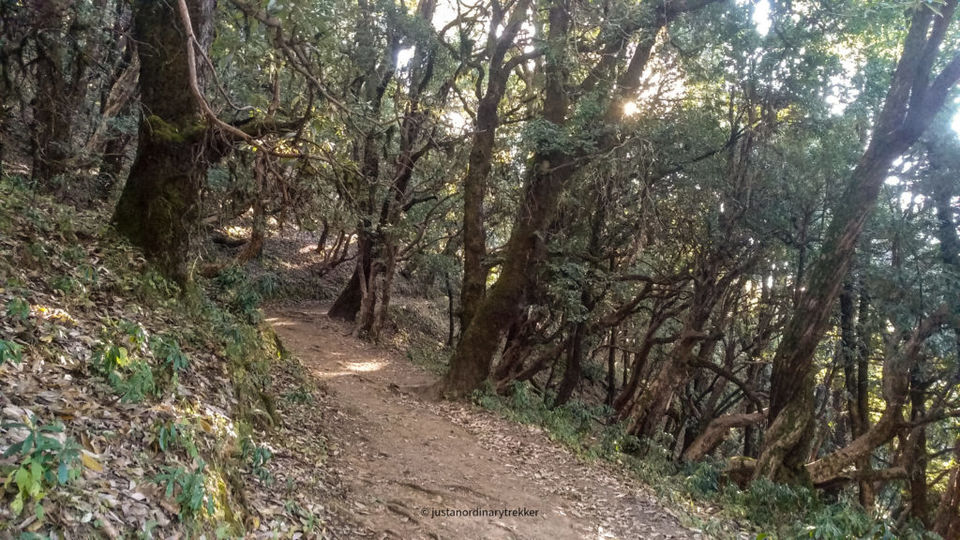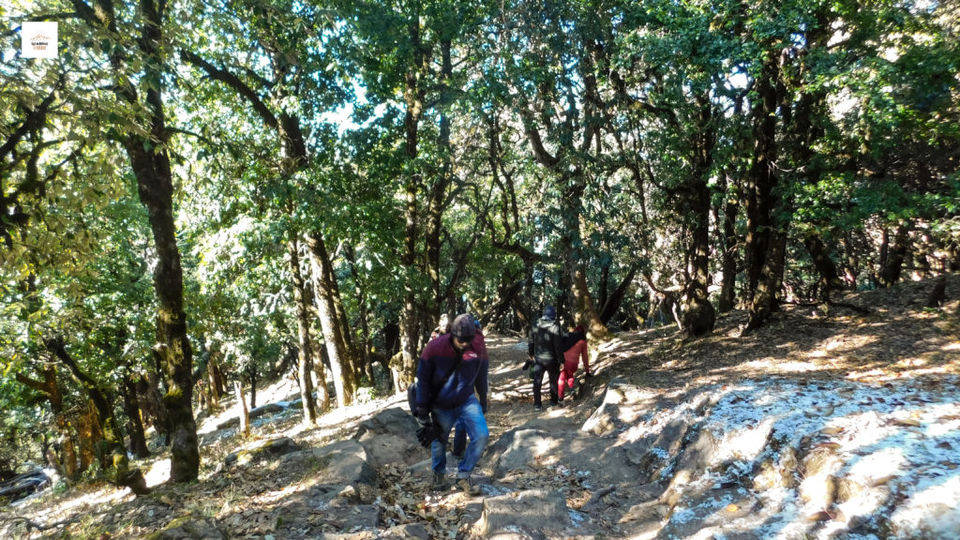 Hard snow from Nag Tibba trail beckons
The trek till the Nag Mandir was whole uphill but still it was fairly manageable. However, it was the trail past the Nag temple from where the walk becomes a little bit tricky due to the presence of snow. We had to wear the crampons which were provided by Bikat adventures in order to climb the summit without any hassle. Chances of slipping on the hard snow had increased exponentially and this final climb to the summit was the toughest part of the whole Nag Tibba Trek.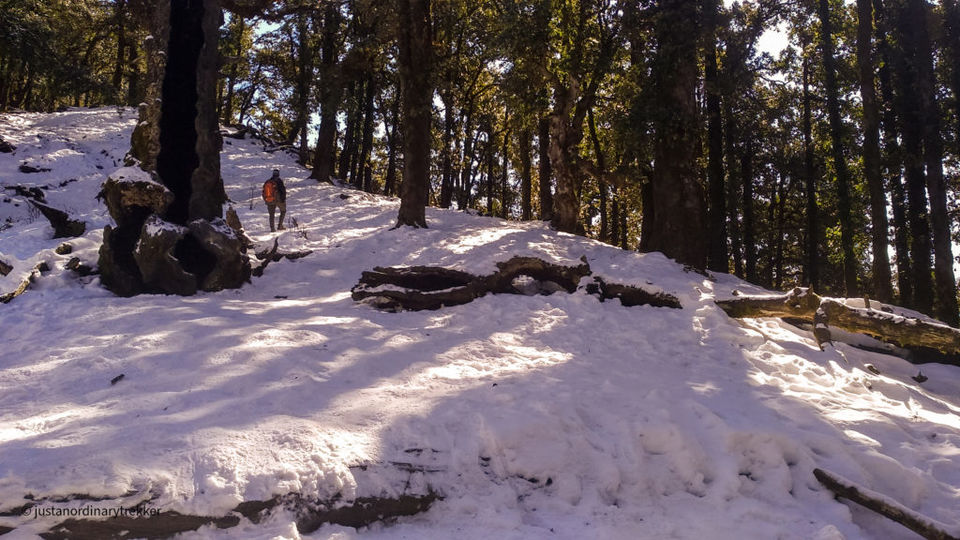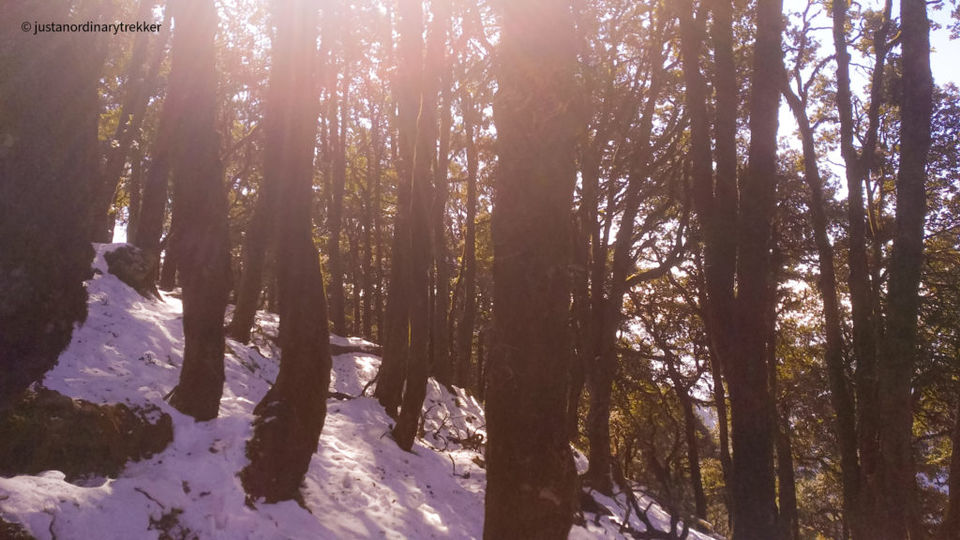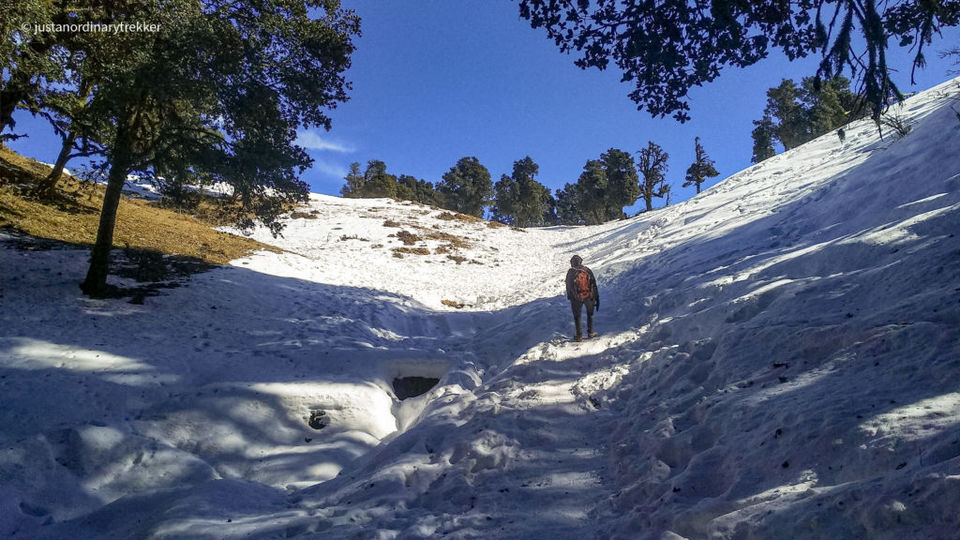 The majestic view of Himalayas from the Nag Tibba summit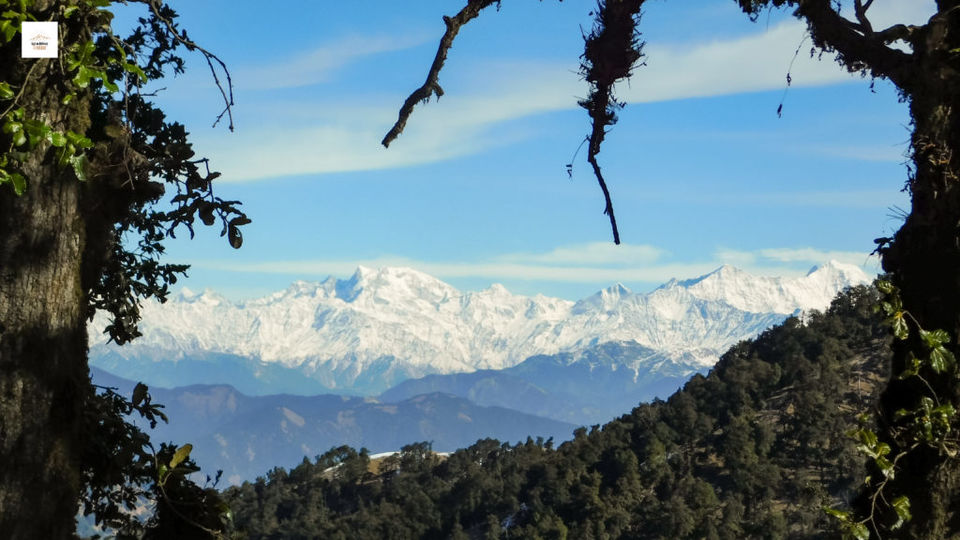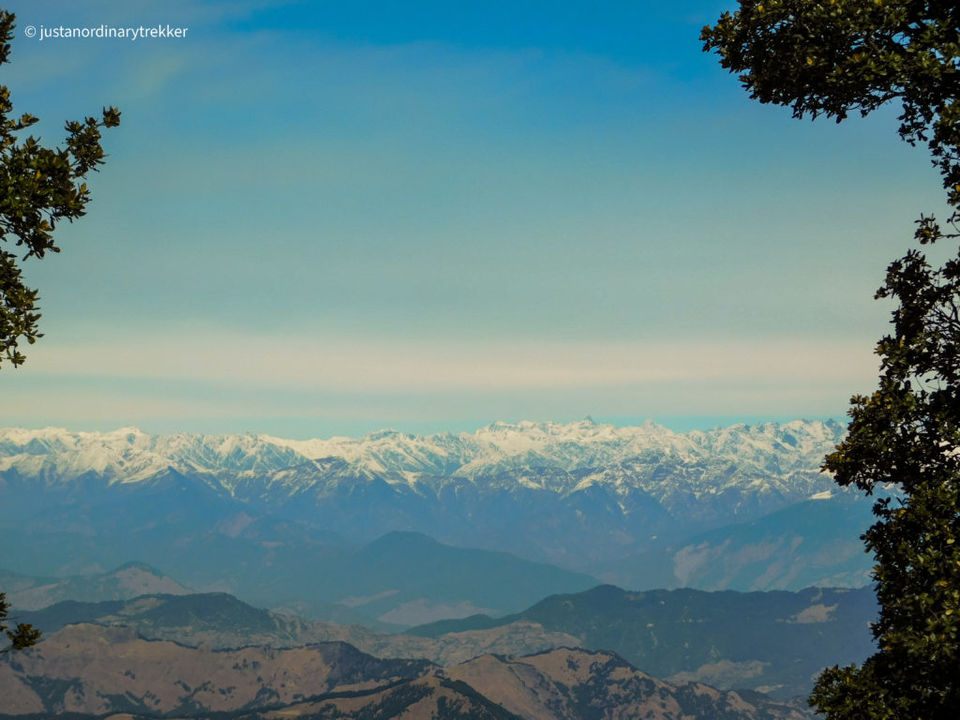 It took another hour and a half to reach the summit from Nag Tibba from where we could finally manage to enjoy the panoramic view of the snow-laden greater Himalayan peaks which included Gangotri, Bandarpoonch and Swargrohini and many more. Even though the height was just somewhere below 10000 ft, still the proud feeling of scaling was no less due to the slippery trail from Nag Mandir. I am so sure that if we didn't have those crampons provided from Bikat Adventures, we would not be able to complete this Nag Tibba Trek.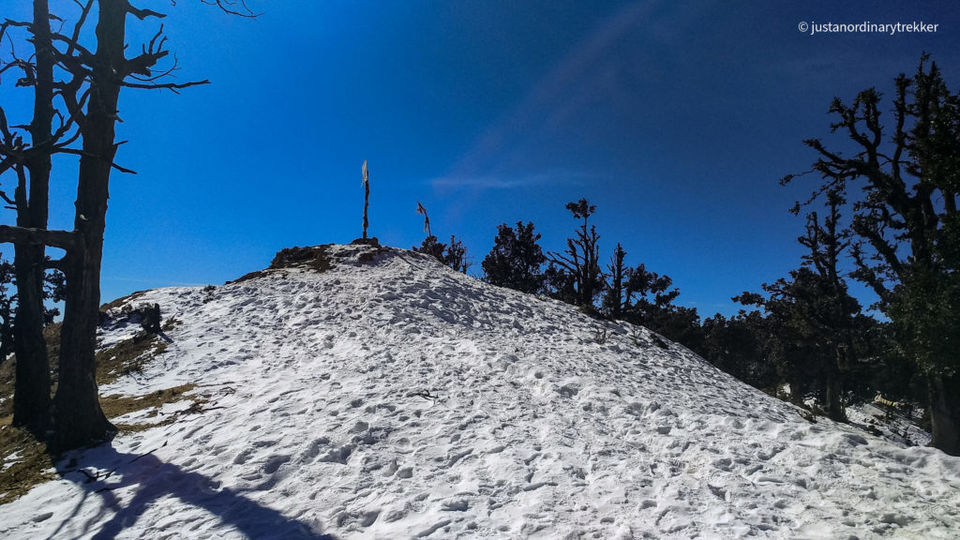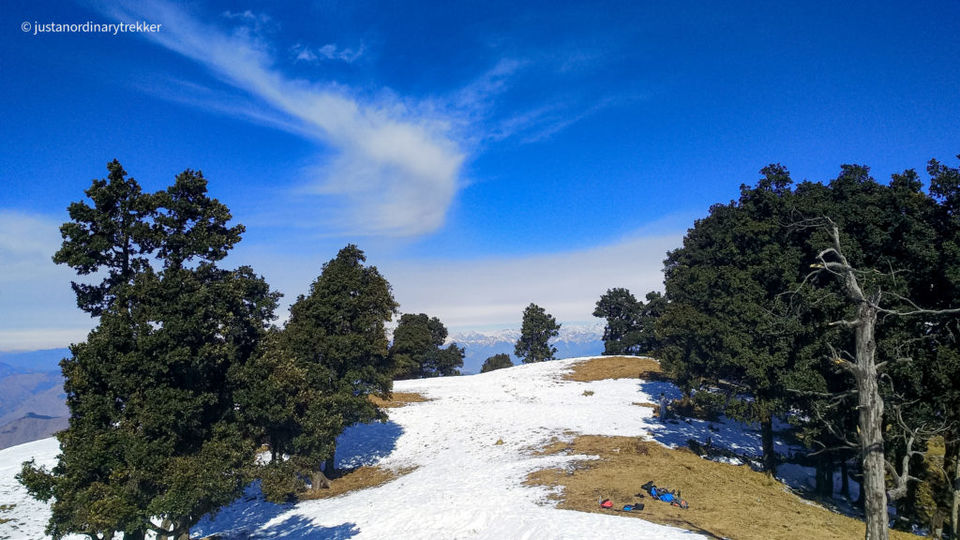 As soon as I reached there, all I wanted to do was sit quietly and enjoy the magnificent view of the snow-capped Himalayas. While I was enjoying the view, the rest of my Bengali mates were busy taking photos with the Mohun Bagan flag they had brought to get it clicked at the summit. For a brief moment, they reminded me of my zest and undying love for Liverpool FC.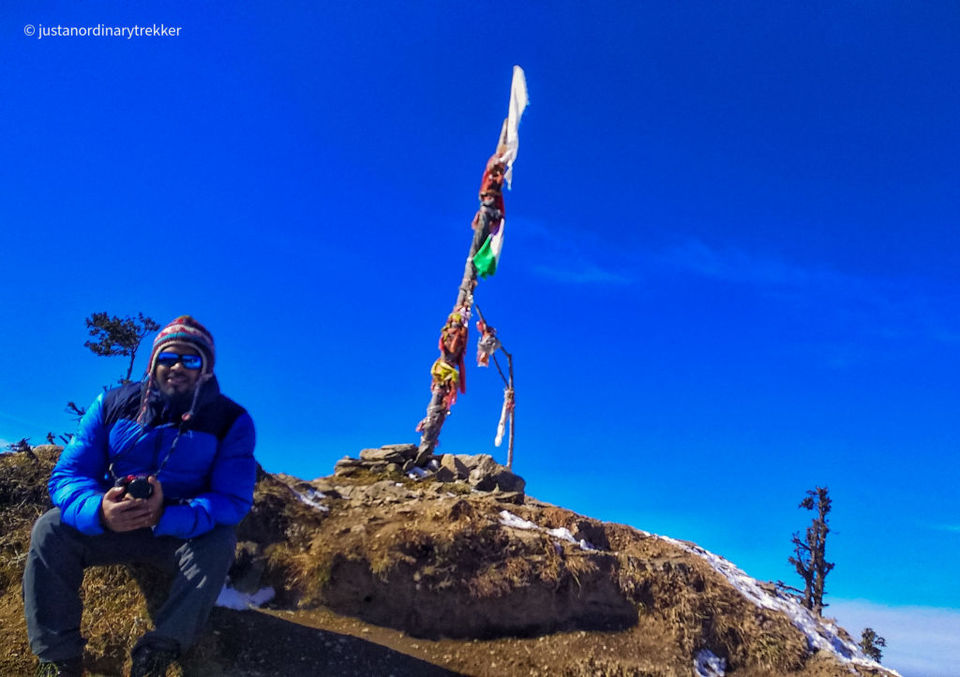 The way back to Nag Tibba base camp (Goat village)
After we relished the view and the calm which was present at the summit for some time, we gradually made our way back to Nag Mandir first. For Nag Mandir we had to take a short detour from midway to reach that holy place, where its well was already frozen. Once that visit was done, we quickly headed back to our base in Goat Village as signs of a light shower were becoming visible.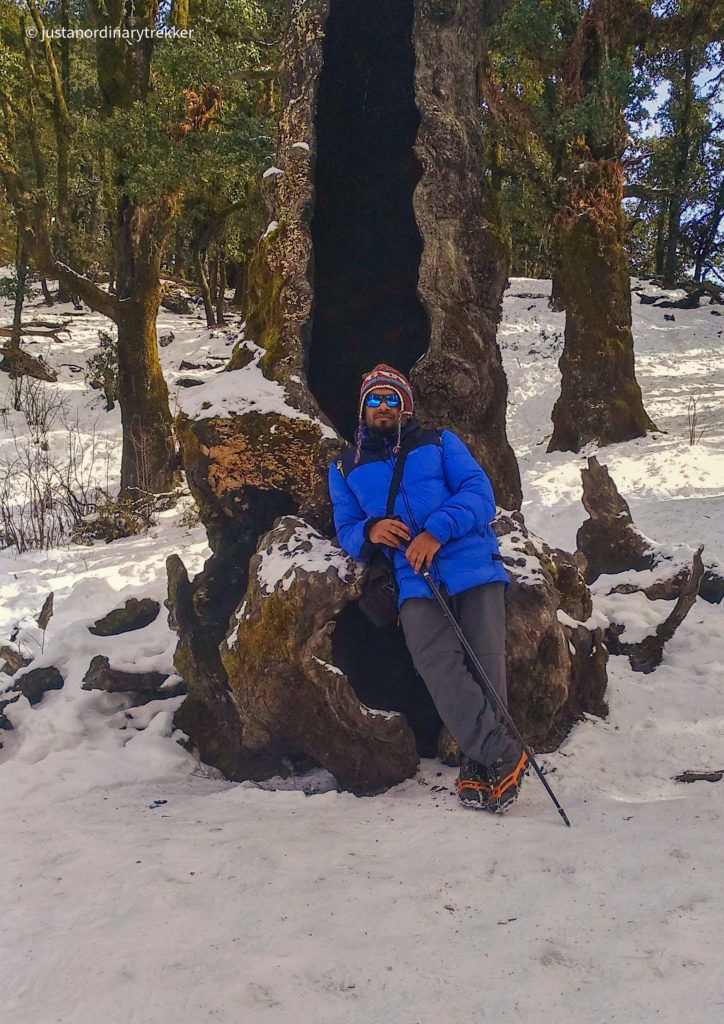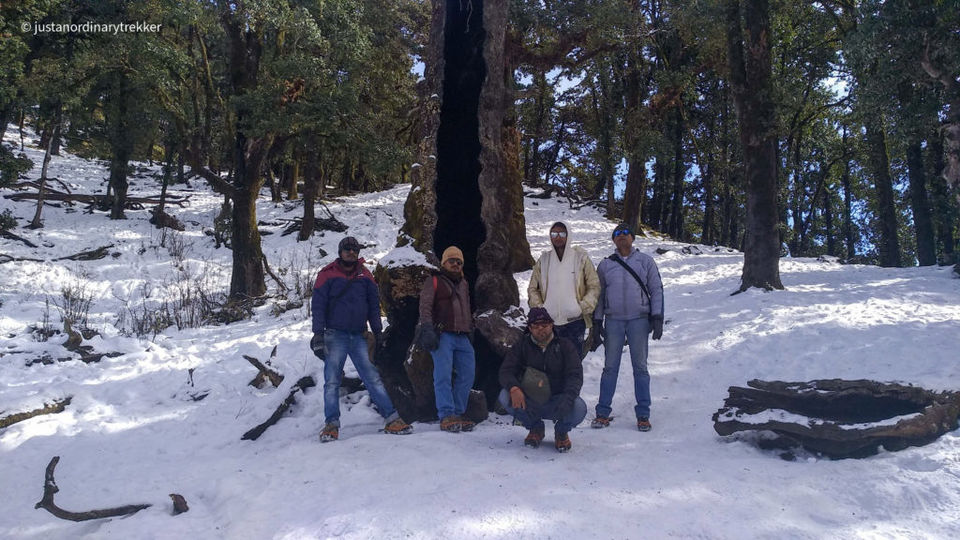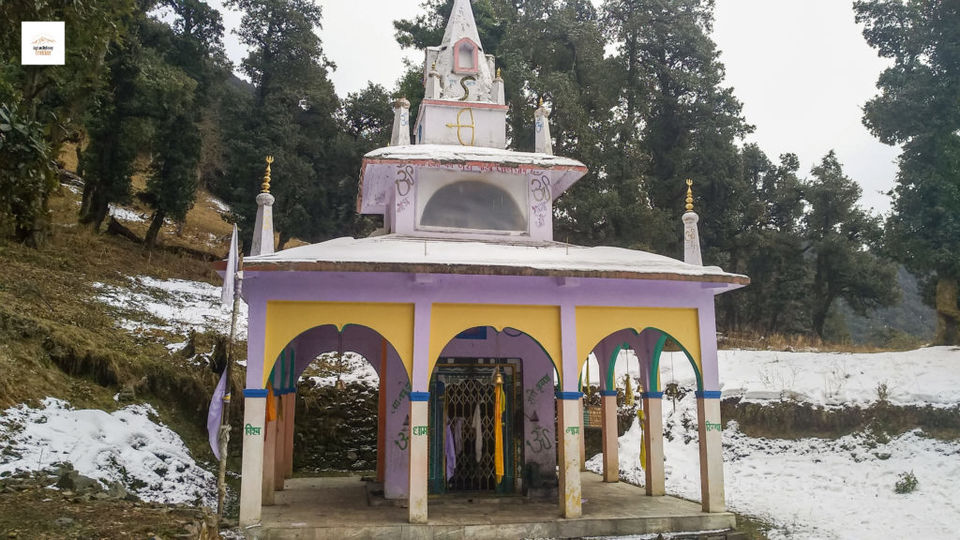 Even though there was no spell of rain or snow after we got back to our tents, however as soon as the sunset the temperature dropped off sharply once again and we were left shivering. It was only after the bonfire was lit, we got some respite from the biting cold. Just like the night before, we didn't dare to leave the warmth of the bonfire till it was time to retire for the night.
Day 3: Nag Tibba Base camp (Goat Village) to back to New Delhi
Pantwari (Nag Tibba Trek starting point) to Dehradun
The last day began with a yoga session by our trek leader Shailender and then followed by a scrumptious breakfast as we were served some delicious hot puris and subzi. As there was no hurry to rush back to Pantwari and back, everyone was in a laid back mood. Once everything was done, we gradually made our way back to Pantwari, the walk took little more than one hour.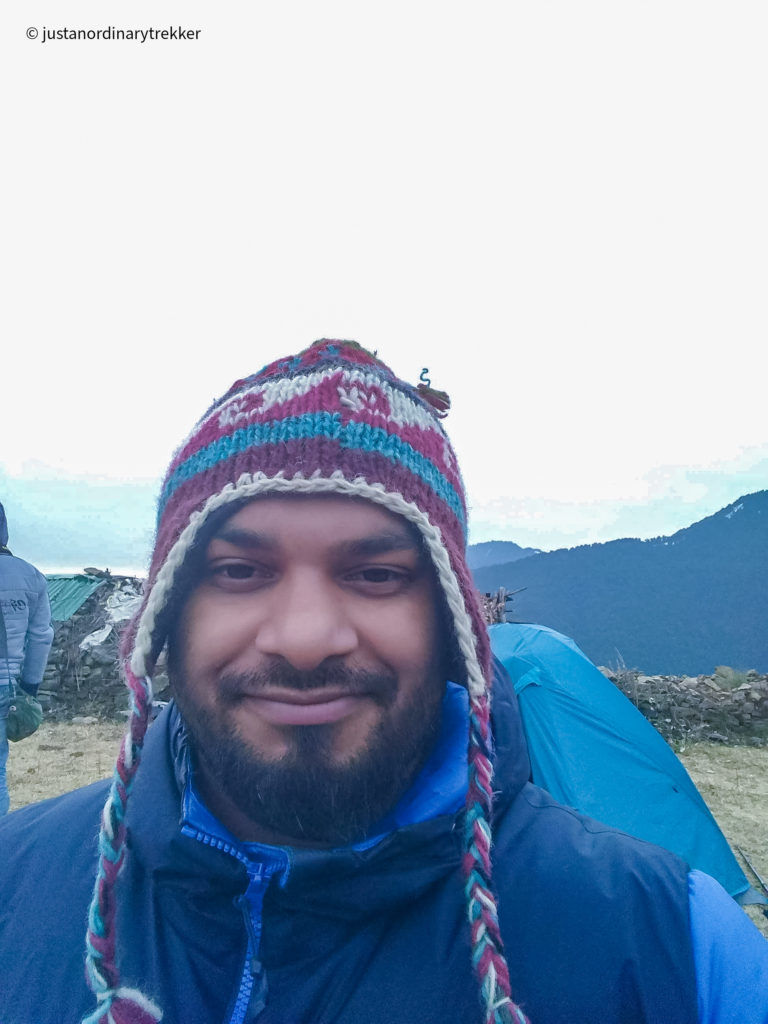 As soon as we reached Pantwari, our vehicle was waiting for us which would take us back to Dehradun. Before starting from there, our driver informed us that the road through Mussoorie is blocked due to heavy snow and therefore he would be taking an alternative route to Dehradun. We reached Dehradun by 2:30 in the afternoon and I had my booking for UPSRTC bus to Delhi at around 11:55 PM which was a lot of time for me to kill in that city.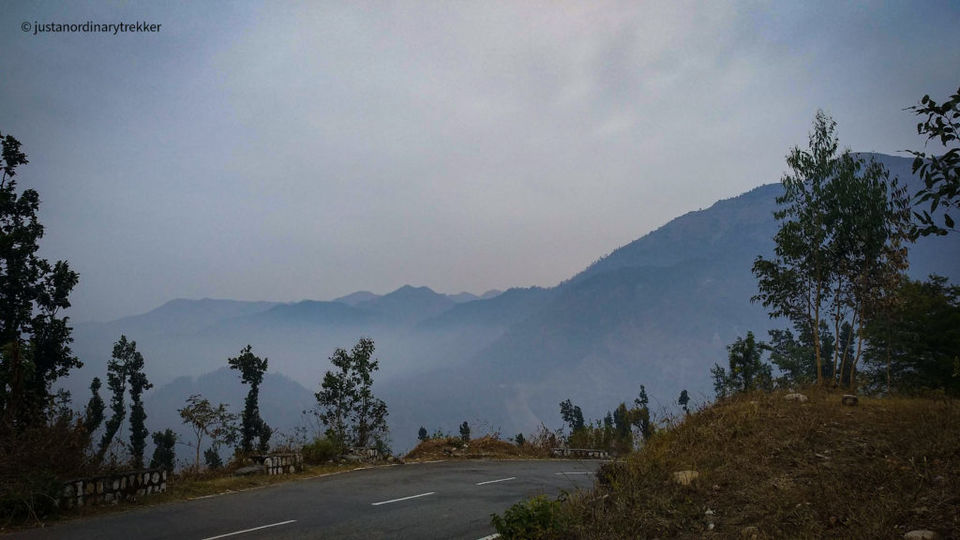 Dehradun to Delhi
So what I did then was to book an Oyo room nearest to the Dehradun ISBT and freshen up with some hot water bath. Once that part wrapped up I quickly ordered a light lunch to fill my stomach and take some rest while booking another UPSRTC bus which departs for Delhi by 8:30 PM. Throughout my time in Dehradun during that it was drizzling all through without stopping for a bit making the weather utterly pleasant.
As time flew by and the departure for my bus came close, I checked out of the hotel and walked up to the ISBT, bought a tea to sip till my bus arrived.
For more trekking tales, please subscribe to my trekking blog - Just an Ordinary Trekker!
You can also follow me on Instagram @just_an_ordinary_trekker.