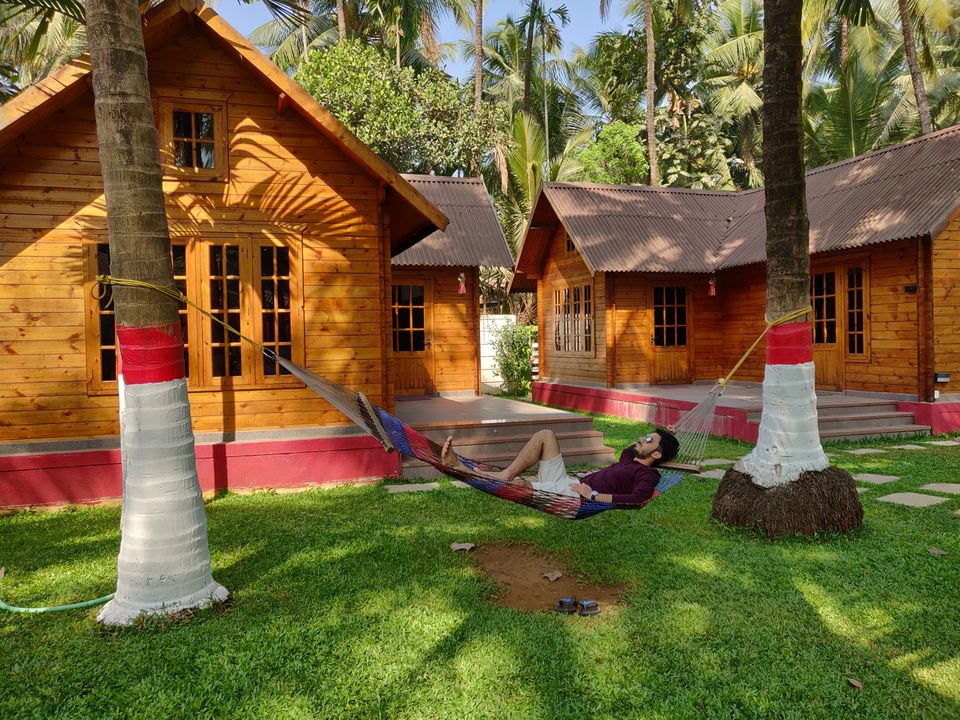 Alibaug is well known short vacation destination amongst mumbaikars. It is a small coastal town near mumbai so that there are servral beaches like Alibaug beach, Varsoli beach, Kashid beach, Nagaon beach, Kihim etc. as it is also referred as 'mini Goa'. Along with beaches there is a famous fort called Murud Janjira. This fort is built in water, still standing proudly from 15th century. One need to go by boat to visit this sea fort.
One of the hotel in Nagaon was in our list from many days so we decided to hop on to the earliest opportunity we get to visit that hotel which is 'Nagaonchi Wadi' and the day arrived :D
How To Book :
1. Visit Nagaonchi wadi, fill in the form present in contact page.

2. They will revert you with availability of your concerned dates and payment details.
3. Make payment and send them screenshot of transaction id on above chain.
4. You will receive confirmation mail within an hour.
Check-in was at 11.00 AM so we left our homes by 7.00 AM. Its almost 3 hours journey from Thane. We took a break for breakfast near Panvel. There is a restaurant 'Shree datta snacks corner' on the way which servers good misal pav and vadapav.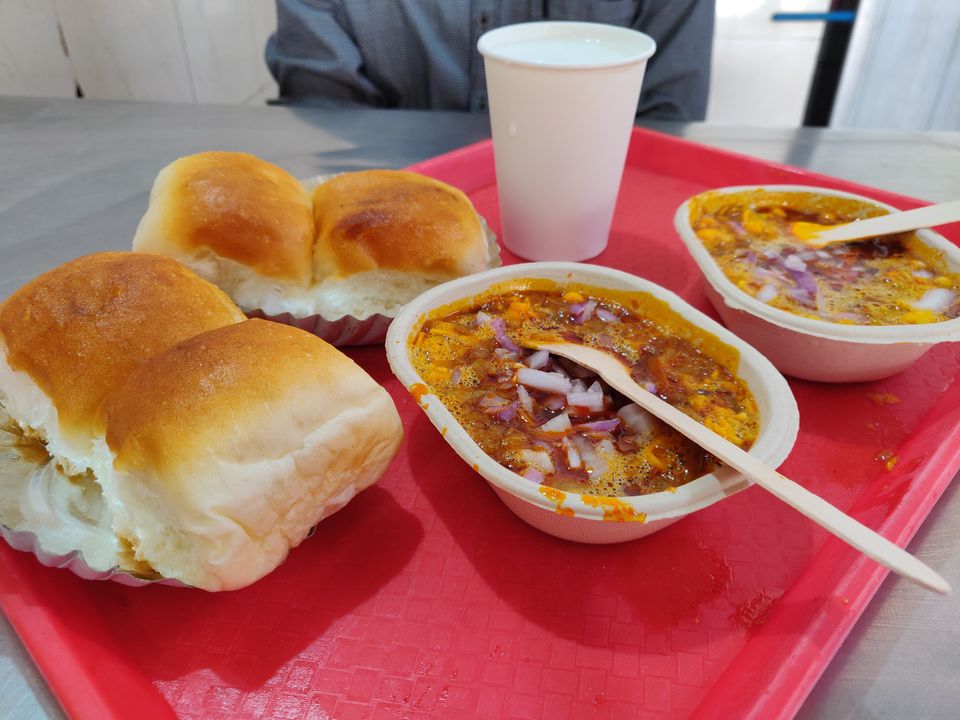 After having a good breakfast we headed towards our destination, I must say roads are in much better condition as before due to formation of Mumbai-Goa highway(in process). Once you put location on map you are good to go. We reached the hotel almost 30 mins prior, did all check-in formalities and we were shown our room. The surrounding is so simple and supple that you start feeling relaxed just after entering in the gate. It's not a very huge area but they have used area wisely. There are 10 single rooms, 2 double rooms, a canteen, a swimming pool, a small temple and small playing area for kids.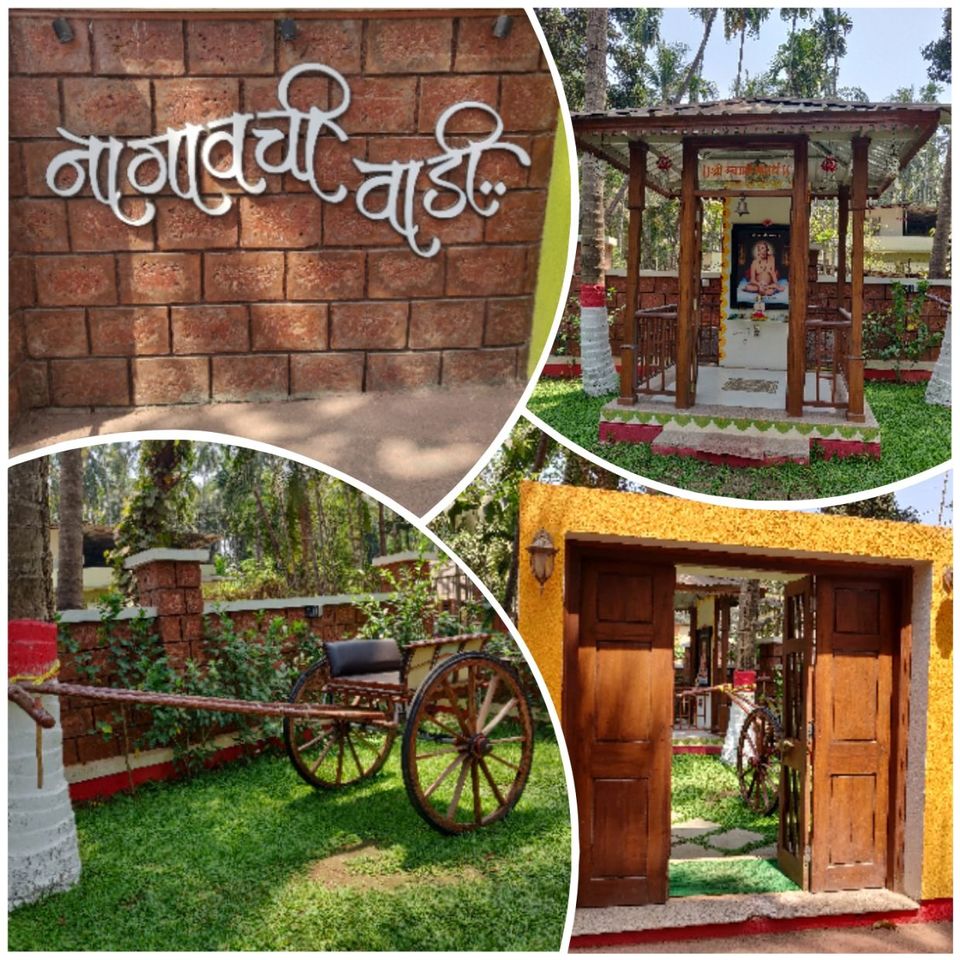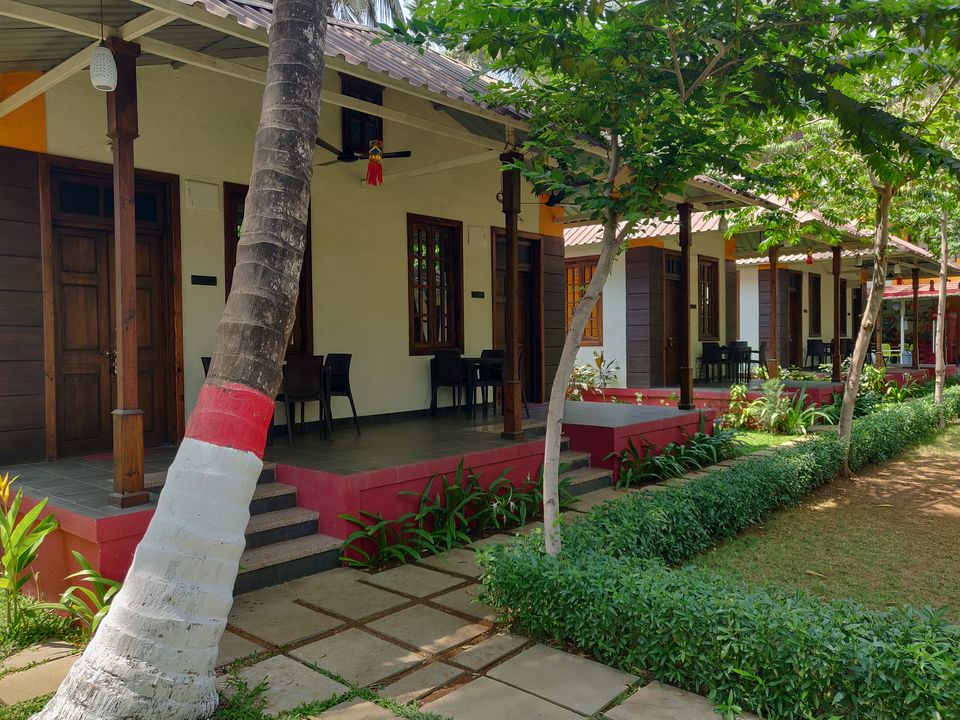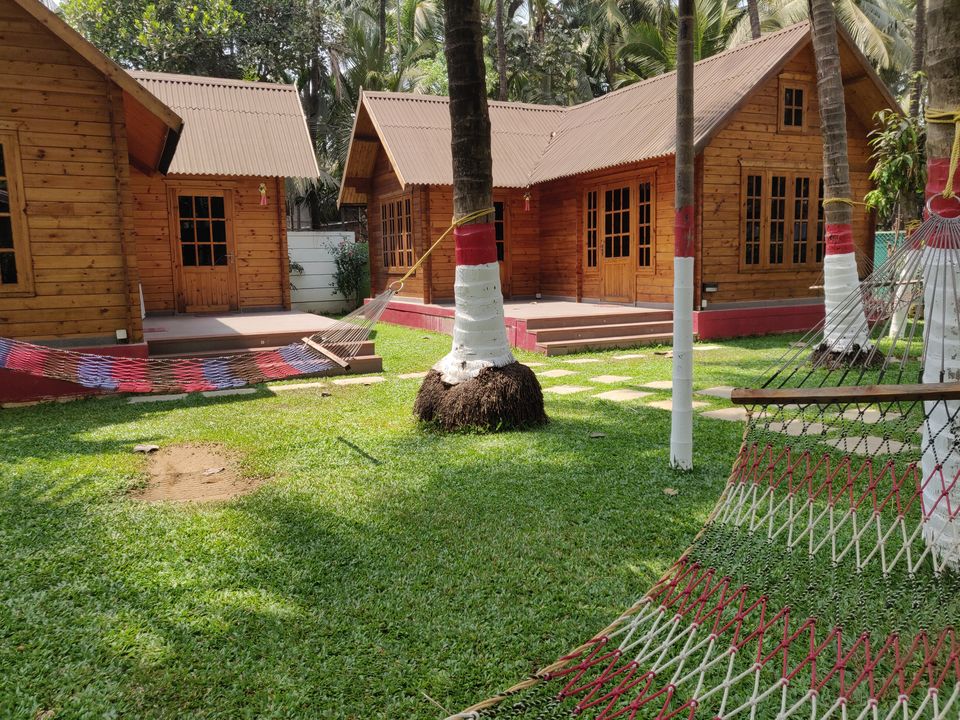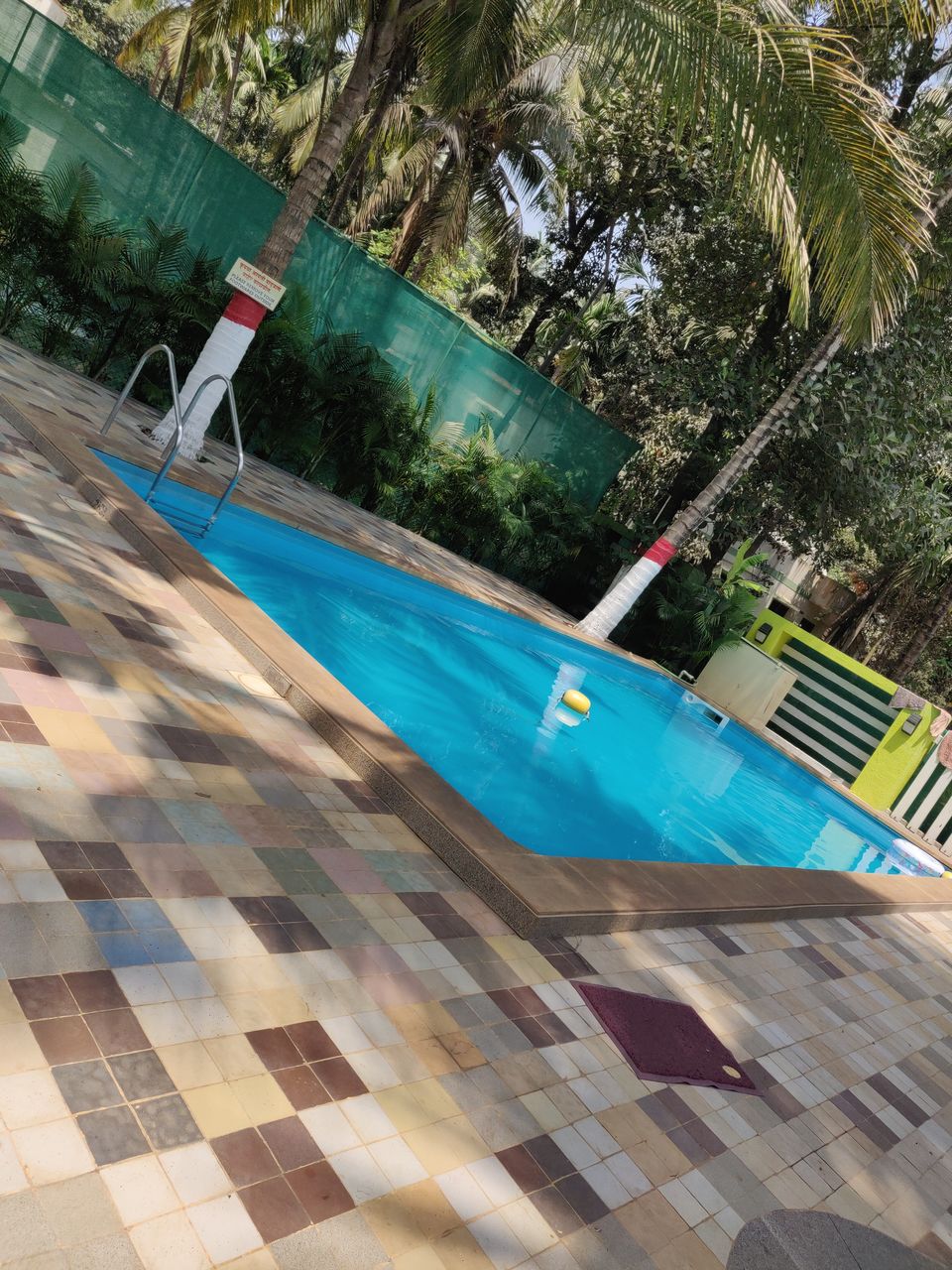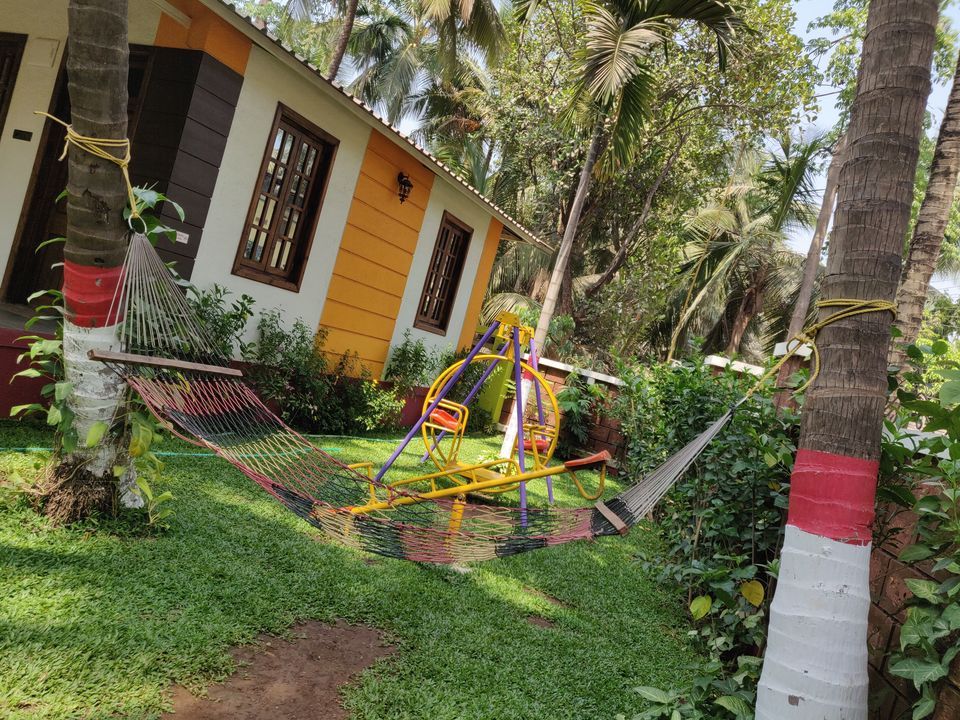 Coming to rooms....they have maintained rooms well, washrooms are clean, extra beds will be there in cupboard for group more than 2 people. Canteen walls are painted showing a canteen scene in which chefs wearing their traditional clothes are cooking their speciality i.e fishes of various kinds, waiters are serving food and has given vibrant look. They serve both veg and non-veg homemade meals. They are also willing to cook anything you want, they themselves ask if you want something else it can be arranged which is really good thing I feel.
Rates :
Veg thali for Rs.150 includes 2 sabji, roti, daal,rice,salad, sweet,solkadhi.
Non-veg thali for Rs.250 includes fish/chicken, roti, daal, rice, salad, solkadhi.
Do try solkadhi, it is made of kokum so it helps to beat the heat outside and it tastes yummy.
Timings : They have timings for every meal.
Breakfast : 9.00 AM to 10.00 AM
Lunch : 1.00 PM to 3 PM
Dinner : 8.00 PM to 10.00 PM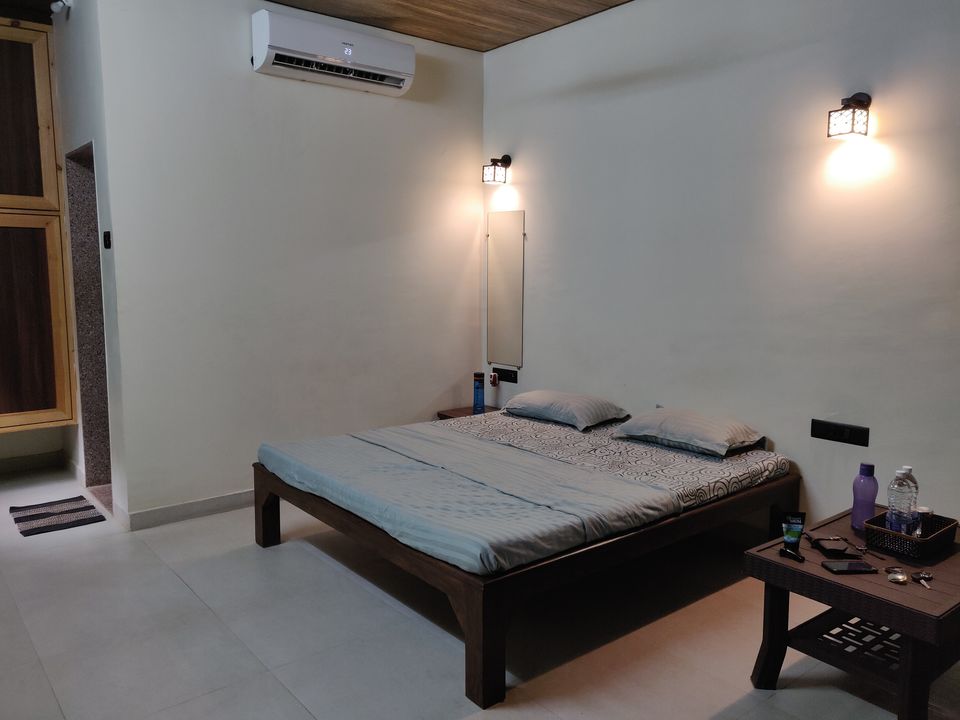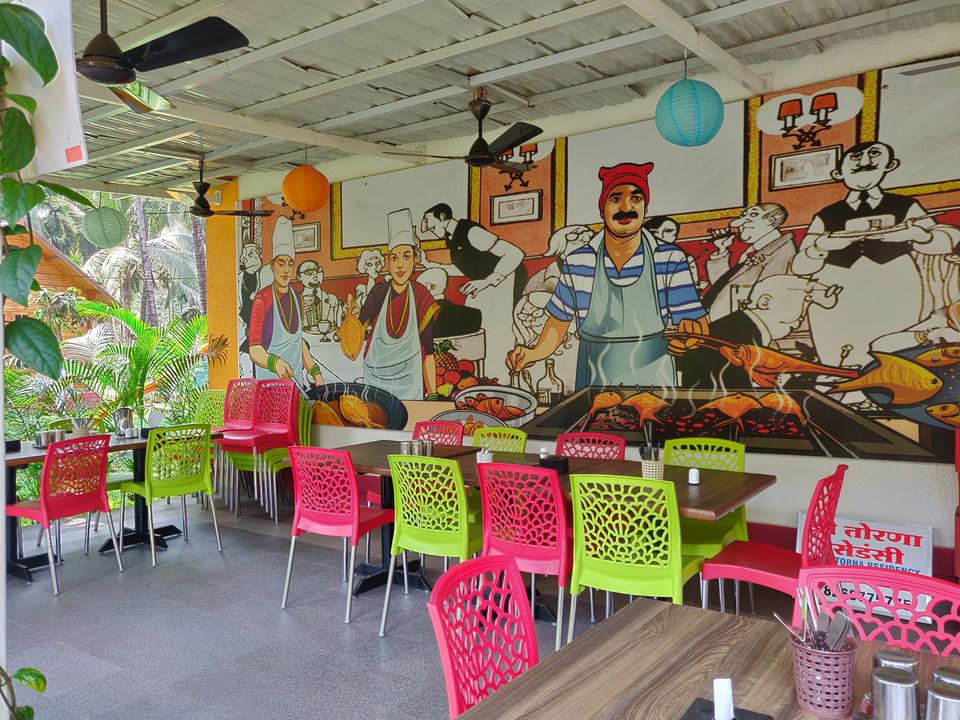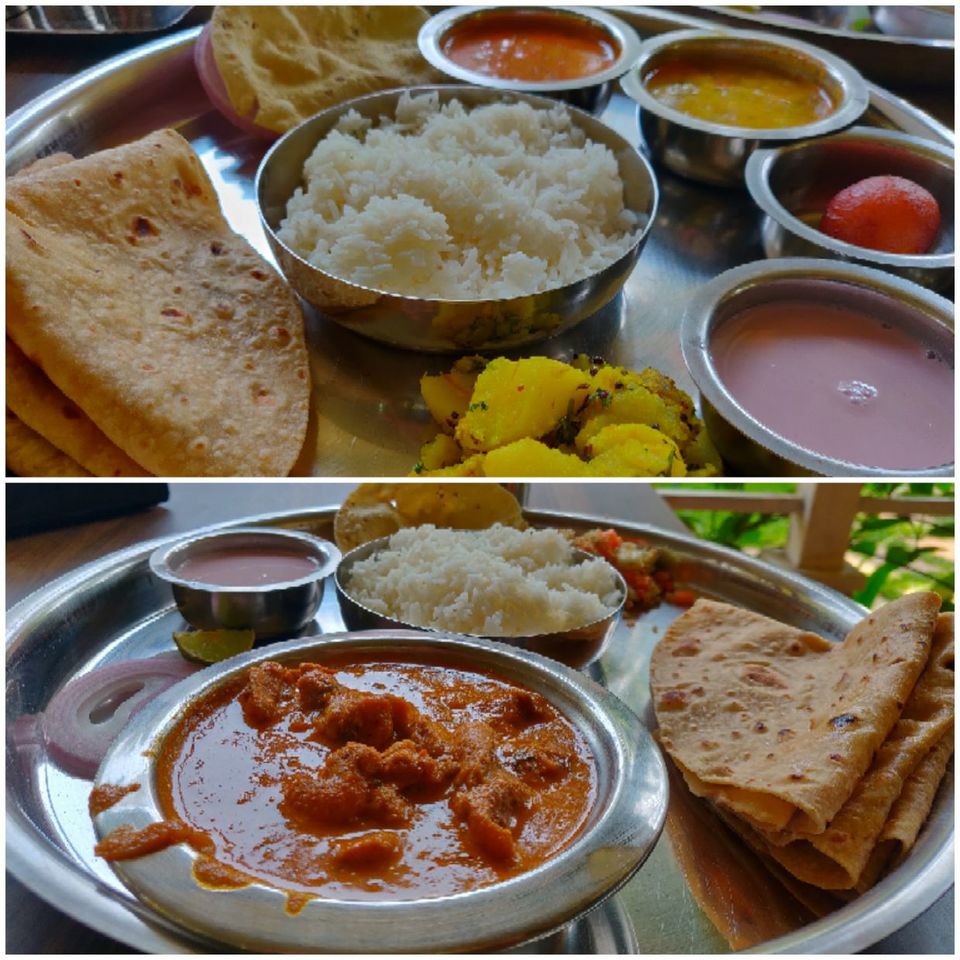 Food is really really good, I ate more than I usually eat. After having lunch we were just lingering around the property. They have planted many flower plants and being fan of different kinds of flowers I clicked many pictures of those beautiful flowers and of course clicked my pictures also ;) Property is well maintained I must say.
Around 5.oo PM we went for Nagaon beach, it is about walking 15 mins from hotel. Please note that this is not main beach entry, this is somewhat private beach. We found many staying at our hotel there. It is less crowded than actual Nagaon beach, if you want to do water sports then go there else this entry is a good option. At first we enjoyed the beach, then sat on rocks there observing small activities around us. Just close your eyes and pay attention to sound of waves, it gives utmost relaxation and peace, exactly for which we plan trips, right? To relax our mind and body from our daily hectic routine.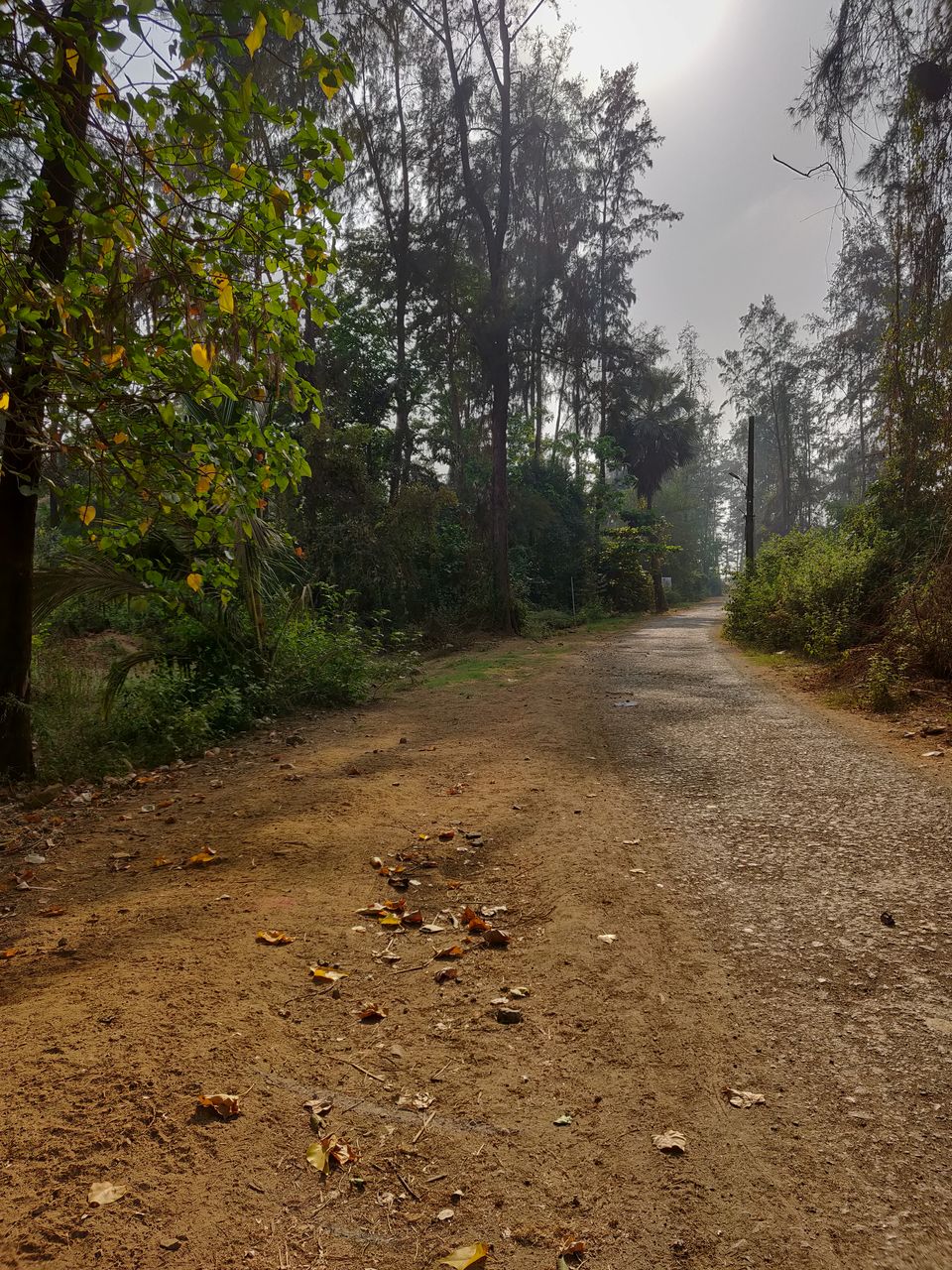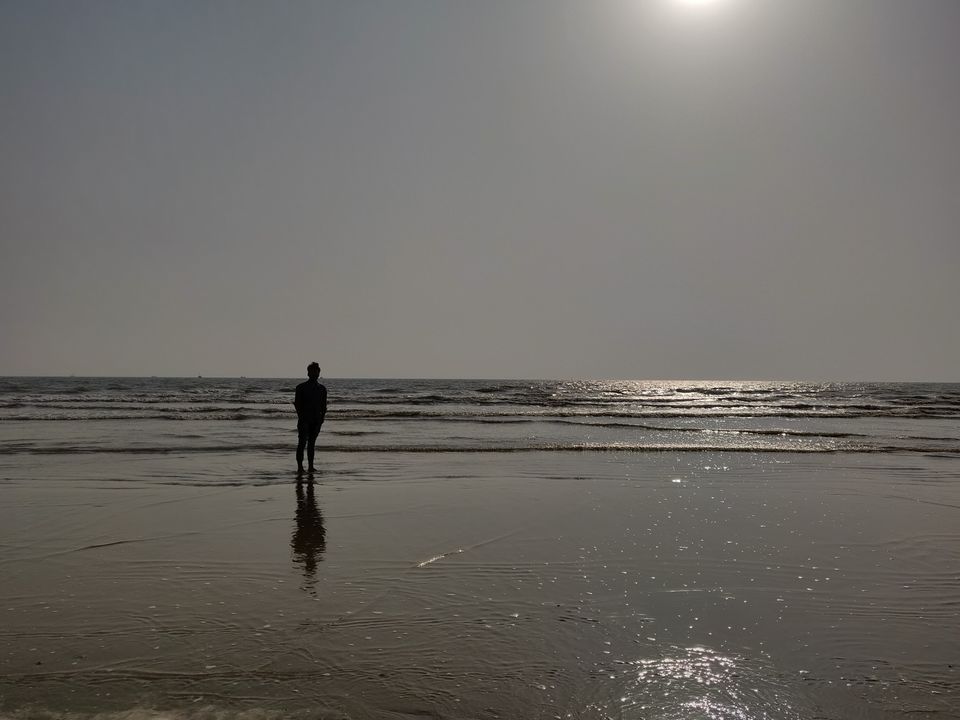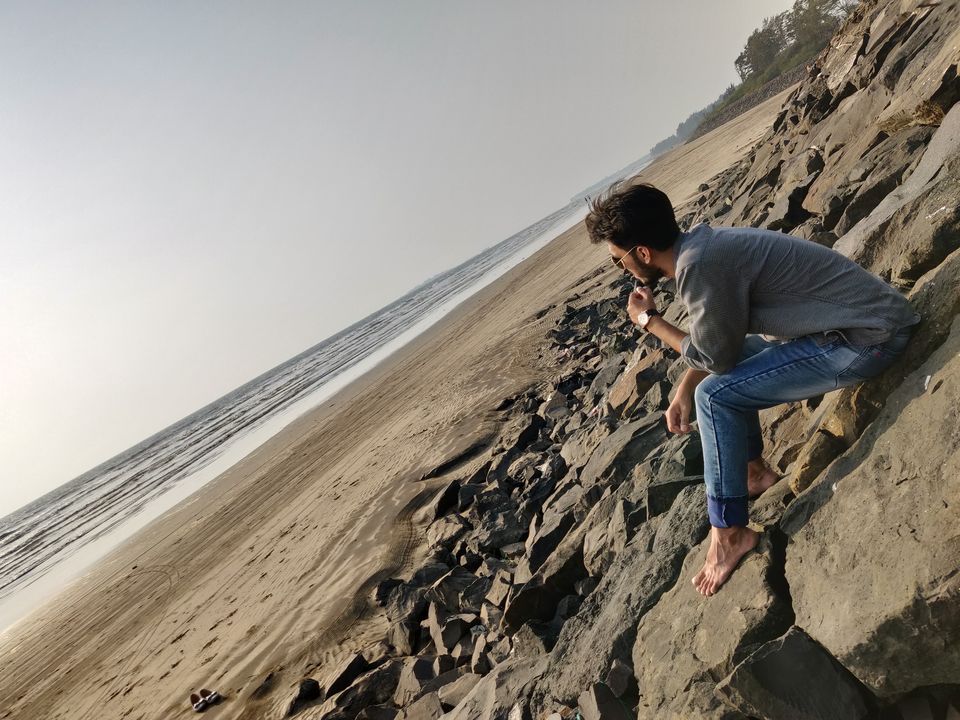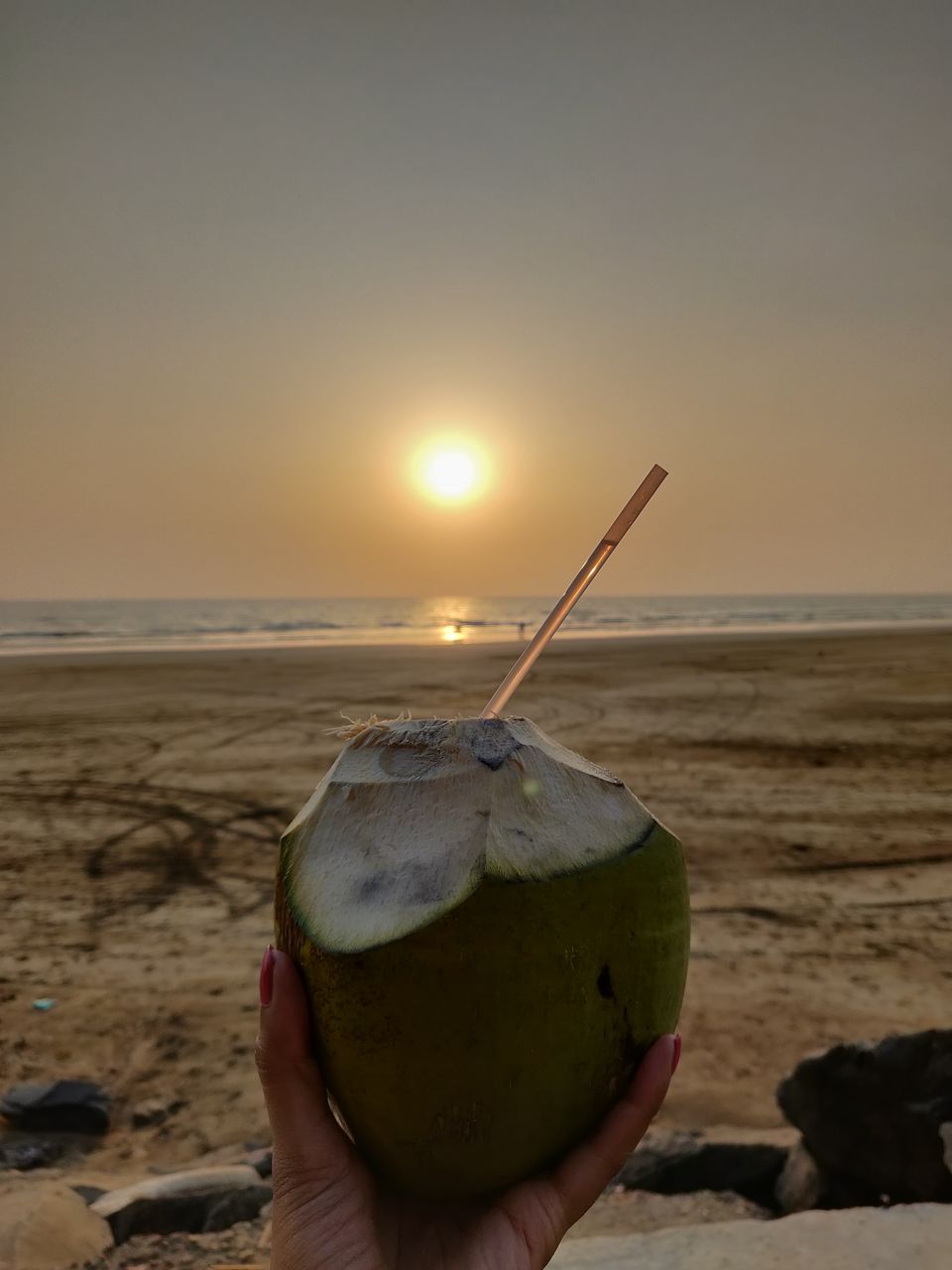 We have been there till sunset though sunset was not that visible because of clouds in between. On the way back to hotel near beach we spotted chat ka thela(chat corner) and being a mumbaikar how can you resist Panipuri, right? So hop on to panipuri, thankfully we did not committed a panipuri competition which we used to do very often in last year and guess who always wins......it's me ;)
We were on search of a restaurant for dinner as we just wanted a soup or so because lunch was so heavy I did not have room for dinner :( Finally we got a restaurant which serves soup as many of them serve homemade thali. After dinner we were craving for ice-cream, we had to find that also since we wanted Amul but there is not a single Amul parlour or any vendor who sales Amul ice-creams so we had to eat Vadilal. I had pan kulfi which was yummm, Now I think Vadilal is not that bad.
When we came to hotel it was all lighted with small lights in front of every cottage, we could hear some mantras from temple it was pleasant.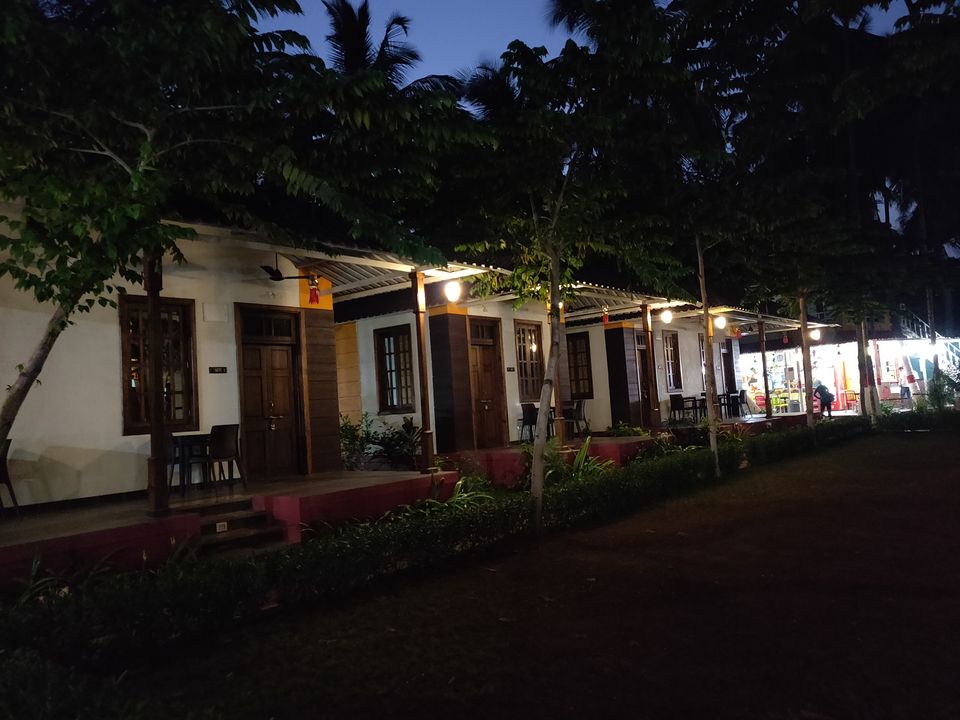 We had plan of going into swimming pool but we got up late in morning so had to cancel it. Just had breakfast which was Poha, bread butter and tea. Again clicked some pictures and said good bye to hotel and staff with a promise to visit again :)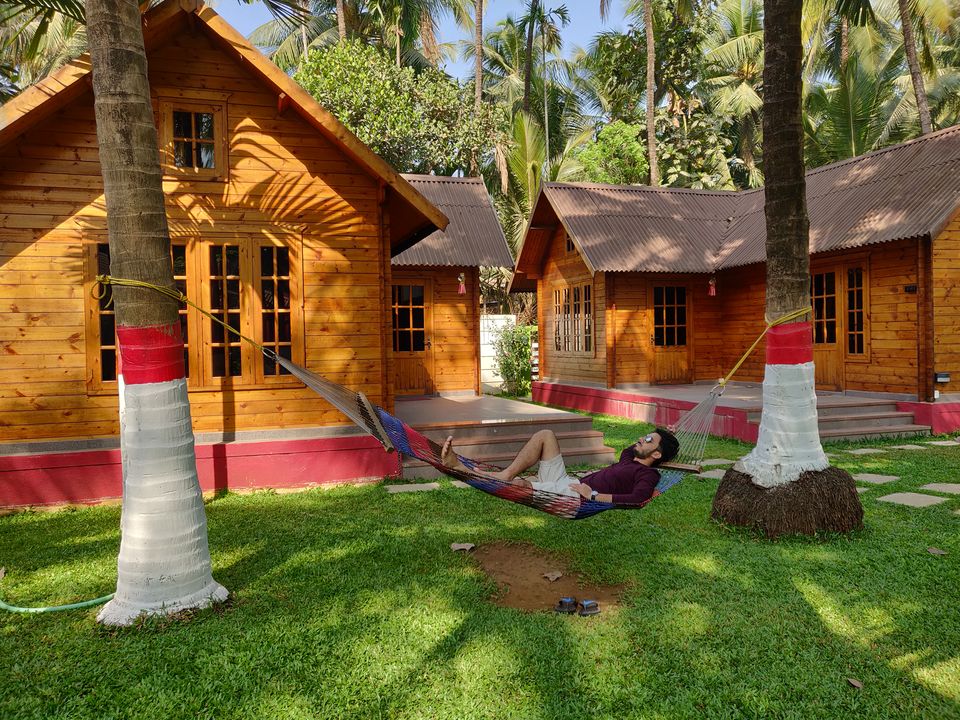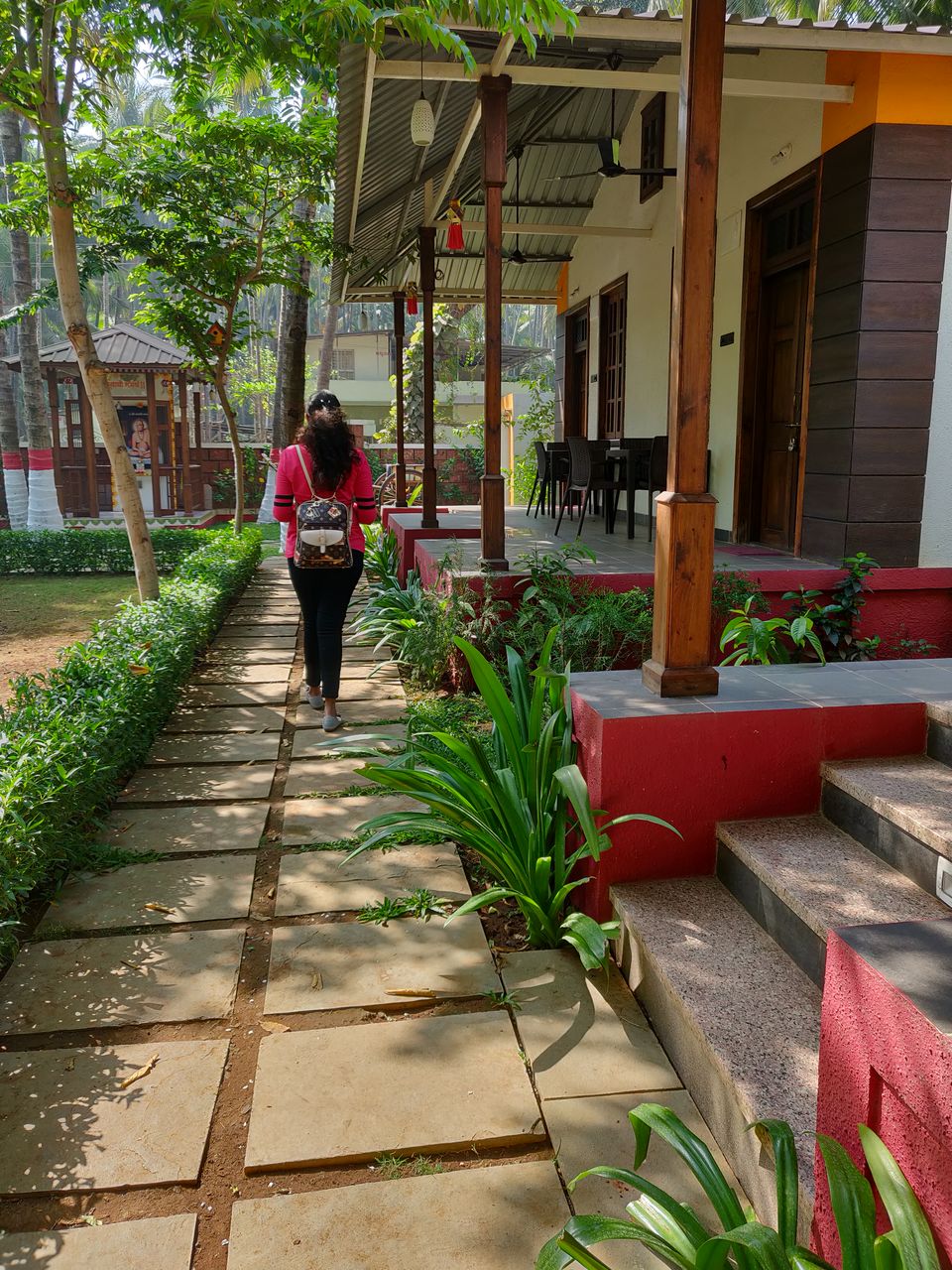 So this was our small trip to Nagaon, if you have any such hotel or place recommendation for us then do let us know, we'll be really happy to go there.
Thank you for being a part of our journey :)