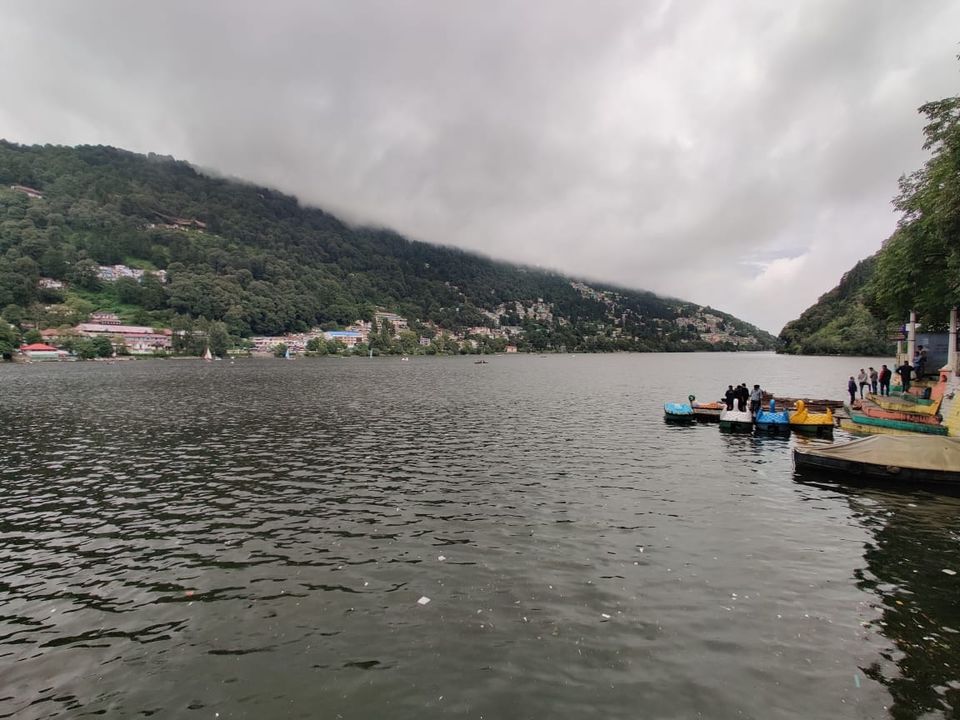 I was always fascinated by this place after I heard stroies of its nature beauty from my friends & colleagues. And I finally got a chance to visit this beautiful place with my husband. It was our third trip after our marriage within 6 months( hope, it continues like this!!) . We managed to take out 3 days from our schedule to witness this gem of Uttrakhand.
We started our trip at 6 am, and reached around 12.30 pm as rain during the journey slowed us a bit.After exploring few hotels, we decided to stay at Hotel Welcome Park which has amazing view of Naini lake from the room balconies. After taking rest, we stepped out to explore the main attraction  of Nainital that is the Naini lake. Nainital's beauty lies within this gorgeous kidney shaped lake. We did boating which is must do here. It was drizzling and the climate was pleasant.On the edge of lake, resides the Naina devi temple. Tibetan market is in close proximity to the temple. One can eat tasty Chinese food at China Town restaurant. Our first day ended with a stroll on the mall road where we explored local craft, woollens and speciality of Nainital i.e Candles.
Our second day started with a view of Naini lake covered in dense fog. We hired a taxi and took a tour of amazing Nainital greenhills.It included a ropeway ride of around 3 mins to the Snow view point.One can experience extreme peace and calmness here.Taxi took us on a 2 hour ride,along which we saw mountain peaks presenting a mesmerizing view. It was all so serene and beautiful. We saw the Himalayan peaks through telescope which are easily available with the locals on minimal charges. After the taxi route, we went to Naintal high altitude zoo. There we saw sloth bear, red panda, leopard, wolf, tiger and many species of deer etc.Our second day also ended by roaming on Mall road.
On third day, we returned from Nainital to Delhi. On our way back, we went to Ghorakhal temple. The speciality of this temple lies in the huge number of bells of all sizes hanging inside the temple. Then we visited sattal and bhimtal lakes which are in close distances of Naintal.Both lakes are immersed in beauty and Serenity.  One should beware of people claiming to be from Jammu & Kashmir handloom and selling blanket called kiddi along with 5 other gifts.These are all frauds and looting tourists.
It was altogether an amazing experience visiting  the kumaon region of Uttrakhand state. It is a perfect place for rejuvenation and exploring oneself through nature.