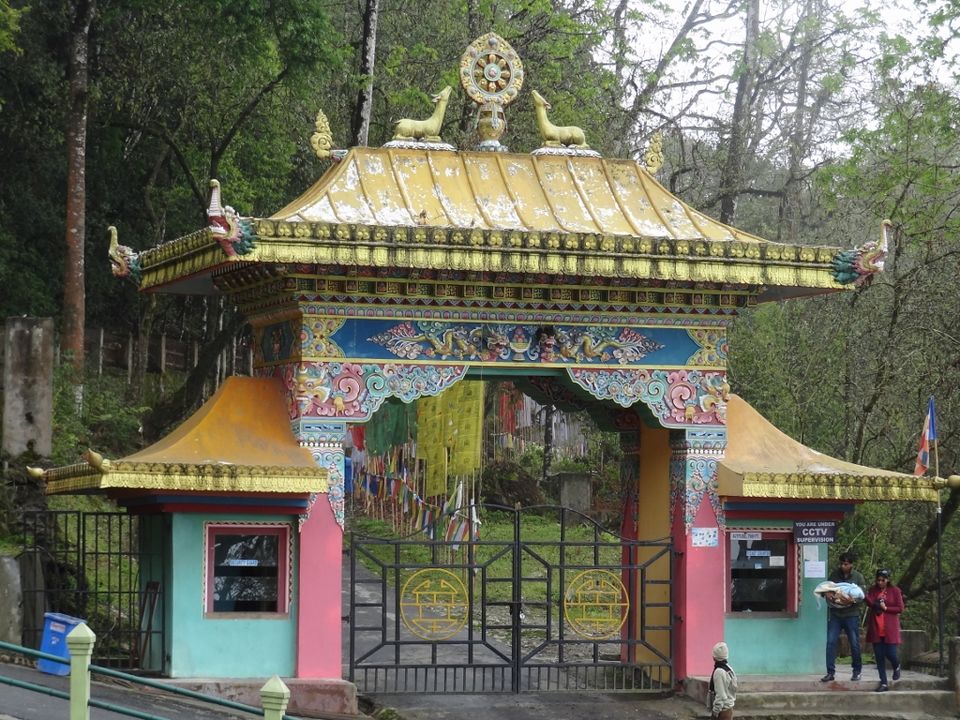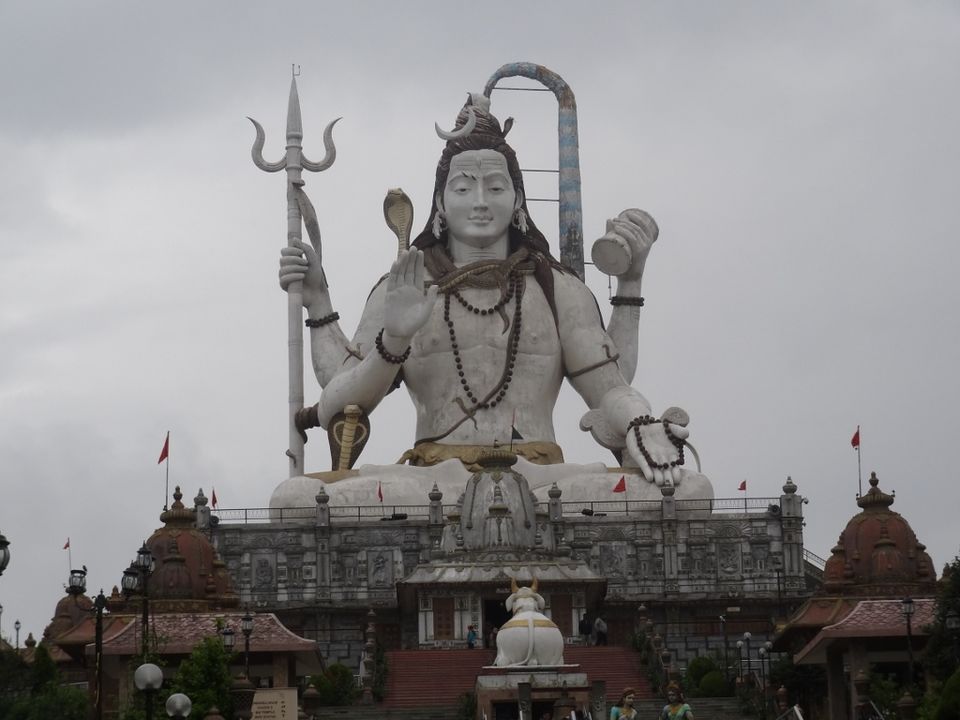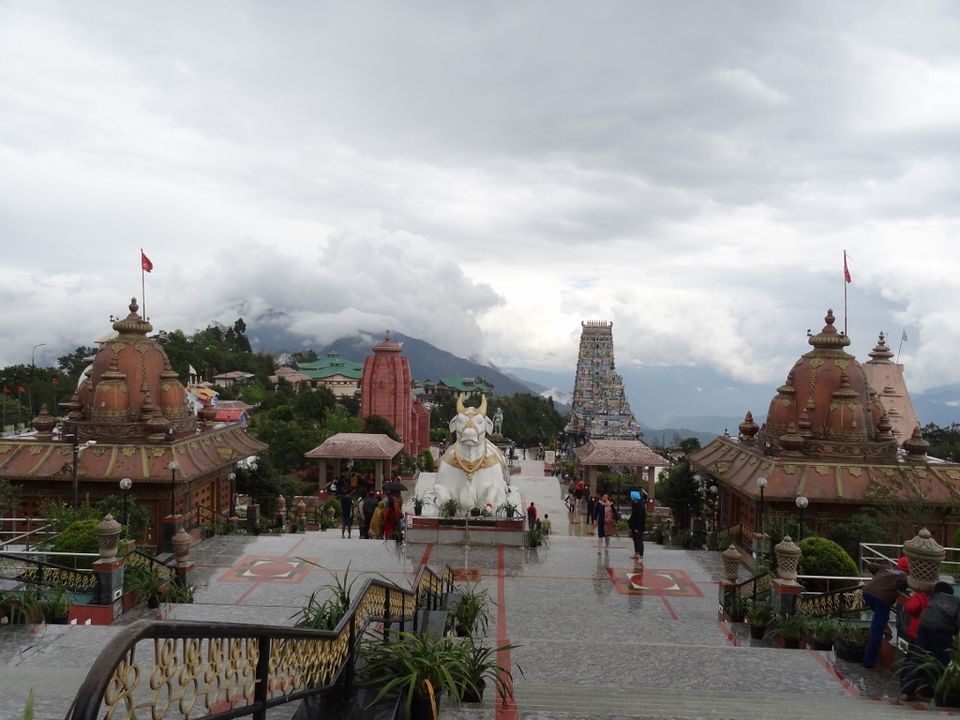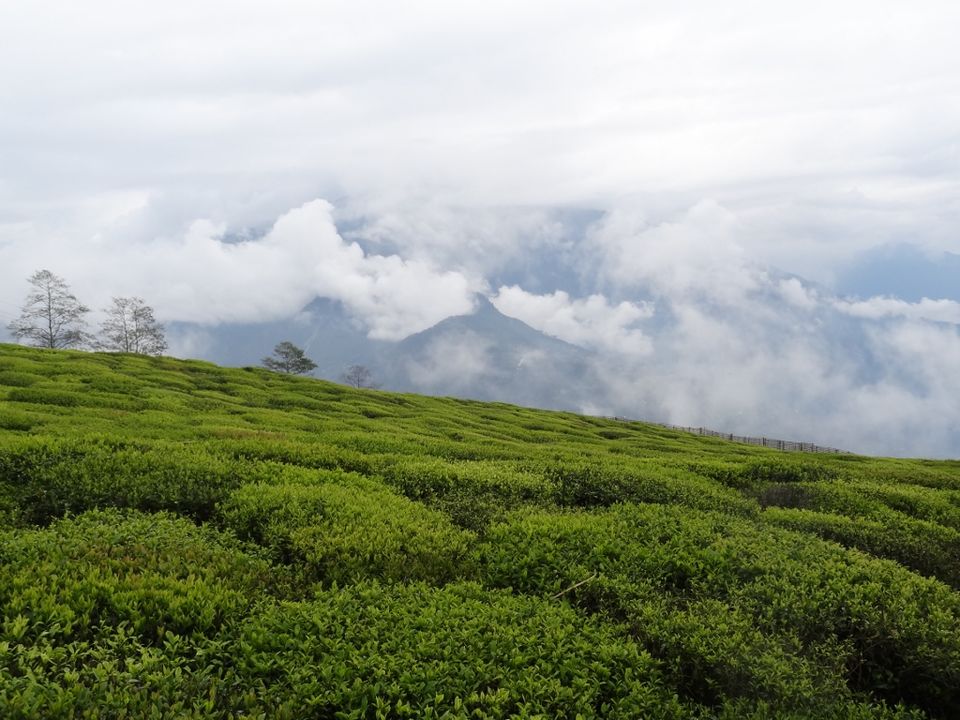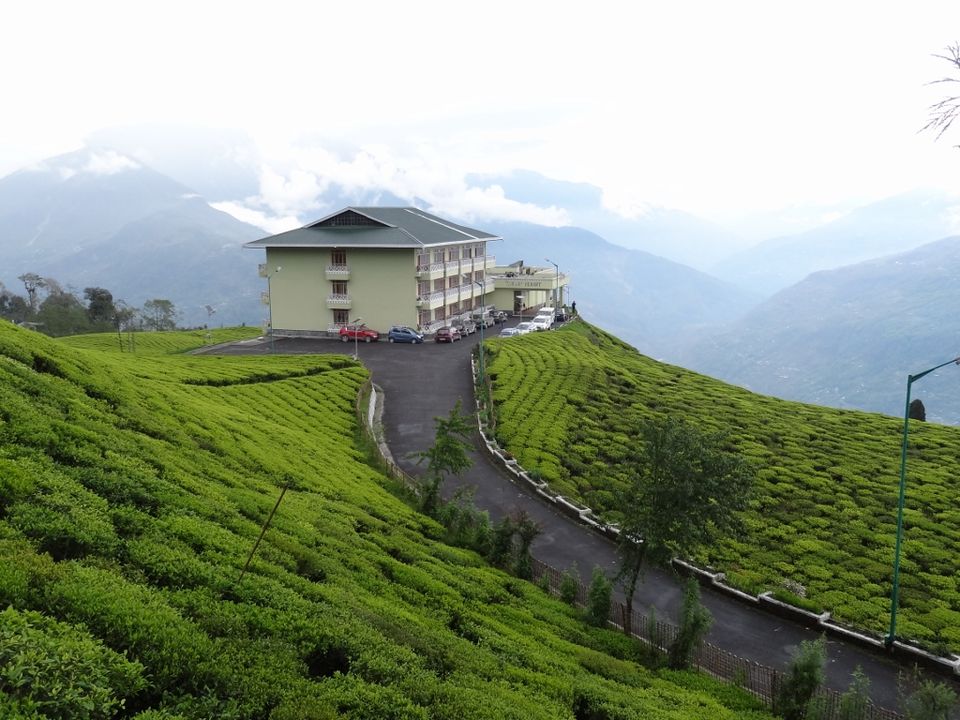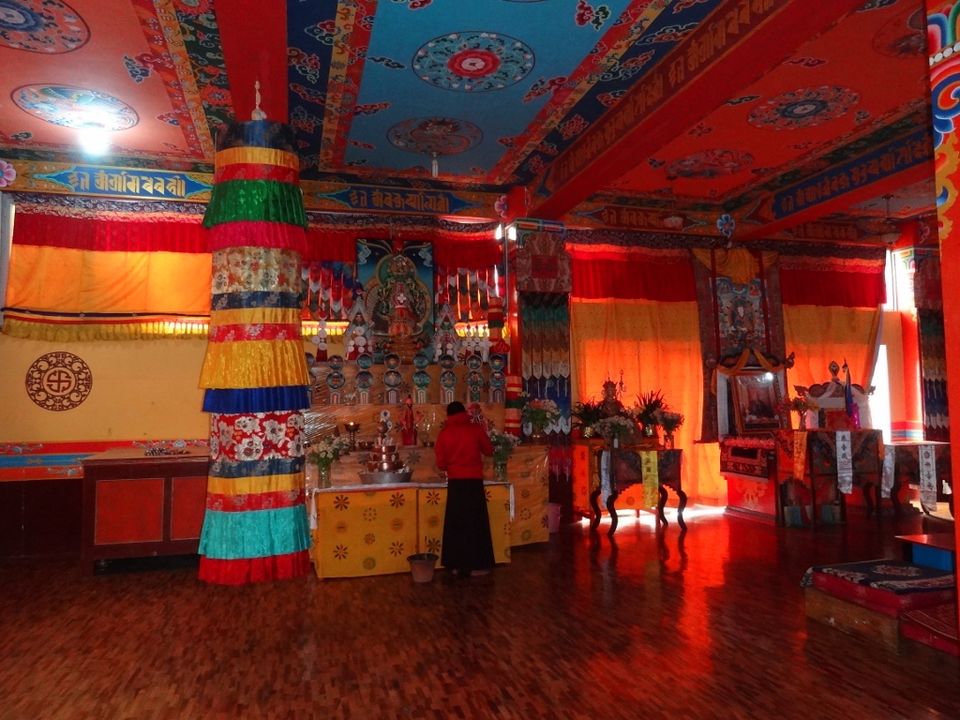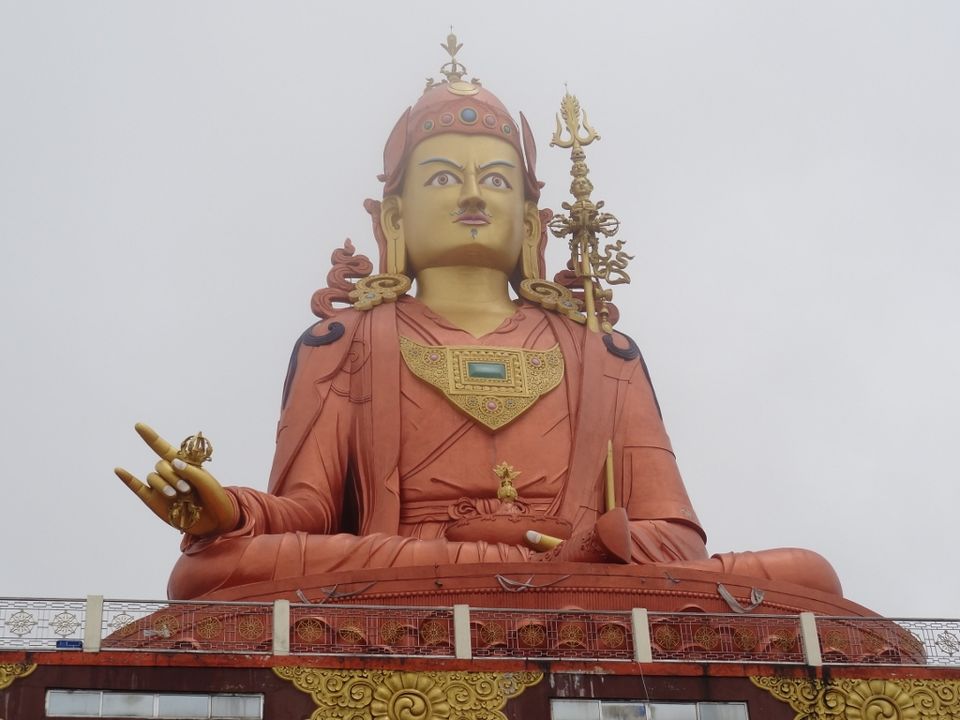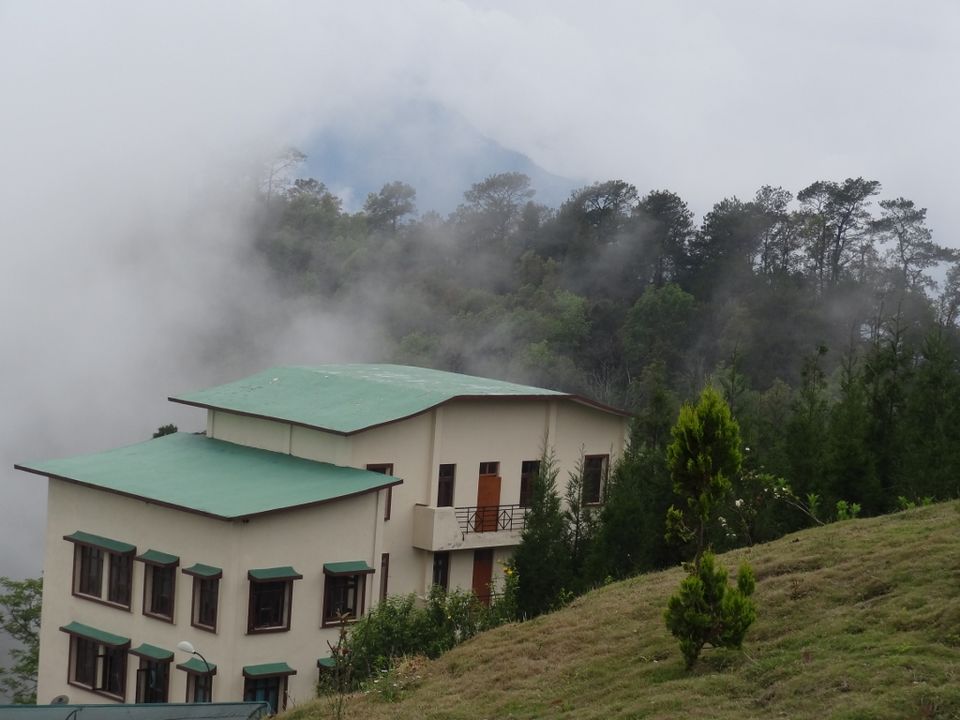 Namchi is the capital of South district of Sikkim and apart from it's natural beauty, this place is also famous as a piligrimage centre due to it's numerous temples and monasteries. We visited Namchi on a rainy day in April and the utter beauty of mist covered Namchi simply stunned me. Instead of staying in Namchi, we stayed in Ravangla and covered Namchi in a day tour that included mainly 4 places, Samdruptse Hill, Siddheswar Dham or Char Dham, Shirdi Sai Temple and Temi Tea Garden. We started with Samdruptse Hill which has world's biggest statue of Guru Padmasambhava in sitting position. There is a monastery under the statue with a beautiful interior and a very tranquil atmosphere. There was a myriad of pink, red and purple flowers that adorned the surrounding area when we visited and many colorful birds kept flying in and out of the nearby trees. As it was cloudy that day, we missed the view, but the drizzle, the cold wind and the mist altogether made the place look more heavenly. There are few shops outside the monastery gate that sell souvenirs and tea coffee etc and toilet facilities are available too.
Next in the list was Siddheswar Dham or more commonly known as Char Dham which is a huge complex perched on a hill containing the replicas of the char dhams which are revered by the Hindus such as Jagannath Dham, Dwarika Dham, Rameshawaram, and Badrinath Dham. This place has a big statue of Lord Shiva in sitting position which could be seen from a distance. The complex also houses the 12 famous Jyotirlingas and few other temples like Shirdi Sai temple and Minakshi temple. The area is very well maintained with a neat and clean surrounding decorated with many flowering plants and it has drinking water and toilet facilities. There is a canteen in the complex and lodging facilities are available too. If you are a spiritual person, then the divinity of the place will surely enchant you whereas for others the place provides great views and photography opportunities.
Then we moved to Shirdi Sai temple which is at a driving distance of hardly 5 minutes from Char Dham. Shirdi Sai Temple is a very aesthetically designed two story building having a statue of Shirdi Sai Baba in the 1st floor. There is nothing much to see here unless you are a devotee of Sai Baba. The temple has a very peaceful atmosphere to sit and meditate a while. The last stop of the day was Temi tea garden which is spread over a large area and is the sole tea garden of Sikkim internationally known for it's organic tea. The view of the lush green tea garden spread over the mountain slopes under the cloud patched blue sky and with a background of Kanchenjunga range was a treat to the eyes. If you love photographs, then this is the place you should not miss. Also, you can get yourself photographed in the traditional tea picker's dress which is available on rent near the tea garden. There is a narrow steep path to climb down to the lower part of the tea estate and we followed this path to go near the Cherry Resort which is a beautiful property amidst the sprawling tea plantations. There is a tea factory in the garden that you can visit to get some knowledge on tea processing. There is also a cafe in the upper part of the tea garden which sells tea and snacks and having a cup of hot tea in a place surrounded by tea plantations was a different experience altogether. If you want to see the tea garden with all it's glory, then visit in November/December time when Cherry trees in the garden are loaded with flowers making it look like paradise.
How to Go:
The nearest railway station is NewJalpaiguri (around 94 kilometers from Namchi) and nearest airport is Bagdodara (around 97 kilometers from Namchi). Shared jeeps and bus services are available at regular intervals from the station as well as the airport.
Where to Stay:
Namchi has numerous accommodation options for each range starting from budget accommodations to luxury hotels. Another option is to stay in the near by town Ravangla which is at a driving distance of 45 minutes and visit Namchi on a day trip.
Best Time to Visit:
-Visit in February to witness the flower show that displays a wide variety of beautiful flowers along with many exotic Orchids.
-For amazing views of Kanchenjunga range, visit from October to February.
-For witnessing cherry blossom in the Temi tea garden, visit during November-December time.
Other things to do:
-You can do some shopping in the Central Park area of Namchi which is a beautiful market place decorated with flower pots and having an aquarium in the middle.   There are benches to relax and many eateries to enjoy some Sikkimese delicacies.
-Namchi is well connected by road to places like Gangtok, Ravangla, Borong and Pelling etc. So you can visit these places extending your trip to a few more days.