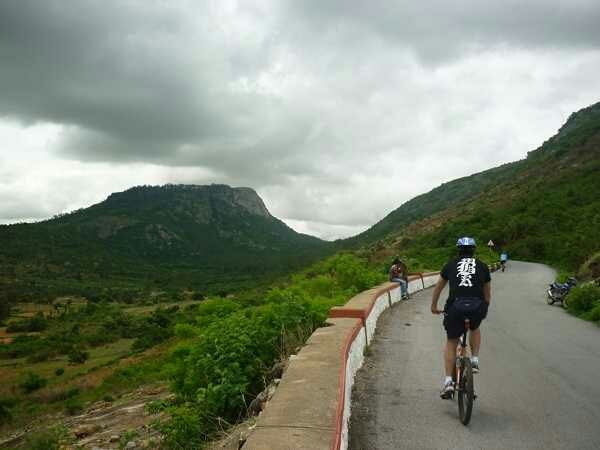 Basically, Banglore is a place where most of the tourists go in search of scenery at weekends. Well, coming to my story, am a techie here in bangalore and new to the city and want to discover new places.
         To get rid of all Chaos, me along with my sister and BIL planned a short trip for Nandi Hills which is located at 64 kms approx from Bangalore. It was a cloudy and chilled sunday morning and we started at 5am in our car. Our plan was to reach around 6/6:15 so that we can able to view much hyped sunrise from nandi hills. But unfortunately, the serivce road we took(in search of petrol bunk :p) has lot of road blocks and we need to go back and forth to get on the Highway. So finally we reached Nandi hills at 6:45am which includes 8kms of Ghat road to get to the top of Nandi hills.
          The wait is worth it. Starting from Ghat road, the scenery is damn exciting and the view from top of the hills under fog will be Surely breath taking. The greenery here surely attract the nature lovers. The crowd here in Nandi hills are jam packed and lots of photoshoots will be taking place around the corners of hills. The tree houses here needs special mention as they are constructed in between the forest on top of the hill. Although we missed sunrise, but who cares when nature is offering you much more than you expected.
             There will be lot of shops and stay points enroute to hill and beware of monkeys and dogs as they will always be in pursuit of your bags and luggage. There will be a bridge type construction on the top of the hill and the view from the point will be absolutely amazing. Mobile doesn't get network coverage here and it is better to put your mobile in airplane mode(to save battery :p).
         We started to banglore by finishing breakfast at 9am and it took 1hr to reach to banglore(this time we made it on time :p).