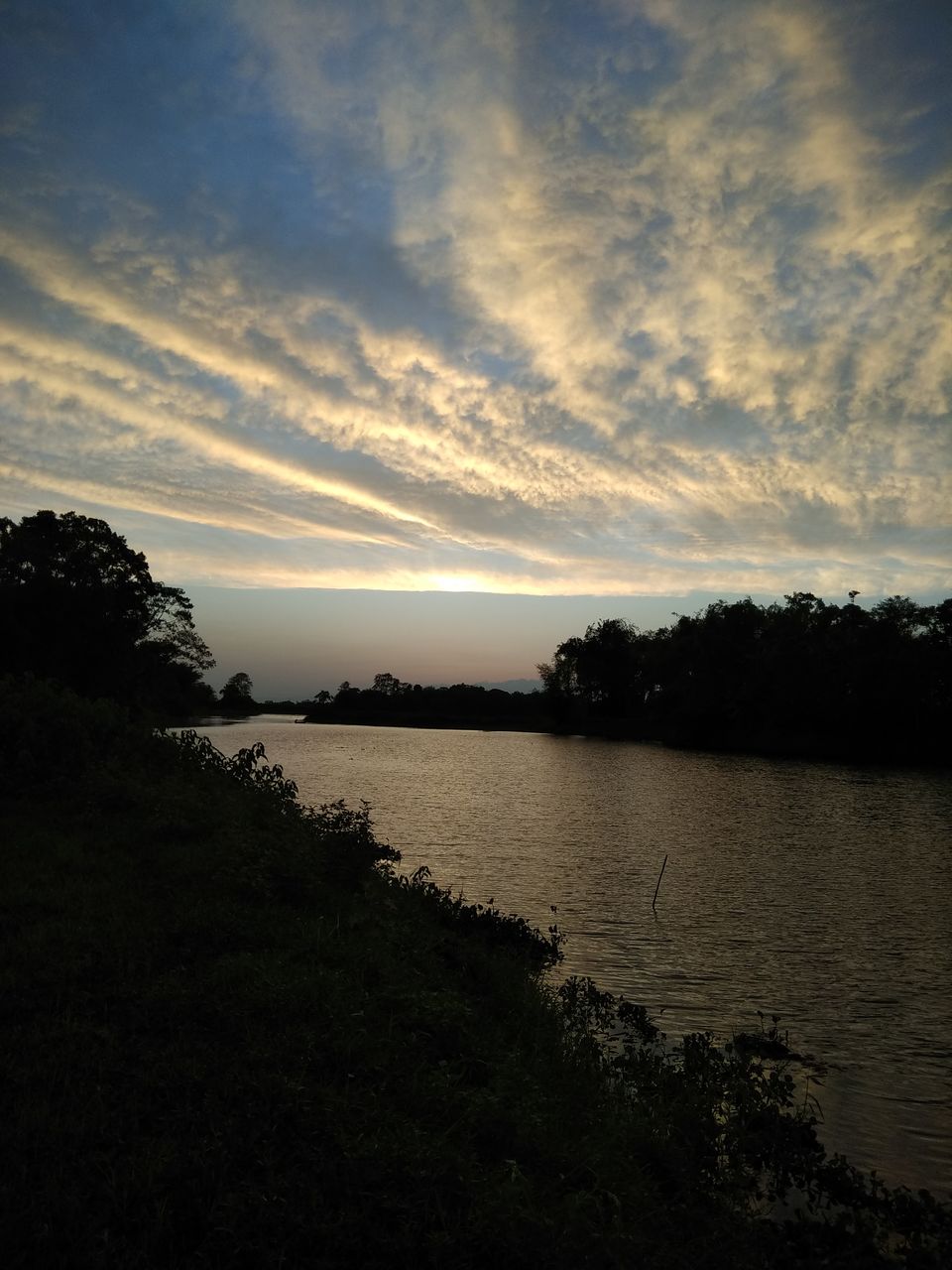 It's not always that one sits with Laptop and search for places near river and ends up with pictures of an unbelievable location in Assam which also happens to be the biggest river island in the world! Yes, that's exactly how we started planning for our 16 days travel marathon from Delhi-Guwahati-Majuli-Shillong-Bhutan.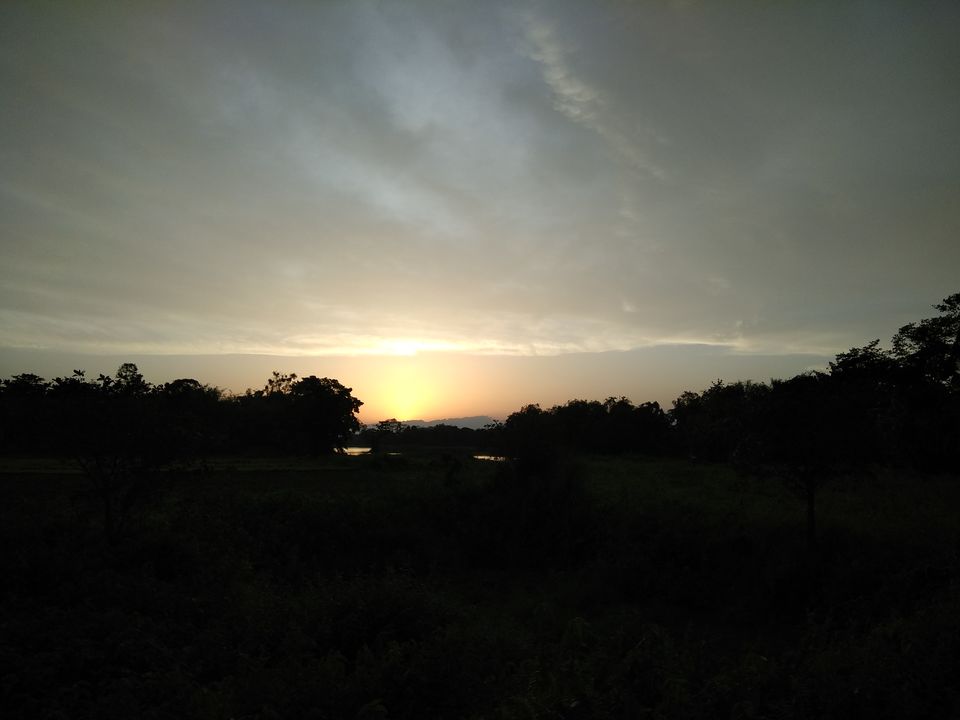 One of our friends who is native of Assam has been working for sustainability of women by forming self-help groups and engaging them into traditional forms of livelihood, he booked a room in a youth hostel in Kalambari. It was a beautiful place in a solitary location facing fields at the same time very economical to stay considering the cost was Rs. 100/bed/night. Since we reached around afternoon, we rested for a while and then head out to explore the locality. Not very far off there was a temple and a road; and we chose the road, walking aimlessly admiring the nature, devouring in the peace and serenity offered here- something that filled us with happiness.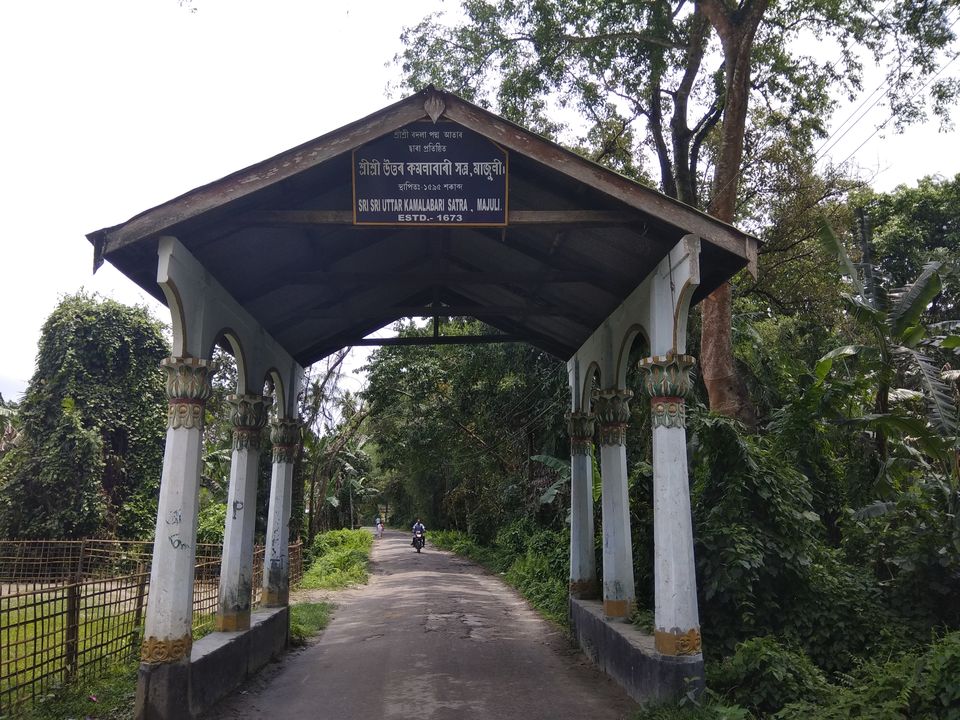 And as they say sometimes path leads you to what you are looking for without you knowing it- we saw a river stream flowing across the field and then we were blessed with beautiful sunset, we stayed there for quite a while.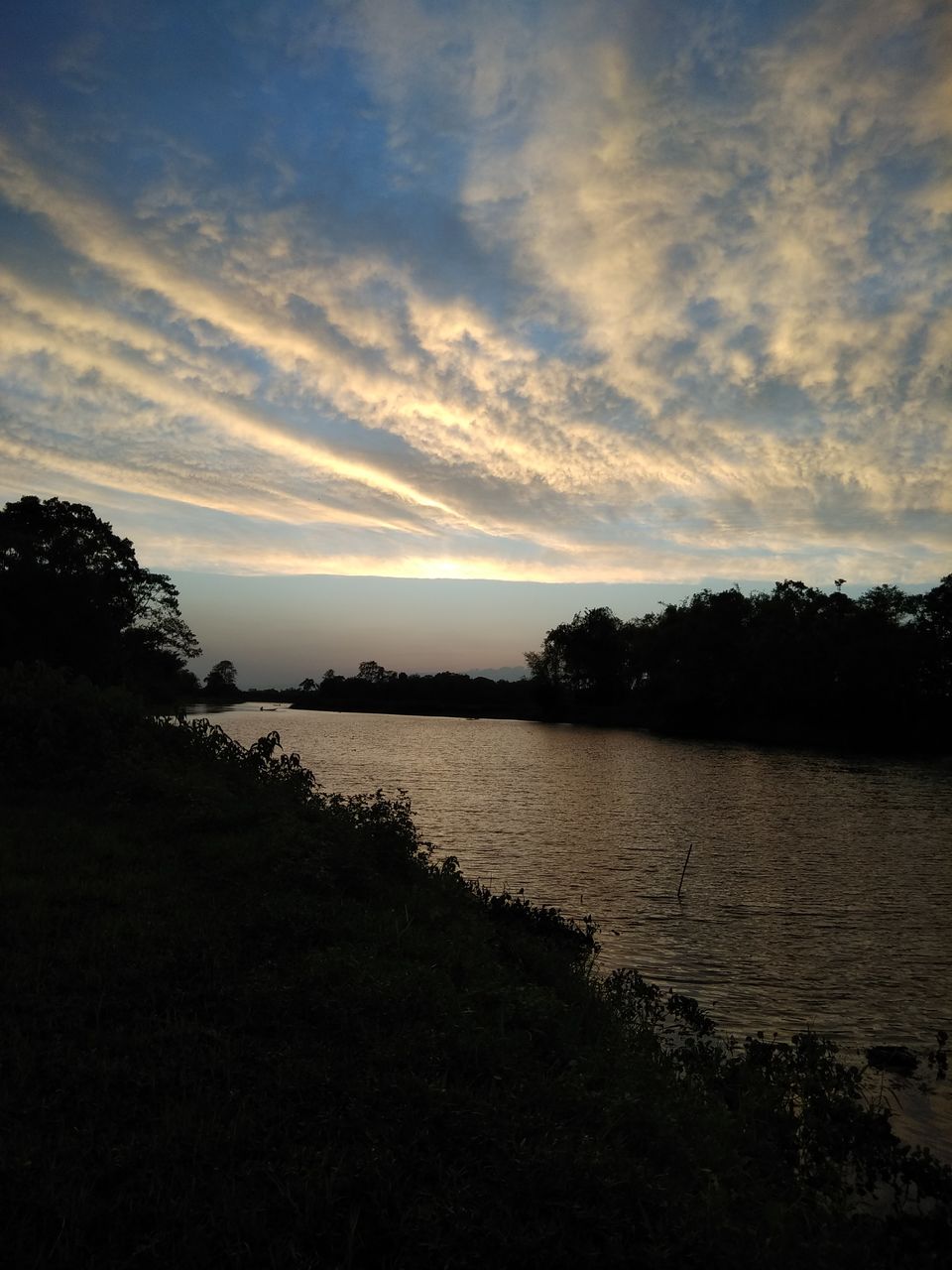 From there, we just kept walking on the road leading to the part of village which had beautifully constructed homes (I want to call them home rather than houses because they appeared welcoming). Since we weren't tired we thought to walk till the main market where we found a small but decent restaurant to have dinner. We ordered 2 thali which had rice, daal, roti and one seasonal vegetable and one paratha with sabzi for me. The food was fulfilling and delicious even with limited available choices.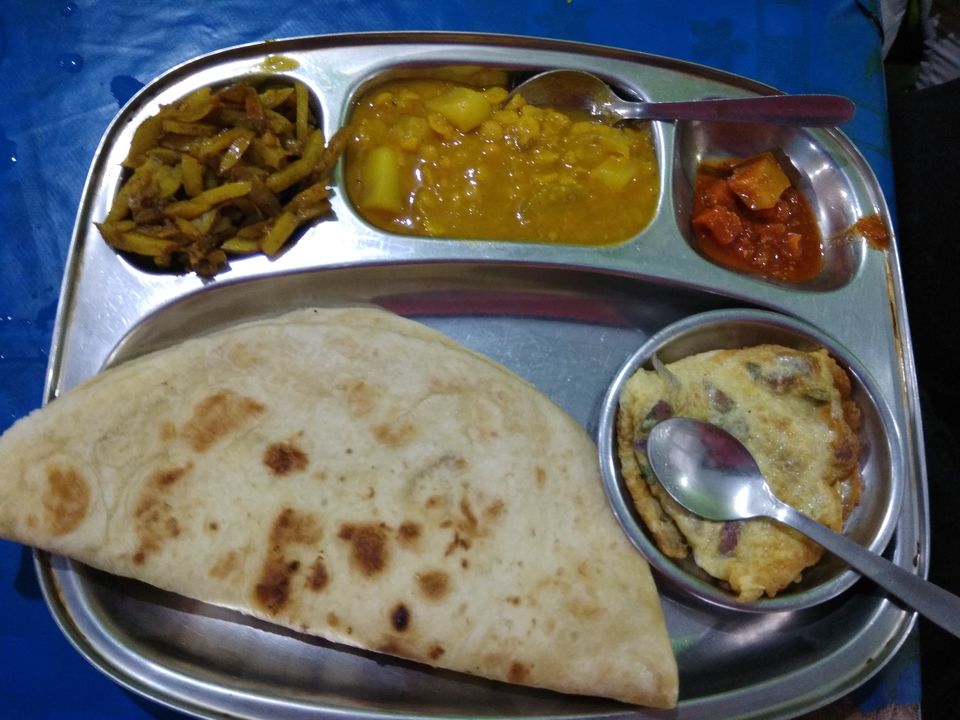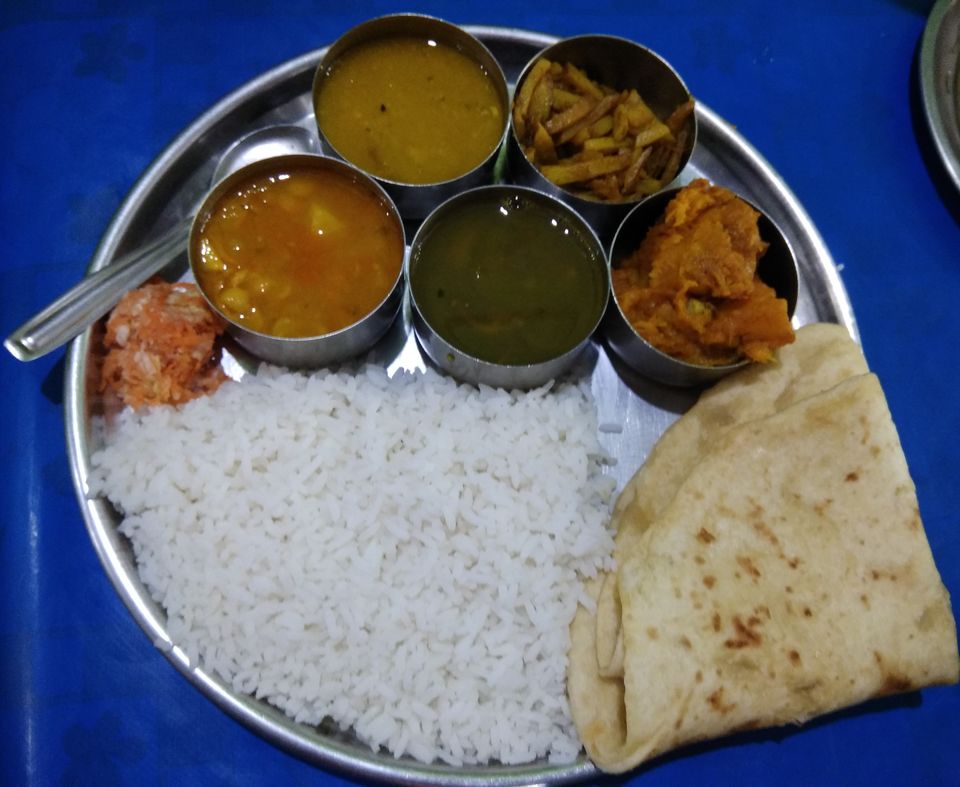 A word of caution, all the eateries (we could figure out only 2 places to eat in this very small market) closes by 7.30 in evening including the market, so early dinner is preferred as you won't even get vehicle to go back to your place. So, we had to walk back to our dorm, there were no lights on the street, no people but strangely it felt safe and peaceful- we saw lot of fireflies, all those childhood memories came back so alive. I felt like a child, all happy, giddy and away from all the overthinking that was haunting me for so long. It's so beautiful to be able to see stars in the clear sky, without clouds and without artificial lights, I was dazed and astounded. My heart swelled with happiness, I couldn't think but to cherish this moment of serenity.
We had asked same taxi driver for exploring Majuli that brought us from the shore where Ferri left us to our dorm the other day. We had a quick breakfast at a tiny restaurant (tiny because it was really very small and they could fit 3-4 more people along with us). This beautiful island has quite a few touristic locations, however we wanted to relish on local culture and traditions, soaking in the warmth of the place by knowing its heart and not what the face value says.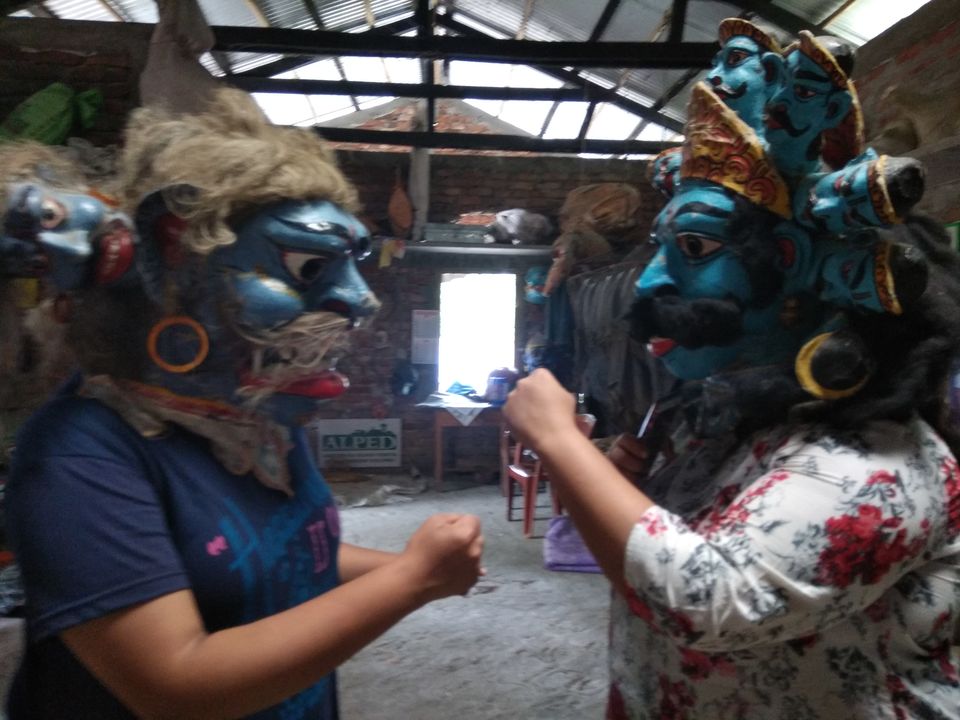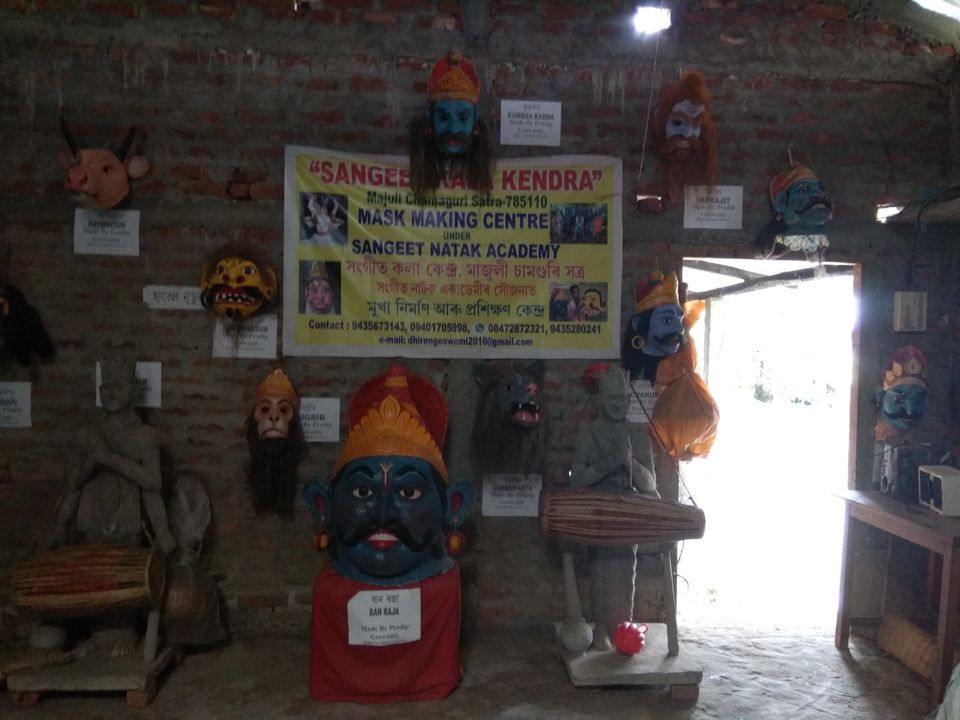 Majuli has numerous satras or monastic centres, which preserve and practice forms of artistic and spiritual expression. But our first destination 'Sri Sri Chamaguri Satra'is known exclusively for preserving and mastering the culture of mask making integrating it with drama based on religious and devotional stories. This centre has practised the tradition of mask-making since the mid-17th century.

We met Dhiraj Goswami, one of the finest craftsmen of the family of Goswami's who happily described the step by step process of mask making and introducing us to newly designed frames of Elephant and heads of various demons. I was enthralled by the art as soon as I entered the hall that had number of masks which were faces of Demons like Ravana, kumbkarana, or Bakasur, Garuda- lord Vishnu's vehicle etc.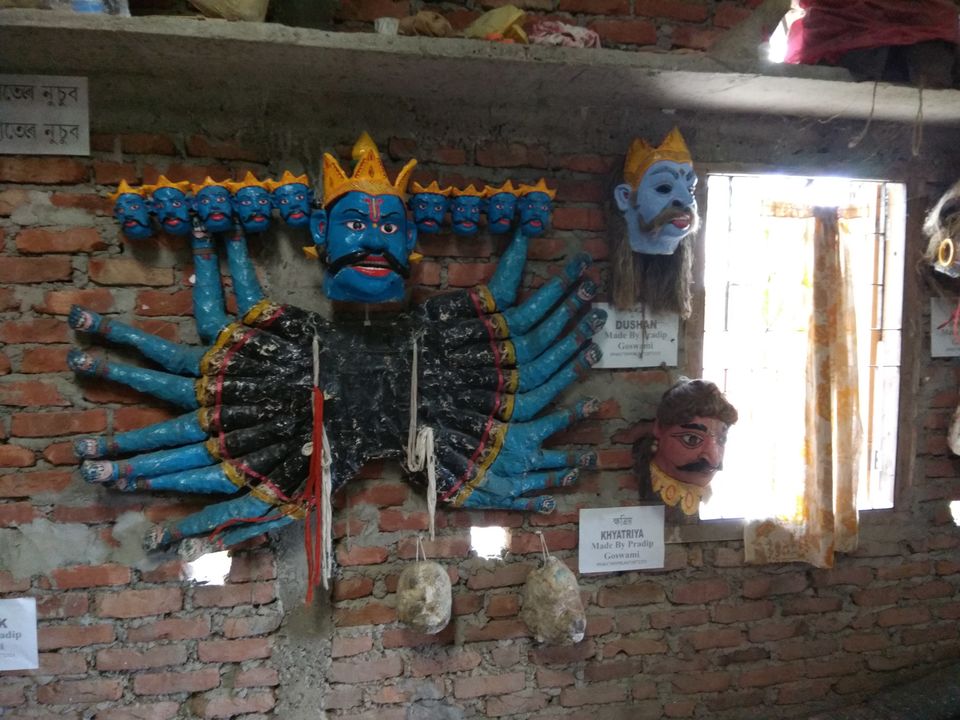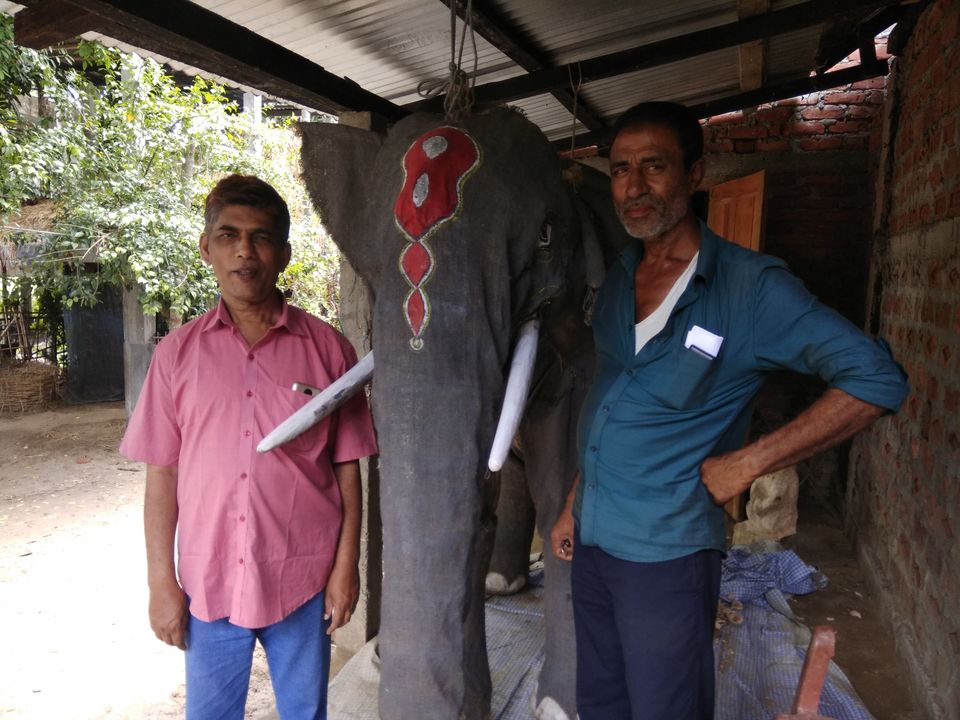 We were heading towards South east of Majuli – though the roads were not really good due to rains and lot of vehicles moving around, the scenic beauty of nature captured our attention more than anything- I never imagined so many shades of greenery that I was witnessing while watching outside the window. On our way, I saw a bamboo house which looked like a school, I wanted to just capture it however our taxi driver took us inside only to find that it was a school having class till 5th standard.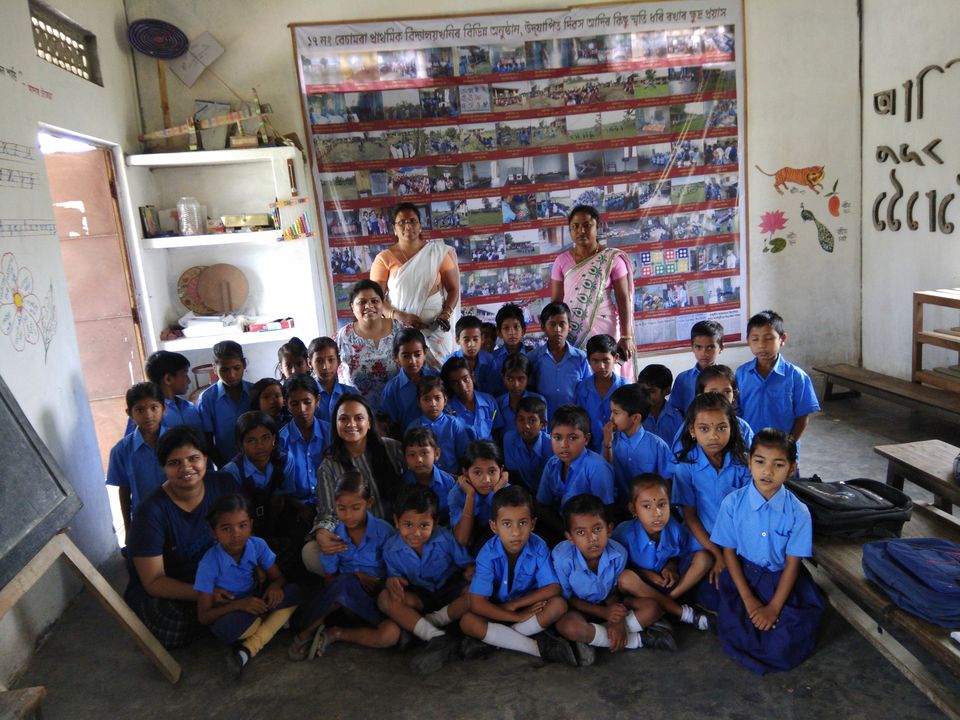 All of a sudden all the kids and teachers gathered in the hall welcoming us with charming smiles and curious faces. Though both of us didn't know each other's language but there was a strange comfort and what started after was a memory I will always cherish. We played games, few of them sang songs and then finally bunch of kids did Bihu dance- I had never seen kids so young with all poise and elegance dancing like this- it was a sight to behold and I could only smile!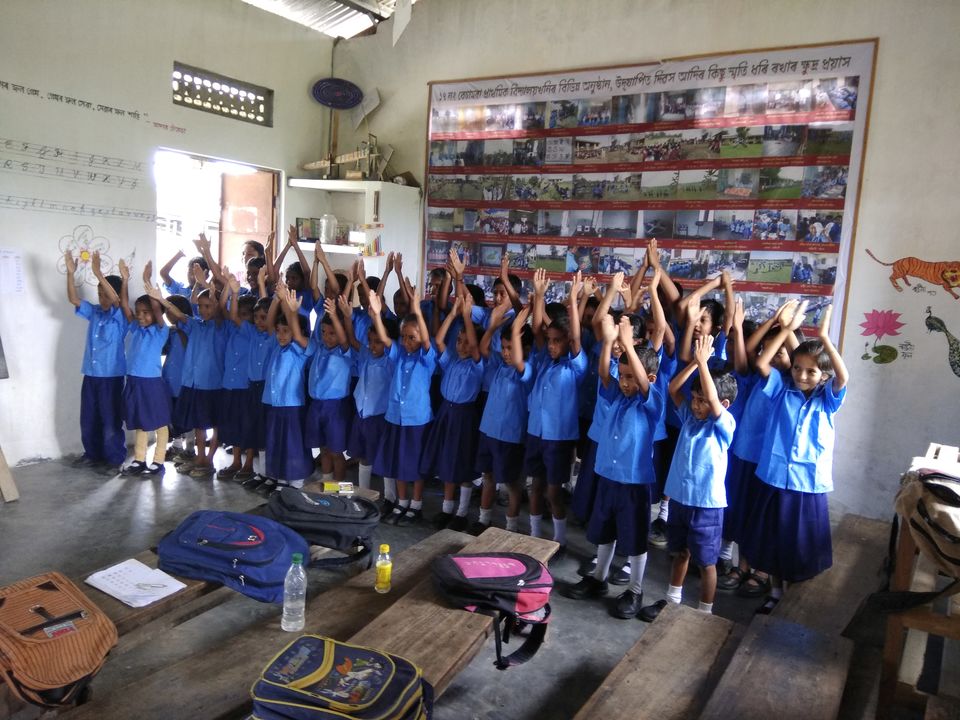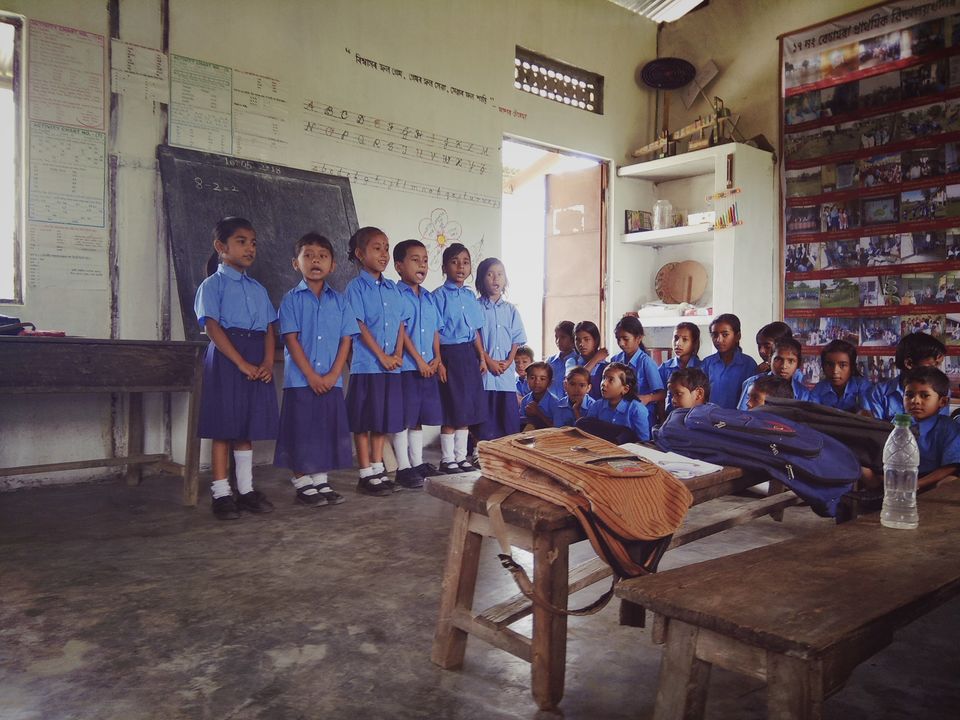 Later, in one of the neighborhood village, we visited a local craftswoman who engages in hand beaten pottery. In her cozy bamboo house, we all sat with our eyes glued to her hands which weaved craft in form of ships, crockery and animals like elephant. We also tried our hands in clay to make our fantasy turn into a possible craft.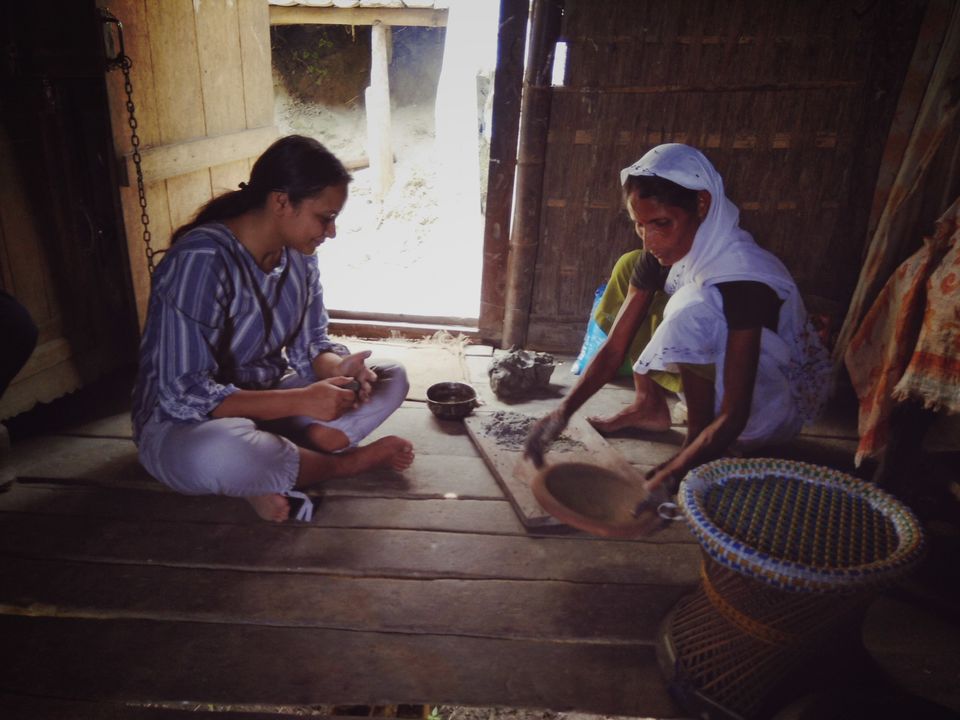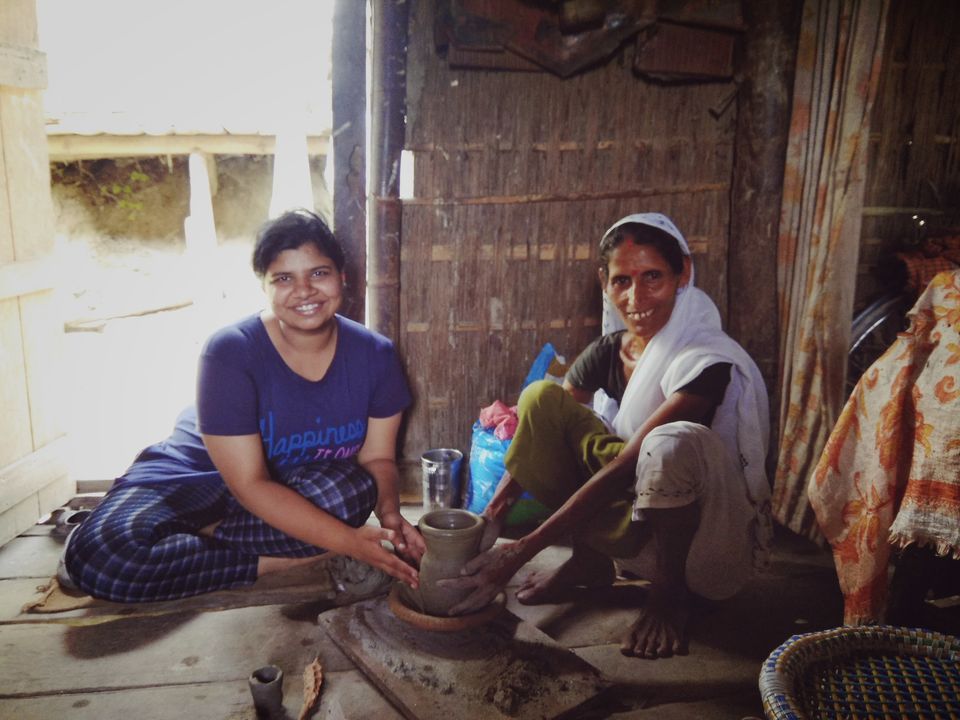 Finally we reached the end shore of Majuli which is separated from Shiv Sagar district by the river. There were lot of abandoned boats of various colors and shapes, they are used by locals in case of floods or when river overpowers the shore as told by our taxi driver. We sat here for quite a while enjoying the peace, warmth and pleasantness of water. This village seemed like a small oasis with beautiful homes, zig zag paths, coconut trees and boats on the shore- alienated from the hustle bustle of the city.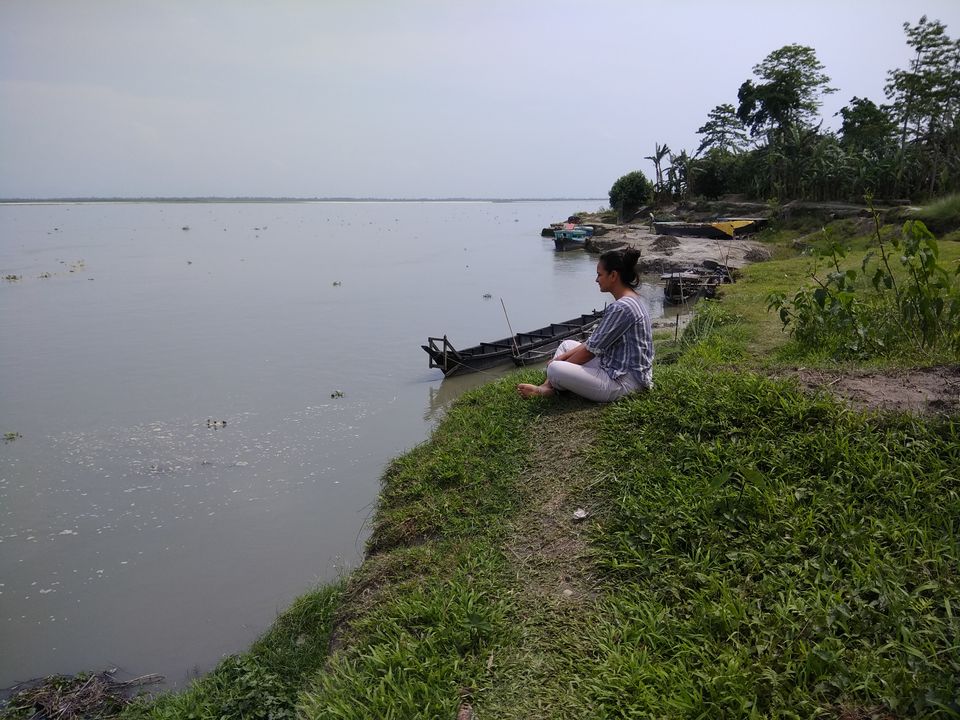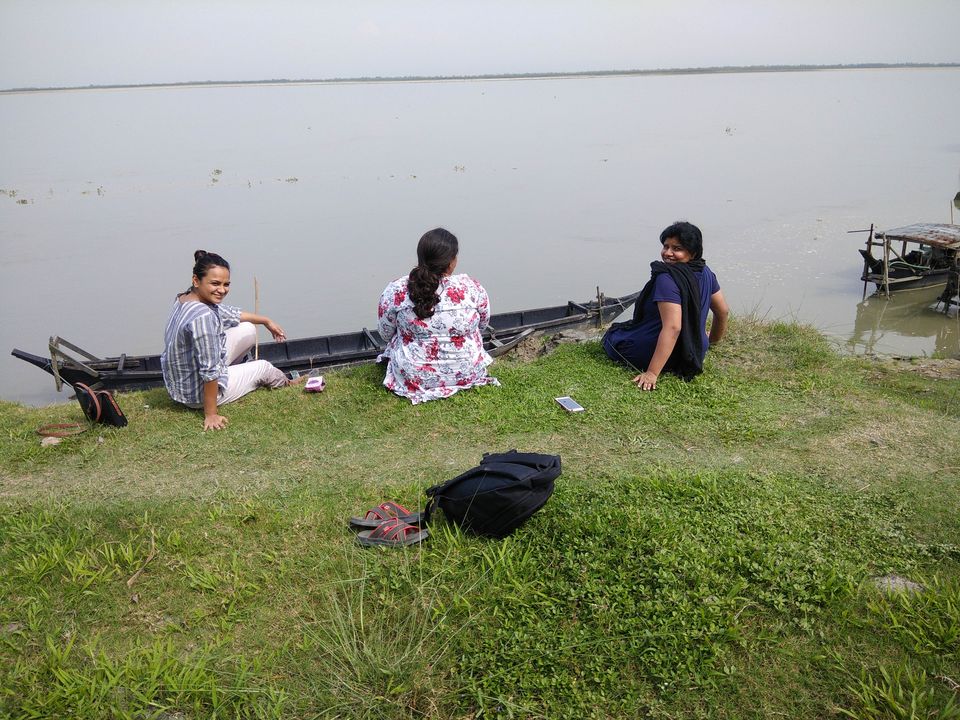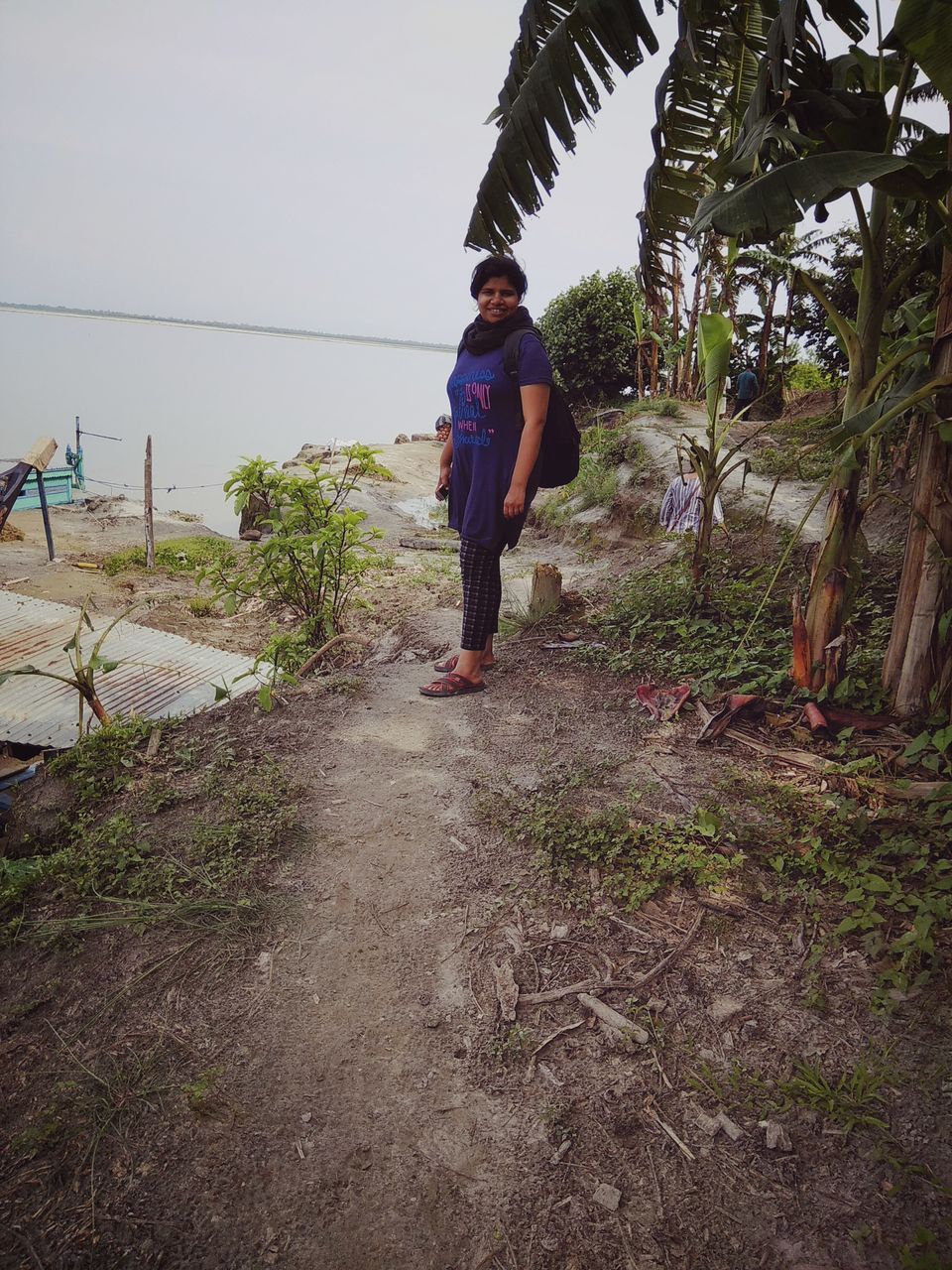 We wanted to cover all the shores that circles Majuli- so we headed towards North direction. Its pretty clichéd but driving through the villages of this island made me believe that journey is as beautiful as the destination :-) All three of us actually screamed our lungs out upon reaching North shore that separates Majuli from Lakhimpur town via Brahamputra connected through a bamboo bridge slightly submerged in the river. It was surprising to see people on bikes or cycles cross the river by moving on this bridge, either the bridge was strong and sturdy or the commuters were daredevils.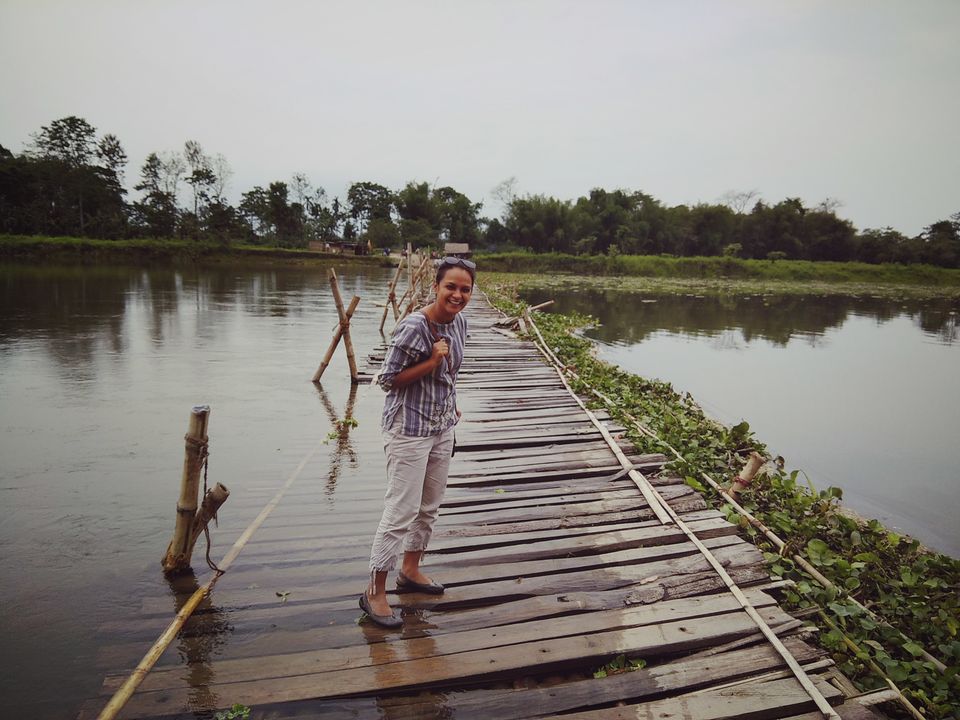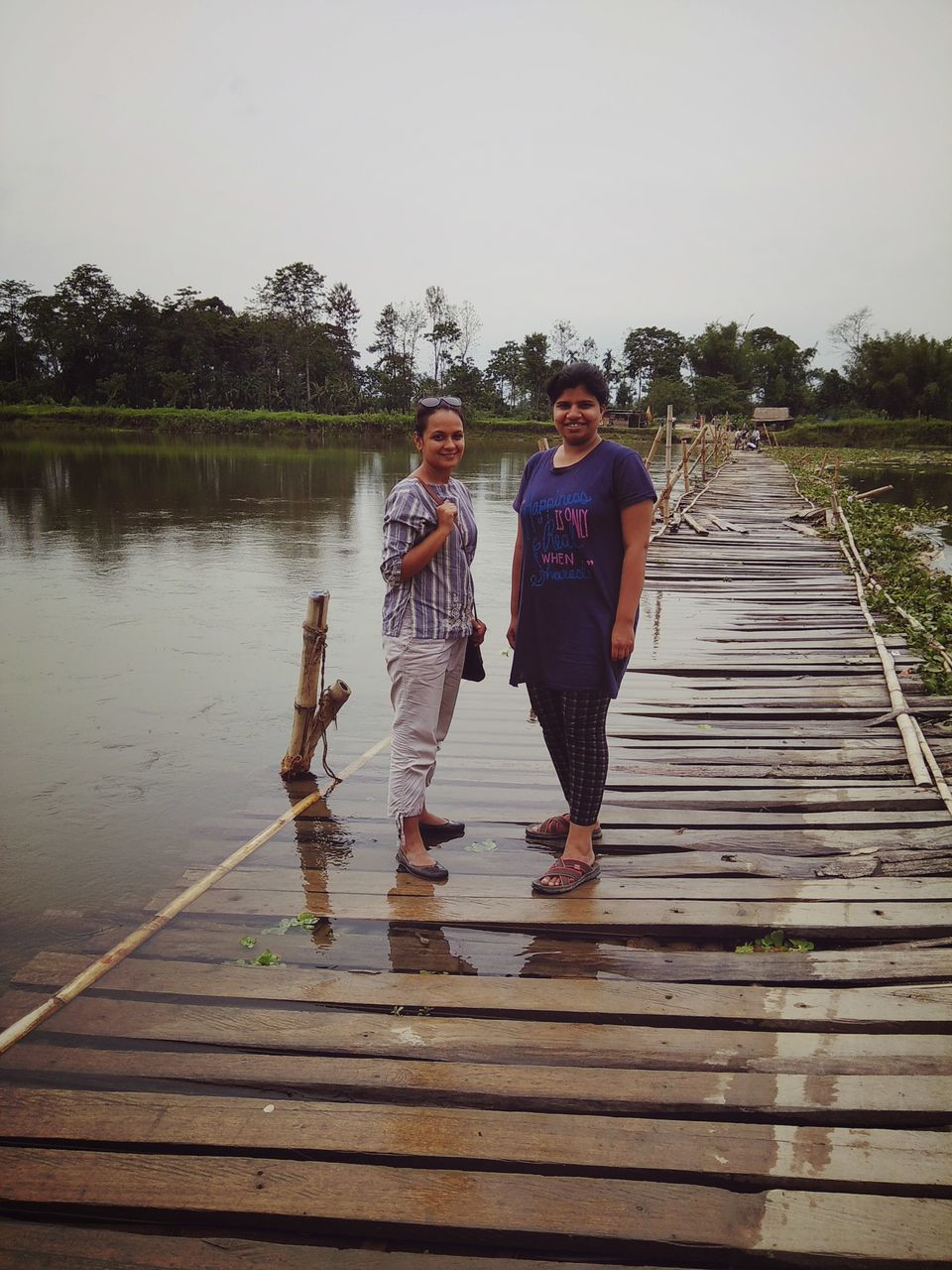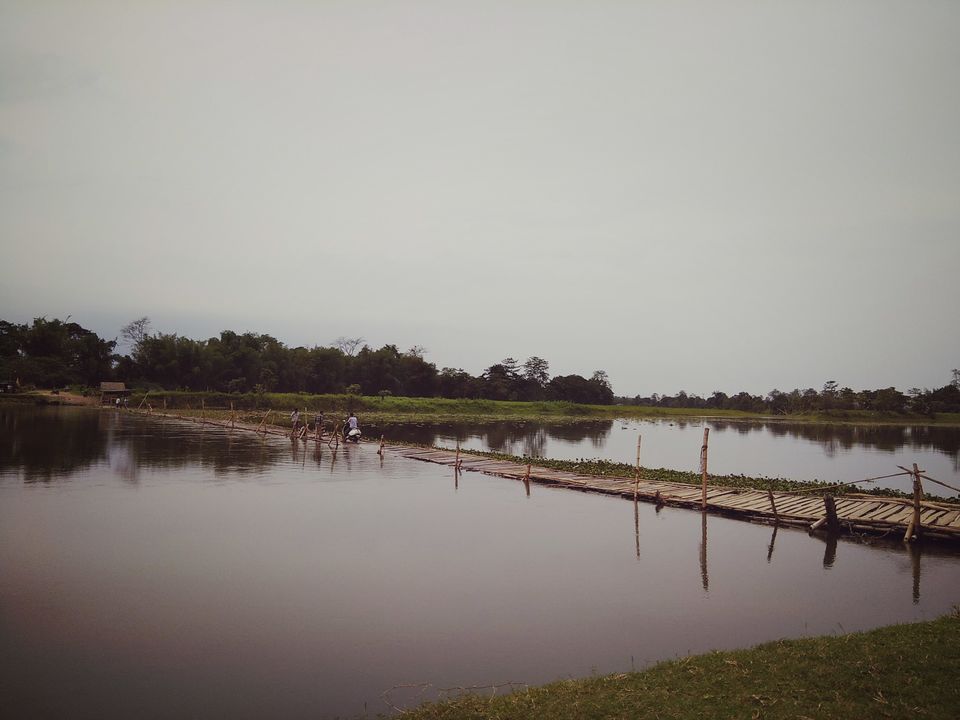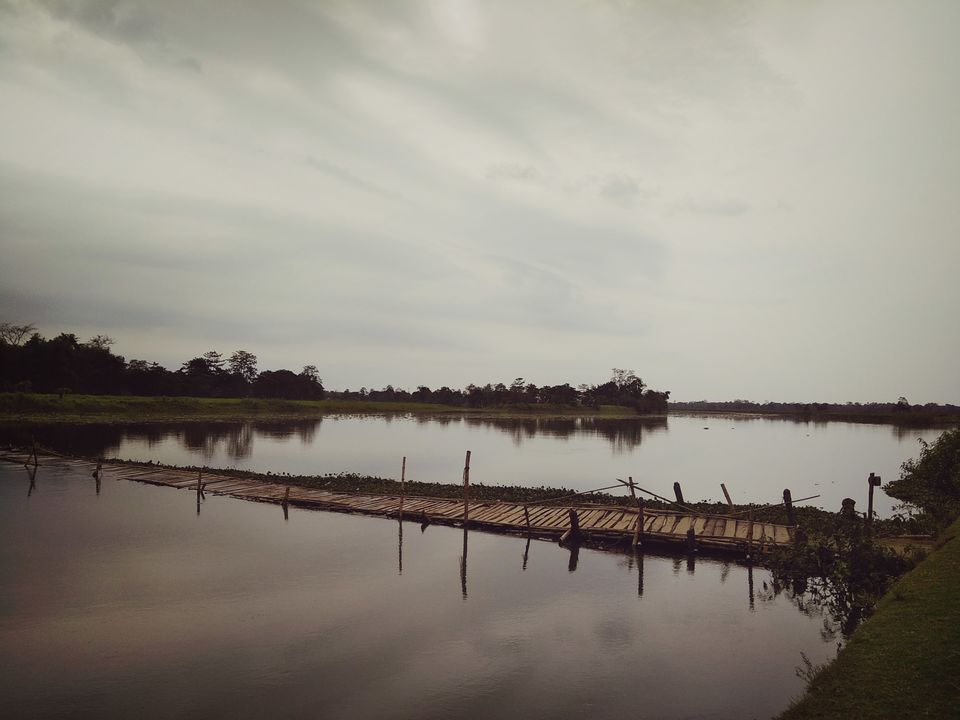 Gathering all the courage, we also walked on the bridge but were made to return sighting that rains might start and bridge might not be safe enough. And then, we saw bridge disintegrate from one of the end tangling itself into water hyacinths floating in the river. My heart clenched as the realization hit hard that whether something is beautiful or however strong it may be will not be permanent. It was weird to see the bridge collapse though we were aware that it would be constructed (here tied) and people would be able to commute again.
We sat on the grass near the shore admiring the beauty of nature and uncertainty that life brings when it started raining; the serenity that Majuli brought was undeniable to human heart. It seemed a part of my heart belongs here, with this love we went back to our dorm in Kalambari.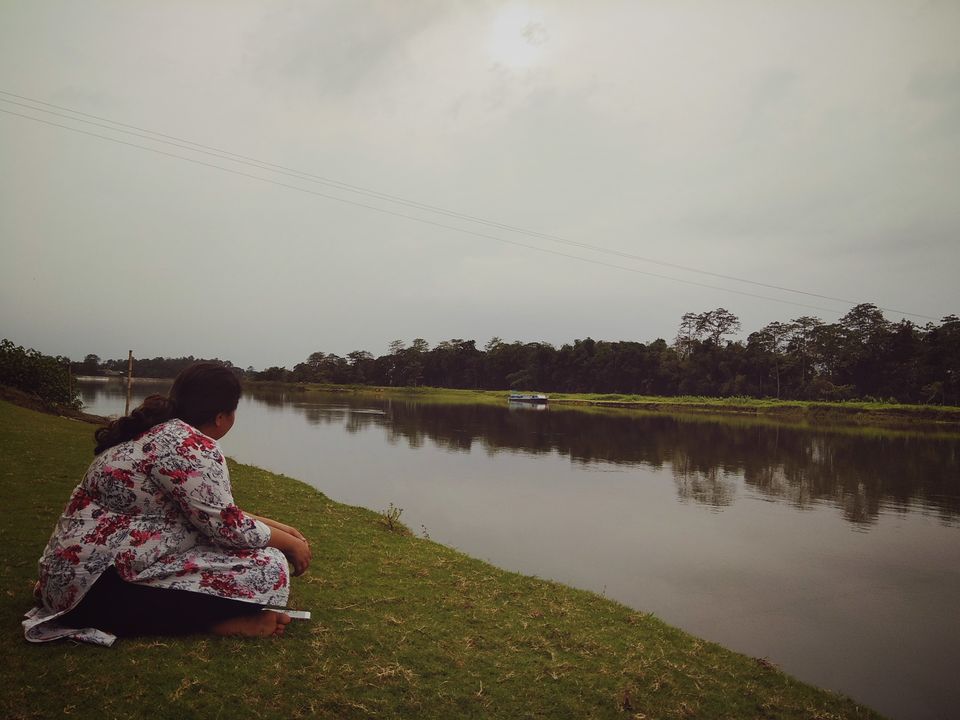 We decided to stay one more day here since it seemed too early to leave this place however our reservation at dorm expired so with the help of our Taxi driver, we got a room in "Brahmaputra lodge". We relaxed for a while, and then along with the caretaker we cooked lunch. In the evening , we went out for a walk, played with the ducks who resided in the lodge, witnessed a carom match played by few boys across the street, chased fireflies and then witnessed light in the dark night of the island- it was all too good to be real :-)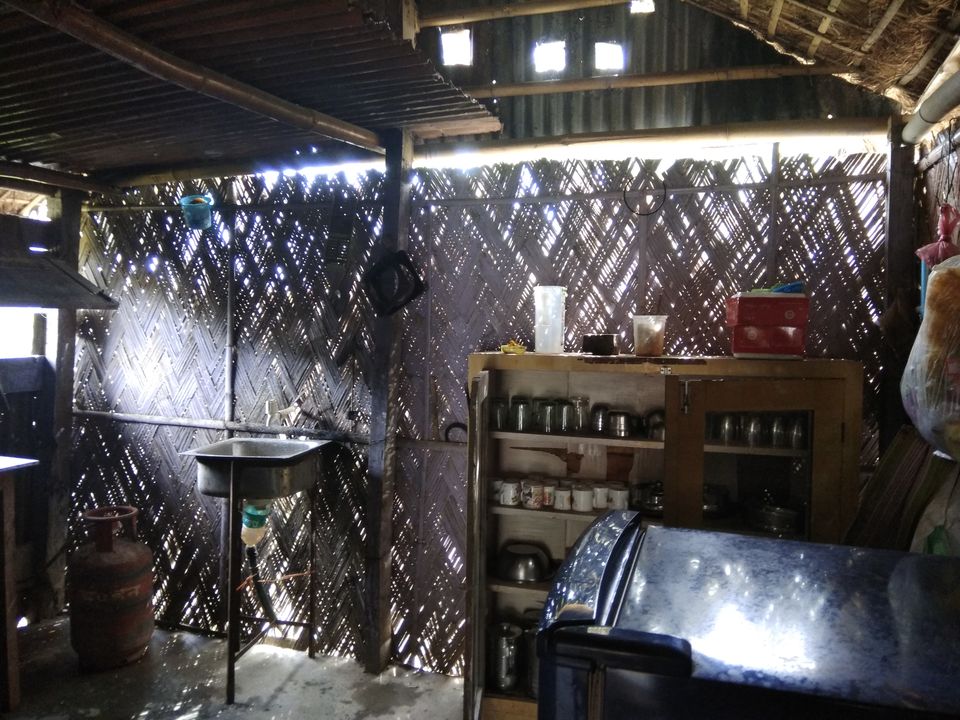 I would always cherish the memories of you Majuli – you came as a light when my world was engulfed by darkness!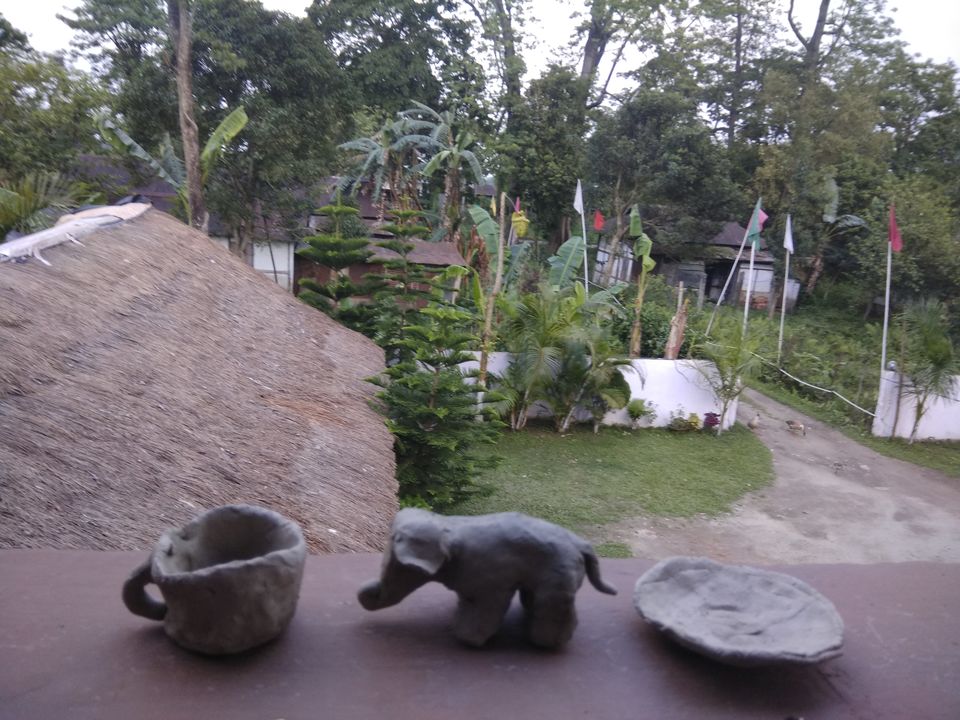 Points to remember-
1. Though we took flight from Delhi to Jorhat- there are flights directly to Jorhat too (can be bit expensive)
2. There is a time schedule for ferries from Jorhat to Majuli, do check that for to- and fro.
3. In Majuli you won't get cow or buffalo's milk- they survive on milk packets which is very costly so red tea is frequently available rather than usual tea and coffee. If you love caffeine please carry coffee packets.
4. 2-3 restaurants at maximum are available in the market- make sure you grab early dinner till 7 pm or you may go empty stomach
5. You can't afford to be choosy about food here- limited food choices if you are vegetarian and the food will be repetitive.
6. There is a cycle cafe too, if you want cycling can be a best option to roam around otherwise taxi is always there.
7. There are number of Bamboo cottages- it's an amazing experience to live there; also don't forget to negotiate.
8. Lastly, let yourself loose and feel free to devour into what nature offers without any expectations